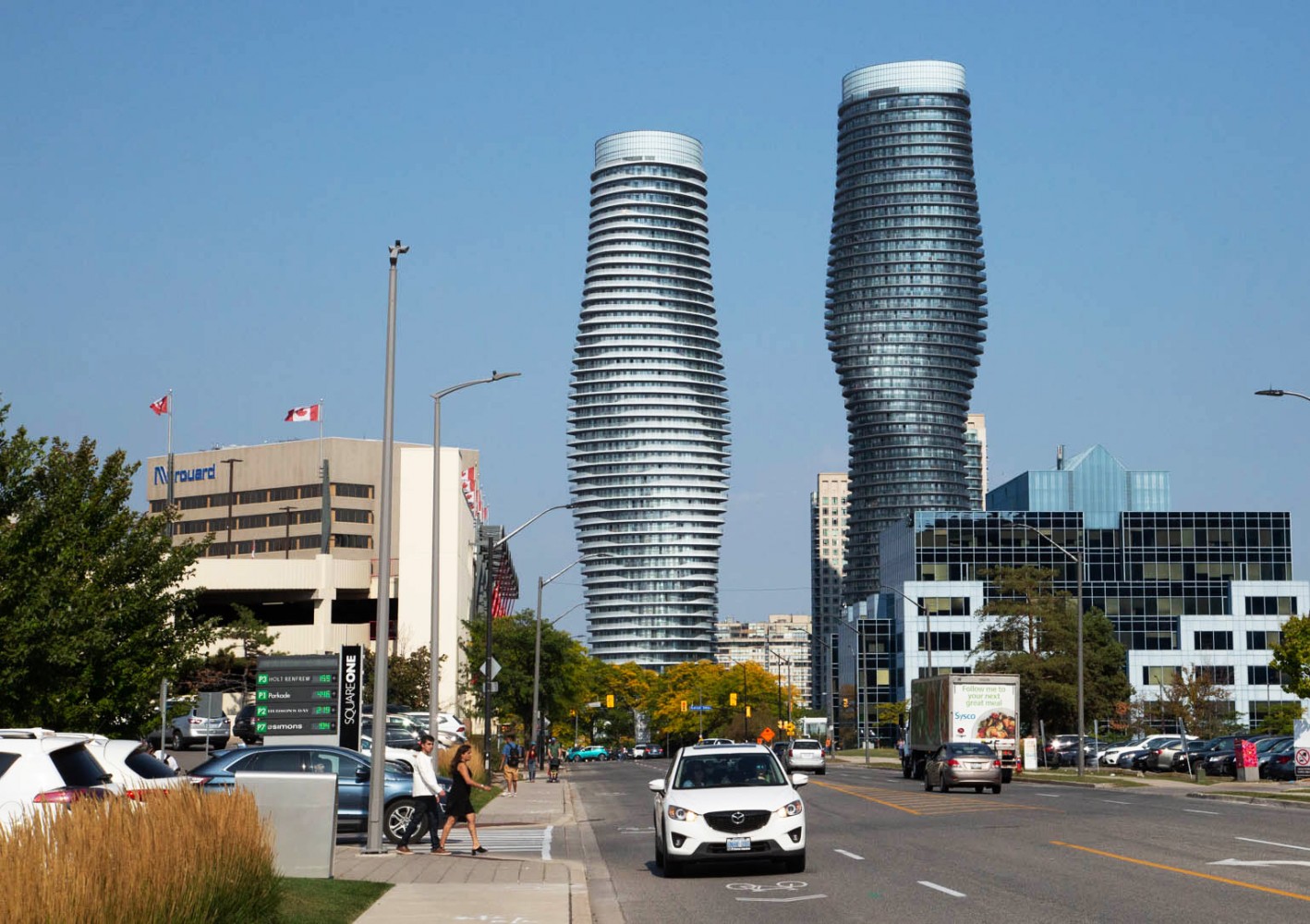 Photos by Joel Wittnebel/The Pointer file/Twitter/Graphics from Region of Peel
Mississauga's commitment to pedestrian safety tested as draft budget boosts spending
Almost two years ago, Mississauga joined the fold of cities across the world with Vision Zero strategies. The philosophy, which Brampton and the Region of Peel also subscribe to, looks to pull pedestrian fatalities on local roads to zero through a mix of enforcement, education and infrastructure changes. Yet, since council voted in favour of the program, the city has little to show for it.
Vision Zero aims to remove human error from pedestrian and driver interactions, by designing cities where mistakes crossing the road do not result in fatalities.
Endorsement of the policy alone did not equate to immediate action in Mississauga, with the city slowly embracing the philosophy. One particular milestone was the city's adoption of its Transportation Master Plan in May 2019, with many Vision Zero specific steps and targets including a speed management program, road safety enforcement program and Vision Zero education plan.
In Mississauga, like other urban areas that have experienced astronomical growth over a short period, transportation networks have created a dangerous mix. Pedestrians and cyclists often share roadways with large commercial trucks, while others have to navigate roads travelled by cars moving at excessive speeds.
"Wherever you see a house, place of business, retail store or manufacturing, there's going to be a truck going in there," Steve Laskowski, of the Ontario Trucking Association, told the Toronto Star in 2016. "We're dealing with infrastructure built 50-years ago for vehicles. The reality now is we have more and more people wanting to use the roads for more than just their vehicles — pedestrians and cyclists. If we could do it all over again, we would, but we don't have the luxury."
New technology to mitigate blindspots for truckers who have to share city streets with pedestrians and cyclists include semiautonomous commercial driving capabilities to detect dangers, to deal with blind spots and to help detect smaller objects. Technology that prevents distracted driving is also coming online that would prevent the use of cell phones while a truck is in gear.
The high profile death of Diane Tsialtas in Mississauga raised awareness of the problems posed when large transport trucks share spaces with pedestrians.
In 2015, the 49-year-old mother and grandmother, was walking along Meadowvale Boulevard where heavy commercial traffic is common. Two wheels flew off a transport truck, one landed in a bush, the other struck Tsialtas.
It drew increased attention because a month earlier another pedestrian was killed by a truck on Airport Road in Mississauga, in an area where residential, commercial and industrial spaces, including many transport businesses, have all been zoned next to each other.
Peel police has said the region features municipal corridors with some of the heaviest truck traffic in North America, such as Dixie Road off the 401 Highway.
Another problem with Mississauga's transportation design is the high speed limits featured on city and regional roads, meant to connect subdivisions to larger highways. Street racing has been a common feature on many of these routes where pedestrians are at increased risk because of posted speed limits of 70 and even 80 kilometres, which are unheard of in many urban areas where cyclists and walkers commonly travel. These limits often lead to speeds far faster than what's allowed, creating dangerous conditions for many pedestrians.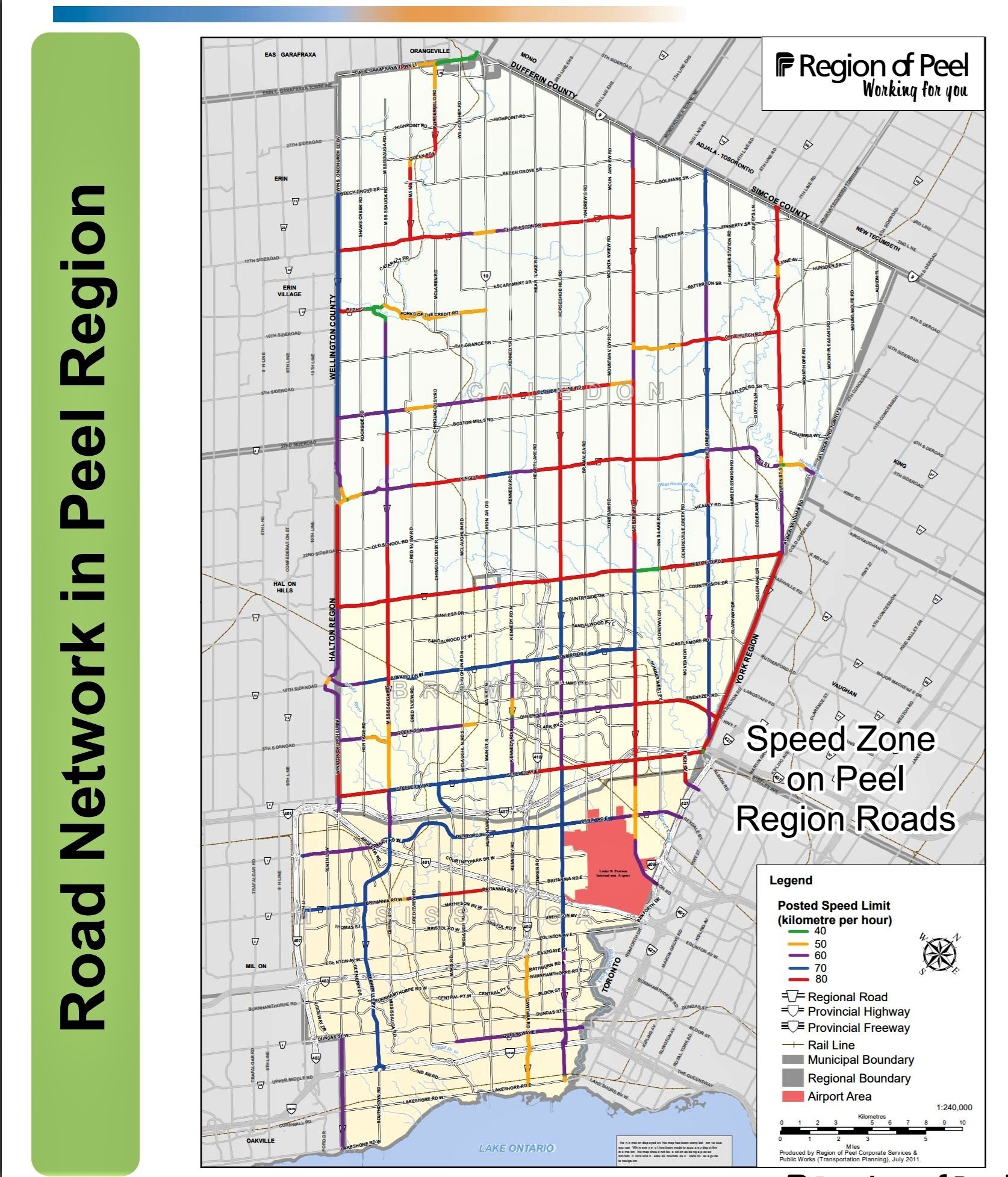 A map shows the high speed limits on main arterial roads in the Region of Peel.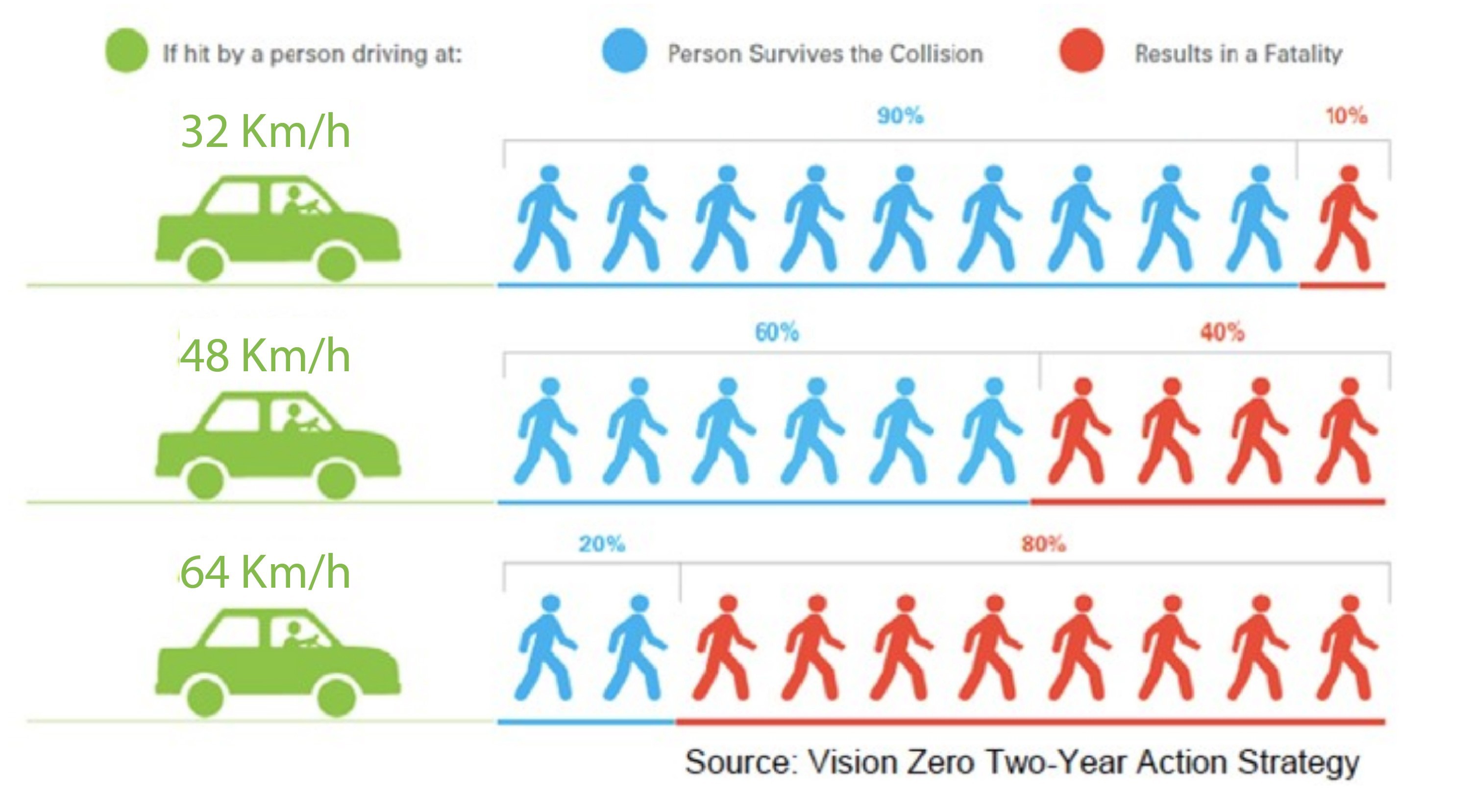 As speed increases, the risk of serious injury or death for pedestrians rises dramatically.
The city's proposed 2020 budget also includes an even more important step with the creation of a Vision Zero Program Lead position to coordinate the policy. Senior staff at the city explained to The Pointer that this role will be unique and one focused on coordination. Assuming council approve the budget (and creation of the post), the new staffer will be tasked with making sure all city decisions, changes to roads or development plans are in keeping with the aims of the policy.
They will be an important check and balance to ensure Vision Zero is at the heart of city planning.
As the Chair of the Road Safety Committee, Councillor Pat Saito has been front and centre of the Vision Zero initiative and is optimistic about the city's plan. She explained to The Pointer that, due to the nature of the project, immediate results are hard to come by. In particular, with a city as car-orientated as Mississauga, Saito said a uniform approach to road capacity and speed reductions is impossible, with the engineering and congestion cost too great. Instead, she sees the strategy as a chance to make steady progress towards the ultimate goal of perfectly safe streets, regularly chipping away at the issue.
Councillor Pat Saito
"Just because a municipality has a Vision Zero strategy does not mean that you can expect all pedestrian fatalities and injuries to stop right away," Saito said. "While there are things you can do quickly, almost everything that needs to be done in Vision Zero is a physical change. You can do signage and things like that fairly quickly, but once you start wanting to implement changes to the way roads are constructed they need to be planned years in advance."
When it comes to road changes, pushback also comes from some residents and community groups. Saito gave an example from her own ward, where she proposed lowering speed limits to 40 kilometres per hour on a couple of roads, expecting to receive "unanimous" support. Instead, she said that many got in touch specifically to express opposition, with the results actually 50/50.
Aside from the ultimate measurement (pedestrian fatalities) it is also harder to keep track of the policy's success. Saito compared the issue to that of Neighbourhood Watch, pointing out that measuring "collisions not occuring" is a difficult metric to utilize.
If it is difficult to quantify success, how can residents verify Mississauga's commitment to the program? How do you illustrate it's more than a slogan?
A simple start would be to see if councillors and staff are putting their money where their mouth is. One example to look to is New York, where Vision Zero was at the heart of Mayor Bill de Blasio's re-election campaign. Demonstrating its commitment to the plan, the city plans to spend $1.6 billion (USD) on the initiative by 2022. That number would be scaled back for Mississauga with its smaller population, but demonstrates the level of financial commitment required to show a municipality is serious about the program.
In 2019, the year after Vision Zero was endorsed by the city, the approved budget document held just three references to the project. Without any mention in the specifics of either the capital or operating budget, a small blurb explains that the city is "developing a work plan which will lay out how it will achieve Vision Zero through new initiatives, programs, or practice/policy changes."
On the other hand, the proposed budget for 2020 (to be considered again by council on January 22), makes repeated reference to the project. In total, the phrase appears 40 times through the document, attached to spending commitments.
Alongside a $110,000 staff request for the Vision Zero Lead (rising to $147,000 in 2021), staff say that "other budget requests have been made to improve road safety with investments for roads… implementation of an automated speed enforcement program and a resource to lead active transportation initiatives."
The budget request for automated speed enforcement is an area Saito was keen to highlight. In 2009, the city developed a business case for the technology which council eventually dismissed, in part because of a lack of support from neighbouring municipalities like Toronto, the councillor said. Now, with provincial legislation changes, automated speed enforcement can be introduced to neighbourhoods in the city on the condition that a 90-day warning sign is put in place.
Mississauga hopes to identify areas for speed camera enforcement in the spring, before putting up warning signs and having the system operational by the summer. Neighbouring Brampton and Toronto are ahead and have already put signs in place, commencing the 90-day waiting period to install the technology.
The city's draft budget document proposes investing $22 million in capital for the program this year alongside a gross operating spend of $289.9 million. This figure will be offset by an estimated $230 million in revenue from the cameras, leading to a budget impact of just under $70 million for the program.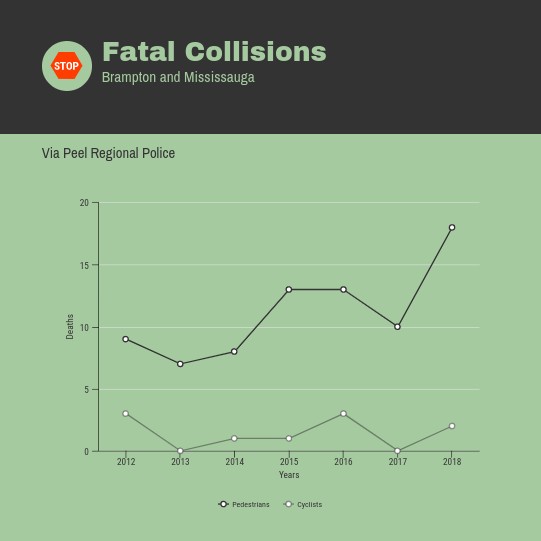 "The City of Mississauga has identified a speeding problem on many of its roadways," the budget document reads. "Though many programs and initiatives have been implemented [in] order to address speeding issues in some areas, the speeding problem persists."
Saito explained to The Pointer that Mississauga plans to invest in mobile speed cameras, meaning they can move them around various areas in the city, something designed to keep drivers on their toes. She also referenced red light cameras, limiting right hand turns in some areas and other road geography changes as the key to slowly, but surely unlocking the potential of Vision Zero.
Meanwhile, in the background, traffic fatalities have been increasing in neighbouring Toronto. The Ontario capital, which introduced its own Vision Zero in 2017 and then more recently rebooted it to Vision Zero 2.0, ended 2019 under pressure as pedestrian fatalities continue to increase.
In 2013, Toronto Police disbanded a specific traffic enforcement unit and tickets for traffic violations began to fall. According to the Toronto Star, Toronto police issued roughly 324,000 fewer tickets in 2018 than in 2009, with the number of collisions starting to rise from less than 60,000 around 2013 to almost 80,000 last year.
Enforcement is only a small part of Vision Zero, which generally focuses more on infrastructure changes, but the Toronto example shows that simply adopting the strategy as something of a slogan and taking little action does not save lives.
Toronto seems to show a direct link between enforcement and pedestrian deaths, rather than specifically a failing of Vision Zero. For this issue to affect Mississauga directly, ticketing habits from Peel Regional Police would have to have taken a similar hit.
According to a database obtained by the Toronto Star, over the last ten years Highway Traffic Act enforcement has fallen by two thirds in Toronto, in Peel that decline was only about 10 percent.
Therefore, Mississauga comes into the early days of its Vision Zero program without some of the mistakes its neighbour has made. Credit is due to the region's police service for this without doubt, though it illustrates a warning too. The Toronto example suggests that, as Mississauga gets serious about Vision Zero, significant capital investment will be key across the board, with the police's role not to be underestimated.
Data from Peel Regional Police shows that pedestrian deaths have increased since 2012 in Brampton and Mississauga, although they have not spiked. That is still an issue for Mississauga, as the Vision Zero philosophy aims to eradicate pedestrian fatalities altogether. The deaths of 18 pedestrians in Mississauga and Brampton in 2018 alone, for example, while lower than Toronto is anything but an achievement.
As both Saito and the Toronto example illustrate, Vision Zero is a strategy requiring a myriad of different moving parts to work together, ranging from planning to enforcement or education. Mississauga is hoping that their new Vision Zero staff member will be the glue to hold the various components together, alongside increasing investment in the project.
The city does currently boast the second lowest rate of fatalities and injuries on its roads in the GTHA, but the goal remains zero.
With Peel Regional Police largely pulling their weight on enforcement and significant city investment in automatic speed enforcement cameras, the early signs for Vision Zero seem strong. As the decade resets, Mississauga and its council will be hoping road fatalities do the same, something they'll need to continue to invest in to achieve.
---
Email: [email protected]
Twitter: @isaaccallan
Tel: 647-561-4879
Submit a correction about this story