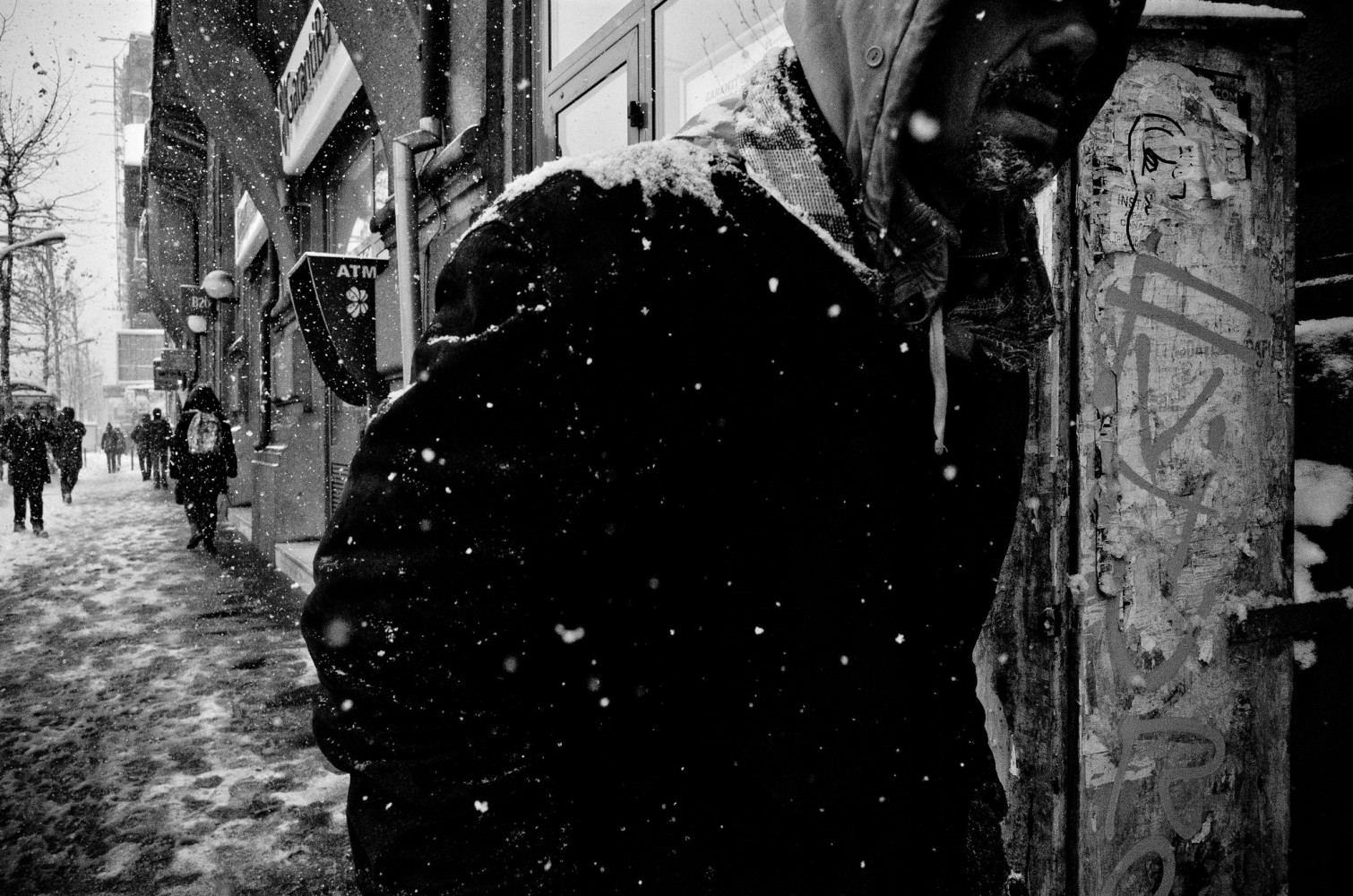 The Pointer file photos/Flickr/Flickr-JStimp/Sprung.com
With just five new shelter beds since 2018, Peel offers little to help homeless crisis 
As the snow continues to fall periodically across Peel and the bite of winter really begins to set in, most people will spend more time inside. Over the holiday period, families will order extra tea and hot chocolate, cook hearty dinners and send their children out to play shinny or toboggan in the local park.
However, across the region, thousands of people will also be seeking accommodation in temporary shelters.
Over the past few years, the shelter system across Canada and the GTA has filled up, partially due to the housing affordability crisis gripping the country's metropolitan centres. Peel is not immune to this with its shelter facilities under immense pressure, each of which has been operating around or above capacity for at least three years.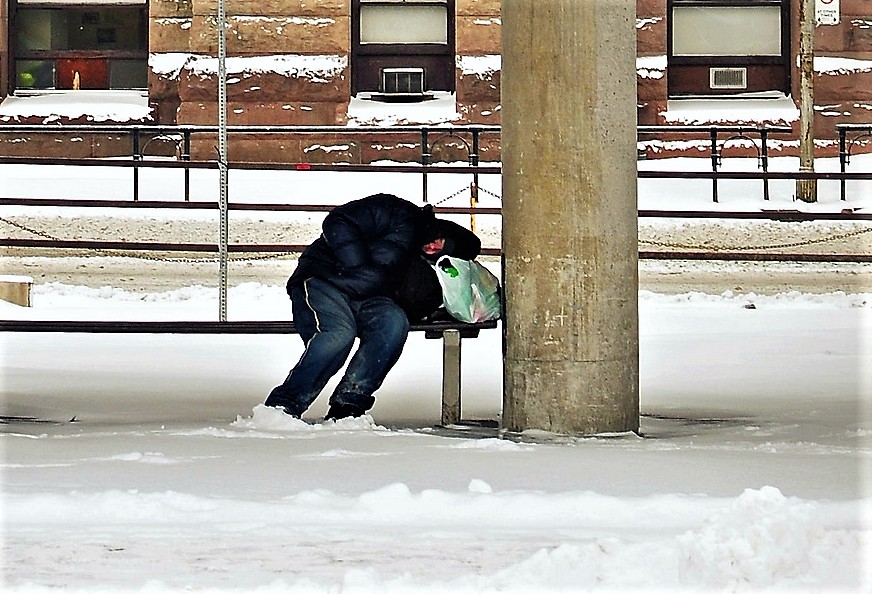 At the beginning of the year, in mid-January, Janice Sheehy, Peel's commissioner of human services, asked councillors for help to address increasing homelessness.
"As you (regional councillors) are aware, there is a growing need in our community for emergency, transitional, affordable and middle income housing due to population growth, the aging population, precarious employment, the rising cost of housing and low vacancy rates in the private rental market," Sheehy told council 11 months ago.
A regional budget document at the time supported her presentation and laid out the following: "growing demand on (the) shelter system due to increased chronic and episodic homelessness"; there are "increasing lengths of stays in shelters due to (a) shortage of affordable housing"; there is a "need for a permanent solution for the temporary youth shelter in Brampton"; there are "gaps in safe, dedicated housing options, and specialized programming for victims of human sex trafficking". The budget document presented almost a year ago also stated that pressures on supports for the homeless arise because of "uncertainty in provincial funding allocation."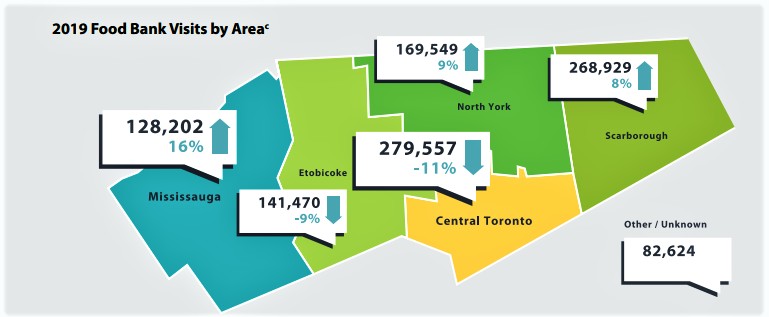 Data from the Who's Hungry report shows the rate of increase in food bank use in Mississauga is far-outpacing Toronto
The region's Home For All plan states the emergency problem includes: "Shelters at capacity; Insufficient beds for Victims of Family Violence and no beds for Victims of Human Trafficking; Lack of upfront diversion / prevention; Lack of transitional support for Youth / Victims of Family Violence."
But in recent years the number of visits to each shelter has increased by hundreds, while the number of shelter beds remains all-but static.
Figures quoted in the region's annual Community for Life reports show how shelter use has grown. In 2016, the report stated shelter visits sat at 13,398 in a year, a number which rose to "nearly 15,000" in 2017. Last year, the total was 15,741. The full report for 2019 is yet to be released, though unspecific 2019 numbers in the regional budget document quote 11,800 visits months before the end of the year.
To help contextualize these numbers, the Everyone Counts Peel survey offers a snapshot. Conducted between April 24-26, 2018, the report counted 338 homeless individuals through Point in Time (PiT) counting and 548 more through occupancy tally counts. In total the report found 922 people experiencing homelesness across three days in the spring of last year. During the first half of 2018 (until September 30) there were 13,519 shelter visits made by 5,897 unique individuals.
In total, the region oversees five emergency shelters: Wilkinson Shelter for single men, the Cawthra Shelter for single men and women, the Peel Family Shelter, Brampton Queen Street Youth Shelter and Our Place Shelter for Youth (transitional housing, with some emergency beds).
In the past year, with the shelters continuing to operate at capacity, there has been a very slight increase in the number of spaces. In 2018, the Family Shelter had 60 units (225 beds), the same number it has this year. The Wilkinson Shelter experienced an increase of beds in August 2018 from 86 to 94 in order to compensate for a reduction in beds at the Cawthra Shelter, which went from 119 beds to 110. The Brampton Youth Shelter stayed steady at 40 beds, while Our Place Peel added 6 new emergency beds taking it from 14 to 20.
In total, Peel's 2018 shelter capacity was 245 beds, 14 transitional youth spaces and 60 family units. In 2019, that dropped by one bed to 244 standard beds, the same 60 family units, while Our Place Peel increased by six emergency beds. Rolling the youth and adult numbers together, Peel had a net increase of five shelter beds.
"The Region's shelters have operated in overflow capacity since 2016," Aileen Baird, Director, Housing Services at the Region of Peel, told The Pointer in an email statement. "In the last two years we've had to operate in overflow more often, particularly in the Peel Family Shelter. This is happening because more people, especially families, are having to stay longer in the shelters due to the challenges they face in finding suitable affordable housing.
The reality is that homelessness is becoming more visible in parts of Brampton and Mississauga and the streets in some areas of both cities, often in central areas or where a variety of social supports are located, such as food banks and churches offering free meals, will become home to more and more individuals.
The off-ramps along highways in both cities have become common places for the growing homeless population in Brampton and Mississauga to converge, looking for help in the absence of support from local governments.
The Pointer has received a number of messages from residents in Brampton, in particular, who have detailed anecdotal examples of an explosion in the number of homeless in the city's downtown area.
In October, the CBC reported on the increasingly disturbing issue in the city's centre, but focused on how growing homelessness in the area is impacting downtown businesses. Brampton Councillor Martin Medeiros was quoted in the article, and said the problem has been evident for "several years".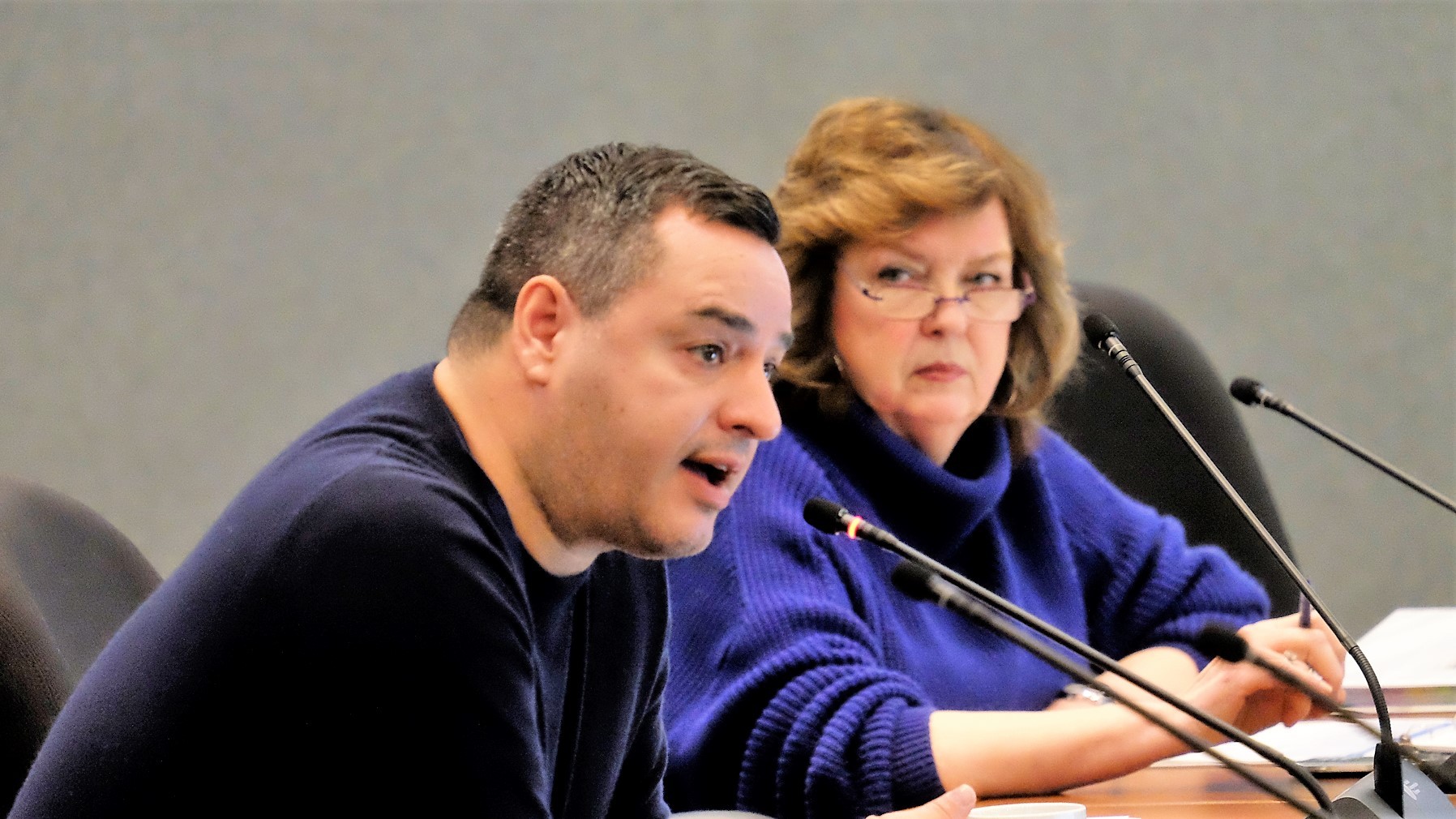 Regional Councillors Martin Medeiros and Carolyn Parrish
He sits on regional council, where little has been done to address an issue that likely will get worse, given the large annual population increase in Peel, which includes many newcomers who can least afford the high cost of housing in Peel.
The average price of all residential units sold in Mississauga between November 22 and December 20, according to real estate tracker Zolo, was $801,000. In Brampton, over the same period, it was $746,000. The national average for all residential units sold in 2019 across Canada, according to statista.com, is projected to be just over $485,000.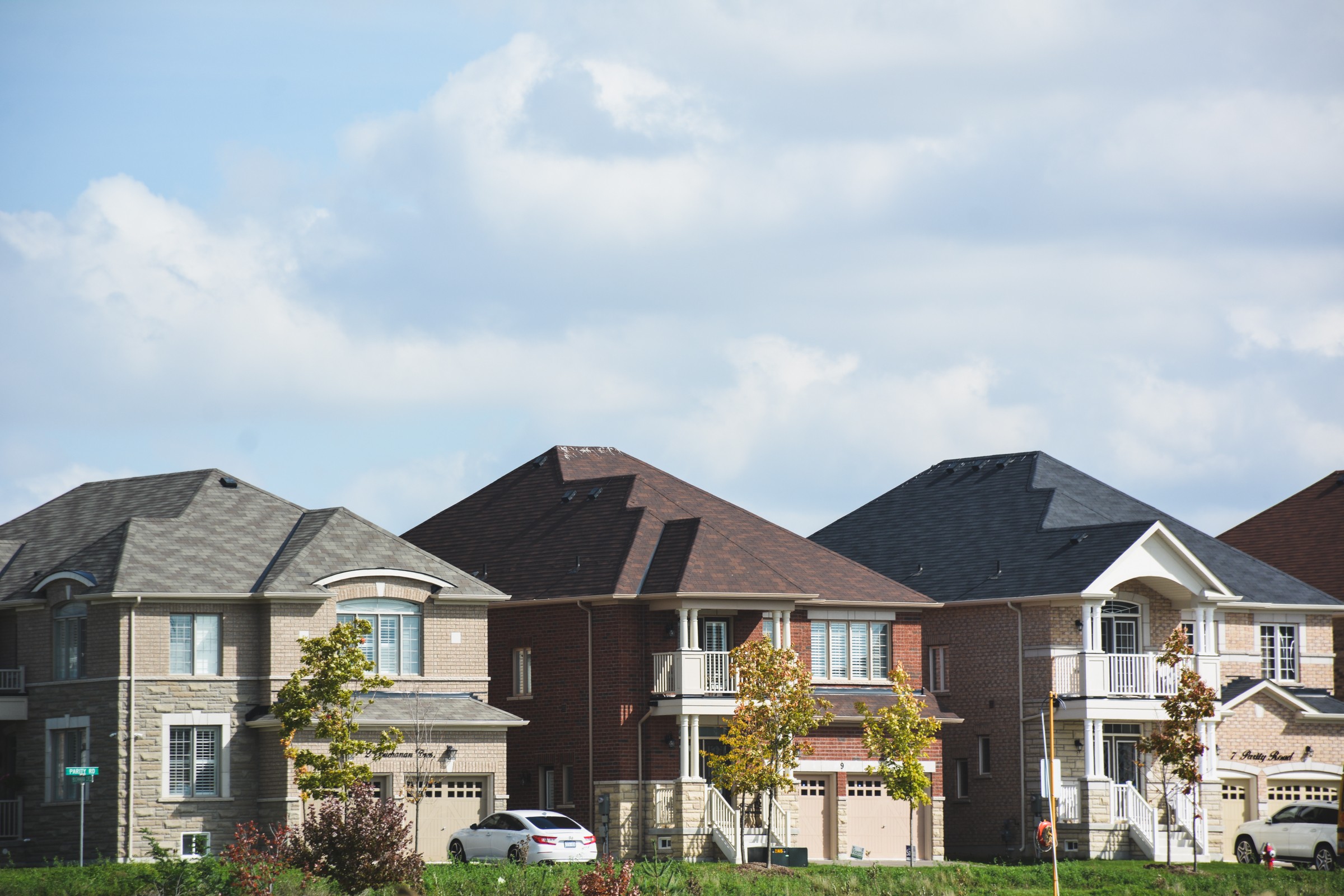 Housing stock popular in Brampton and Mississauga
Compounding the increasing homeless problem in Peel is the lack of affordable housing stock, as growth has been dominated by expensive subdivision housing that caters to families.
Meanwhile, the shelter system, which is not meant to provide long-term housing, has become chronically stretched.
"The Region's Housing Master Plan, endorsed by Regional Council in July 2019, includes funding for priority projects including a new family shelter, which will replace the Peel Family Shelter in Mississauga, an additional family shelter in Brampton, as well as a permanent youth shelter to replace the temporary shelter in Brampton," Baird said.
In its current form, though, the 2020 budget does not propose any capital investment in new housing projects in the coming year. The budget requests to help with homelessness are $0.6 million to increase anti-human trafficking work, $1.0 million to maintain current service levels and $0.5 for state of good repair. With councillors in Mississauga in particular keen to see cuts to the budget, it does not seem likely that will increase, and now that the 2020 budget has been approved (on Thursday) it will be difficult to add capital costs until the 2021 budget is on the table.
Staff have indicated that plans for a service transformation, a proposal for a new women's shelter in Brampton and solutions for high-acuity homelessness (involving particularly vulnerable situations and even the likelihood of personal harm due to a lack of housing), often involving single men and women, will be coming forward in the next few months. However, with the budget now passed and no sign of future increases, these changes would likely not take effect until 2021 at the earliest.
As The Pointer has previously reported, the one bright spot in the budget is a three-year pilot to offer more spaces to those who have escaped from sex trafficking. In 2020, 10 new shelter spaces will be available including four immediate/emergency spaces and six transitional ones, which will be operated through the Elizabeth Fry Society on a three-year contract.
Overall, the pilot program will cost $1.75 million, with $1.3 million of that dedicated toward the housing and emergency shelter spaces, and the remaining $450,000 toward the service hub. $0.6 million has been requested in the 2020 budget, with additional funding coming from reserves.
During budget deliberations, Mississauga Councillor Carolyn Parrish raised a short-term fix to the region's current system, based on a system operated by the City of Toronto, a municipality also working to maintain its stretched shelter network.
In Toronto, large tent-like structures are erected in high demand areas as relatively short-term solutions, offering respite in some form from the very coldest months of the year. They also feature temporary shower and washroom facilities.
Emergency shelter structures similar to ones being used by Toronto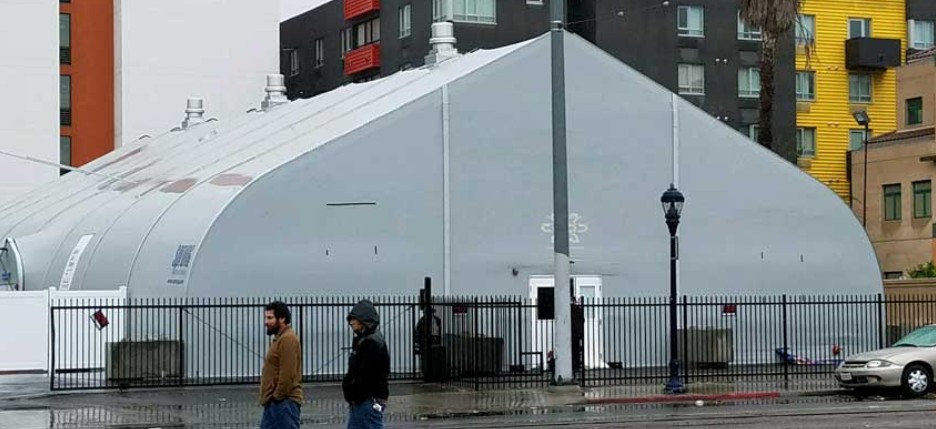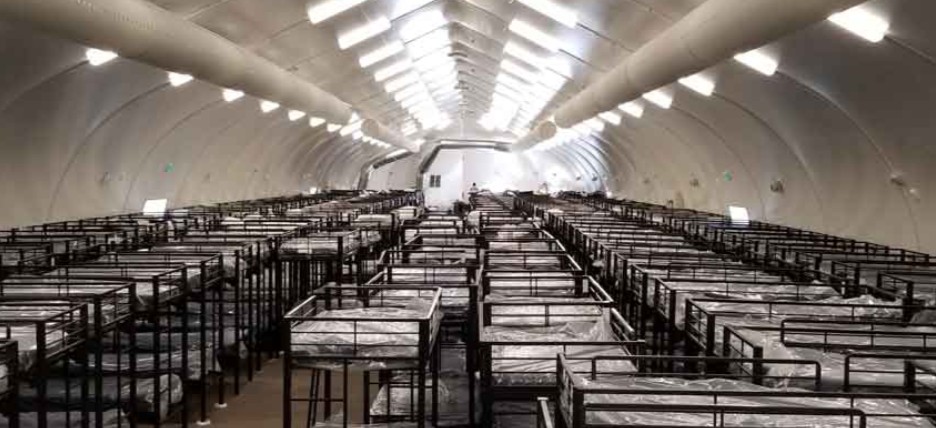 The argument for introducing such a structure to the Region of Peel is made stronger by its policy of turning no one away. A well intentioned measure, this means that when Peel's shelters are at capacity (as they almost always are), those seeking accommodation are put up in a hotel or motel room at the cost of the region.
But it's possible that many people will not even bother, as one has to turn up at a shelter in person in order to get alternative accommodation. For some, they can not get transportation to the shelters, located discreetly in more isolated areas, or an advance phone call discourages them if there is no available space.
When asked by The Pointer for specifics on how much the accommodation-for-all policy costs, the Region of Peel was not forthcoming. Instead, Aileen Baird offered the overflow budget and stated that, in recent years, costs have increased. "The Region's housing and homelessness annual budget includes $750,000 for overflow costs," she said. "However, in the last two years, service pressures and costs have increased. Staff are preparing a report to go to Regional Council in spring 2020 which will outline service pressures, costs and solutions to address those pressures."
It's possible that council's neglect in bringing more desperately needed shelter spaces online, is actually costing taxpayers more, as expensive alternative spaces, such as hotels, are being paid for, possibly beyond the overflow budget that has been set aside.
Though offering an idea of the budget set-aside for overflow accommodation, the region's response does not offer exact figures. Instead, it implies it has gone over its budget of $750,000 for motel and hotel rooms, but it does not suggest by how much.
Though still very much at the drawing board, Parrish's suggestion raises an interesting question. Putting people up in motel rooms may come at a smaller short-term cost to the region, but that cost has to stack up. Like buying restaurant meals everyday instead of investing in cooking at home, this frittering by the region will have a significant accumulative cost.
"The policy in Peel is that 'no one is ever turned away' and that, when shelters are full if there is still a need, people are placed in motels and hotels temporarily," Parrish told The Pointer. "That sounds good, but surely a better solution like Toronto's quonset huts... is a more flexible and cost effective solution. No transportation long distances, expensive motel rooms, fast food."
"And I believe we need more shelters, with secure lockers for belongings to remove the fear of theft and encourage shelter use instead of apartment stairwells and parks," the Mississauga councillor added.
While Parrish's suggestion is innovative and could relieve pressure on the region's current shelters, it is not as cheap or fast as the word 'tent' might imply.
Despite the temporary nature of how they appear, the shelters in Toronto take quite some time to construct. Putting the actual structure together takes six months, while preparing the site in question can take longer still. The process, from approval to completion, takes about 18 months, according to Toronto. The city also told The Pointer that the structures cost several million dollars.
"High level project construction cost for a 69ft x 150 ft Sprung Structure is $2-$3.5 million," a city spokesperson said. "Costs vary based on complexity with respect to facility requirements, environmental and geotechnical site conditions and site services available. The operating costs for the building vary based on different agreements with landowners. The range for a 24-hour period is $400 to $1,160 per day."
Depending on the size of the shelter and its location, the number of people they accommodate varies greatly. Of three additional shelters built in 2018, two accommodated 100 and one housed 80, according to a report featured in the CBC.
It is also worth noting that the shelters themselves seem to have sparked genuine controversy in Toronto. In 2018, several competing news stories ran in the likes of the Toronto Star and the CBC. Some extolled the virtues of the extra space the shelters provide, others criticized the conditions inside. One story highlighted the worries of healthcare workers, who were deeply critical of a lack of mattresses, shower facilities and the space between those sleeping there.
As with all budget options, things aren't as simple as they seem. Though Toronto's temporary shelters resemble giant tents, they still come with multi-million dollar construction costs and can't be built overnight.
Yet something needs to be done in Peel. Inaction by council can't continue with a growing population, overcrowded shelters and limited affordable housing.
In the short term, moving away from motels which have no benefit to the region beyond the night they are used, and towards new shelter facilities which Peel can rely on could be the key.
Councillors essentially ignored the issue completely during the rather hasty final deliberations on the 2020 budget that were focussed on finding tax cuts and ongoing political tensions between Mississauga and Brampton over the very future of Peel Region.
If the issue of homelessness continues to be ignored by Peel councillors, they can expect more complaints about panhandlers, vandalizing, impacts on property values and local businesses and the attraction of criminal behaviour. Even though it's an inhumane way of looking at this growing reality, maybe it's the only way they will start paying attention to a big-city problem that's already a crisis.
---
Email: [email protected]
Twitter: @isaaccallan
Tel: 647-561-4879
Submit a correction about this story