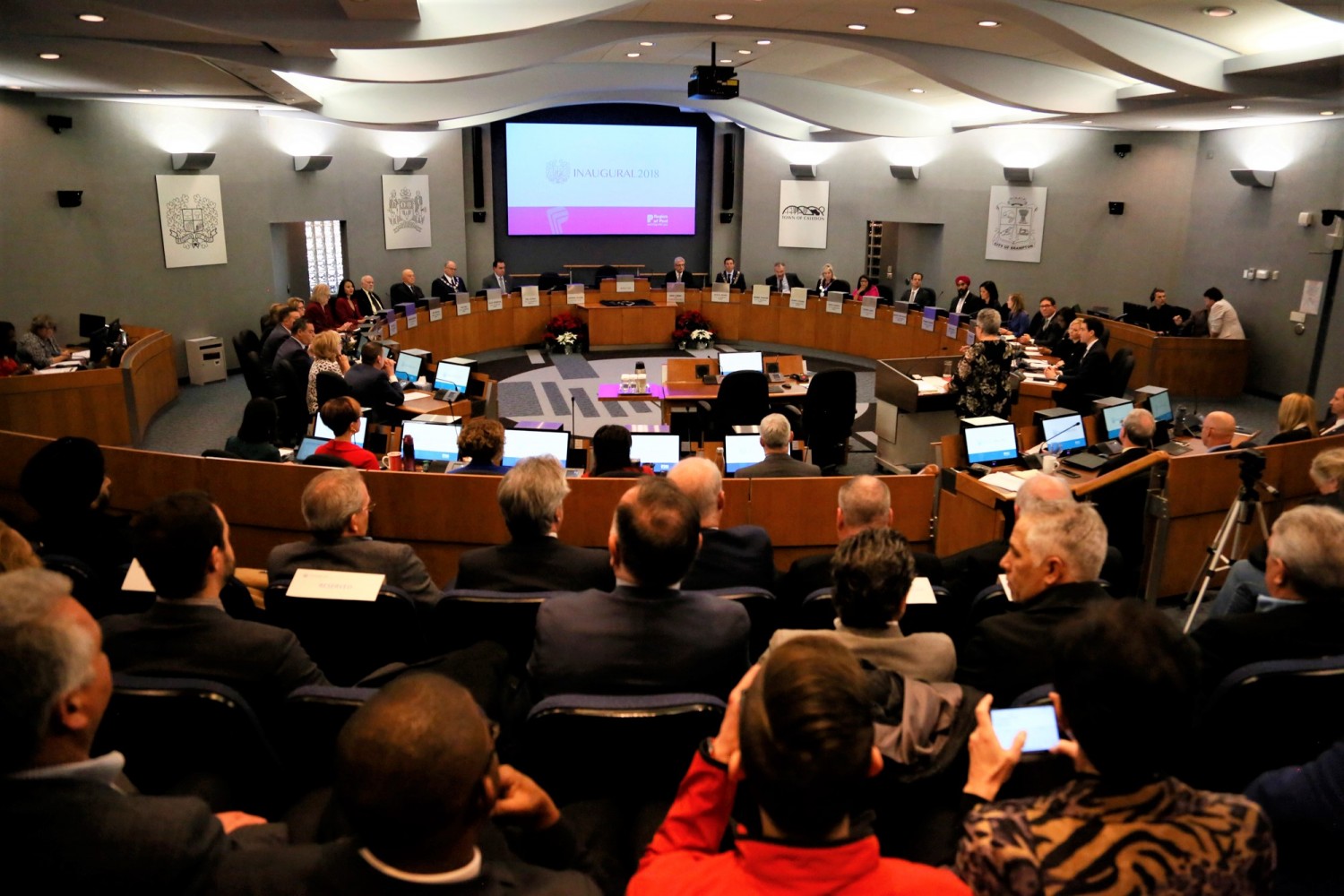 The Pointer file photos/Charts Peel police/Region of Peel
Peel Council's shell game with approved budget – trims tax increase, spikes utility cost, protects police
Several weeks of budget deliberations concluded with a round of applause from regional councillors, many of whom took a moment to thank staff and celebrate the 1.5 percent tax hike on the region's share of the 2020 property bill, a small reduction from the initially planned 1.7 percent. While doing little to reduce the hit to taxpayers in 2020, the approved budget serves to highlight the shell game that occurs with regional finances.
Council may have been able to pull down the tax increase by .2 percent — something they were more than happy to highlight in council chambers and in the ensuing press release — but nary a mention was made of the utility rate spike that came with the slight tax decrease, from a proposed increase of 6.3 percent to an approved 7.2 percent.
Overall, after weeks of wrangling, which included extensive, unsuccessful efforts to pull down the police budget, an additional $121 annually for the average homeowner ($70 in taxes and $51 in utilities for a home assessed at $545,900) was approved by regional council for 2020. This is an $8 reduction in the initial increase for the average ratepayer from what was initially proposed by staff at the start of budget talks.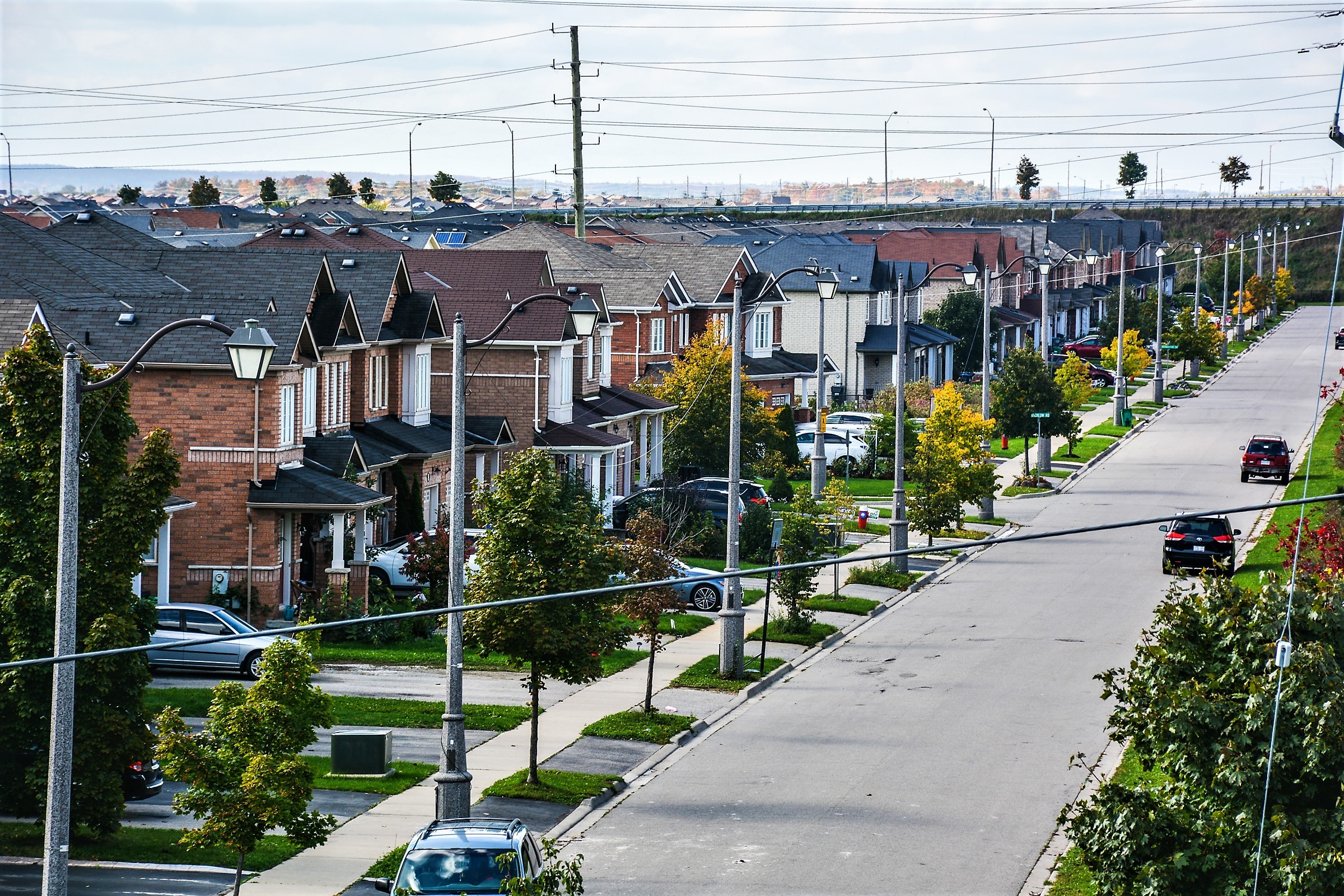 A similar reduction is seen for small business owners whose increase will be $9 less overall from what was initially proposed for commercial properties. The end result is an additional $258 going to the region from the average small business — $126 more in taxes and $132 more in utilities when compared to 2019.
Mississauga was supposed to approve its budget before the new year, but facing a stiff increase its council has postponed deliberations until late January in an attempt to find more savings. Brampton, meanwhile, cancelled all six of its budget meetings as sources tell The Pointer Mayor Patrick Brown is demanding more cuts after he rode high on this year's tax freeze. Given the pressures facing the city, including rapid growth, it remains to be seen what city staff there will cut out of the budget to achieve Brown's desired fiscal belt tightening.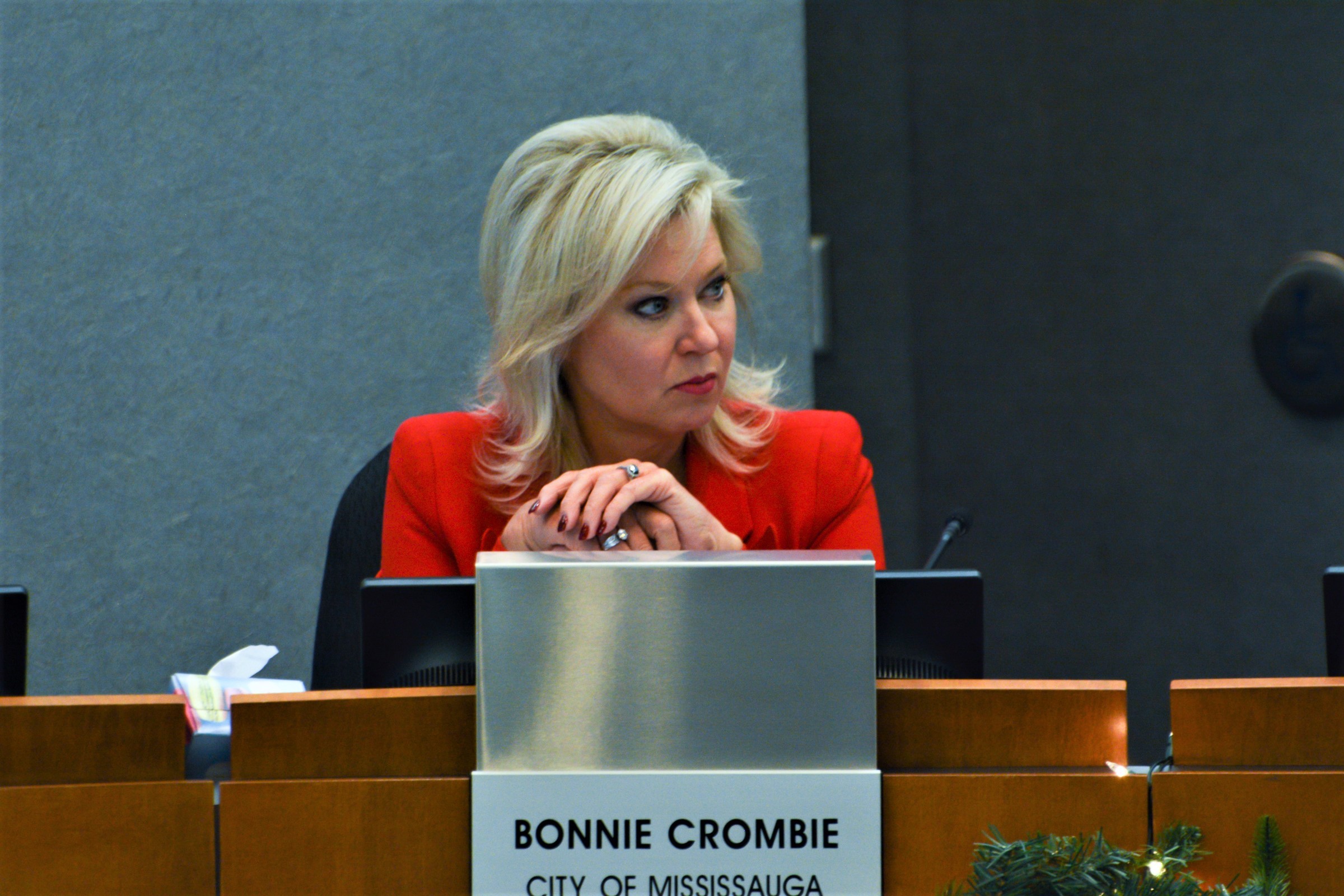 Mayor Bonnie Crombie at Thursday's regional meeting; she says her city faces some tough decisions
"It's been a tough year, we certainly felt the effects here at the region with the provincial cutbacks," said Mississauga Mayor Bonnie Crombie. The overall 2020 tax hit for property owners will not be known until the two cities pass their budgets and the blended amount, with the just approved regional increase, is added together.
While the hit from provincial cuts was much less than initially expected, the region was still forced to fund $6.6 million in services that were previously funded by the province. It left very little wiggle room in the budget, something quite evident in the limited opportunities for staff to find savings to accommodate council's demand for a smaller impact on Peel residents.
These small reductions included a $2.6 million reduction in the region's contribution to child care programs, an extension of the funding plan for proposed community hubs in Brampton and Mississauga from three to six years — saving the region $1 million in 2020 — and small cuts to funding for the Caledon OPP, the Credit Valley Conservation Authority and the Toronto Region Conservation Authority, among others.
The main drivers of the increased budget, aside from the typical inflationary pressures, include a $9.7 million increase in labour costs for regional staff, as well as the shortfall caused by funding cuts from Premier Doug Ford's PC government.
The $2.6 billion operating budget expands services for Peel's crucial responsibilities like paramedic services, ($1.5 million for 20 new full-time positions), dementia care ($200,000 to implement the Butterfly Model at Tall Pines Long Term Care home in Brampton), increased funding for affordable transit and expansion of the EarlyON plan to provide needed programming to approximately 6,000 children and parents in Peel.
The approved budget once again ignores the ongoing affordable housing crisis, as council members continue to under-fund an area that clearly is not a priority for them.
The budget for the Peel Regional Police will get a $21.5 million boost, a 5.4 percent increase over 2019, and will see 35 additional officers added to the service's complement, along with 18 new civilian staff. But council continues to fail to understand the upstream connection between affordable housing and crime. The latter can be prevented if proper investments in the former are made.
A rough breakdown of the Region of Peel's tax use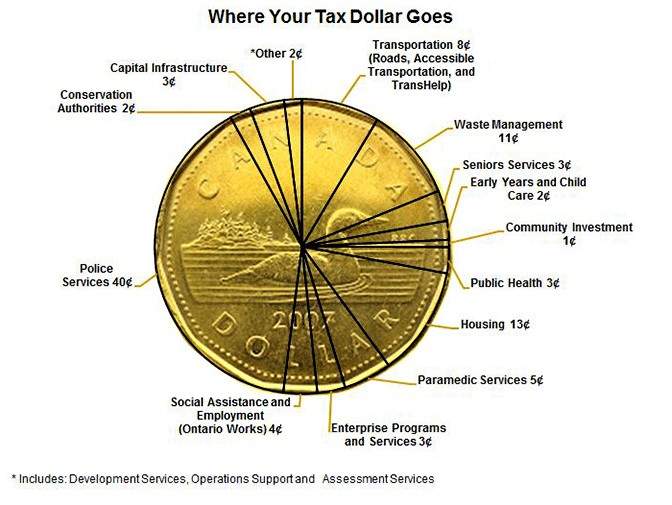 There is no question the policing budget, the largest portion of the overall regional budget, was the most contentious for regional councillors.
Just last week, Brampton councillors walked out of the council chambers, forcing a shut-down of the meeting, after a motion was introduced by Mississauga councillors to review the funding model for police.
The motion looked to shift as much as $69 million in annual police costs to Brampton in a model Mayor Crombie said was more "equitable". Mississauga has argued that the funding model should be based on the number of police calls and work that takes place in each city, otherwise its taxpayers end up subsidizing policing in Brampton, where, according to data being used by Mississauga, most policing activity takes place.
In that same meeting last week, Mississauga moved a motion calling for the police to reconsider its budget demands. The very next day, the police services board met in-camera to discuss the potential of slimming the budget further, something Chief Nishan Duraiappah made quite clear to council would mean hiring less officers over the coming year. He reiterated his stance in a letter to council delivered on Thursday, standing firm on his budget demands.
Chief Duraiappah explained that 4.9 percent of the 5.4 percent increase is directly related to additional staffing resources, including wages and benefits for additional staff (2.8 percent) and the 35 additional officers and 18 extra civilian staff planned for 2020 (1.6 percent).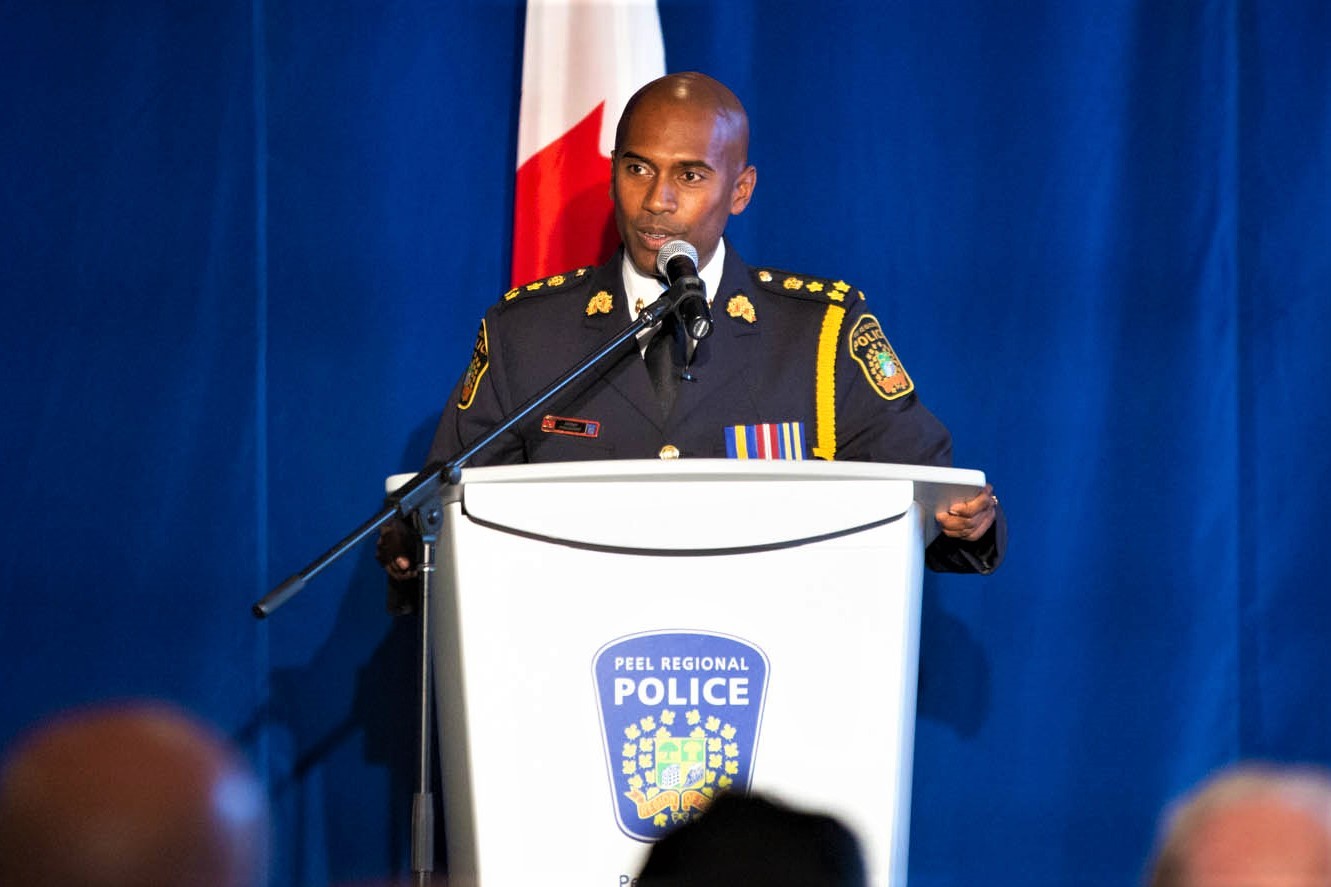 Peel Police Chief Nishan Duraiappah
"These officers are essential to the adequate and effective provision of services, particularly in those communities where we are planning to maintain and increase police presence as part of our overall strategy for community engagement and safety," Chief Duraiappah stated in his letter. "Any further reduction to the budget would result in the elimination of officers which would have a direct impact on public safety."
Additionally, the 5.4 percent increase is already a reduction from the initially proposed 6.1 percent increase forecasted earlier this year, the chief explained, and any further cuts could also impact crucial wellness programming for things like Post Traumatic Stress Disorder.
In large part, the additional officers will address Peel's rising rate of violent crime.
According to the violent crime severity index (VCSI), Peel's rate increased 51 percent between the start of 2014 and the end of 2018, compared to a 27 percent increase for Ontario and 17 percent for the country over the same period. The Pointer previously reported this figure is rising at nearly three-times the rate of the national VCSI. The rise in gun violence in the two cities has played a major role in this increase, something that is trending higher in 2019.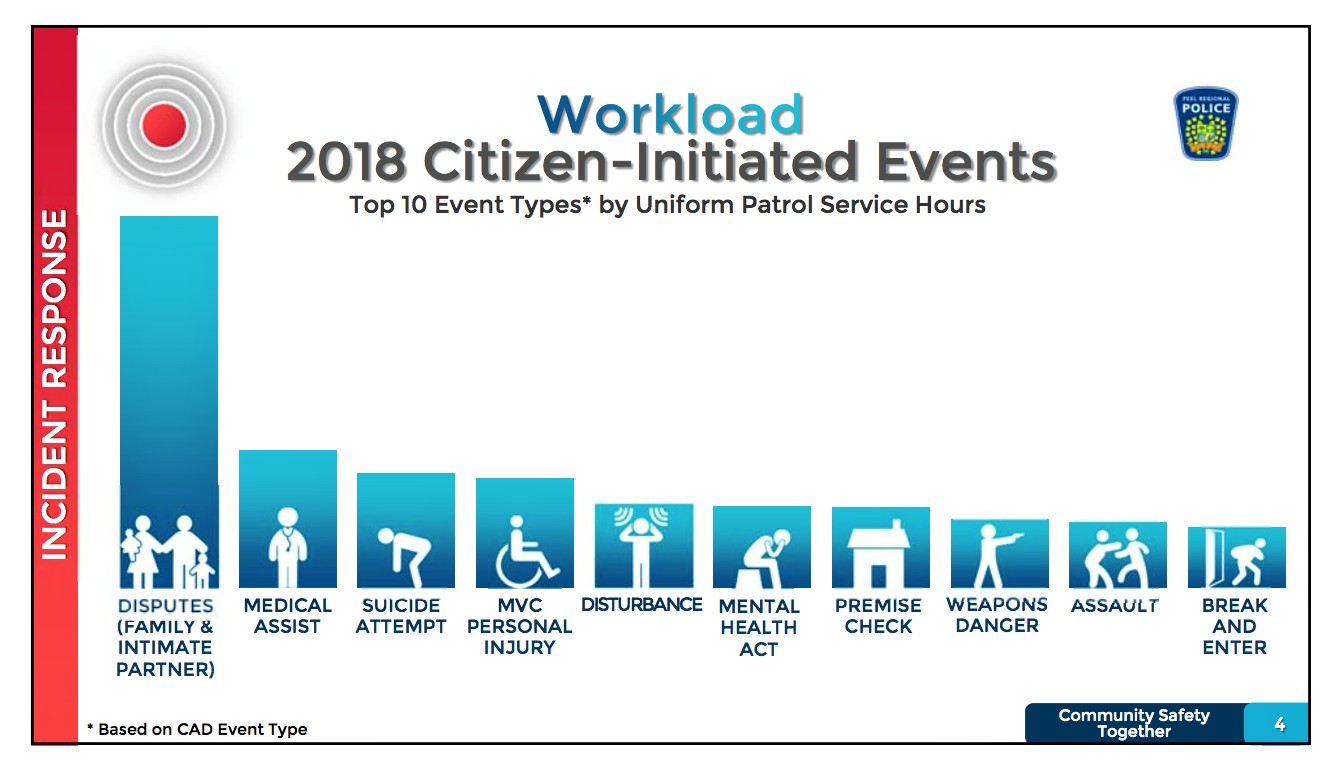 Looking closer at the crimes the fuel the VCSI, Brampton and Mississauga (Caledon is policed by the OPP) experienced across-the-board increases in the most violent types of crime in 2018. The 26 homicides marked a 63 percent increase over 2017; attempted murders increased by 86 percent; assaults by 14 percent; and sexual violations by 13 percent. In Brampton and Mississauga, there were 242 stabbings, a 55 percent increase over the year before; 53 shootings, a 33 percent increase; and police investigated more than 500 reports of gunshots fired, an 18 percent increase.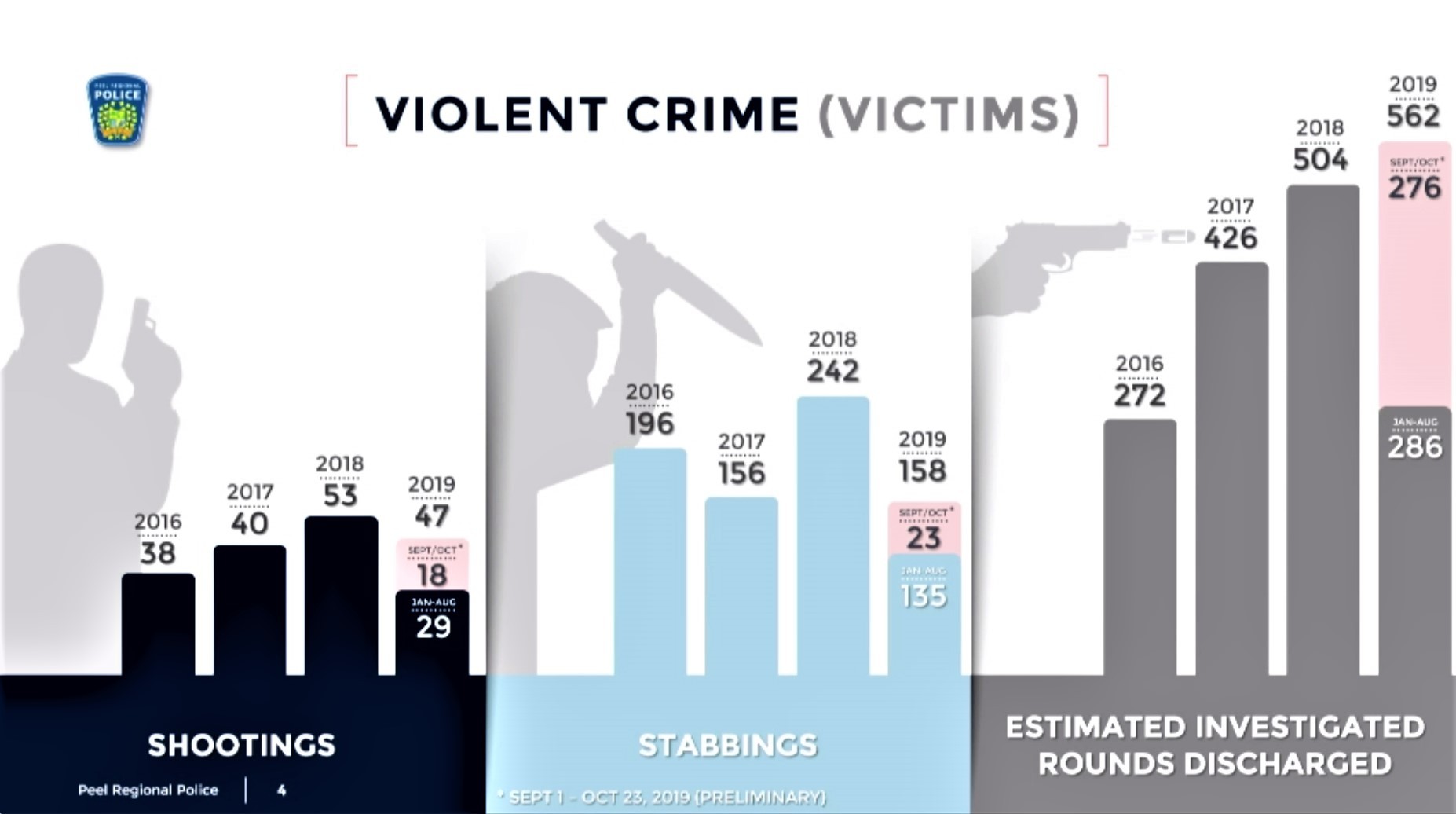 Preliminary data for 2019, part way through the year, indicates the trend is continuing.
On top of that, police need to grapple with the ever-increasing workload that comes with a growing population. The force dealt with a total of about 43,000 Criminal Code offences in 2018, more than 9,000 of which were crimes against persons (an average of 26 per day), and more than 28,000 crimes against property (an average of 77 per day). The force also doled out about 232 Highway Traffic Act charges on a daily basis, a number that is sure to rise as Peel sees more newcomers arrive, more houses built and more cars on the road.
Peel police are also projecting a 9.9 percent increase in citizen initiated events, a 4.6 percent increase in immediate response calls, and a number of emerging pressures relating to mental health related calls (officers spend an average of 2.5 hours per day in hospitals for mental health apprehensions), intimate partner and domestic disputes (officers have spent 66,000 hours on such calls in 2019) and other complex crimes like gang activity, human trafficking and cyber-crime.
Peel police are already working behind the eight ball. Even with the added officers, the force remains woefully behind the Canadian and national averages when it comes to police officers per population. This year, Peel sits at approximately 140.5 officers per 100,000 residents, well below the national average of 194 officers for every 100,000 residents and the provincial average of 181 officers per 100,000 residents. This has been an ongoing concern for Peel, the third-largest municipal police force in the country.
The proposed $445.7 million operating budget represents $22.7 million more than what was needed for 2019. The overall $490 million budget proposal for 2020 represents a 69 percent increase from the roughly $290 million budget in 2010.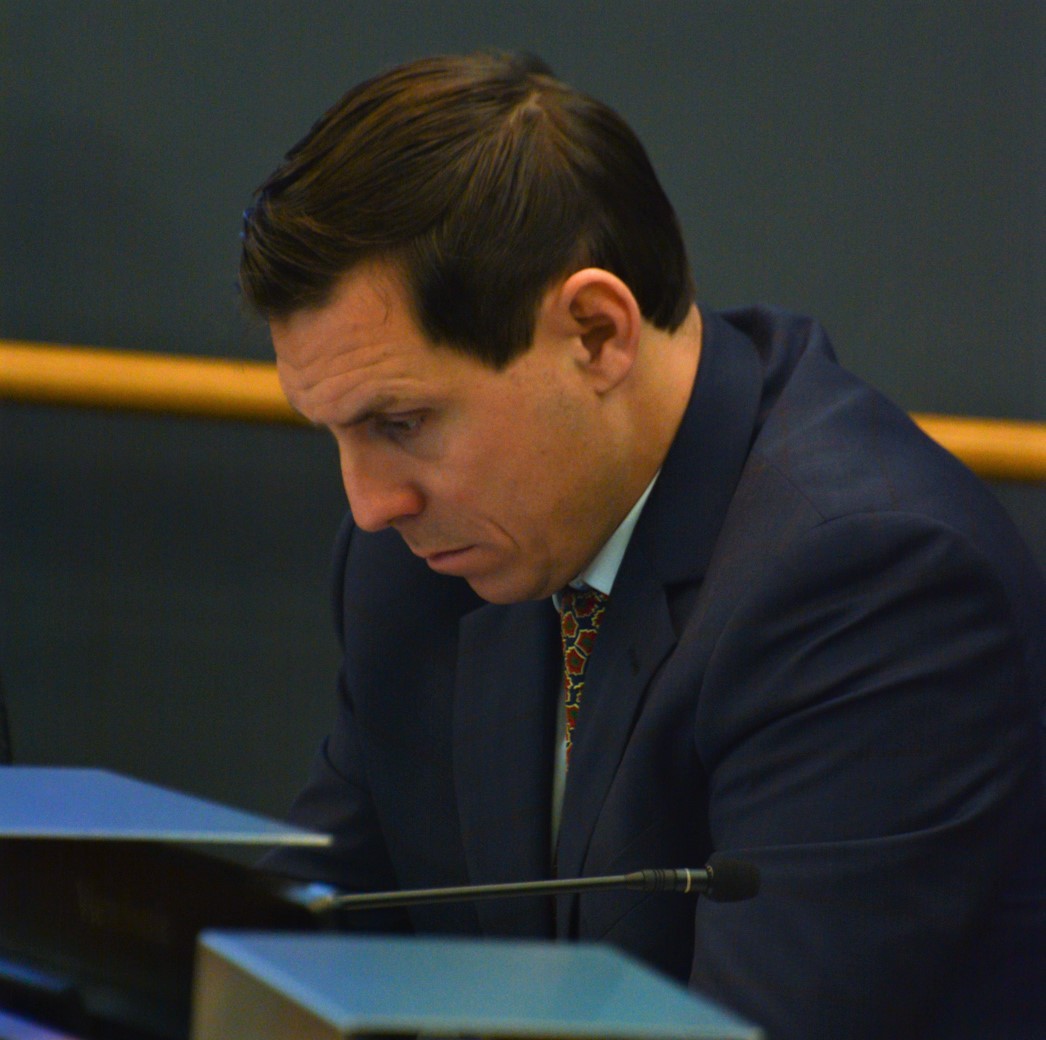 Mayor Patrick Brown looks intently at regional budget documents Thursday; he has been the most vocal defender of the police budget
The brand new contract for officers which sees a first class constable start at $100,420 represents a 41 percent increase from the $71,400 starting salary in 2006, but when adding various top-ups such as investigative premiums and retention pay, some officers are making almost 60 percent more in the same job category compared to 2006.
Following the receipt of Duraiappah's letter, it appeared that regional council grasped the severity of the situation, as there was no further push at Thursday's meeting to try and force a reduction in the police budget.
"If you look at the letter from the chief… I think everyone should feel confident that we are supporting the bare bones that the chief needs to protect our public safety," said Brampton Mayor Patrick Brown, who also sits on the Peel Police Services Board. "This is the wrong time to be diminishing the chief's ability to keep Peel Region safe."
Email: [email protected]
Twitter: @JoeljWittnebel
Submit a correction about this story