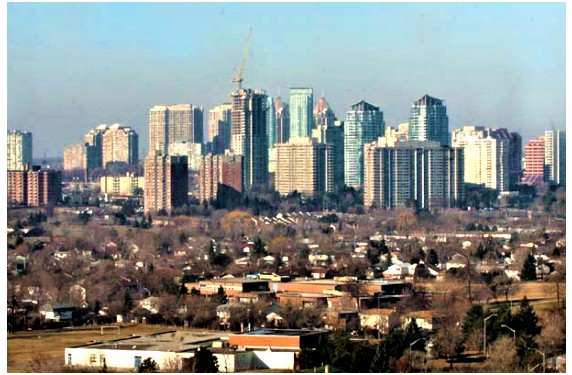 The Pointer file photos/Charts and map City of Mississauga
Mississauga's largest ward, with twice as many residents than its smallest, gets a raw deal
Imagine being in a classroom with 20 students compared to one with 40, where the teacher can hardly think much less attend to all the needs of demanding pupils. That's the scenario for many Mississauga residents.
Changes are afoot regarding the areas councillors in the city represent, with staff beginning early work on a ward boundary review.
For many, the technicalities of council are the epitome of inside baseball and may not inspire much enthusiasm. Yet, boundaries have a major bearing on the composition of council, on representation of residents and, as a result, upon the governance of the city itself.
Ward 7 Councillor Dipika Damerla wants changes; she represents almost twice as many residents as the smallest ward.
The current 11 wards in Mississauga have been in place without change since 2006, a significant period of time for Canada's sixth largest city. In 2006, the census put the population of Mississauga at just over 668,000 people, now the city's 2020 budget shows that figure has exploded to 777,000. With the city built out as far as it can go, those 100,000 plus new residents have popped up all over, leaving vastly different ward sizes.
At its most basic level that change leads to unequal representation. On paper, the fewer residents there are in a ward, the more time a councillor has to listen to their concerns. And, obviously, those with almost twice as many residents have much less time for them. With seven of the city's eleven wards outside the ideal 10 percent variation mark, some residents get much better service than others, as it stands.
According to data from the city, the largest area in Mississauga is Ward 7, represented by Dipika Damerla. Ward 7 has 80,700 residents, Ward 6 has 78,100 and Ward 5 has 79,200. Meanwhile, at the other end of the spectrum, Ward 1 has just 42,500 residents and Ward 2 is home to 47,500 people. This imbalance relates to the effectiveness of resident complaints as well as the number of votes required for councillors to get elected in different areas.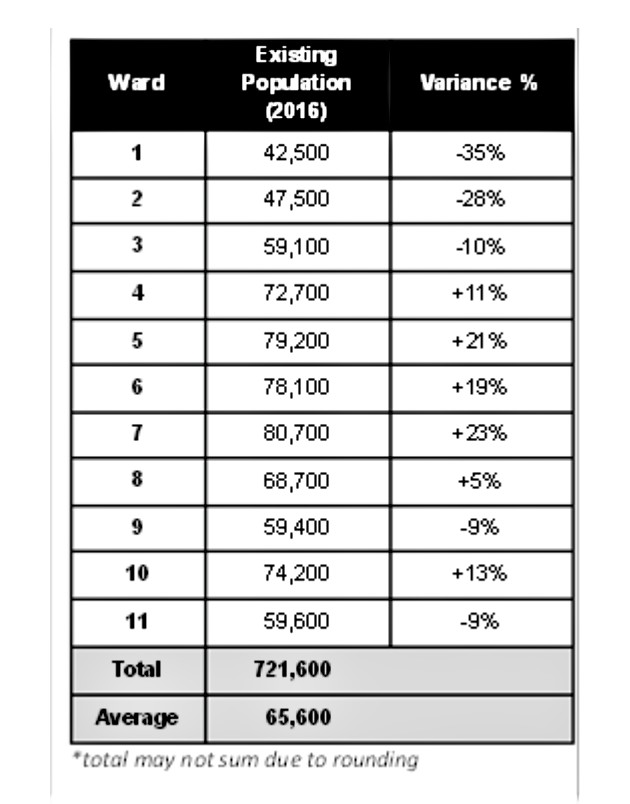 So if all the demands of residents, including help with property tax issues, snow clearing, bylaw complaints and a wide variety of applications for various municipal services, just to name a few items, flow through one councillors office for attention, as it stands, some residents are getting half the level of service compared to others, even though they pay the same taxes.
Last time the city reviewed its ward boundaries it came up with some fairly significant changes to account for population growth. At the region, Mississauga went from 10 to 12 councillors, while the city moved from nine to eleven wards. The two new wards were added in the northern half of the city to account for growth.
Although staff have not recommended expanding the number of wards in their initial report, one resident told council on Wednesday that they should consider increasing the number of councillors for better representation and to have an additional councillor ready to fill in at the region. The same resident suggested that the city tie its review policy to the census to keep tabs on its ever growing population.
However, Professor Robert Williams, retired political science professor at the University of Waterloo, who has extensive experience with ward boundaries and electoral policy, said that adding a councillor through the regional set-up could prove complicated.
Municipalities don't add new councillors "that often," he told The Pointer. "There is a mindset that more politicians is a bad thing," Williams added, making reference to current Ontario Premier Doug Ford and '90s premier Mike Harris. "The idea [of another councillor], I think, is a good one," he said. "since it can strengthen representation."
However, within the regional system that would be more complicated. Although, under the Municipal Act (2001) Mississauga has the right to add as many councillors as it sees fit, getting its new councillor a seat at the regional table would be significantly more complicated and require both regional and provincial approval. In theory, the city could add one councillor who was city-only (a system which operates in Brampton), though this would likely cause much debate over which councillor would only sit at city council and not the region. Brampton currently elects five regional councillors and five city councillors with one of each representing two wards. Additionally, of its five city councillors, one is selected by council each term to move up to the region, securing a hefty additional salary (about $56,000) and often causing divisions among members over who deserves the steep income increase for being elevated to regional council.
After hearing public questions, Mississauga councillors did not provide direction to staff to explore an additional councillor, but it might be addressed in the future.
Though the ward boundaries do not need to be redrawn and approved until 2022, council and staff are making an early start. In January, councillors will hear three separate scenarios for consideration, options which will also be subject to significant public consultation. Those three options are: tweak the current set-up; realign wards along neighborhood lines; or to work on establishing equal populations as the focus of any realignment.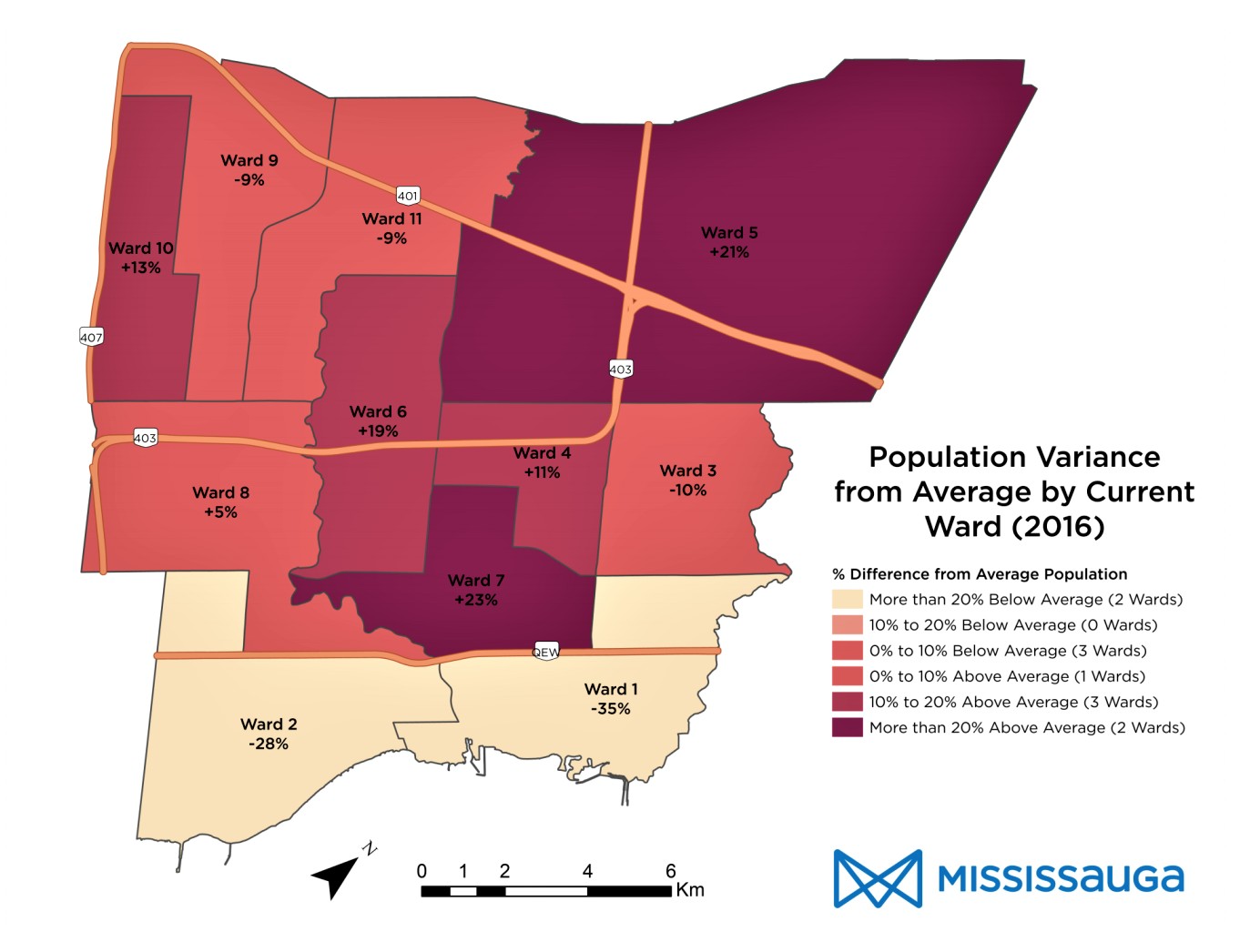 Williams told The Pointer that three key things to bear in mind are: to make sure the rationale for change is watertight in case the decision is taken to the Local Planning Appeal Tribunal; to be clear what a boundary review is trying to achieve (for example, which principles are given priority); and to give ample opportunity for public input to keep the city on the same page as its residents.
When council hears the three scenarios in January it will provide guidance and the gears for the plan will begin turning.
Between February and April, 2020, staff will consult with the public, with plans to bring the result together in a final proposal for May, 2020. In June notice will be given of the plan, allowing residents or interested parties time to appeal the proposed bylaw.
In December 2021, the boundary changes will be enacted in time for the 2022 municipal elections.
The result of the boundary review will define which wards residents vote in during the 2022 election and will also address the number of people each future councillor represents.

Email: [email protected]
Twitter: @isaaccallan
Tel: 647-561-4879
Submit a correction about this story