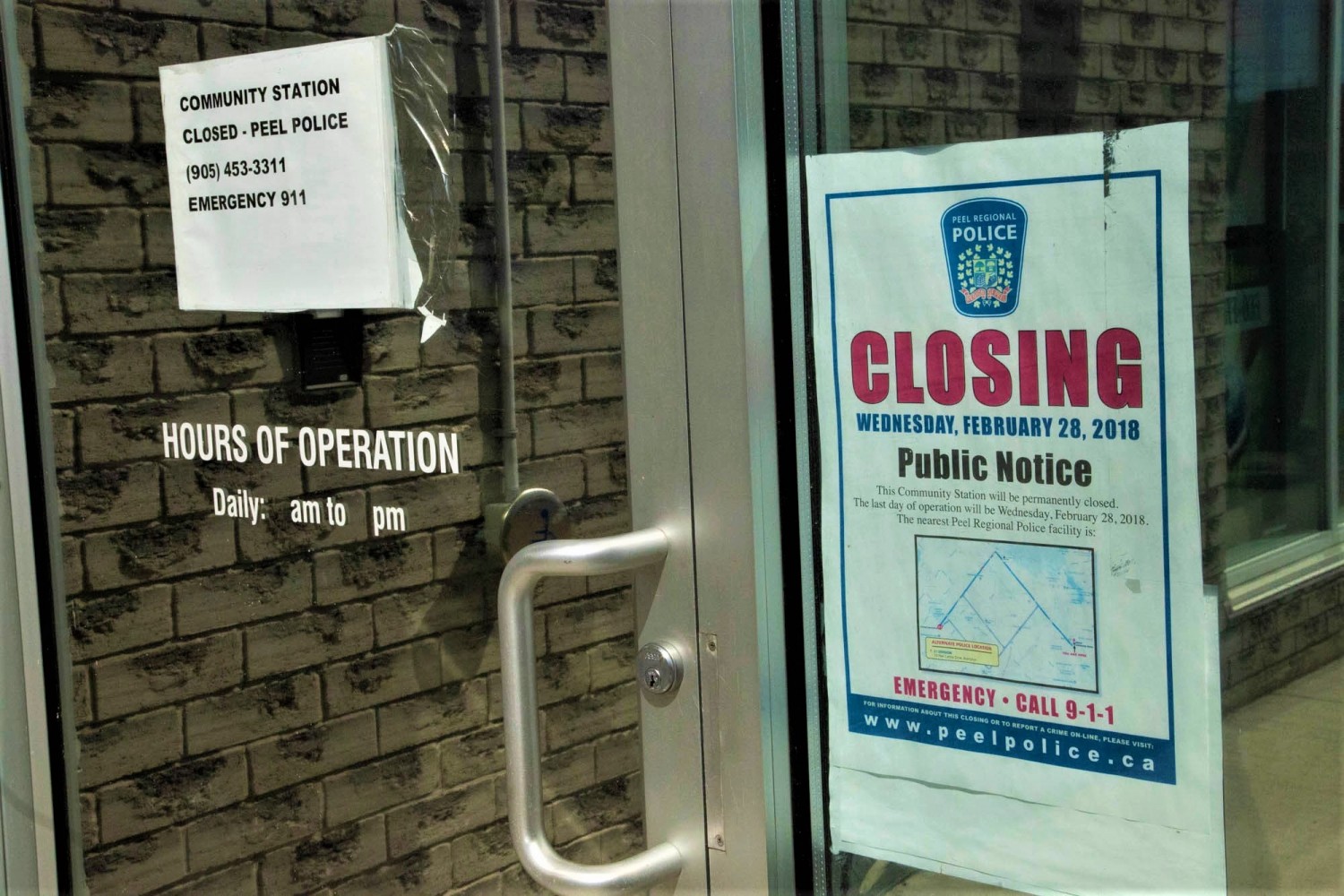 File photos
Update: Malton's police sub-station to reopen in the first quarter of 2020 as an interim measure
Plans to bring a community substation back to Malton continue apace, as the region's new police chief works to establish his own regime. After announcing to Mississauga councillors that a community station would indeed reopen in Westwood Square Mall a couple of weeks ago, further details have emerged.
Following a deputation last week to the Police Services Board by Malton Councillor Carolyn Parrish and resident Ann Barclay (who has been collecting signatures in support of a full Malton division), Chief Nishan Duraiappah confirmed that the station would reopen with at least two officers in it during the day.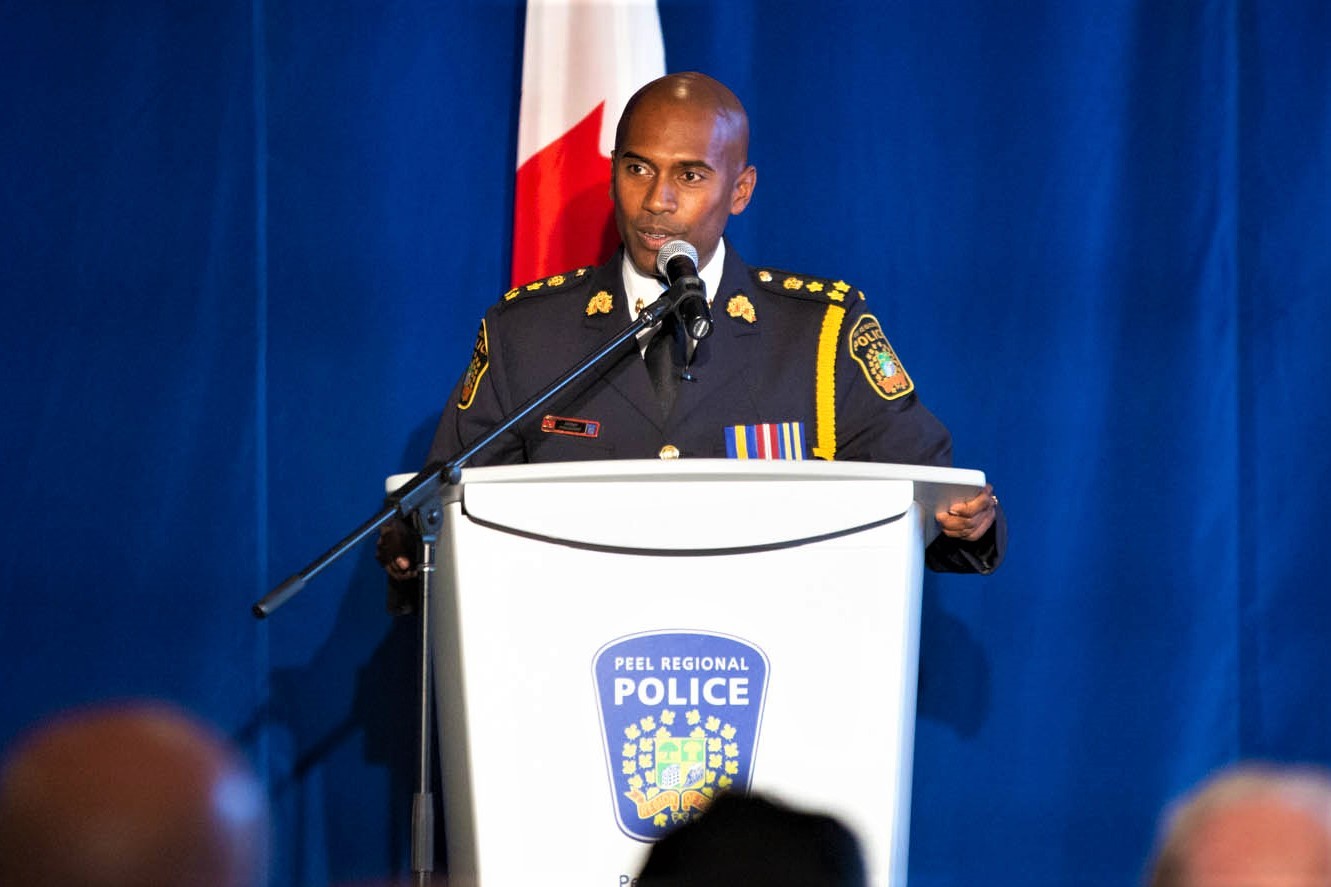 Chief Nishan Duraiappah
Telling the board that he wanted the police's presence "oozing" out of the currently shuttered station, Duraiappah and his staff said they are aiming to open the station in the first quarter of 2020. "We want to undersell and over deliver on the date and time," the chief told Mississauga Mayor and former Ward 5 councillor Bonnie Crombie, who sits on the police board.
Since the arrival of the new chief, Malton's calls to have its police substation reopened have been heard loud and clear. In the time since he was sworn in – less than two months ago – the Police Services Board approved a full review of how police divisions work in Peel, while the Malton substation has gone from a positive whisper in September to opening as soon as early in the New Year.
Peel Regional Police were unable to confirm to The Pointer when a similar planned community station in Brampton's downtown, which has experienced a series of troubling crimes recently, would open. A spokesperson stated: "We haven't been given any details at this point."
At the Friday, November 22, meeting of the Police Services Board it was also revealed that the station will be reopening in its old location inside Westwood Square Mall, where the mall's operators, Fieldgate Properties, are offering the police the space rent free. Since the station closed in 2018, officers had been allowed to use an area within the shopping centre to relax or complete paperwork, while the mall had previously indicated that rent would be "fully negotiable" if Peel Police chose to re-open the station. Now, in a gesture which illustrates the importance of a visible police presence for store owners, Westwood Square Mall has agreed to offer the full-size substation facility rent free, where it cost more than $15,000 per month for the same location before it was closed down in early 2018.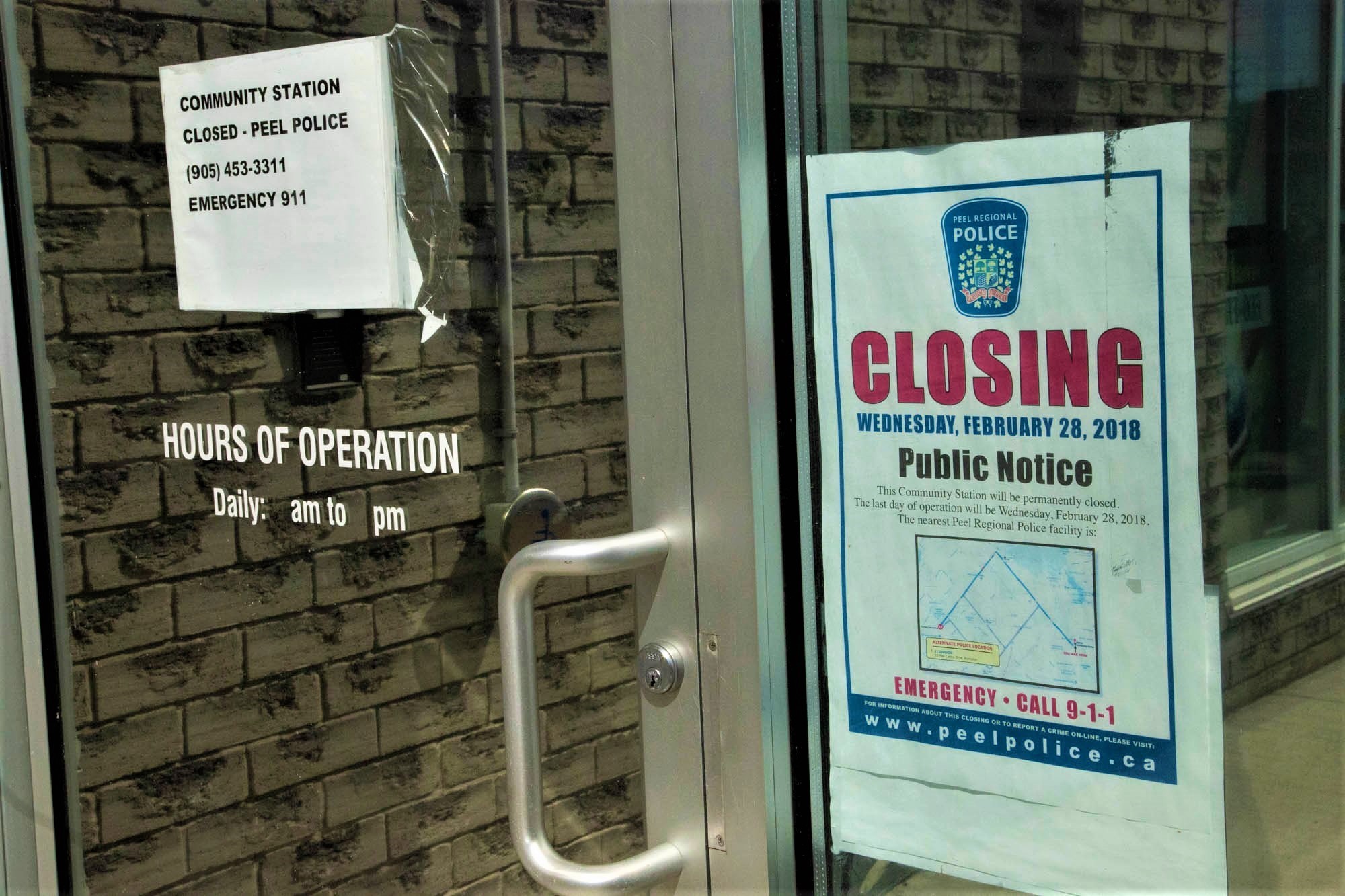 The substation, where the closure sign still hangs, was shuttered in February, 2018
This move is a major victory for the Malton community in its attempt to convince Peel police it needs to return with a bricks and mortar presence back in the area in a permanent capacity, making the offer of free space essentially too good to turn down.
However, despite much relief in Malton over the quick work under the new chief to secure the community substation's return, he and residents said there is more good news to come, acknowledging it is only a temporary fix. "This is an effective interim measure while a review of the current division pattern is taking place," Barclay told the board. "In the end, a full division for Malton may not fit a revamped plan for police service delivery in Peel. We will, however, require at minimum, a storefront station with 24 hour coverage, several platoons of officers redeployed from one of the region's major divisions to an enlarged community station in our village. A compromise may be reasonable and possible."
Pointing out the fact it is relatively straightforward, with rent free space available and police already patrolling Malton, Barlcay added that Malton expected officers to be dispatched from the community station "over a 24-hour period, seven days a week."
Plans for the substation going forward seem fluid, which will give residents a sense of relief. Although Duraiappah was a little evasive in his answers to questions around a 24/7 police presence and just how the Malton station would see its footprint expanded, he did make more promises to the community.
"We're going to do our best to get a heartbeat into that community, into that substation and it is an interim solution," he said. "Based on the board's direction to me as a chief, we are undertaking this short term activity and this long-term service delivery review. You all have to know, though, that in the midst of it, we are also looking at midterm solutions. Will it look like four platoons out of that storefront or something else?" he said rhetorically, without answering his own query. "I think you know that the sincerity comes from me when I say that I will look at all the opportunities to fill that space in between short and long term with something that's appropriate for the community."
Speaking to The Pointer previously, Duraiappah acknowledged that a Malton substation would not be the "panacea", suggesting he was open to a range of solutions for one of the city's most in need areas.
The need for an increased police presence in Malton has existed for decades. An internal report during the 1990s suggested that the "isolated" area would benefit from a full police division, something for which land and architectural designs were procured, before a bad budget year in 1995 put an end to the project. Instead, Malton was offered a community substation in Westwood Square Mall, which former chief Jeniffer Evans closed for cost reasons in 2018.
The need identified in the 1990s remains true today, with the isolated area dominated by Pearson Airport and home to many newcomers. According to the 2016 census, 59.9 percent of those who live in Malton are immigrants, while 82.5 percent are visible minorities. More than a third of households spend 30 percent or more of their income on rent; one in five experience low-income.
The argument for an increased police presence revolves around several factors. The first is one of basic crime prevention. This motivation, which certainly applies to the offer of free rent from Westwood Square Mall, is about deterring crime simply through quicker police responses to smaller incidents and a more public display of police action. For this purpose, a community substation is very helpful.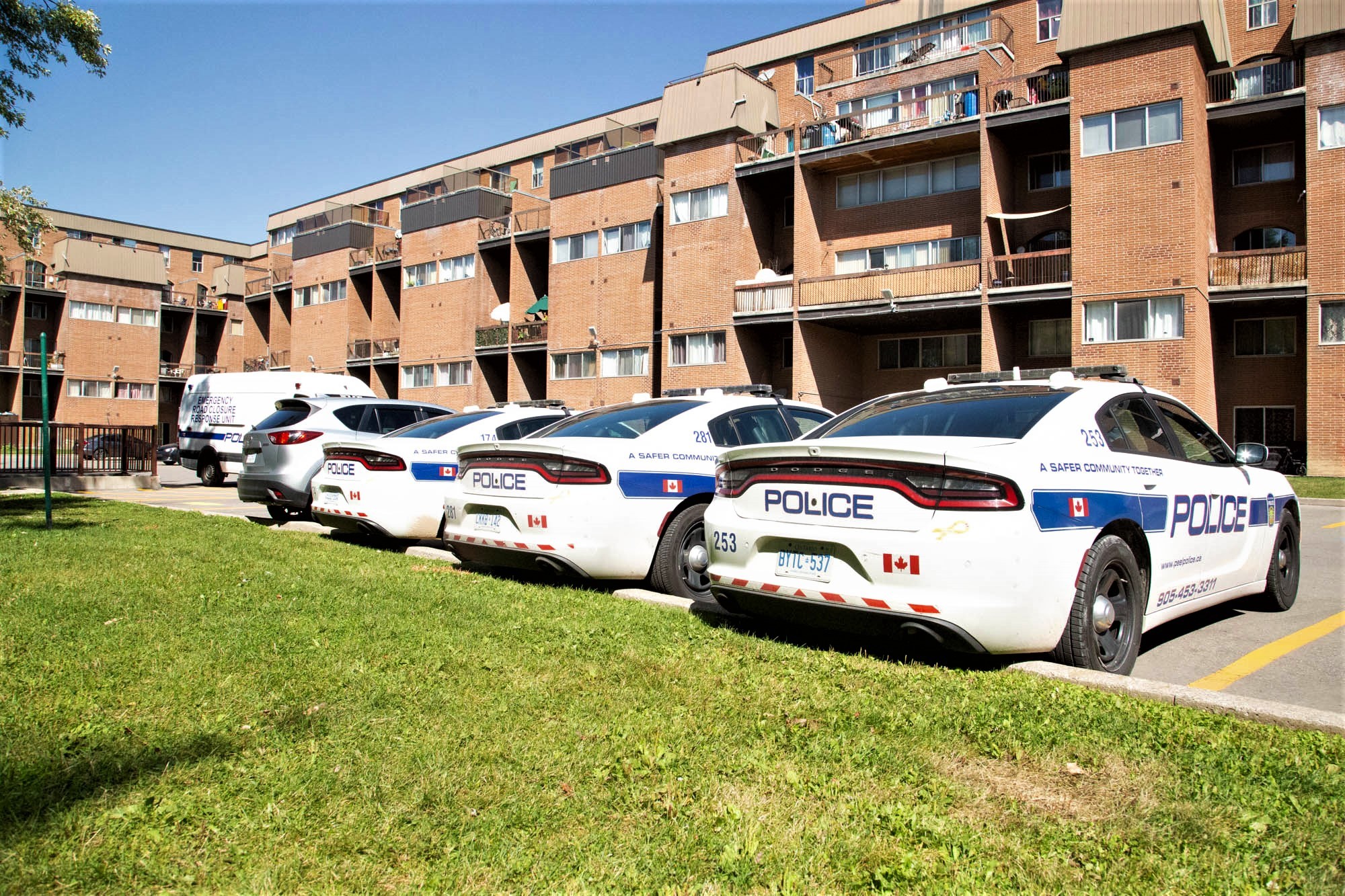 A heavy police presence days after a mass shooting at a Malton apartment complex in September
Another motivation, though, requires a larger and more permanent police set-up. Gang activity and violence in Malton has been on the rise in recent years, epitomized by the death of an innocent teenager in a mass shooting which took place in September and left five others wounded. For this, the presence of two officers during the day is not enough; instead a more permanent building would need to be created with the capacity to house specialist officers, including those with tactical operations and automatic firearms training. This is something which Westwood Square Mall is unlikely to be able to offer, rent free or otherwise.
With the Malton substation set to open as soon as January, Peel Regional Police are taking the first major step in mending their relationship with the Malton community. However, after decades of neglect, the community will now be waiting on Chief Duraiappah to deliver on his promise of a midterm solution as well as long-term planning to truly begin to rectify decades of neglect.
Email: [email protected]
Tel: 647-561-4879
Twitter: @isaaccallan
Submit a correction about this story