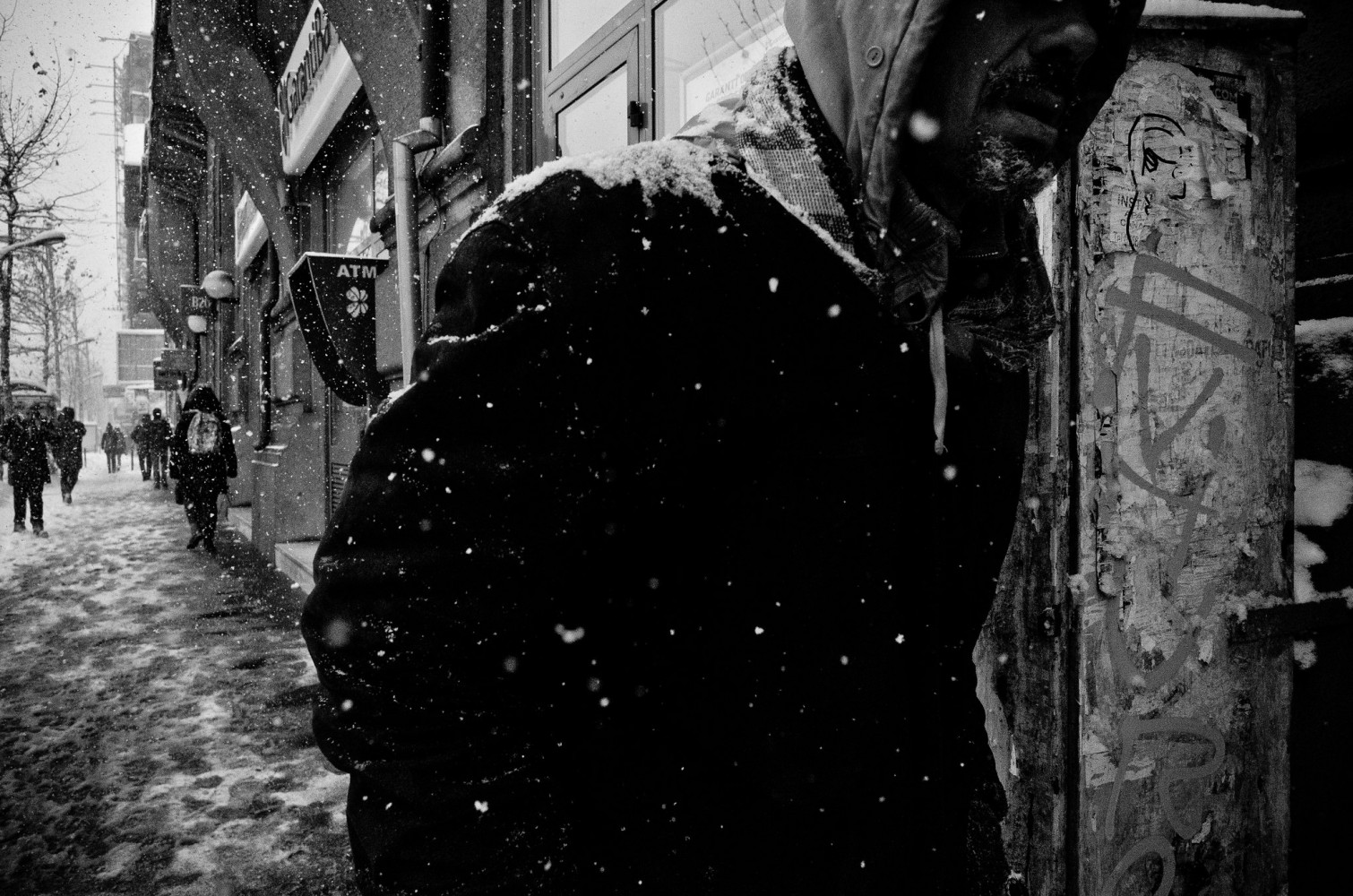 Photos from Flick-J Stimp/Graphics from Region of Peel
Peel revamping housing services as waitlist, debt and lack of progress continue to plague system
The waitlist for affordable housing continues to grow. Peel's emergency and homeless shelters continue to operate over capacity. The region's social housing providers are indebted millions of dollars and will require hundreds of millions in investment to remain in a state of good repair over the next 10 years. Peel's ambitious housing master plan, Home for All, appears DOA.
So what is there to celebrate?
On Nov. 22, National Housing Day, the Region of Peel put out a glowing news release celebrating all the supposed good things they are doing when it comes to boosting the affordable housing supply, including the creation of 5,700 new units over the next 10 years.
"Peel is one of only a few communities across Canada with a long-term housing investment strategy," said regional chair Nando Iannicca in the release. "The development of 5,700 affordable rental units on Regional surplus lands and Peel Housing Corporation sites by 2034 makes the Region's Housing Master Plan the most progressive and large-scale housing infrastructure plan developed in Peel."
But wait, 5,700 units over the next 10 years?
Just last year, regional council approved its 10-year Housing and Homelessness Plan titled Home for All which said the region would be developing 7,500 units annually for the next decade. This included 2,000 affordable units (1,000 for low income and, 1,000 for middle income households) and 5,500 market units. Those targets were approved by council, and simple math shows, based off that plan, the region should have already built 15,000 units by the end of 2019, something they have come nowhere close to accomplishing.
It's not clear whether the 5,700 units mentioned in the release are part of, or in addition to, the 7,500 units targeted in Home for All. A request for clarification sent to the region, including an inquiry about whether the targets under Home for All are still achievable, was not returned ahead of publication.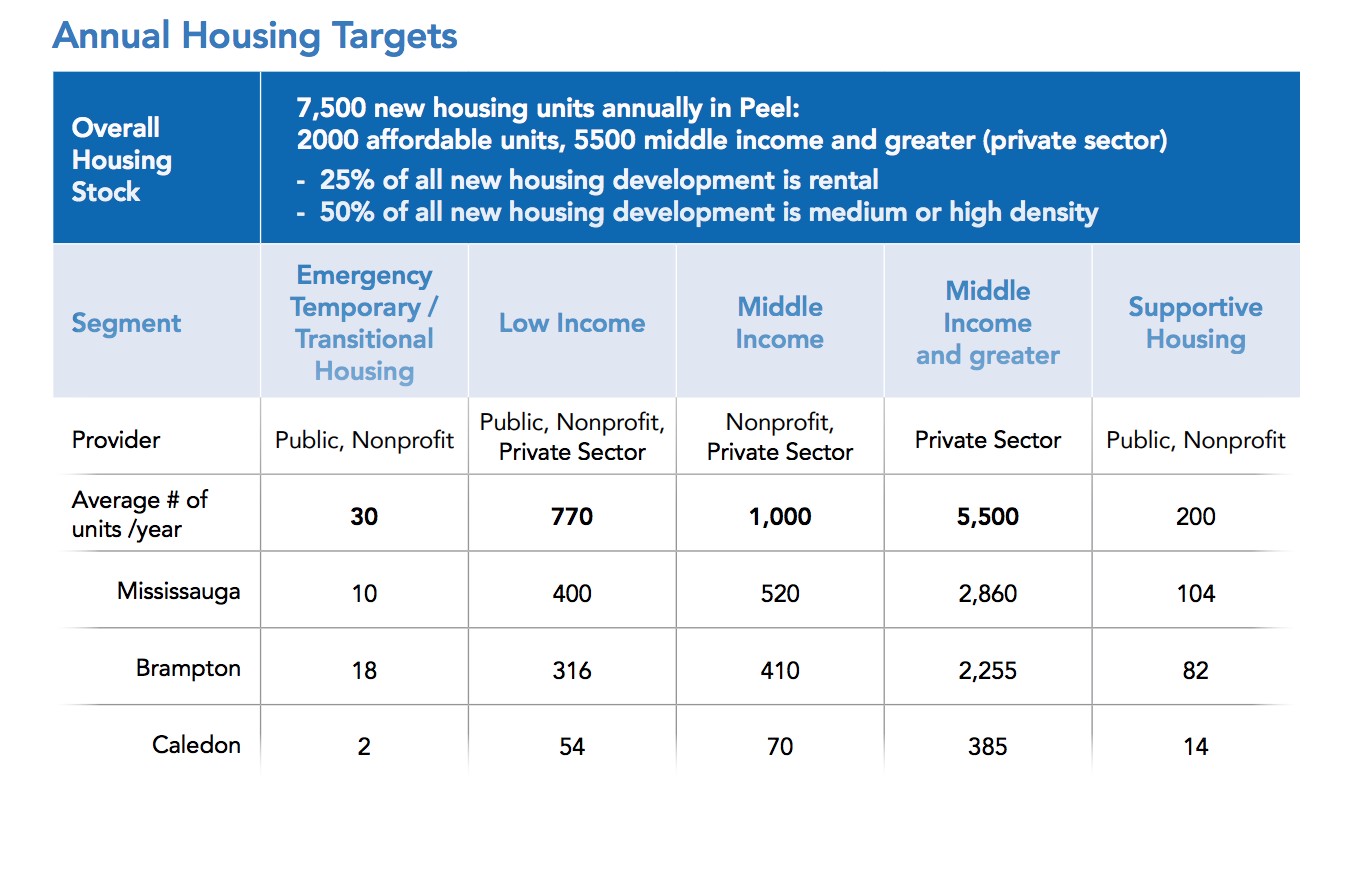 Annual affordable housing targets for the Region of Peel as laid out in the Home for All plan approved by council in 2018.
To get a true picture of the affordable housing crisis in the Region of Peel, one only need to look at the flood of staff reports, and the regional budget, that lays out a system that is crumbling, over-crowded, and underfunded, both by upper levels of government, and the region itself.
Last year's budget dedicated next to nothing in terms of investment into the affordable housing system, a glaring omission at that time, and one that has continued in the proposal for 2020.
The region's 2020 budget, as it stands — budget talks started today (Nov. 28) — contains no significant investment for new staff to address the crisis and provides only a 2.9 percent increase ($15.6 million) to the Housing Support department, the lion's share of which ($13.7M) is being used simply to keep existing housing stock in a state of good repair. No capital investments are slotted for 2019.
All the while, 50 percent of the supportive housing demand in Peel continues to go unmet, and with frigid winter temperatures beginning to settle over the region, this can have deadly consequences.
None of this is a secret to regional staff, or councillors.
"As a result of growing pressures, current services aren't always reaching the right people at the right time, nor providing the right supports to meet the unique needs of each household," reads this year's annual report from the region's housing services branch.
That document goes on to detail how the region's centralized waitlist for social housing has bloated to 14,997 households as of June 2019, compared to 13,597 at the same time last year. This growth came despite 650 households being removed from the list and placed in housing. It should be noted that the region's tone-deaf press release made mention to the 2018 figure, and not the updated June 2019 number, which was released in the region's own reporting last month. A request for comment on this omission was not returned to The Pointer ahead of publication.
Regional Chair Nando Iannicca
Further, the region's shelter system is also facing growing pressures, a problem that is only going to get worse as Peel enters the cold winter months.
Peel oversees five emergency shelters — Wilkinson Shelter for single men, the Cawthra Shelter for single men and women, the Peel Family Shelter, Brampton Queen Street Youth Shelter and Our Place Peel shelter for youth. Between June 2018 and June 2019 the Peel Family Shelter was operating in a consistent overflow state, while the Wilkinson Shelter was in overflow 92 percent of that time.
"The demand for all housing and homeless services is growing and the needs of the community are changing and becoming more complex. The outreach program is overextended as it is the primary source of mental health supports for clients," the regional report reads.
To make matters worse, the centralized waitlist does not generally capture every individual who needs housing in Peel and typically omits those in desperate need.
"Many homeless community members and those most in need are not even on the list," the regional report reads. "Meanwhile, there are many individuals on the list whose needs are not urgent as is evidenced by their refusal to accept an offer of housing at a building of their choosing."
As of June 2019, 873 households on the list had refused their first offer for housing — the reasons are not stated — and 288 households had refused two offers. There has been a move at the provincial level to eliminate this issue. The Housing Services Act has been amended so that households on the waitlist — which is regulated by the province — can no longer refuse offers for housing. However this change does not come into effect until January 2021.
It appears many of the housing targets laid out in the Home for All plan are out of reach for the Region of Peel. Just to build the 5,700 units mentioned in the region's recent press release, Iannicca stated this would require "significant funding and support from our federal and provincial partners." What would be required if the region moved to construct 7,500 units annually?
The region is moving ahead with other goals in the Home for All plan, including a transformation of their service delivery, which they are hoping will help make the required services available to those most in need.
For years, the region has been delivering services on a chronological basis, essentially first-come-first served. However, as noted by the region's housing providers in the annual report, at times this leaves those most in need out in the cold.
Now, Peel is transforming to a needs-based service delivery model that puts need ahead of when a person applied for aid.
"By focusing on needs rather than application date, the Region will be better positioned to optimize limited resources, prioritize and right-size access to supports and improve housing outcomes for residents," reads regional documents proposing the change.
The region is not alone in this transformation. A 2017 report from the provincial auditor general noted the model has merit and recommended the province move to such a delivery method within the Ministry of Housing programs.
There are some potential issues with Peel moving to such a model though.
First, the region's hands are slightly tied when it comes the waitlist as the rules for administering the list are laid out in the Housing Services Act. However, the report states "there is latitude though to move to a need-based approach for regionally-funded supports, programs and services."
It's not clear what impact this change would have on the waitlist itself in terms of speeding up the process. In fact, it could also cause some people to wait longer as their need is judged to be lesser than someone else's.
"We introduced the new needs-based service approach in November 2019, and will report to regional council on the benefits and impacts of the changes in 2020," states spokesperson David Hodkin in an emailed response to The Pointer. "Households on the waitlist have varying levels of housing need. With our needs-based approach, those with urgent needs will receive services faster to help them stabilize their housing situation. Those with less urgent needs will wait longer."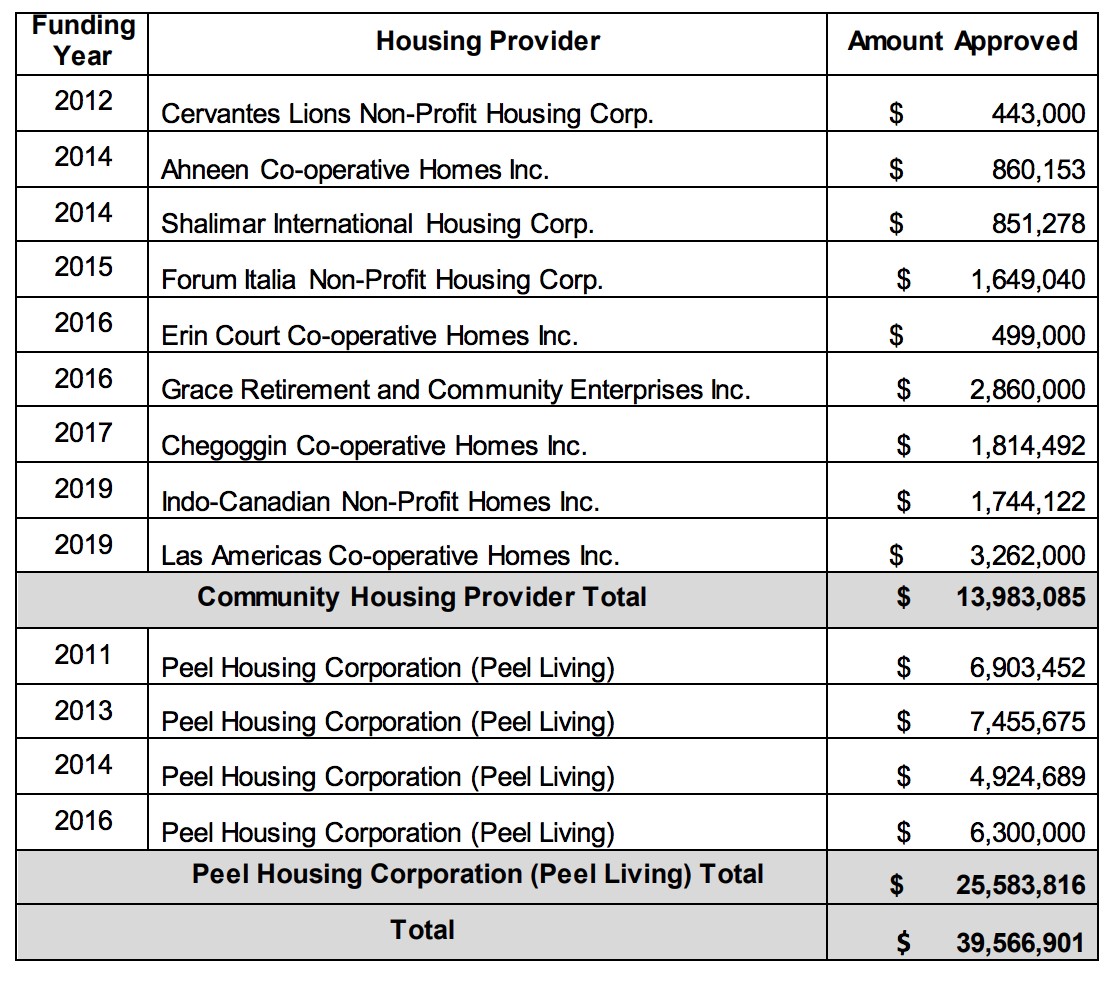 A breakdown of money lent to Peel's affordable housing providers.
Hodkin also says this needs based approach will apply when the region is making decisions about locations and types of new housing supply.
As the budget currently has no investment into capital housing projects this year, it's not clear whether any such decisions about new affordable housing developments will need to be made by council over the coming year, despite the fact that the need is clearly shown and housing providers are looking to the region to take action.
As part of the annual report, staff note that along with the service transformation, a proposals for a new women's shelter in Brampton, and new permanent supportive housing for high-acuity, homeless, single men will be coming forward in the coming months.
Where the funds will come from to make such projects a reality is not known.
Email: [email protected]
Twitter: @JoeljWittnebel
Submit a correction about this story