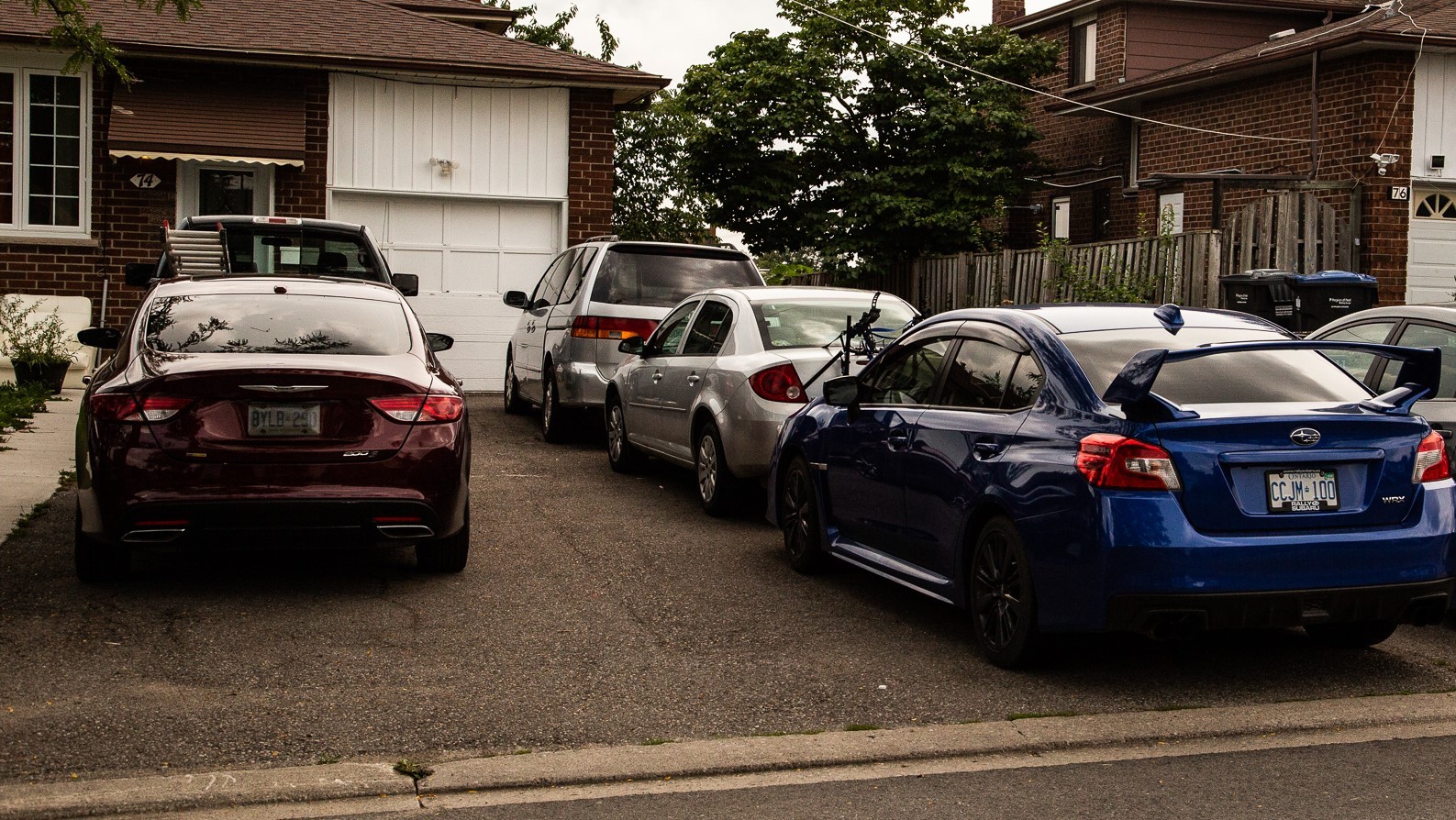 Photos by Joel Wittnebel and file photos/City of Brampton
Illegal basement suites advertised online are a sign of Mississauga's toothless enforcement policy
With the rise of illegal basement apartments across Mississauga as the affordable housing crisis gets worse, landlords are going online to advertise their unregistered units, knowing the city is doing little to enforce its own rules.
While the city suffers from sky high demand for property, heating a market which is already unaffordable for many on middle-incomes in Canada's sixth largest municipality, it is caught between a rock and a hard place. If it cracks down on illegal basement apartments, or secondary suites, a crucial supply of affordable housing gets choked off; but if it continues to ignore the problem there will be more side-effects of these illegal units, such as unsafe, unregulated living conditions, residents not paying for the services and infrastructure they use and schools being thrown into chaos with more students than planned for.
The Province in 2012 mandated that municipalities allow secondary suites, a move to help create more affordable housing across Ontario. But it left it to cities, individually, to determine how they would regulate these units and guarantee no abuse would take place.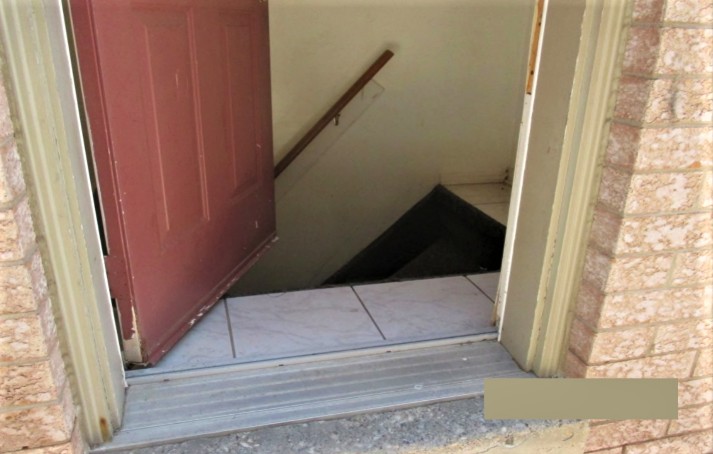 An example of an unsafe stairway in an illegal basement apartment.
A grace period was given by the province, to allow cities time to set their own policies, after its new rules forcing municipalities to allow the units came into effect.
Now, The Pointer has found through its own investigation that landlords in Mississauga are advertising these popular illegal housing units online, knowing the city is doing little to enforce its own rules meant to prevent the illegal, unregistered use of secondary suites.
A report into food bank use earlier this year found that Mississauga had a vacancy rate that is just one fifth of what it should be for a functioning rental market. A healthy vacancy rate in cities is between 3 and 5 percent, with Mississauga at 0.9 percent, below even Toronto's 1.1 percent.

A common short-term solution across Brampton and Mississauga has been the increasing popularity of secondary units, also known as secondary suites or basement apartments. Often built into the basements of people's detached houses, these self-contained spaces provide additional supply to the housing market without the need for actually building affordable housing.
On paper, these units offer the perfect short-term solution to Peel's housing crisis, while various levels of government work with developers to increase the supply of affordable and rental housing to the market. Yet, by their very nature, secondary suites can be destructive by attracting maverick or amateur landlords to enter the property market. They attract people with little knowledge or care for the regulations who fly under the radar.
Mississauga, like its neighbours Brampton and Toronto, mandates anyone who rents out a secondary unit to register it. However, few conform.
In Brampton, secondary suites have been a major issue, particularly for Councillor Jeff Bowman, who has worked to keep the issue at the top of the agenda. In the Flower City last June, council voted to change the complicated registration process for secondary suites where fees could go as high as $1,200. Now it costs landlords in Brampton just $200 to register a unit, though building work required for compliance, to get these units up to code, could go significantly higher.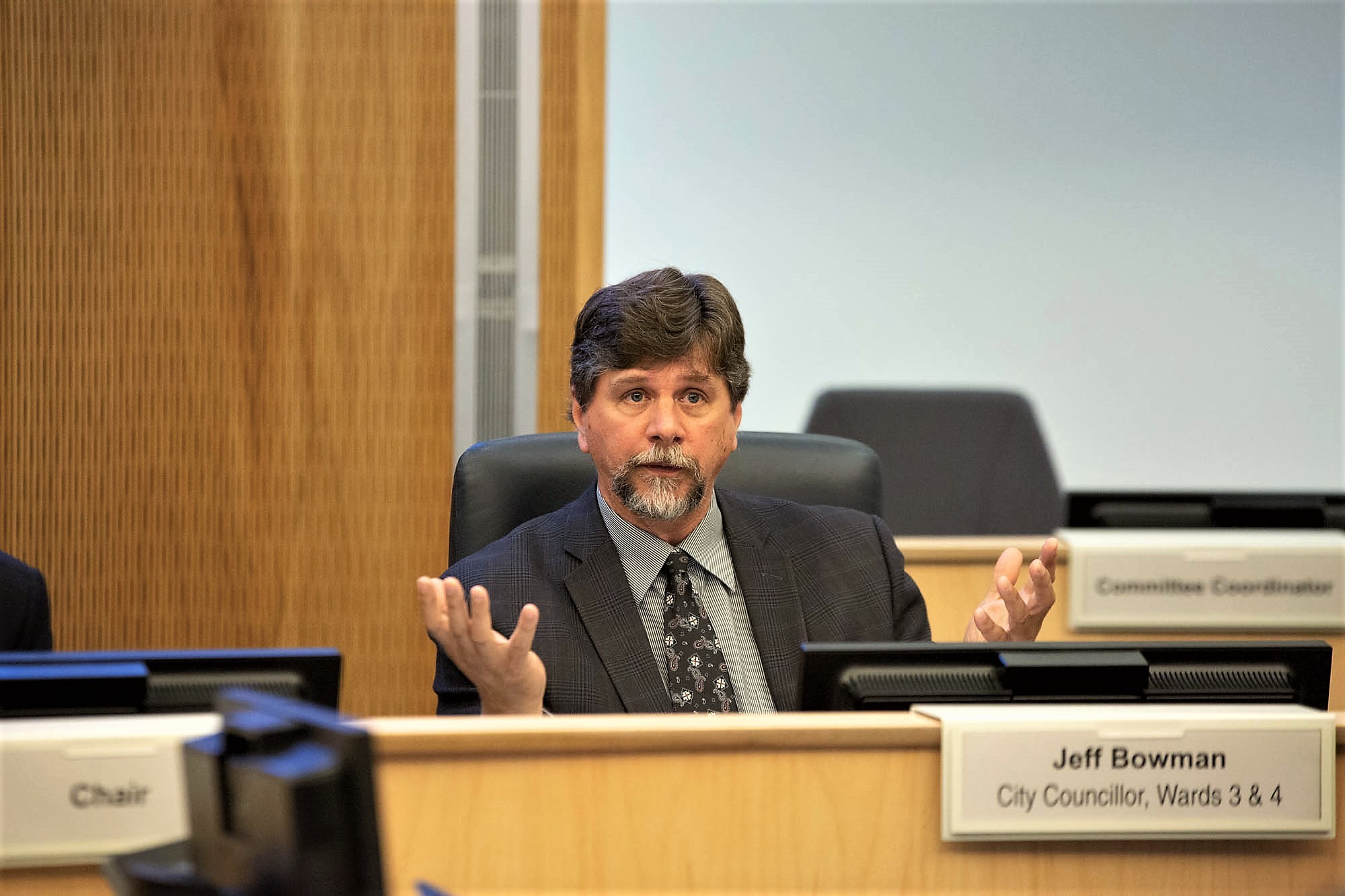 Brampton Councillor Jeff Bowman
Since 1996, in Brampton, 3,726 units have been registered, 1,508 of which came after 2015, when the new provincial mandate to allow them had to be adhered to. However, staff and councillors in the city believe there could be anywhere between 30,000 and 50,000 units, something their bylaw enforcement department has been increasingly active in pursuing. The city regularly lays fines and prosecutes illegal landlords, with Brampton Progressive Conservative MPP Amarjot Sandhu just one of the many who was investigated by the city before charges were laid against Sandhu for operating two illegal basement apartments.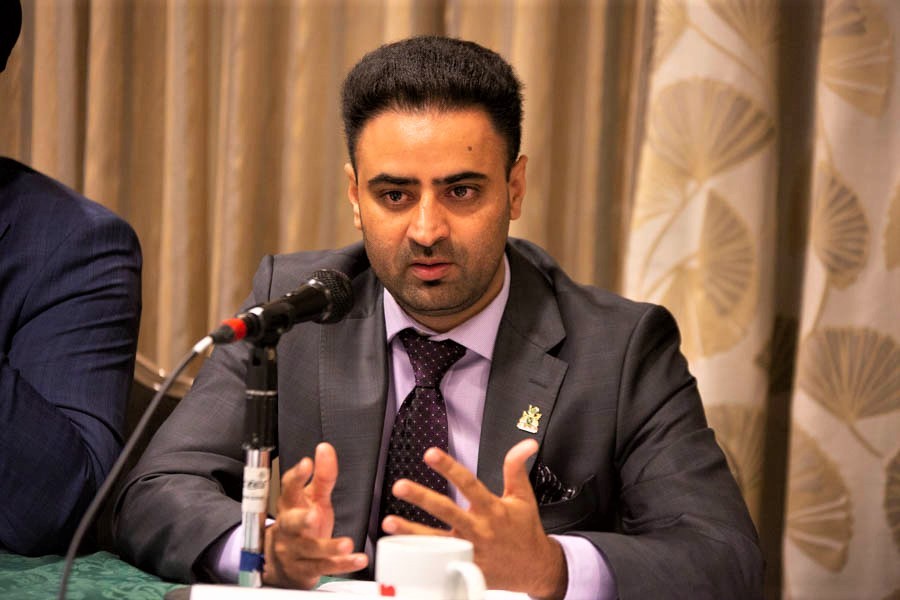 Brampton PC MPP Amarjot Sandhu was charged, after operating illegal basement apartments.
By contrast, in Mississauga, bylaw enforcement officers seem to look the other way.
At the last official count on November 1, the number of secondary units registered in Mississauga sat at 898, up marginally from 847 in September. With the population estimates in the 2020 Mississauga budget (based on planning figures married together with the 2016 census) sitting at 777,000 people, the idea that there are fewer than 1,000 secondary units in the city doesn't stack up. Coupled with the fact that the (smaller) City of Brampton has nearly 4,000 units registered, there's clearly something lacking in Mississauga.
Speaking to The Pointer in September, Councillor Ron Starr suggested the problem was vast and well beyond the scope of registration figures. He believes there are between 20,000 and 30,000 unaccounted for units in Mississauga. "There's a hidden population," he said. "That is another area we have to work at, with the other levels of government. How many people do we really have living in Mississauga, Toronto and Brampton?"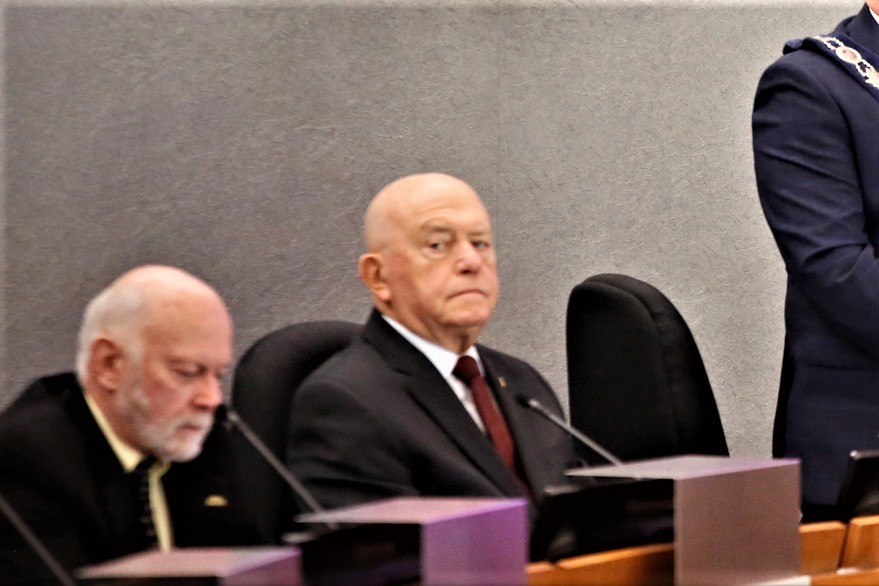 Mississauga Councillor Ron Starr, right
In coming to his estimation, Starr made reference to figures he believed were held by the city's planning department. However, a request from The Pointer for estimates on the number of secondary units in the city was deflected by staff, who simply referred to the number of registered units. While the total figure is impossible to calculate, even with city estimates, a flavour of the problem is easy to find.
The City of Mississauga provides a complete list of the 900 or so legally registered secondary units in the city along with their addresses and postcodes. A simple search for the term "basement unit" on Kijiji, a popular online marketplace, throws up a worrying number of results. Cross referencing the addresses or postcodes listed for rent online with the city's list of legal units, The Pointer found more than 10 unregistered advertised units in November alone, with several appearing on the popular online listing site between this week and last. The list was sent to the city for confirmation, with a spokesperson saying that "addresses not on the list are either not registered or are in the permit process." However, those that have not received a permit are not legally allowed to be listed for rent, with the spokesperson adding that, in reference to the addresses discovered by The Pointer, "We are looking into these."
As of September, Mississauga had received 163 complaints to bylaw enforcement about secondary units, with it likely that many or possibly most of them are not registered. Yet, the city confirmed that no charges have been laid in 2019.
Where Brampton charges $200 to register a secondary suite, a fee which essentially covers the cost of inspection, registering a unit in Mississauga doesn't cost a cent. The obvious caveat, for landlords who submit to the required inspection, is that new costs could arise to meet an acceptable standard, while fire code, electric work or required plumbing upgrades to get a green light from inspectors may add costs.
A dangerous drop inside an illegal basement apartment that does not meet building code.
These inspections and costs exist for a reason. Secondary units aren't designed to store boxes — they're to house people. In any city, particularly one like Mississauga where the fire service response times are 100 seconds below the industry standard, it is pivotal that all buildings are up to code and as safe as they can be.
The GTA has seen a number of deaths over the past decade, as fires have spread in illegal units that were not up to safety codes. A Brampton man died in January when a fire spread inside an illegal unit, prompting Councillor Jeff Bowman to write to the province requesting better access by municipal fire departments and inspectors to enter units, even if they are not registered and even without approval by tenants or landlords. Currently, privacy laws make it difficult for such inspections, without consent.
Over the next four to five years, the city's fire service will begin routine and mandatory inspections of every property in the city to cut down on avoidable fires. The service, though, will presumably be working from the city planning department's registered list of properties and will be unable to inspect the abundance of illegal units which exist throughout Mississauga, leaving potential tinderboxes underneath houses which the fire service have passed as safe.
Last week, Councillor Dipika Damerla brought a motion forward to council asking staff to investigate implementing a program similar to Toronto's Rent Safe scheme, which requires a small fee from landlords and introduces mandatory inspections. If this scheme were to be approved, it would turn Mississauga's current reactive policy into a more proactive one, with visits to registered properties.
On the issue of illegal secondary suites, though, it would make no dent as they remain off the books.
Without charging a fee to landlords for registering units or laying charges (which can be as high as $25,000 under the Municipal Act, 2001), the city has disarmed its own operation. With its high infrastructure gap, string of unfunded projects and expensive operating budget, it can't afford to police housing for free.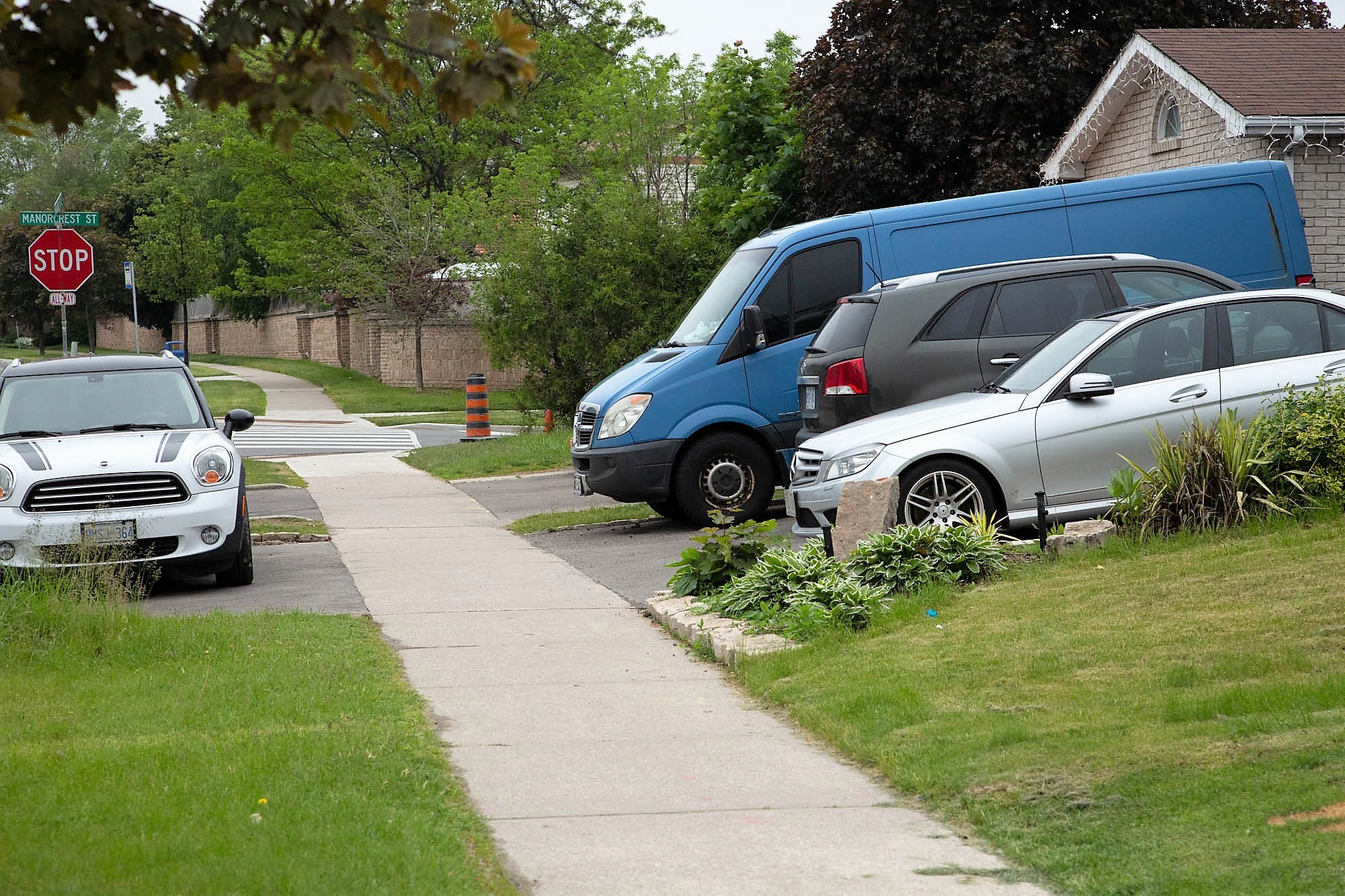 The 2020 proposed budget document illustrates this issue. Under the Regulatory Services section, the document talks at length about issues such as pet registration or parking enforcement, both of which command fees. Registering a dog with the city costs $45 per year, while anyone who has driven in Mississauga will be familiar with the cost of parking improperly. According to the budget, Regulatory Services aim for a cost recovery of 100 percent, something impossible to achieve on secondary suites without handing out fines or charging to register. This cost-recovery aim is illustrated further by the fact that parking, by far the most profitable area of enforcement, accounts for one third of the sector's staff.
With no fees whatsoever for registering a suite and no charges laid in 2019 it's simple: the city isn't enforcing its secondary suites bylaw because it can't afford to. The fact there's an affordable housing crisis in the city puts decision makers in a difficult position: crack down on illegal apartments, to ensure the safety of tenants and the ability to account for residents who need infrastructure services and spots in schools; but risk cutting off a desperately needed supply of affordable housing, even if many units are illegal, while pushing people toward homelessness.
Safe in the knowledge that charges can't be laid, it is unsurprising that landlords are skirting around the legislation. Of the unregistered listings online seen by The Pointer, prices in the advertisements ranged from $850 per month for a basement studio to $1,800 for a full unit. Alongside the illegality of the suites, some offered conditions which contravene legislation, including the specification of only renting to a certain type of person.
The issue is that, with the demand for housing as high as it is in Mississauga, many listings aren't online long enough for enforcement to catch, even if they tried to. Many units are snapped up by renters the day they go online. The only way to get a handle on the secondary unit crisis in the city is to incentivize registration while cracking down on those who flout the rules.
The city hoped that free registration would be enough to convince landlords to comply, but it has not worked and, in the process, Mississauga has blunted its own enforcement efforts.
---
If you rent a secondary unit, you can check if it has been legally registered, inspected and found to be safe by checking the list (click here).
Email: [email protected]
Tel: 647-561-4879
Twitter: @isaaccallan
Submit a correction about this story