Photos by Joel Wittnebel and file photos/Rendering City of Brampton
The cancellation of six budget meetings is the latest sign that things aren't right with City Council 
When Brampton Mayor Patrick Brown was sworn in late last year, he told residents it was time for council members to roll up their sleeves and get to work for the city's hard working taxpayers.
A year later, questions are starting to mount about how the city's councillors, tasked with getting the struggling city back on track, are managing their responsibilities.
With the cancellation of six crucial budget meetings, three this week and three next week, when councillors were supposed to pick apart staff proposals and set Brampton's priorities for the upcoming year (the main job of municipal councils across Ontario that are currently holding budget deliberations), this council's priorities are being called into question.
City Clerk Peter Fay recently informed council that its list of "referred matters", a to-do list for staff, had reached nearly 130 items. A healthy list, with only the top priorities for the city to focus on, he said, should have no more than 60 items.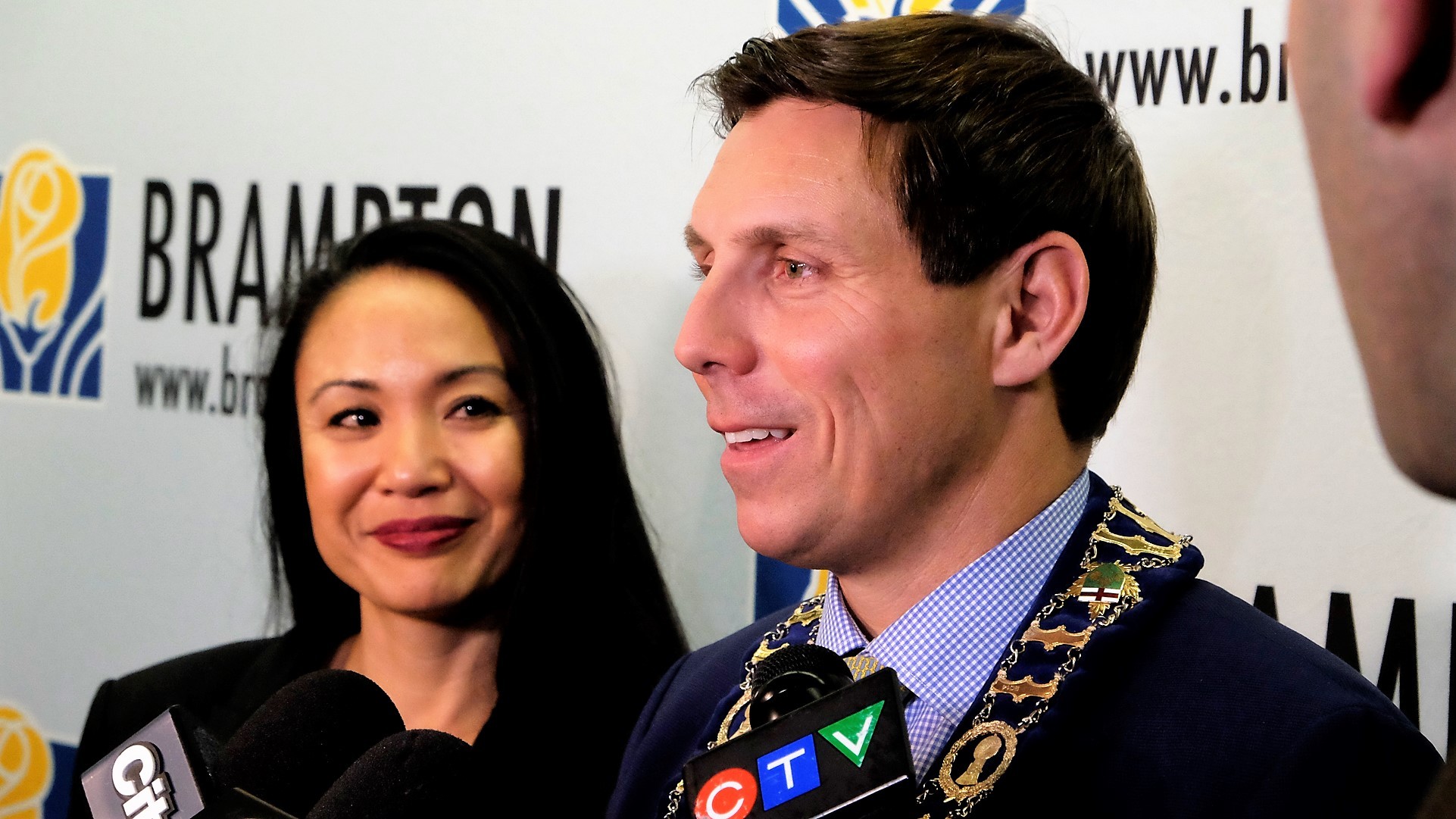 Councillor Rowena Santos with Mayor Patrick Brown
As The Pointer reported ahead of council's return from the summer recess, this long laundry list of items has been growing over the new council's first year in office. While the mayor, in particular, has been able to successfully push through key initiatives such as his foreign direct investment strategy, much of the focus of other councillors, such as Rowena Santos, has little to do with the major issues facing Brampton.
The growing list of issues being sent to staff for work, possibly wasting valuable time and resources, was raised by Councillor Harkirat Singh in October, and as a result, staff held a workshop with members of council to talk through the items on the growing to-do list.
"I think it's systematic of other issues," Fay told council of the long list. "It's adding new business (to agendas) without proper notice, without proper background."
Council's procedural bylaw allows for items to be introduced and added to agendas at the start of meetings. However, when these items aren't vetted through the proper committee first, which is the norm, it doesn't allow staff to study the item and become knowledgeable on the topic. For that reason, when random issues are introduced at council, they are typically a surprise to staff and become another item added to their growing workload.
Councillor Pat Fortini questioned why many items on the list continue to be pushed to staff.
"A lot of it is deferred matters," he said. "A lot of residents hear we're doing all kinds of stuff, but at the end of the day we're not really focusing on their needs."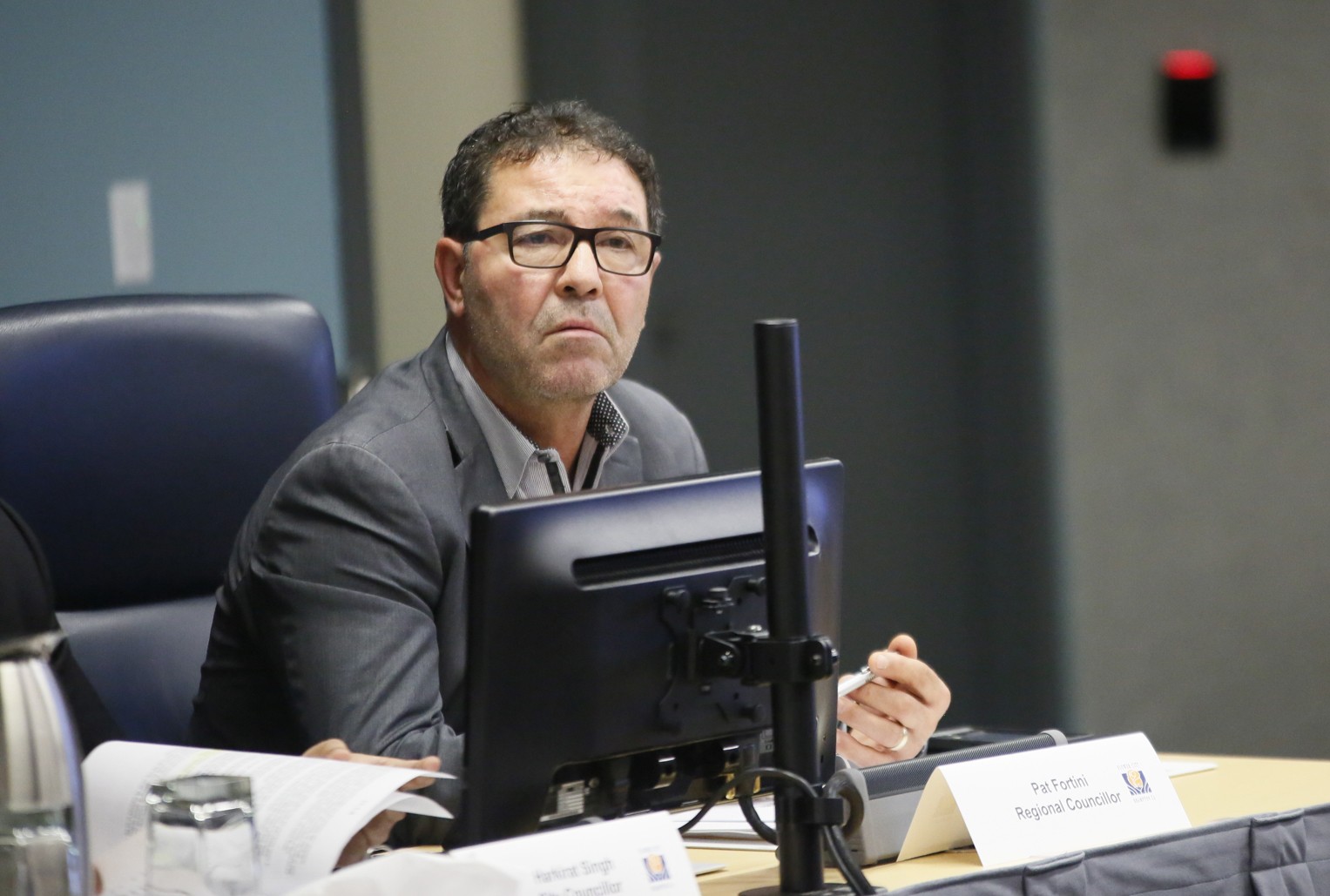 Councillor Pat Fortini
An example of a time consuming issue that is not a major priority for the city was Santos's insistence that staff look into the viability of a city ban on election signs on private property. Despite the issue likely falling outside the city's jurisdiction and possibly involving a complex set of laws governing the rights of private citizens, especially to express their political support during democratically held elections, Santos did little homework of her own before dumping the issue on staff. Critics even suggested she was wasting staff time and distracting from council's legislative priorities, just to get a possible political advantage in the next election.
If that was her intent, after the rookie councillor used signs in her own campaign last year (she declined to comment at the time to The Pointer) it would be akin to the current allegation that U.S. President Donald Trump tried to subvert a democratic process, driven by bureaucratic staff, for his own political gain.
The problem with Santos not understanding the most pressing issues that taxpayers desperately need action on, is that things such as the future of LRT in the city, budgeting for a new hospital and a first full-fledged university, as well as securing new employment opportunities for residents, get overshadowed by much more trivial, sometimes personal pet projects.
Since The Pointer's reporting at the start of September, the publicly available referred matters list has grown from 53 to 65 items. Additionally, in early September, 25 items had been deferred to a date later than the original goal to deal with them, with 37 items on the list now with revised dates.
Meanwhile, as staff are distracted by certain issues that Fay described as not having the "proper background" behind them, six budget meetings had to be cancelled. By comparison, Mississauga Council is already in the midst of dealing with the city's budget, setting the key priorities for taxpayers after council members already brought forward and debated their key issues in the proposed departmental budgets.
When asked by The Pointer how the city can effectively begin to manage the growing list of council requests, which Fay said has more than double the amount of items on it than it should, and whether the number signals a lack of priorities or lack of organization, Mayor Brown pointed to council's public list of 22 priorities for the next three years.
"These 22 priorities continue the momentum of implementing Brampton's 2040 Vision and reflect feedback heard from residents, specifically around community safety and job creation," he said in an emailed statement. "As you know, we have five new members of Council including myself. City Council members are very active in the community and want to make sure concerns are being addressed. I am not surprised we have a long list of referred matters as we have an activist City Council with an ambitious agenda."
It's not clear what he means by an "activist" council or "ambitious agenda" in light of Fay's clear concern over the lack of awareness councillors have sometimes exhibited when taking up issues that members have little knowledge of. Instead of wasting legislative time, Fay made it clear that councillors should first be going to staff to make sure some of their concerns can be reasonably dealt with by bureaucrats.
Brown acknowledged that improvements to get the most important pieces of business dealt with, could be made.
"I am confident, under the leadership of our new CAO, David Barrick, we will continue to improve the day-to-day operations of the corporation by streamlining service delivery, effectively managing municipal assets, and leveraging partnerships for collaboration and advocacy," he stated.
The city's lack of progress on bringing an LRT into downtown is an example of one such area the mayor and new CAO need to focus on. It's obvious that little leadership is being shown on the file.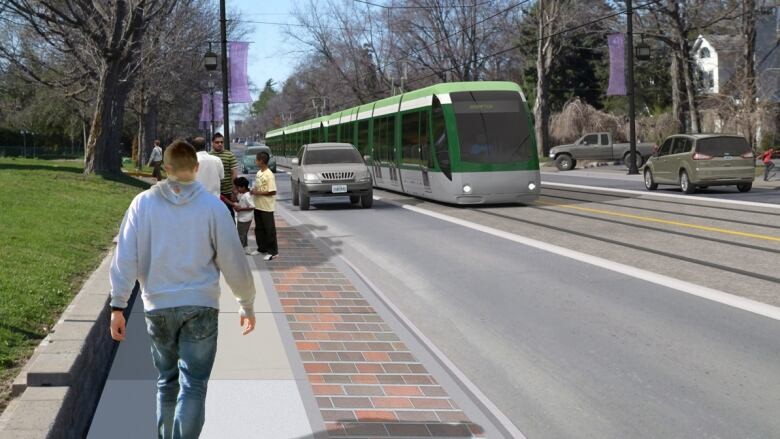 One of council's first orders of business, immediately after being sworn in last year, was shifting the focus of a future LRT route back onto Main Street, despite the previous council already turning the route down.
The snap decision caused a serious rift among council members, and was only settled when Mayor Brown was allowed to insert a potential tunneling option into the scenario.
But that move, without consulting staff in a detailed way to get a big-picture understanding of all the LRT issues, has only caused them more headaches, after having to scrap two years of work on two completely different council-directed routes.
It was a perfect example of how staff can become bogged down with work, often motivated more by politics and less by city building. Council doesn't even seem to be aware if it's physically possible to build an LRT in the way each member wants it to be constructed. That hasn't stopped them from demanding their preferred options be examined by staff.
There are potential issues with the downtown floodplain designation, Etobicoke Creek and the historic water diversion channels that still run beneath the city centre. None of these things were considered before council referred its LRT demands to staff.
They are now putting in the effort and time to inform council about the background issues behind their demands and whether they are physically or financially feasible. While they do this, other items keep getting added to the referred projects list.
Councillor Martin Medeiros has been a consistent voice in the council chambers, warning his colleagues of mandate creep, or times when council appears to be stepping outside its jurisdiction.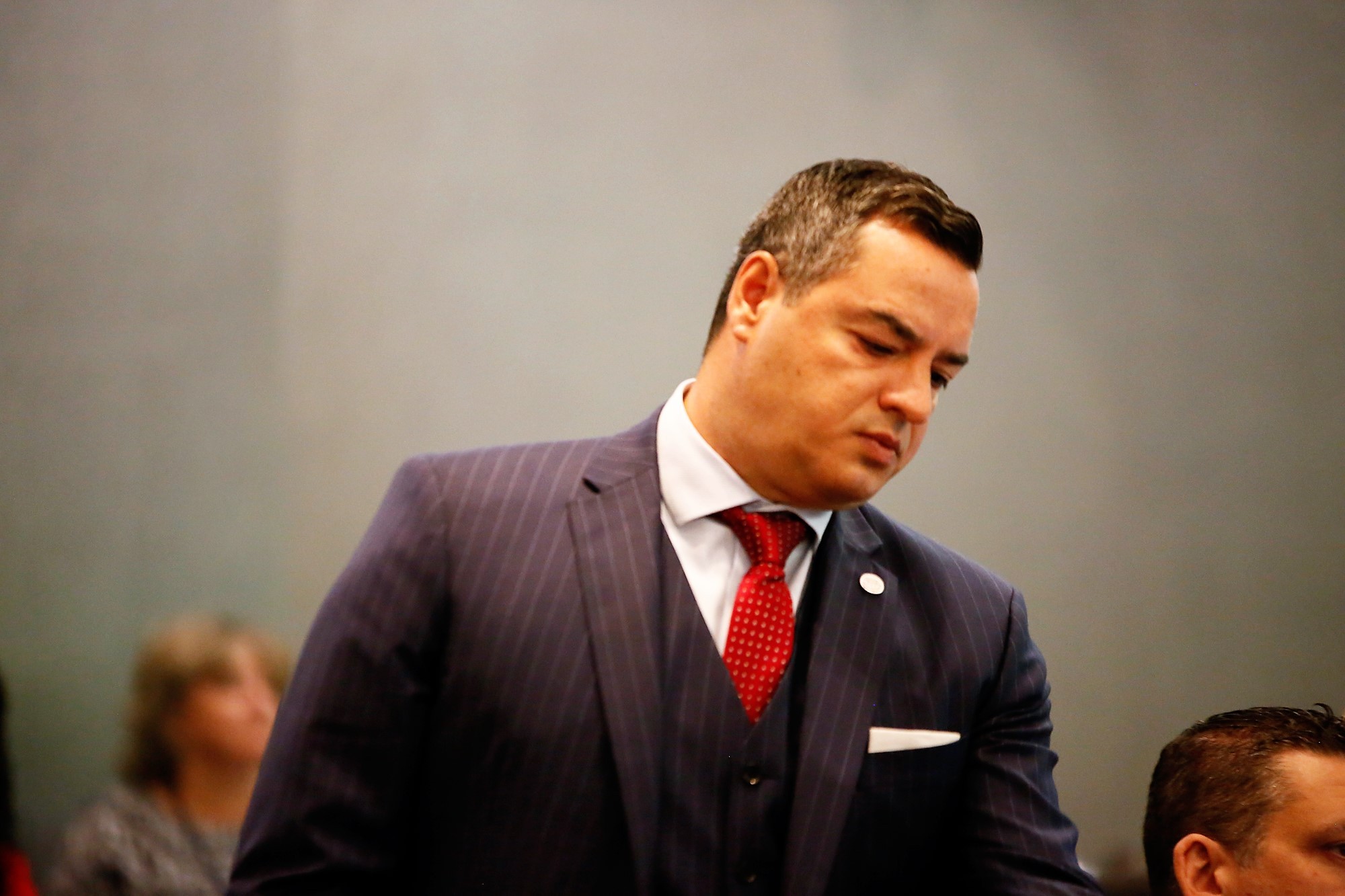 Councillor Martin Medeiros
Medeiros noted council needed to be cognizant of the amount of work they are pushing onto the backs of staff.
"To ensure we're moving ahead in a cohesive manner, and we're not doing a lot of work on the outside that doesn't contribute to what we're trying to accomplish as a municipality," he explained.
Fay noted that while items that make it onto council's referred items list should be within the city's jurisdiction, he pointed out that council spends a significant amount of time on things that are not. This is a waste of valuable legislative time, while major issues need to be addressed.
Examples of issues council has chosen to focus on outside its jurisdiction include council's motion to oppose Quebec's Bill 21, and their push to join the class action lawsuit against opioid manufacturers.
Both of these items are meaningful and topical issues, but the City of Brampton has no role in influencing or affecting them, and with a growing list of problems at the municipal level that councillors are elected to deal with, Fay seems to be suggesting they need to get their priorities straight.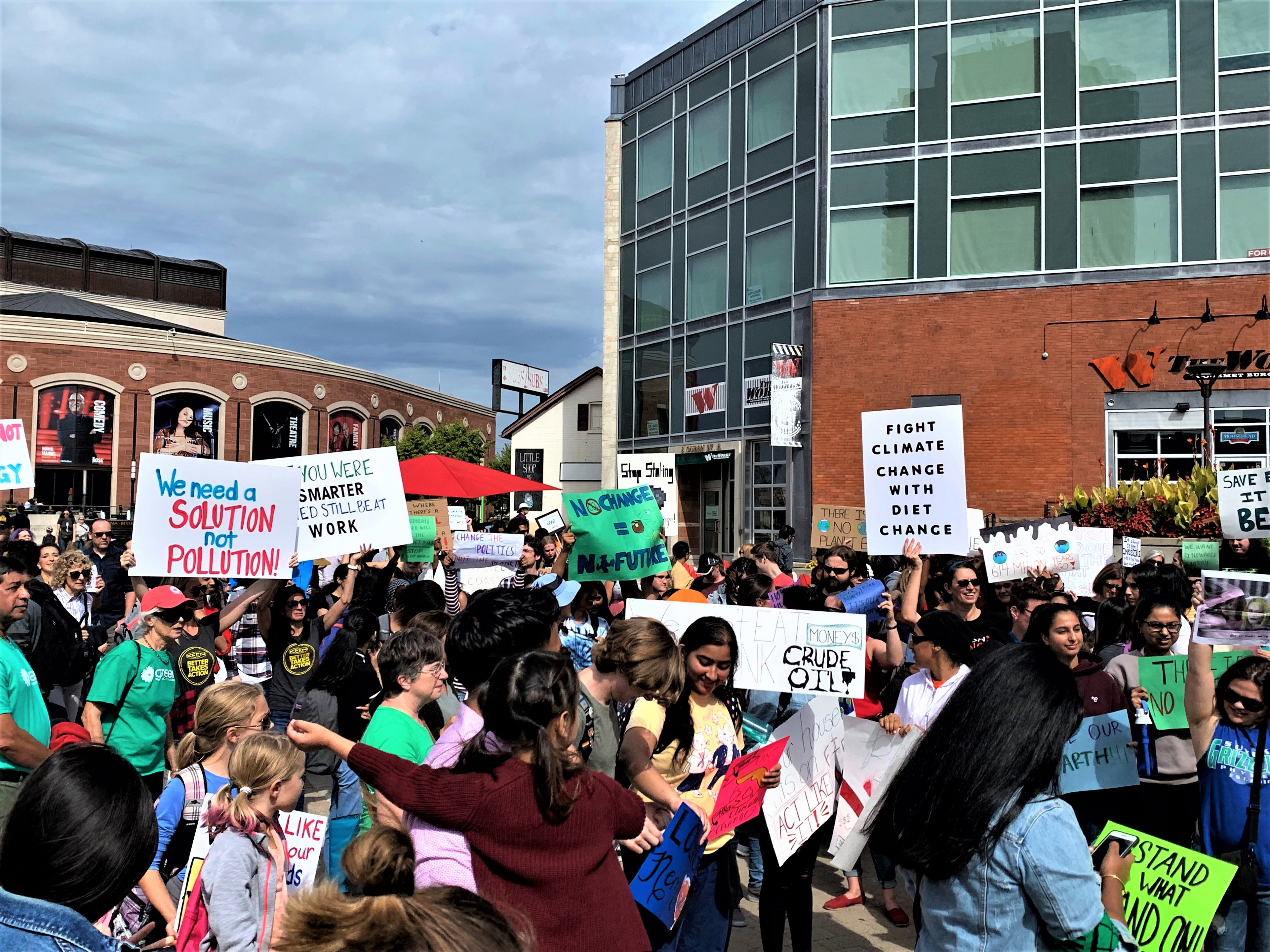 Rowena Santos's climate emergency declaration came at the same meeting she supported a major new highway that environmentalists are opposed to
Critics say many of these proclamations and stances by councillors who are supposed to be dealing with important local matters, are simply empty gestures or weak attempts to gain political points and media exposure to elevate their careers.
Brampton's local officials are not alone in making broad symbolic statements and gestures, instead of dealing with root issues that they can often help address.
In the United Kingdom, the former anti-slavery commissioner slammed the UK government's current approach to battling human trafficking, the modern-day slave trade. One such effort involved lighting many government building's with red floodlights to mark Anti-Slavery Day.
"What good is lighting up a building if there's a nail bar or a car wash with trafficked people a few streets away? Wouldn't it be better to spend all the effort on shutting them down? There needs to be a wholesale reordering of how we tackle it," he told The Guardian.
This is not to say these issues, and others such as climate change and violence against women don't deserve the attention, but elected officials need to understand how to set their priorities and focus on specific work they can actually achieve.
In Brampton's case, the growing back-log of work being dealt with by staff needs to be balanced with the priorities of taxpayers.
When asked why the six scheduled budget meetings this week and next had to be cancelled, staff said, "The Budget document is anticipated for end [of] January 2020 and Budget deliberations are set to take place in February. The dates are to be finalized and will be posted on the City website as they become available."
Email: [email protected]
Twitter: @JoeljWittnebel
Submit a correction about this story