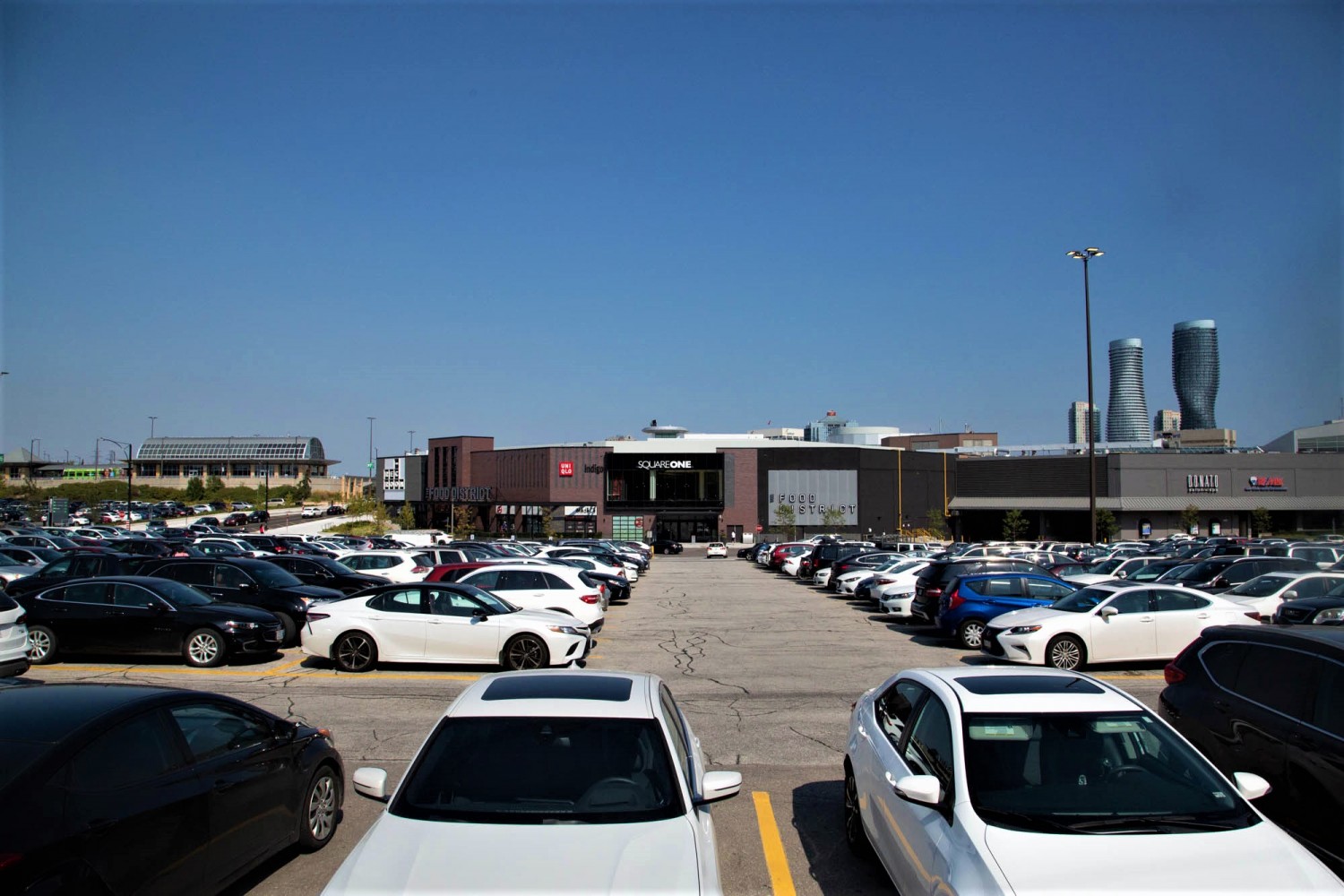 Photos by Joel Wittnebel and file photos/Flickr/City of Mississauga/Humbertown Shopping Centre/RioCan
The reimagining of shopping malls as parking lots become a thing of the past
In the post-war years, the development orthodoxy was simple: cover up irreplaceable farmland with single-family homes or low-slung commercial enterprise, primarily retail, to service the day-to-day needs of the new subdivision dwellers.
This became the organizing principle for places like Brampton and Mississauga.
Sure, it was reflexive and short-sighted, but generations were pushing for big backyards and two-car garages, after only ever being hemmed within increasingly crowded metropolises or isolated on rural farmland.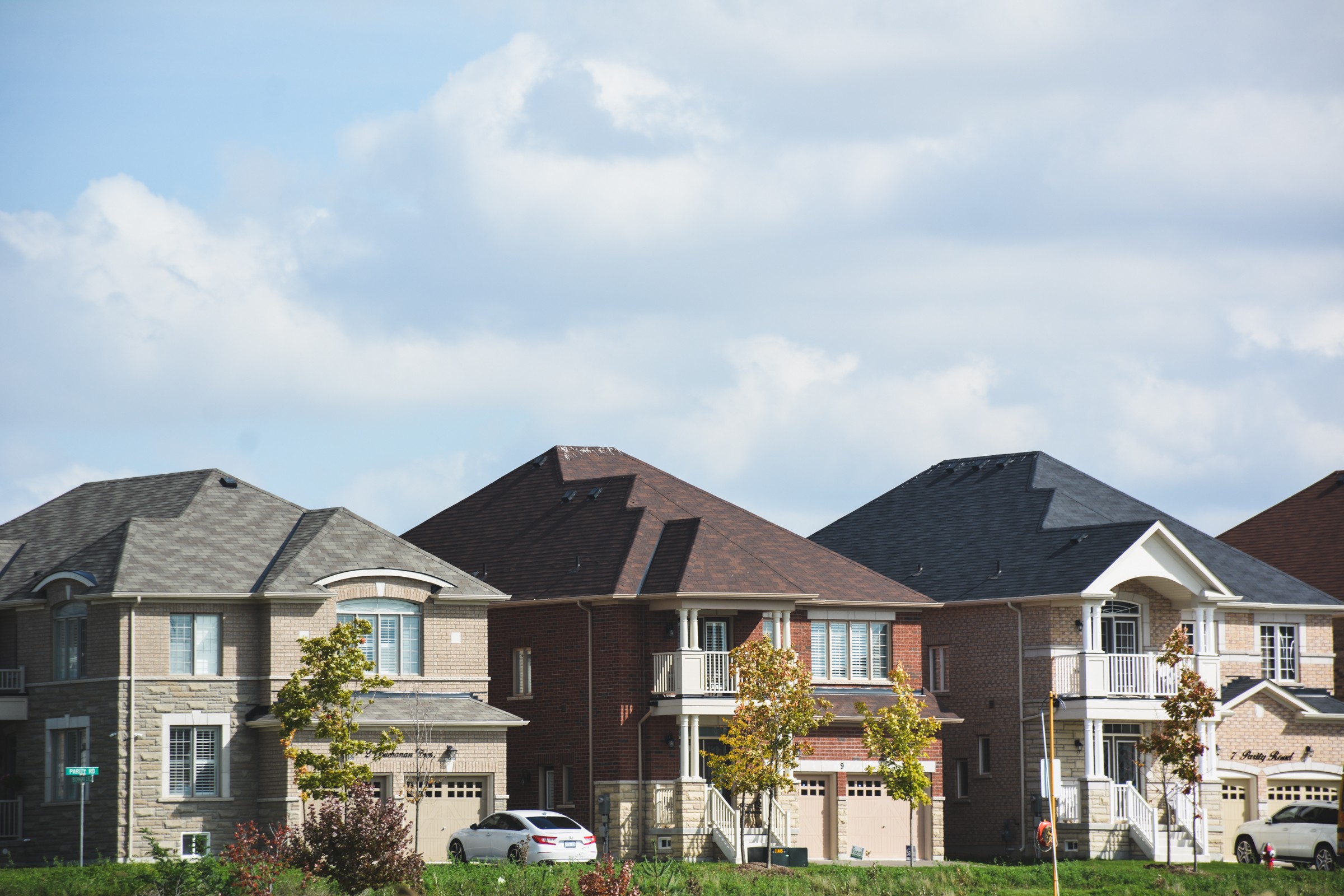 This new principle offered the best of both.
Residential streets were wider, so all those who owned cars (everyone) could feel free and live the North American dream while feeding into a new 400-series of highways built as the runway to that freedom.
If the detached family house with its vast backyard represented the psychological unburdening from the crowded and impersonal family life of the city block, the suburban experience was completed with spacing between destinations that placed neighbours, other citizens and commercial needs just far enough to preserve the need for psychic autonomy.
This new suburban ethos eventually manifested itself in ever-expanding sprawl meant to afford people their precious personal space.
But a few unintended consequences arose.
A spin-off from this shift from rural/city to suburban was the introduction of the mall. Strip malls. Mid-sized malls. Plazas. Indoor, outdoor or in between. Or supermalls, like Square One in Mississauga and Bramalea City Centre in Brampton. Mississauga was the first major city in Canada built around a mall. Brampton's mega-mall on Queen Street, east of the 410, would play its part in stripping the historic downtown of retailers and shoppers (In an ironic twist, it is now being stripped of its shoppers by the meteoric rise of online retail).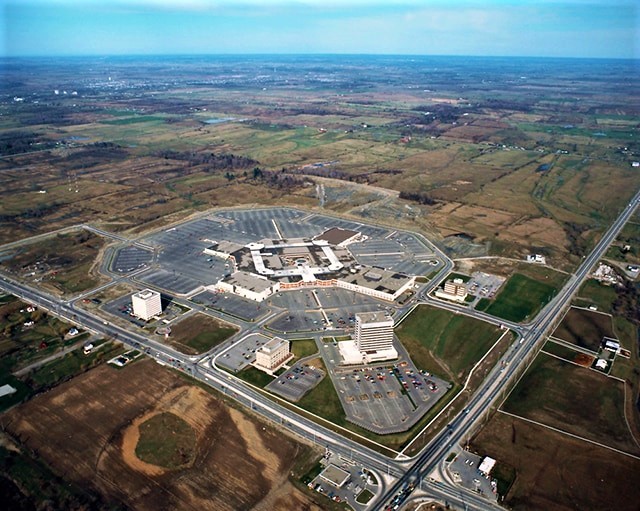 Mississauga's Square One shopping mall and massive parking lot shortly after its construction in 1973
A great exodus to climate-controlled, well lit, multitudinous shopping options gained speed. "Malling" became de rigueur, a suburban thing. The shopping experience was embraced by a consumer-driven generation of boomers. Their children also needed a "cool" place to hang out. They became the "third-spaces" where the limited public life was experienced by those who ventured away from their subdivision sanctuaries, which were built specifically to avoid too much contact.
Perhaps the most wanton example of this isolating shift, away from public spaces or even the bustling sidewalks that for decades had served to keep communities and fellow citizens together, was the mall parking lot.
Parking lots were inert and spread like lichen around the mall's frame. In her last days on the planet, famed urbanologist Jane Jacobs lamented this endless advance of asphalt. She wrote that the total number of farms in Ontario declined 11.5 per cent between 1996 and 2002 – even higher (24 per cent) in the Region of Peel. Canadian musical icon Joni Mitchell summed it up even more succinctly with this catchy lyric: "They paved paradise and put up a parking lot."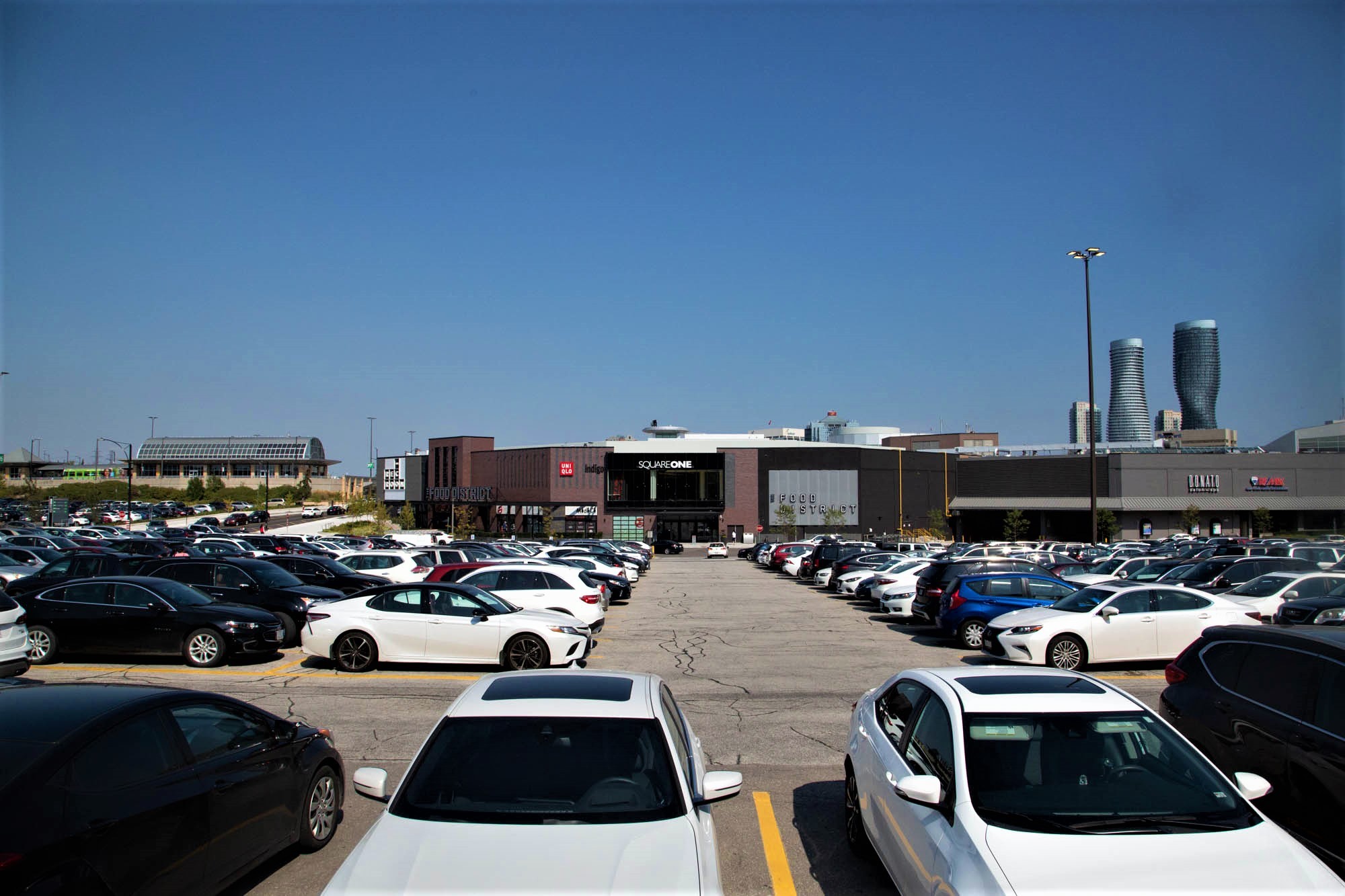 But the bell is now tolling for the mid-sized and mega-malls, especially in Mississauga and Brampton. Which isn't such a bad thing. Many are re-inventing themselves, and one of their most offensive and least valuable components, the parking lot, has become that most valued of commodity: real estate. Yes, Brampton's 2040 Vision has even designated a residential and retail hub in its future plans: Bramalea City Centre. The mall's owner Morguard, is in the midst of a long-term strategy to turn its vast portfolios of malls into complete communities, with a focus on mixed-use residential.
That's right, the iconic shopping mall will be converted into pockets of complete communities featuring mixed-use housing, recreation centres, dining and entertainment, transit hubs, public gathering spaces and, of course, all the commercial amenities needed, but in the form of boutiques and smaller shops.
Square One is also part of Mississauga's broader urban strategy called The Downtown21 Plan. This reshaping of the core is already removing parking lots and replacing them with new commercial space, residential properties, and newfound pedestrian focused locations. The old North American mall model will one day mimic the European one of a plaza/pedestrian lifestyle, seen in larger cities like Belgrade or Copenhagen.
It's hoped that the Hurontario-LRT will eventually have its Square One loop added back into the plan, but it is still in need of financing. This will lessen the need for cars. It's hoped that one day, the thirst for parking lots will be eliminated.
Will those vast swaths of asphalt be replaced by green spaces and high rises, all connected to a core that now features City Hall, the Living Arts Centre, Sheridan College, and entertainment facilities – plus, of course, a more people-friendly mall?
Bramalea City Centre is poised to become an urban hub, driven by commercial, retail, office, and residential development – and supplied by more transit options, maybe even an LRT one day.
Renderings of the plans for Bramalea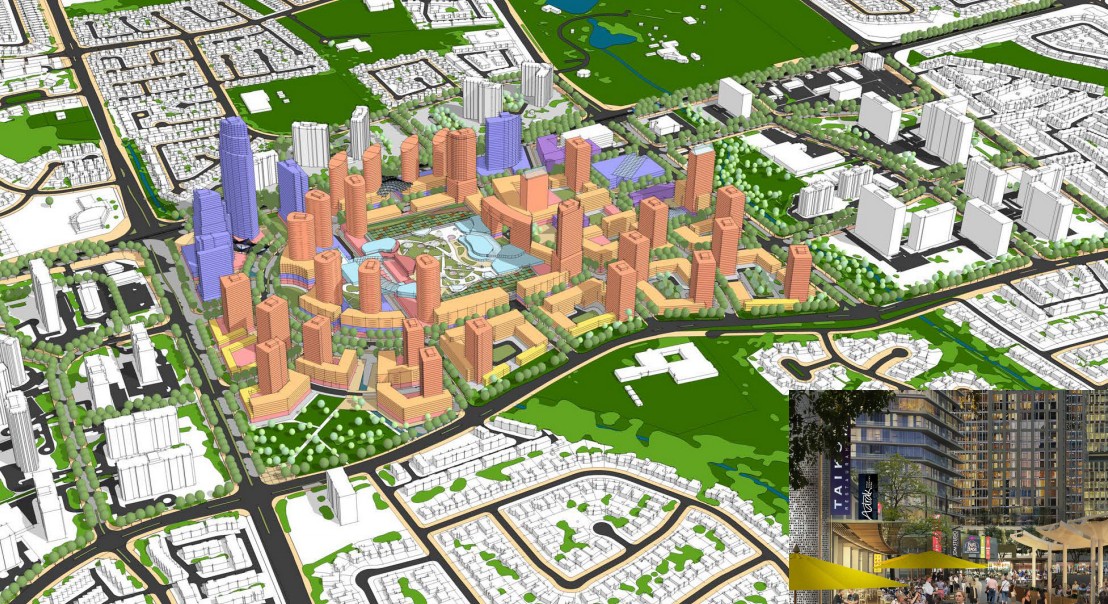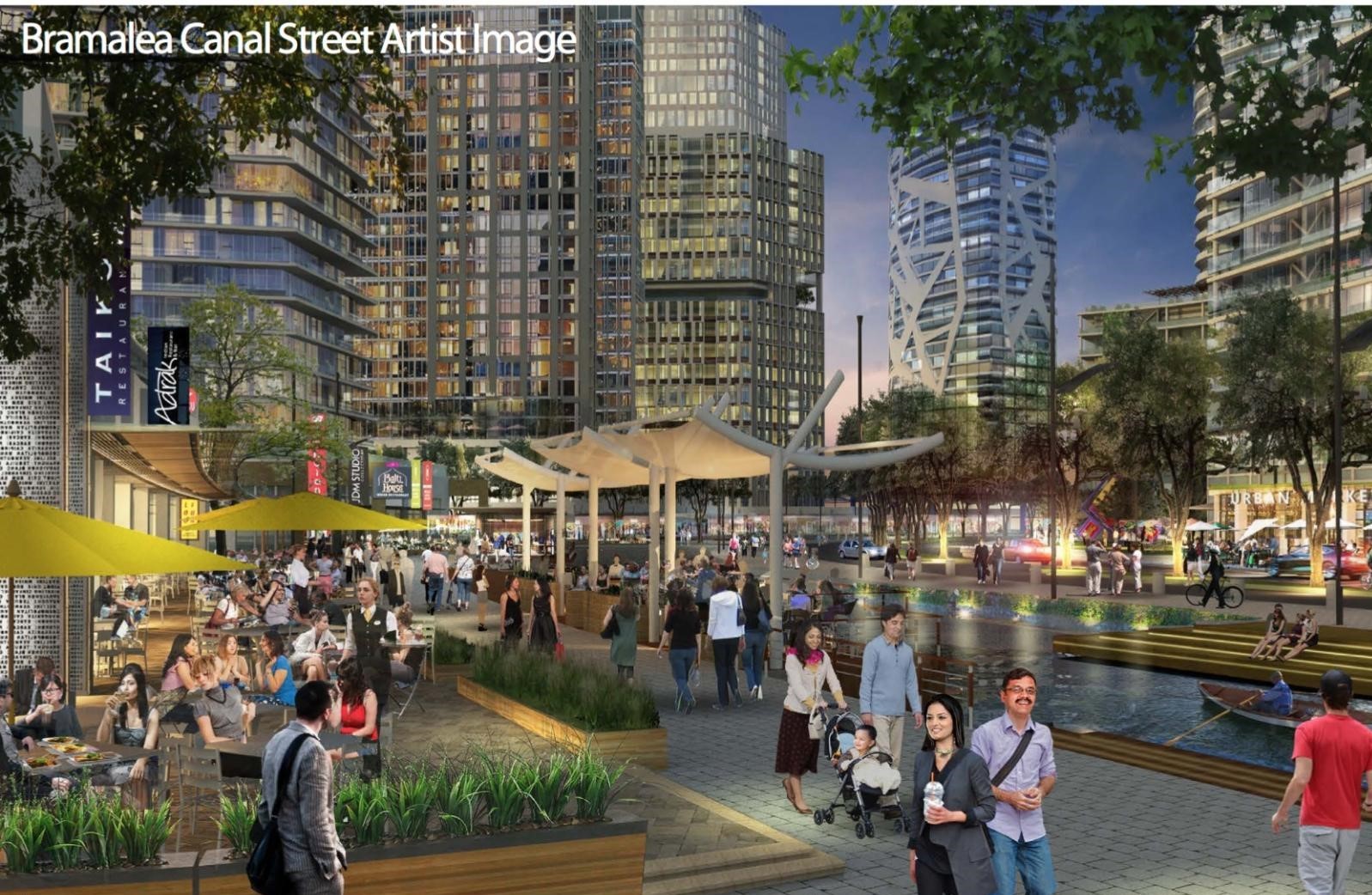 No doubt, all these changes will lead to increased population, higher property values, but also an inherent desire to live there.
The post-war suburban flood was a reaction to many things: decades of global conflagration that saw a quarter of a billion people either killed or wounded by war; a devastating depression in between; and the emergence of powerful industries that could build the infrastructure for a new way of living, one that distanced people from their past.
But now, in places like Mississauga and Brampton, many of those old desires and the money needed to fulfill them are being rethought.
The goal now is to make complete communities – everything from transit to shopping, theatres, libraries, dining and other urban niceties within a neat little, higher-density package for new generations. And even for the boomers or those in their forties and fifties desiring a daily life that replicates more of what they experience while on vacation in the world's great cities.
For many of those who have lived in subdivisions or even more exclusive gated communities, including children forced to live like this, it is no longer liberating. Being forced into a car just to enjoy a morning coffee made by someone else, only to sit in a drive-through lane, can eventually create a distressing realization. Violent altercations outside packed shopping malls over parking spots make the evening headlines more frequently. Road rage is now a symbol, not of the liberation of the car, but of how hostile we have become toward those fellow drivers we're forced to share the crowded streets with. Hours spent on daily commutes in grinding, tense, gridlocked traffic, is a proven cause of rising stress. Being forced into one's car, to sit in such conditions, brings people to ask: Just how free am I?
Having decisions made by the fact a destination includes miles of parking, falls somewhere between convenience and coercion. Driving to a coffee shop to park and grab something to go or from the drive-through window still gives consumers their fix of caffeine while respecting the limited time they have to get it. But creating the experience with only that in mind, situating a location at a street corner for maximum access by car with plenty of parking, squeezes out the pedestrian, sit-down sidewalk café culture that gives so many people their daily or weekly pleasure.
Change is in the air.
Colliers International, the giant industrial-commercial real estate firm, issued its state-of-the-retail-industry report last year, and in it, asked rhetorically: "How many of Canada's suburban shopping malls will undergo a fundamental structural change, on the verge of complete redevelopment, in the next decade?"
The answer: "All of them."
Morguard, the giant real estate firm that owns the 1.5 million square-foot Bramalea City Centre, said in its 2019 Economic Report that the retail sector is going through a "myriad of changes across the broader industry," and one of those changes is how malls can be turned into complete communities, filled with residential development, stores, parks, arts and culture, office spaces and public gathering places.
"It's the slow dying of secondary malls," says Ed Sonshine, the CEO of RioCan Real Estate Investment Trust, the country's biggest mall owner, with 300 retail properties, including Shoppers World in Brampton (Hurontario and Steeles).
In an interview with CBC News, and in online interviews, Sonshine believes "primary" malls such as Toronto's Eaton Centre, will always thrive, thanks to size and location. But smaller, suburban malls (Like Shoppers World) won't unless they reinvent themselves.
A feature in The Pointer earlier this year talked about the massive changes coming to this mid-size mall with a vast parking lot surrounding it. A lot often empty of cars.
Renderings of RioCan's plans for Shoppers World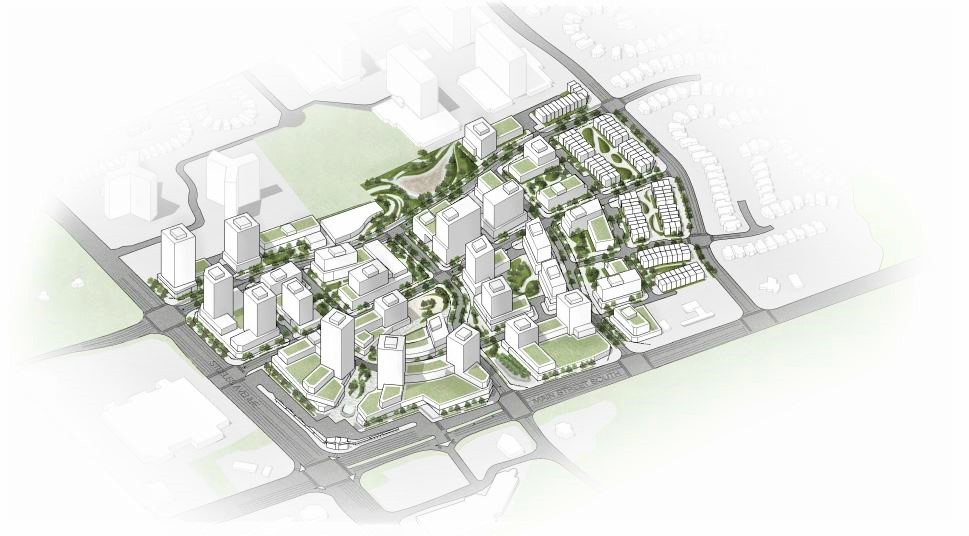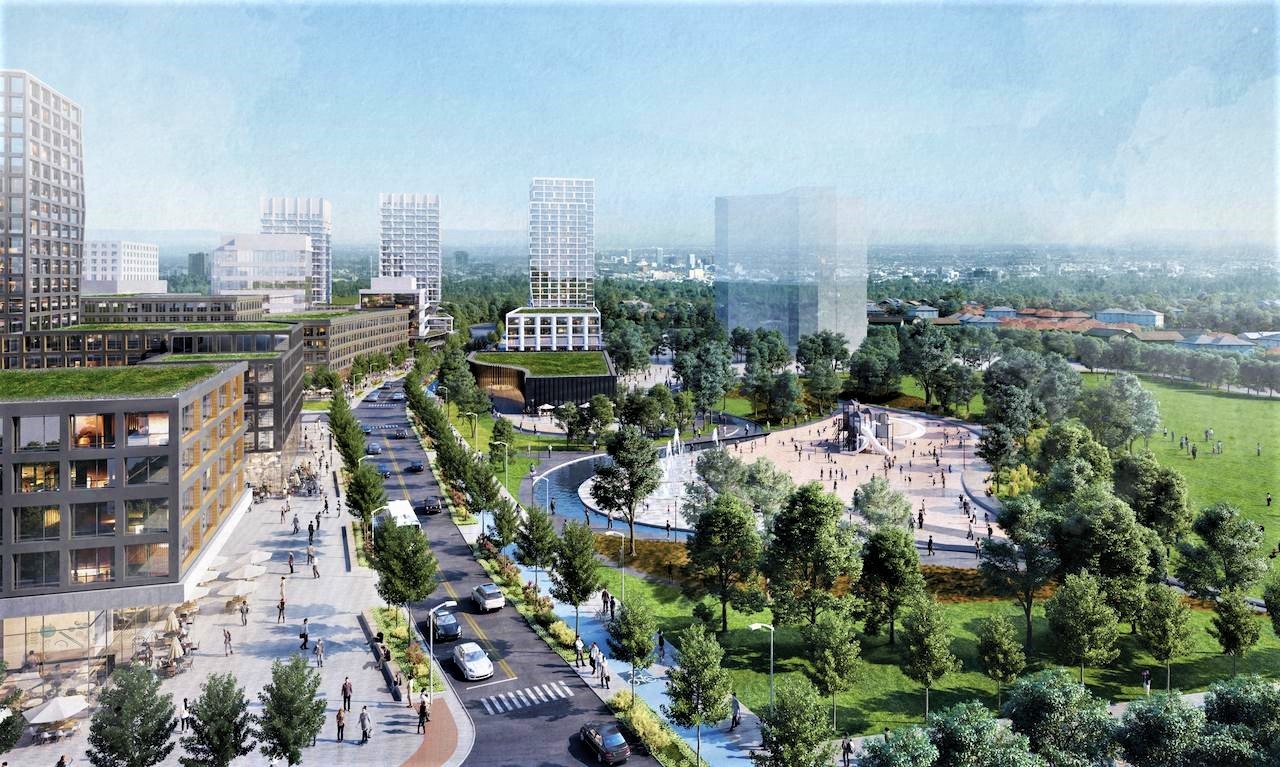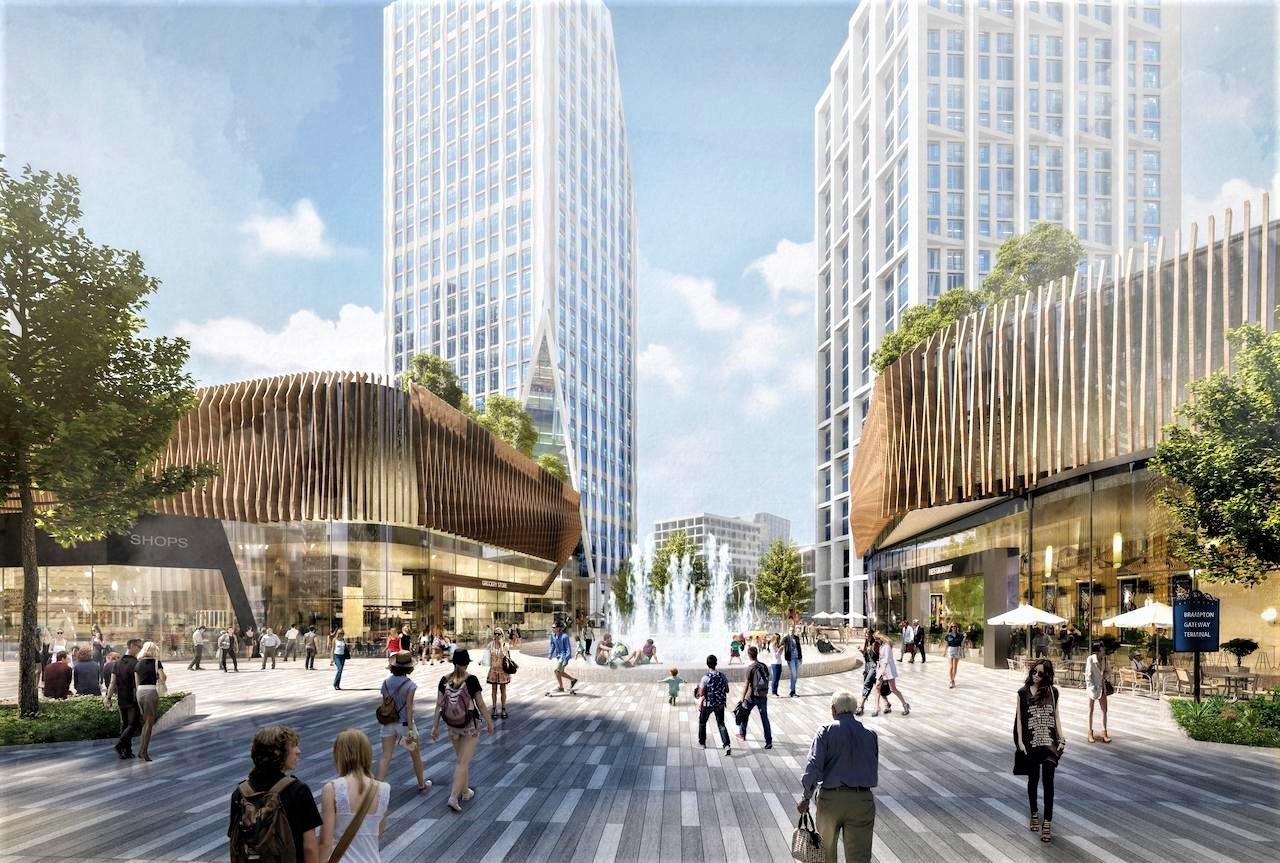 These malls have become giant real estate plays, like many of the private golf courses (Glen Abbey in Oakville) that surround the Greater Toronto Area. The need for more residential options to fill the needs of the coming opportunity seekers settling here, continues unabated.
It's all about maximizing a real estate asset, said Andrew Evans of Colliers. And the best way to do that at a mall is by "adding residential density."
As cities like Brampton have spread out, malls like Bramalea City Centre are now surrounded by mature neighbourhoods. They are also accessible by transit. Millennials, partly for economic reasons, have also shown less of an inclination to own cars and larger more expensive homes, and like to use transit. If malls become focal points for development, and in time, become complete communities, the need for giant parking amenities should dissipate. Those massive parking lots are much more profitable as mixed-use developments offering a mix of office, residential and retail.
Evans, a senior consultant at Colliers based in Vancouver, which has seen many malls turned into mixed-use properties in the last few years, predicts this building boom will speed up over the next five to 10 years.
RioCan REIT is also looking to redevelop Shoppers World by creating a whole neighbourhood of new high-rise, mid-rise, and town home buildings, connected by a new internal road/path network and public spaces. This will account for approximately 5,000 units spread across buildings ranging from three to 28 storeys tall. It is expected that a significant share of the residential component would be built as rental housing, though the precise breakdown between rental and condo ownership is subject to change as the development evolves through the local planning process.
The plan suggests a balanced mix of one, two, and three-bedroom apartment and townhouse units. The 58-acre site would be crisscrossed by four new public streets tied into the surrounding urban fabric. The streets would form a grid framing eight mixed-use and residential development blocks and one public park block, which may be further divided by several private local streets. Some of the notable landscape elements that will tie the community together include an expansion of the existing Kaneff Park at the west end of the site, a series of hardscaped pedestrian plazas connecting the Brampton Gateway Transit Terminal to a proposed retail 'high street' and central square, and several green courtyards, pocket parks, and landscaping features along the new streets.
A phasing process is being planned as a long-term regeneration, acknowledging that the full build-out of the site may take 25 to 30 years.
Stuart Craig, the company's vice-president of planning and development, met with the community last year and talked about what the mall will mean to them, what type of retail they wanted see in the future, how they would travel to and from it, what community amenities they would like to see as part of the collaborative planning process, and how arts and culture could be integrated to create a unique identity. This open house (held at Alderlea Mansion) helped RioCan summarize feedback and use it as part of the entire master plan.
Craig spent three years in the residential development sector and was also a city planner for a decade between the towns of Whitby and Ajax. Shoppers World will create a pedestrian and transit focused shopping node – a complete community. It will have design flexibility to respond to multiple and changing social, cultural and market needs, and balance density to accentuate the positives of both closely quartered retail and public life, with the need for desired space that residents like in their personal lives.
A key element embodied within Shoppers World's reimagining is the role of transportation. It is far more than just symbolic to see renderings of the future plan that do not include the current sprawling expanse of asphalt for the mall's never-ending parking lot.
If the organizing principle of the post-war suburb was the creation of subdivision housing and transportation design to support the entire suburban ethos, then the reimagining of that ethos could be defined by one key reorganizing principle: Replacing parking lots with transit terminals.
Having a vast parking lot at every medical clinic, provincial or federal service-building, accounting office, local bank, retail plaza, Tim Hortons, theatre, city hall… almost guarantees the use of personal vehicles. To change the dependency on cars, the infrastructure that creates this reflexive convenience needs to be given over to a design that becomes a disincentive. Building more highways, wide city-thoroughfares and parking lots, puts people in their cars. To take them out, remove the parking lots, create dense complete communities and then build transit that is much more convenient than any alternative.
In June of this year, the 'Reimagining the Mall Directions Report' was presented and endorsed at Mississauga's Planning and Development Committee. An official plan amendment will implement the recommendations outlined in the directions report. The city is creating policies to direct potential redevelopment and intensification at strategic areas. The Reimagining the Mall project will guide the long-term evolution of five areas anchored by the following indoor malls: Meadowvale Town Centre, Erin Mills Town Centre, South Common Centre, Sheridan Centre, and Rockwood Mall.
The study urged future intensification in a way that fosters healthy, mixed-use communities. The idea is to create places where residents can live, work, play and raise a family within their own "complete community". The purpose is to make sure that land-use policy is proactively in place should a landowner choose to redevelop in the future.
Reimagining the Mall was done in partnership with the Region of Peel, and a consultant team led by Gladki Planning Associates, and supported by DTAH and urbanMetrics. The city held an open forum on "Reimagining the Mall" on June 10 of this year and the aim is to ensure that any future development will "improve the quality and functionality of the physical surroundings; promote active lifestyles; and support local retail offerings in a mixed-use environment."
The report to the planning and development committee was unveiled in mid-May, and the project has created a vision and proactive policy framework for the future redevelopment of mall-based nodes in Mississauga which is to be used to prepare an amendment to Mississauga's Official Plan. It's a collaborative with Peel Public Health. National studies have shown that the most dense cities, where people walk instead of driving, are also the healthiest.
In September of 2017, the plan was initiated to develop new land-use policies for malls and their surrounding areas. Each mall anchors a 'Community Node.'
The study was to create a proactive policy for redevelopment since the traditional retail market is constantly evolving, and redevelopment presents significant opportunities for city-building and reaching healthy community objectives. It's to ensure the nodes' planned function for the communities be maintained. These areas are not only retail centres but should also contain public services such as libraries and community centres, provide public and private gathering spaces, and contain transit terminals that service residents and employees. It's imperative essential components of a complete community are preserved, enhanced and integrated into any redevelopment of the node.
As the mall-based nodes redevelop and intensify, they will be ideal locations for affordable housing. The directions report said a minimum of 20 percent affordable and/or rental units should be required. That percentage and the mix of affordable units and rental units will be further considered as part of the Housing Strategy implementation. It could go a very long way to helping solve Peel's current affordable housing crisis, as municipal staff seem to have recognized there is no political will among local elected officials to tackle the crisis in ways that would involve public expenditure. Creative solutions, driven by experts, not politicians trying to hang onto their jobs, will likely be the way forward.
Changing the retail sector
Yes, the retail sector is changing, marked by a shift to on-line retailing and the departure of traditional anchor tenants such as department stores. The nodes are the by-product of a different and disappearing era in retail. But also changes in the way we want to live. As reinvestment of these assets comes due, owners are considering new models in order to remain viable, particularly with the mixing of residential and retail development.
Environmental concerns might not be a driver, but these new models do play well with citizens who don't want to live in gridlocked sprawl and are seeking a new car-free urban vibe in the suburbs.
Part of the mall study was to work with land-owners and developers to consider how to bring community facilities into the heart of redevelopment as an animating force and anchor use – including expansion of community infrastructure to serve a growing population. The stakeholders have come to a common understanding about how the nodes are valued and what their redevelopment should aim to achieve. The City will continue to fill a role as convener and facilitator of the public discussion on the evolution of the nodes as part of an inclusive and transparent public process.
These auto-dominated sites are usually located on large blocks that are set back from major roads, with extensive parking lots. The environment is car-friendly, but not so much for pedestrians. The existing nodes do, however, have good local transit, with many of the terminals located at the back of the shopping centre or in other peripheral locations.
Canadian mall redevelopments still lag behind what is happening in the United States, where the inclusion of high-density builds meet higher order transit. In many instances, the expansion of a transit system, including subways, LRT and bus rapid transit, has been the catalyst for reconsidering the best uses of mall sites. Retail stores still feature prominently, but are often accompanied by major residential intensification. In a number of instances, even if higher order transit is not available, but good local transit is, redevelopment proposals will include tall buildings and significant residential uses.
The Mississauga study homed in on one of three mall redevelopment case studies, two in Toronto and one in Ottawa. The Shops at Don Mills was once an older enclosed mall but has morphed into a high-rise residential development. Ditto for the plans to convert Etobicoke's Humbertown Shopping Centre. That built mix will include townhouses as well as mid-rise buildings of up to 12 storeys, where the low-level indoor-outdoor plaza currently stands. Elmvale Acres in Ottawa was a partially enclosed 1960s-era style shopping centre built next to a bus transit station. It has been transformed into a mixed-use area incorporating outward-oriented retail, residential uses in a variety of forms, and a new public park. The development mix also includes low-rise commercial buildings backed by townhouses providing a transition to the adjacent residential neighbourhood and a mix of mid-and high-rise buildings ranging in height from 9 to 18 storeys.
The report calls these redevelopments a transition between traditional suburban and urban forms. In other words: the traditional mall carries the dead weight of the old suburban model but can now be used as a catalyst to transform suburbs into more integrated cities. The redevelopments add height and density, combine a variety of uses, make public realm additions and improvements like parkettes, attractive streetscapes and other public spaces, and improve conditions for pedestrians, transit users and cyclists.
They also continue to provide a substantial amount of parking, often in surface parking lots. But even that is changing fast. The continuation of surface parking is critical to the financial success of the redevelopment in the short term. It enables many local residents to continue to visit and use the area as they have traditionally done, while opening up opportunities for new ways to use the site through the other improvements. These surface parking lots might be a further phase of redevelopment, if the financial incentive for their presence disappears over time.
In the meantime, getting rid of much-desired parking and adding density, can cause significant turmoil in communities where older residents do not wish to see such a transition. The intense public opposition in some of Etobicoke's most affluent neighbourhoods in and around the Kingsway, in the area where the Humbertown Shopping Centre is, has continued for years. It illustrates how comfortable many are with their wide open spaces and ample parking. But after decades of being wholly dependent on their cars and the infrastructure built for them, these individuals are not the focus of planners and property owners who want to prepare for the future.
Part of the existing Humbertown Shopping Centre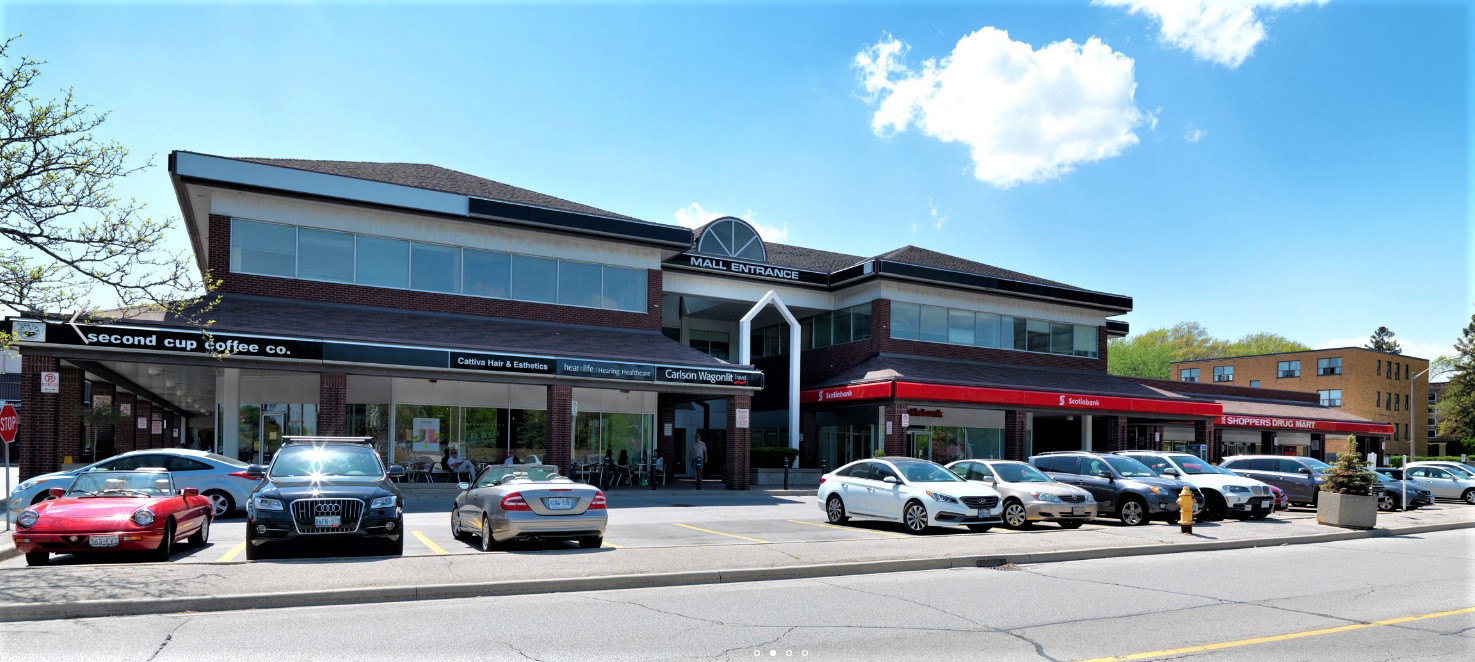 Renderings of what it might look like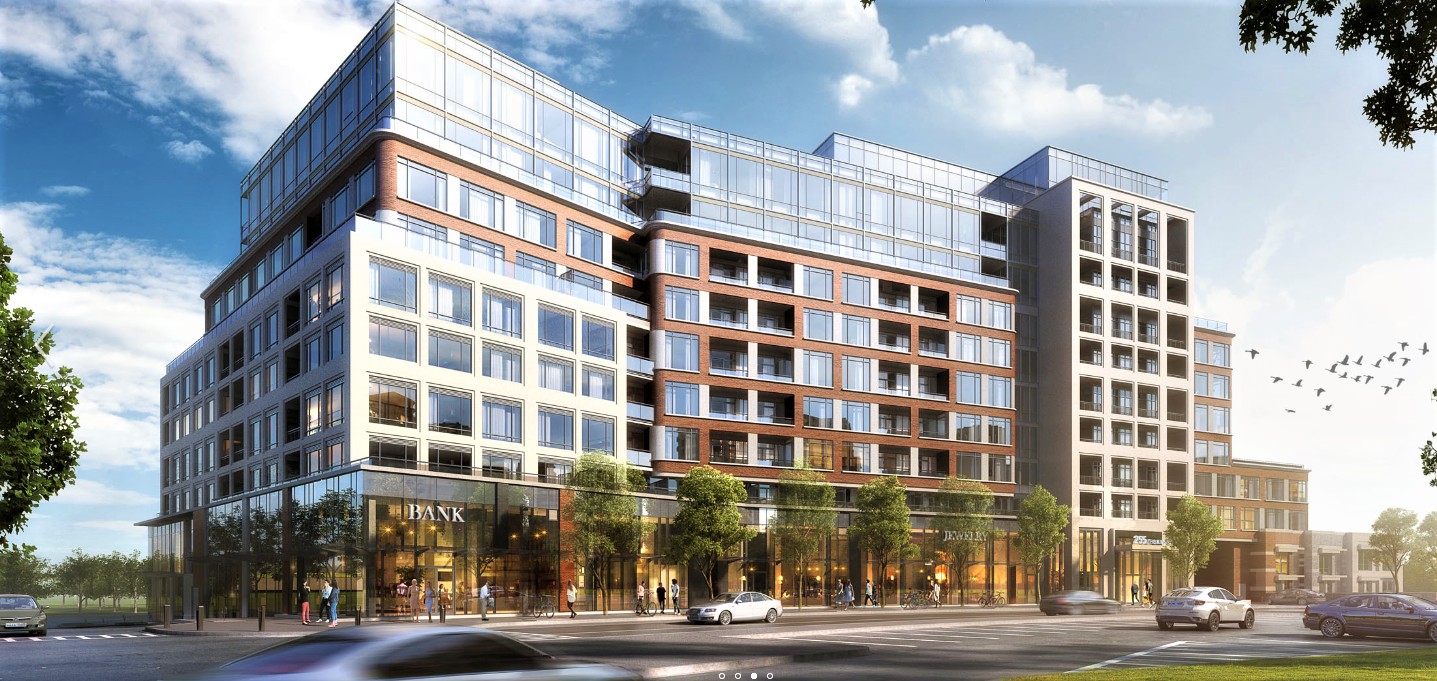 Changes in parking are coming
Both surface and above-ground parking lots are transitioning. A new buzzword is being attached to this shift in thinking and physical planning. It's called "tactical urbanism", an economic driver that finds new ways to re-use old scrub land, surface parking, and will even future-proof car parks. For example, car parks built today can be built for repurposing tomorrow, as the need for cars decreases and the use of public transit increases. This fits better with the aspirations of millennials, and future citizens, who are less inclined to own cars, and more inclined to seek out public transit options.
Residential is now connected to retail in a bid to make it work. For the private investors who own today's mall, this is a critical next step in the branding of their sites.
As the Mississauga report states: "Malls are going to have to change, they will have to become the centre of activities." With Southern Ontario's climate and the existing built-form of some of the largest malls, as retail gives way to online shopping, the mall experience and its place within the fabric of a community is being re-thought. These spaces offer obvious value, especially in the winter, but instead of decrying them as little more than monuments to consumerism and bad urban planning, why not introduce other features inside: libraries, galleries, schools, early child-care spaces, event-centres, recreation centres, post-secondary education. Even the recreation of outdoor activities, such as sidewalk cafes (these are already common in malls) can offer wintertime solace from the cold. The idea is to reshape instead of rebuild, if it's not feasible to do so.
As the mall-based nodes evolve, equitable access to public spaces and public input into the planning process will be prioritized. The objective of creating new communities with a diversity of building types, heights and scales emerges from the demonstration plans and community discussions that were held as part of the Reimagining the Mall project. These policies are intended to mitigate the negative impact on quality of life and the environment of large surface parking areas by reducing parking requirements through shared parking, as well as encouraging parking to be provided underground or in structures. Where surface parking is to be provided, it is directed to the side or rear of buildings. The policies also address the importance of providing bicycle parking and planning to address a future with autonomous vehicles.
Ah yes, cars and parking. It's been the bane of cities for years, producing plenty of greenhouses gases and clogged streets and acres of wasted land. American Sarah Goodyear, a contributing writer to CityLab, said in an article that parking spaces are eating cities alive. She points out that most cars require about 300 square-feet of space, which in New York would get you a studio apartment. How many billions of square feet of parking spaces now sit empty in shopping malls?
Goodyear said this empty asphalt eats up space where kids used to play, humans walked, or farmers tilled the soil. Some cities like Florence and Mumbai have simply done away with parking on streets in certain areas. Major parking reforms are needed as traffic builds, but there is a solution for malls, and it's a fiscal one. Re-do the spaces. Tear them up and build residences, entertainment complexes, even green spaces, galleries and cultural venues.
"It took a century to engineer cities in such a way that space for cars, even ones that are sitting idle, became valued more than space for people," she wrote. And then she asked: "Are we willing to do the simple math and start heading in another direction?"
The answer is yes.
Mississauga's Downtown21 master plan created in the '90s, and born from an earlier master plan designed before the city was even a city, in 1969, offered a bold new approach to a suburb that was once the poster boy for sprawl. If you venture inside City Hall and head to the council-office area, you can view a small-scale model of what the future city would look like. When this miniature version was constructed decades ago wrapped inside its glassed encasing, some laughed at the scaled-down version of tall condos, office skyscrapers and teeming sidewalks. It looked like a mini-mini-Manhattan. It was a pie-in-the-sky dream that would never emerge from the sprawl surrounding the Square One mall.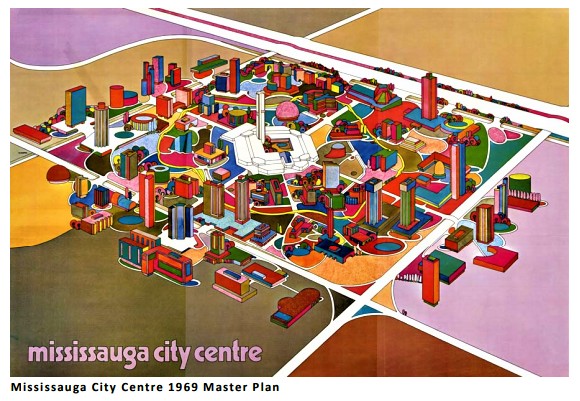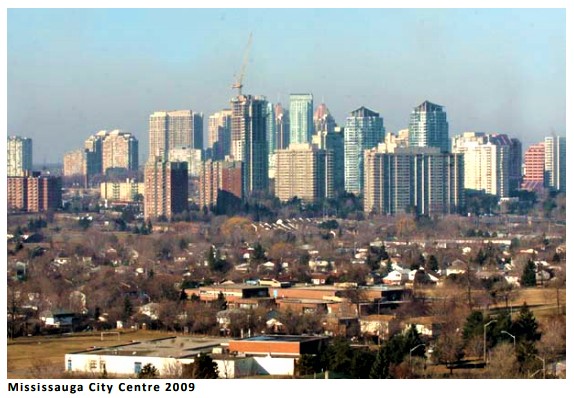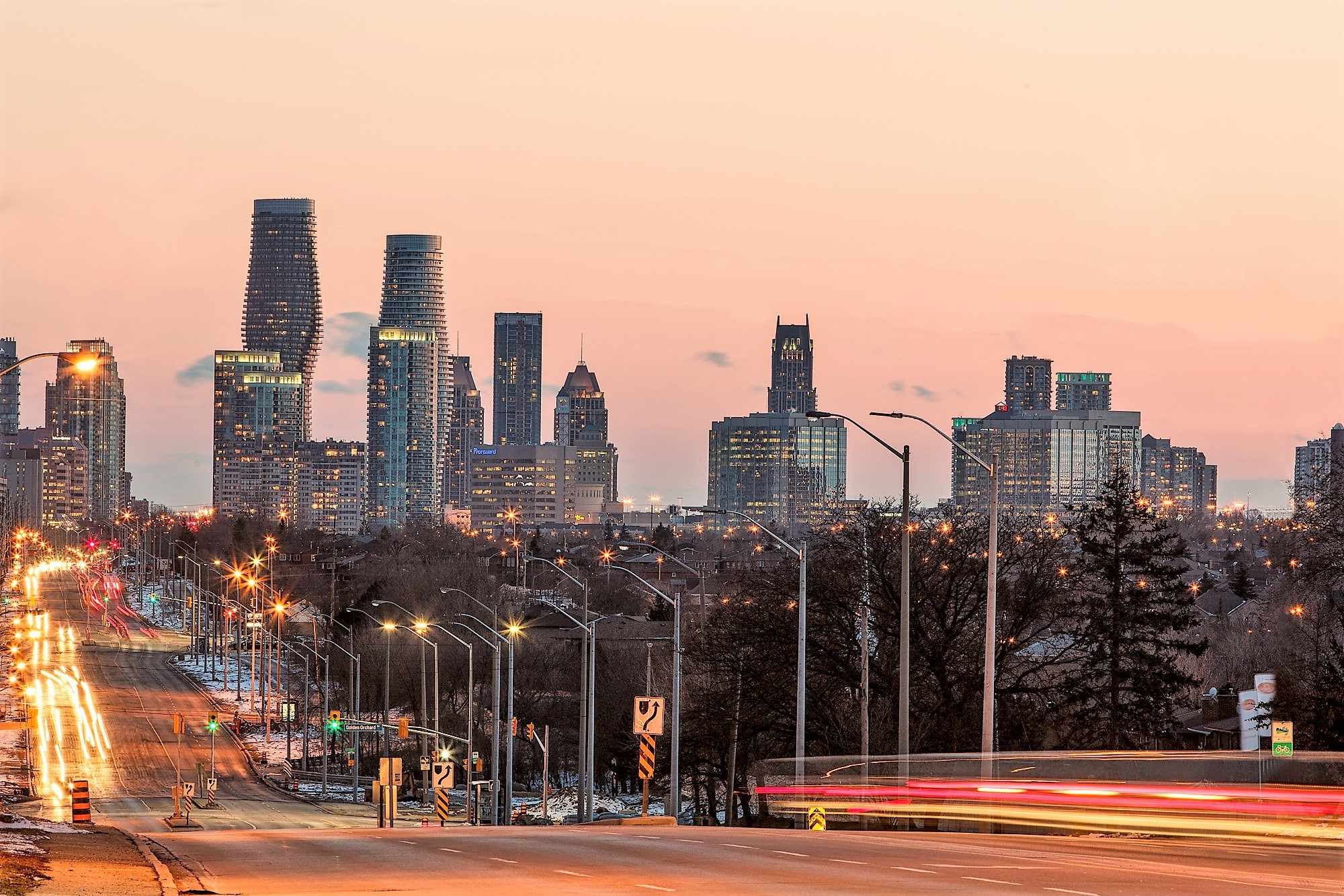 Mississauga now
But now, the real thing, Mississauga's towering skyline that continues to reach upward and spread vertically, has silenced those who once laughed.
The latest plan still requires a significant transformation from suburban to urban thinking. Its marketers said it's all about creating a downtown that will be walkable and human-scaled filled with juxtapositions and surprises, arts and culture, grit and polish, rich in information, and is convenient, stimulating, wired, innovative, universally accessible, and yes, even sensual. Citizens will be able to do more things in less space.
This broad vision has been endorsed by the public and council in numerous town hall meetings.
No doubt, Jane Jacobs would be pleased by the replacement of asphalt with dynamic builds, more pedestrian friendly walkways, green space, and the buzzy feel of a downtown core, while other similar urban nodes pop up throughout the city where walkable complete communities will be created.
The good news is that people heading downtown to shop might exchange their car keys for a transit pass.
Part of the "living green" component to all this is the expansion of LID (low impact development) standards, including new storm water management practices such as "green streets."
Brampton looks enviously at Mississauga's ever evolving downtown as it battles its own watermain problems in its core. Brampton's Downtown Reimagined has been put on hold because of a shortage of funding and uncertainty about what lies beneath the city centre's surface. There's hope it will be done, and enhanced by other projects like Riverwalk, only now in the early stages of development. Brampton's urban growth has been piecemeal at best.
But things in Brampton are also starting to change. A group of highly professional urban visionaries, not like those planners who previously served at the whim of developers and beholden councillors, is now running the show.
The new Queen Street corridor plan will redevelop a hideous stretch of wide, low-slung, car dominated cityscape, pocked with cracked parking lots–that give this stretch of the city's centre a wrong-side-of-the-tracks American vibe – into a dynamic, transit focused urban corridor.
Queen Street now and a rendering of the future plans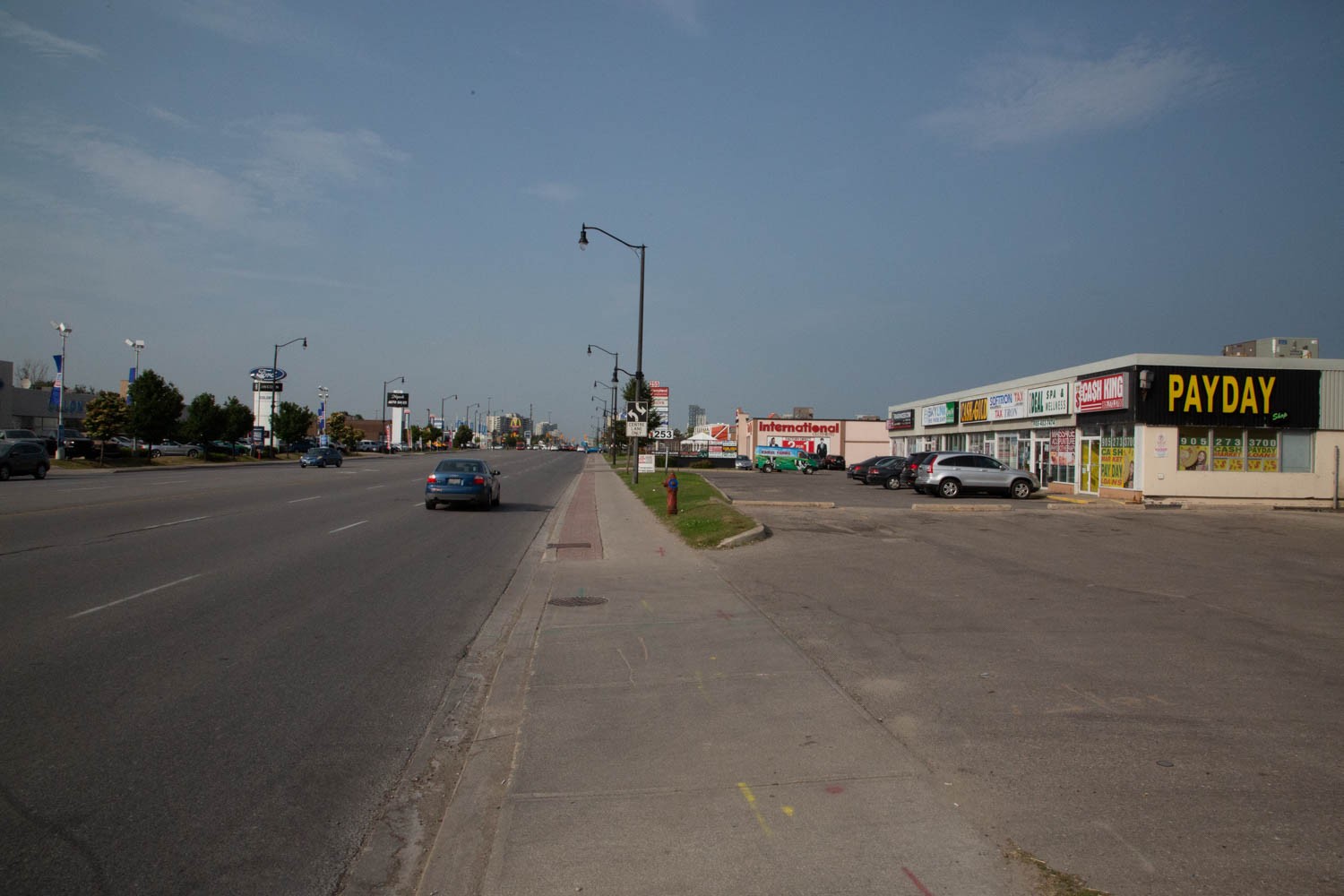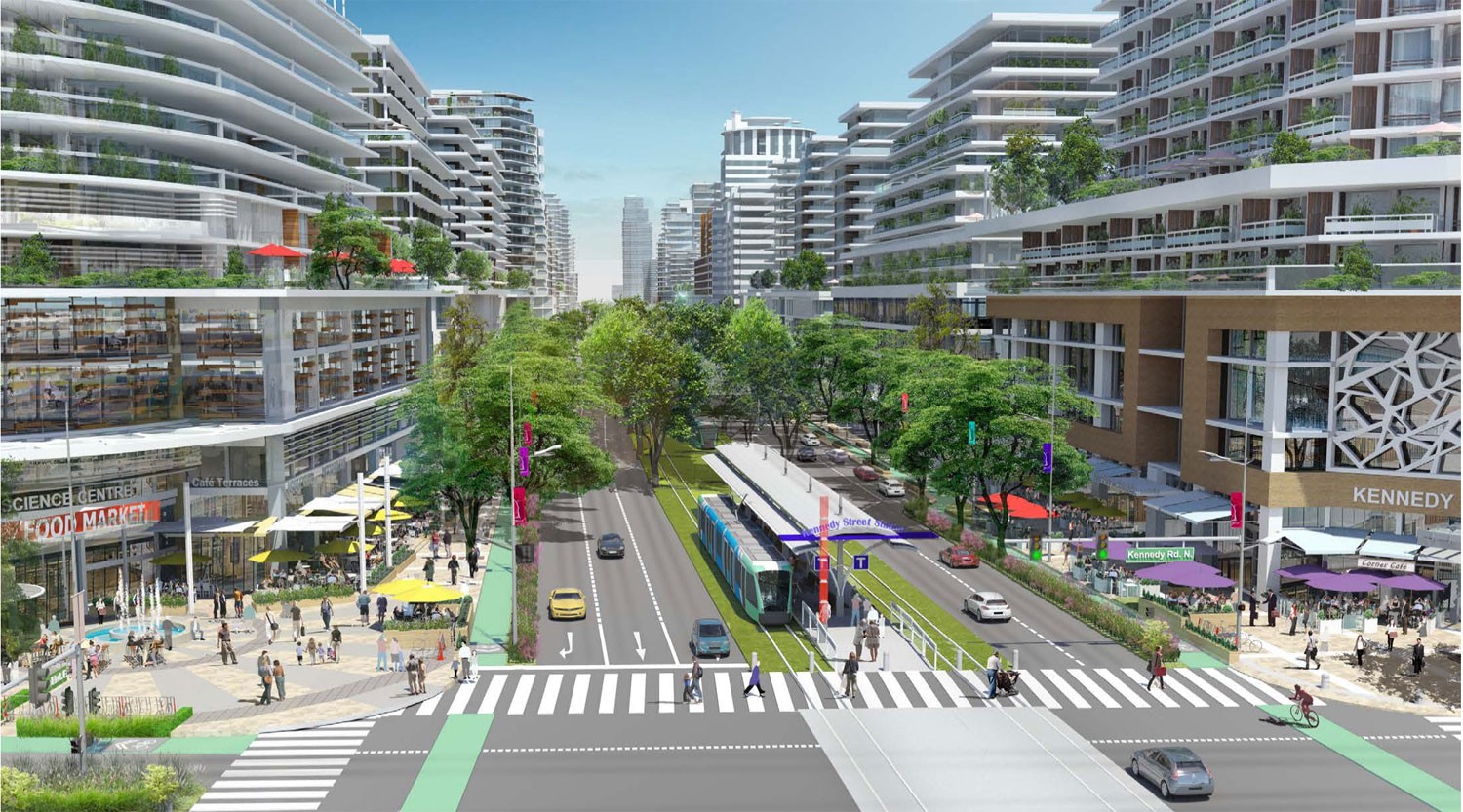 Council is lost on the future of light rail transit, as political decisions continue to get in the way of actual transit planning, but staff might be able to work around incompetent elected officials and push forward a mass-transit plan that will work best for the city's future.
Low Impact Development is a rapidly developing field in stormwater management that favours permeable paving (allowing water to absorb into the ground) in parking lots so these large asphalt spaces reduce their rainwater flow into storm sewers that can't handle the increased number of extreme weather events causing more frequent, and more expensive, flooding. With the large volumes of stormwater flow caused by expanses of asphalt that send the lion's share of run-off into over-burdened municipal infrastructure, additional stormwater charges for parking lots, just like those now levied by Mississauga, could be another disincentive for building them.
It's another reason, with changing weather as a result of our climate emergency, why large malls with massive parking lots have little future in most major cities.
The parking lot dilemma can be sublime or extreme. For example, a few parking spots in a strip mall might not be a problem, but at the massive West Edmonton Mall, it features the largest car parking lot (20,000 spaces) in the world. This is not only bad for the environment, and future land-use equations, but is not a revenue generator for the mall owners.
It's clear that the future of parking lots includes multi-storey, mixed use builds and the creation of complete communities.
Riocan investment trust owns and manages this country's largest portfolio of shopping centres. Stuart Craig, the company's vice-president of planning and development, knows how cities operate, and what they need to draw in investment.
The good news for Brampton is that Ken Greenberg, one of North America's most highly respected urban designers, is now a strategic advisor for the city. He was also one of the drivers behind the giant St. Lawrence Neighbourhood remodeling in downtown Toronto. This complete community is significant because it was built on an old parking lot – one of the first examples of how these wasteful strips can be reimagined. The neighbourhood is now world-famous for turning non-descript concrete nothingness into a vibrant, livable and walkable neighbourhood. Greenberg is a big fan of building complete communities which are based on one measurable: the "20-minute solution." That means a node has to provide all the elements of urban life – transit, healthcare, schools, workplaces, libraries, shops, eateries, art galleries, and other "surprises" – inside a 20-minute walk. This is the connective tissue a city needs. The physical and fiscal benefits are immeasurable.
Greenberg thinks the lofty goals set out in the city's 2040 Vision are reachable – with political will, public and private sector partnerships, and using the acquired knowledge already being gathered by other parties.
This year, city departments in Brampton established priorities: build complete communities, revitalize existing neighbourhoods, unlock development in the downtown and uptown, support a local hub concept, and tout the city's competitive advantages: the city-owned Zum rapid transit, close proximity to Pearson International Airport, its dead-centre location in the Toronto Region tech hub, and its culturally diverse and youthful population base. If Brampton's downtown grow is stalled with water problems or by councillors who can't agree on key features such as LRT, Greenberg sees the Queen Street corridor and future plans for Bramalea City Centre as "a fantastic chess board to be playing on."
No mystery to urban renewal
There's nothing mysterious about what it takes for urban renewal: an action plan, political will and private-sector initiatives. Yes, everything is correctable, as Mississauga's downtown re-do clearly shows.
The city's mall study is also a peek into the future on how the suburbs can morph into urban centres.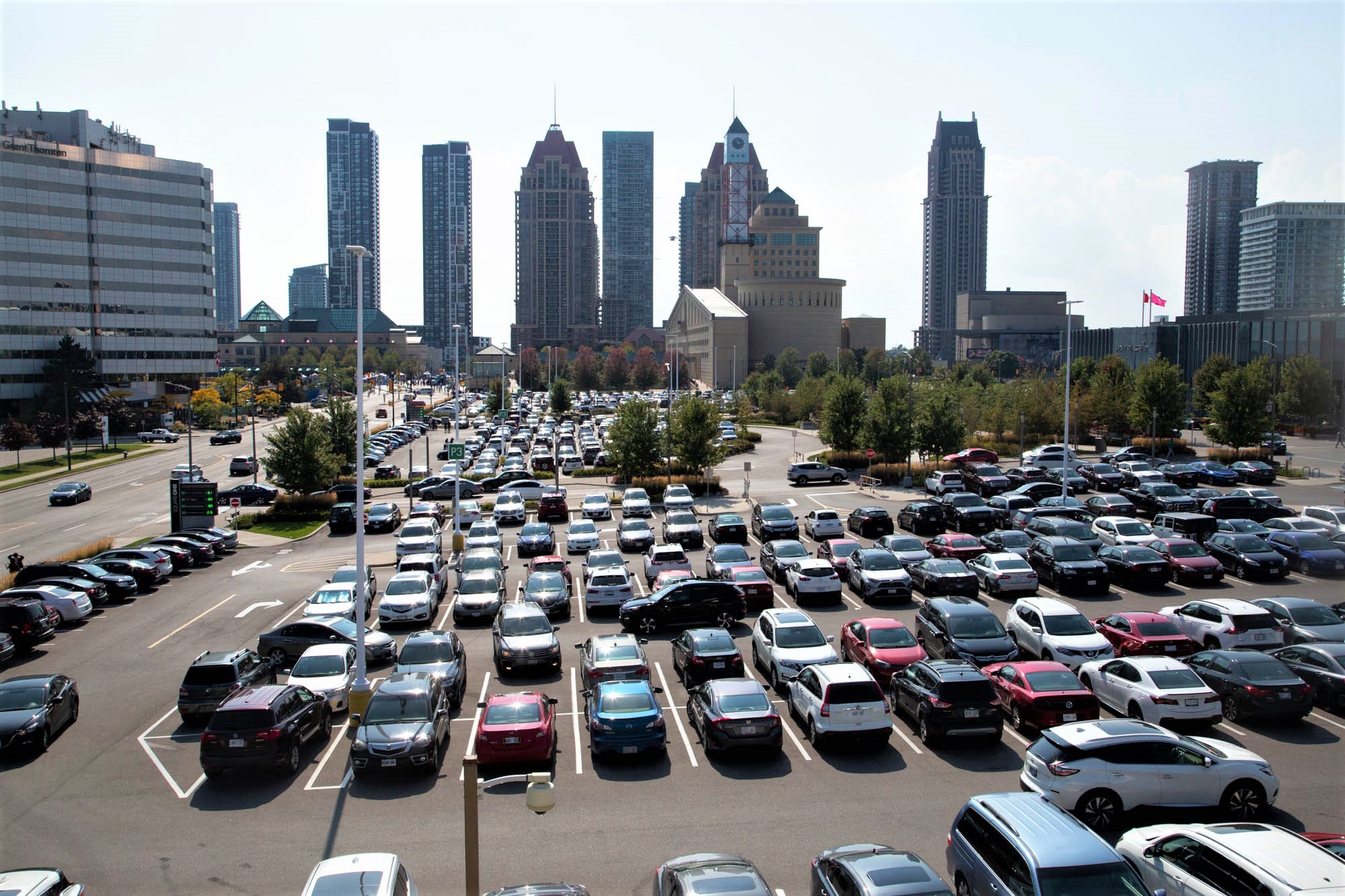 Mississauga's old downtown parking lots are being squeezed out by dense city building
At the public forum in 2018 introducing the study, now retired commissioner for planning and building, Ed Sajecki said, "suburban areas supported by shopping malls are changing. That's why we are proactively engaging with industry and residents on how we can guide the future redevelopment of these communities in a way that promotes health and well-being."
These malls and surrounding areas have been identified for intensification in Mississauga's Official Plan.
The keynote speaker that year, Dr. Lawrence Loh, associate medical officer of health for the Region of Peel, spoke about the impact that malls and community planning can have on the health of Peel residents. "It's not just with the services they provide, but by promoting positive social connections and contributing to a more walkable, transit-focused community," he said.
Bramalea City Centre is one of Canada's largest malls. Square One's 2.2 million square feet make it No. 2 in Canada. Its owner, Alberta Investment Management Corp. obviously sees the benefits of it becoming the centrepiece in a burgeoning downtown core. Its existing parking lot is already being replaced with urban features to make that happen.
Both Jane Jacobs and Joni Mitchell were right: paving over paradise to put up malls and parking lots was not the best use of land. But it fit the post-war suburban ethos. Now, those malls have created an economic impetus for owners. The largest and mid-sized malls will soon become part of the future growth plans in Mississauga and Brampton.
Transitioning vast parking lots and retail malls into complete communities means that almost anything can be repurposed.
It's ironic that malls and their stretched asphalt expanses will become the hubs in the wheels of cities looking to shake off their sprawling past.
Submit a correction about this story