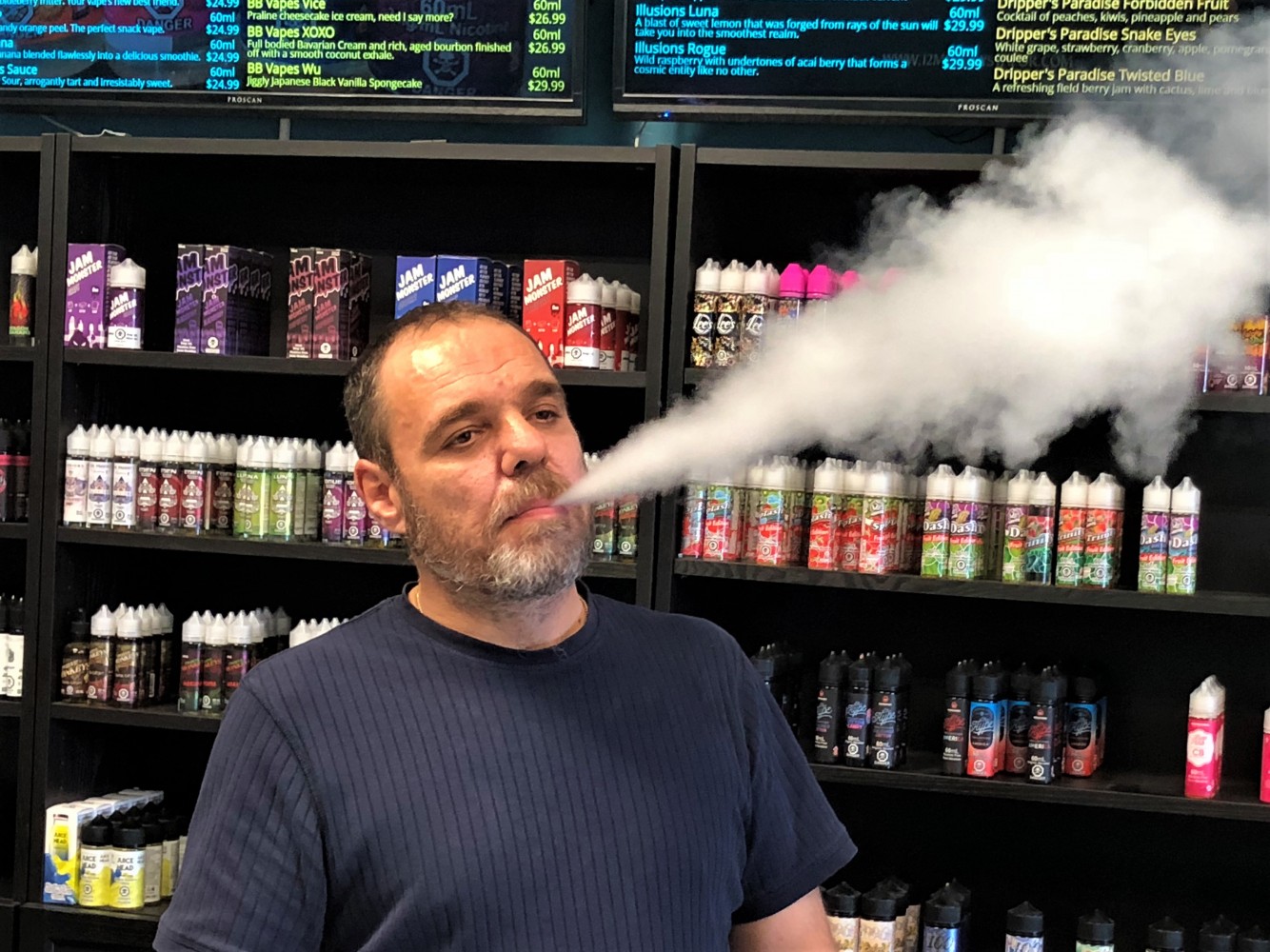 File photos/Screen grab YouTube
'The federal government has completely dropped the ball': region demands stricter rules around vaping
Drawing a parallel between the current debate around vaping in Canada and historical considerations over cigarettes may be lazy, but the similarities are uncanny.
In creative media, the smoking battle is beautifully captured in the pilot episode of the now completed AMC drama, Mad Men. In an advertising meeting, executives discuss the indisputable health case against smoking and how to sell cigarettes regardless. The show, which illustrates the power of advertising, settles on a familiar strategy.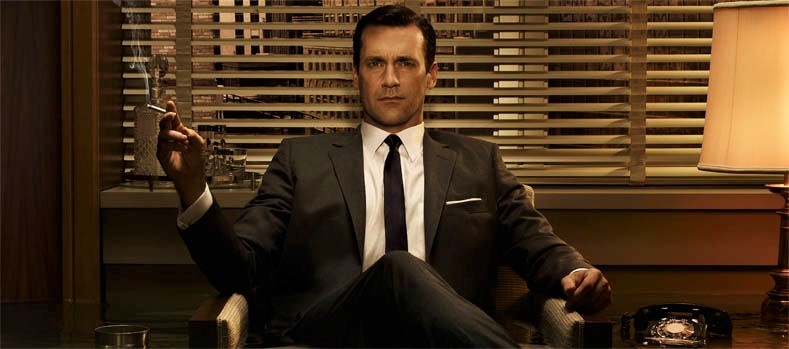 The character Don Draper in the television show Mad Men
In particular, the protagonist, Don Draper, says that they don't have to sell the health benefits, they need to sell "happiness". He describes happiness as a "freedom from fear" and the "smell of a new car," summarized best by "a billboard on the side of the road which screams with reassurance that whatever you're doing, it's okay."
And that's exactly what the vaping industry is now doing in Canada.
Since nicotine vaping products were made legal by the federal government in May, 2018, subways in Toronto and bus shelters in Mississauga have been adorned with massive adverts for products such as Juul. The giant messages are often sleek, fun and colourful. They feel young and cool, with the same qualities tech start-ups and viral marketing use to advertise the latest applications and platforms that those who control the future must have.
However, conversation around the dangers of vaping has grown ever louder since its legalization in 2018. The long-term impacts are not known, though more immediate consequences are becoming clearer. As of October 11 2019, there has been one confirmed case of severe pulmonary illness (chest pain, coughing, shortness of breath) in Canada, though in the United States there have been 26 deaths and 1,000 reported cases of lung-injury directly related to vaping. The Canadian case related to a young person from London, Ontario, who was put on life support after a suspected vaping-related illness in mid-September.
Perhaps with those statistics in mind, and armed with their own anecdotal stories, on Thursday, councillors at the Region of Peel voted unanimously to lobby the provincial and federal governments to make serious changes to current legislation.
"The federal government has completely dropped the ball on this file," Councillor Karen Ras (Mississauga) told her peers. "If the federal government did their job, we wouldn't be in this position – our kids wouldn't be in this position."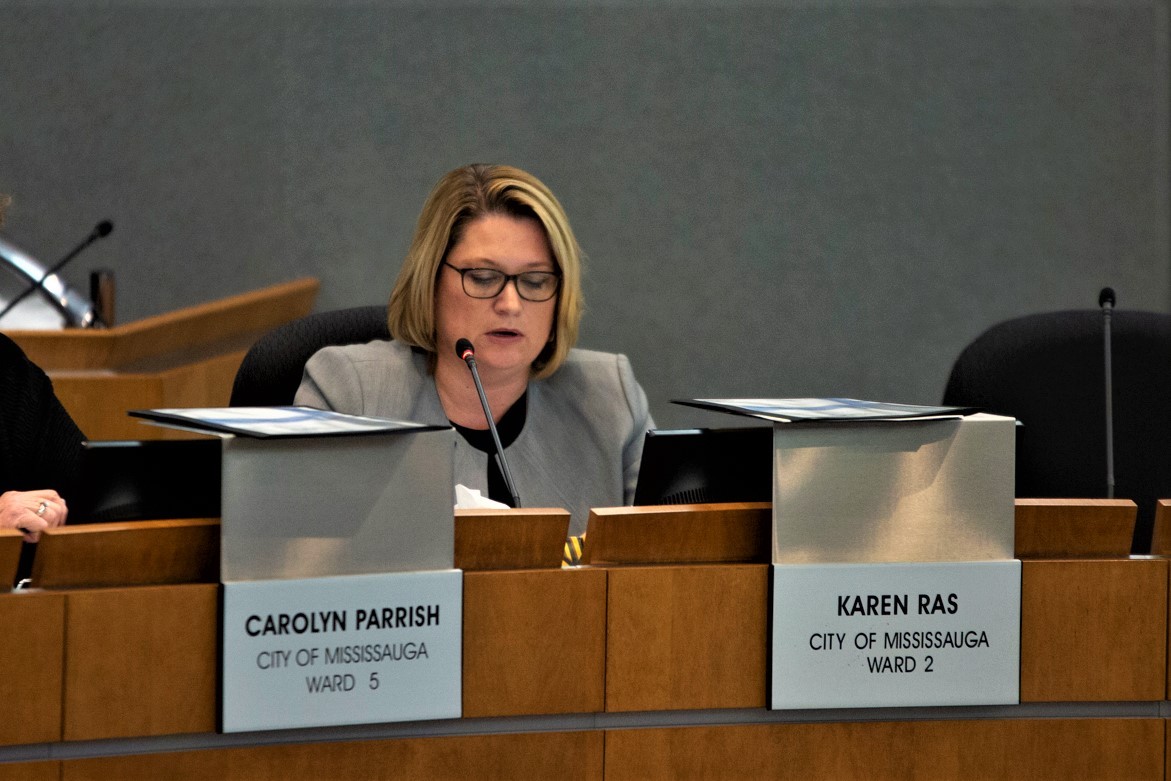 Mississauga and regional Councillor Karen Ras
Ras offered stories from her own children, one of whom is 15-years-old, that vaping among their peers in the region is rife. The councillor said her children brought stories of students at school vaping in bathrooms, where smoke detectors will not be triggered by the product. Some of these children, according to what Ras has heard, are only in elementary school.
Mayor Bonnie Crombie and Councillor Chris Fonseca also offered anecdotal evidence through their children of use in schools. Crombie said that "as a mother" she was concerned, particularly by the perception vaping is safer, while Fonseca said her 13-year-old twins had stories of people vaping at school, something which the institutions are simply "not equipped" to deal with, she said.
Statistically, data on the issue is sparse in Peel. The most recent figures available to the Region of Peel come from 2017, before the practice was legalized across the country. Still, that year, 19 percent, or approximately 21,400, students in Peel between grades 7 to 12 reported smoking e-cigarettes or vaping at some point in their life. Broken down further, that was around 15 percent of grade 9 students and 35 percent of those in grade 12. With no local data post-legalization, the region has been left to rely on national statistics, which suggest that usage increased six percent after it was legalized in 2018.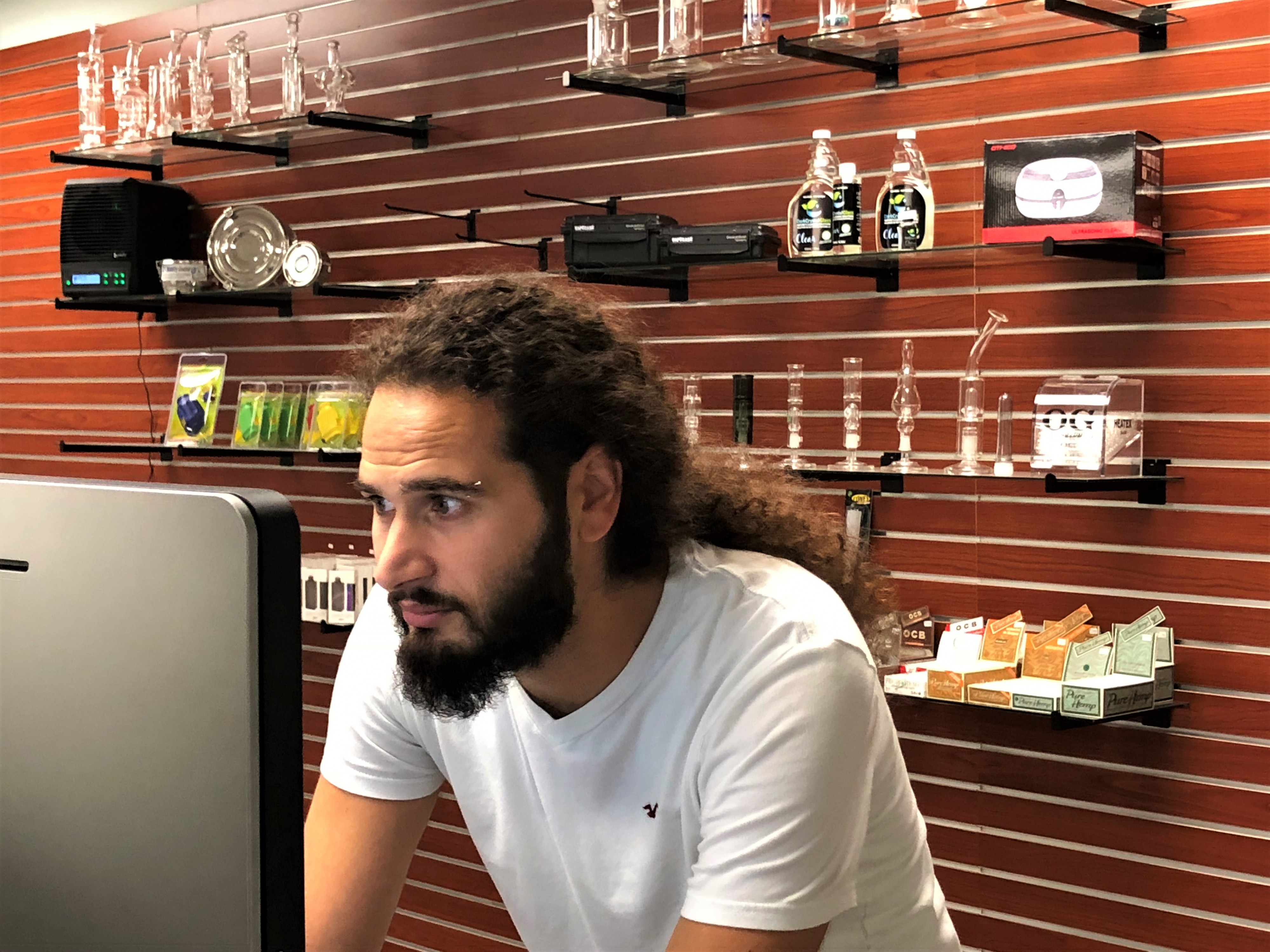 An employee inside Mississauga's PlanetHaze vape shop
Whether that applies to Peel, or if the increase was higher or lower, is hard to quantify, though the anecdotes of councillors would suggest that the increase is perceived to be higher. Describing the issue as a "public health crisis", Ras told The Pointer a youth-oriented public awareness campaign was key, along with major changes at all levels of government.
"My oldest daughter is in grade 10 and my youngest is in grade 7 and both of them talk about kids vaping," she said Thursday.
"Like I said, I think the federal government dropped the ball by allowing such widespread use without understanding the physical effects, especially on young people. These companies absolutely appeal to a younger generation, it's sleek marketing… it appeals to young people and now we're left, as the lower tier of government, to deal with some of the ramifications."
Staff at the region have suggested that, alongside a public relations campaign, councillors and the government relations department advocate for change at the federal and provincial level. The slew of recommendations, endorsed unanimously, are aimed at dealing with youth vaping and its potential side-effects.
In particular, the region will now call on the federal government to ban the sale of flavoured vape products, lower the maximum level of nicotine allowed and bring other regulations in line with laws for tobacco products. At the provincial level, they will lobby Doug Ford and his PC government to also prohibit the sale of flavoured products and to prohibit all promotion/marketing/advertising campaigns relating to vape products, as is already the case with cigarettes.
Plans already in place at the provincial level will ban vape advertising in convenience stores next year, though they do not create the same blanket ban applied to cigarettes.
Yet, a recent investigation by the Globe and Mail revealed the federal government is already struggling to enforce its more lenient rules. More than three quarters of speciality vape shops inspected by Health Canada were found to be promoting products which violated federal laws designed to protect consumers under 18, which include selling flavours aimed at teenagers (such as ice cream, cotton candy or soft drinks). The investigation also found vaping companies were flouting advertising laws, which prohibit using people, characters or animals to advertise their products, with several vaping companies across the country using Instagram influencers among other techniques to target young people and, often, non-smokers.
Since colourful and social media-savvy advertising, often using celebrities and other influencers, is at the heart of the appeal of vaping to many young people, the changes the region wants could go quite some way. If Prime Minister Justin Trudeau and Doug Ford listen to the concerns of regional councillors on the ground, it could make a significant positive impact on local youth, though better enforcement will also be required.
At the regional level, enforcement officers are presented with a tough task even within the current rules. According to staff, just five officers are employed to regulate the region's 548 e-cigarette vendors. In addition, some under-age test purchasers are known to sales staff who are alerted, making the monitoring of accidental or intentional sales to minors increasingly difficult.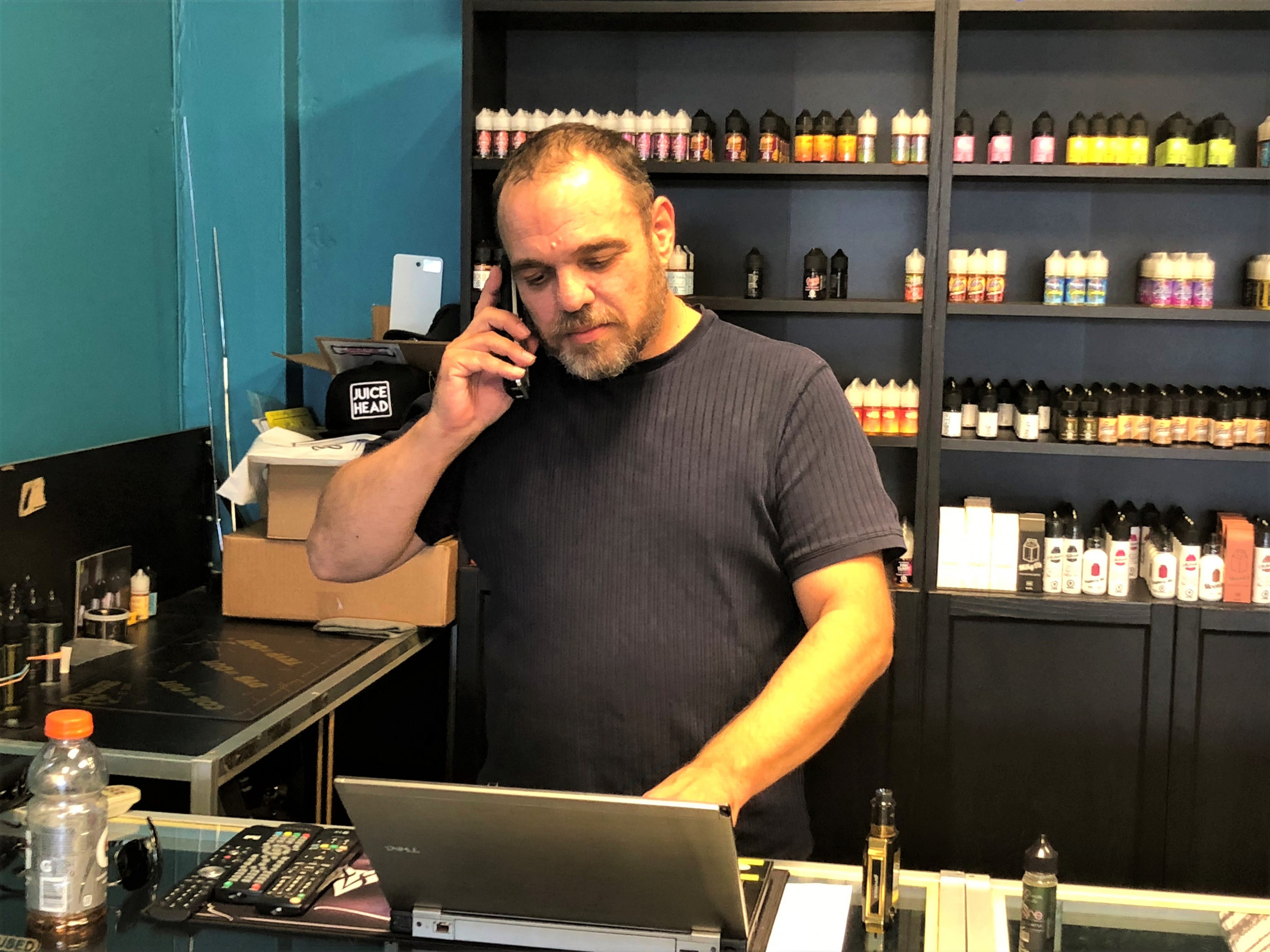 Robert Murphy, owner of Mississauga-based Vaporium Canada Vape Shop
Changes to upper tier legislation could also deal a knockout blow to many of the region's 500-plus vape stores. Defenders of vaping point to the fact it is generally considered to be safer than smoking and frame it as an alternative, instead of a product for young, non-smokers. After health fears spread across Canada in relation to vaping in September, Robert Murphy, owner of Mississauga-based Vaporium Canada Vape Shop, told The Pointer he had seen his sales dip by 80 percent as a result of negative headlines.
"I'm definitely seeing it in the sales," he said, at the time. Arguing that the media was spreading "misinformation" on the topic, he said the news was "only pushing one narrative and that is to stop vaping. And it's very dangerous because there are people out there that are going back to smoking cigarettes, when that is a known carcinogen."
Changes to legislation would presumably have an even bigger impact, with a ban on flavours targeting younger consumers, possibly having a particularly damaging effect on sales. But the idea is exactly that, to prevent those most susceptible to marketing influence from starting a habit out of coercion.
With regulation of the industry done at the provincial and federal level, the region and municipalities are left to lobby. It appears that lobbying will happen in two directions: a peer-to-peer campaign to educate young people on the dangers of vaping, alongside requests for change from legislators who set the rules.
Email: [email protected]
Twitter: @isaaccallan
Submit a correction about this story