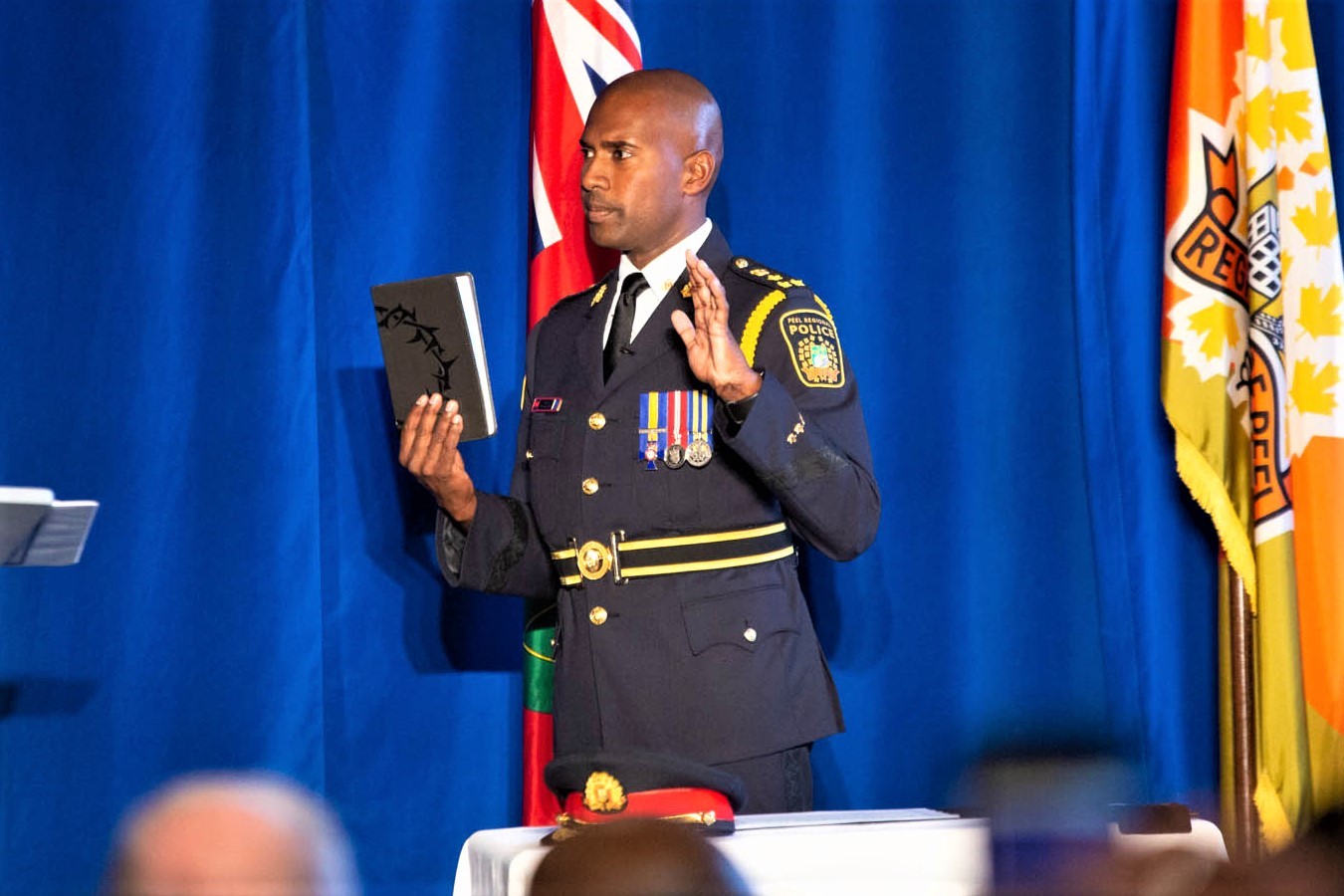 Photos by Isaac Callan/Joel Wittnebel and file photos/Graphic Peel police
New chief will be a 'hero in Malton' after confirming shuttered station will reopen with bigger footprint
There was good news for the people of Malton this morning, as Chief Nishan Duraiappah told Mississauga's General Committee that Peel Regional Police will be reestablishing a bricks and mortar presence in the area. Speaking during his official introduction to councillors and addressing the local member specifically, the news came as a huge relief to all those desperate to see a much more significant police presence in Malton.
"You should know we will be opening that station, that substation, as per our discussion," Duraiappah told Councillor Carolyn Parrish during his comments. "Really there are a lot of fish to fry for me, but I think [what] all of you need to know is that my approach [to] resolving or approaching issues… always has to be built on mutual understanding."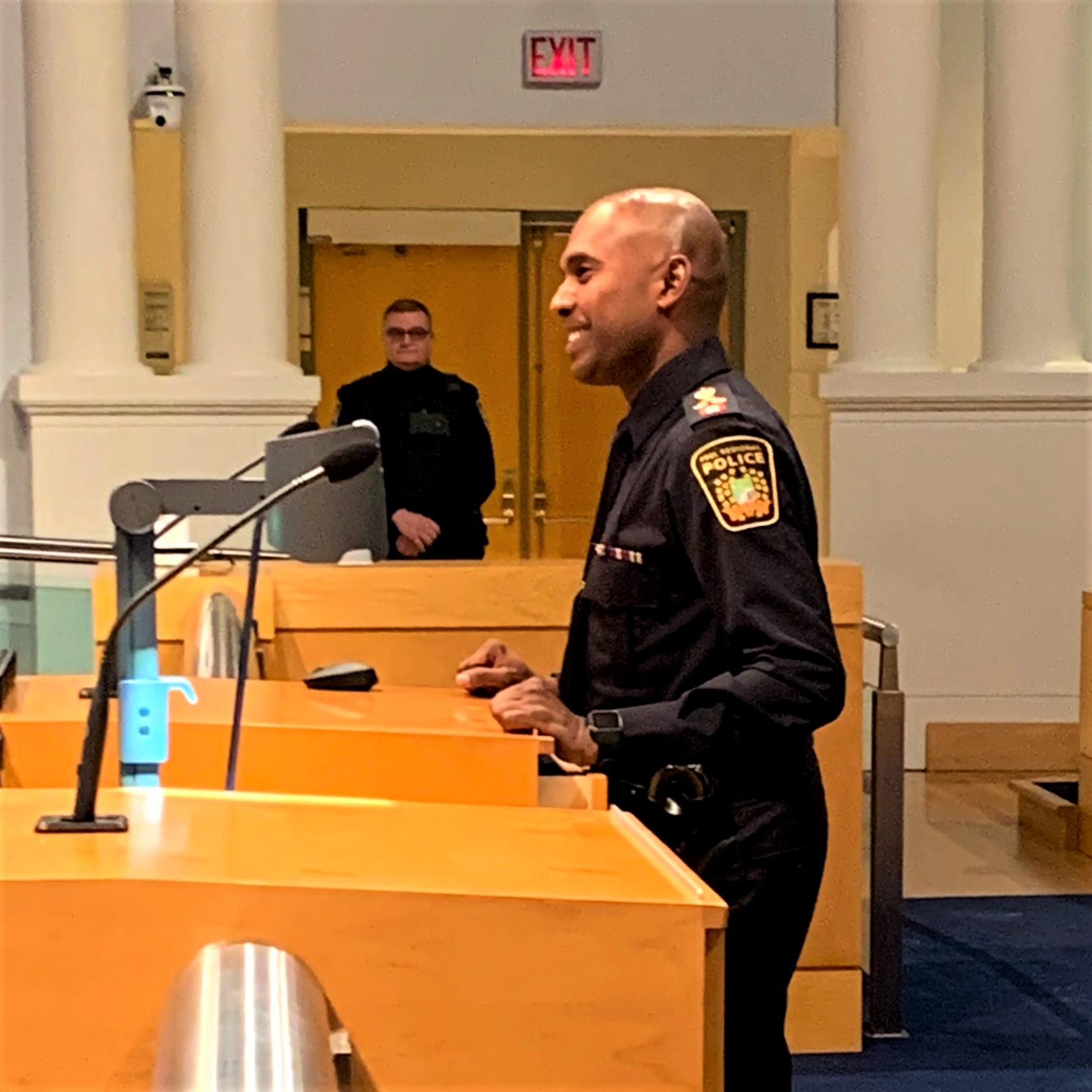 Peel police Chief Nishan Duraiappah gives Mississauga council some good news Wednesday about a new station in Malton
The news was welcome across council, with Parrish describing the chief's first days in office as "so far, so fantastic" and telling him he would be a "hero in Malton."
The new community substation, which will be bigger than before, is expected to open at the same site in the Westwood Square Mall. In February 2018, the previous police chief, Jennifer Evans, closed down Malton's community station, citing high rent for the facility as one reason. Where police were paying $3,500 for a lease at Square One for a community station and $661 to Cassie Campbell Community Centre, their space in Westwood Square Mall was as high as $15,430. After the community station was shut down, however, the mall's administration has allowed officers to use a space rent free to warm up, eat a meal or complete administrative work and management has indicated that a new, much more reasonable, price to reopen the station was doable.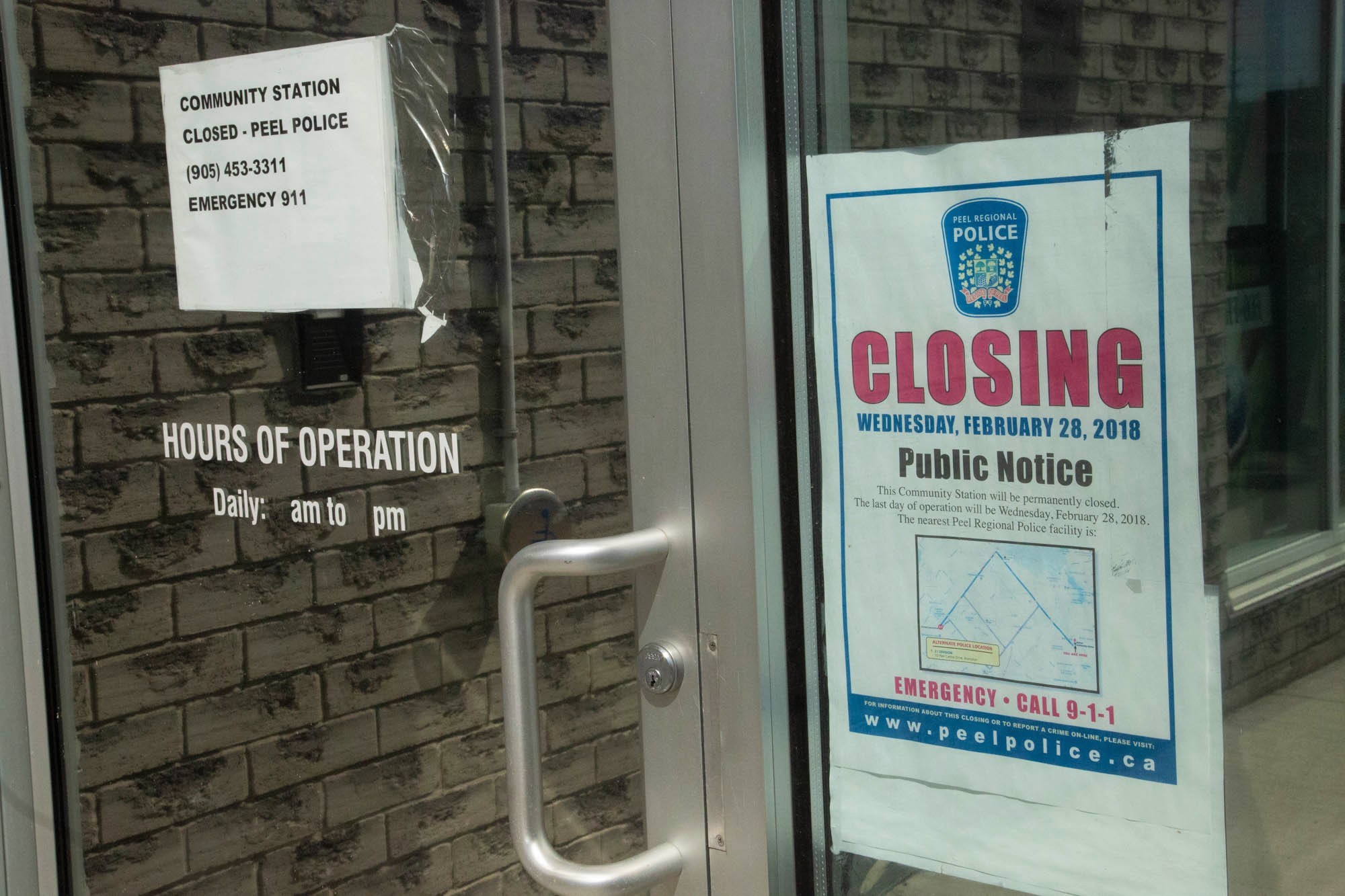 The new station will be located at the same spot as the one closed in February of 2018
Malton's need for an improved police presence was thrust into the national spotlight in September, following the tragic death of a teenager who was shot as an innocent bystander. On September 14, 17-year-old Jonathan Davis was killed in a shooting which saw more than a 130 bullets fired behind a busy apartment complex, leaving five others wounded. The scene took place just a short walk from where the community police station used to operate, and will now again be located.
Duraiappah told The Pointer that his job is to make the community feel safe and that he would do that in whatever way was necessary. "I think our job is to serve the needs of the community and [those needs] can be [influenced by a] combination of what we all see here in the news, what happens daily for our officers, paramedics and fire services, but it's also how people feel," he said. "My job is to be responsive to all of those areas and the totality of things is that [the Malton] community feels that they need to have an increased presence. That presence can come in lots of different ways: it can come in the form of us doing initiatives on the front line with the community; it can come from seeing cruisers; it can come from talking to an officer and it can also come from bricks and mortar."
Saying the station was not the "panacea", the new chief explained that he was able to offer the community an instant response, while wider reviews consider a long-term solution. "The last [police] board meeting, the board commissioned a service delivery route which will take time – that's the long term strategic [plan]," he added. "There's a few different things in a few different streams that we're going to do, but some are immediate responses and sometimes that's required."
The service review mentioned was requested by Mayor Bonnie Crombie at a previous Peel Police Services Board meeting on September 28. Telling the board that the current division model was "outdated", Crombie requested a review of how police services work, with options such as a full station or division in Malton potentially on the table after the review.
Praising Duraiappah for his "very timely" response to the people of Malton, Crombie said that the creation of a larger or more permanent complement in Malton would be informed through the review process and could be expensive. "A full station is a longer-term initiative which will require bricks and mortar at substantial cost; this is an interim step," Crombie told The Pointer. "I am a [police] board member and I know that we will be looking very closely at the service delivery model and whether or not we have the funding and capital budget going forward. That would determine how long it would take to build a full station."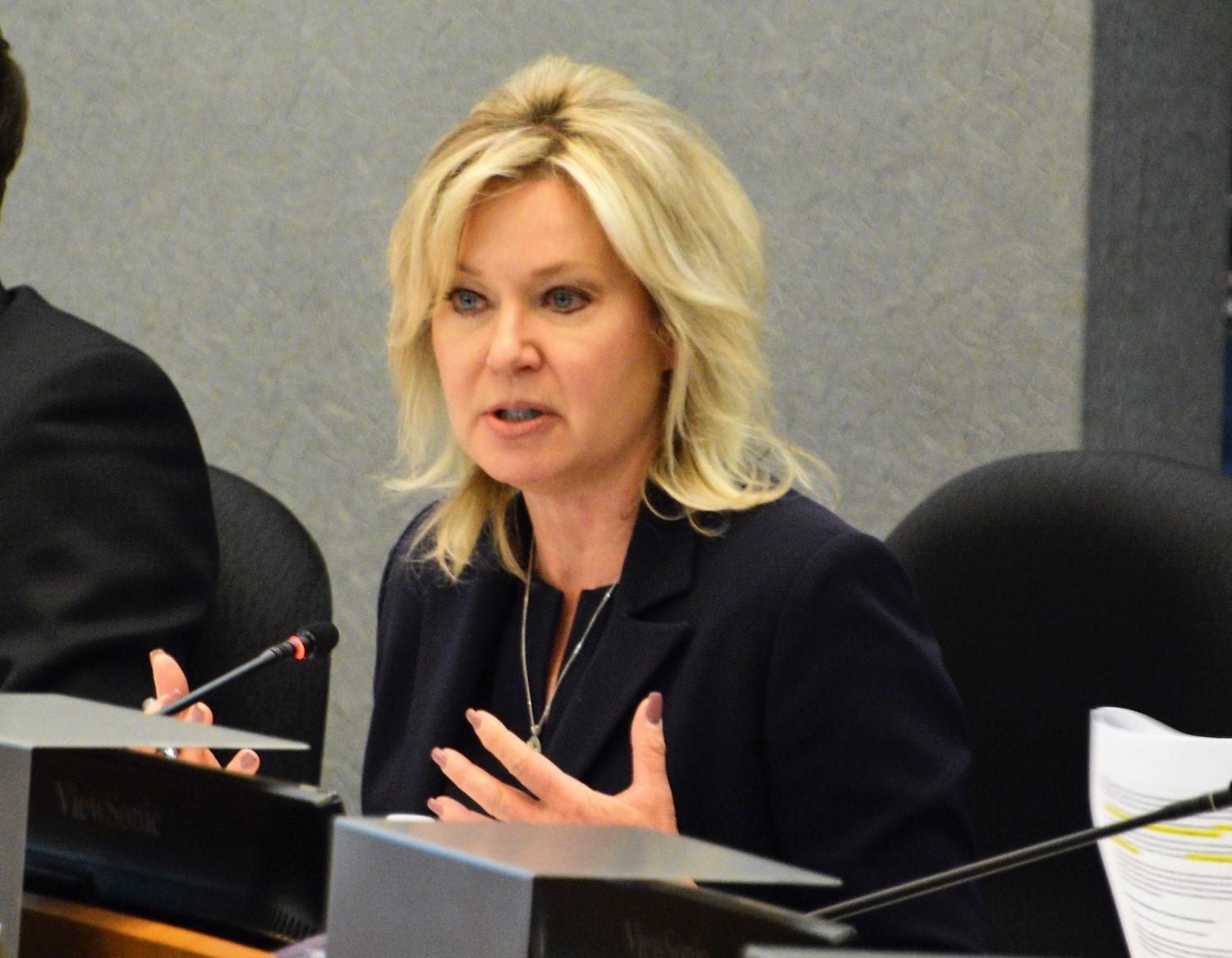 Mayor Bonnie Crombie at a police board meeting earlier in the year
A police spokesperson said an opening date for the new community station has not yet been set in stone as the force finalizes the details of the project.
As Mississauga goes, Malton is one of the areas most in need. According to census data from 2016, 59.9 percent of those living there are immigrants to Canada, while 82.5 percent of residents are visible minorities, groups which tend to experience more economic challenges before they gain a foothold. More than a third of households there spend 30 percent of their income on rent, with one in five households categorized as low-income. Proximity to Pearson Airport and extensive industrial zoning means the community is relatively isolated, while distance means that officers from neighbouring police divisions take longer than the average response time when called to a scene.
As The Pointer has previously reported, the case for a full Malton police division was first presented in a 1990 report, due to the area's "relative isolation." At the time, the plan was supposed to herald a "philosophical change in style" moving toward a more community oriented model of policing, with a Malton division as the jewel in its crown.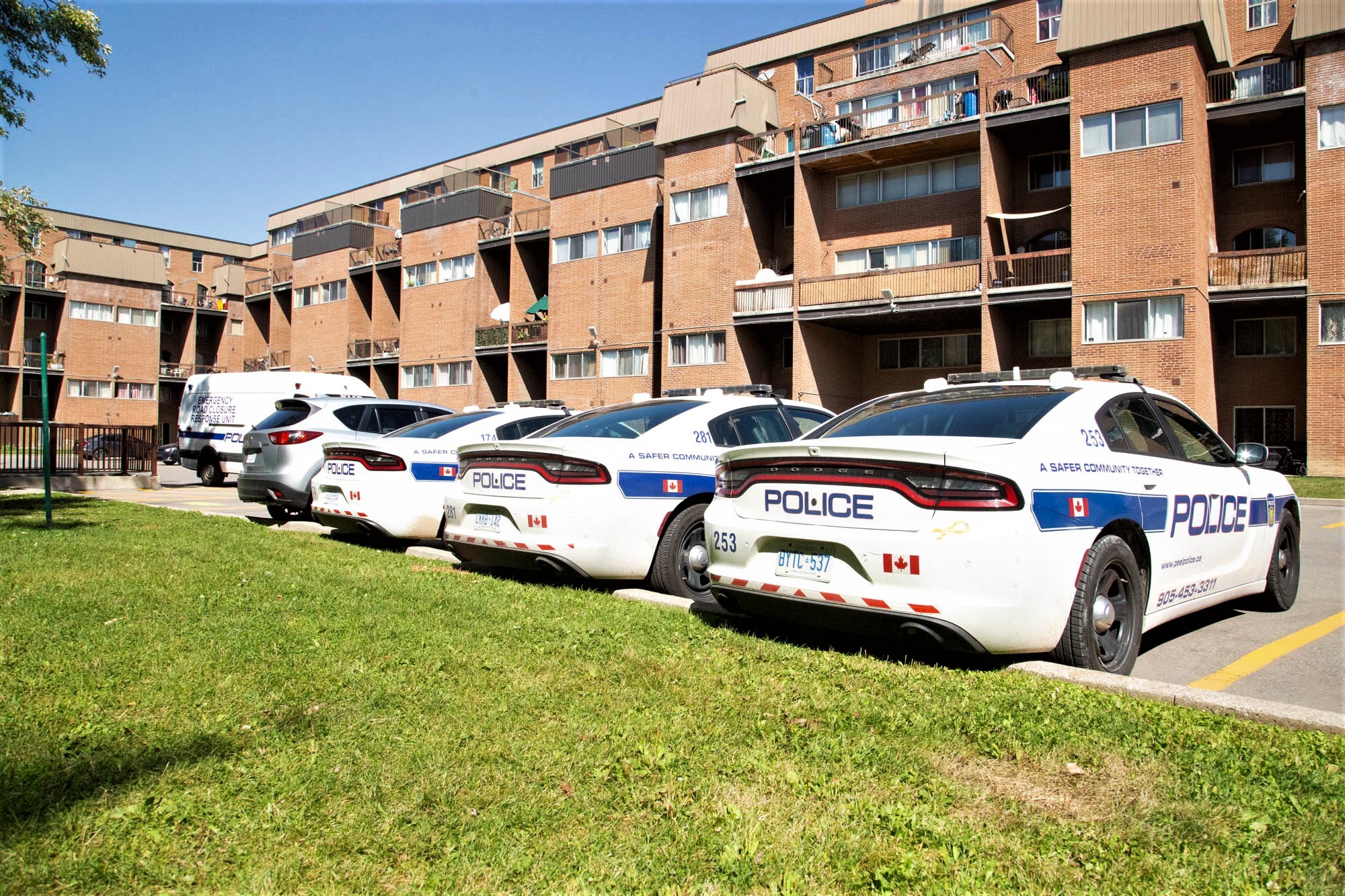 A heavy police presence at the site of the September mass shooting in Malton
However, a tough budget year in 1995 (incidentally the year Duraiappah began his career with Halton Police) put an end to the project, with Malton receiving its community station as a consolation instead, before it was closed in 2018.
With a new chief in place appearing to actively listen to councillors and the community, many hope that 2019 represents the "philosophical change" which internal documents suggested would take place in 1995. Nearly a quarter of a century later, a shift in attitude appears to be beginning at the region's police service.
"This is a brand new experience [for me with Peel Police]," Parrish told The Pointer. "I've only had quick responses when they were nailing us before – the last chief and I weren't best buddies. The thing that I think was important is that when he [Duraiappah] scheduled the first meeting with me, we went in with a binder… we did all the research… so when I plonked the binder in front of him, he thought, 'I'm not arguing with this lady, I'm going to listen to her'."
"And he did listen, which was really important."
The force's own figures show that 2019 has been a tough year across Peel. Figures presented at the most recent meeting of the Police Services Board projected that 562 discharged rounds would be investigated this year, alongside 158 stabbings and a projected 47 shootings. The projection for the number of violent crime victims is down slightly from 2018, but still on a general upward trajectory.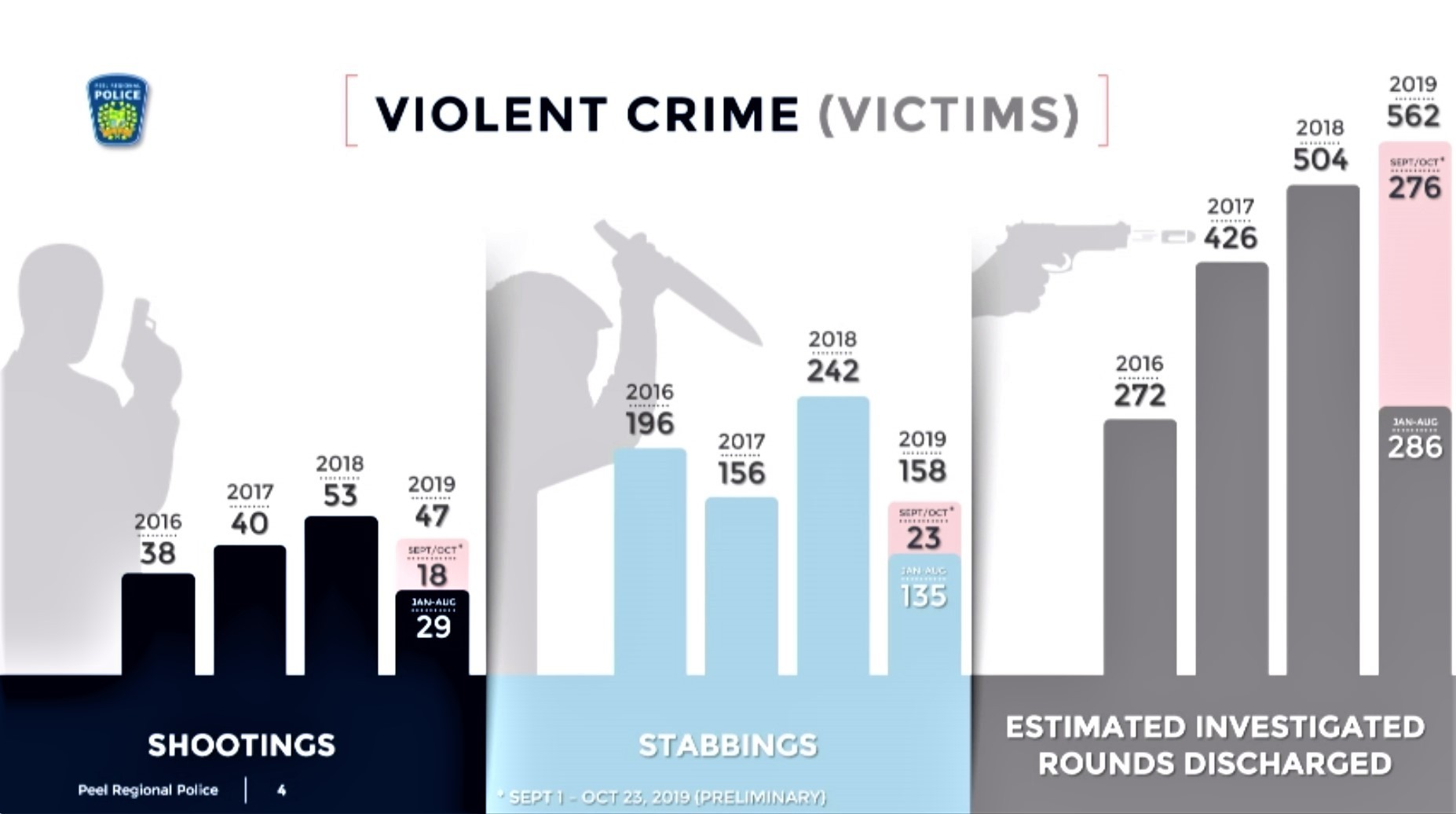 Communities across Peel, particularly in Malton, will be hoping that a change in strategy brings new results. The community, which felt abandoned by the last chief, should feel uplifted by the early attention under the new chief's leadership, with the possibility that a full division, with an even stronger police presence, follows in the years to come.
Email: [email protected]
Twitter: @isaaccallan
Submit a correction about this story