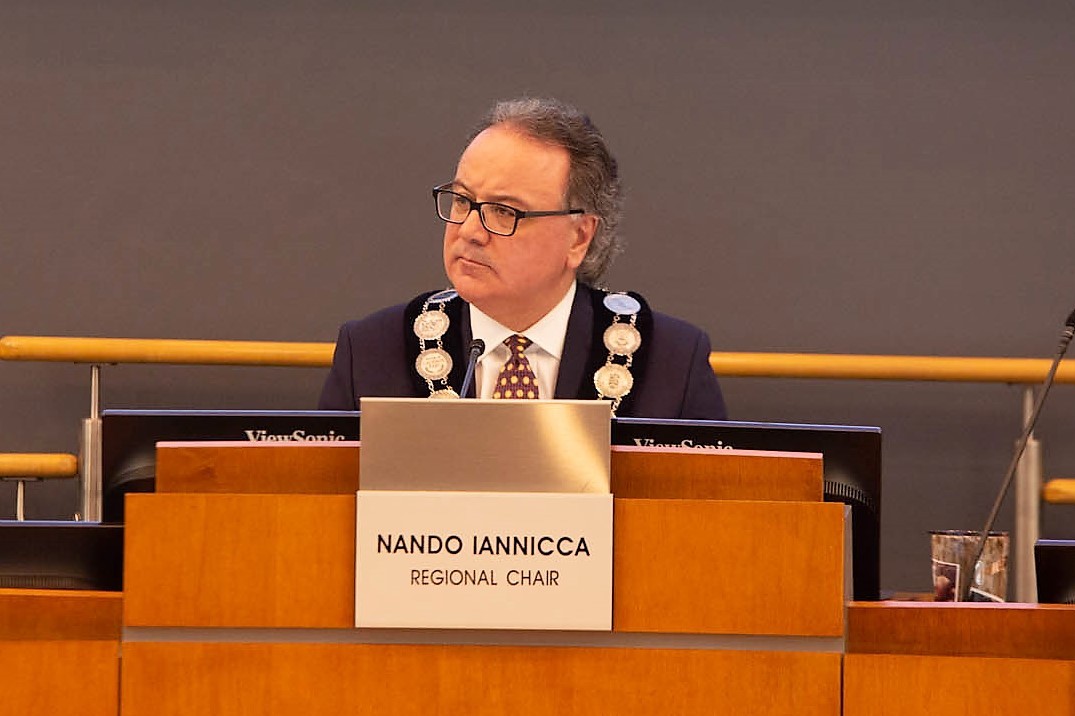 Photos by Joel Wittnebel and file photos/Cavo Tagoo Hotel
Iannicca acted unethically but watchdog clears him; Mississauga probably won't
Zebras can't change their stripes because, well, it's part of their DNA.
Politicians do it all the time because, well, it's what they do.
Call it the cynical approach to politicking where the prime objective is to achieve or hold on to power.
Nando Iannicca spent more than a quarter-century as a Mississauga councillor. For much of that time he shared a fervent desire to see Mississauga gain its independence from the Region of Peel, a view shared by mayors Hazel McCallion and her successor Bonnie Crombie, and all of his former colleagues.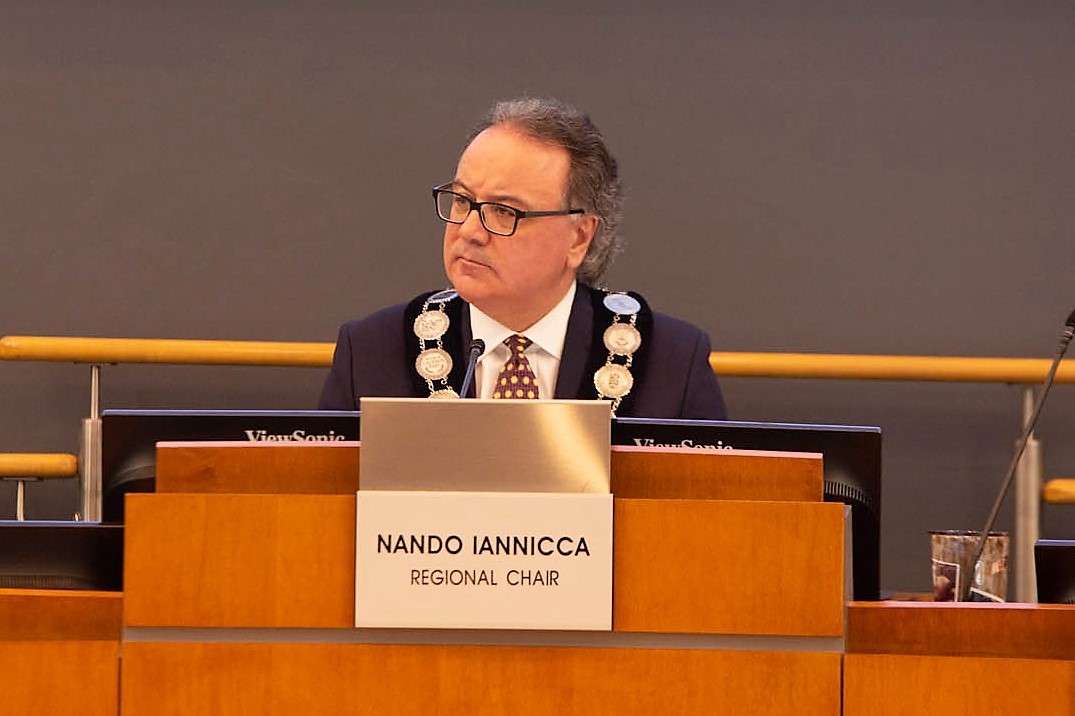 After all, the marriage was patently lopsided: Mississauga taxpayers paid an outsized share of the fiscal freight to keep this fourth tier of government operational. The city was stymied by this duplication of services, especially when it came to regional roads, other shared assets and police service.
Carrying the additional load of subsidizing Brampton's, and now Caledon's, irresponsible sprawling growth that costs Mississauga taxpayers a small fortune, has been another festering irritant.
This brusque, big-boy attitude was also based on the fact it had grown into the sixth largest city in Canada. It was time for the mature teenager to leave home.
Then, on Dec. 7, 2018, Iannicca had an epiphany. Or found religion. Or did a long walk in the woods. Or, more likely, decided on the day he was elected by his peers as chair and CEO of Peel Region, that this Mississauga-Brampton-Caledon partnership was worth saving.
Some cynics suggest this U-turn had everything to do with the fact he was about to earn $200k per year for the next four years, not to mention a huge bump in his retirement pension.
If his political pirouette was stunning, it paled in comparison to what happened next.
On January 24, provincial advisors emailed Iannicca and copied the CAO of the region, David Szwarc, and the mayors of the three cities and requested a meeting so they could share perspectives with respect to the themes of municipal governance, decision-making, and service delivery. Premier Doug Ford, ever the hound for smaller government and better efficiencies, had already formulated plans to hold a regional review to study the reasons why this fourth tier should even be allowed to exist.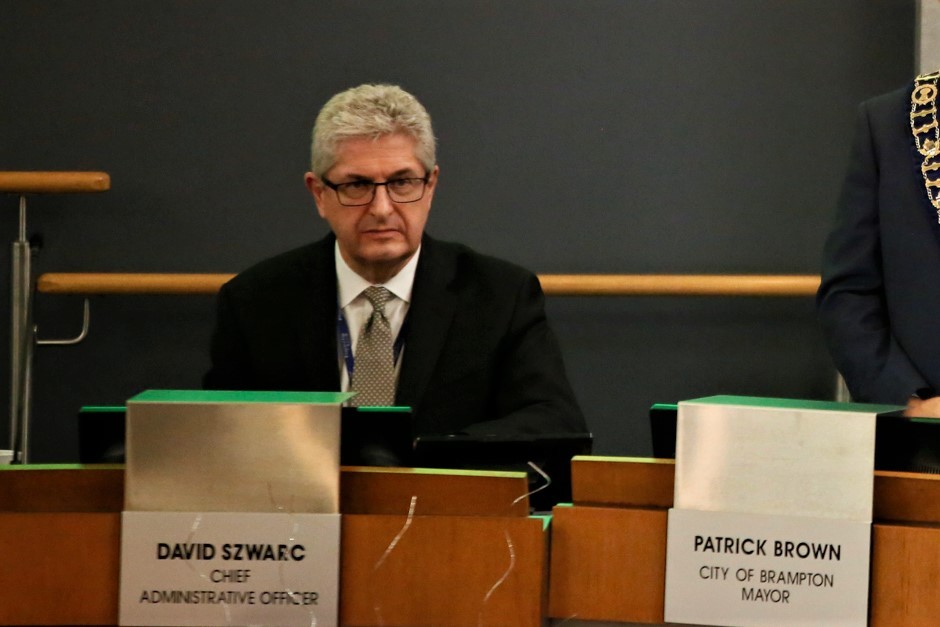 Former Peel Region CAO David Szwarc stepped down from the position in the summer
In preparation for the meeting, consulting firm Deloitte was retained by Peel region to complete a financial analysis which would inform the provincial advisors. Iannicca, accompanied by the region's CAO, shared his views and provided the province with a 4-page briefing note answering three questions that had been asked in advance – plus a short critique prepared by Deloitte of a third-party accounting report (previously commissioned by the City of Mississauga to assess the financial impacts of regional government, which showed a divorce was the best option for the burgeoning municipality).
Spoiler alert: none of the regional councillors in the three cities were informed of these behind-the-scenes maneuverings between Deloitte, Iannicca and the CAO. Later, Mayor Patrick Brown would be – upon request.
On March 28, regional councillors learned of the existence of the Deloitte report and the fact Brown had already been provided with a copy. Mayor Crombie blew a gasket. Mississauga Councillor Carolyn Parrish wanted Iannicca's head. Crombie had literally handed him his job, when she led the bloc of council voters who elected him into the chair's seat.
To save that job, he turned on them and the-long standing wish to secure Mississauga its exit from Peel Region, a desire Iannicca had passionately lobbied for, as caught on video from his days as a councillor and played back for all around the regional table to see, with the Machiavellian chair sitting right below his own projected image.
A video is shown in regional council of Chair Nando Iannicca as a Mississauga councillor calling for the city to get its independence
But unlike the famed Italian political plotter, Iannicca has never been particularly good at poker around the council table. He provided explanations for his actions that were easily blown through by the facts.
When Mississauga councillors demanded to know the details surrounding the commissioning of the Deloitte work, Iannicca comically, but with his idea of a straight face, told them he needed the firm's independent assessment so he could provide the province's two advisors, during their meeting, with an objective analysis of what was best for the region. The problem? That meeting took place on the same day Deloitte was hired to begin its work, more than a month before the firm handed its conclusions to Szwarc and Iannicca and the CFO, Stephen VanOfwegen, who was the CAO's right-hand man and enabler throughout the entire escapade.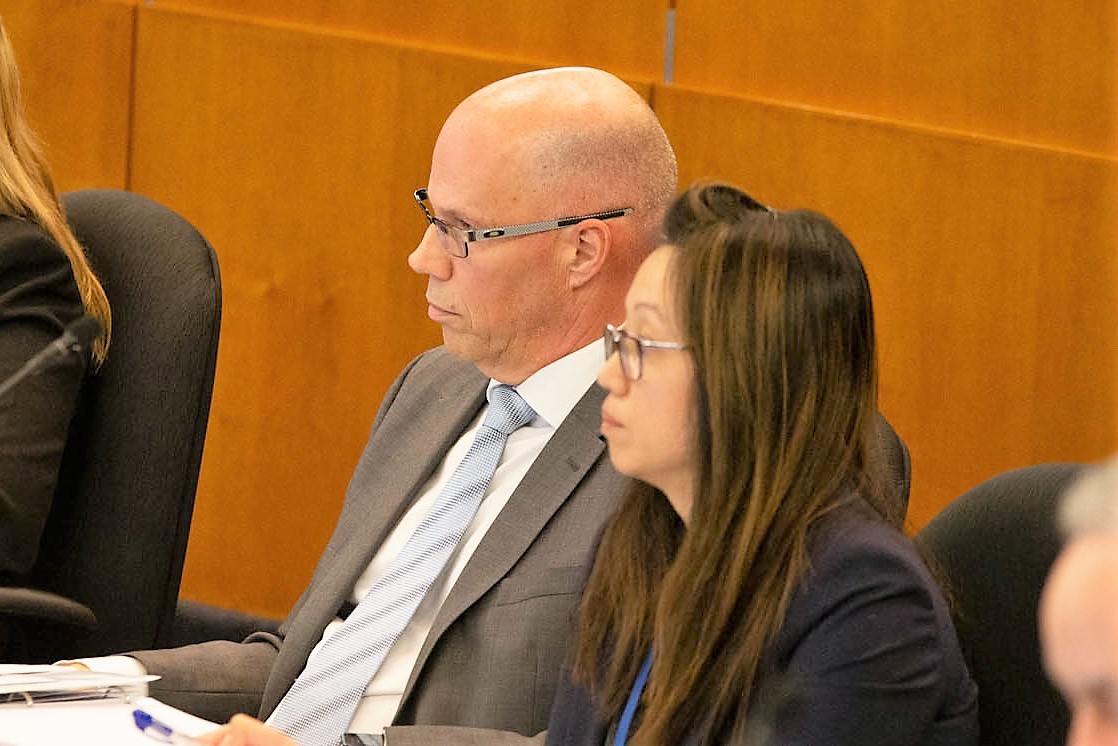 Peel Region CFO Stephen VanOfwegen
On April 3, at a special meeting of Mississauga council, a resolution requested the region to provide significant background information regarding the authority of the regional chair, CAO and CFO, to commission the secret Deloitte report.
To Mississauga, it looked like the fix was in to ruin its chances of independence.
The fact this gumming up of their chances was led by their former colleague, was particularly galling.
The tension in regional council ratcheted up.
Ford was viewed as the great disruptor. Within days of taking office in June of 2018, he cut the Toronto council size almost in half, and then ordered that filling regional seats in some jurisdictions around the province, especially Peel, would remain a vote in council, not a decision made by the public.
Some said this last order targeted his arch-rival Patrick Brown, then running for Peel chair. (After Ford upset Brown's plans, he slid over to run for mayor of Brampton, which he won. In an ironic twist, Brown is now one of the most powerful representatives on Peel council, and would become a key person in this unfolding drama.) Ford also hated the duplication of services and too much government or too many politicians, and this boded well for Mississauga's chances of making a jail break.
As for Iannicca, he and the region were now fighting for political survival – and that fat paycheque.
Council meetings devolved into soap operas. On April 25 partners from Deloitte attended to answer questions about the financial impact analysis they had undertaken. Council learned that Deloitte was retained in January to work with Watson and Associates to undertake the financial analysis; senior staff commissioned the work, to inform the chair and prep him for his meeting with provincial advisors; regional councillors were kept in the dark until March 28; the Deloitte and Watson work cost a staggering $325,000; and the firm was directed not (yes, NOT) to consult with or communicate to the area municipalities about their work.
Regional council directed the hiring of Ernst & Young to provide an independent financial impact analysis effectively replicating the Deloitte work, but this time, in complete consultation with the constituent municipalities through their CAOs. They would report back by May 21, in order to meet the timelines for submissions to the provincial advisors. The estimated cost of that report was $660,000.
The soap opera was getting more expensive to produce. A million bucks for two reports, by rival international consulting firms, that in many ways contradicted each other and reached different conclusions.
An investigation by The Pointer (read about it here) based on documents obtained under a freedom of information request showed the Deloitte report was heavily directed by CAO Szwarc, who had made clear that the supposedly independent report would conclude exactly what he wanted, that Peel should remain intact. He is no longer with the region.
On May 22, regional councillor Carolyn Parrish said Iannicca had contravened the Peel Code of Conduct and filed an official complaint. She said he facilitated a breach of procurement by-law principles which support objective, fair, transparent processes and promote best value for money; and he facilitated a breach of the prohibition against contract-splitting. He also exceeded his jurisdiction in authorizing the Deloitte/Watson study, communicated a position contrary to the position of regional council without any authority and in contravention of the code, and had no authority to direct, approve or encourage staff to commit resources to this exercise without a commitment by council. He had acted in contravention of the code, she alleged.
Her charge was taken up by Principles Integrity, appointed Integrity Commissioner for the region in January 2018. Jeffrey Abrams and his partner Janice Atwood-Petkovski, both lawyers, are co-principal/integrity commissioners at the firm. Both are well-versed in the fundamentals of administrative law, natural justice, and due process. Late last month, it released its final report on the complaint in regard to Iannicca's handling of the Deloitte report.
The conclusion was unclear: no, his actions were not a breach of the Code, but yes, he wouldn't earn his Boy Scouts' badge, either.
The other conclusion: the chair gets to keep his cushy position and rotund paycheque, and Mississauga gets to chew on the fact it was not only seemingly betrayed by Ford in its hopes of independence, but also by its former council colleague.
The bigger take away is that Peel regional council will continue to operate until 2022, and the trust factor between the chair and the 12-member Mississauga contingent, looks to have been irretrievably broken.
Principles Integrity found the chair did not facilitate a breach of the procurement by-law, and did not know about the decision to retain Deloitte until after staff had initiated the process to engage them. He did not authorize the Deloitte/Watson study, as it had already been initiated by senior staff in advance of his knowledge or involvement. He did not exceed his authority in encouraging staff to commit resources to the exercise of preparing him for his meeting with the provincial advisors, or communicate a position contrary to the position of regional council. It's unclear how that last conclusion was reached, given some of the documentation reported on by The Pointer.
Regional council's position was for a fair, objective stance to be taken by the chair. Iannicca made clear, according to documents, that from the beginning he pushed behind the scenes to keep the region together, which was also a conflict, given the financial benefit that outcome offered him.
Principles Integrity recommendation to regional council that it "may want to consider including in its governance framework a provision addressing the role and duty of the regional chair to share information with the rest of council when, in acting as head of council, he speaks on significant policy issues with persons outside the organization." That's like telling two spouses they should consult each other instead of unilaterally emptying out their joint bank account, before one informs the other from a sunny beach in the tropics.
Here's the really murky part. The finding says the chair did not breach the code of conduct.
But… The report then closes in on Iannicca.
"We… find that the behaviour engaged in by the chair raises concern around his handling of the situation, and fails to meet the standards of transparency, accountability and ethical conduct expected by the community, and by his fellow members of council who have appointed him to this role."
This isn't the first time Iannicca's lack of ethics has caused him problems.
In 2015 and 2016, while still a Mississauga and regional councillor, he spent $30,000 of taxpayer funds on trips to Greece, France, Italy, Dubai, Hawaii and Miami, claiming the travel was to attend conferences. He refused to disclose if family members joined him.
But when the media scrutinized his lavish travel and obtained documents, Iannicca admitted that his wife had travelled with him to Greece, claiming it did not impact his accommodations. The documents revealed the cost of the five-star island resort he and his wife stayed at was three times what taxpayers should have paid, had he stayed at the much more affordable hotel where the conference attendees were advised to book into.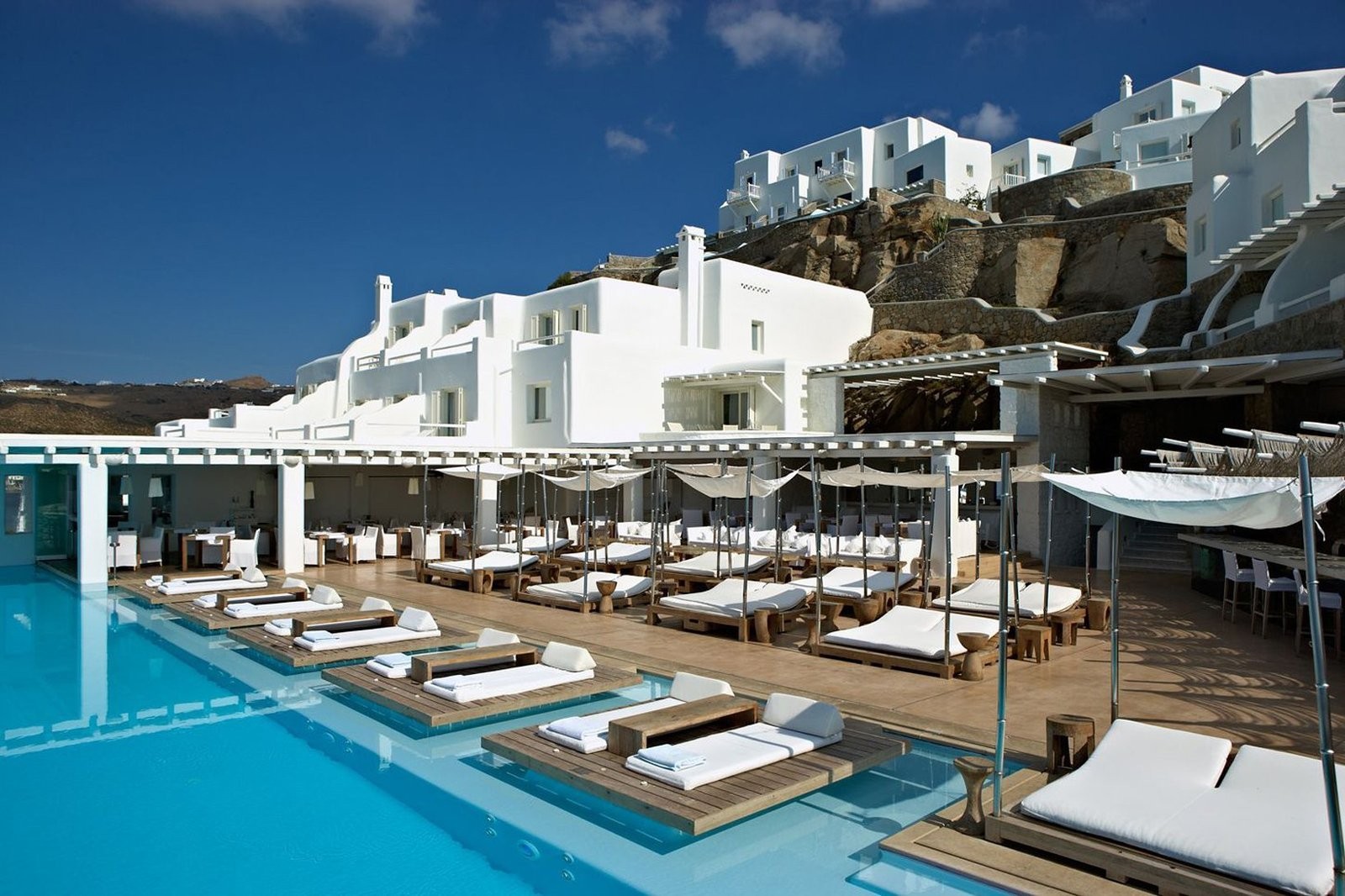 Taxpayers paid $3,500 for Nando Iannicca and his wife to stay at this five-star resort on the Greek island of Mykonos for six days.
Now, once again, his lack of respect for the taxpayer has landed him in bad standing.
Instead of punishment for his involvement in the ill-conceived Deloitte matter, the integrity commissioners recommend regional council give serious consideration to embedding in its governance framework, language which provides more explicit guidance and expectations for the role and duty of the regional chair.
The problem for Mississauga is that the damage has been done, by one of its own (unless he's planning a move to Caledon, where the Deloitte fiasco was celebrated by most of its councillors who desperately want Mississauga's subsidies to continue). The trust factor for the dozen Mississauga councillors is broken.
This has been a challenging matter, says the report, which concludes with this peace offering: "We will be pleased to be in attendance when this report is considered to answer any questions.
No doubt this will result in another segment of this soap opera.
Last week at Mississauga council, Mayor Crombie and Parrish and Ward 10 councillor Pat Saito tried to soften the highly charged comments that came from the city in the days after Ford's decision to kill the regional review and deny its independence. Words like "betrayed, false hope, upset, unacceptable," and "disgusting," were tossed about at the time.
There is now a more cold-eyed approach revealed in council this past week. A couple weeks ago, Parrish said Iannicca "obviously… just wants to protect his job," in reference to the maneuverings of her former colleague. She says Mississauga has to now take a step-by-step approach to eventual dismemberment of this fourth tier of government. She made a rather colourful comparison between Mississauga and the fictional Gulliver who was tied down by the Lilliputians – a reference to Jonathan Swift's satire on political power.
She wants Mississauga staff to continue doing a line-by-line dissection of the region's inefficiencies.
This doesn't bode well for future regional meetings, now that a sub-committee of Mississauga council will scrutinize every regional agenda.
The message is clear: yes, their former colleague has dodged a bullet on his rather disruptive and completely unethical management style, but it will come at a cost – and it won't be forgotten. His integrity might get a pass from the integrity police (who he technically has hiring power over – which is an inherent flaw in the municipal oversight scheme, which sees the very people who hold members accountable, hired and fired by those they're charged with holding accountable). But those sitting in the council seats to his left and right, at least the ones from his own city, won't let Iannicca off so easy.
If his actions weren't technically illegal, they were unethical, ill-timed and ill-mannered.
Ford clearly didn't have the political chops to make a massive re-do of the regional governance model because he had lost much of his political capital with the electorate since the review was called.
The irony in all this is that all the manipulations done by the chair or senior region staffers didn't matter a whit.
Like all politicians, Ford found it easy to change his stripes. His decision to kill changes was based purely on political expediency. It was time he toned down his disruptive behavior.
It probably cost Mississauga the independence it craved.
It cost Peel taxpayers a million dollars.
But it might cost Iannicca more.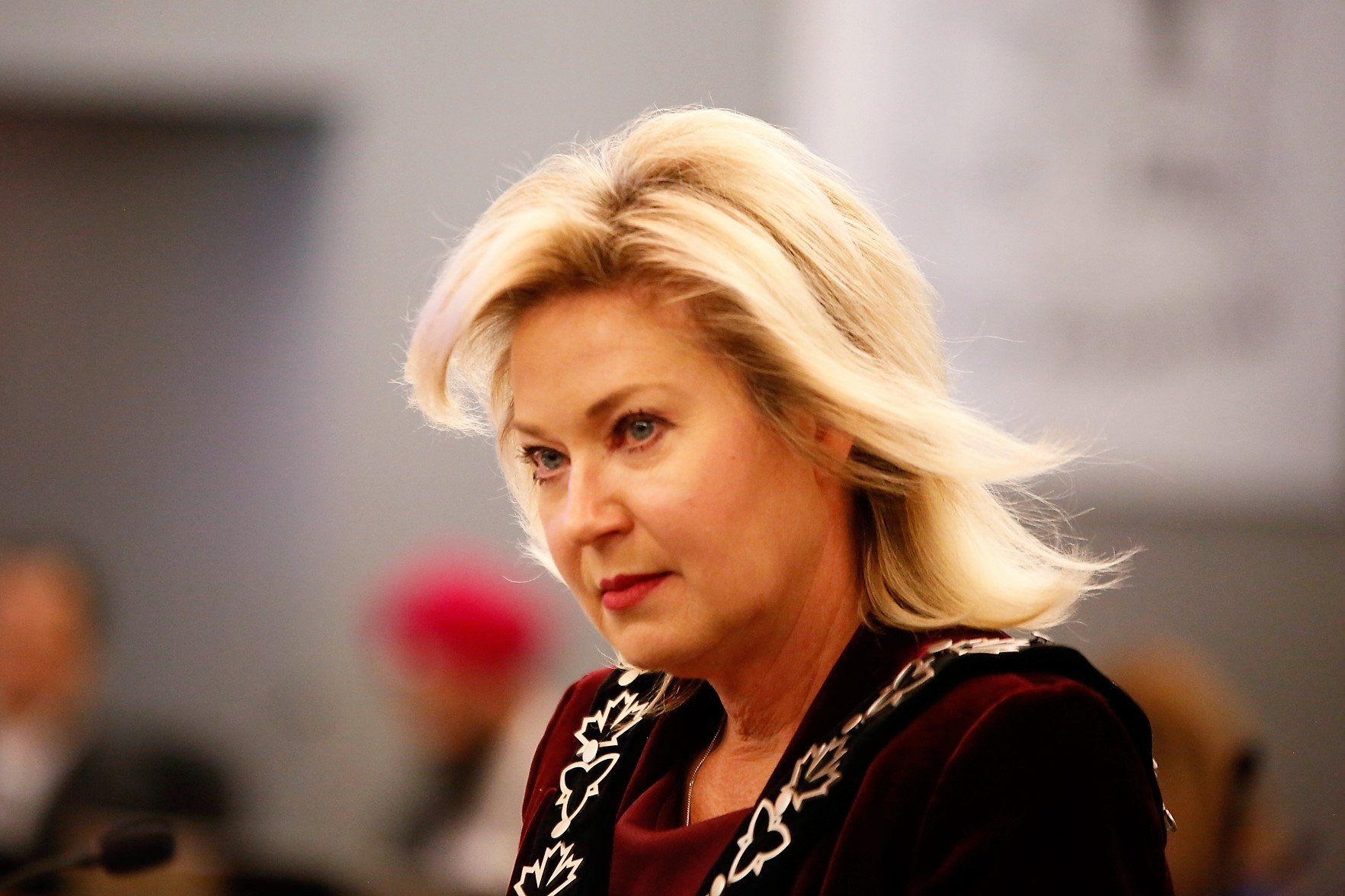 Mississauga Mayor Bonnie Crombie
Crombie told The Pointer the legacy of the whole episode is about broken trust. The machinations that took place behind the city's back, "only bolsters Mississauga's position that regional government in Peel is not working properly, or in the interests of all member municipalities," she said.
In a way, Mississauga council has gained its independence. The feeling (according to Parrish, Saito and Crombie) is that it now feels freer to keep a more watchful eye on the goings-on at the region.
They have clearly placed a target on their former long-time colleague.
Submit a correction about this story