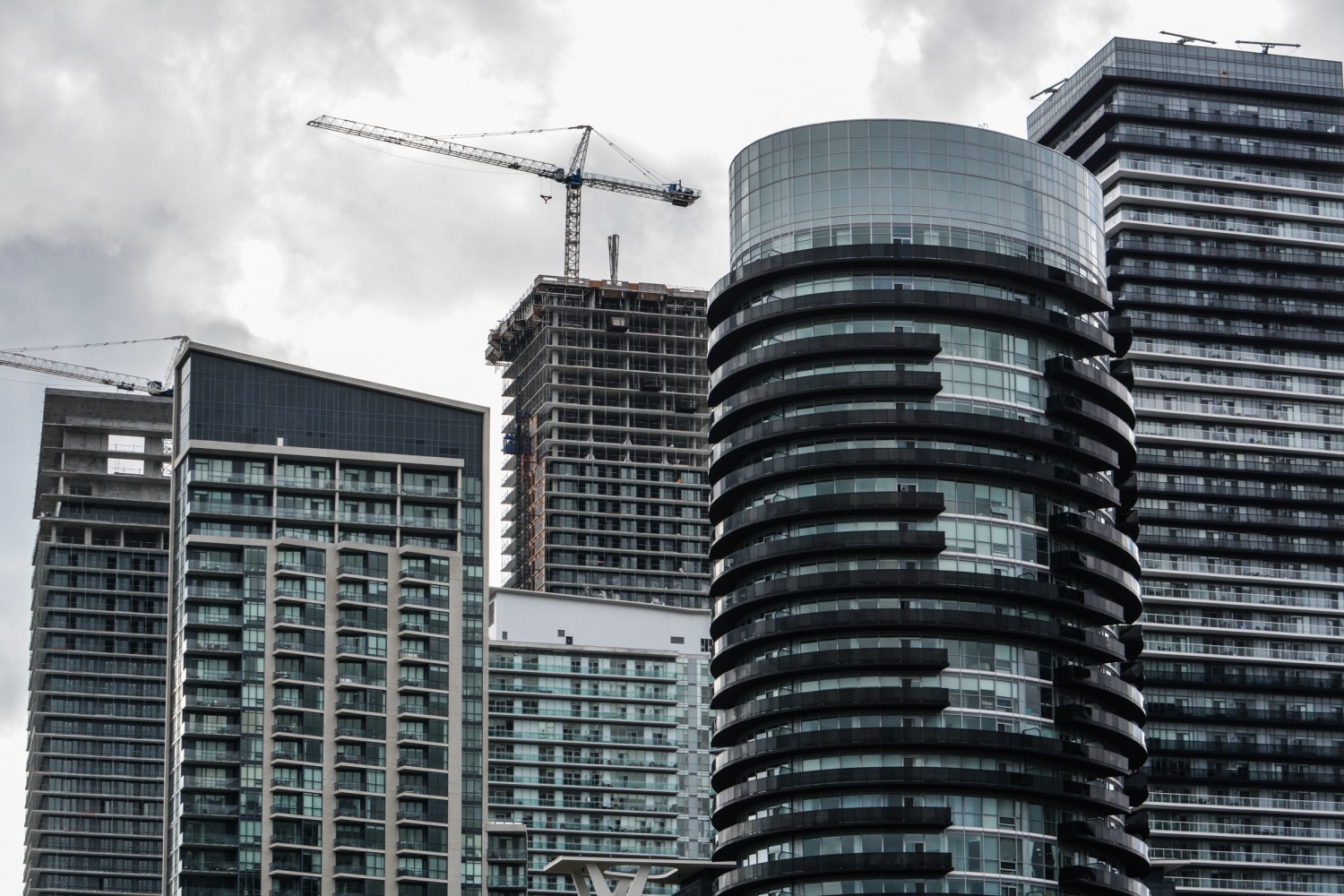 Photos Joel Wittnebel/Stephen Uhraney/Archives of Ontario/Government of Ontario Art Collection/Flickr-European Cyclists' Federation/Map and renderings City of Mississauga
As Mississauga enters a critical stage in its development, will the city be able to avoid pitfalls of the past?
In the long arc of history, the relatively short reign (1791-'96) of John Graves Simcoe as Lieutenant Governor of Upper Canada (later Ontario) was profound. He's a curiosity now, his name affixed to a street in downtown Toronto, a small town near Lake Erie and a rather large lake that sits directly north of Toronto and helps connect the wondrous Georgian Bay region with the Great Lakes watershed. If you prefer to accept the European version of Mississauga's history, especially in the area now called Port Credit (founded at the embouchure of the river of the same name and Lake Ontario), Simcoe played a key – but off-handed, and under-reported – role. In 1796, he was in a canoe on his way back east to his digs in Muddy York (Toronto) when his party was swept ashore by a wicked storm. They headed to the port where a subtribe (closely related to the Ojibwe) lived. This port was one of the finest on the lake and in the middle of a long tract of First Nations land that formed a crescent moon along the shoreline.
The word Mississauga comes from the tribe's name, and means those who had settled at the river-mouth.
According to legend, while hiding at the port, Simcoe made a subtle remark that might be construed today as "build it and they will come." He thought this would be a perfect spot to construct a waystation for rain-soaked travelers. After Simcoe returned to England, his successors picked up on his idea and built the Government Inn (1798) to serve travelers passing through the Mississauga Tract.
A new commercial business sector arose. But there was one nagging problem: the natives who lived there were in the way.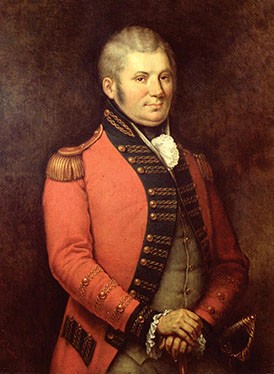 John Graves Simcoe, Lieutenant Governor of Upper Canada
The Mississaugas signed two land treaties and their village was eventually shifted north. Later still, they were exiled outright to a reserve near Brantford. In an ironic twist, it's located near Simcoe. In 1834, the first Port Credit marina was constructed. By the mid-50s, the port was booming with about 400 people running stores, inns, a blacksmith shop, a school, and a post office. It became one of the busiest ports for shipping, shipbuilding and stops by lake steamers.
But a harsher business model loomed: industrialization.
As the 19th century bled into the 20th, a brick yard arose on land west of the Lakeshore-Mississauga Road intersection. It later became a series of refineries, ending with Imperial Oil. In mid-town, a manufacturing firm producing corn starch made its mark. It turned Port Credit into a company town, the workers feeding off the factory for housing, food, and easy credit. During production, the air was filled with a starchy stench.
But most intrusive of all was Ontario Hydro's coal-fired Lakeview Generation Station further east in Lakeview, built in the late 1950s.
Yes, the lakefront created economic opportunities, and if the price of progress was all those awful effluents fouling the air and water, the industrialists were willing to pay it.
Today, those industries are being picked off, replaced by an even more profitable business venture: real estate – high-end condos, townhomes, single-family residences, retail and office buildings.
The Corn Starch lands morphed into Port Credit Village, a development of tony condos and townhouses built by FRAM at the corner of Hurontario and Lakeshore Road. The old 72-acre Imperial Oil lands is being remediated and soon the impressive Brightwater project will arise, with eight mixed-use towers, nearly 3,000 units of high-end condos and townhouses, retail and office. It's being marketed as "distinct, master-planned," and "community-inspired."
Port Credit, once a blue-collar village, now sports an average home price in excess of $1 million – and moving ever upwards.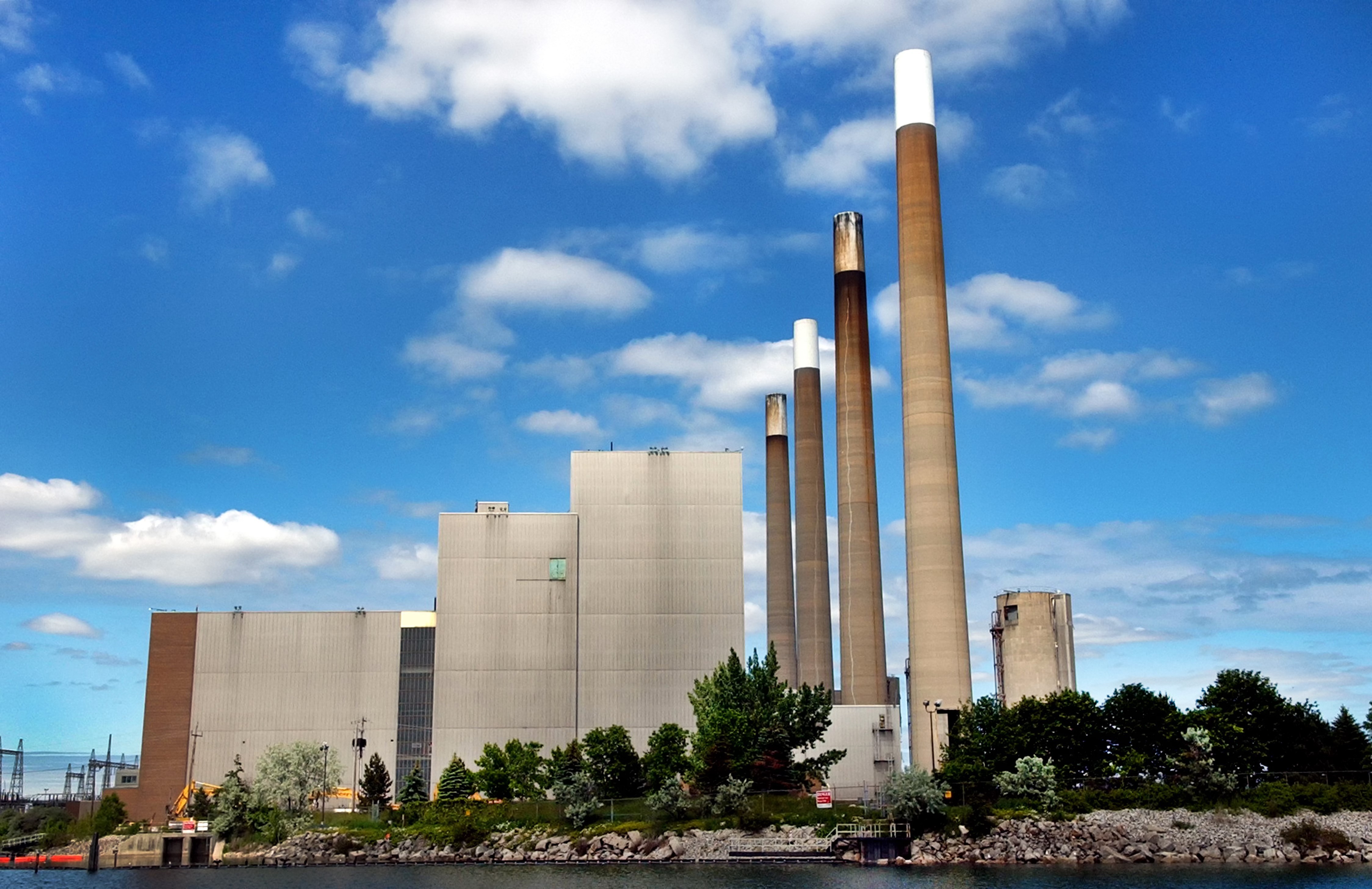 The old Lakeview power plant.
Next up is Lakeville Village. This past month, a 4.0 version of the scheme for redevelopment of the old hydro lands was endorsed by the City of Mississauga's Planning and Development Committee and City Council. This 177-acre development will "transform" the way people live, visit and experience Lake Ontario through its thoughtful design and mix of housing, retail, office and recreational programming of unparalleled comparison. So says the Financial Times, which adds that it will include thousands of residential units, up to 200,000 square feet of prime space for unique retail and restaurant experiences, and employment space for thousands of long-term jobs located in a new innovation employment district. Mississauga residents and visitors will gain access to this portion of waterfront for the first time in decades. Visit lakeviewcommunitypartners.com if you want to go on a breathless tour of what is to become of this former brownfield site.
The financial bounty once scored by our industrial polluters, has given over to the developers, who want to reimagine and gentrify our waterfront.
Last week at city hall, council approved by a unanimous vote a plan to submit an application to the Canadian Infrastructure Program with hopes of picking up a cool $50 million to complete construction of a brand-new Port Credit marina, owned and operated by the city. This $71 million project is in response to a gift by Canada Lands, owner of the property. It also includes over three acres of new parkland, a fix on the breakwater, and of course, the marina itself. The Canada Lands sitting on the shoulder of the project will be sold off to developers, which opens up the distinct possibility that more waterfront condos, townhomes, retail and office will arise there, too.
If the city gets the $50 million, it will debt finance the rest, and hopes to have its marina and park built and operational by 2027.
The necklace of developments – Lakeview, FRAM, Marina, Brightwater – in the tiny Ward 1 area of Mississauga, could be the greatest expansion in this city since the halcyon days of the 1970s when the city core at Burnhamthorpe and Hurontario was staked out by developers on former farmland. This project featured a world-class mall (Square One) and massive residential development which radiated out in all directions. Mississauga became one of the fastest-growing greenfield developed communities on the planet, and it was all based on a powerful draw: ownership of a single-family home. A cryptic term was quickly coined to describe this new model: "suburban sprawl." Another was added to show the spill-off effect: "gridlock."
---
Renderings and a map of the coming waterfront. Will Lakeview Village develop with a human scale?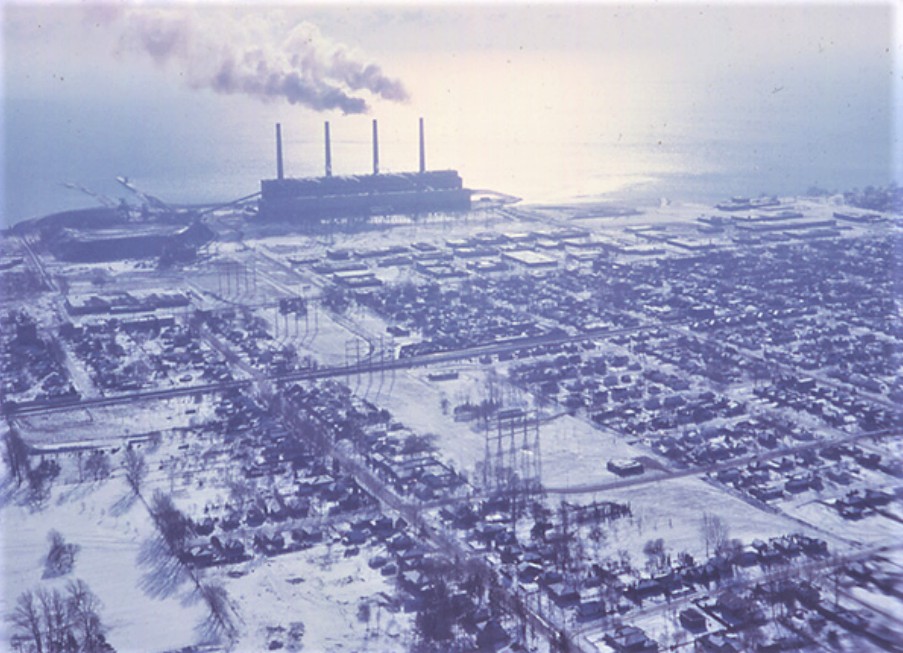 From this
To this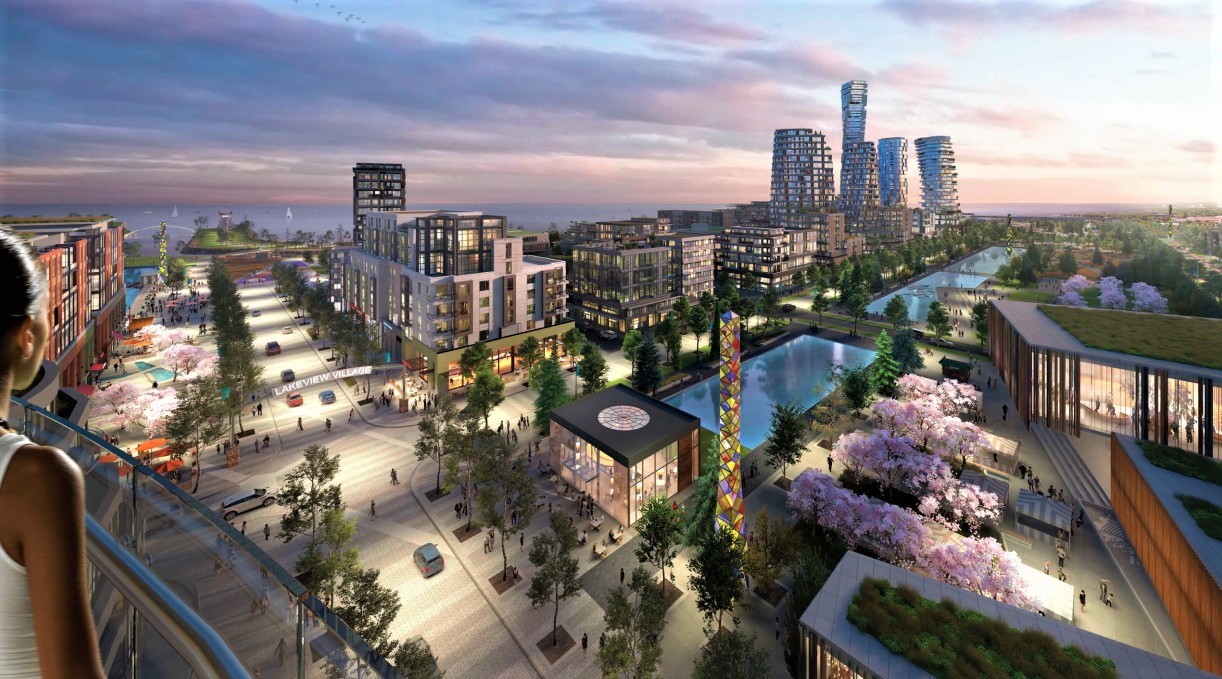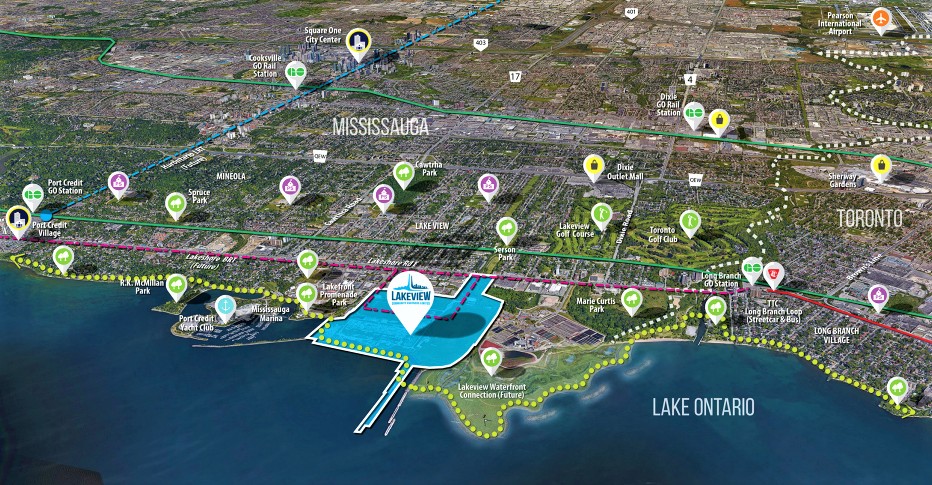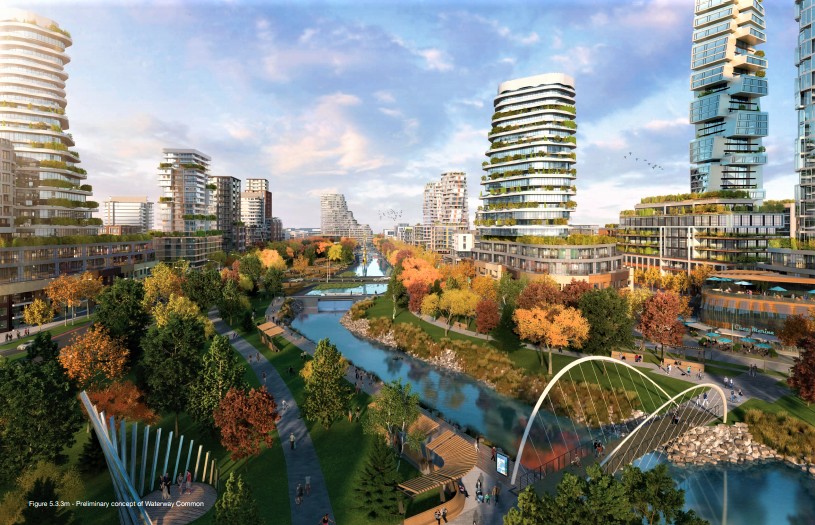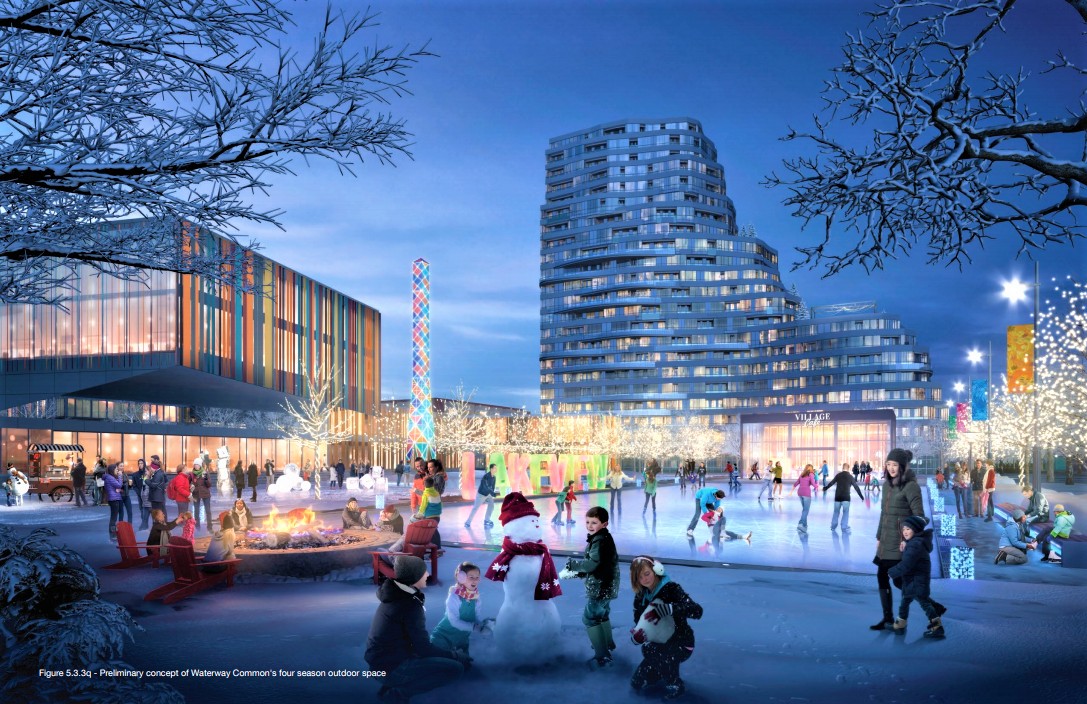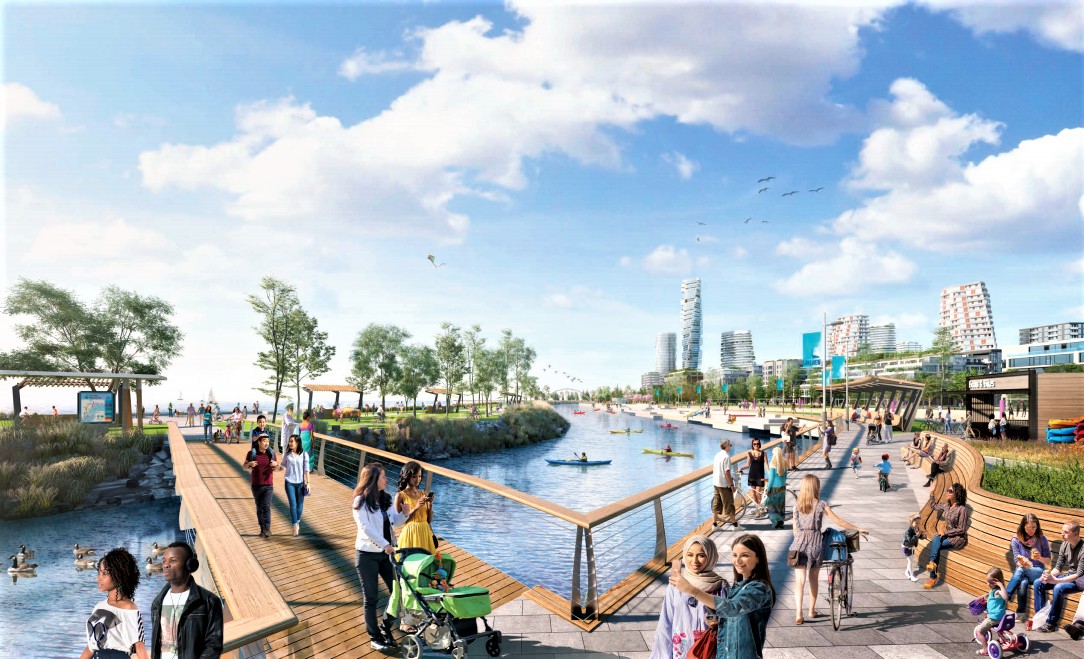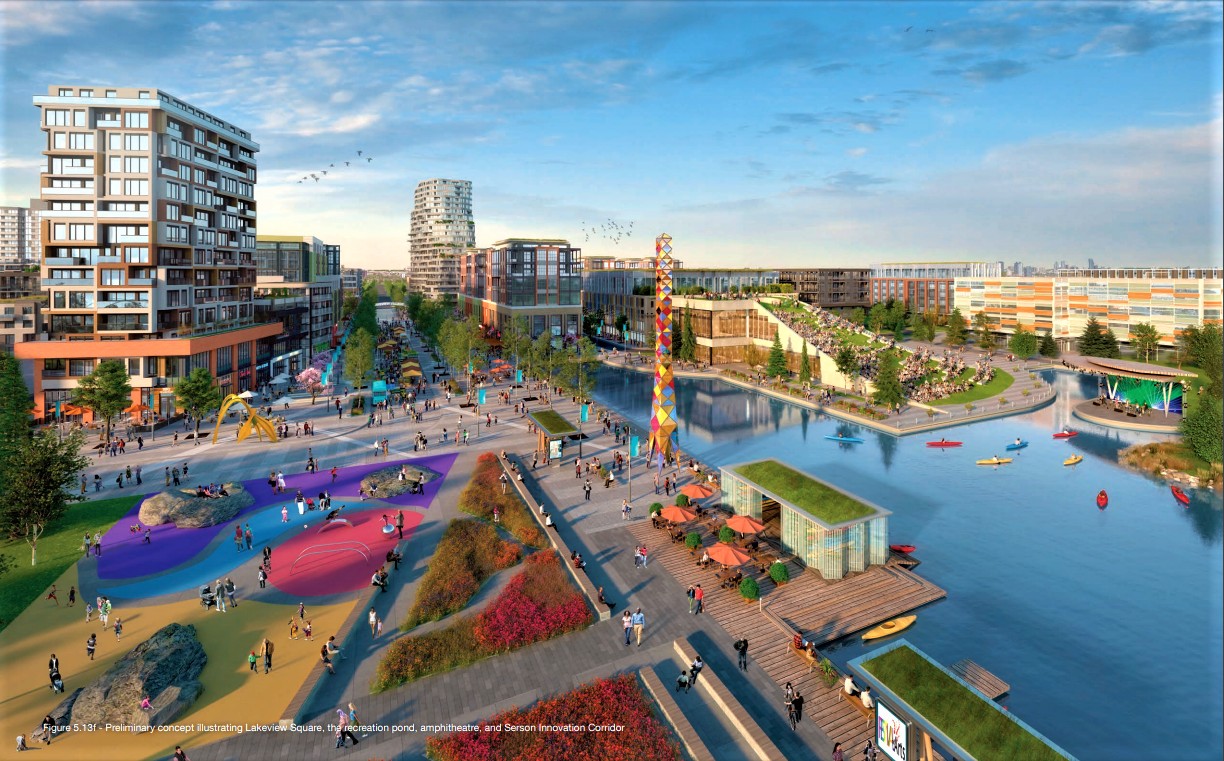 ---
Serving the needs of cars and home owners became the Mississauga mantra. "We're open for business," touted its popular mayor, Hazel McCallion. Indeed, it was. While critics charged that it had been planned for and by developers, the argument was simple: to fulfill the desires of the post-war population – large backyards, two-car garages, nice recreation centres, and big box power malls.
If Simcoe could see what he helped put in motion, he might be stunned.
The post-industrial age has yet to be defined, but perhaps the developments along Mississauga's reclaimed waterfront have become simulacrums for a new capitalistic credo. We don't make anything anymore, just build, and make money.
The old First Nations tract along Lake Ontario's western waterfront (22 kilometers of it in Mississauga) is now dotted with high-end real estate, which has become a new golden standard.
The old real estate adage of "location, location, location" is at play here, and while the forestation of Toronto's downtown with condos has remade that city, Mississauga looks determined to keep pace.
This has at least one urban planner raising a red flag.
It's late just past dinner time on a dark, rainy night in Port Credit, just steps away from the Brightwater project near Mississauga Road. Clarke Hall, a heritage building on Lakeshore, is filling fast as residents arrive for the Town of Port Credit Residents Association AGM. Gil Penalosa, a former mid-manager planner/advisor for the City of Mississauga, and founder of Walk & Bike for Life and 8-80 Cities, is back in the place he once used as headquarters for his post-city life. He is passionate about creating cities for all, and has inspired and advised decision makers in more than 350 different places around the world. The goal is to create vibrant, healthy and happier communities, from age 8 to 80. His focus is on the design and use of parks, streets, sidewalks as great public places, as well as sustainable mobility: walking, riding bicycles, taking public transit, and new uses of cars.
He's a sober second thinker, and his hour-long presentation is replete with hundreds of images. His delivery is heavily seasoned by a Spanish lilt, and his rat-tat-tat delivery means spectators are bombarded with words, pictures, and facts. It's a kaleidoscope of information, punctuated by his passionate asides.
"We have to decide how we want to live," he says, and Mississauga "has a fantastic opportunity to do it right."
But, he cautions, "we have to unlearn what we have done over the past 40 years."
The potential for a true downtown was squandered by overbuilding, a lack of attention to public transit, and streets that were way too wide. "Mississauga is good, not great," he says. "You have to benchmark with cities that are better than you. You are competing with everyone now."
The latest proposal for Lakeview Village.
His speech is dress down and build up, but he says the goal has to be creating a livable city. He pulls a number out of his presentation and says 97 percent of residents still use cars to get to their destinations. The Bus Rapid Transit line that runs parallel to the 403, is underused, and a boondoggle. Why wasn't it built along Burnhamthorpe, connecting the University of Toronto with the downtown?
"We have to stop building cities like everyone is 30 years old and athletic," he says. Our love of cars has created a crisis, and few people live on the sidewalks, where vibrant city dwellers should congregate. "Mississauga could have been one of the nicest cities in the world. But it's cars, cars, cars."
His delivery is exuberant, but edgy. Port Credit (and the GTA) will double in growth over the next 25 years. How will more people moving close to the water's edge change the dynamic?
Penalosa says the biggest demographic in the country, the millennials, want to live simpler, with more transit, and make smaller residential footprints. Complete communities in Canada will look like Copenhagen, a city model that sees 44 percent of residents moving around on bikes. With the same cold weather as Canada, we shouldn't use the excuse of winter to restrict our planning options.
Cities have to be "bold" when they make decisions impacting future generations. Creating "vertical suburbs" like what is planned for Lakeview Village, or Port Credit's marina area, simply drives up housing prices, and doesn't solve the problem of sustainable growth.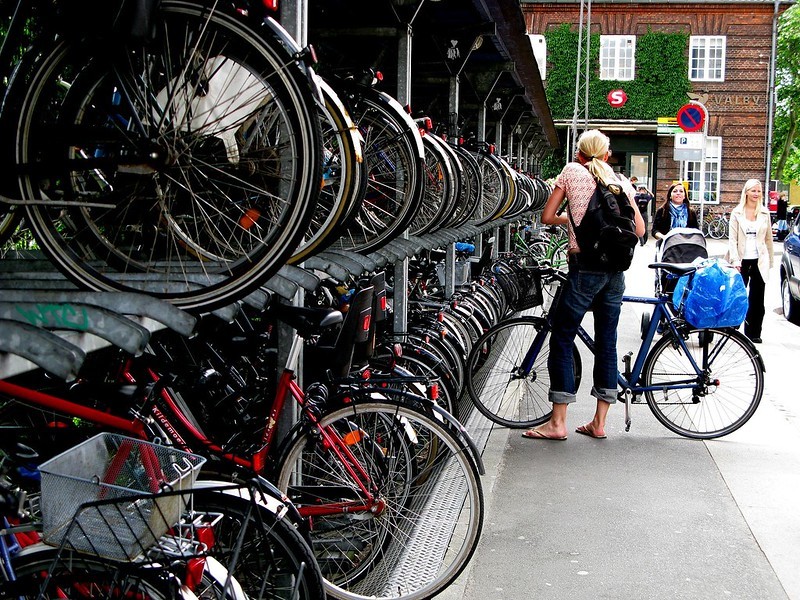 In Copenhagen, approximately 44 percent of residents get around on bikes.
When confronted by The Pointer afterwards, he said the expansion of units in Lakeview Village means there's less chance it will be built to "human scale."
This was the scale John Danahy studied at the Royal Danish Academy of Art and School of Architecture. He was one of the first Canadians to work under famed urbanist Jan Gehl, who was hired over a decade ago by Mississauga to help cobble together its strategic plan. The plundering of greenfield sites was anathema to the principles he preached at his Urban Design Institute.
Danahy was recruited in 2007 by the late Ward 1 councillor Jim Tovey to help conceive a new Lakeview Village plan shortly after the giant hydro plant was felled by the province. Tovey was the beating heart of the plan; Danahy the brains behind the modeling. It led to the first community driven development plan ever conceived in North America. The Lakeview Residents' Association plan won numerous awards and was blended into the city's Imagination Lakeview scheme only a few years later.
This was a sublime mix of buildings, low in density and restricted to 5,400 condo units.
But the Ontario Power Generation (OPG) later asked for bids from developers, and the property was purchased by a consortium called Lakeview Community Partners (LCP). The old people friendly plan was junked, and four new ones were received by staff. The last one was accepted by the city recently, and the end result is a denser development. The taller the buildings the better to max out profits.
Which begs an important question: if the RFP sent out to developers was based on the old City/Lakeview residents' plan, and subsequently won by Lakeview Partners, why has it now been changed?
The price tag was originally $275 million.
This re-upping of the numbers could result in literally billions more in profits – based on a move from 4,600 to 8,000 units. If each unit sells for $1 million, for example, why aren't taxpayers also getting more in return from the developers?
What was once a groundbreaking community driven project, is now another parcel of pristine waterfront purchased for a pittance, with its unit numbers increasing by the day.
Yes, the city gets back a thin strip of parkland along the waterfront – which they would have received anyway. Are local taxpayers being shortchanged?
The mid-size development model now looks more like Humber Bay Shores in Toronto, and juices up profit margins with little return on investment.
Meaning: Mississauga's old city-building model that was defined by developers is back – with a twist. These new developers are pushing building up, not out.
Penalosa said we are now creating vertical suburbs. The result: more cars, less interaction. The elevator has become the new street or sidewalk.
Danahy spoke to The Pointer a while back about his concerns over the super-sized Lakeview plan, especially the recent 4.0 reset.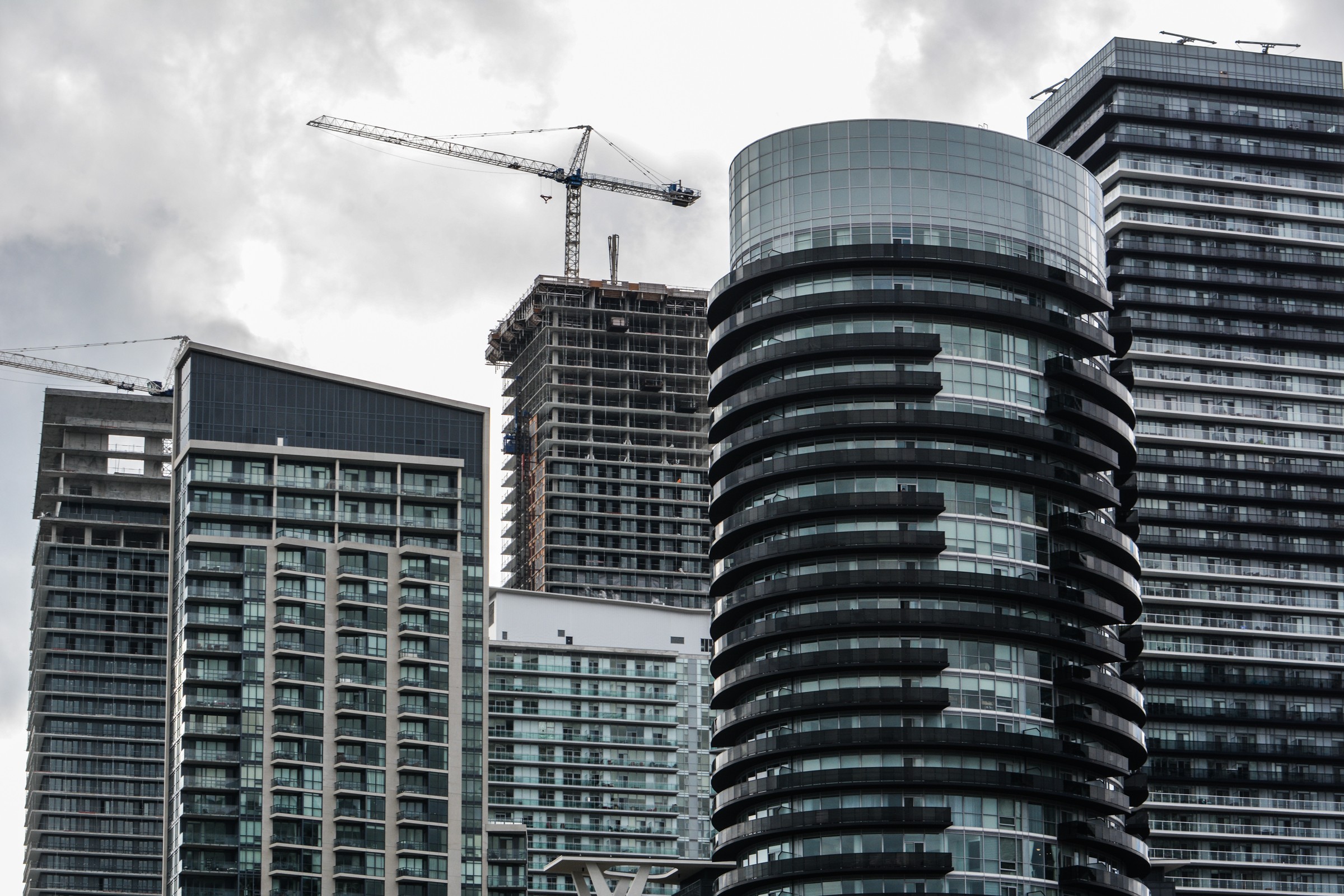 Humber Bay Shores continues its vertical sprawl.
This is a critical time in Mississauga's development history ­– something that will impact our children and our children's children.
Danahy says the latest LCP scheme does not lower the Marina district towers, but moves them back a little from the waterfront. He thinks 4.0 is a whole lot like 3.0.
Lowering density to approximately 8,000 units, means that a 24-storey tower will remain on the edge of the waterfront. An advisory panel of local residents wants that building split into two 12-storey terraced towers. The idea is to make the whole edge of the waterfront park lined with these step-up buildings: 4, 6, 8 and 12 storeys. "That would not be perfect, but it will have a major benefit to those looking for a waterfront experience," says Danahy.
The 24-storey tower now looks as if it's giving the middle finger to the Lakeview residents who have spent years working with Tovey, and now his predecessor, Councillor Stephen Dasko. Crombie and Dasko support the 12-storey split, and Danahy maintains that the front row value of the properties would remain. The revamping of the plan would include relocating six other floors (48 units) to other buildings on the site.
"LCP would not lose a cent, but the people of Lakeview would get the waterfront they envisioned," says the retired professor.
The Lakeview Legacy Project (2008), which morphed into the city's Inspiration Lakeview model, didn't include three towers, especially a 40+ storey one.
The 24-storey tower will have the biggest visual impact on the project, explains Danahy, but there is some good news. LCP wants to outsource the buildings' designs to create world-class, landmark structures.
The new-look LCP plan, begs this question: Why didn't the city purchase the land itself, set up a development corporation like Waterfront Toronto (Waterfront Mississauga?) and take hold of future development in this key part of the city. This was done at The Forks in Winnipeg, and False Creek in Vancouver.
Danahy says Waterfront Toronto is an equal partnership between the city, province and Ottawa. They then work with the private sector. The city uses the profits from the development to pay for extras that serve the public.
The Lakeview model means most of the profits go to developers.
The city will get it puny share of development charges, which then has to share with the region.
In a council meeting last week to approve a $50 million ask to the feds, Ward 5 councillor Carolyn Parrish said she agonized over the decision because she couldn't see how a marina would help her citizens trying to get more recreation facilities or public housing.
Building a project for yacht and boat owners seems truly anti-egalitarian.
She also made an important observation about what will happen when Canada Lands sells it two parcels to developers. She asked: "How do we get a piece of the action?"
Gehl's one-time input into the city's Strategic Plan has faded over time.
And the province has created a trap door for cities, with the changeover from the old Ontario Municipal Board (OMB) to the Local Planning Appeal Tribunal (LPAT).
This means local governments doing the heavy lifting when it comes to measured city-building projects, could get blown away if, for example, LCP wants to challenge the current Lakeview project and run up its unit numbers.
This, says Danahy, has created a phenomenon, he calls "planning by tribunal."
He adds, "the city takes all the responsibility without getting any of the benefits. Everything is now appealable."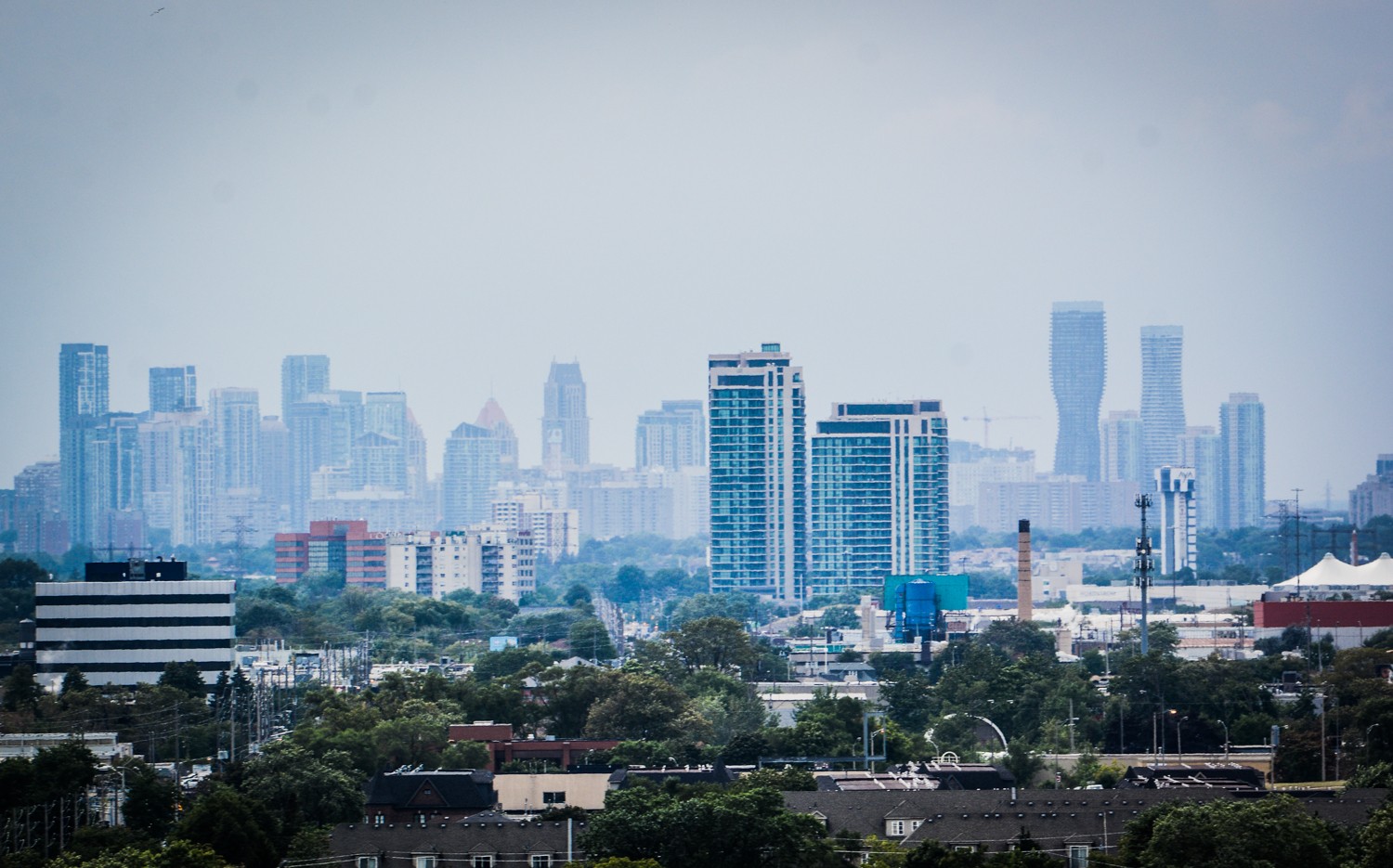 Mississauga's growing skyline.
The problem is cities have little chance of walking away from developers and driving their own projects because collecting money is limited. Cities like Stockholm are all powerful. They can use income taxes to raise funds, buy land. That's why Mississauga goes cap in hand to ask Ottawa for money to build a new marina, then has to finance the rest. And once the marina is built, the developers can draft off of it to plump up the prices for units it builds on the shoulder. "In the end, the private sector gets to maximize profits," says Danahy.
The professor is not anti-business, or anti-progress, but there's a "lack of rigor, or misrepresentation" when he it comes to studying the pros and cons of development, he concludes.
The fact the new scheme for the Lakeview land is not even close to the original concept put together by Tovey and the local ratepayers, is a testament to how detached, or process-heavy our developmental model has become over the years.
Lakeview's grassroots movement didn't have a chance against the forces of big money.
Do the math: If Lakeview Partners gets to build and sell 2,800 more units at $1 million per unit, that's $2.8 billion. Even with their costs included, that number gives a sense of how the moneyed classes are incentivized to push forward their interests, not the public's. According to the giant consortium of development companies, engineering outfits and architecture firms that will oversee the biggest single project in the city's history, the finished product will be worth at least $6 billion, under its plan. It's not exactly what the community had proposed.
Tovey said the city should have put a built-in restriction on the original Lakeview Village plan: "You buy the land, you accept the plan," he said.
With limited resources, and the fear of a tribunal, cities are subject to the vagaries of the markets.
It's a harsh reminder that Mississauga is virtually powerless against higher levels of government. Queen's Park's recent rejection of its independence bid from the Region of Peel is just the latest example.
Yes, the original Lakeview Village plan is gone, buried by piles of developer money.
The Mississaugas once partnered with the early settlers in fishing and stonehooking, and lived "lightly upon the land." Their homes of wood and skins were as perishable as they were. A clear case of cultural genocide removed them from their homes. Their mantra, to treat the land as if it were a cathedral and to pass it on to their children and their children's children, has been replaced, but by what?
Submit a correction about this story