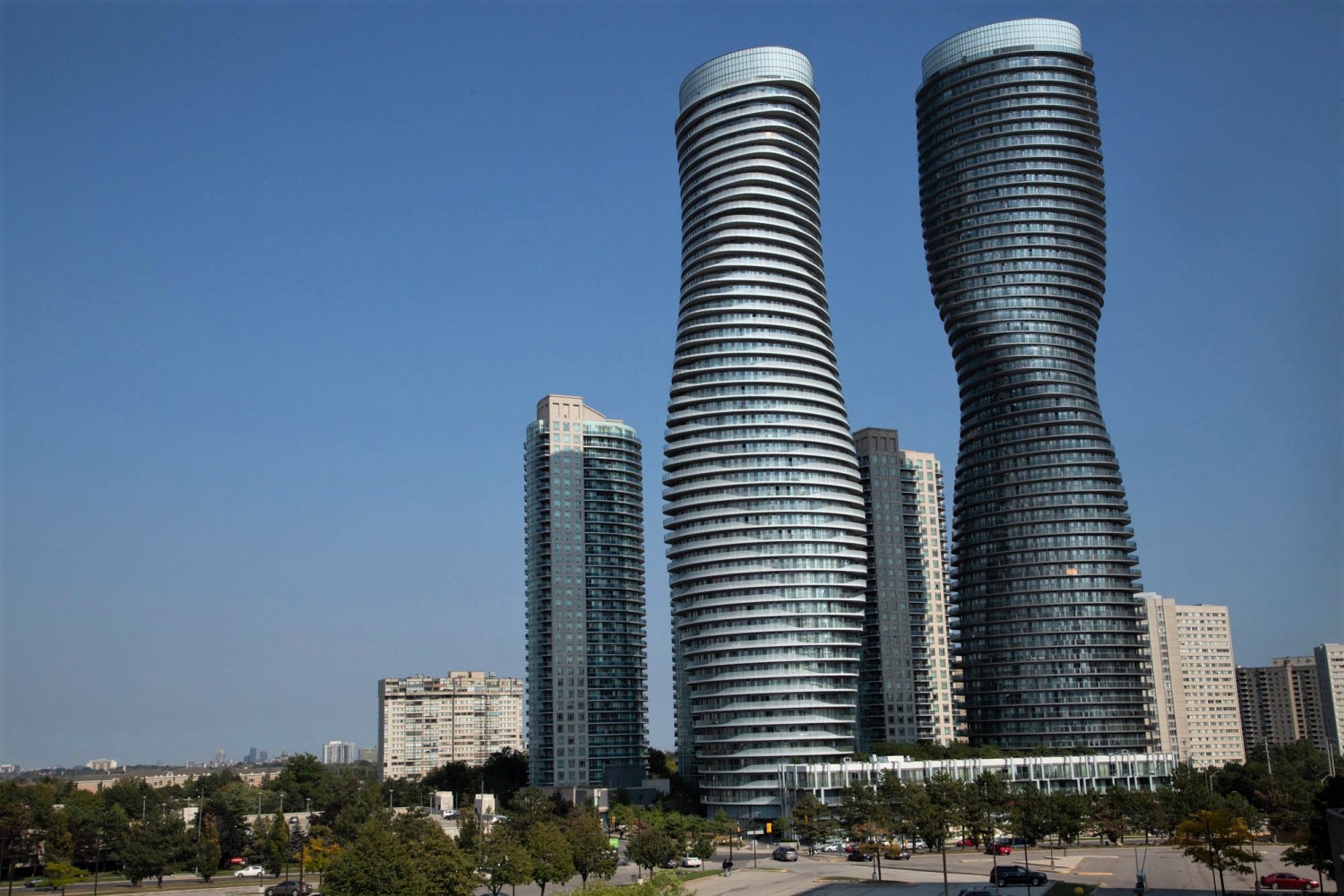 Photos by Joel Wittnebel and File photos/Screen grab Google/Renderings City of Mississauga
Mississauga's continued push for foreign investment to help define itself comes as Brampton and other cities do the same
Even within Canada, many see the country's sixth largest city as an extension of Ontario's capital.
As a city with a population approaching 800,000 Mississauga began to step out of Toronto's shadow more than a decade ago (of course residents in the neighbouring municipality and most outside the GTA have not recognized this).
But city leaders feel it is time for the fast-developing urban centre to create a unique identity and convince tourists and businesses that its next phase of growth will be one to take part in, following the rapid attraction of the corporate sector which began under Hazel McCallion's push for foreign investment a quarter-century ago.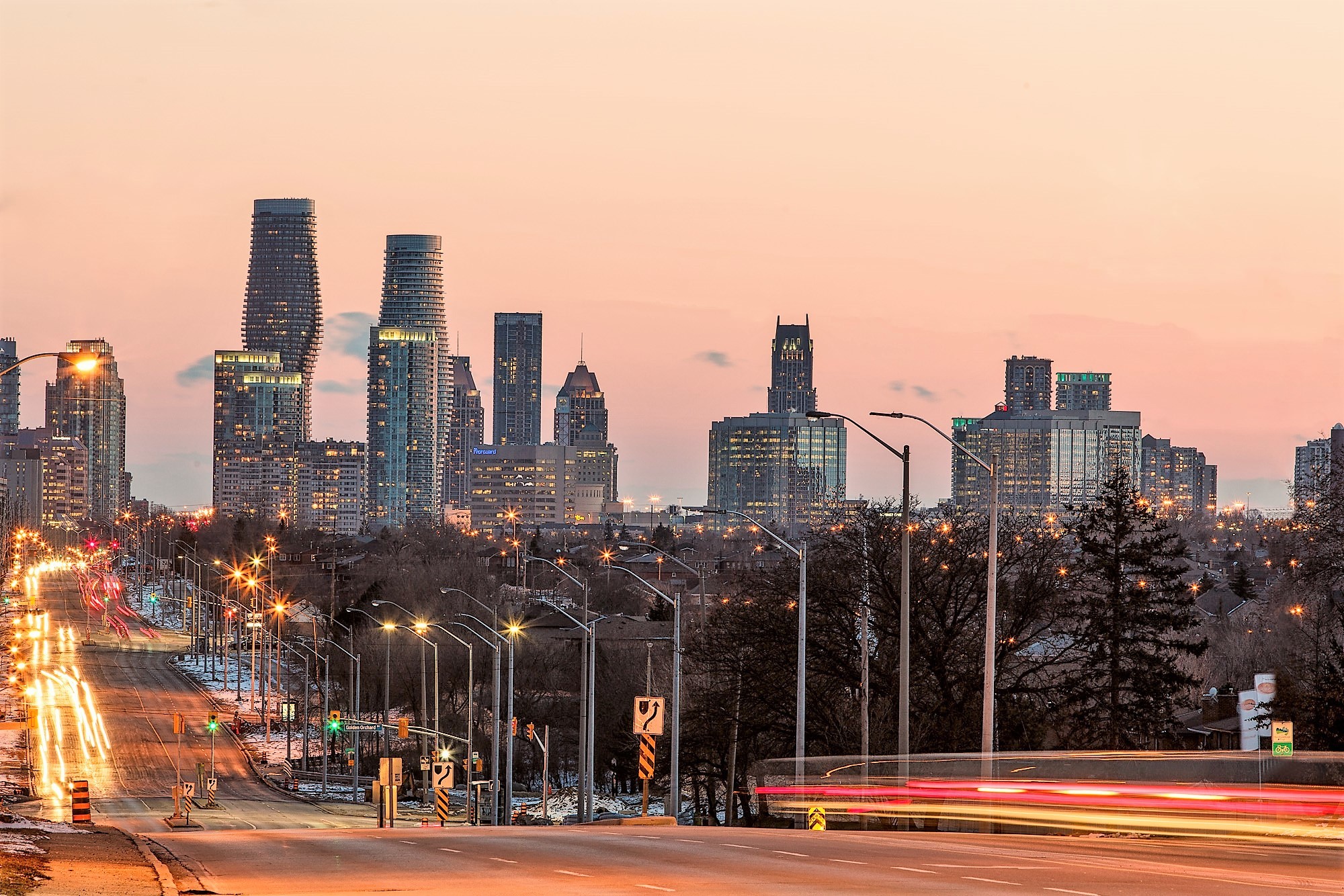 With almost 100,000 businesses, including almost 70 Fortune 500 giants, such as Federal Express, Amazon, Microsoft and General Electric, Mississauga is the envy of the booming 905. But it wants more.
This issue – one of investment and identity – surfaced on October 30, at the city's General Committee meeting, where councillors were asked to re-commit to annual payments of around $225,000 in foreign direct investment (FDI) strategy under the Toronto Global scheme.
Mississauga has been a member of Toronto Global, who coordinate FDI for the GTA, since 2016. In that time, the group has secured 60 investments and 3,498 jobs for the Toronto Region, 85 percent of which have landed in Toronto itself (with much of that investment taking place in the outer exurbs such as Etobicoke and North York). Mississauga benefitted second most, with 15 percent of investments, but just 2.5 percent of jobs. In return, the city contributed about 11 percent of the municipal funds which make up Toronto Global's resources.
But with cities such as Brampton, where Mayor Patrick Brown has made foreign investment a top priority, and Markham, which has enjoyed its own success, ramping up efforts, Mississauga isn't just competing with the country's largest city.
Staff at the city believe the project is financially worthwhile, with councillors agreeing to a new deal over the next three years. In 2019/20, Mississauga will contribute just over $227,000, rising to more than $232,000 the following year and nearly $237,000 by 2021/22.
Though the city is now signed up, it is worth considering if those numbers, nearly a quarter of a million dollars, would be better spent on additional staff within Mississauga's own economic development department to boost the number of people working exclusively with its interests in mind.
Although Mayor Bonnie Crombie assured council that plans are afoot to amend Toronto Global's name to reflect the region as a whole, the deal in its current shape raises questions about whether or not the city is simply funding an initiative that advantages its neighbour, while it's Mississauga, with Pearson International airport, a network of highways, one of the country's most well-educated work-forces and plenty of valuable employment land, that offers corporations much of what they're looking for.
Considering the relative affordability, even though that's changing, all sorts of opportunities in developing areas such as the waterfront and the Hurontario corridor, and its attractiveness to skilled newcomers, there's no reason Mississauga can't harness a second wave of major foreign investment.
Asked if Mississauga had its own foreign direct investment programs to compliment Toronto Global, a spokesperson for Mayor Bonnie Crombie told The Pointer that the mayor works hard to supplement this deal with projects of her own.
"In addition to the FDI work Mayor Crombie undertakes with Toronto Global, she also works to stimulate investment in Mississauga's key sectors including aerospace, life sciences, advanced manufacturing, information and communications technology and food and beverage," the response stated. "Through her budget and in consultation with our Economic Development Office, she strategically participates in investment missions and conferences such as the Paris Airshow (aerospace) or BIO (Life Sciences) where she pitches Mississauga as the ideal place to invest and scale-up. She also closes business deals at these conferences."
"For example, while at BIO, she successfully closed a deal to bring BioLab to Mississauga, a $56 million investment in our city," the spokesperson added.
This, though, does not speak to a broader issue. There's no doubt that Mississauga does quite well economically in terms of drawing certain jobs. The aviation industry is naturally drawn to the city thanks to Pearson Airport, while access to highways and proximity to the huge GTA market means that Mississauga also hosts Canada Post's largest distribution centre.
Ward 2 Councillor Karen Ras told The Pointer that more could certainly be done for Mississauga's individual reputation, but reiterated Crombie's praise of the city's ability to focus on fruitful deals.
"When you land in Mississauga, you land at Pearson International – they also call it the Toronto airport. We need to do more when people first land here," she said, admitting that "like many cities in North America" Mississauga is in the shadow of its more established neighbour. However, in terms of FDI, Ras suggested that was no bad thing. "I think the challenge is leveraging Toronto, rather than pretending it's not there and trying to build our own identity," she added.
The key to success in Mississauga for Ras, who once worked as chair of the Mississauga Board of Trade, is to use Toronto and not to be used by it. "I think the one thing we do is we don't rely on things like Toronto Global," she added. "We're part of it, but we don't rely on it."
Yet, when you search for "things to do in Mississauga" on Google, the CN Tower comes up first, followed by the Humber River, a waterpark in Brampton and Hindu temple in Etobicoke. Even the blurb for Discover Mississauga, the city's tourism website, touts Pearson Airport as the main draw. It begins by saying "Mississauga is home to Toronto Pearson International, Canada's largest airport…".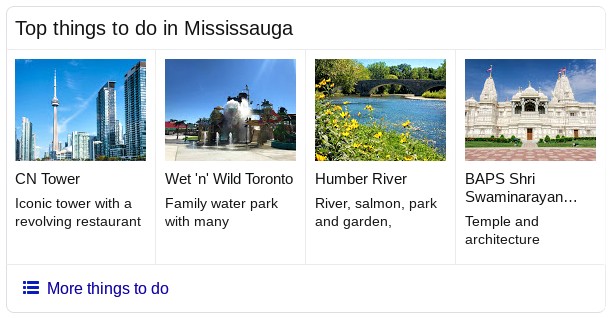 While a scrape of Mississauga's internet profile may not be a scientific test, it does offer some insight into the city's lack of a defining identity.
Economically, there are merits to leaning on Toronto, but as Canada's least-famous-big-city, Mississauga also needs to step up. Even around Ontario, significantly smaller places such as Cambridge, Stratford, Kingston or Niagara arguably have greater name recognition. The difference? A unique selling point. Mississauga is also very young, just 45-years-old. And its rapid rise has only taken place recently, following decades of dreary suburban sprawl and proper bedroom community status through the '80s.
But with the dynamic change that began the following decade, as transit, major urban projects and the development of the waterfront took shape, a true metropolitan identity has been hard to establish.
However, that can change. Council recently applied for $71 million in federal funding to renovate the marina in Port Credit and turn it into a world class destination. The move, though controversial with some, could help identify Mississauga as a unique waterfront city.
If properly managed it could become a major attraction, but more important than drawing those from the outside, it could help create a unique identity for the city itself, a struggle ever since its amalgamation and formation from separate townships in 1974.
Future planning decisions could zone for everything from microbreweries through to museums and galleries to create a buzz around the waterfront, making it something people would leave other locales to visit rather than the other way around.
Absolute World, or the Marilyn Monroe Towers on Hurontario Street, is another such example of an identity-creating landmark. It represents world class architecture which defines the rapidly rising skyline that Mississauga owns. If council and developers were to work together on similar projects in the future, the city could continue to carve out its own niche. Instead of being known as the other skyline visible from Pearson, Mississauga could become iconic for its unique, interesting and ambitious building projects.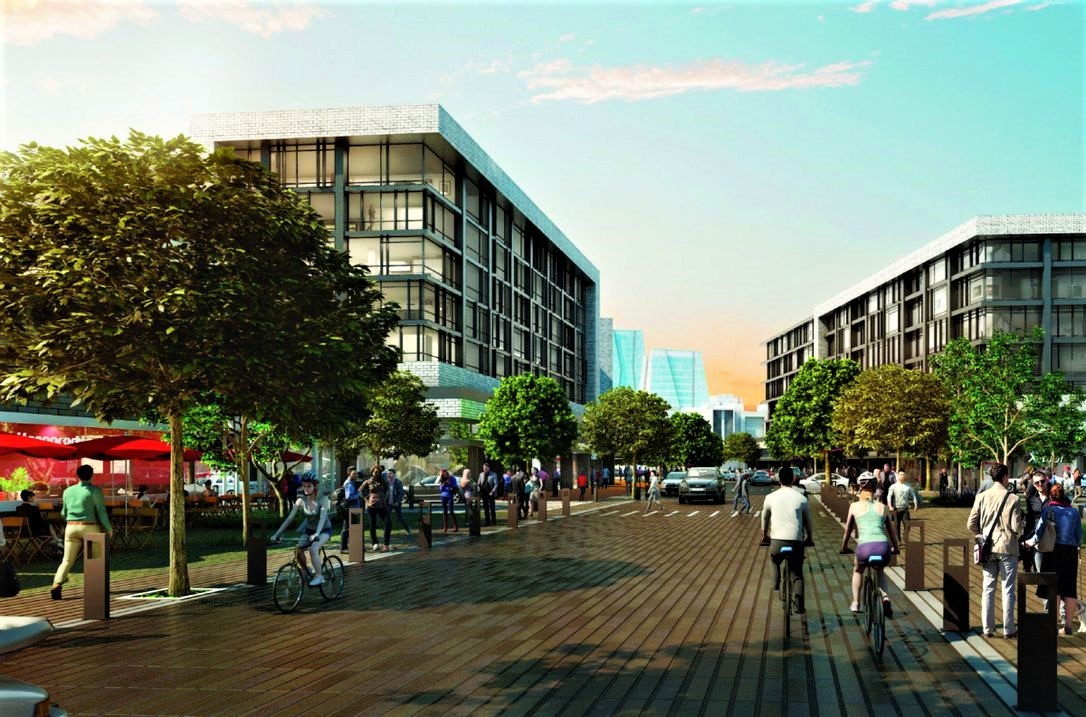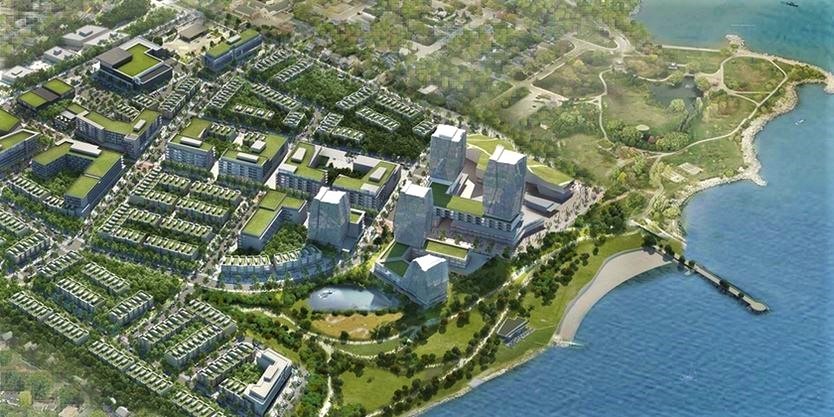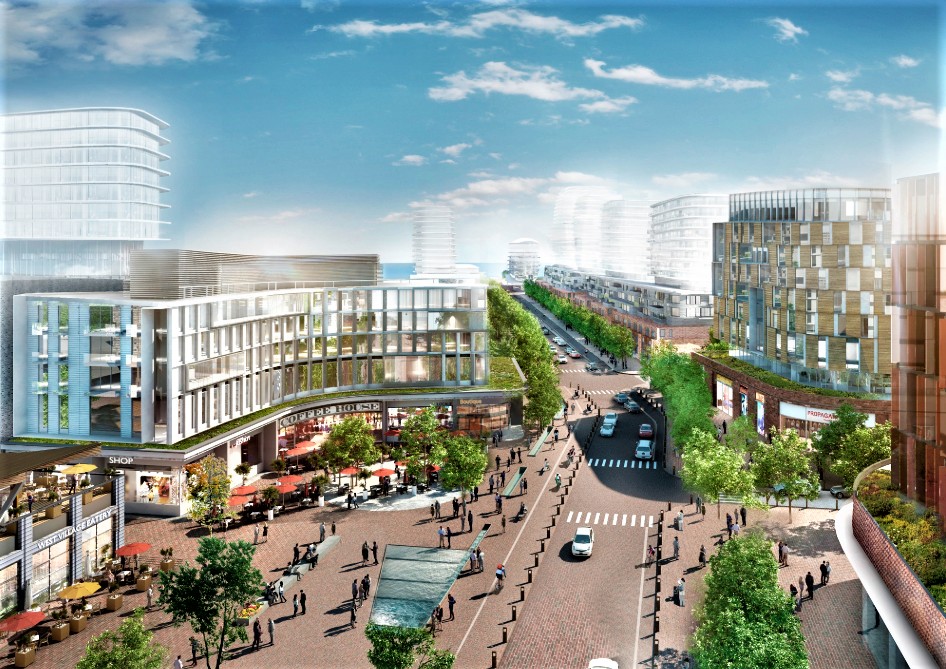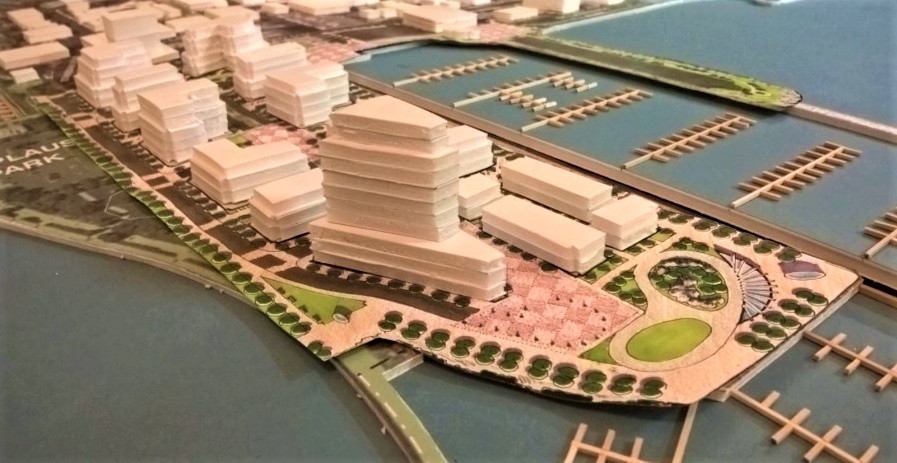 Renderings of the east and west sides of the Port Credit plan
Ultimately, in the context of the city's budget, the cost of Toronto Global is relatively negligible. The investment received as a result of the partnership is similarly described.
However, the FDI strategy draws on a deeper issue. It draws on a question of identity.
As Mississauga moves forward into the 2020s and the decades that follow, the city's leaders and its residents can look backward for inspiration, in a metropolitan area that was a patchwork of farmland just a few decades ago.
Email: [email protected]
Twitter: @isaaccallan
Submit a correction about this story