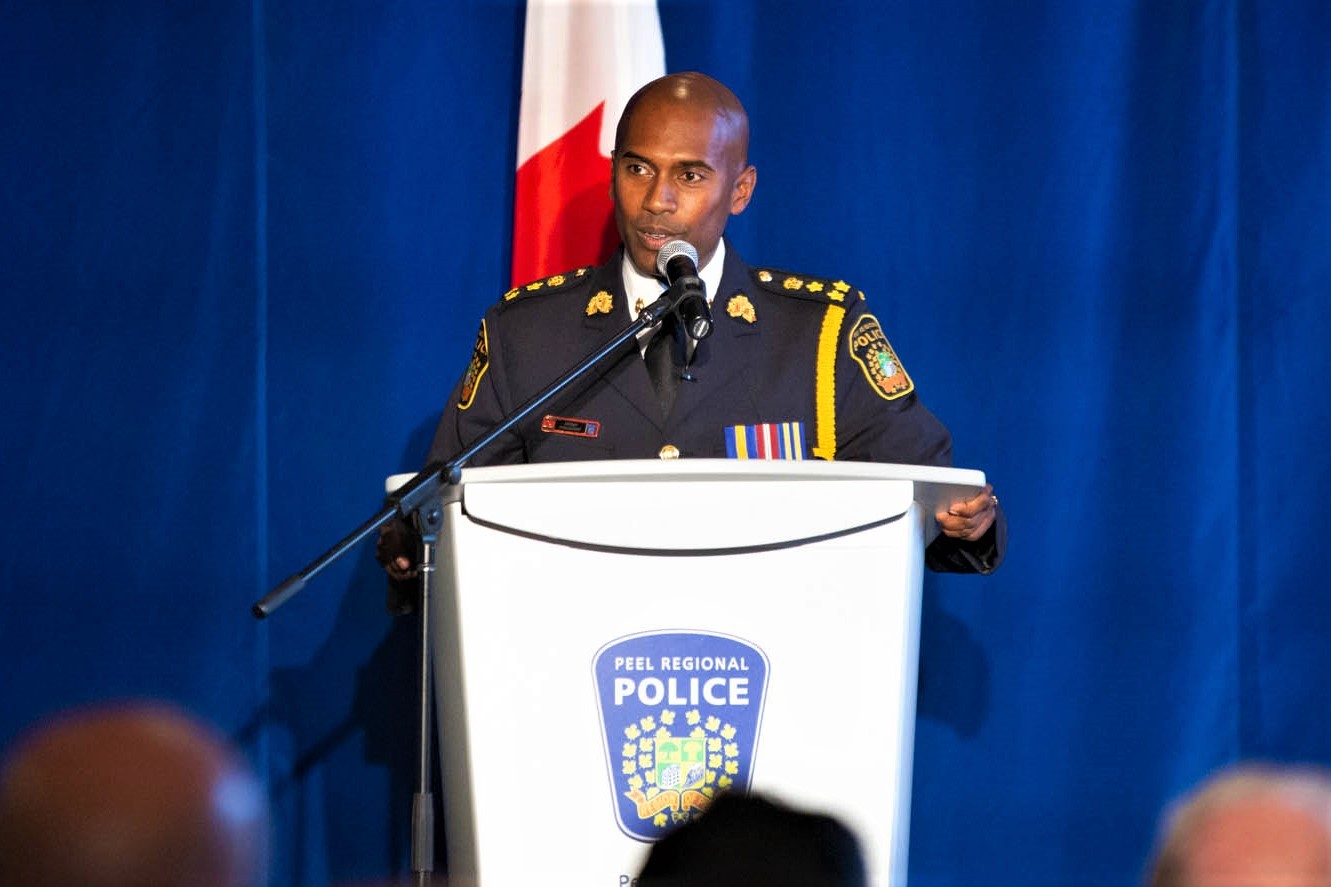 Photos by Joel Wittnebel and file photos/Graphic Peel police
Double murder of young children is the latest sign Peel's violent trend is continuing
It's becoming clearer and clearer that Brampton and Mississauga are facing a new reality.
With each new stabbing, shooting, assault, or murder, the two major cities are showing that 2018's rash of bloodshed that left 26 people dead and countless others injured was more than just a one-time spike, but a trend that has been emerging in Peel police's Violent Crime Severity Index for several years now.
Late Wednesday, police responded to Peel's latest tragedy that took the lives of two young children, a 12-year-old and a 9-year-old, their lives ended, allegedly, at the hands of their father, who is now facing two counts of first degree murder.
The two deaths bring the tally of homicides for the first week of November to three, after police were called to the area of Kingsview Boulevard and Brenda Avenue early in the morning of Nov. 1 and found 18-year-old Lorenzo Wright shot to death.
New Peel police Chief Nish Duraiappah
That same day, Peel's newly hired police chief, just a month on the job, announced that the force's homicide and missing persons's units were getting additional resources to handle the growing workload and find those responsible for the recent atrocities. The week before his announcement saw two men shot to death in separate incidents in what Peel police are blaming on gang violence.
"We now have 80 investigators working tirelessly around the clock to provide the victimized families and the community with the results that they deserve," Chief Nish Duraiappah said in a statement. "I want to assure our residents that Peel Region will remain a safe place to live, work and visit."
The recent homicides bring Peel's total on the year to 25, one short of the total in 2018.
Chief Duraiappah has already stated violent crime in the two cities is trending higher for both shootings and stabbings compared to last year.
Peel experienced across-the-board increases in the most violent types of crime in 2018. The 26 homicides in 2018 marked a 63 percent increase over 2017; attempted murders increased by 86 percent; assaults by 14 percent; sexual violations by 13 percent, and a catch-all category of "other violent violations" jumped 25 percent. In Brampton and Mississauga, there were 242 stabbings, a 55 percent increase over the year before; 53 shootings, a 33 percent increase; and police investigated more than 500 reports of gunshots fired, an 18 percent increase.
Recent violent crime data for 2019, as of the end of October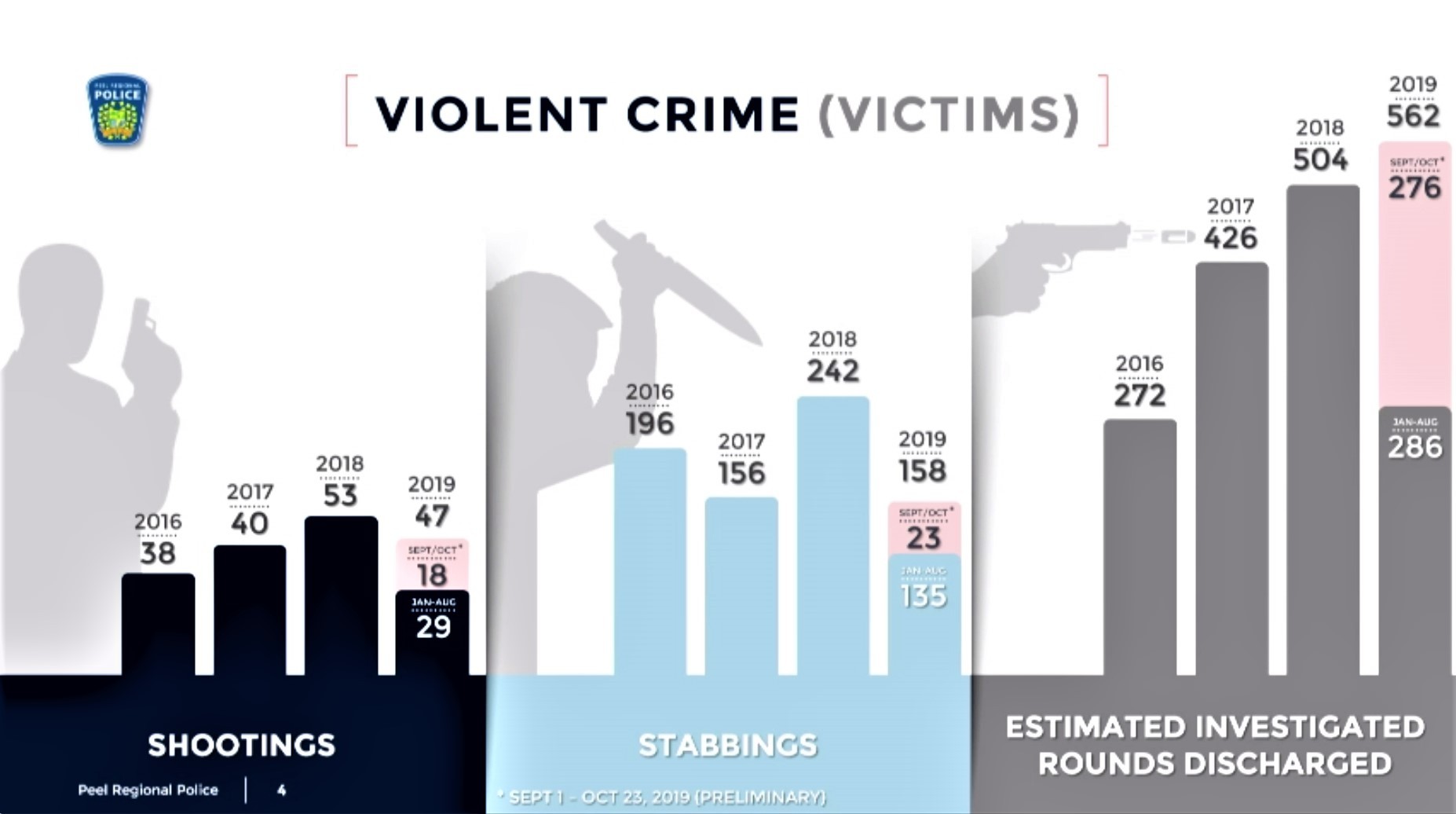 These violent offences are only a small portion of the hefty workload faced by Peel police last year. The force dealt with a total of about 43,000 Criminal Code offences, more than 9,000 of which were crimes against persons (an average of 26 per day), and more than 28,000 crimes against property (an average of 77 per day). The force also doled out about 232 Highway Traffic Act charges on a daily basis, a number that is sure to rise as Peel sees more newcomers arrive, more houses built and more cars on the road.
To date, Peel police have been able to solve or arrest 12 suspects in relation to the 25 homicides. Two of the suspects are now deceased at their own hands, and the majority of the others were either a spouse, family member or significant other of the victim. The more difficult homicides, those involving targeted shootings, and which are more than likely gang related, currently have a lower solvency rate.
Nevertheless, in 2018, for more violent crimes, Peel maintained a solvency rate of 72 percent, above the national and provincial average of 70 and 71 percent, respectively.
While this may help to allay some of the fears generated by rising crime statistics, it's clear 2018 was not an anomaly, but the continuation of a trend; the severity of crime has been increasing in Brampton and Mississauga since 2014.
The Crime Severity Index is used by Statistics Canada to judge the seriousness of criminal activity in a given area. The more violent types of crime — murder, assaults, sexual violations — are weighted heavier than the less life-threatening incidents, like property crime.
In Brampton and Mississauga, the Crime Severity Index has been rising steadily since 2014, from a rating of 45.4 that year to 53.8 in 2017. The trend follows what has been happening in Toronto, where the index rose from 63.3 in 2014 to 71.6 in 2017, and across the country, with the index rising from 70.5 in 2014 to 80.3 in 2017.
But it's the violent crime index for the two cities that is most troubling. According to the violent crime severity index, Peel's rate increased 51 percent between the start of 2014 and the end of 2018, compared to a 27 percent increase for Ontario and 17 percent for the country. The Pointer previously reported this figure is rising at nearly three-times the rate of the national VCSI. The rise in gun violence in the two cities has played a major role in this increase.
"The men and women of Peel Regional Police will continue to do a remarkable job getting guns off our streets, while our strong community partnerships continue to assist us in keeping our community safe," Duraiappah said in a released statement. "I am confident that we will see resolve to these complex investigations."
Since the start of September, Peel police have seized three illegal firearms throughout their investigations, adding to a long list of weapons that have been taken off the region's streets this year, including a bust in March, part of Project Baron, that saw 26 firearms seized.
However, despite these seizures the shootings continue. In mid-September, within a day, an 18-year-old was shot to death while driving on Highway 410 and another victim was gunned down in central Mississauga in a gang-style attack, and two days before that, gunfire erupted outside a Malton apartment complex. More than 130 rounds were fired by at least seven suspects in the shooting that left a 17-year-old boy — not the intended target — dead and five others wounded. No arrests have been made in any of these shootings.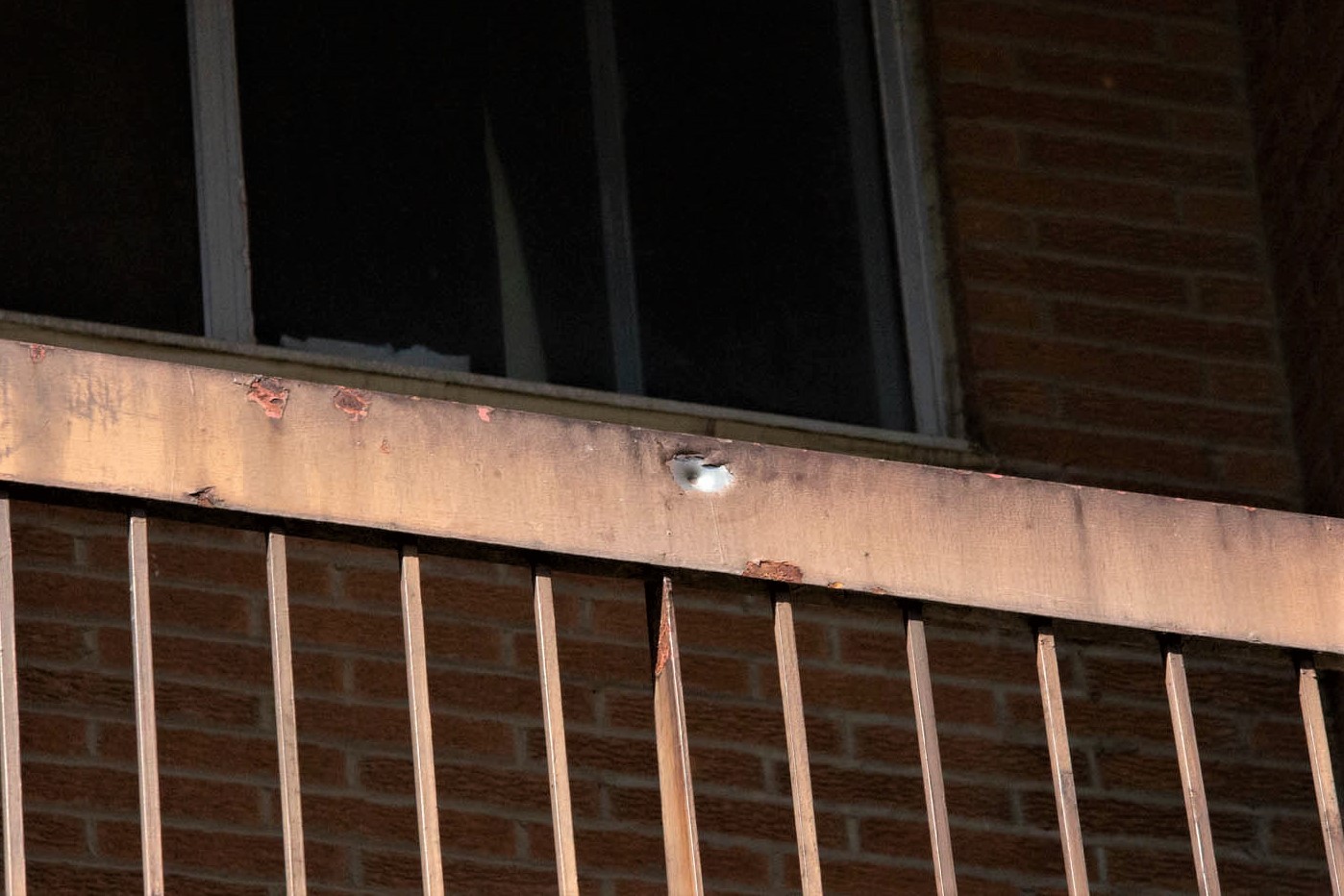 The mark of one of more than 130 bullets fired near a Malton apartment in September, when an innocent boy was killed and five others were wounded
"I speak for everyone at Peel Regional Police when I say we take these shootings seriously and there's a heightened sense of urgency and care when it comes to stopping the gun violence in Peel Region," Duraiappah said.
The recent tragedies in Brampton and Mississauga will no doubt cast a shadow over the upcoming budget discussions for Peel police and regional councillors.
Currently, the force is looking for a 5.4 percent increase over the 2019 budget, with a proposed $445.7 million operating budget that brings with it an additional 35 uniform officers and represents $22.7 million more than what was needed for 2019. The overall $490 million budget proposal for 2020 represents a 69 percent increase from the roughly $290 million budget in 2010.
The proposed increase is driven mainly by $11.9 million in additional labour costs, mostly for increases to existing salaries and benefits, $2.7 million in "operating and inflationary pressures" and a $2.6 million decrease in provincial grant funding.
It could have been an even steeper increase. According to budget forecasts presented to regional council in June of this year, the police force was projecting a 6.1 percent budget increase for 2020. But since then the force has found approximately $3.1 million in savings.
With the recent deaths fresh in their minds, councillors will do doubt be questioning whether the additional 35 officers, a reduction from the original 55 officers initially proposed for this year, will be enough to tackle the rising violence. While Peel police still have less officers per capita than the national average, bringing on more bodies is the most expensive option for the force. Many proponents of progressive policing suggest throwing money at hiring more officers is the wrong approach. Deploying officers in more effective ways and investing in sophisticated crime-fighting technology and expertise is what many forces across North America are doing, instead of simply putting more bodies in more cars, patrolling in a more traditional, random, way.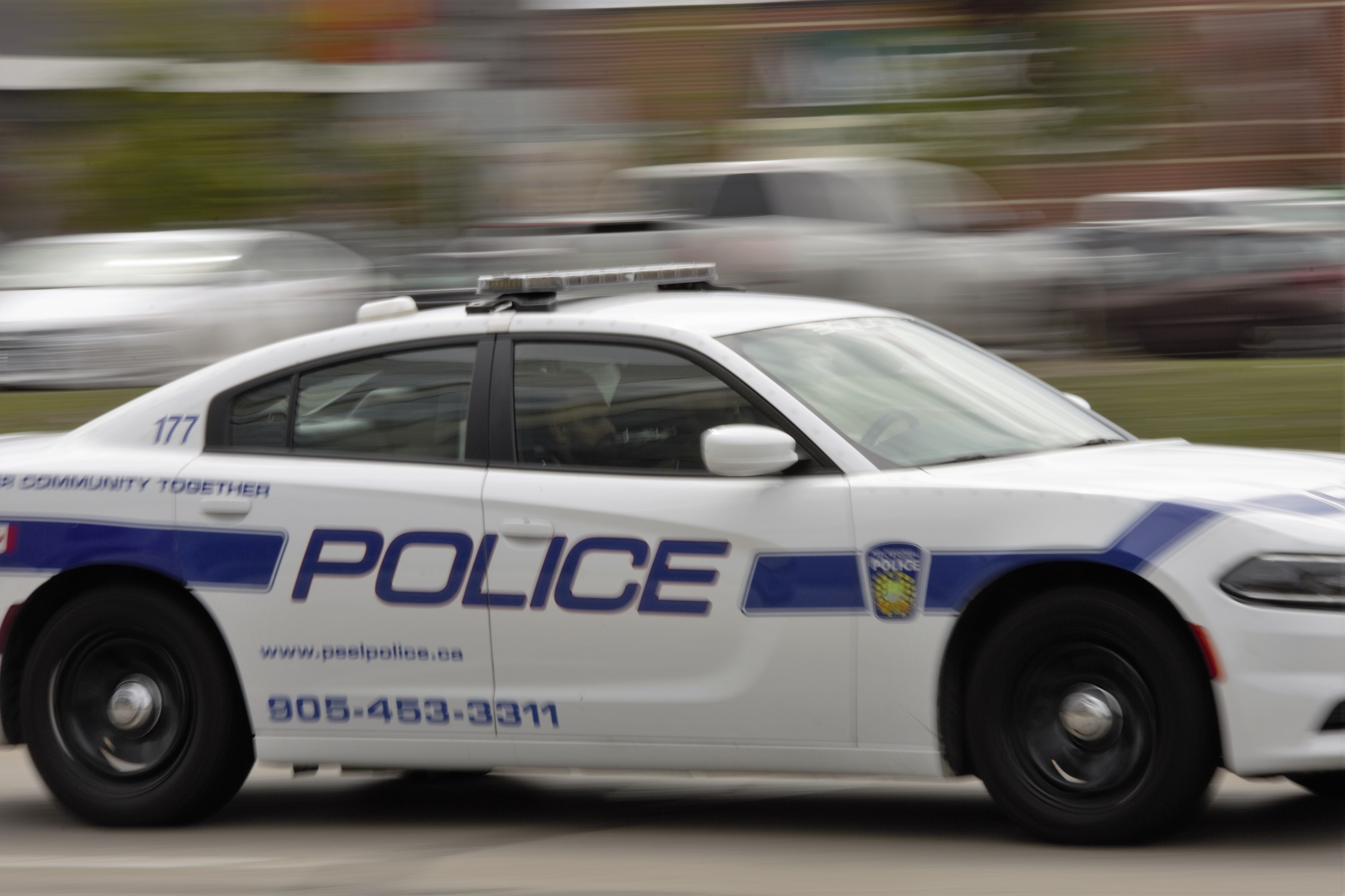 The new contract for Peel officers — starting this year — sees a first class constable start at $100,420, representing a 41 percent increase from the $71,400 starting salary in 2006. This reflects the base pay, but when including top-ups such as overtime, investigative premiums and retention pay, many young officers are earning more than 70 percent above what officers with the same experience made a little over a decade ago.
At the same time, in order to address the root causes of these violent incidents that are leaving many residents fearful of what's happening in their neighbourhoods, especially in areas where gang violence is becoming common, Chief Duraiappah has said the the force is looking to invest in "upstream" initiatives, which work in conjunction with investigations and enforcement and aim to keep people away from a life of crime in the first place.
Email: [email protected]
Twitter: @JoeljWittnebel
Submit a correction about this story