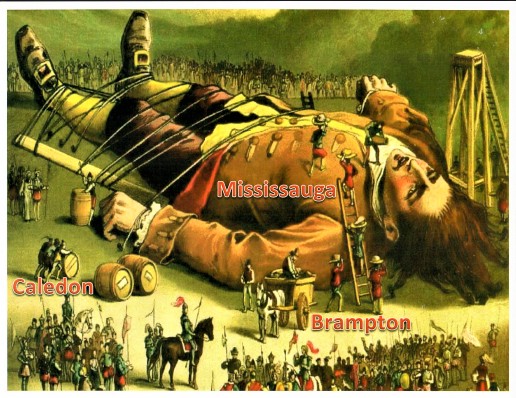 Photos by Joel Wittnebel/Graphic City of Mississauga
Mississauga tables plan to push for exit from Peel Region, channels Gulliver's Travels
(Correction: a previous version of this article misstated that Mississauga was seeking an exit from Peel Region by 2022. The Pointer regrets the error.)
Mississauga has been planning a great escape from the Region of Peel almost since its inception in 1974. Despite being foiled by Ontario Premier Doug Ford in its most recent attempt to fly free, the city is refusing to take the result lying down and plans are once more afoot to rule its own destiny.
Councillors Carolyn Parrish and Pat Saito brought motions to council Wednesday with strategic plans to tip the scales around the regional table in Mississauga's favour. Parrish brought a motion with six steps to separation, while Saito came forward at the last minute with a legally worded option to increase the city's representation at regional council.
Ever the passionate speaker, Parrish's address featured a visual representation. Drawing parallels with the region, the Ward 5 representative waved an image of Gulliver's Travels for the benefit of the room.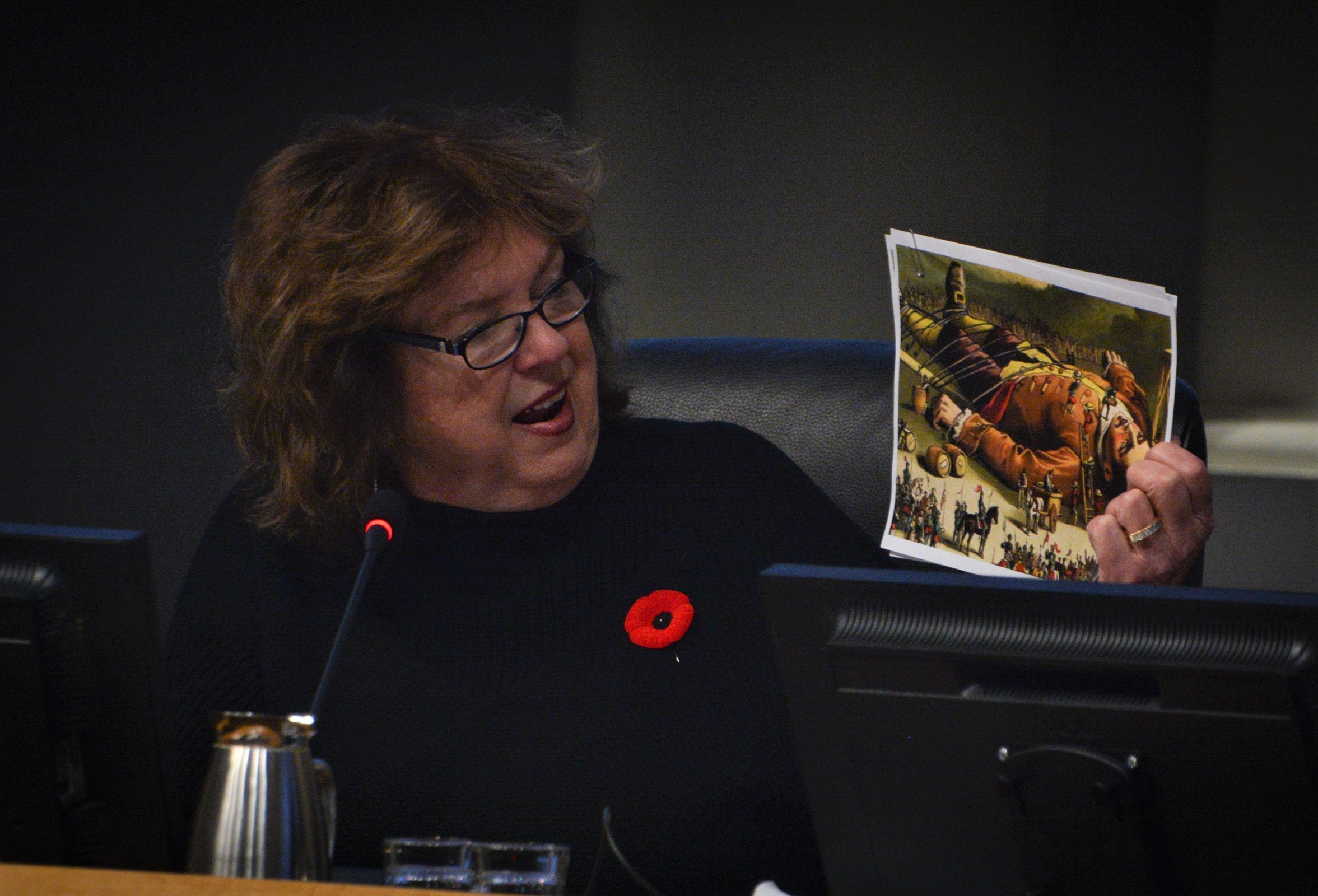 "This is poor old Gulliver, who thought when he went to the Lilliputians, he was so big he could just squash them," Parrish said, pointing to her illustration. "Look what they did, they tied him down and they're going up ladders giving him chunks of bread and bottles of water. I think it should say Mississauga [across Gulliver] and all the Lilliputians, they should say Caledon."
In particular, Parrish made reference to recent comments by Premier Ford implying he was ready to listen to the advice of municipalities. Mississauga's most recent hopes of separating from the Region of Peel were dashed in October, when the result of the province's regional review revealed that no structural changes were to take place. This came as something of a surprise to Mississauga, with several council members, including Mayor Bonnie Crombie, admitting they had perhaps been carried away believing that Ford might abolish the Region of Peel in his crusade for efficiencies.
Abandoning a combative motion which she previewed last week, Parrish said she had opted for practical solutions instead of beating her head against a "brick wall" that wouldn't move. In the new motion, six measures were outlined under broad headings: an immediate review of the influence of councillors Mississauga has at the region; and a series of spending reviews. The motion, passed unanimously by council, which instructed staff to review the cost to Mississaugans of regional services such as Peel Police as well as re-establishing a review of regional roads. Staff were also asked to analyze other regional governments around the province, though the answer is already common knowledge: Mississauga's situation is unique.
An unofficial council subcommittee will be formed to meet before regional council allowing Mississauga to scrutinize each regional agenda in full. The idea, also floated by Parrish, is to get the city's ducks in a row before meeting with regional councillors from Caledon and Brampton to ensure that Mississauga's interests are voted for by its councillors in a bloc.
Finally, Parrish requested that an immediate review take place of the number of councillors at the Region of Peel council in order to improve Mississauga's per-capita representation. It has long been a bone of contention in both Brampton and Mississauga that Caledon has five regional councillors, however, on a representation by population basis, it should only have one sitting at the regional table.
A separate motion submitted by Councillor Saito made a legally worded pitch for the same plan.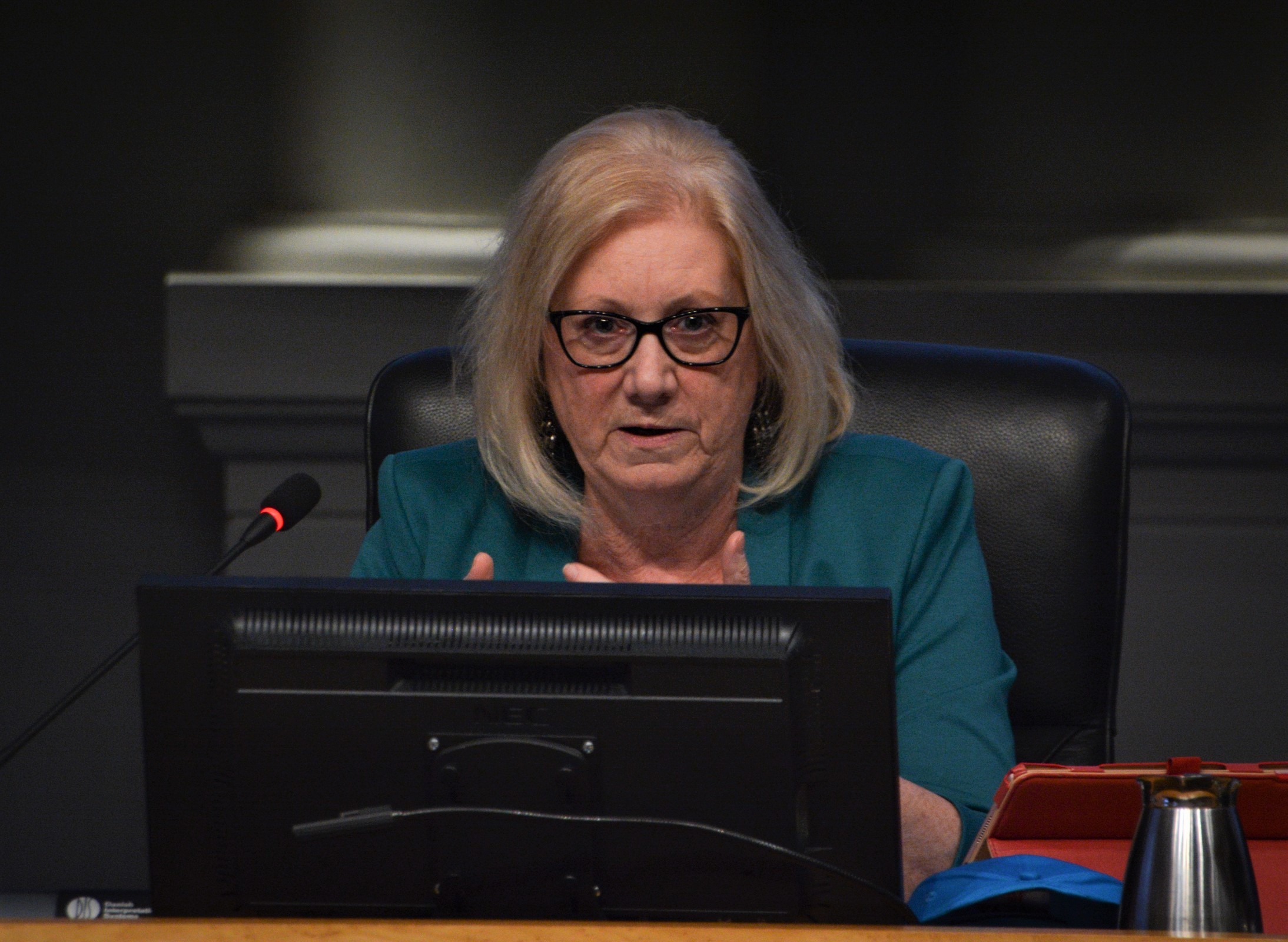 Councillor Pat Saito
Mississauga's main issue with the region, as Parrish's metaphor illustrated, is the tax burden. Councillors in the province's third largest city oppose what they see as subsidizing the growth of Caledon and, to an extent, Brampton with their higher tax contributions to shared services. Exacerbating this frustration is the poor land-use planning by Caledon, which has refused to follow smart growth principles legislated by the province, instead pushing forward plans for sprawling, disconnected low-density growth that costs municipalities a fortune in infrastructure costs, while drastically reducing the property tax-revenue base.
Mississauga has for years stated it is tired of having its taxpayers subsidize this bad planning, often controlled by developers and supported by Caledon's councillors.
Numbers on the city's website explaining how property tax works shine some light on this. The figures, from 2018, show that 44 percent of Mississauga tax dollars go to the Region of Peel, 35 percent to the city and 21 to education. The Region of Peel, for their part, break down how each dollar of their share is spent. Without giving a date for the statistics, they say 40 percent is put towards policing, 11 percent to waste management and a further 13 percent for housing, while 5 percent is also spent on paramedic services.
Breakdown of how Mississauga taxpayers' contributions to the Region of Peel are spent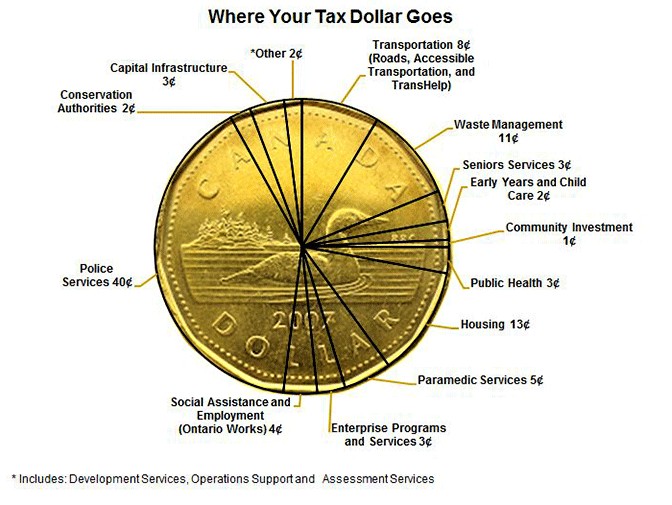 Tax levies in 2019 showed Mississauga to be responsible for 59.6 percent of the region's tax revenue, Brampton 35.7 percent and Caledon just 4.7 percent. Though, as the largest city, Mississauga receives more regional services than Caledon, the small township still receives infinitely more than 4.7 percent of services, especially due to its large geographic size (it is bigger than Toronto) and sprawl. So, many of the wealthy land-owners across Caledon are being subsidized by predominantly middle-class taxpayers in Mississauga and Brampton.
Parrish's fully approved motion, with Saito's technical addition in tow, will now be sent to Doug Ford and the Ontario PC government with an accompanying letter from Mayor Bonnie Crombie.
When the letter lands on Ford's desk, attention will turn to Mississauga's six Progressive Conservative MPPs to lobby on behalf of their council. "I'm not sure it will do much good, but I think we need to get our MPPs to move their butts and support us on this," Saito said. "We're not getting any advocacy on these issues, so perhaps dealing with those issues [would be useful]."
The Pointer contacted all six Mississauga MPPs for comment, asking if they would commit to advocating on behalf of their city. None responded. They will now face a difficult choice ahead of the next provincial election: support what many in the city including their own constituents want for their own best interest; or support their government's leader, Doug Ford, who moved away from changing the regional structure.
The fire lit under Mississauga's council is burning strong, in no small part due to the oxygen Parrish and Saito provide. During Wednesday's meeting, Saito even wearily admitted she hoped to see Mississauga given its independence before she retired, highlighting the length of time this dispute has rumbled on.
The motions approved by council essentially ask for two things: a swift move to independence; and more influence at the region until they get it. Where previously Parrish had suggested she and her fellow councillors should behave like "very angry children", the latest suggestions are significantly more constructive.
City staff will now examine Peel services to find efficiencies for their city, so Saito, Parrish and their colleagues can offer the province, which holds sway over any decision on the future of Peel, evidence-based reasoning for accurate representation at the region. After that, they hope the PCs understand the city's disappointment with the government's recent decision.
The boldest idea of the day came when councillors enquired about the possibility of Mississauga becoming a "charter city". The status, which Ottawa and Toronto are seeking, is already held by several Canadian cities including Calgary, Edmonton and Winnipeg.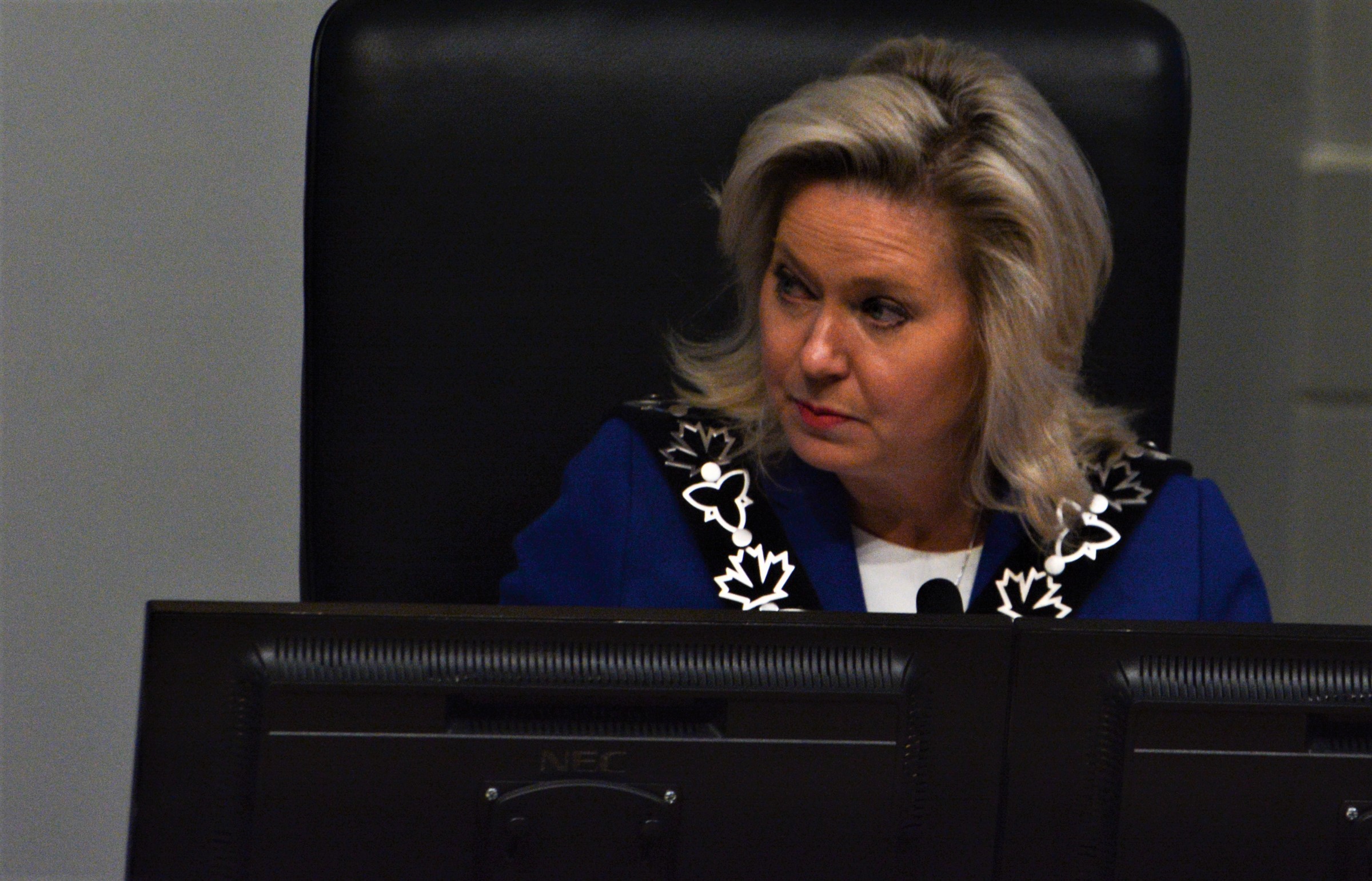 Mayor Bonnie Crombie has been the loudest advocate for her city's independence
Being a charter city would mean that Mississauga does not have to seek provincial approval for a whole series of municipal issues, giving it special governing status within the province. It could give Mississauga much more autonomy over certain revenue-generation such as a municipal hotel tax, a land-transfer tax, control of local property assessment and even revenue from the use of certain roads and highways.
Charter status could give Mississauga far more control over its transit planning and funding, land-use, growth plans, and even coordination of public health, hospital infrastructure and education to guarantee these fundamental features of Canadian cities are being co-managed at a more local level where the needs are understood and can be aligned with traditional municipal responsibilities such as zoning.
As a city which does not control many of its services right now, this is an optimistic play. All good negotiators, though, start high and council might opt not just for freedom from Peel, but maybe even Queen's Park.
Email: [email protected]
Twitter: @isaaccallan
Submit a correction about this story