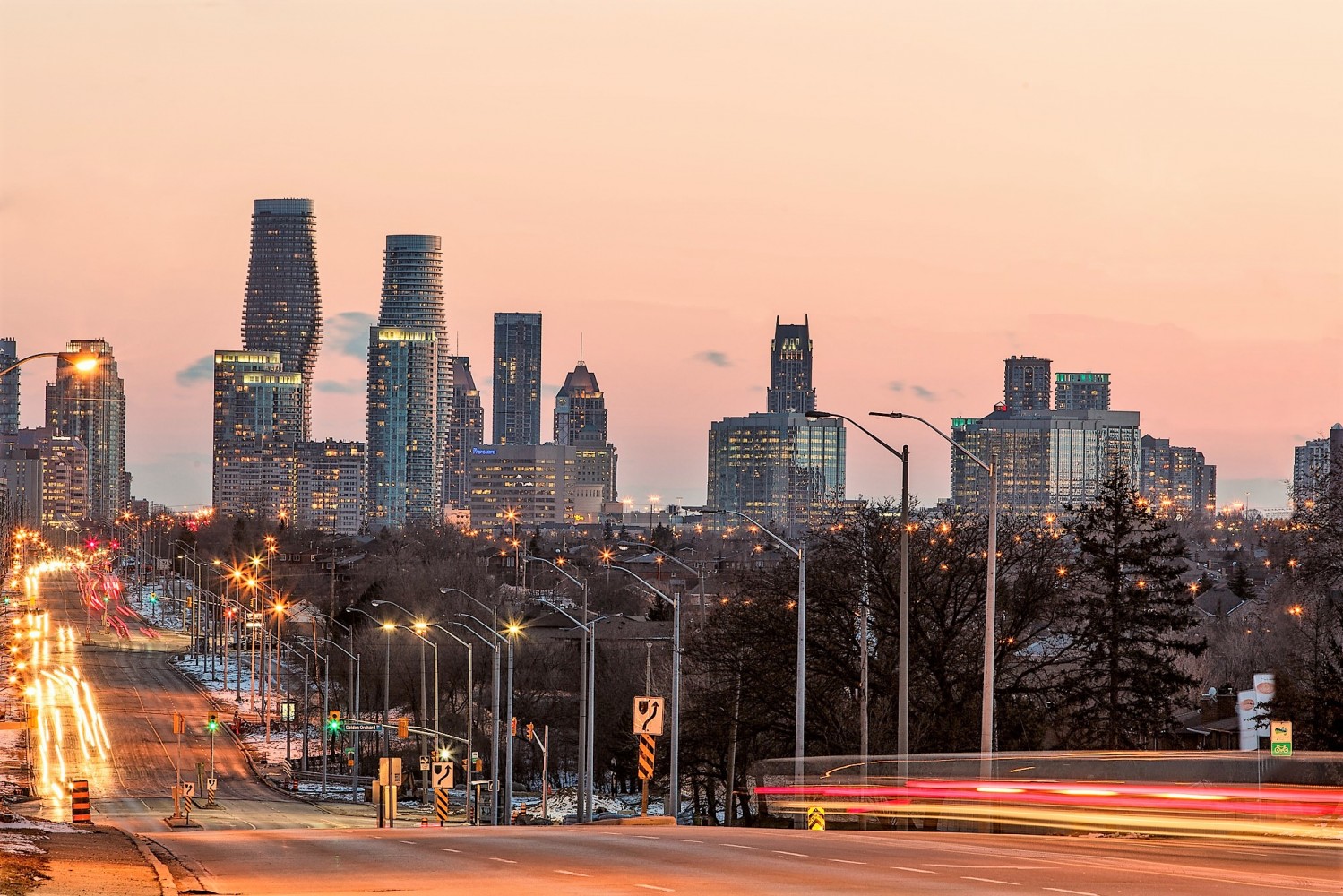 Photos by Joel Wittnebel and file photos
Parrish and Crombie say Mississauga's independence movement is not over
It's not over.
Carolyn Parrish vowed Wednesday to bring a motion to Mississauga council next week promising to ask for a line by line study of all services provided by the region. She wants her city to seek separation by the next election in 2022. She said the days after the provincial decision on Friday to maintain the regional status quo were difficult for her, and since then, "I've bitten my tongue so badly, I've lost a piece off the end."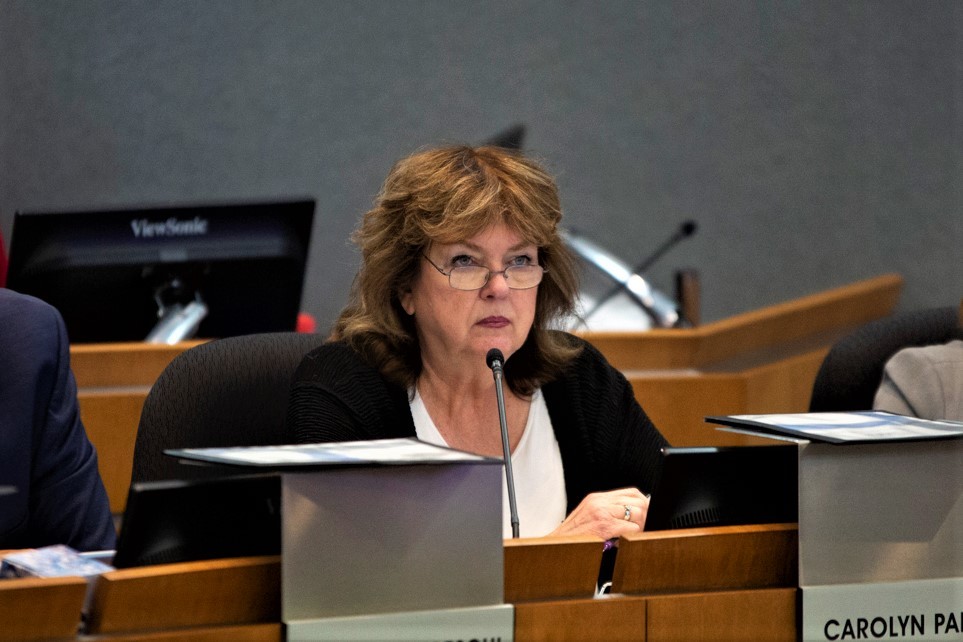 Mississauga Councillor Carolyn Parrish
Mississauga is now going to "behave like very angry children. We're going to start lobbing out missives on a regular basis," she said. "I feel liberated to say whatever I want to say now."
Mayor Bonnie Crombie's comments were shorter, but also laced with emotion. She began by letting out a huge sigh, following the province's crushing decision in the face of the city's prolonged campaign to win its freedom from regional governance.
She told council she talked to Premier Doug Ford on the weekend but didn't disclose what was said, only that she is not convinced the city's bid for independence is over. She promised to push the city's six MPPs to get behind another bid for independence, and like Parrish, was disturbed by the "false hope" given off by the province – which introduced the regional review in January.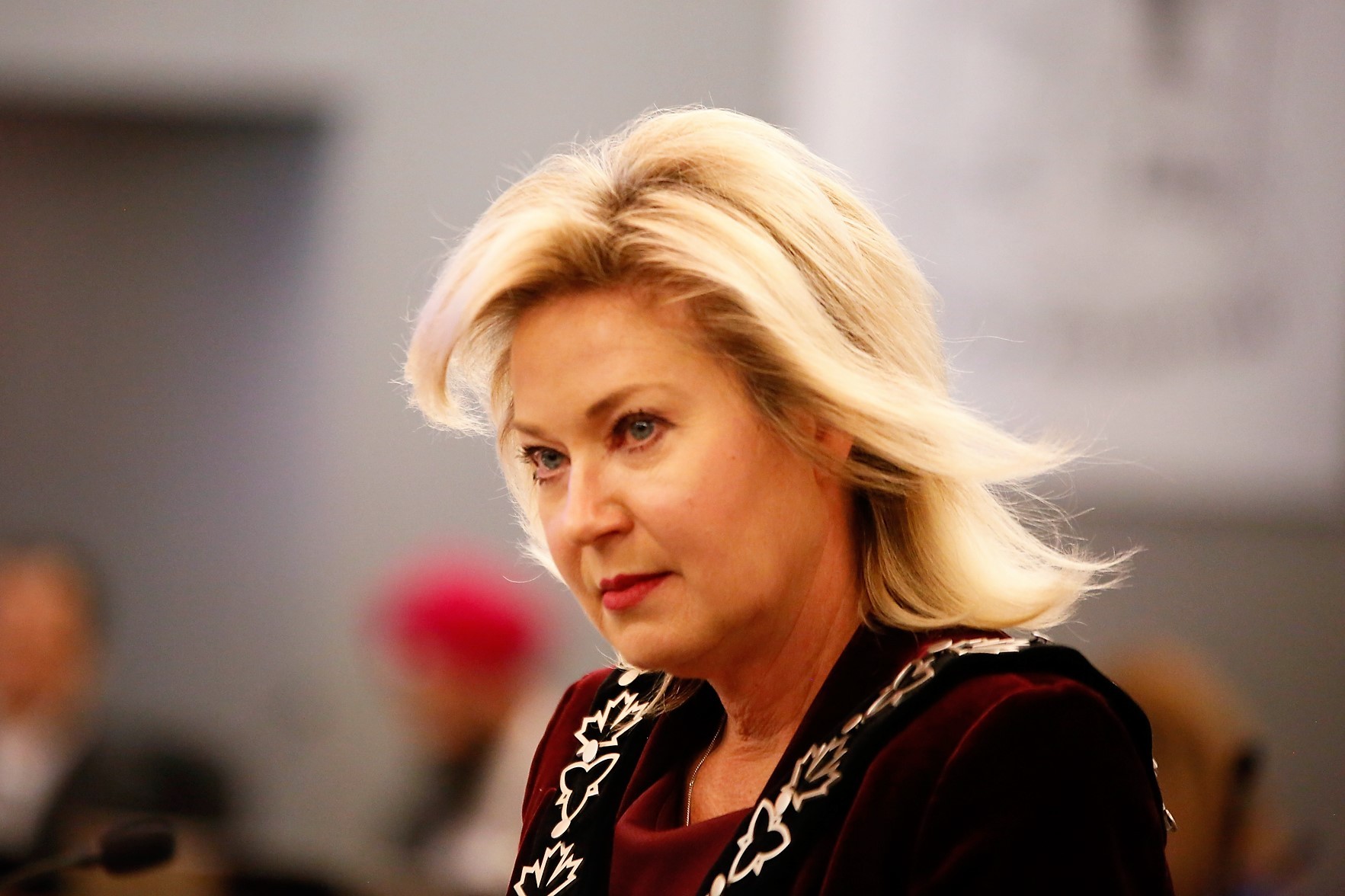 Mayor Bonnie Crombie
Parrish was hardly a quiet, servile backbencher during her career as a Liberal MP (1993-2006). She was ousted from the Paul Martin-led caucus in 2004 for her outspokenness and failure to toe the party line. As Ward 5 councillor in Mississauga, she retains a non-stop work ethic, a tart tongue, and often lets her emotions bubble to the surface.
So, it came as somewhat of a surprise when she issued a rather measured response to The Pointer last week after news that the Doug Ford government had abandoned its regional review, thereby killing Mississauga's hopes of winning independence from the Region of Peel.
Yes, she was "very upset" by the decision, and it was "unacceptable" that Mississauga's future is being dictated by mostly rural councillors from Caledon. She said the decision would continue to cost taxpayers in her city tens of millions every year.
But her response was almost reflective, and free of invective.
That changed at a general committee meeting on Wednesday when both she and Crombie unloaded on this "disgusting decision."
"Maybe we have been mollycoddled," Parrish said. "He [Ford] gets on TV and says Mississauga is different. So, we get excited. Our heart beats harder. We don't criticize. We behaved like nice little children."
Then she asked rhetorically, "So, what did that get us?" Her answer: "Sweet fanny Adams" – evoking a well-worn family homily.
Parrish said she spent the weekend mulling the announcement made by Municipal Affairs minister Steve Clark and eased her frustrations by doing a deep dive into the numbers of the other major regions in the province. Maybe she missed something? Maybe the Ford decision was somehow well-founded? She realized that most regions paled in comparison to Peel. Durham Region is made up of eight municipalities and 665,000 people. Halton has only 600,000 people. She listed off others like Waterloo, Niagara, Muskoka District, Oxford County, and the County of Simcoe and concluded that only York (9 municipalities and 1.2 million population) comes close to Peel. But no city within those jurisdictions is comparable to Mississauga, the third largest city in the province and sixth in Canada. It's the only major municipality in Ontario "tied to the lead weight" of regional government.
Parrish delivered more numbers. Brampton takes out 40.3 percent of regional revenues but makes up only 37 percent of the population. She mocked that city's awful land-use mix, which is crippled by a 78-22 percent imbalance of residential tax revenue to commercial taxes; it should be the other way around to guarantee a sound fiscal future, as businesses yield higher revenues than homes. Its suburbs "scourge the earth" and stymie its ability to grow its tax base in a healthy way.
She delivered her speech in a soft, yet steely voice. She said Mississauga has 55 percent of the population but feeds in 59 percent of the region's revenues. Her city holds 12 seats on region council, but that's matched by Brampton and Caledon with a dozen between them. If that's not bad enough because the split wasn't based on population, former Mississauga councillor, Nando Iannicca, gets the tie-breaking vote as chair – a fact that irked Parrish. She blames him with conceiving and helping deliver the questionable Deloitte report recommending to the province that Peel stay as is, using allegedly skewed numbers. She called the Deloitte work an "illegal attempt" to influence Ford and tip his decision to retain the status-quo.
Friday's announcement by Clark was a surprise, after what had been clearly signalled by his boss; he wanted changes.
"What we're trying to do is reduce the size and cost of government right across Ontario," Ford said in March.
"And I'll give you one example. I was in Niagara region and I spoke to so many business owners that were frustrated. Would you believe Niagara region, they have 500,000 people, they have 118 politicians. Toronto has 25 with 2.8 million." That was a reference to Ford's cutting of Toronto council almost in half right after he became premier.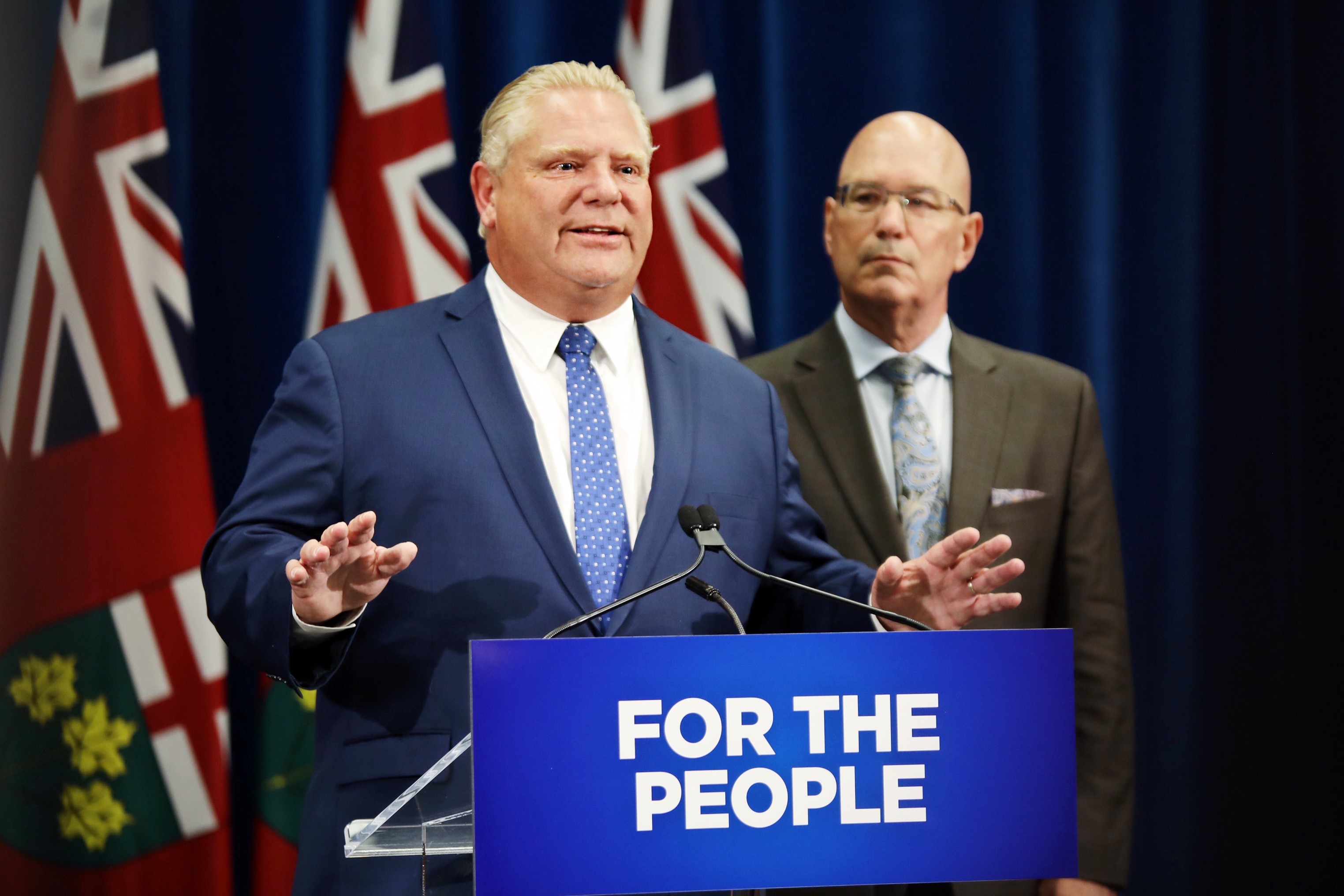 Premier Doug Ford and Municipal Affairs Minister Steve Clark
A total of 82 municipalities were examined, and the province didn't rule out the possibility that major change was in the offing, perhaps independence for some, even amalgamation. The review would focus on three areas: governance, decision-making and service delivery. In the end, the obvious effort to bring about change seemed to have been overtaken by political considerations, with Ford doing a flip-flop on many earlier decisions as his approval rating continues to tank.
Peel Region was formed in 1974 by then premier William Davis, the Brampton MPP. It created the cities of Brampton and Mississauga and the Town of Caledon. Michael Fenn, a former deputy minister under three premiers, and Ken Seiling, a former chair of Waterloo Region, were tapped to serve as special advisors during the review.
Crombie was particularly upset by Brampton Mayor Patrick Brown, saying his insistence that Mississauga independence would cost its taxpayers more money in the long run, was not true.
Parrish said she was "disgusted and ashamed" that she didn't do more research earlier, and allowed her city to get lulled into a feeling that independence was a natural extension of the hyper-growth that had doubled and then doubled again the city's population over the last three decades. She believed Ford would recognize this wasteful second tier of local government and insist it needed to be fixed.
The Mississauga separatist movement began in earnest during the 36-year reign of Hazel McCallion and was embraced since 2014 by Crombie and a united council.
Parrish, the Malton-area councillor, finished up her comments with this promise: "it's time to tell the world that we're damn unhappy and not going to take it anymore."
Submit a correction about this story