Photos by Joel Wittnebel/File photos/Rendering City of Vaughan
New data shows Brampton's healthcare system way over capacity; Osler says do not expect a new hospital soon
Brampton's hospitals are bursting at the seams, new data shows, and relief could be years away, despite recent talk of a new hospital.
According to the William Osler Health System, bringing the long-anticipated next phase of Peel Memorial to Brampton will take at least five to eight years, a revelation that comes just as new freedom of information data shows the situation inside the city's two hospitals is worse than ever.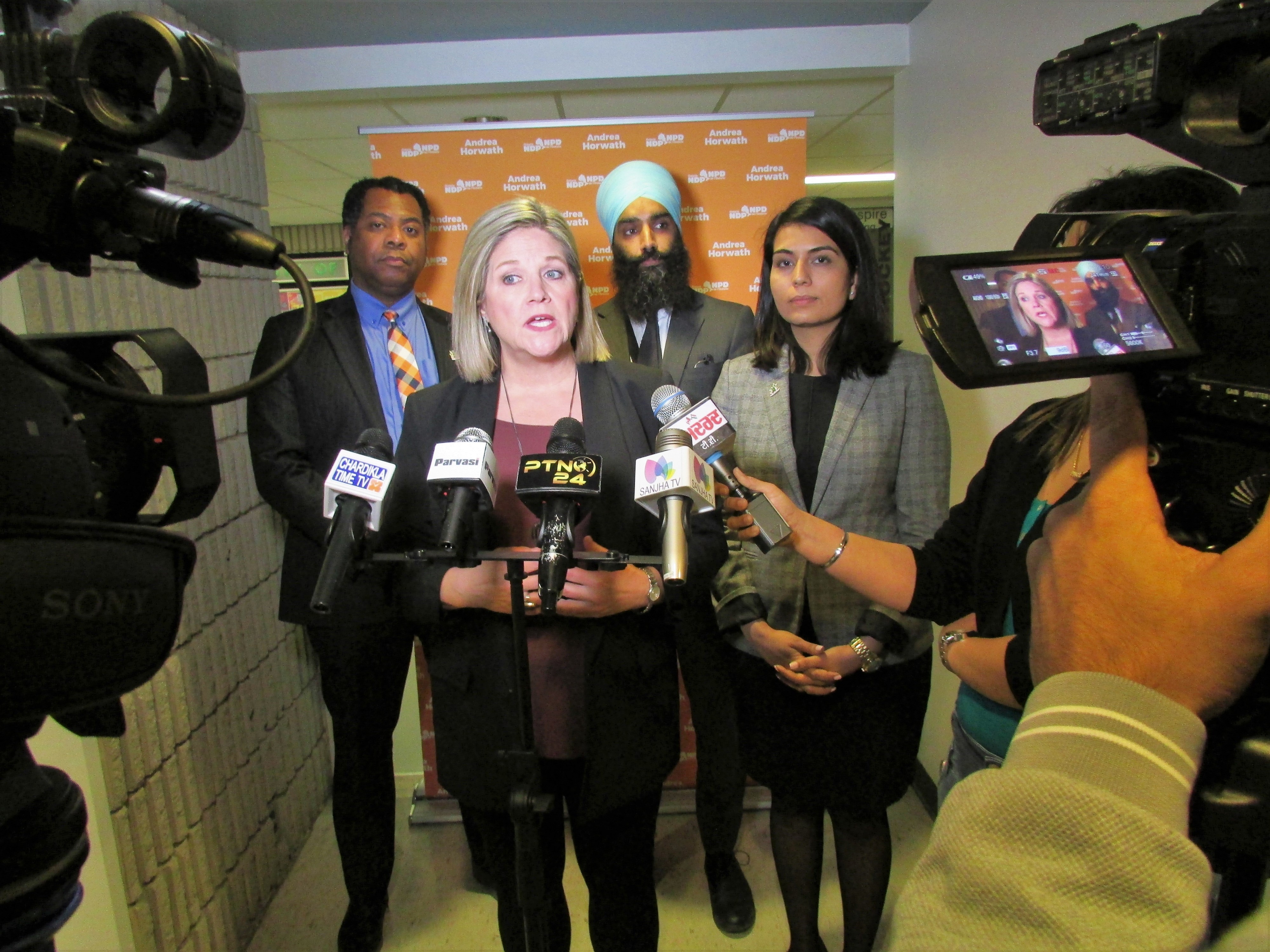 NDP Leader Andrea Horwath, shown above in Brampton early this year to address the city's healthcare crisis, released data Tuesday that shows the situation is worsening
Data obtained by the provincial NDP and made public inside Queen's Park Tuesday shows that Brampton Civic, the city's lone full-service hospital, has been operating at 101 percent to 106 percent capacity for all of 2019, well beyond the recommended standard of care of 85 percent capacity.
Meanwhile, Peel Memorial, the city's preventative-care facility, which opened in 2017 with the intention to relieve the increasing patient burden experienced at Civic, started the year operating at 557 percent capacity, a number that increased to 587 percent in April and continued into June, the last month for which data was provided by Osler.
"Brampton's urgent care centre was built to bring relief to the overcrowded Brampton Civic Hospital, but under this government Brampton Civic Hospital has more patients in hallways," Horwath said during Tuesday's Question Period inside the legislature. "Freedom of Information documents show that there are more patients in hallways this year than last year. So why is hallway medicine in Brampton getting worse on this premiere's watch?"
Minister of Health Christine Elliott fired back, noting that the overcrowding at Brampton and other Ontario facilities "has been happening for a number of years" and stating the PCs were elected on the mandate to end hallway healthcare, something she says they are working "diligently" on.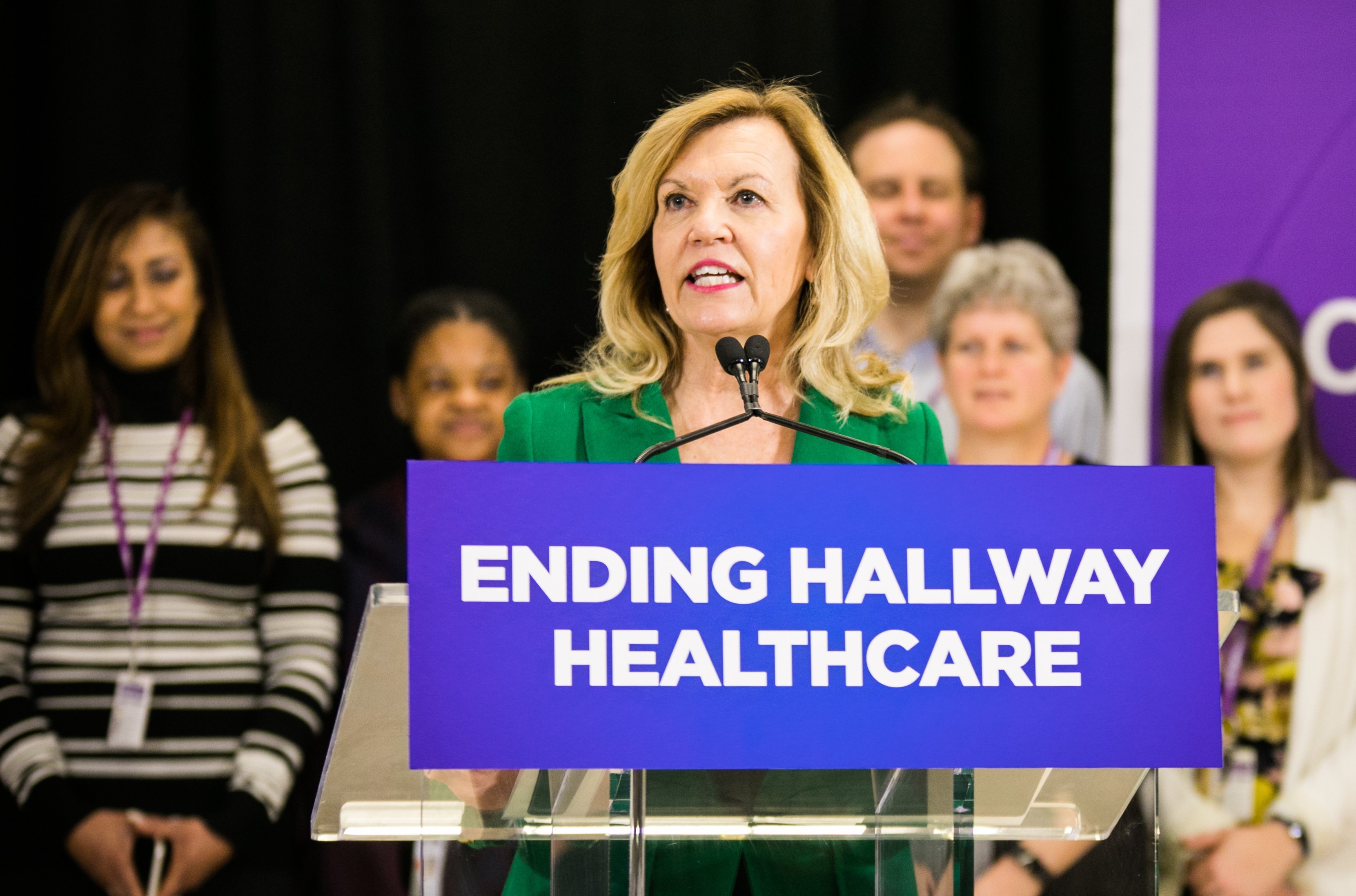 Health Minister Christine Elliott
"We know that there are many areas in Ontario where there is increasing pressure because there are more and more people moving into the area. That is why we are taking a look at hospital infrastructure projects," Elliott said in the Legislature. "We have $27 billion over the next 10 years to build hospital projects, but I'm sure the leader of the Official Opposition will know that we inherited a pretty dismal financial situation again from the previous government."
In Brampton, the question of additional hospital infrastructure comes down to two main projects, Phase II of Peel Memorial, which would convert the facility into a full-service hospital, and the addition of a third hospital facility in the city. According to Osler, the Peel memorial project is five to eight years away and there is no current plan for a third hospital.
Cara Francis, director of public relations with Osler, told The Pointer the health network that serves Brampton is currently working through the Ministry of Health's five-stage planning process for major infrastructure projects to get the second phase of Peel Memorial underway.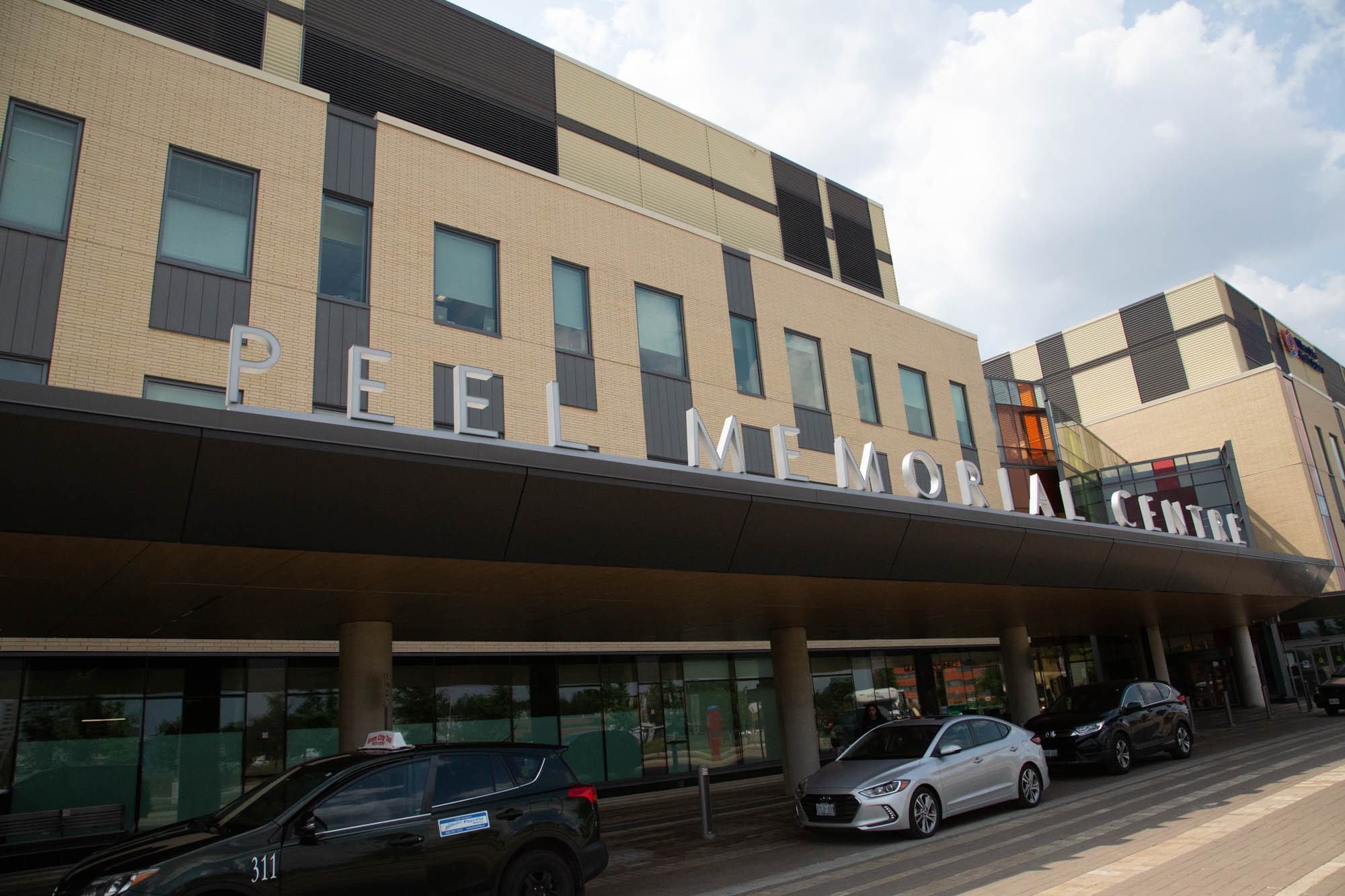 "This process for Phase II of Peel Memorial is well underway with planning and due diligence work, and we are tracking for the Stage 1 proposal to be submitted to the Ministry in early 2020," she stated in an email. "Following the Stage 1 proposal, more detailed planning will take place in coordination with the Ministry. In total, it can take upwards of five to eight years for the completion of a new hospital building."
A Freedom of Information request by The Pointer in May revealed that in 2018, 3,035 patients had to be treated in hallways and other makeshift spaces inside Brampton Civic because of chronic overcrowding. The data provided by Osler under FOI legislation showed in 2012 there were 1,014 patients who had to be treated in similar inappropriate spaces inside Civic.
The phase-two facility of Peel Memorial could bring significant relief to Brampton's system with new services geared toward easing the transition from hospital back to the home, as well as managing chronic diseases, both of which could ease the burden on the city's swamped emergency departments. Peel Memorial does not have a full-service emergency (urgent care) department and it is only open from 8 a.m. to 9 p.m. every day, while Brampton Civic operates a full-service urgent care department that is open around the clock.
"Program and service areas (for phase two of Peel Memorial) that are being considered as part of the early planning include seniors care, post-surgery rehabilitation, allied health supports including physiotherapy and occupational therapy, as well as mental health and addictions services," Francis said. "As part of this, several programs currently located at Brampton Civic Hospital would also be moved to Peel Memorial, creating more space at Brampton Civic for areas of increasing demand, such as surgery and medicine beds. This would also help alleviate the area's hallway medicine pressures."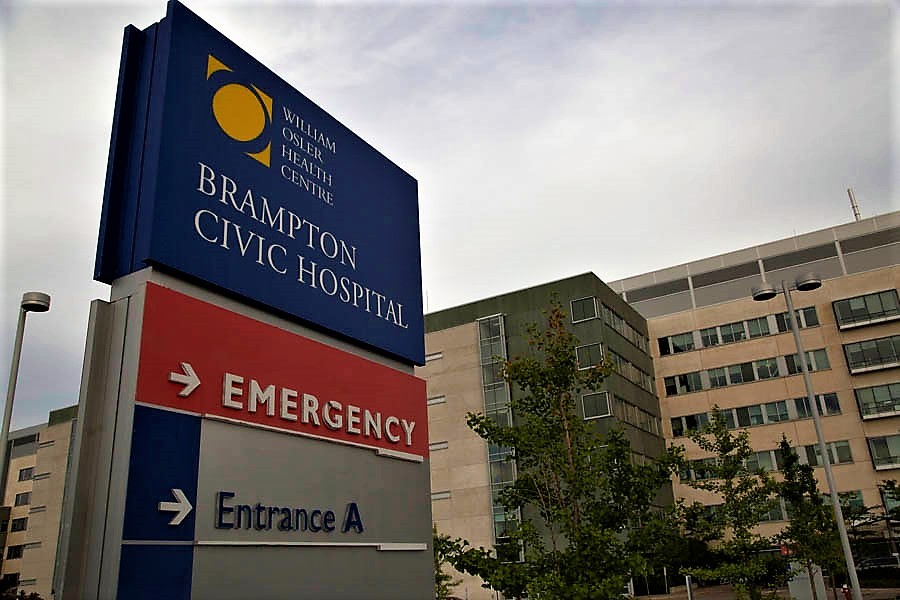 The province has previously told The Pointer that Osler was given $500,000 in one-time grant funding in early 2018 to assist with this planning process. However, in August, it was the understanding of the health ministry that the initial Stage 1 proposal would be submitted this fall. It's unclear what has caused the delay and why Osler only plans to get its submission for the phase-2 plan to the ministry about two years after receiving the grant to help get it done. It's also unclear why, with the city facing such a desperate situation, Osler has not been able to move forward with its work to get the second phase shovel-ready, while plans in other cities have been expedited by their health networks over the past few years.
The previous Liberal government committed to funding the second phase of the project, but it is also unclear whether that funding is still earmarked for the project under the current PC government.
Additionally, the province has said it has not seen any proposals or plans that would signal steps being made for a third hospital in Brampton. Francis says a plan for a badly needed third hospital is only in the "very exploratory stages". But it's clear that Osler first has to complete its work to get phase two of Peel Memorial off the ground.
Regarding a third hospital, Francis said, "Osler has worked with City of Brampton staff on early stages of planning, including looking at potential building sites. Over the longer term, a third hospital site will likely be needed to serve this fast-growing region, as health care services will be an important part of the area's urban development processes and decisions into the future."
The lack of urgency expressed around the project by both the city and Osler is a stark contrast to what has been heard loud and clear across Brampton for years, as the number of hospital beds per capita continues to fall dangerously below the provincial average because of the city's rapid population growth. The anger of Brampton residents forced to endure appalling hospital conditions has been mounting.
Town hall meetings have been packed with residents searching for relief. Earlier this year, Brampton's two PC MPPs, Amarjot Sandhu (Brampton West) and Prabmeet Sarkaria (Brampton South) were grilled at one such town hall as residents looked to them for answers on their government's snubbing of their city, after the PC's announced funding to address "hallway healthcare", expanding capacity at hospitals across the province, but completely ignored Brampton, where the term "hallway healthcare" in Ontario was popularized because of its well known crisis.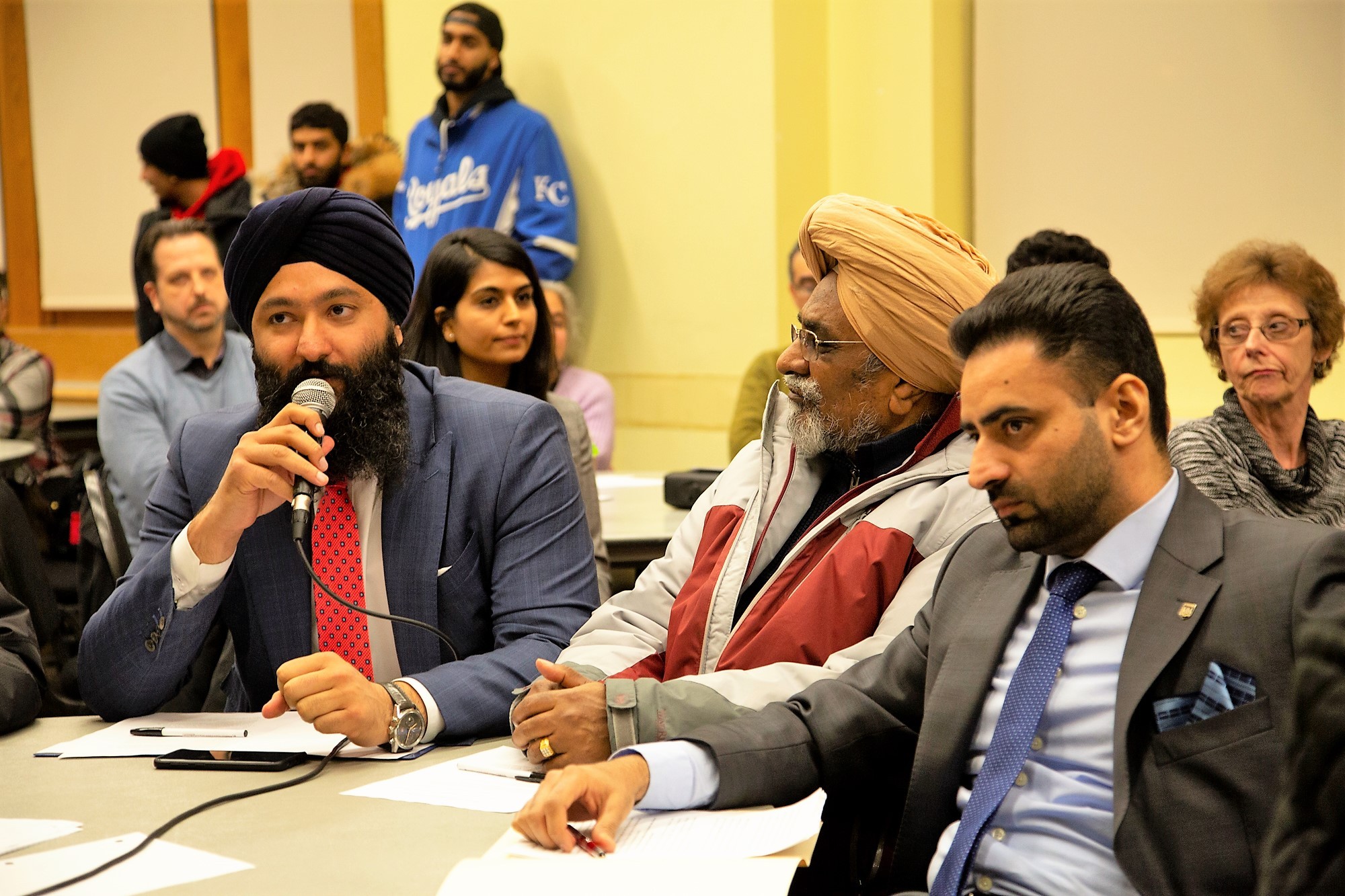 Brampton PC MPPs Prabmeet Sarkaria, left, and Amarjot Sandhu face a grilling during a healthcare townhall in the city
Questions have been raised about whether or not Sandhu and Sarkaria are doing their jobs to represent the individuals and families who put them in power, sending them to Queen's Park to fight for Brampton. They have failed to advocate for better healthcare in the city, remaining silent in the legislature when debate centred on Brampton and then absenting themselves for the vote to bring a second full-service hospital here, an NDP motion that was defeated by the PCs last fall while the two Brampton PCs were nowhere to be seen during the vote.
The government has little to show for the campaign promises made to end overcrowding in the city's lone full-service hospital. Similar sized cities across Canada have as many as six full-service hospitals. Of all the local hospital systems across the province, as of last year, Brampton's received the lowest amount of per capita funding, with less than one hospital bed per 1,000 residents, well below half the provincial average and about a third of the national average of approximately 2.7 beds for every 1,000 residents.
Currently, Brampton Civic is funded by the ministry for 635 beds. Peel Memorial, as an "outpatient" or ambulatory hospital, does not have any inpatient beds.
In Brampton, where the population is growing at more than three times the national rate, the situation has become a crisis, putting lives at risk.
While Brampton has received about $2.5 million in funding for mental health, youth and addictions services, the support for critical infrastructure has been severely lacking.
Brampton received roughly $1.5 million for repairs and maintenance to hospital facilities from the Health Infrastructure Renewal Fund (2018/2019). The investment pales in comparison to the sums other municipalities have received over the past few years for major, state-of-the-art hospital projects.
Vaughan received $1.6 billion for the Mackenzie Vaughan Hospital, currently under construction. Under the previous Liberal government, the province also paid for planning and construction of the new Oakville Trafalgar Memorial Hospital (opened late 2015), on top of provincial land donated to the project.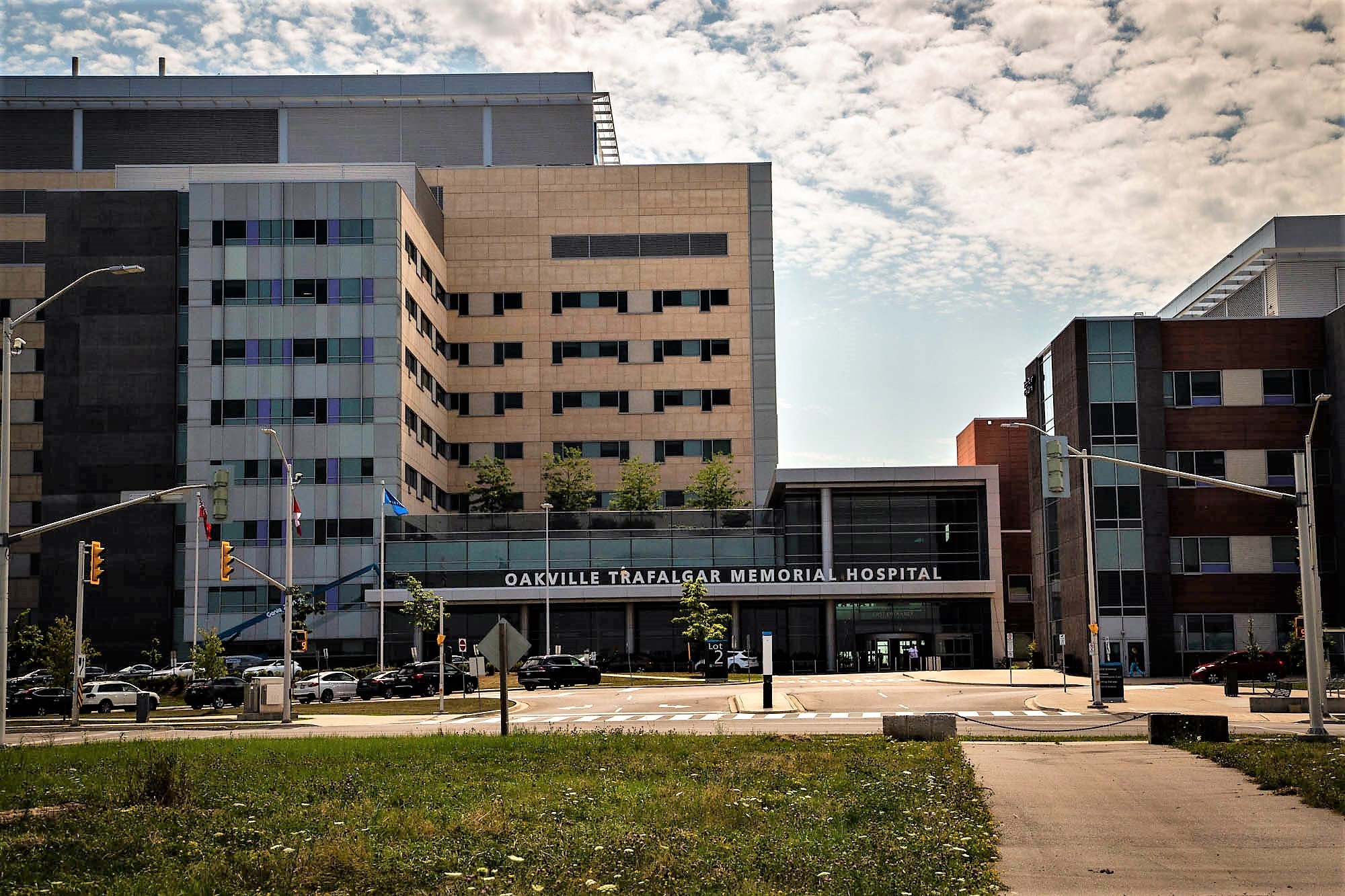 Vaughan's soon-to-be-completed hospital, above, and Oakville's new state of the art hospital
Earlier this year, the PC government announced it was pouring $90 million to address "hallway healthcare", including 1,100 new beds, with hopes they would ease the burden during the last flu season, and beyond. A further 15,000 beds are being added over the next five years.
Brampton won't get a dime of the $90 million, and it's unclear how and where the province will divvy up the 15,000 beds.
The cities that are getting portions of the $90 million include Toronto, North Bay, Thunder Bay, and Mississauga.
At the time, a spokesperson for the ministry told The Pointer, after Brampton was left off the "hallway healthcare" funding list, that the city's residents could use hospitals in other municipalities, if they had to.
At Brampton city hall, officials have been raising the alarm bell for some time. Mayor Patrick Brown has been very vocal about the city's underfunded healthcare system, labelling it the worst in the province. During the city's time with Elliott during the Asssociation of Municipalities of Ontario (AMO) conference this past August, the city laid out their critical needs from the province, including closing a $14 million funding gap at Peel Memorial, and to expedite the approvals and funding for Phase II development. Municipal officials also sought assistance to develop a third hospital, but it's not clear how much work has been done on the city's end.
With Osler still trying to get its overdue plan for phase two of Peel Memorial to the province, and that project unlikely to be completed for up to eight years (without any unexpected delays), a third hospital might be a distant, desperate hope at this point.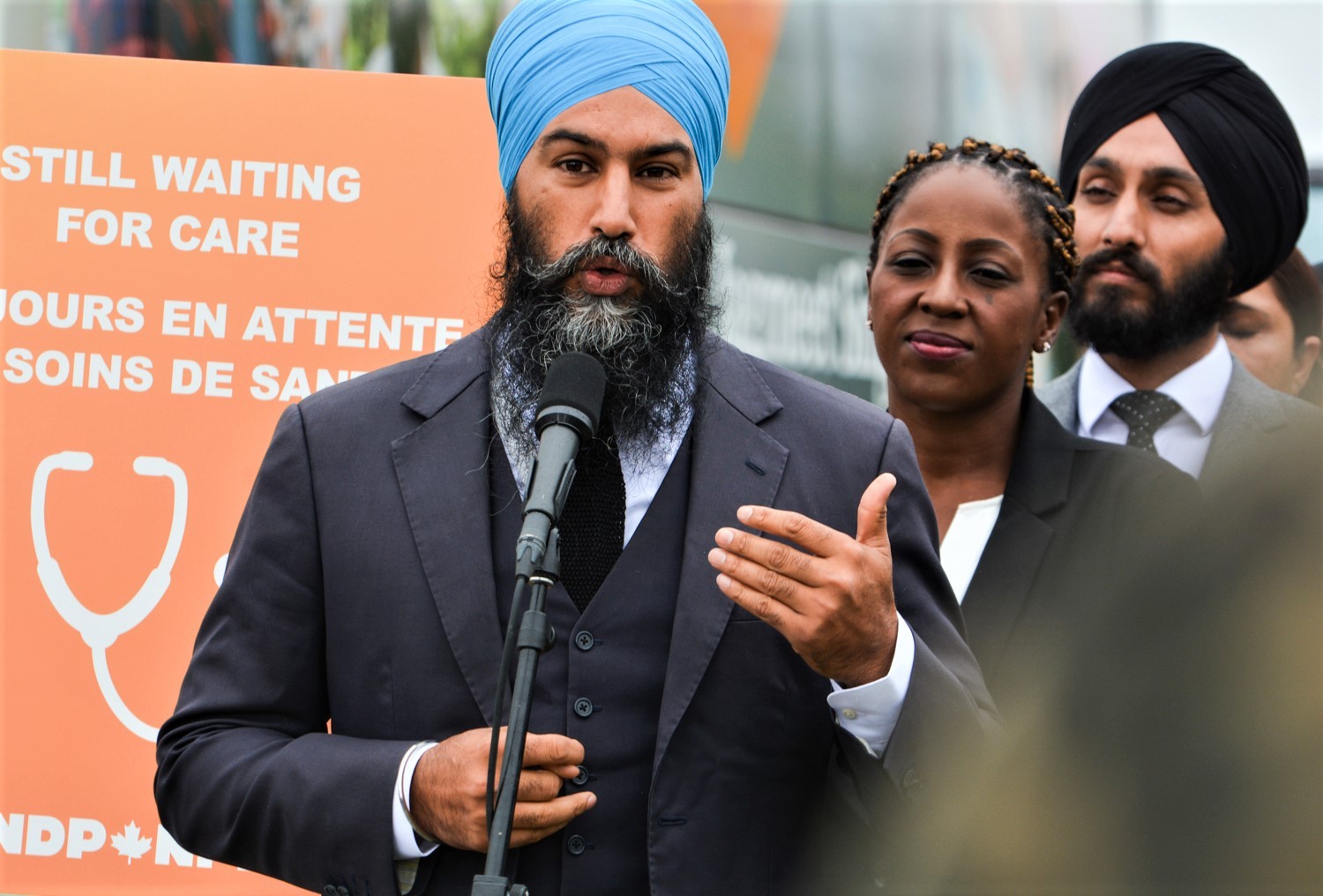 NDP Leader Jagmeet Singh on the second day of the federal election campaign right outside Brampton Civic, promising to fund a new hospital in the city
During the recent federal election campaign, federal NDP Leader Jagmeet Singh made Brampton one of the first stops of his campaign, promising to bring a third hospital to Brampton. However, with plans stalled for the next step in badly needed healthcare infrastructure for the city, talk of a third hospital seems like little more than a wistful campaign promise.
Meanwhile, the latest alarming data shows the crisis is only getting worse by the day.
Email: [email protected]
Twitter: @JoeljWittnebel
Submit a correction about this story