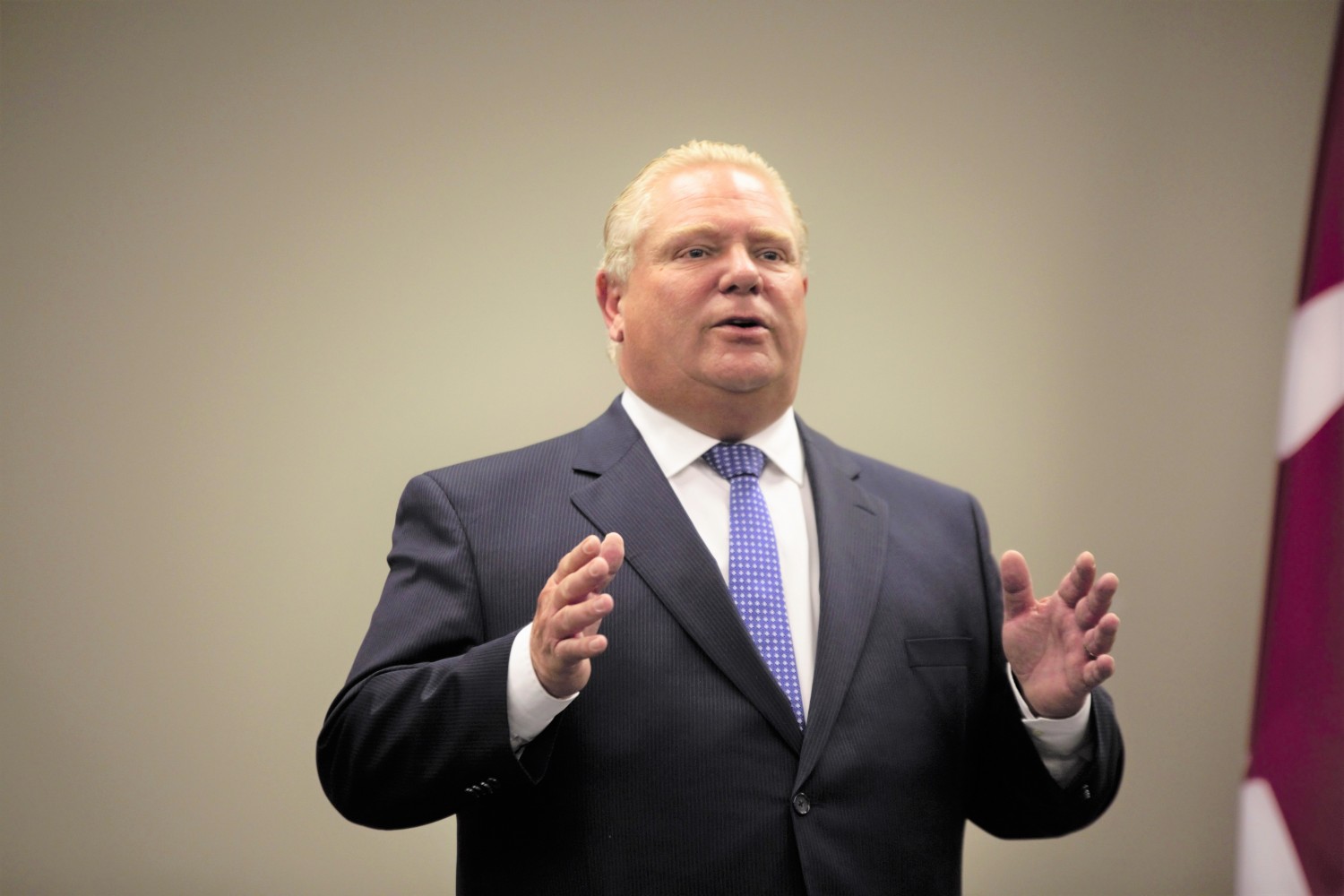 Photos by Joel Wittnebel and Mansoor Tanweer
UPDATED: Ford won't give Mississauga its divorce; Peel Region to remain unchanged following regional government review
Peel Region will stay intact and Mississauga will not get the divorce from Brampton and Caledon that it desperately wants.
Following months of uncertainty and turmoil in local council chambers, the province has announced that its regional government review launched in January has determined leaving Peel Region unchanged, is the best way forward.
The news was not taken well by Mississauga Mayor Bonnie Crombie.
"After a year of waiting for the results of the province's regional governance review, I'm extremely disappointed that the province has decided to maintain the status quo on regional governance," she wrote in a statement to The Pointer.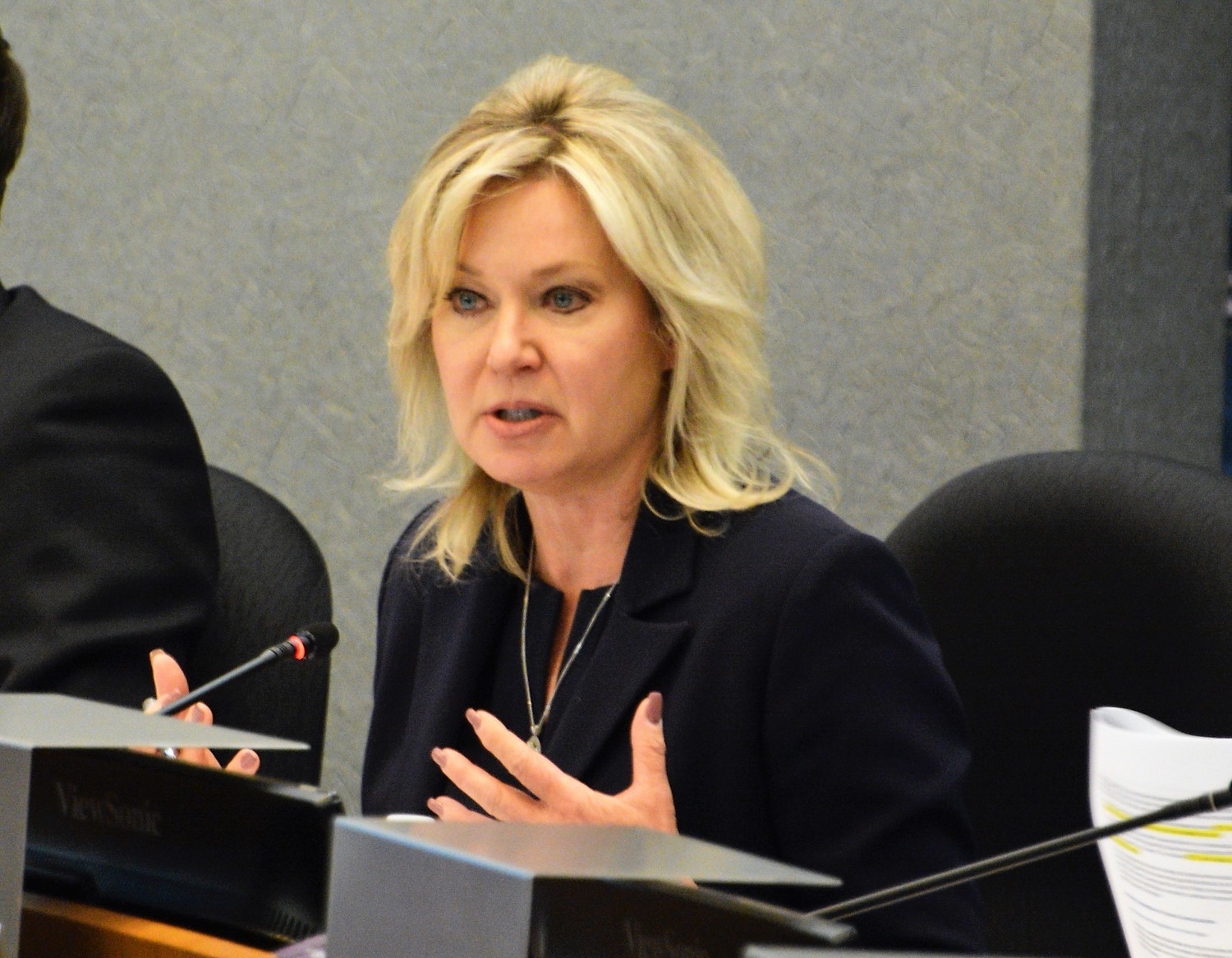 Mississauga Mayor Bonnie Crombie
"While this is not the outcome Mississauga had hoped for, we accept the province's decision and will continue to work with our colleagues in Brampton and Caledon, and staff at the Region to ensure good government continues for the residents of Peel and Mississauga. The province has been clear that local communities need to decide what's best for them in terms of governance, decision-making and service delivery. Despite today's announcement, there are still some significant underlying issues at the Region of Peel."
She said these issues have not changed for years, since the city first pushed for its independence.
"They are the same now as they were 15 years ago when Hazel McCallion and her Council asked to separate from the Region. Over the last year, study after study has shown that Mississauga is not getting a fair deal from the Region – the governance and financial model is broken."
She was joined in her condemnation of the decision by one of the city's most vocal critics of the current two-tier system.
"I'm very upset," said Mississauga Councillor Carolyn Parrish, reached by The Pointer shortly after the announcement by the province Friday morning. She said it's time Mississauga exit the two-tier system of municipal government that was established by former premier and Brampton icon Bill Davis in the '70s, to help small municipalities share costs, especially those associated with rapid growth.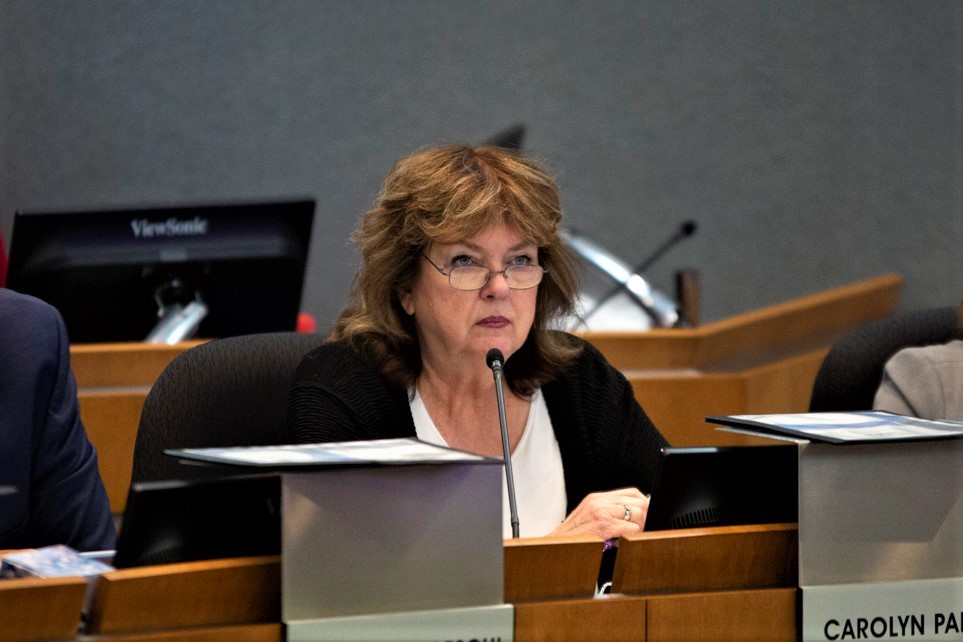 Carolyn Parrish
"We are the sixth largest city in Canada. We have outgrown regional government and it is unacceptable for us to have major urban needs and our future partly dictated by mostly rural councillors in Caledon who continue to make decisions at the regional table that are not in Mississauga's best interest and end up costing our city's taxpayers millions of dollars every year."
The announcement was made by Steve Clark, the minister of municipal affairs and housing, during an Association of Municipalities of Ontario (AMO) policy forum in London Friday morning where he said the province will not be moving forward with a "top down" approach to changing Ontario's 444 municipalities. The government also pledged $143 million to help Ontario cities and towns improve service delivery.
"Municipalities are the level of government closest to the people, but every community is different – one size doesn't fit all," said Clark. "This investment in communities will support municipal transformation efforts to make sure they are delivering efficient, effective and modern services that best meet the unique needs of their residents."
Premier Doug Ford and Municipal Affairs Minister Steve Clark
Clark said that following consultation with municipalities over the course of the year, "our government stands firm in its commitment to partnering with municipalities without pursuing a top-down approach."
The regional government review, initiated earlier this year by the PC government, was carried out by a pair of appointed advisors — Michael Fenn and Ken Seiling, the former chair of Waterloo Region.
"We are committed to helping and empowering municipalities to become more efficient and effective, so they can make every dollar count," said Clark. "This investment supports the province's commitment to reduce the cost of government, while maintaining quality services the people of Ontario expect from all levels of government."
The decision follows a lengthy fight by the City of Mississauga to break away from the Region of Peel. The push was previously led by former mayor Hazel McCallion, and the torch has now been carried by Mayor Bonnie Crombie. Speculation was rampant that the Ford government would give the city its wish.
But it wasn't to be.
Today's decision, while effectively leaving the Region of Peel as is, leaves it unclear as to whether Mississauga councillors could now pursue an exit on their own. There is language in the announcement that could leave a slight crack open for Mississauga to pursue its independence on its own through the structure of regional governance. The city's residents showed overwhelming support for an exit during a public engagement campaign undertaken by council, after the review was announced in January.
For Brampton Mayor Patrick Brown, a vocal proponent for keeping the region together, and Crombie's main detractor over these past few months, regarding the regional review, today's decision was the right one for all the region's municipalities.
"Brampton City Council's Resolution in May 2019 was clear that maintaining the current structure helps protect the best interest of Peel Region taxpayers," Brown said in a statement. "The Region of Peel is an important contributor to Ontario's economy, and Brampton plays a significant role as it sits at the heart of the Innovation Corridor. Brampton will maintain its focus on remaining financially prudent and delivering services in the most cost-effective way possible for taxpayers, while driving economic growth and employment opportunities."
He added that Brampton is looking forward to working with Mississauga and Caledon on how to best use funds from the $143 million now being offered by the province to streamline service delivery.
Parrish said that it will be difficult for Mississauga councillors to pursue independence through the regional council system, as the city has 12 votes while Brampton and Caledon, both of which are adamant about maintaining the status quo, have 12 combined votes.
"So, any tie on a motion that we would put forward is broken by the Chair. And Chair Iannicca, who for years as a Mississauga councillor pushed for our independence, has now been converted, he has found God," Parrish said, referring to Peel Region Chair and CEO, Nando Iannicca, who ironically was voted into the position under the aggressive support of Mayor Bonnie Crombie.
But after receiving support from Crombie and other Mississauga councillors who voted for him to become Chair, Iannicca turned his back on them, suddenly taking the stand that Mississauga should not get the independence he for years had pushed.
"Obviously, he just wants to protect his job," Parrish said.
The tension around the regional council table increased when FOI documents obtained by The Pointer showed that Iannicca, former Peel Region CAO David Szwarc and Stephen VanOfwegen, the Commissioner of Finance and CFO, had secretly worked behind the scenes to undermine Mississauga's push for independence (you can read about it by clicking here).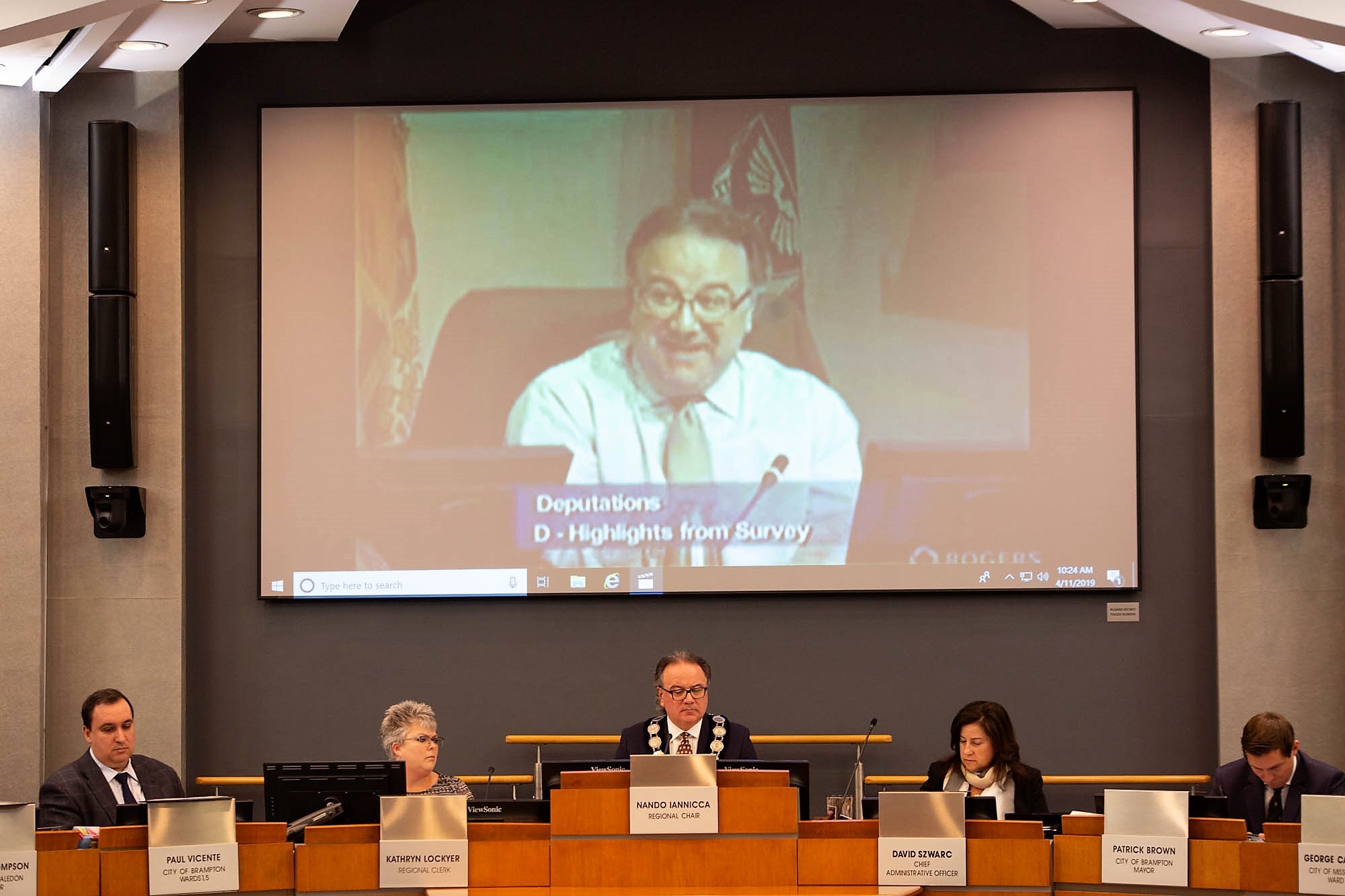 Peel Chair Nando Iannicca, who fought to prevent Mississauga's exit, sits under a video that was shown of him as a Mississauga councillor supporting the city's exit
Rumours and shifting timelines have been swirling around the regional government review for months.
During Brampton's city council meeting on Oct. 23, Lowell Rubin-Vaughan, the city's manager of government relations and public policy informed council that the final delivery date for the province's decision on the review remains unclear.
During the annual conference of the Association of Municipalities of Ontario (AMO) in August, Rubin-Vaughan said Brampton staff and councillors were informed a final decision would be made before Nov. 28. However, since that time things had changed.
Friday's news came as a surprise to many, who thought the review itself meant Queen's Park wanted to change regional government models. Ford had questioned earlier in the year the need for duplication of government and the multiple layers of politicians.
"What we're trying to do is reduce the size and cost of government right across Ontario," he said in March.
"And I'll give you one example. I was in Niagara Region and I spoke to so many business owners that were frustrated. Would you believe Niagara region, they have 500,000 people, they have 118 politicians. Toronto has 25 with 2.8 million." The premier was referring to the fact he had cut the size of Toronto Council almost in half, in a controversial move shortly after he took office last year.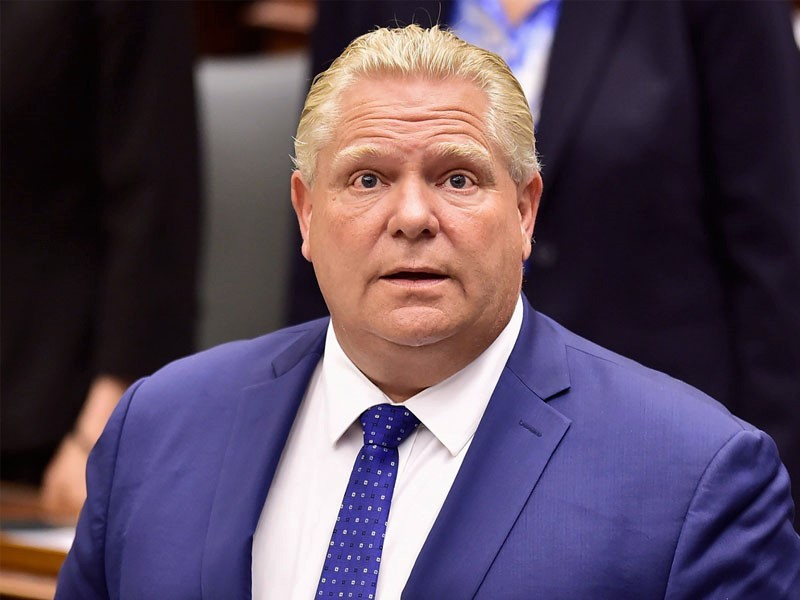 But Ford has now walked back from his talk of reducing or even eliminating some regional governments in the province.
Today's decision follows months of unease and debate inside the regional council chambers.
Crombie and her Mississauga colleagues, especially Parrish, have butted heads with Brampton and Caledon members of council repeatedly over a series of reports that have been commissioned laying out the pros and cons of dissolution.
"Representation by population does not work, as Caledon Councillors still have a vote worth 4 times that of a Mississauga Regional Councillor; Mississauga is still sending $84 million more per year to the Region than we are receiving back in services; and there is still a great deal of duplication between the Region and the City that needs to be addressed," Crombie stated Friday.
"Now that this review has concluded, it is my hope that our regional colleagues in Brampton and Caledon will work with us to address these issues. I would hope they would understand the real concerns of Mississauga Councillors and residents and ensure every resident and taxpayer in Peel Region gets a fair deal. Our work is not done. We must work together to advance the priorities of each member of the Region of Peel. Mississauga residents and taxpayers must be treated fairly."
Crombie echoed the words that Mississauga councillors have been uttering for years around the regional council table, as Caledon members in particular pushed land-use and other policies that did not align with smart growth principles, costing taxpayers in Peel's largest city tens of millions of dollars each year because of costs associated with poor leadership, as Caledon often approcahed growth with a fear of density and an unwillingness to become more urban, according to its critics around the council table.
"As the 6th largest City in Canada, and 3rd largest in Ontario, Mississauga deserves to have a strong voice and have the ability to make decisions on behalf of our residents without the interference of other municipalities," Crombie said Friday.
A report produced by Deloitte consultants suggested it would be more costly to dissolve the region than the other two options, full amalgamation or maintaining the status quo, which contradicted a previous document completed by Mississauga staff that showed the city could save over $80 million annually if it broke away from Peel.
The secret nature of how the Deloitte report was commissioned and carried out created strong resentment in the Mississauga delegation, with Crombie declaring the way it was conducted "immoral." An external legal opinion obtained by Mississauga council later stated that Iannicca and CFO Stephen VanofWegen contravened the region's bylaws by commissioning the report.
Further to that, a trove of documents obtained by The Pointer — regional staff emails, meeting notes and project updates — painted a disturbing picture of senior Peel Region staff, including Iannicca former CAO David Szwarc and VanofWegen, attempting to influence and direct Deloitte's financial analysis and review process immediately after the province's surprise decision to examine the need for regional governments across Ontario.
The documents show that, on the day after Premier Doug Ford's PCs announced the review, Peel's former chief administrative officer and chief financial officer began a secretive effort to influence Queen's Park's final decision and undermine Mississauga's desire to exit regional government.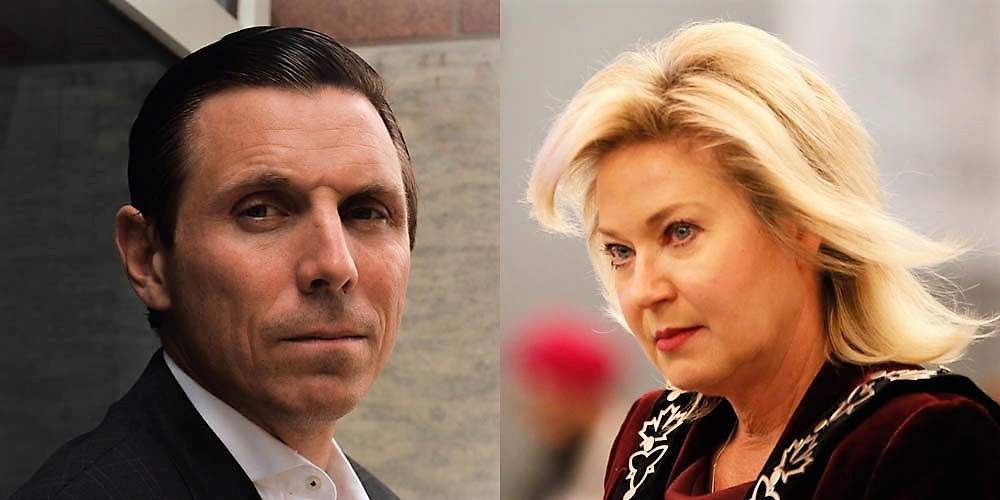 Brampton Mayor Patrick Brown and Mississauga Mayor Bonnie Crombie have been at odds over the future of Peel Region
Any eventual decision in the future to break up the region, which the City of Mississauga has been pushing for decades, would see it and Brampton handling a host of responsibilities on their own, including policing, some public health and the management of infrastructure such as watermains and roads which are currently the responsibility of the Region of Peel.
Any change would have significant implications on city budgets both in terms of revenue — money previously sent off to the region would stay with the city — but would also add these new responsibilities in addition to what Brampton and Mississauga currently have to manage through city hall.
"It makes it hard for us to make a lot of decisions," said Councillor Pat Fortini during Wednesday's meeting.
One advantage of the early decision by Queen's Park is that it provides relief for municipal finance officials currently trying to plan the 2020 budget. Already, the City of Brampton is dealing with an infrastructure gap of $246 million over the next 10 years, a number that could grow to $743 million by 2027 if left unaddressed.
Mississauga is facing a $260 million infrastructure deficit, that will grow to $1.5 billion in two decades if revenue streams are not aligned with costs.
The City has argued that it continues to subsidize Caledon's poor land-use planning that costs Mississauga taxpayers tens of millions of dollars every year, according to the city's estimates.
Crombie, Parrish and many residents have told The Pointer that it's time for Mississauga to take control of its own destiny and forge its own identity as one of the country's most dynamic cities, free from constraints under the regional government and decision-making by Brampton and Caledon that directly impacts their larger neighbour to the south.
But any hope that Mr. Ford was going to help fulfill that destiny, has been dashed.
Email: [email protected]
Twitter: @JoeljWittnebel
Submit a correction about this story