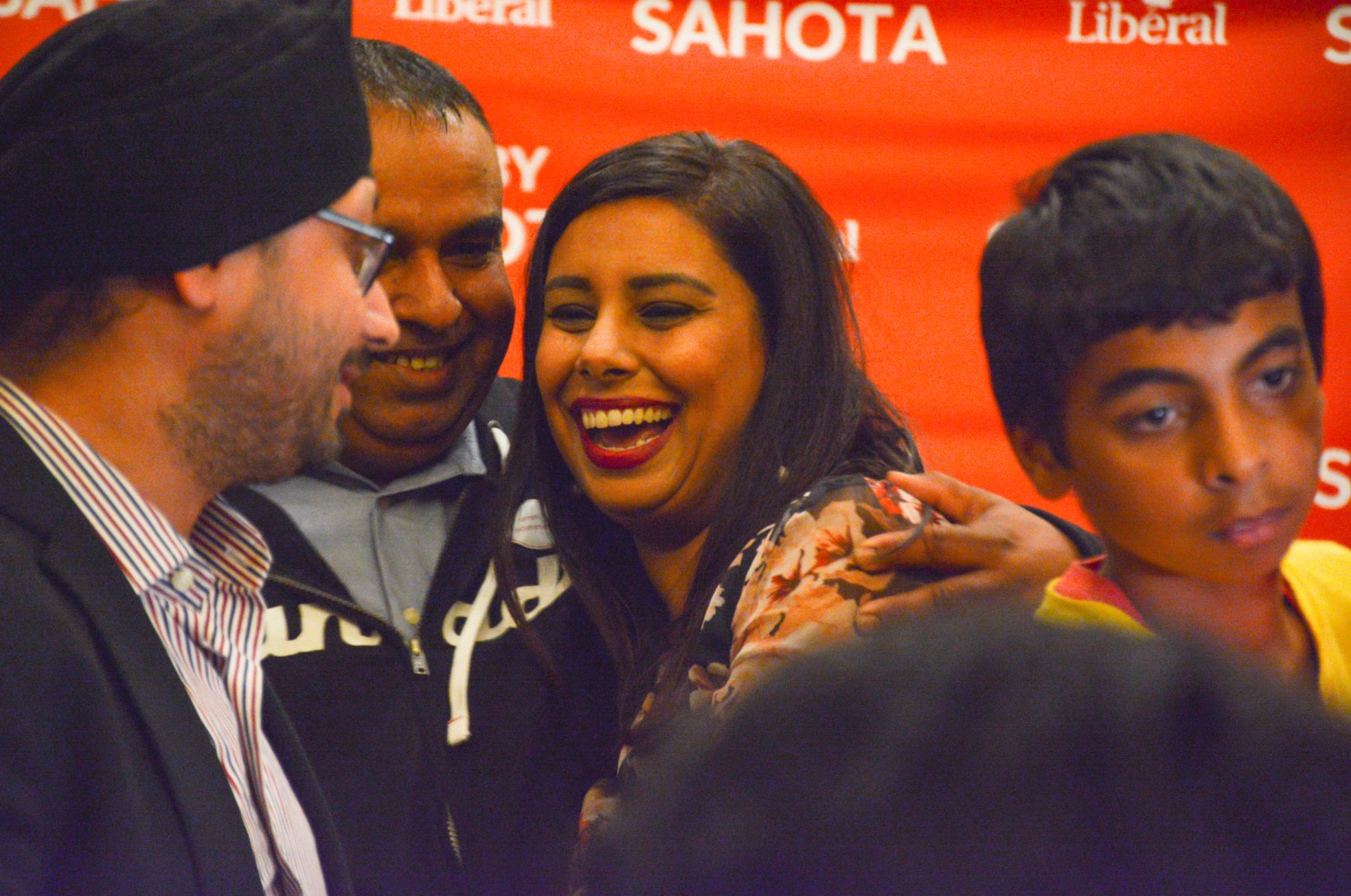 Photos by Joel Wittnebel
Ruby Sahota says party of 'hope and balance' prevailed in Brampton North
From the first polls, Ruby Sahota had the lead in Brampton North, and she never let it go as residents elected her for a second term.
Before a joyous crowd at the Chandi Convention Centre, Sahota celebrated the start of her second term with an endless parade of pictures with beaming supporters.
"I'm just really honoured that they gave me this opportunity once again," Sahota said. "I want to congratulate my team. My team worked really, really, really hard for months on end."
When results started filtering in, it was all good news for Sahota. From 10:20 p.m. Sahota held the majority of the vote over Conservative challenger Arpan Khanna. He was unable to gain more than 28.2 percent of the vote before Sahota was officially declared the winner shortly before 11 p.m. Past midnight, with most polls reporting, Sahota surpassed her closest rival by more than 20 percentage points.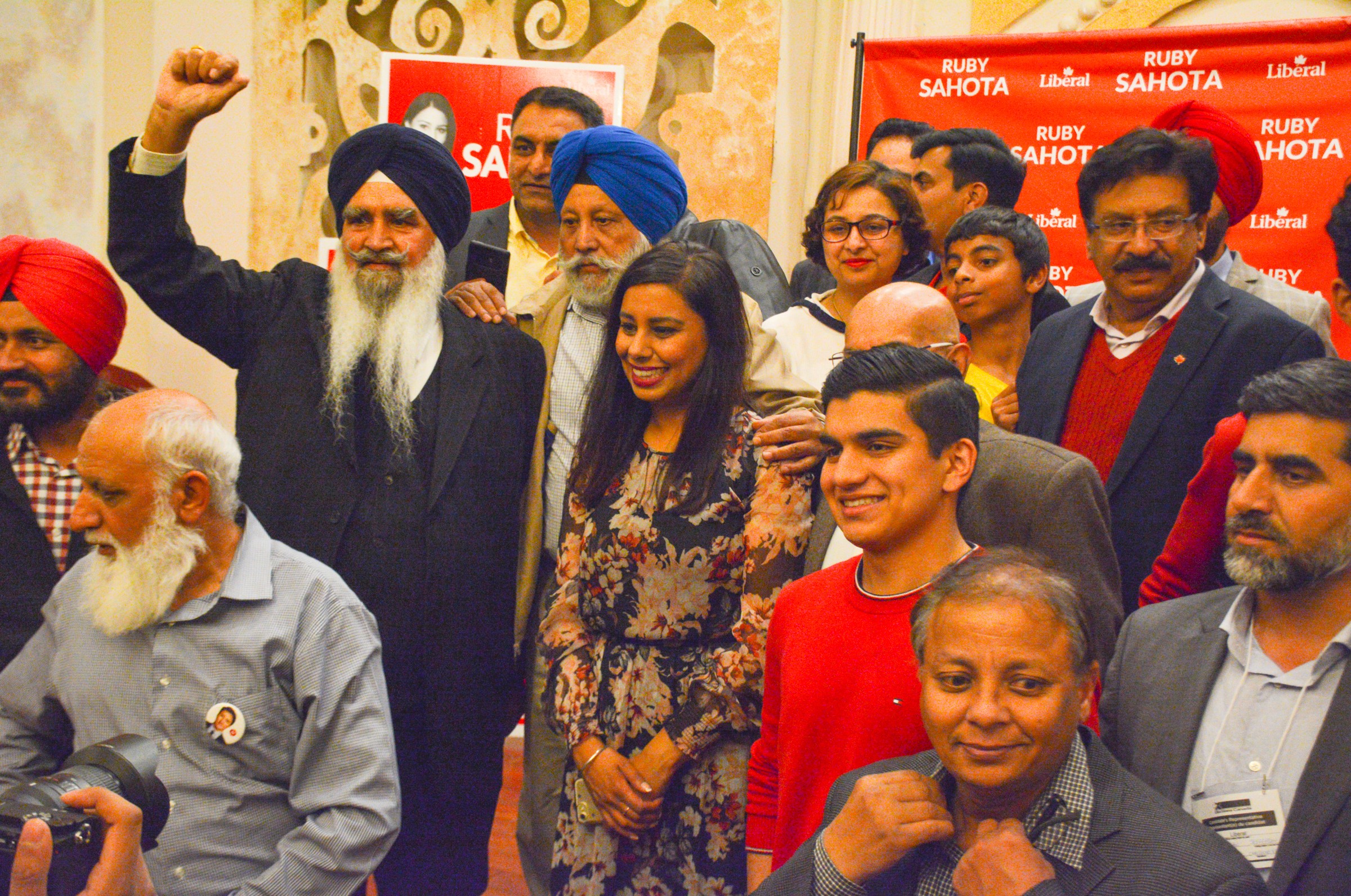 It was a quick conclusion following weeks of uncertainty, with many polls suggesting voters could go in either direction. A similar pattern unfolded across the region, with every riding in Brampton and Mississauga poised to go red, many by a sizable margin.
Taking a break from photos, Sahota said she believed the Liberal Party's record on the economy was enough to convince voters.
"I think we are the party that gives people hope and balance when it comes to a lot of the issues," she said. "We've been working hard on the economy, and that's the message we were trying to hit home with people in Brampton. Jobs was a big concern, but at the same time we've got people that are retiring, we've got students that are very upset with the approach the Doug Ford government has taken. I think that played a large factor into this election."
The victory follows a campaign that was not without controversy.
In early September, shortly after the writ dropped, Sahota dropped a revelation of her own, sharing a 2010 social-media post by Khanna in which he used a homophobic slur. Sahota questioned whether Khanna should be forced from the race.
"Scheer promised to show the door to any intolerant Conservative. Will he?" she tweeted.
Khanna apologized via Twitter, saying: "I deeply regret the offensive language I used when I was a teenager. I have come to understand that creating safer and more inclusive spaces for LGBTQ+ people in Canada happens in our homes, workplaces, on social media and in the conversations we have every day. I apologize unequivocally."
It's unclear whether that revelation was a deciding factor for Khanna's campaign, as he remained in a tight race with Sahota until election night.
While Monday night was a time for celebration, Sahota will soon need to turn her mind back to business. The Liberal government left a long list of priorities unaddressed in Brampton through the last term.
Sahota said there was a range of issues she and her team heard at doors throughout the campaign: parents worried about their childrens' futures, affordability issues and more Brampton-specific concerns like establishing a university downtown and improving the city's transit system.
Sahota also heard a lot about health care — no surprise, as Brampton's health-care system is in desperate need of assistance.
"It's definitely an important priority, but I'm surprised that it didn't come up in the provincial election as much as it should have," Sahota said. "I'm just looking forward to moving forward and working with all levels so that we can deliver on some of those priorities."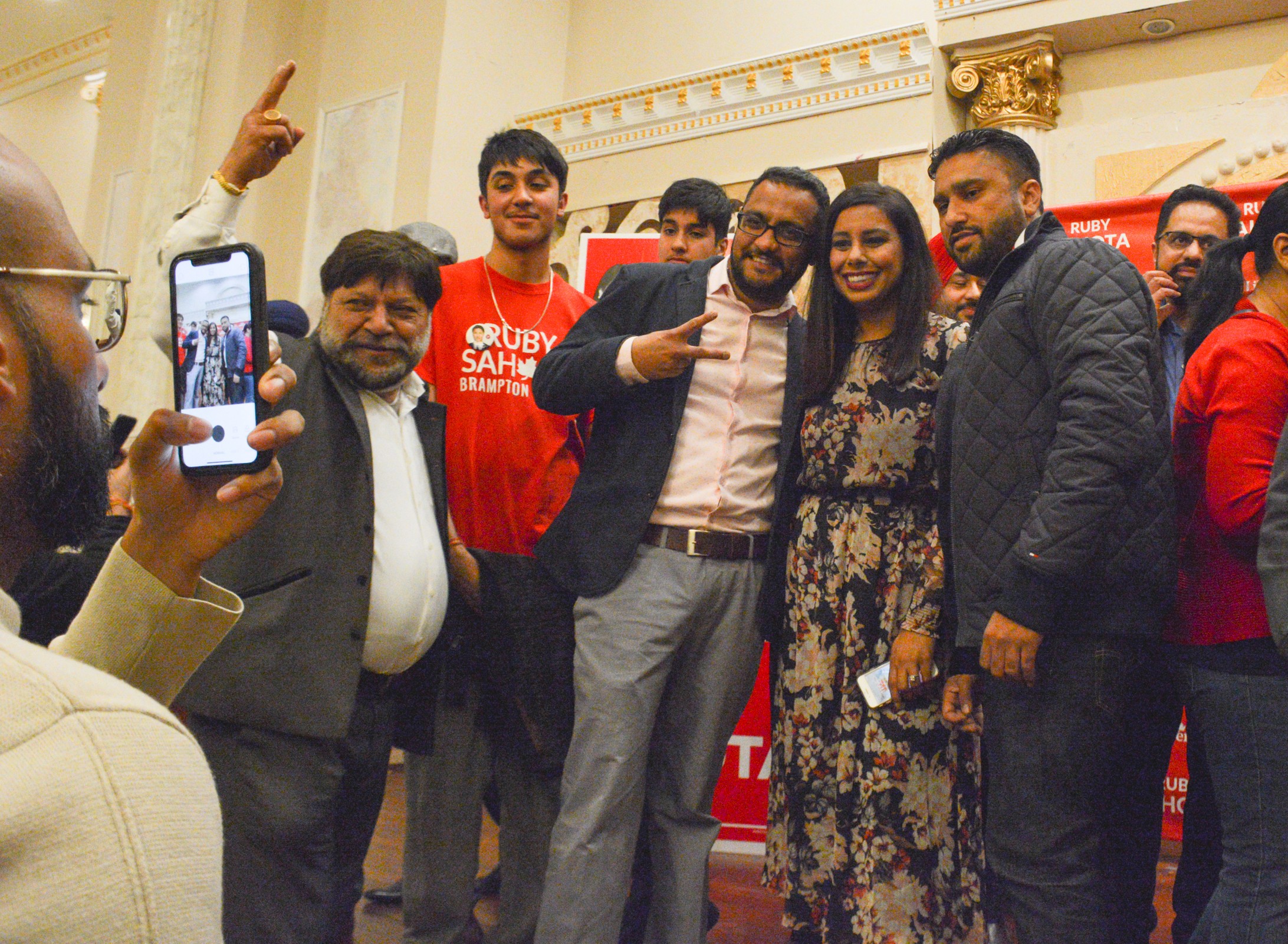 During the campaign, Sahota would not go as far as promising a new hospital for Brampton. In fact, Sahota criticized NDP Leader Jagmeet Singh for pledging to build the new hospital should he become prime minister. She told The Pointer at the time that Singh was "misleading" the public on an issue only Premier Doug Ford can control.
In one of the first stops of the campaign, the NDP leader promised that his party, whether in a majority or minority government, would deliver the infrastructure project to Brampton, a city of more than 600,000 people with just one full hospital.
Data acquired by The Pointer through a freedom of information request shows that, despite widespread efforts to address the crisis inside Brampton Civic, 3,035 patients still had to be treated in hallways and other makeshift spaces last year. While that's a reduction from the peak 12-month period — from April 2016 to April 2017, when 4,352 patients were treated in such spaces — it's still almost three times higher than 2012, the earliest available data point, when 1,014 patients were treated in hallways.
Brampton Civic opened in 2007 and was immediately plagued by overcrowding in the rapidly growing city. As of 2017, there were 608 beds in the hospital. After revelations that year about the deplorable conditions, the Liberals under former premier Kathleen Wynne added 37 new beds. The problems persisted, however, as Brampton still averages less than one bed per 1,000 residents, less than half the provincial average.
Sahota said she hopes to secure infrastructure investment for the city.
"I would love to work with the city and make sure that we're getting the infrastructure that we need at the right time," she said.
It couldn't come soon enough; Brampton has mostly been left behind over the last four years.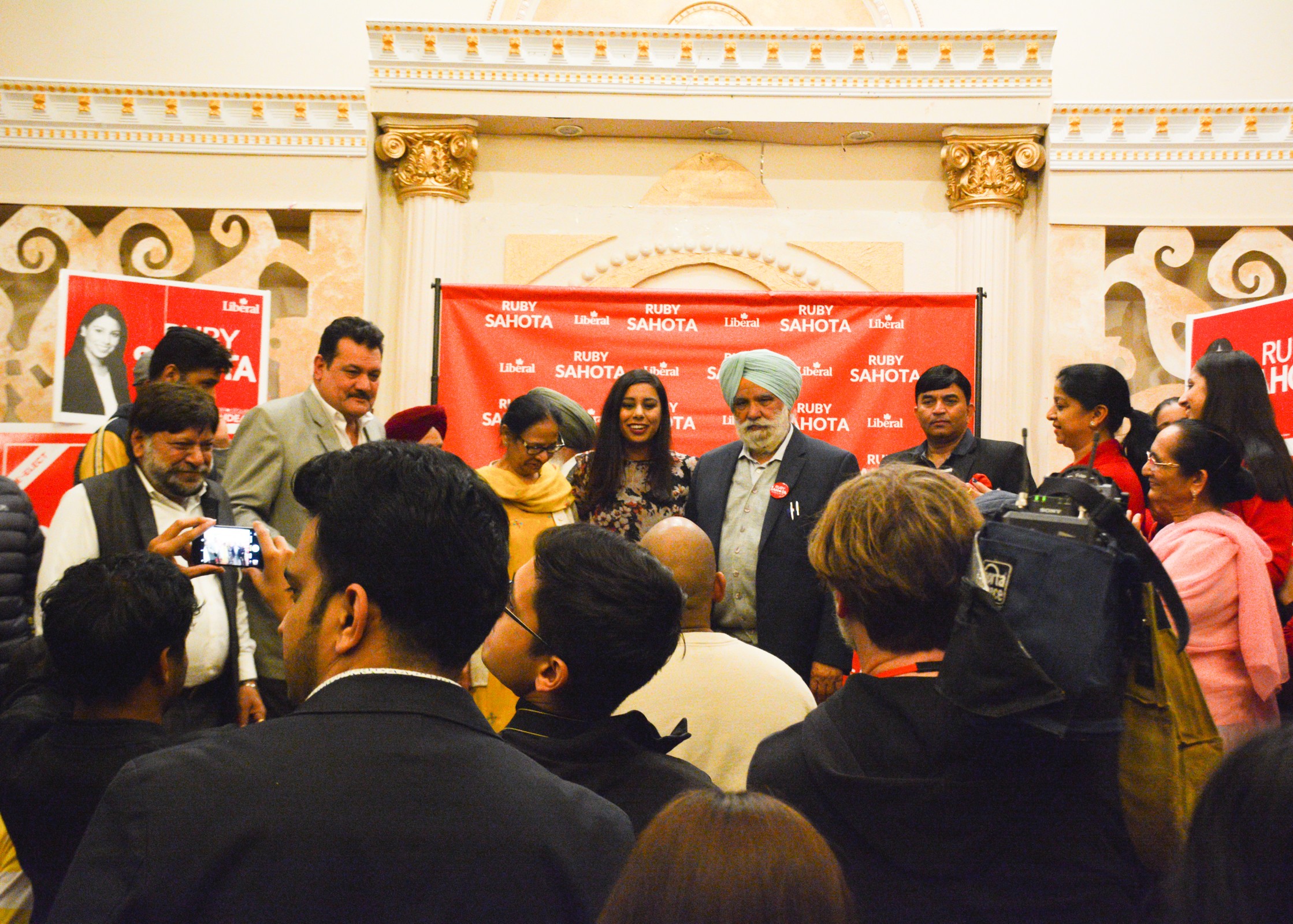 A key election plank for the Liberals in 2015 was an additional $60 billion of new funding over 10 years to help cities deal with crumbling infrastructure. That funding, added to the previous Stephen Harper government's commitment of $128 billion, brought the total up to a mammoth $188 billion.
The City of Brampton has received approximately $42.4 million from the Investing in Canada Plan to support myriad small projects. The largest chunk of money, $12.4 million to assist with expanding the Sandalwood Transit Maintenance Facility, was received in 2017.
The cumulative funding is nowhere close to where Brampton would be if the money were doled out on a per-capita basis. That would be about $4 billion; but so far the city has only received 1 percent of that.
The impact is clear in Brampton's 2019 budget. The document describes a $246-million infrastructure gap for unfunded projects. If ignored, the gap could grow as high as $743 million by 2027, according to city staff.
By contrast, Edmonton, the country's fifth largest city, has received commitments of more than $1.9 billion from the federal Investing in Canada Plan. As a result, Brampton and Mississauga residents are getting a return on their tax dollars that is $1.75 billion less than taxpayers in the Alberta capital, which has about 400,000 fewer residents than the two cities combined.
Email: [email protected]
Twitter: @JoeljWittnebel
Submit a correction about this story