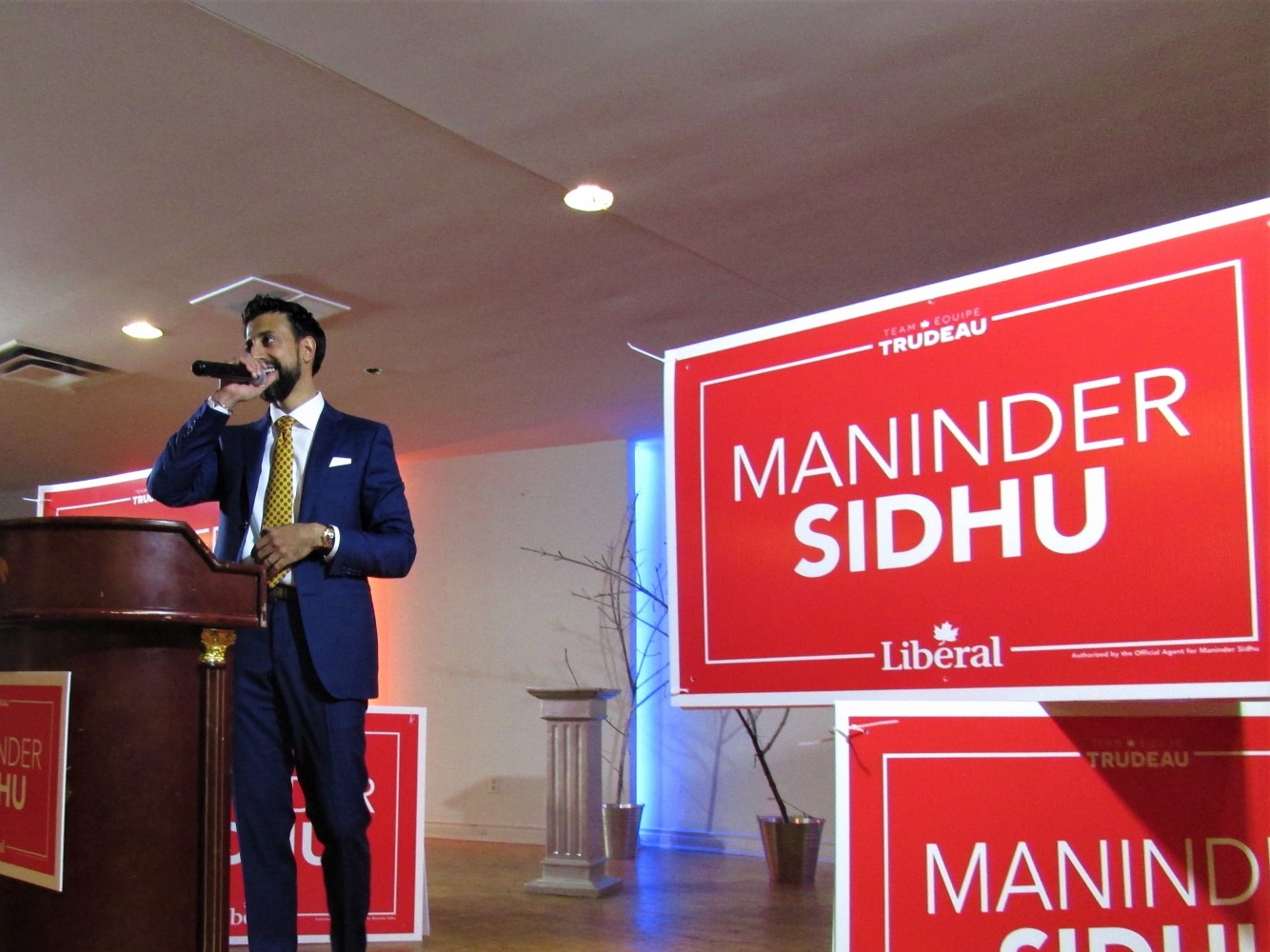 Photos by Rick Drennan/Joel Wittnebel/Mansoor Tanweer
Raj Grewal's demise and a strong push by the NDP can't keep the Liberals out of Brampton East
In 2015, the Liberal Party of Canada could have replaced the Big L logo and white maple leaf stamped on its election campaign material with something more appropriate – a yellow smiley face emoji.
Its leader, Justin Trudeau brought his "Sunny Ways" to the campaign trail, which struck a chord with voters who seemed eager to part from the dour leadership of Conservative prime minister Stephen Harper or the austere platform of a balanced budget proposed by NDP leader Thomas Mulcair – which seemed antithetical to the party's deep progressive roots.
That left a void in the centre-left which Trudeau gleefully filled, sporting a non-stop smile. His huge majority win, included a sweep of all five Brampton ridings.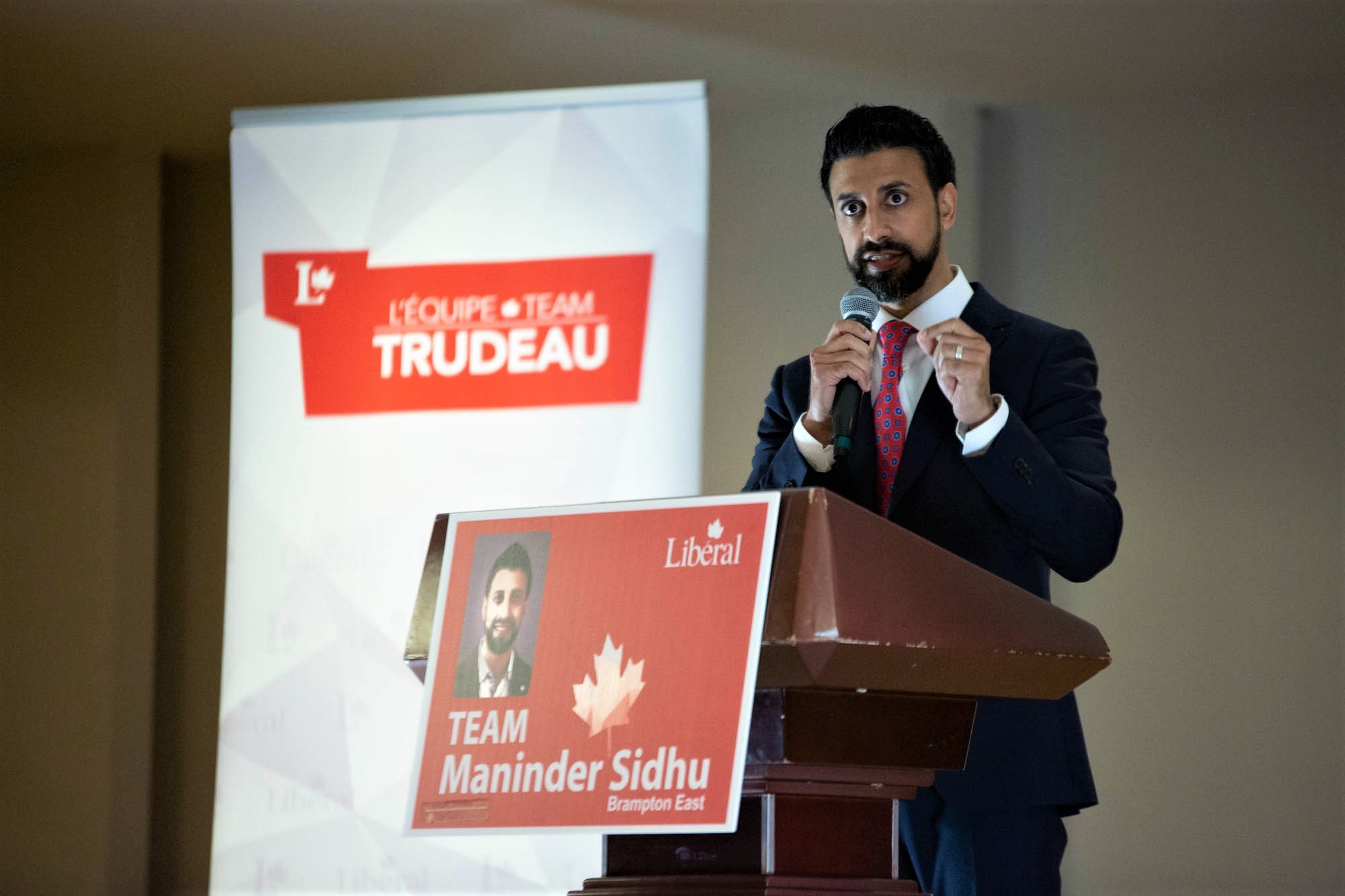 Four years later, he won another way, leading the Liberals to a minority government, but repeating his sweep of the five federal ridings in Brampton. In the process, he dragged a new face into the fold, 35-year-old Maninder Sidhu, winner in Brampton East. The father of three, is the only Grit to win in the 11 ridings in Brampton or Mississauga that didn't have an incumbent.
If Trudeau looked a little haggard after this win, it was because he was also dragging two major scandals through the campaign – SNC Lavalin, and his wearing of brownface and blackface as a young man. This media scrutiny and public condemnation, quickly turned his smile into a grimace and, with his party's poll numbers plummeting (the Nanos-CTV poll had the Liberals in a dead heat heading into Monday), the possibility of an outright loss or a minority win, was very possible.
But the election lived up to predictions by pollsters and pundits: a minority government, with the left-of-centre progressives, the Liberals and NDP, holding the balance of power.
In a perverse twist, while the NDP dropped their seat-count from 2015, they now have real power in the next session of parliament. In 2011, when they scored an incredible 103 seats under Jack Layton, they had virtually no power as Harper swept to a majority win.
The races in the five Brampton ridings, especially Brampton East, promised to be closer on Monday. But they weren't. They weren't even close.
A smiley face was back on the faces of the Big L supporters at Sidhu's campaign victory party inside the Speranza Banquet Hall (Queen Street and Goreway Drive). An entrepreneur and 30-year resident of Brampton was given a rollicking welcome as he entered the hall about 10 p.m.. He shook hands with almost all his supporters and family members, then took to the lectern to deliver a short but sincere thank you to those who had helped him succeed in his bid to be an MP. He offered up this short, declarative promise to everyone: "I will work hard for the people of Brampton."
When asked later by The Pointer a series of questions on what he hoped to achieve for his city in terms of infrastructure funding, immigration reform, working in a minority government, or bringing Brampton its fair share of funding for a hospital, or even a university, he was vague, then repeated the mantra: "I will work hard for the people of Brampton."
The win came over Conservative Ramona Singh, a political strategist and local media personality, who was slightly behind the NDP's Saranjit Singh, a labour lawyer, who came in a distant second.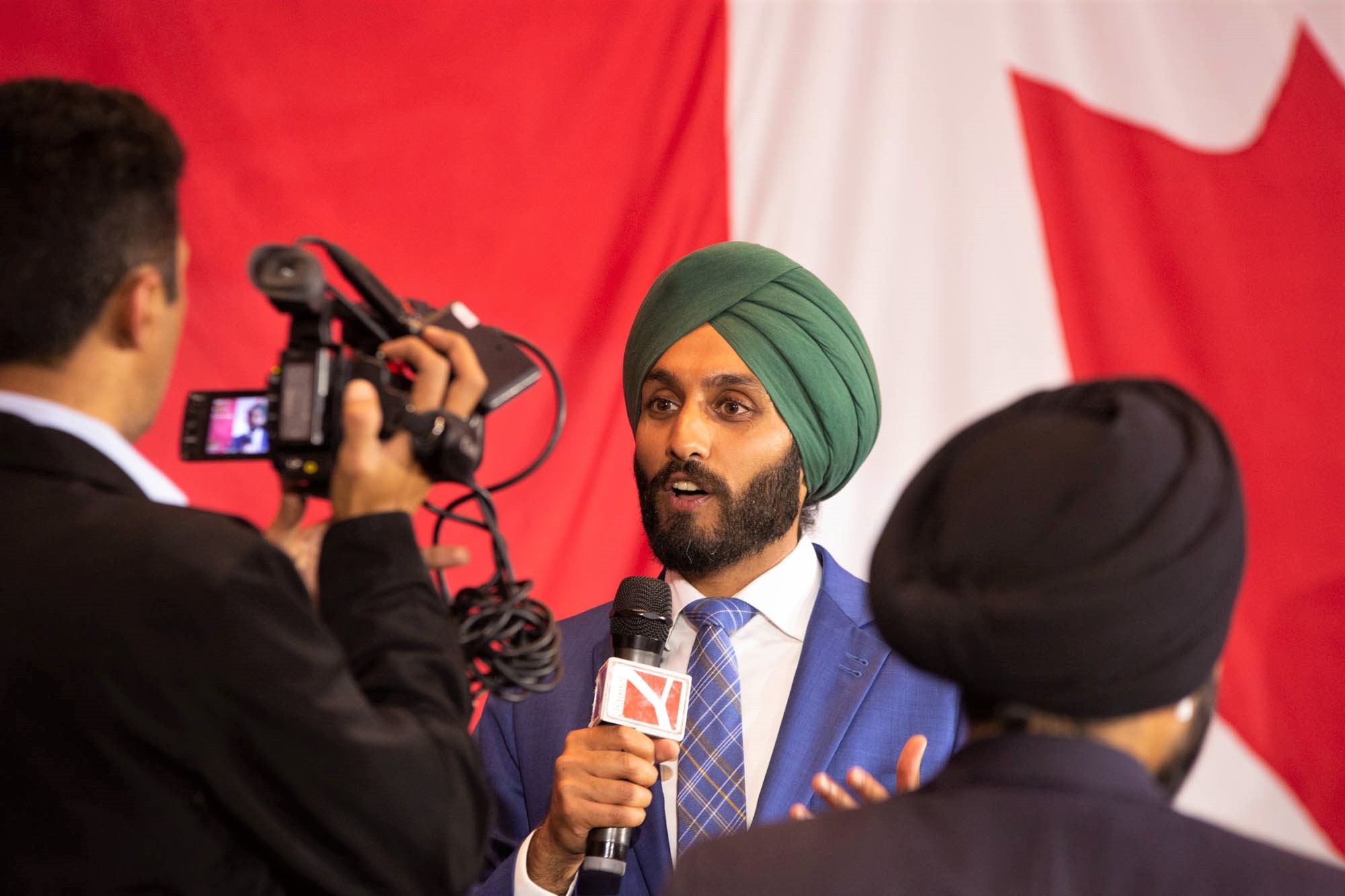 The NDP's Saranjit Singh came in second
Brampton East was identified as a bellwether riding by pundits and pollsters heading into Monday, and was identified as a riding to keep a close watch on – perhaps because the incumbent, Raj Grewal, never sought to run as an independent. He was one of the team of five Liberals who swept to power under the "Sunny Ways" campaign, but was drummed out of the party last year after admitting to an excessive gambling problem while he served as an MP. He is still under investigation.
If, on the surface, this seemed to offer an opening to the Conservatives and NDP, that door closed quickly Monday night. Both parties poured much time and effort into the riding, and Brampton welcomed all three major party leaders numerous times over the 40-day campaign.
But Liberal support held firm, and Sidhu, a political newbie, is now headed to Parliament Hill.
While he was tight-lipped after victory, those celebrating his win weren't, including Jag Nijjar, 44, a human resources expert and a unique political supporter. On the provincial front, he supports the Conservatives, but federally he's a Liberal. He says the Trudeau name (whether it's the son Justin, or his father, the late prime minister Pierre) "still has great currency in the riding. And this is the heart of the immigration community in our country," he said, pointing out his hand and running it around the room, filled with hundreds of visible minorities. Nijjar's parents were born in the Punjab, in northwest India, and his father came to Canada during the first election of Trudeau number 1 in 1968. He said the children of many of these original immigrants are still lifelong Liberal supporters.
Joti Sidhu-Thind, an advisor of the new Brampton East MP, was there to celebrate with her four-year-old son Sajanthind, and said "I am just so proud of what he has accomplished here today."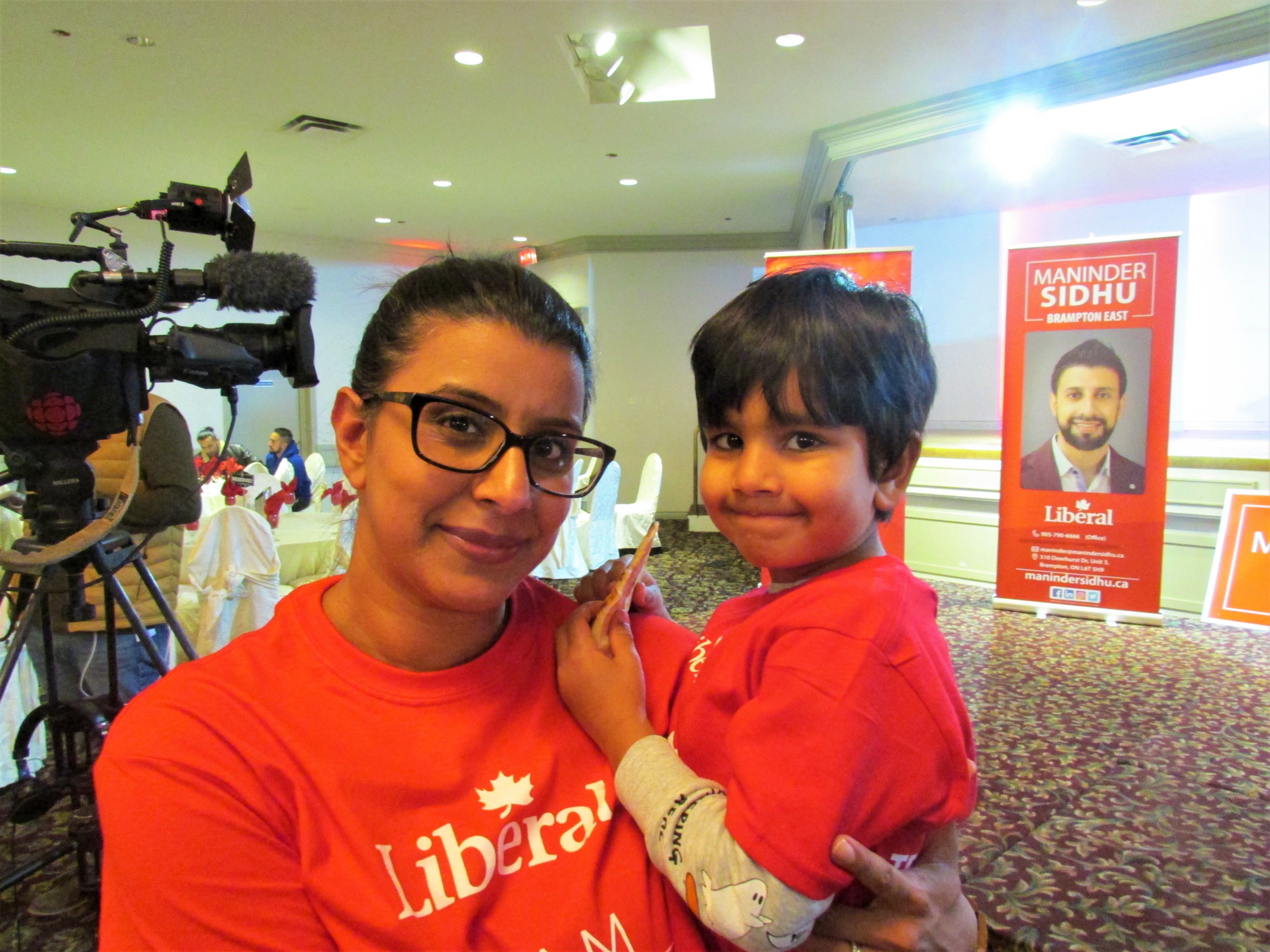 Sidhu will have his work cut out, representing a booming riding.
With thousands more people in the riding than in 2015, and with no incumbent running, parties had a wide-open chance to tap into those votes.
Brampton East is not a microcosm of Canada but very much a unique political entity. Some of the federal issues impacting voters in Brampton East included immigration and family reunification and a shortage of workers. A little over 15 percent of the labour force is employed in manufacturing, according to census data, about twice the national number.
Brampton is the fastest-growing city in the Greater Toronto Area and is home to one of the largest Sikh communities outside India. Traditionally, all the battles in Brampton East have been between Liberals and Conservatives.
When Brampton only had three federal ridings back in 2011, all were swept up by the Tories. In 2015, two new ridings were added to the mix, and all five seats were coloured red.
Brampton East previously included the electoral districts of Bramalea–Gore–Malton and Brampton–Springdale. According to the 2016 census, almost 66 percent of the population is South Asian, the largest proportion of any riding in Canada. Brampton is also the second fastest growing city in Canada, with nearly 74 percent of the population identifying as visible minorities.
The NDP had hoped that Brampton East was in play and they could draft off the goodwill that had been produced by Leader Jagmeet Singh during the campaign. He was first elected to political office here, provincially, and his brother, Gurratan, is the current MPP for Brampton East.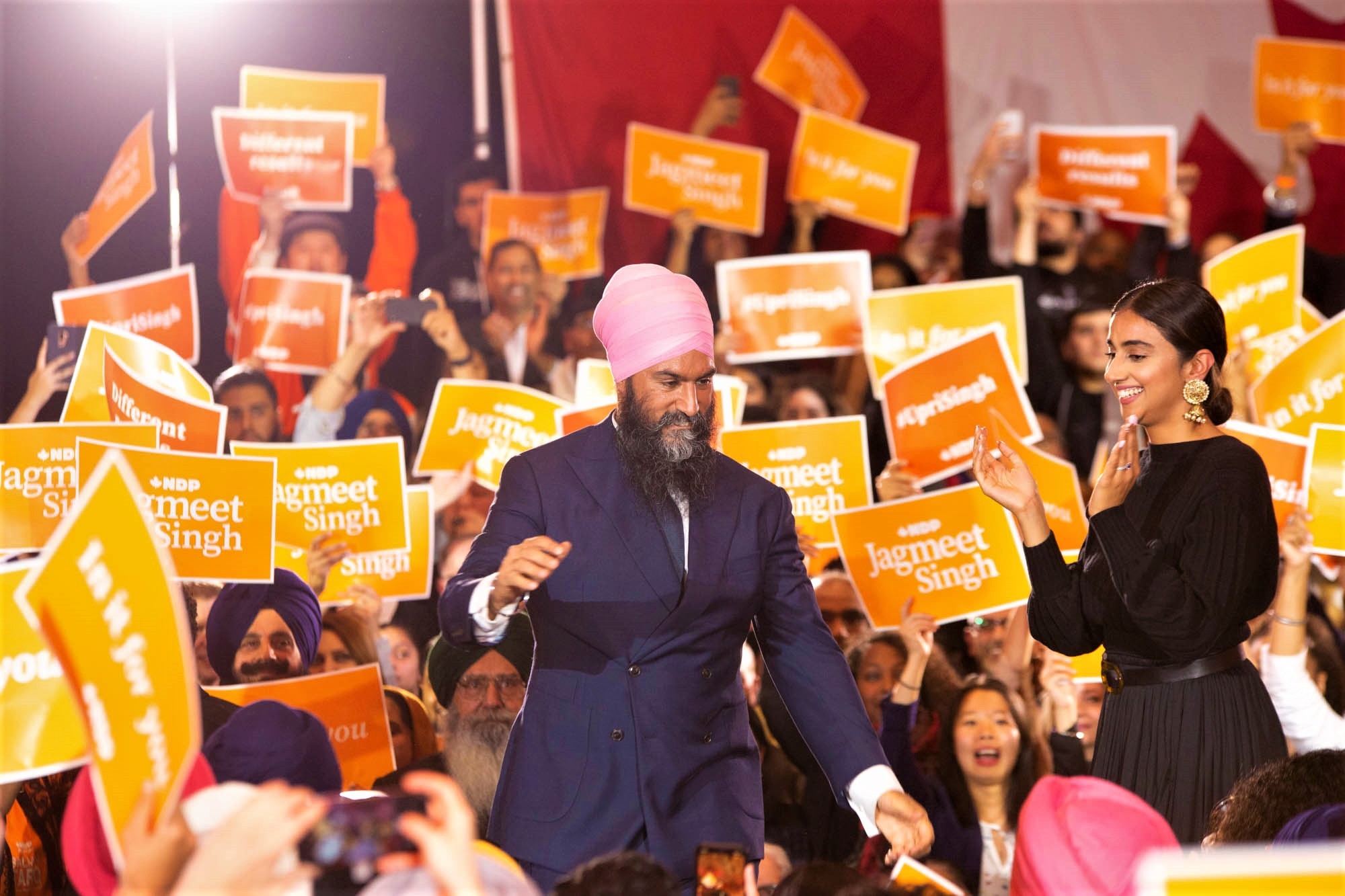 NDP Leader Jagmeet Singh and his wife at a rally in Brampton
In Brampton East, pollsters had Sidhu leading by as much as 15 points heading into the vote. "The Grewal factor" and the former MP's controversial ouster from the party, didn't seem to impact support for his would-be Liberal successor.
During the campaign, CBC News pollster Eric Grenier said the NDP had identified Brampton East as "one of those seats that they are targeting and that they think they have a good chance of picking up."
The NDP's Saranjit Singh told CBC, "Folks are really frustrated that we had five Liberal MPs and a majority government, and Brampton didn't get any real investment."
There were good reasons why Brampton East gained nationwide attention. It wasn't just Grewal's demise; this is where Jagmeet Singh earned his political stripes.
But now the young Mr. Sidhu is off to Parliament. He will have the eyes of this booming riding, that seems to garner widespread attention, watching him, as voters hope this time they get the representation they deserve.
Submit a correction about this story