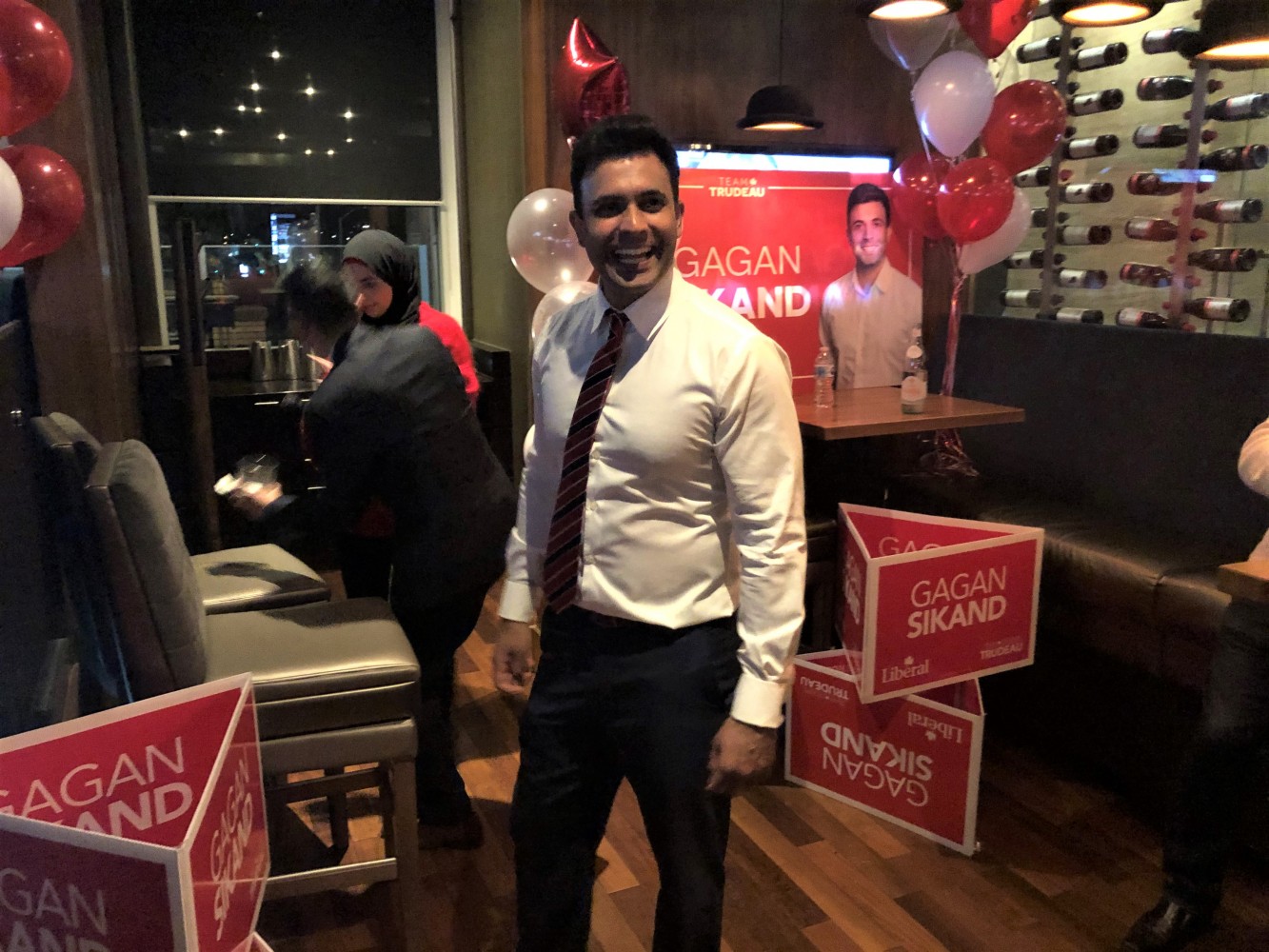 Photos by Daniel Calabretta
Gagan Sikand ready to strike 'very hard' against gun violence upon returning to Parliament
With a second mandate under his belt, Liberal candidate Gagan Sikand says he will put gun violence squarely in his sights when he returns to Parliament.
"The No. 1 priority, which I would say is local but also is important nationally, is taking care of all these gun crimes, all these shootings, and really taking charge and being vigilant and making sure that illegal guns don't cross over the border," Sikand told The Pointer at his victory celebration at a Chop's Steakhouse & Bar in his riding of Mississauga–Streetsville. He defeated his nearest challenger, Conservative Party of Canada candidate Ghada Melek, by almost 10,000 votes, receiving more than half the support.
Months of debate on gun violence in Mississauga became even more urgent with a mid-September shooting in Malton, where 17-year-old Jonathan Davis was killed. Five people, including a 13-year-old girl, were injured. Statistics Canada data shows Mississauga and Brampton increased on its Violent Crime Severity Index by 51 percent between 2014 and 2018, compared to 27 percent in Ontario and 17 percent throughout Canada.
Asked whether he had any specific, tangible ideas of his own to address gun violence in Mississauga, Sikand stuck to the party platform. "Our Liberal Party ... has laid out a good platform," he said. "I think we will lay out the best middle-ground policy, which takes into account legal gun owners but is also very hard on criminals." Sikand referenced the party's pledge to give municipalities the ability to "further restrict or ban handguns." He added, definitively, "we are going to definitely ban those military assault weapons, like the AR-15."
The Liberal platform also pledges to invest a total of $250 million over five years to combat gang-related violence and "meet the needs of communities at risk."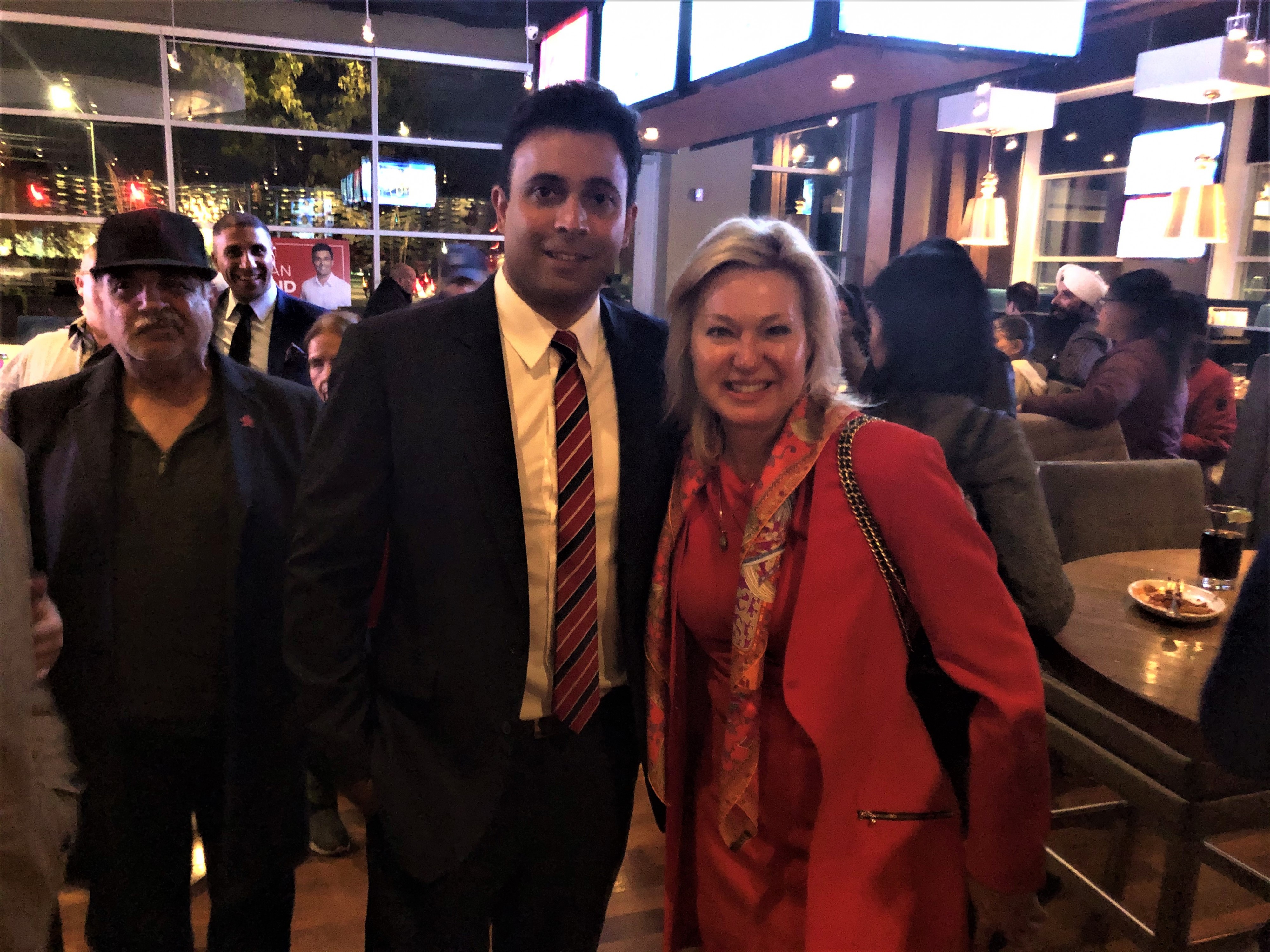 Liberal incumbent Gagan Sikand celebrates with Mayor Bonnie Crombie
The flow of federal funding through the provincial government has been an issue for a while for both Mississauga and Brampton. Bill Blair, former chief of police in Toronto and the most recent federal minister of border security and organized crime, said earlier this year that Premier Doug Ford had accessed only a small percentage of the $65 million in federal funding marked for Ontario to deal with gangs and guns.
Sikand is quite familiar with the riding he represents, as he has lived in Mississauga–Streetsville for more than 25 years. A lawyer and small-business owner, Sikand has worked for the Ministry of Aboriginal Affairs, the Attorney General of Ontario and the Investment Industry Regulatory Organization of Canada.
Melek, originally from Egypt, has been a resident of Mississauga for 20 years and has lived in Mississauga–Streetsville for 15. She provides consulting services to Canadian businesses in the commodities and energy sectors as well as manufacturing.
Before Monday night's result, the electoral-projections website 338Canada deemed Mississauga–Streetsville a "toss up," with a margin of just 0.7 percent support separating the two frontrunners. Gagan Sikand and the incumbent Liberals were at 39.4 percent, while the Conservative Party of Canada, represented by Ghada Melek, had 38.7 percent.
In the 2015 federal election, Sikand won by a slim margin over Conservative incumbent Brad Butt. Sikand received 26,590 votes versus Butt's 22,521 votes. Butt made headlines in February 2014 when he claimed — during a debate on electoral reform in the House of Commons — that he personally saw people gather discarded Elections Canada voter-information cards and disseminate them to others with the intent of committing voter fraud. Butt later backpedalled and said he had simply heard similar stories, inferring that he did not actually see anyone commit voter fraud.
Sikand had to defend his record over the past four years against Conservative challenger Melek. In a recent series, The Pointer examined the political records of 10 incumbent MPs in Mississauga and Brampton. A scraping of Parliament records, debates and exchanges in the House of Commons found that Sikand mentioned Mississauga just 22 times in the House and 24 times in committee meetings in his last term. He spoke a total of 96 times in House debates and 648 times in committee meetings.
On election night, Sikand defended his advocacy for his constituents. "Absolutely … I may have only said 'Mississauga' a number of times, but I always say 'my community,' 'my neighbours,'" he said. "Ultimately, I did grow up here and I consider every person in this riding my neighbour."
Sikand laid out four primary issues in his first address to the House of Commons on December 11, 2015: the challenges middle-class families in his riding were facing, the education of future generations, affordable housing and infrastructure. Parliamentary records show that Sikand brought forth just one bill — which died on the order table — in his four years in the nation's capital. Bill C-247 would have amended the Criminal Code to allow a peace officer to utilize a "passive detection device" to determine alcohol in the "immediate vicinity" of a person the officer suspected was consuming alcohol prior to operating a motor vehicle.
Sikand did not bring forth any other bills that spoke to the issues he laid out in his initial address and he did not break with the party when voting on key bills that were passed into law.
When The Pointer interviewed Sikand this election season — during his "A Weekend of Action" event in mid-September, organized to kickstart his campaign for re-election — he said constituents told him at the doorstep that climate change and "everyday living" were among the key issues. Sikand added that his constituents expressed gratitude for programs such as the Canada Child Benefit (a tax-free monthly payment assisting families with the cost of raising children) and regulations meant to decrease the price of medications.
Sikand had said he was hearing questions such as, "Are we going to be able to get around?" Transit and infrastructure were a priority for the City of Mississauga as part of its "Mississauga Matters" campaign. The city says it has a $258-million infrastructure gap, which could grow to $1.5 billion within the next 10 years if not addressed.
Mississauga Mayor Bonnie Crombie was in attendance at Sikand's campaign party Tuesday night. Though fairly tight-lipped about the election throughout the campaign, Crombie did express how she would welcome any federal government that is willing to address the needs of the city.
"We were supporting any party that would continue to invest in cities and we received significant infrastructure money for transit [and] green infrastructure from the Trudeau government. Tonight, I'm making the rounds and congratulating all the winners," she told The Pointer.
Asked whether she thinks the re-elected Sikand can help Mississauga address its three priorities, as laid out in its Mississauga Matters campaign, Crombie did not hesitate. "I certainly do," she said. "I hope that MP Sikand, as well as Alghabra, Fonseca, Bains, Spengemann and Khalid will assist us in moving Mississauga forward."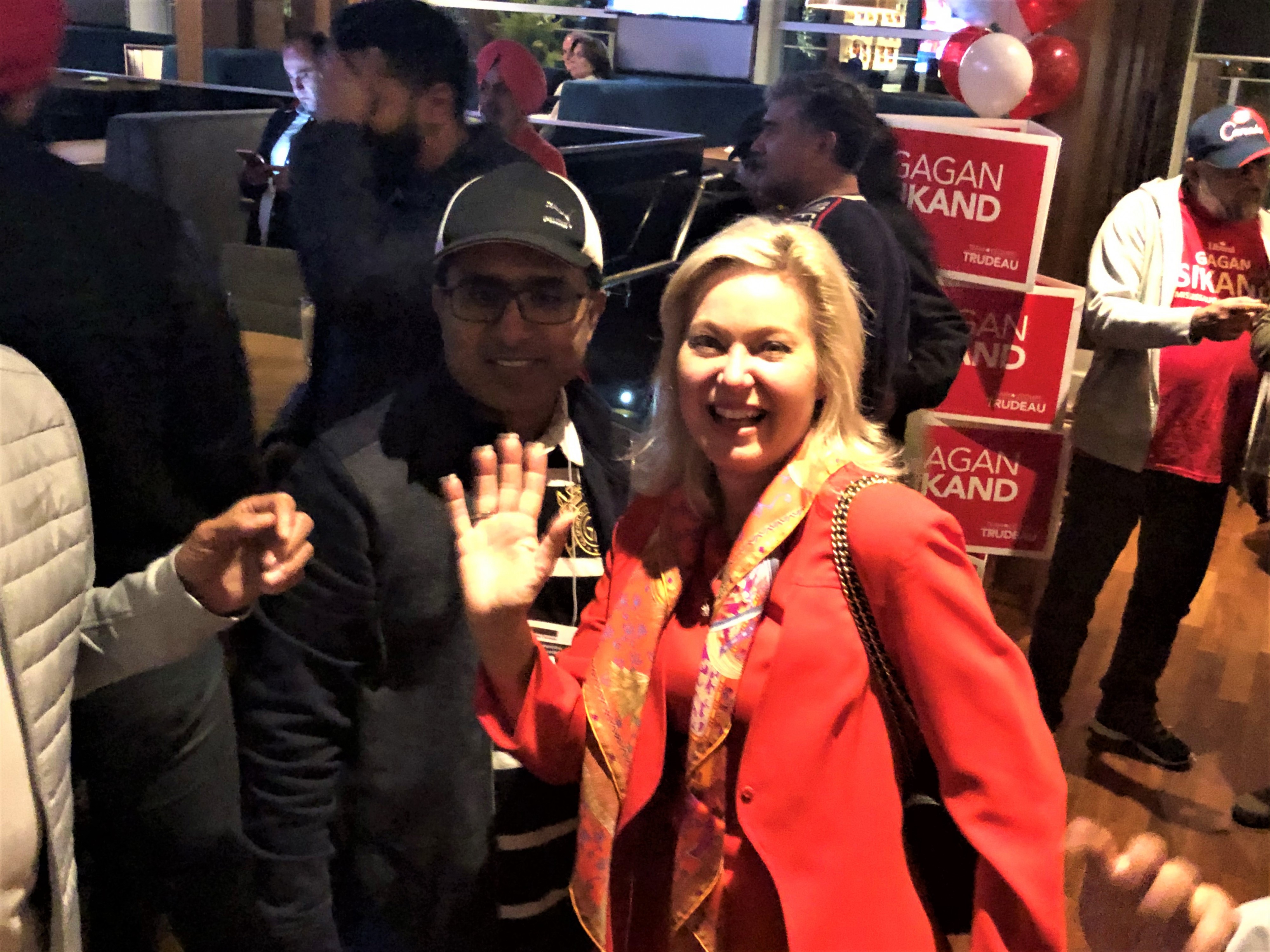 Mayor Bonnie Crombie with a Liberal supporter at Gagan Sikand's re-election celebration
The city has made it clear this election season that it's looking for a "committed federal partner" to assist in funding public-transit projects, such as: rapid transit from east to west in the city's Lakeshore corridor; all-day, two-way GO service through Mississauga; a new transit terminal connecting MiWay and GO Transit buses; and, arguably the city's biggest priority, restoring and funding the $200-million Hurontario LRT loop around city hall and the Square One Shopping Centre.
Sven Spengemann, incumbent Liberal MP for Mississauga–Lakeshore, told The Pointer at his campaign event in mid-September that he "would certainly advocate" for re-funding the original plan for the Hurontario LRT (including the three-stop loop). Sikand was less firm and didn't definitively say whether a re-elected Liberal government would restore the lost funding for the LRT project, which was axed by Metrolinx in March as a cost-cutting measure.
When Sikand first addressed the House of Commons, he described Mississauga–Streetsville as a middle-class riding that "has faced a number of challenges" in the past. "I have spoken with single parents who find it difficult to provide for their children," he told the House as an MP in December 2015.
Although census numbers show the riding may not have been thriving economically, the median after-tax income for individuals in Mississauga–Streetsville (those 15 years of age and over in private households) was higher than the provincial average: $33,166 in 2015, versus $30,641 for the province. The average total income and median total income for Mississauga–Streetsville residents were also higher than the City of Mississauga as a whole. The majority of these residents, like Mississaugans in general, live in single-detached homes. The average household size and family size in Mississauga–Streetsville was 3.2 people.
Nevertheless, Sikand brought up the issue of affordable housing in his riding in his first address to the House. "Social and affordable housing currently have seven- to 10-year wait times in Mississauga," he said. According to a 2016 City of Mississauga report, affordable housing is an issue for one-in-three Mississauga households. That includes one-in-eight in profound need (spending half or more of their pre-tax income on housing) and one-in-12 in "severe need" (spending 70 percent or more).
The riding of Mississauga–Streetsville is fairly diverse, consisting of roughly 55,020 immigrants compared to 61,290 non-immigrants. Most came from the continent of Asia and countries such as China, India, Afghanistan, Iran and Iraq.
Both Sikand and Melek found themselves caught up in their own individual social-media controversies in the past year.
Sikand tweeted the following two days before the writs were drawn up for the federal election: "#ScheerWasSoPoorThat he had to buy his Conservative Values second-hand from Stephen Harper." Conservative Party Leader Andrew Scheer responded: "Like millions of Canadians, I grew up middle class. When Trudeau's Liberal MPs mock me for that, they mock you too." How much Scheer's parents made and whether they fell under "middle class" are in dispute.
Sikand replied a few hours later: "I would never mock a struggling family, as I grew up watching my dad drive a cab to make ends meet. You should talk to the families in my riding who live off one income, don't have drug plans & face anti-immigrant, homophobic & Islamophobic sentiments from their local candidate." Sikand's original tweet no longer exists on his account.
As for Melek, the National Post reported in July that Melek was rejected as a candidate for Mississauga–Streetsville in the most recent Ontario election due to social-media posts on Islamic extremism more than two years ago. The Post said Melek's now-deleted tweets suggested that radical Islam was widespread and causing "economic hell" in places such as Detroit. Melek denied that the party rejected her and said she withdrew "for personal reasons."
In August, Vice wrote of an internal report, disseminated within the Ontario Progressive Conservative Party in the fall of 2016, that said Melek made a number of homophobic posts on Facebook, contributing to her dropping out of the provincial nomination race. Melek told Vice that her online remarks were to meant to critique the sex-ed curriculum, like a lot of other Ontario parents did.
She told Vice in an email: "I'm proud to be part of the Conservative Party of Canada, a party that supports the LGBTQ community," she wrote. "I absolutely oppose any so-called [conversion] therapy or treatment that forces someone to try and change their sexual orientation against their will." Melek received just over 33 percent of the vote in riding on Tuesday night.
The victor, Sikand, expressed his gratitude to the people of Mississauga–Streetsville for maintaining their faith in him.
"I'm just really happy that Mississauga–Streetsville still has the confidence in me to be their member of Parliament," he said. "I'm looking forward to getting back up to Ottawa and [will continue] working hard for them."
Email: [email protected]
Twitter: @dancalabrett
Submit a correction about this story