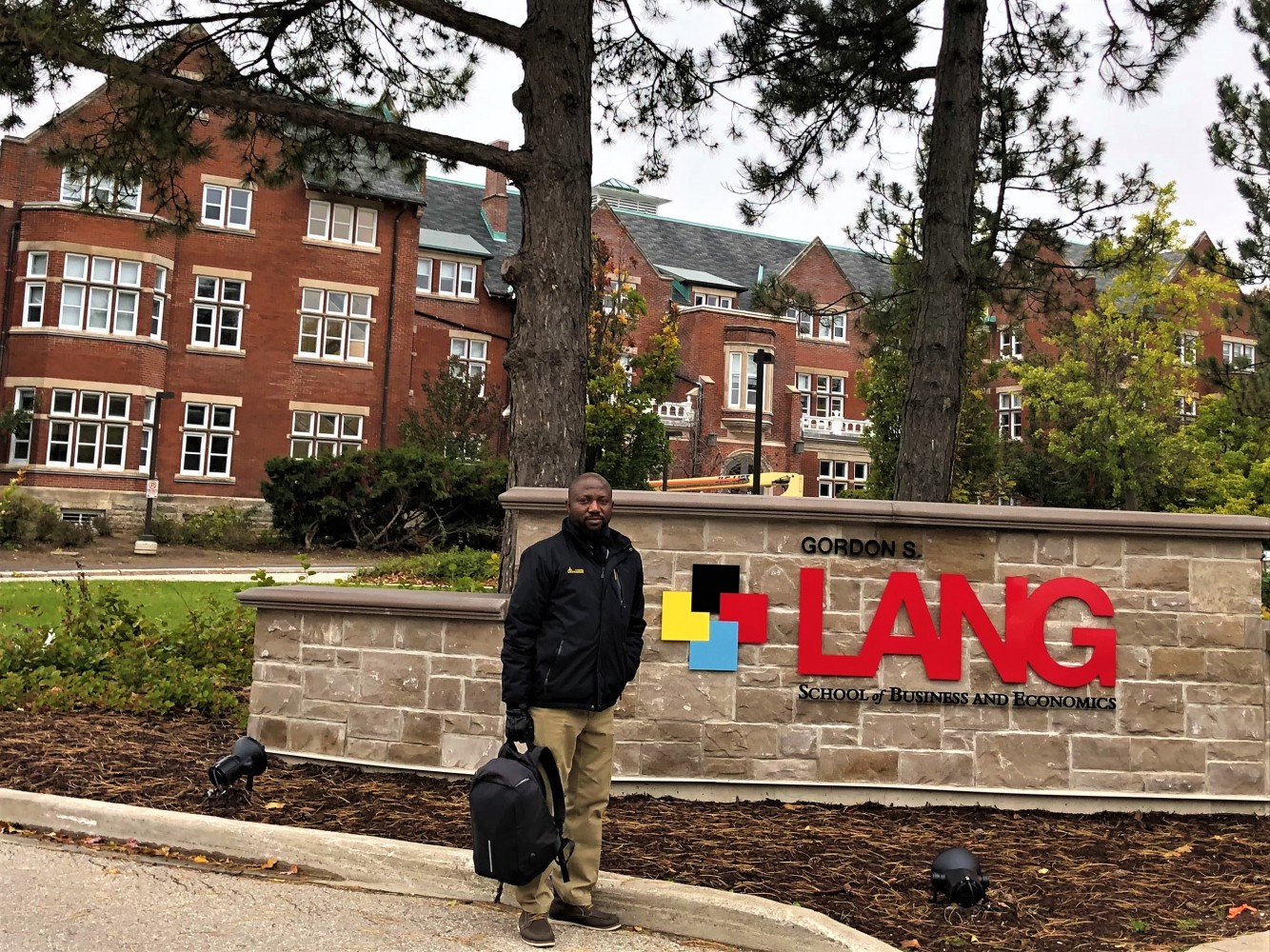 Photos by Daniel Calabretta
For immigrant professionals, 'survival jobs' are the norm before their foreign education pays dividends 
Oluseyi Sode is a Doctor of Philosophy and a Master of Business Administration. He splits his time lecturing at the University of Guelph and working at a ... Lowe's hardware store.
On this day, class doesn't start until 8:30 a.m., but the sessional instructor already has his lecture slides ready well in advance. It's a cold, dreary fall morning and he's studiously examining the lesson plan for his "Evidence-Based People Management" course. He appears eager to get the lesson started.
Sode's enthusiasm is understandable – he started teaching at the university just last month, his first academic job since arriving in Canada from Nigeria in March, 2018.
Oluseyi Sode with some of his students at the University of Guelph
The Doctor of Philosophy and MBA graduate has worked in a series of casual jobs, including working in a packaging and labelling warehouse, an archiving and storage company and working in the receiving area of Lowe's Canada, a "survival job" Sode still holds to this day.
He admits he's not really a fan of his graveyard shift at Lowe's "because it's manual [labour]," but it helps with the bills, he says. "But this is what I love to do – teaching and research. Teaching is a passion for me," he tells The Pointer, the day before his lecture.
Sode does in fact start the class early, at 8:20 a.m., before most of the students have even filed in. One student enters the class, which was titled, "Thoughts on talent management in the 21st century," and asks in surprise: "Did we start early?" It's the midterm exam season of the fall semester, and some of Sode's students just drop off their latest assignment before leaving rather than settling in for the lecture. However, almost two-dozen choose to stay.
"I need your contributions," Sode tells the class. He gets to a topic in his lecture that should be relatable to his students: "The Millennial Takeover," in the world of business.
"They dare to be different, even in the workplace," Sode says. "It's essential [that] they feel included. Organizations achieve their set goals by considering diversity, by inviting cultural fairness."
Daring to be different, the feeling of inclusion, considering diversity and cultural fairness all seem to be characteristics often associated with the Canadian immigrant experience. With the federal government often touting "diversity is our strength," many proponents point to the more than 250 ethnicities within Canada, according to 2016 Census numbers. It's easy to see why Canada remains an attractive option for newcomers.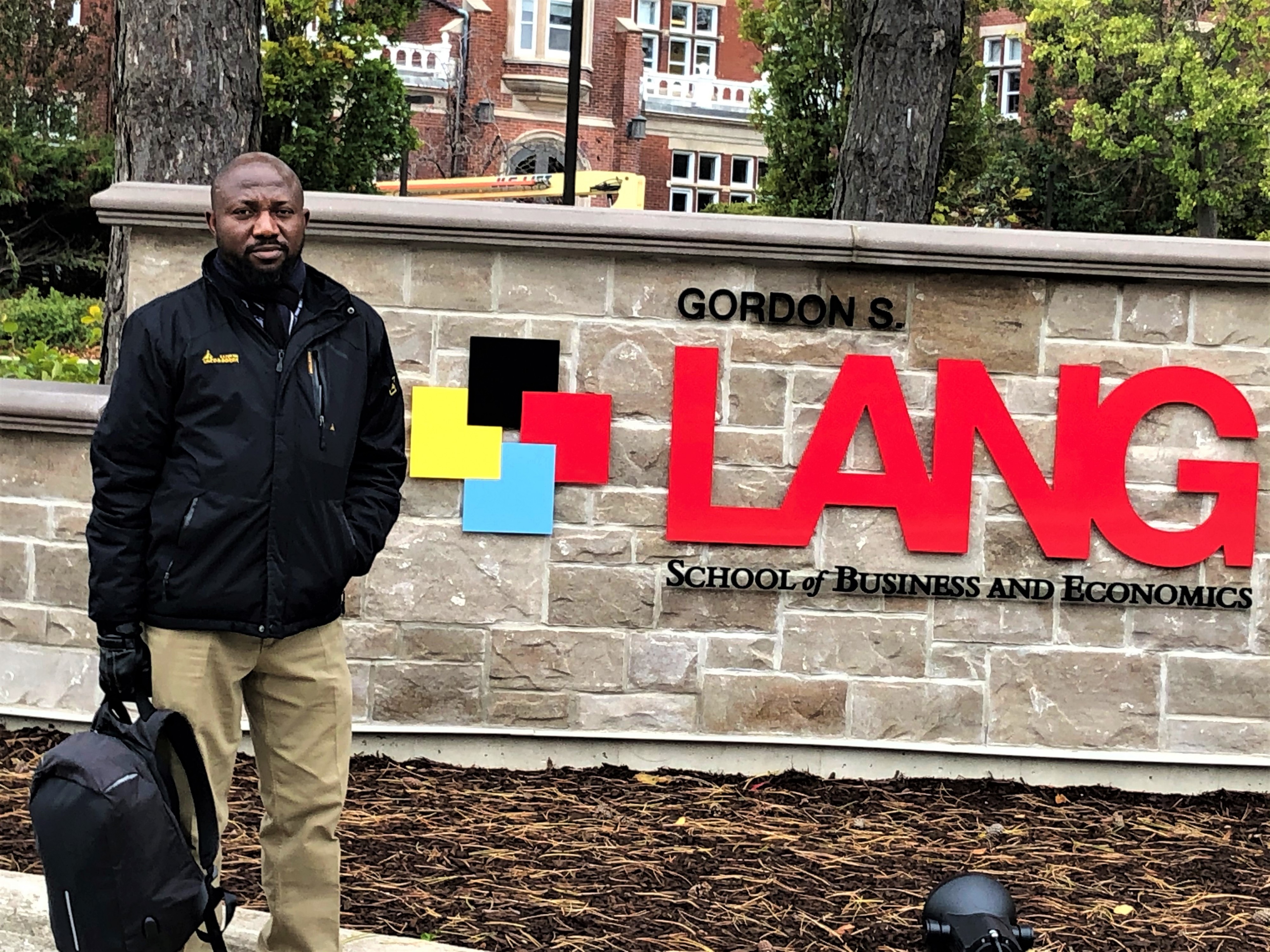 For Sode, his wife and two sons, one of the key pull factors toward Canada was a common one among immigrants. "We just thought [it] will be greener and better prospects for the kids, here in Canada," he says. "That is why we started [the process]." Economically, the prospects for youth in Canada look more optimistic than Nigeria – the last youth unemployment rate recorded for Nigeria was 36.5 percent in the 2018 third quarter, versus Canada, where it was sitting at roughly 11.1 percent, according to Trading Economics data.
Sode also says that Canada, as a nation, is "developed" and that due process in law, government and civil society is followed to a larger extent here than in Nigeria. "Those are the things that prompted us to relocate to Canada – I think, believing we will have [a] better means of livelihood and better systems [is why]," adding that the Canadian healthcare system is "superb."
With his impressive resume he applied to Canada's Express Entry program for skilled workers in 2016 and in December of 2017 was notified by Canadian officials that he and his family had been accepted under the program. He completed his doctoral work, which helped inform him about the country that loomed large in his future plans.
Trying to gain an understanding of a country in another continent, on the other side of the world, can be difficult and tough to conceptualize. But for an academic like Sode, he developed his initial understanding of Canada while conducting his research for his Ph.D. in organizational behaviour at the University of Lagos, from 2012 to 2018. Sode says he came across the works of Canadian authors during his work for his paper on ethnocultural orientation, a study rooted in the examination of cultural traditions, ancestry, language and other shared characteristics. He also began to do his own research on Canada, its systems and institutions.
"I was a bit abreast of the way things [were] and what I could take out from those works," he says, of the Canadian academics. "I already had a little inkling of the way the system [businesses, organizations and structures] works." He already knew that Canada is a "very diverse society" with "different ethnicities" and "different races," prior to arriving.
One unexpected challenge was trying to find work in Canada – jobs he had the qualifications for. "Trying to understand why that's not the case also gave me a lot of revelations that companies are skeptic, and basically risk averse," he says. "They don't want to bring on someone who doesn't understand the culture of the society and the culture of the organization."
Sode notes how there was "nothing" in terms of challenges when it came to the immigration process. He and his family submitted the required documents (i.e. medical exam results, police check, language test results, education assessments etc.). Immigration processing times vary. For a skilled workers' economic immigration application, it takes approximately six months to process. For family sponsorship applications submitted on or after Dec. 7, 2016, involving a spouse or common-law partner living outside Canada, the processing time could take up to a year. It can take two years or longer for family sponsorship application processing of other relatives.
As smooth as the intake was, Sode and his family faced adversity once they arrived in March of 2018, specifically when it came to housing. "When we were looking for apartments to rent, the homeowners, they didn't want newcomers – because they'd ask, 'Do you have a credit history?' How do you expect me to have a credit history when I've never rented [or worked] in Canada before?,'" Sode asks. "I never had a credit card in Canada, I can't have a credit history. Those are challenges...very demotivating. But we pulled through."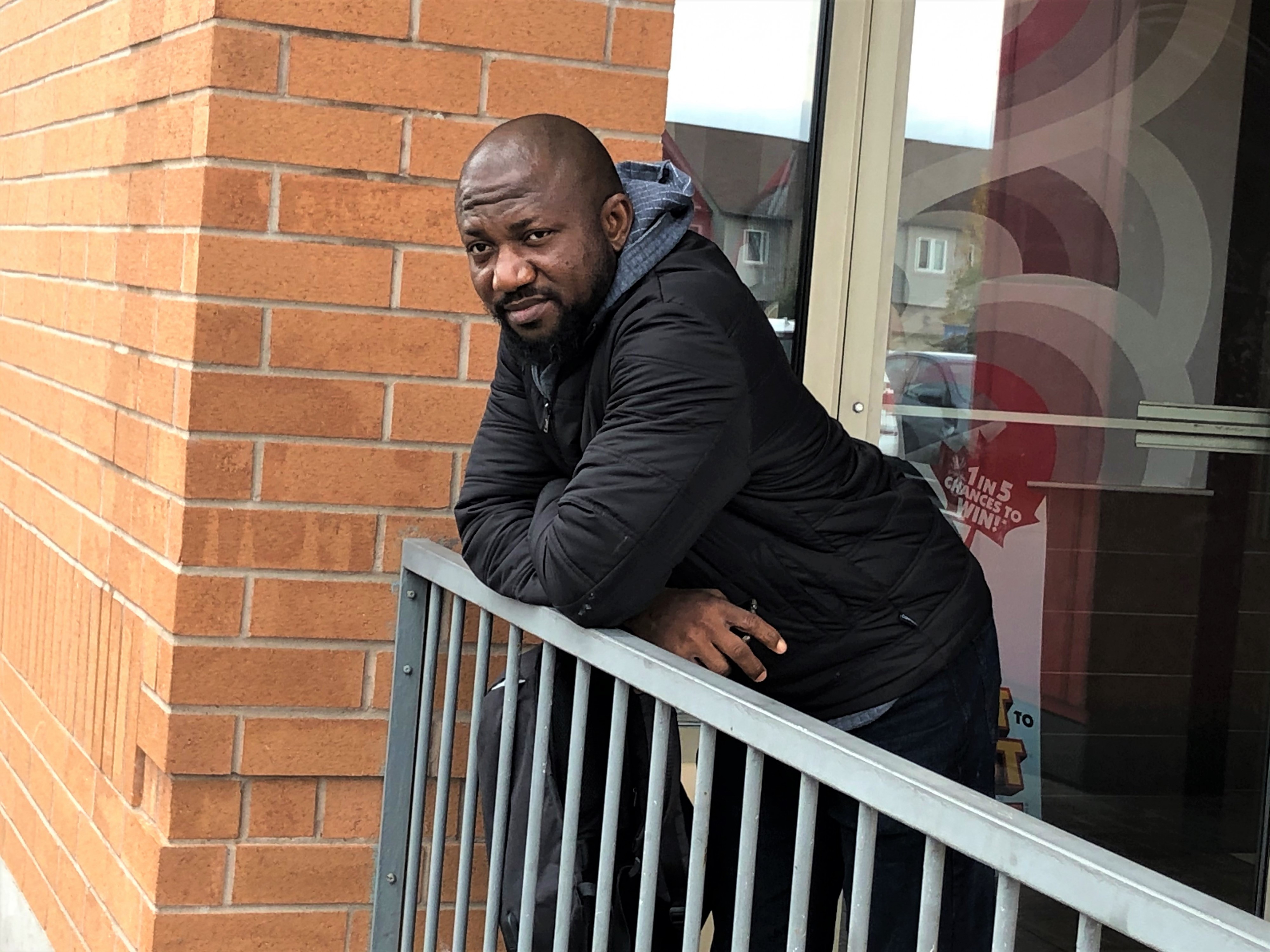 Sode and his family first lived in a basement apartment in Brampton before settling in the Streetsville area of Mississauga
Historically, immigrants have had a "very high risk" of experiencing prolonged periods of low income. According to a 2010 Conference Board of Canada report, based on 2006 Census data, recent immigrants who arrived between 2001 and 2006, with a university degree, earned almost $8,000 less than Canadian-born citizens without a university degree. Furthermore, immigrants are disproportionately represented among Canadians with low income (as defined by the after-tax low-income cut off). Similarly, 2016 Census numbers show that the prevalence of low income for immigrants is higher than that of non-immigrants – 17.9 percent versus 12.5 percent, respectively.
Sode says he and his family's first residence in Canada was a basement apartment they rented in Brampton. They eventually settled in Mississauga as his wife had a couple of friends there. They currently live in the Streetsville area.
Sode mentions that roughly one month after arriving in Canada, he secured his first job at an off-price apparel and home fashions retailer, working in the warehouse. He didn't like the job but realized this was all part of the process of being a newly-landed immigrant in Canada. "It takes a little time for newcomers (and society also) to get on board and find your way around," he says. "That was what I thought. That was the encouragement I gave myself."
Overqualification among immigrants and newcomers has, historically, been an issue. According to 2011 data from the Government of Canada, 23.4 percent of immigrant men with a university degree from outside of Canada or the U.S., held jobs that usually required high school education or less, compared to that of Canadian-born men in general, for whom the rate was at 15.4 percent. The metrics were similar for immigrant women. Approximately 43 percent of immigrant women, with a university degree from outside of Canada and the U.S., were in job positions that typically required a high school diploma or less, versus 35.1 percent for Canadian-born women.
Sode had to work a few casual jobs for over a year and applied for several teaching positions, before he finally secured a sessional instructor position at the University of Guelph in September. He had applied for a string of academic positions, but was not discouraged when his early efforts didn't yield any results.
All of Sode's major degrees, such as his Ph.D and his MBA, have been recognized and credentialized in Canada. However, it did not happen overnight. Using an online world credential evaluation system, Sode says he was able to get his credentials recognized here. The service evaluated criteria such as whether, for instance, his bachelor of science undergraduate degree from Ogun State University in Nigeria, would be equivalent to the recognized standards within Canada. The report from the online world credential evaluation system identifies and explains the credentials a person submits, verifies that their credentials are authentic and includes an evaluation as to the authenticity of their documents, among other things.
These sorts of global credential assessment systems, along with better internal systems here, came about after decades of unfulfilled dreams for engineers, doctors, technicians and IT workers who toiled across the country in factories, driving taxis or doing other work outside their fields, before professional licence-granting bodies and governments including those in Canada began to realize how much human capital was being wasted.
But it's still a major problem for immigrants.
Canada has also faced criticism for not doing a better job of matching highly skilled immigrants with jobs before they arrive. Other countries, such as Australia, place more emphasis on the need for prospective newcomers to arrange employment in their professional field prior to arriving, and offer a range of services to facilitate this. Canada, between the '50s and '90s, had a variety of schemes and requirements for skilled immigrants to secure work prior to being accepted under particular immigration programs. But changes to government policy and other pressures have seen some of those previous practices removed or dramatically altered.
Sode says newcomers going through the Canadian immigration process need to be well informed in advance. "They should know what they're going for – they should be prepared," he said. "Because even those that have well set plans, when coming in, are still faced with challenges. Challenges are a part of life. For professionals, I always encourage you to do more research. I feel I didn't do enough research before coming," he notes, in reference to issues of matching licencing standards and professional job requirements with credentials.
Sode found local immigration service COSTI's "The TRIEC Mentoring Partnership Program," which he attended from April to June. It was a huge help. His wife brought it to his attention, when she heard about it while at a doctor's appointment. The program helps with a variety of challenges, mainly in assisting an individual secure employment, by identifying credential gaps and repackaging his/her CV for job interviews. One of the managers, to whom Sode was assigned, had taught in academia in the past, at a local college. Sode said his mentor gave him tips and provided encouragement to him, offering tips to break into the academic field. Now, 19 months after arriving, Sode has a job in academia.
In the run-up to the federal election on Monday, The Pointer asked Sode, when it comes to immigration, which political party he thinks best articulates the most sensible and feasible plan. While he's not fully sold on the particular politicians, he's confident the country is on the right path. "In my opinion, the current [government] isn't doing badly. And from experience, political manifestos and promises, it doesn't resonate well with me. Most of them are filled with empty promises." he says.
The determined doctor of philosophy and master of business from Nigeria is walking proof that the next party or parties to form government would be wise to take advantage of an immigration system that, if designed properly, holds the key to much of Canada's future success.
For now, he's happy pursuing his passion for academia, confident that his survival job won't be needed for long.
Submit a correction about this story