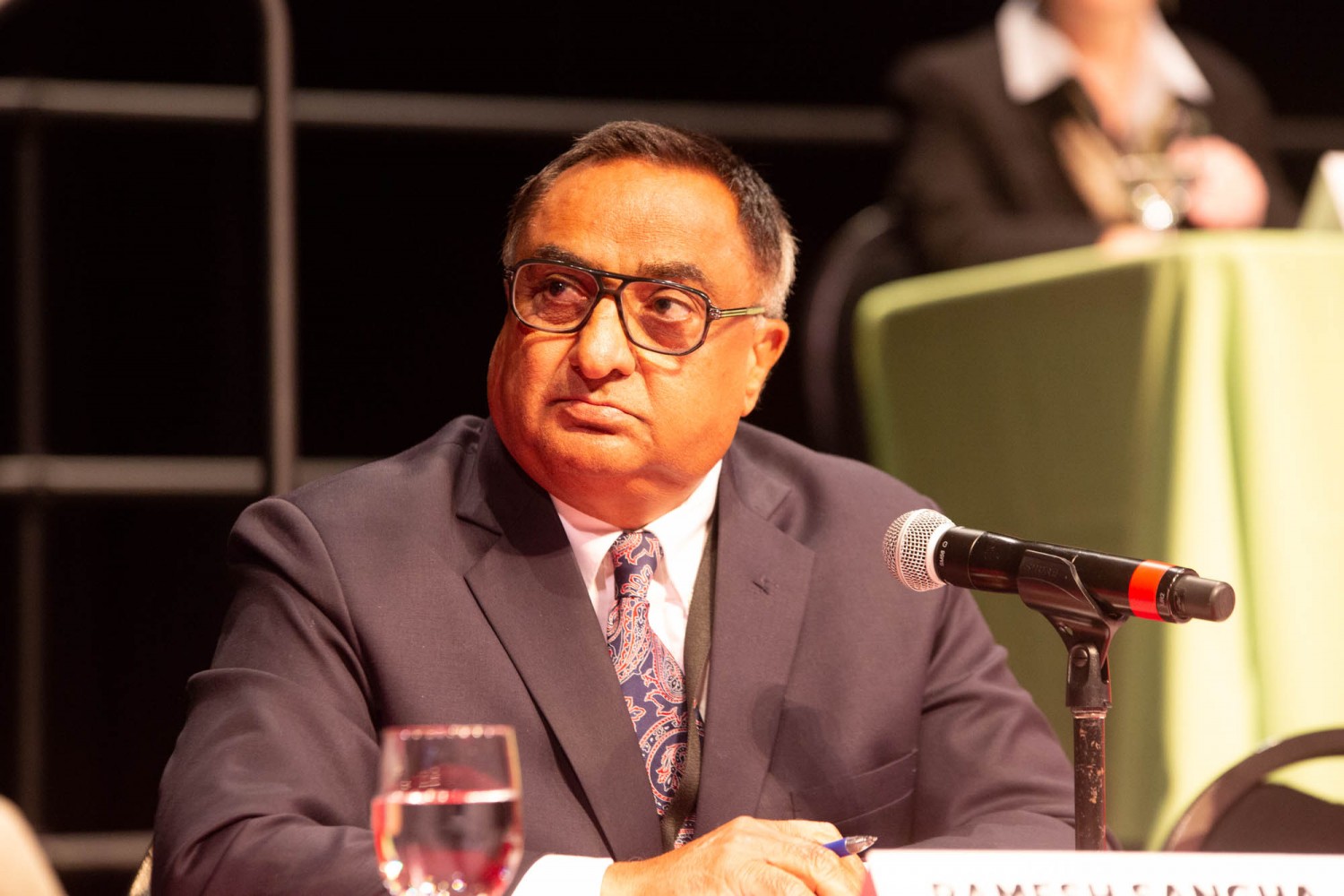 Photos by Mansoor Tanweer
Ramesh Sangha says much with few words but ultimately fails to deliver for Brampton
Analyzing the parliamentary record of Brampton Centre MP Ramesh Sangha over the last four years, two things immediately become clear.
First, he was the quietest of Brampton's four Liberal incumbents, standing up to speak only 79 times in the House of Commons. With 540 sitting days in a four-year term, it means Sangha only spoke in 15 percent of those meetings. However, unlike some of his fellow Brampton MPs who talked more but rarely referred to their riding, Sangha frequently brought up his home city. He mentioned Brampton about a quarter of the time and spoke to significant issues like affordable housing and immigration.
Second, he was the only Brampton MP to bring forward a private member's bill, a piece of legislation that requires dedication to see through to tabling in the House of Commons.
That said, much of his work in Ottawa doesn't appear to have extend beyond the House of Commons. Many of the issues he raised in the House have not received any significant investment from the federal government over the past four years.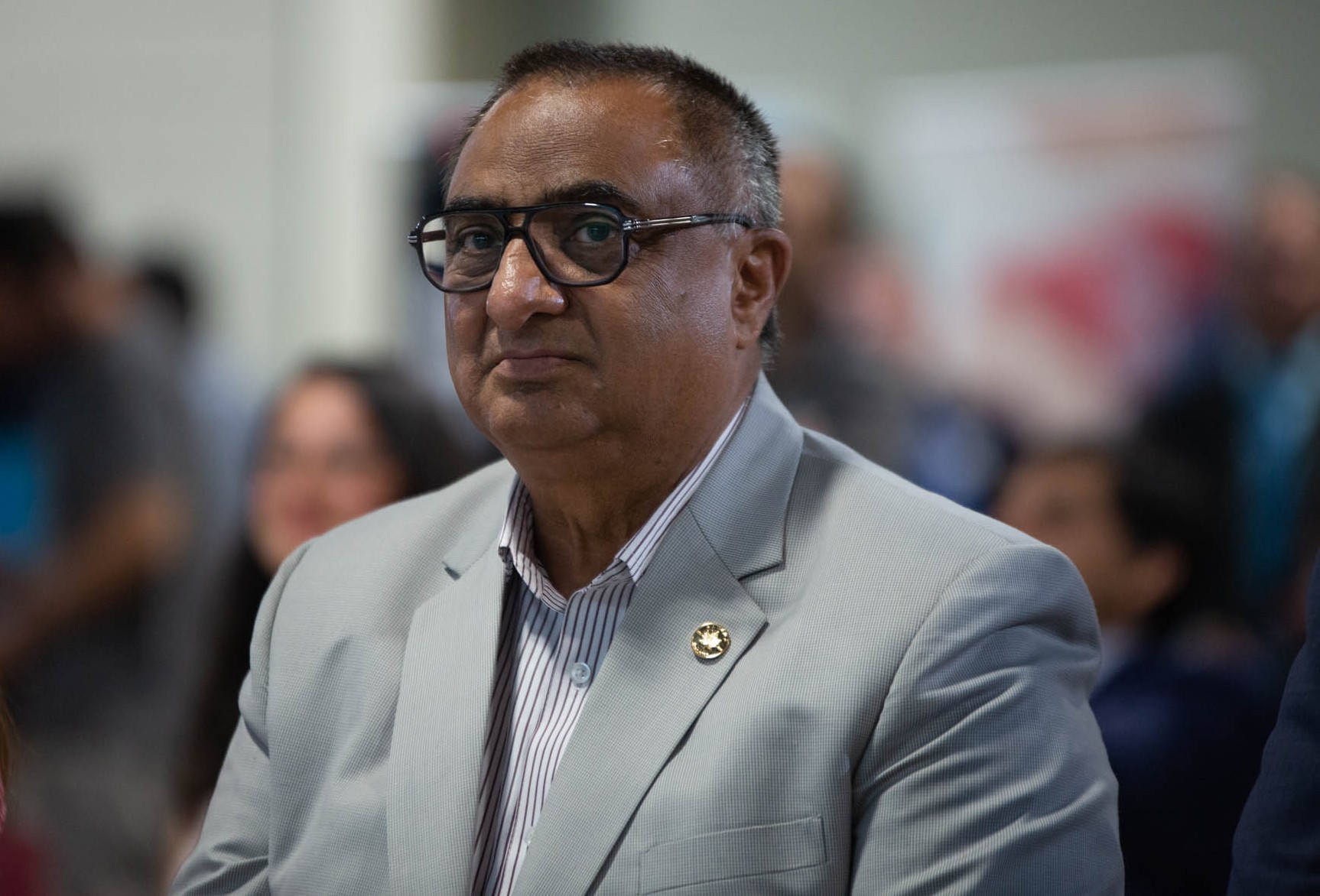 Brampton Centre MP Ramesh Sangha
In December 2016, Sangha swore to crush poverty, saying: "I shall not rest until the enemy is destroyed. I appeal to everyone today to let us join hands and take on our enemy."
Just ahead of the election campaign, the Liberal government shared some of the successes of its National Housing Strategy, introduced during the last term. According to government statistics, the strategy has created 41,800 new affordable units in Canada, repaired nearly 230,000 and provided 780,000 families or individuals with rental assistance or subsidies for social housing.
In September 2018, Sangha stated, "The funds that have now started flowing are flowing evenly to each and every municipality."
But in Brampton, only one project is listed on the government's website as getting assistance from the national strategy: a $15-million investment into the Brampton Bramalea Christian Fellowship to help build a six-storey, 90-unit affordable-housing building.
Meanwhile, the wait list for affordable units in Peel continues to grow. In June 2018, there were 13,597 households in Brampton, Mississauga and Caledon on the list, with an average waiting time of about six years. Since then, the number has grown to 13,726, even after the region moved 903 individuals from the wait list into housing.
Sangha likely invested a great deal of effort into supporting his private member's bill; it's common for such bills to not make it far in the House. While Sangha's made it to second reading in the Senate, it would eventually be shelved when Parliament was dissolved ahead of the election. It would need to be reintroduced next session in order to be reconsidered.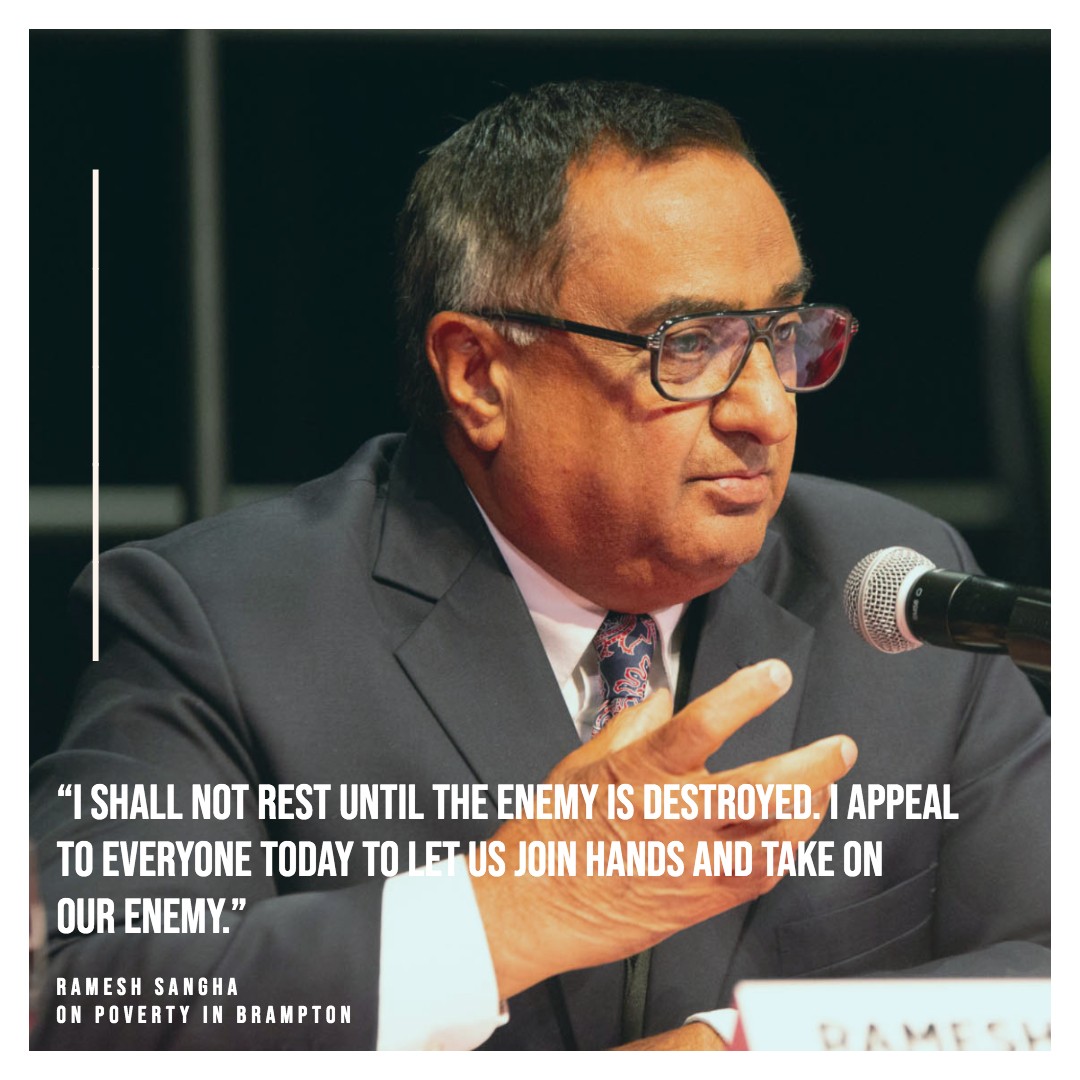 The bill could have had a significant effect in Brampton, addressing a common refrain from officials that the city isn't getting its fair share of government funding.
The bill, the Community Benefit Act, would have changed the way the federal government provides funding to municipalities for infrastructure by allowing municipalities to collaborate on where spending is allocated.
"The CBA will provide for community participation so they can achieve their fair share of the federal government spending," Sangha said when introducing the bill in April 2017. "CBAs would enable the ministry of public services and procurement to formulate agreements with federal infrastructure developers with added input from community groups. These agreements would lay the foundation to encourage local communities to build partnerships with developers."
According to a 2015 report from the Mowat Centre, a public policy think tank, these CBAs give voices to municipalities and service groups who are typically excluded from the development process, allowing them to advocate directly through the procurement process for what is needed in their city.
"Ultimately, CBAs will create the foundation for communities to earn their fair share of federal infrastructure investment," Sangha said. "This will ensure that communities have reliable growth and meaningful employment while fostering a healthier environment."
Any move to bolster infrastructure investment for Brampton would be welcomed by local politicians.
The City of Brampton has received approximately $42.4 million from the Investing in Canada Plan — the Liberals' $188-billion infrastructure spending program — to support myriad small projects. The largest chunk, $12.4 million to assist with expanding the Sandalwood Transit Maintenance Facility, was received in 2017.
The cumulative funding is nowhere close to where Brampton would be if the money were distributed on a per-capita basis: about $972 million.
Sangha was also a vocal advocate for Brampton through his role on the Standing Committee for Human Resources, Skills and Social Development and the Status of Persons with Disabilities. He spoke close to 350 times through his various committee appointments, specifically questioning speakers on issues impacting seniors in Brampton.
Sangha hosted a number of town hall meetings and other avenues to meet with his constituents. According to his expenditure reports, he held 29 meetings to talk with local stakeholders or meet with constituents. Sangha spent nearly as much time — 24 meetings — talking with his staff, attending training and planning "priorities and activities." By comparison, his fellow incumbents Sonia Sidhu (Brampton South) held 19, Ruby Sahota (Brampton North) held 10 and Kamal Khera (Brampton West) held four. It's unclear what was discussed during those meetings and what fruits were borne from all those planning sessions.
Aside from his CBA bill in the first half of his term, Sangha remained relatively quiet for his final two years. He spoke only five times throughout the 2019 parliamentary sitting.
According to four years of voting records from Open Parliament, Sangha didn't vote once against the party line when it came to bills that would eventually be passed into law.
Sangha's social-media feeds — filled with messages from the Liberal Party and Leader Justin Trudeau, along with media articles critical of the Conservatives and its leader Andrew Scheer — also commonly feature pictures of him out in the community. The MP frequently attended weddings, religious events and proclamations.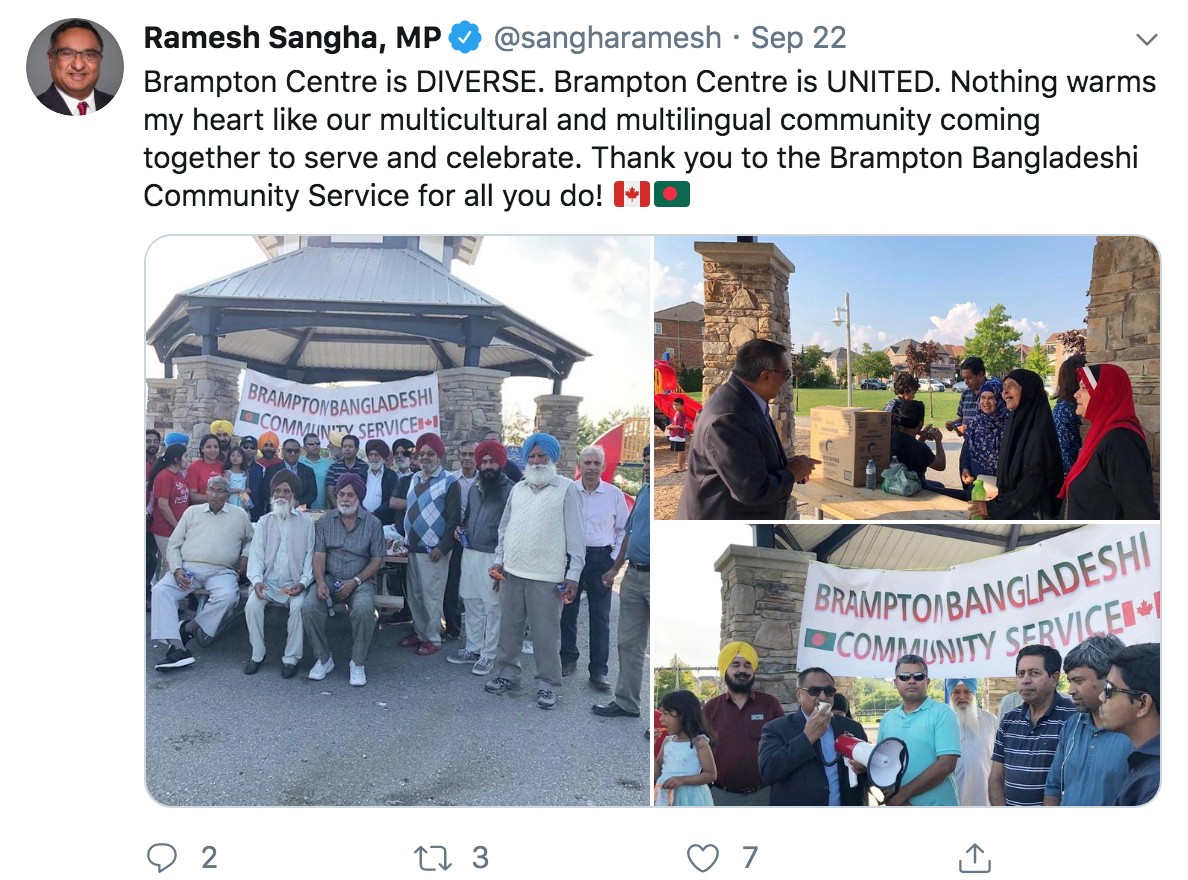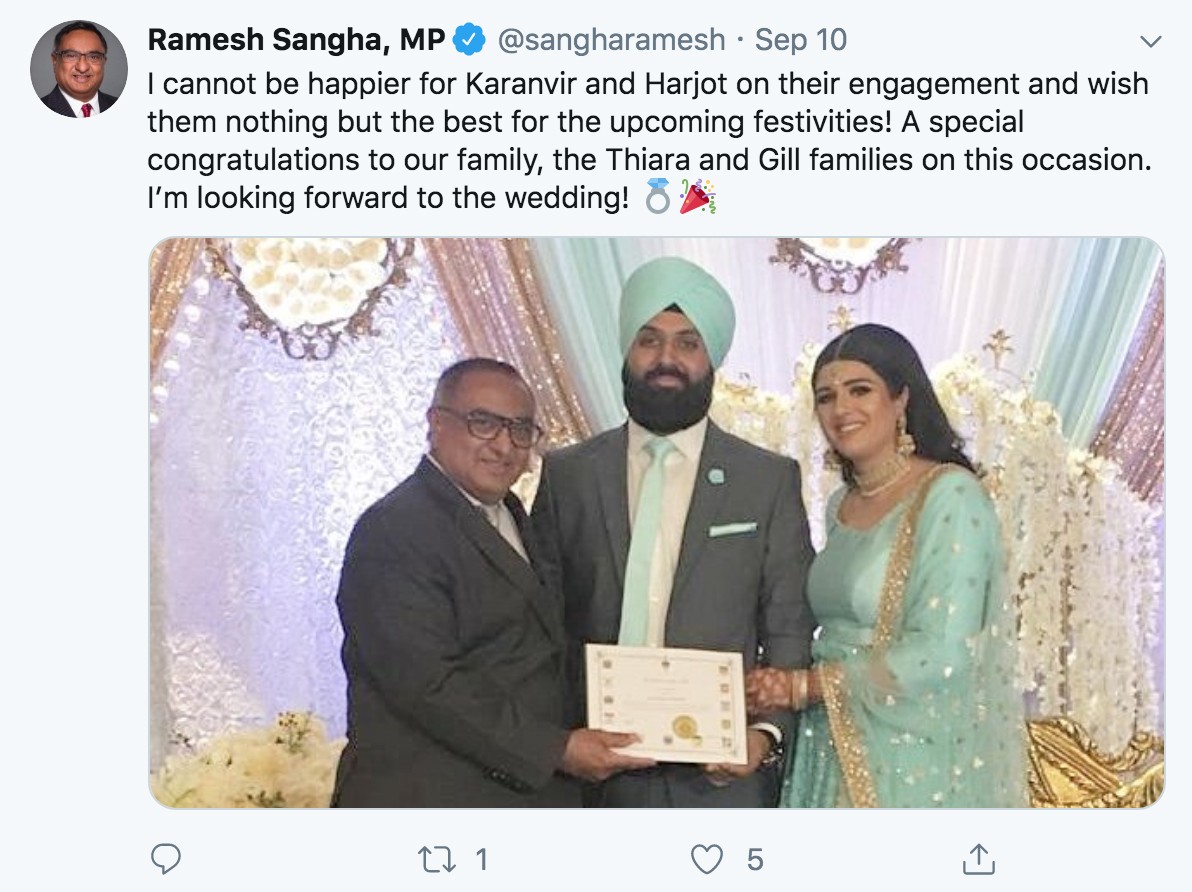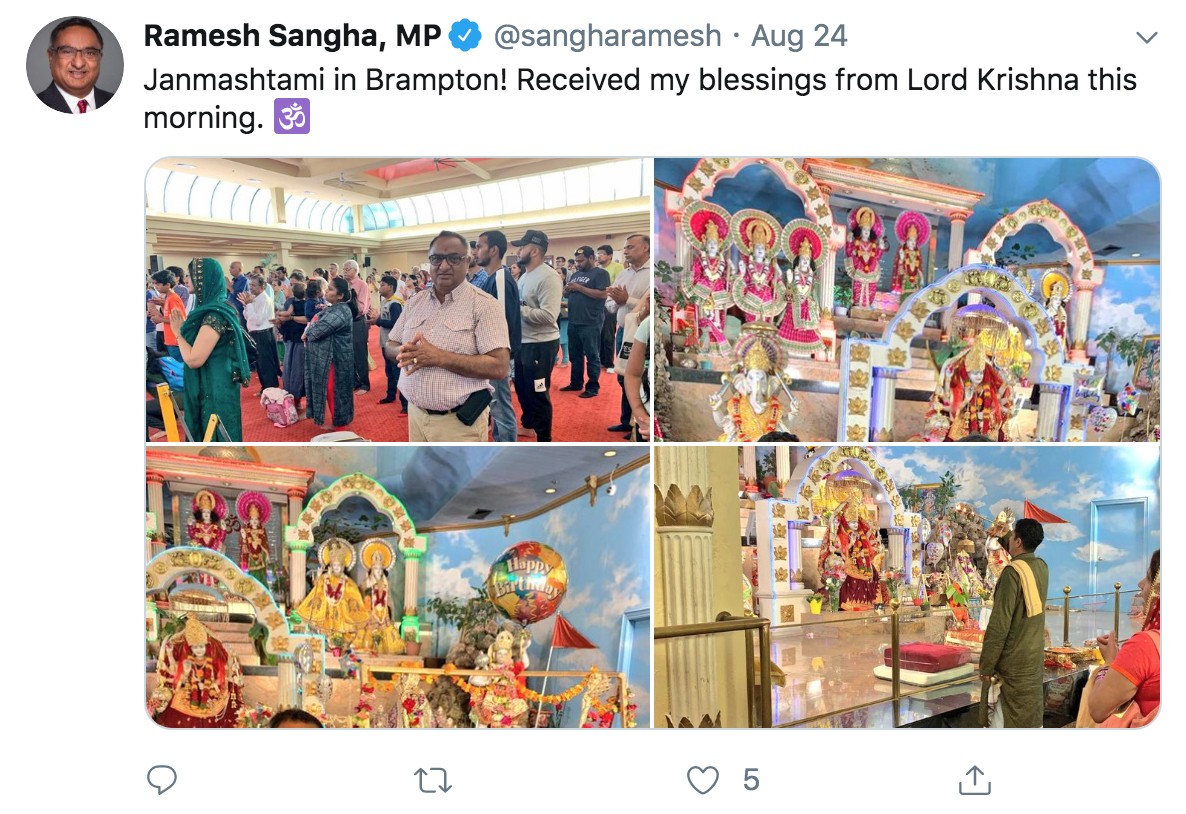 Leading into the final weekend of the campaign, the race remains close for Sangha in Brampton Centre. According to polling aggregator 338Canada, he holds a tight lead with 39 percent of the vote over Conservative challenger Pawanjit Gosal's 32.7 percent. The NDP's Jordan Boswell sits in the third spot with 17.9 percent.
Email: [email protected]
Twitter: @JoeljWittnebel
Submit a correction about this story