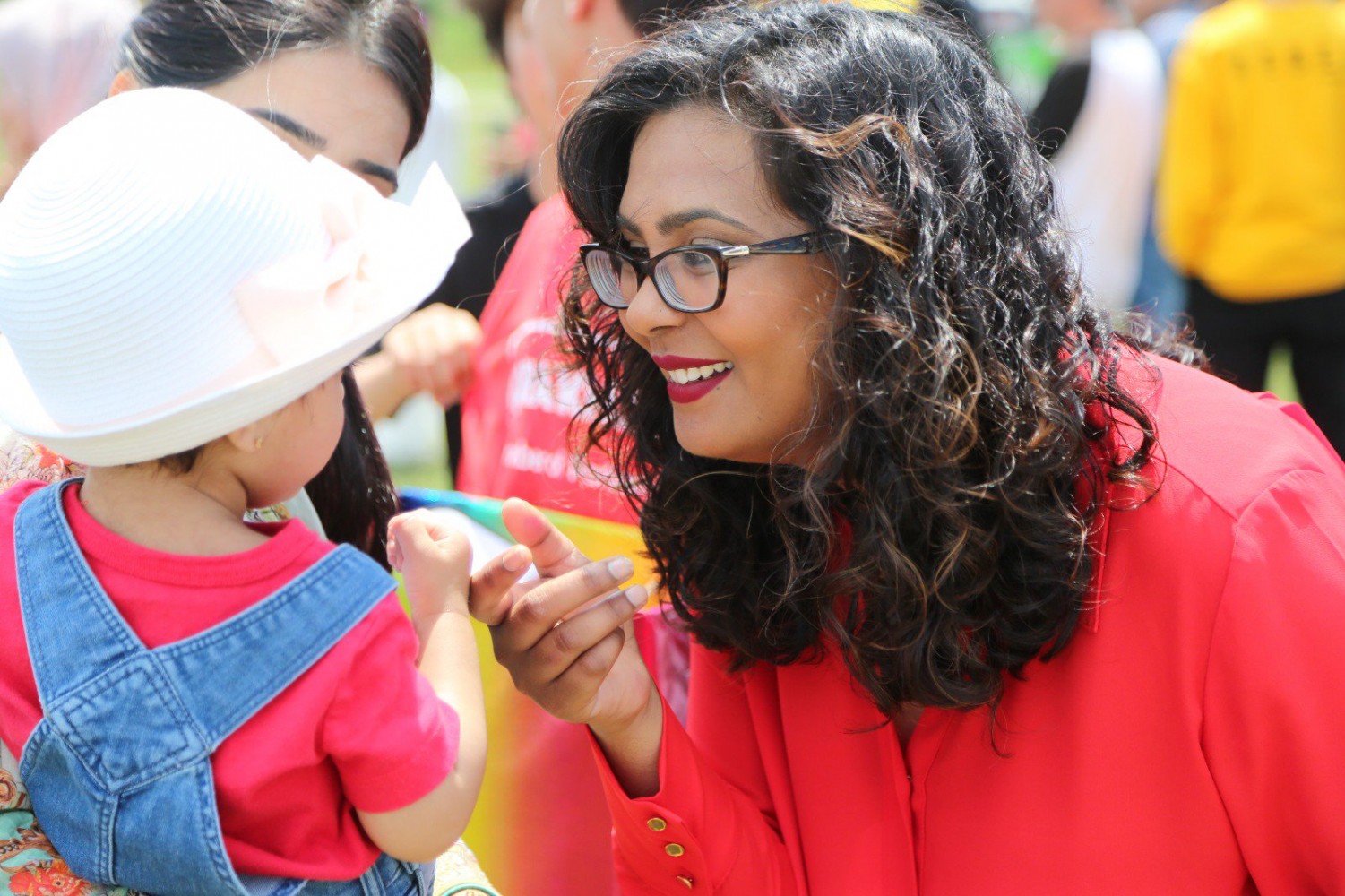 Photos by Mansoor Tanweer/Iqra Khalid-Twitter
Tackling discrimination the focus of Iqra Khalid's four years in Ottawa
As the saying goes, speak only when you have something of value to add.
Mississauga Erin-Mills incumbent Iqra Khalid chose her words carefully during her first parliamentary term. Amid the political crossfire in the House of Commons, Khalid stood to speak just 88 times across four years, bringing up her home city on 27 occasions.
In committee, though, Khalid was quite active. Speaking 852 times, Khalid worked in the backrooms of Parliament Hill on her passions: equality and ending discrimination. Mentioning Mississauga just three times, the incumbent focused on human rights and extending them in Canada and around the world.
Khalid was a member of the Standing Committee on Justice and Human Rights and its agenda and procedure subcommittee. The Liberal was also a member of the Subcommittee on International Human Rights, of the Standing Committee on Foreign Affairs and International Development. Issues of discrimination, equality and racism — which resonate in diverse Mississauga — took up most of her parliamentary time.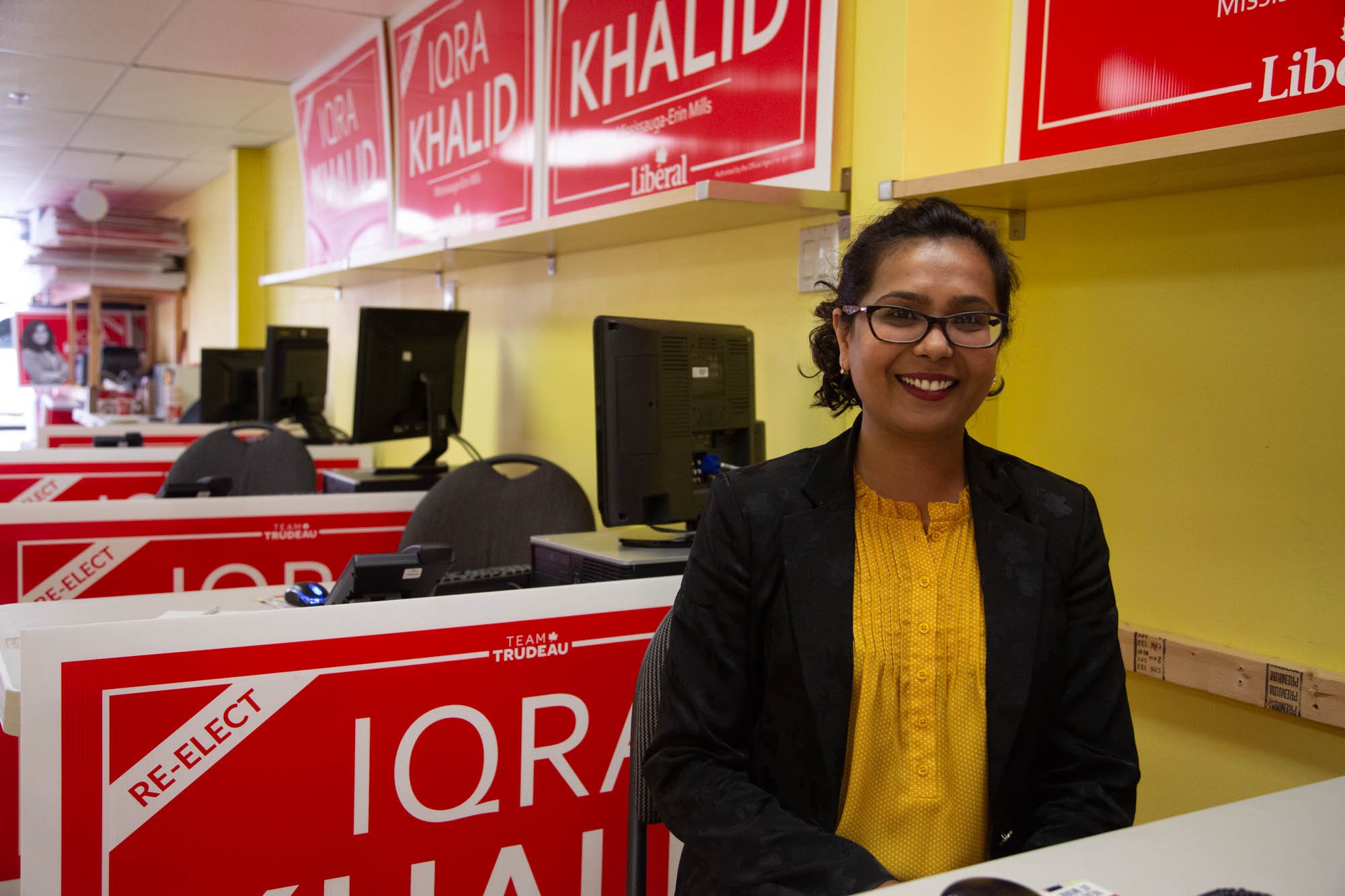 Iqra Khalid in her campaign headquarters.
Khalid's parliamentary focus was clear early in her term. In January 2016, Khalid asked for an update on Canada's refugee program, proudly stating her riding was particularly welcoming to new arrivals. In March 2016, she spoke for the elimination of racial discrimination. On June 6, 2016, Khalid rose to "wish every Canadian a Ramadan Mubarak," speaking directly after Scarborough Liberal Salma Zahid said exactly the same thing.
An immigrant of Pakistani origin, Khalid was condemned by the Jewish campaign group B'nai Brith Canada in August 2018 after she gave an award to Amin El-Maoued of Palestine House. El-Maoued, a critic of Israeli presence in the West Bank and Gaza Strip, has denied being anti-Semitic. Though Khalid apologized afterward, B'nai Brith reported she attended a dinner at El-Maoued's home as recently as September 2019.
Her expenditure report shows her engagement with her constituents, including several town hall events. The report also shows she spent a total of $6,774 hiring her family's business, Al Ramzan, to cater events.
Over four years, Khalid did not speak exclusively about issues of culture and equality. Perhaps a nod to the political value of Mississauga, Khalid talked about the budget at length in 2017 and 2019. She also recounted a story about a senior in her riding in November 2016 alongside a major Liberal bill to make changes to Canada's pension plan.
"While I was canvassing over a year ago, I had the opportunity to knock on a door in a good neighbourhood," Khalid told Parliament. "An old lady opened the door. She was very dishevelled. She had bruises on her arms, and her hair was a mess. I was still a candidate, and I asked her what she thought our government would need to do to better support Canadians. She said, 'After I pay my rent, after I pay my medical bills, I don't have enough money left for food.' That is the plight of many retired people who live not just in my riding but all across Canada."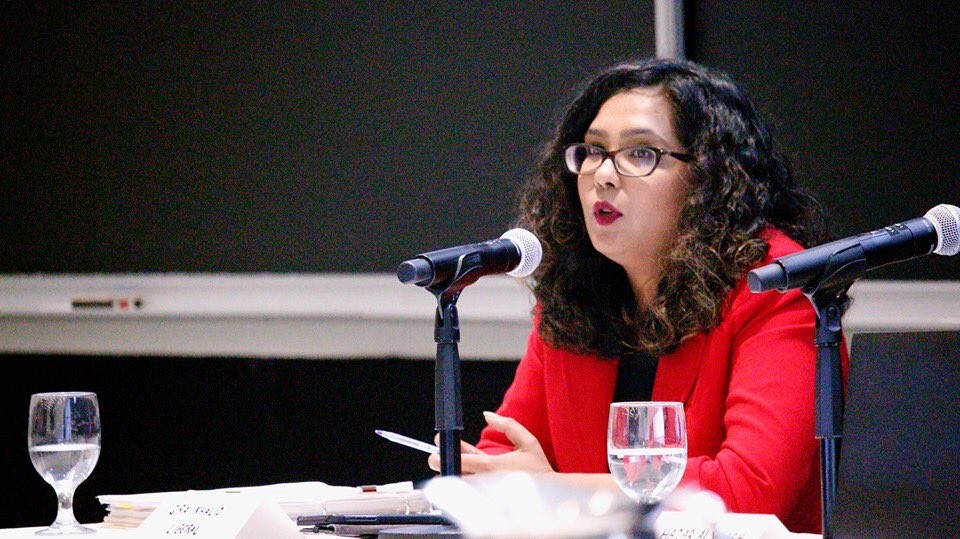 Khalid speaks during an all-candidates debate at the University of Toronto in Mississauga earlier this month.
Khalid's push for equality met resistance in 2017 when she introduced a private member's motion.
At first glance, the motion was uncontroversial. Khalid suggested the government recognize a "need to quell the increasing public climate of hate and fear." Peel police statistics have shown an increase in hate crimes in 2017 and 2018. The motion also asked the government to "condemn Islamophobia" and all other forms of "systemic racism and religious discrimination" and asked the Standing Committee on Canadian Heritage to research a new approach to eradicating discrimination.
However, the motion brought criticism from various sides. Some wanted to drop the specific reference to Islamophobia and broaden the scope, while others feared the motion could be a step toward infringing upon free speech.
Speaking in March 2017, when the motion was "agreed to" by the House, Khalid addressed some of the criticisms. "Outrageous claims were made about Motion No. 103, and to them I say, in simple and clear words, that Motion No. 103 is not an attempt to create Sharia law," Khalid said. "I vow to be the first person to oppose any motion or law that negatively impacts our multicultural secular society. I assure members that Motion No. 103 does not."
As a representative with a strong interest in fairness and equality, Khalid fits in with diverse Mississauga. Though discrimination is not the only issue in Mississauga-Erin Mills, and most would ask their MP to tackle various problems at once, Khalid was fierce when it came to the subjects she cared most about.
Email: [email protected]
Twitter: @isaaccallan
Submit a correction about this story