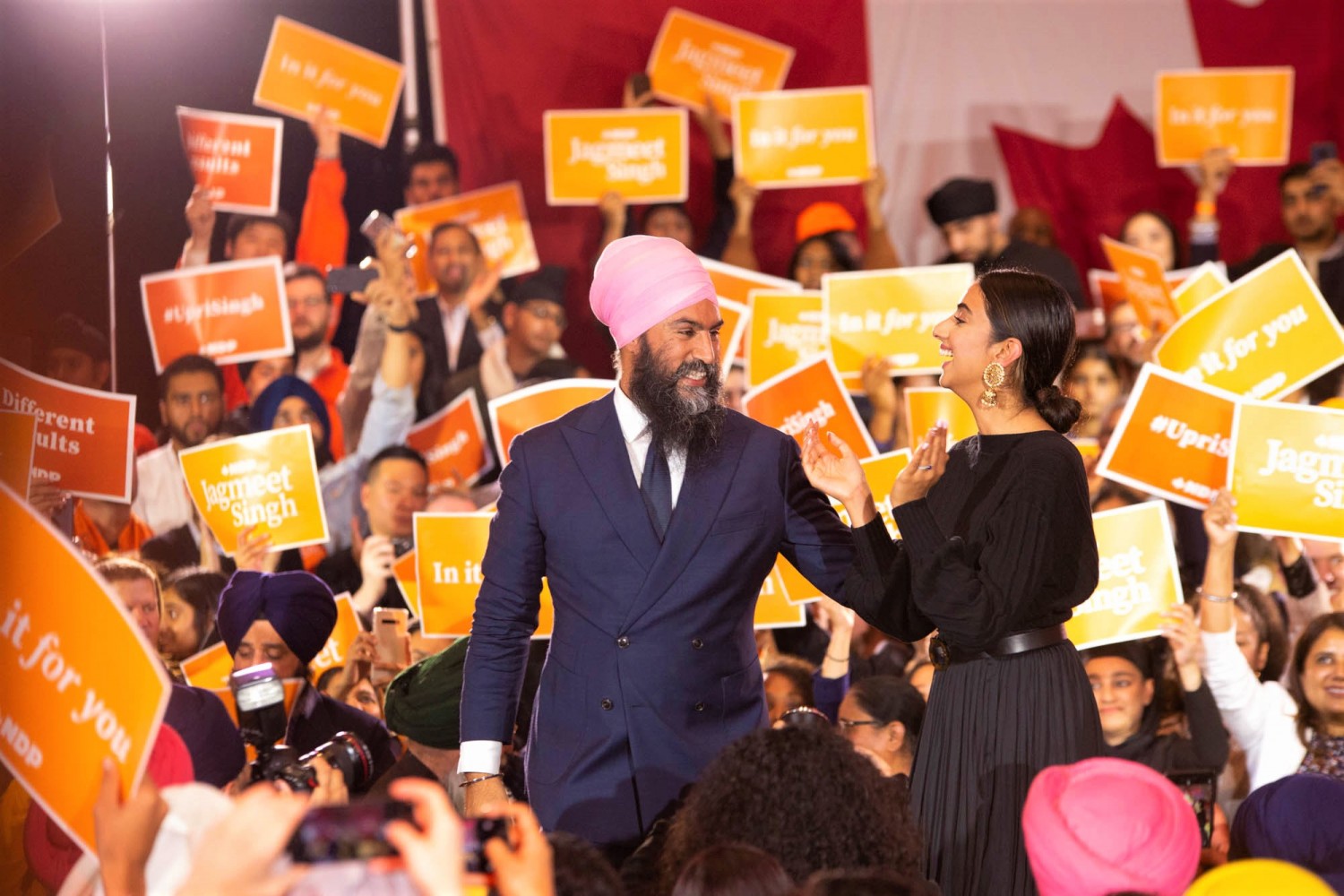 Photos by Mansoor Tanweer
NDP criticizes Liberal failures in Peel; refutes claim that Jagmeet Singh's promises are "disingenuous"
The NDP is punching back at Liberal claims that Jagmeet Singh is creating false hope for residents in Peel.
At an event Thursday evening, attended by the party leader, Brampton East candidate Saranjit Singh countered comments made by Liberal incumbent Ruby Sahota, who is seeking re-election in Brampton North and said that Jagmeet Singh was being "disingenuous" by promising another hospital and a university to Brampton.
"We're showing leadership in both of these areas. Brampton deserves a university, it deserves a hospital. We have over 600,000 people, we don't have a university and we only have one hospital," Saranjit Singh told The Pointer. (Brampton is served by the small, but rapidly expanding, downtown presence of Algoma University.)
Brampton East NDP candidate Saranjit Singh at a Brampton rally Thursday evening
He invoked the record of NDPers before him, even mentioning the father of universal healthcare, Tommy Douglas, who was the party's first leader.
"The reason why we have a universal healthcare in Canada today is because in the 1960s the NDP showed leadership… so when the Liberals say the federal government doesn't have a role to play in healthcare, they're saying they don't believe in universal healthcare."
Sahota told The Pointer On Wednesday after a press event alongside Finance Minister Bill Morneau that Jagmeet Singh was "misleading" voters by making promises outside of the federal jurisdiction. "When it comes to the hospital, these decisions are made by the municipality and the province together," Sahota said, adding that it was "disingenuous" of him to make pledges that are not in his control.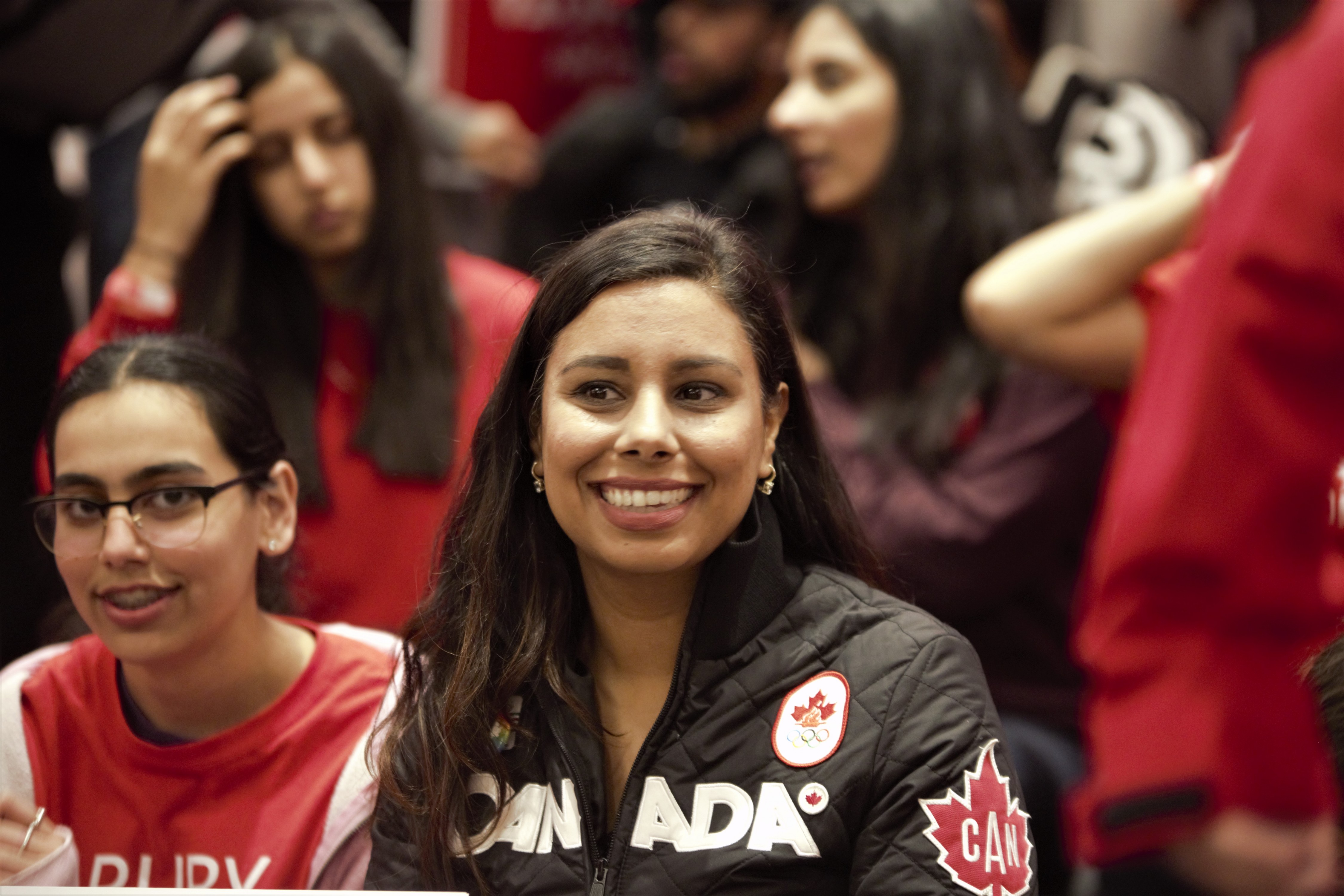 Brampton North Liberal incumbent Ruby Sahota accused NDP Leader Jagmeet Singh of being disingenuous
"Had Jagmeet been able to do this, he would have done it when he was in opposition at Queen's Park provincially because it's a provincial matter," Sahota said.
Jagmeet Singh has been far more unequivocal when it comes to making solid commitments to the Region of Peel. Conservative Leader Andrew Scheer and Liberal Leader Justin Trudeau have been asked multiple times by The Pointer if they will commit to funding infrastructure in Brampton and Mississauga.
The same morning as the NDP rally, Scheer was in Brampton and again refused to provide any firm funding commitments to either city. He said he's spoken to both mayors and promised to provide fair share funding in a region experiencing rapid growth. Scheer also repeated an earlier campaign talking point, recounting his childhood using Mississauga transit, when asked about whether he will promise to fund the city's now scrapped downtown LRT loop.
Mississauga listed the creation of rapid transit throughout the city as a key funding area it wants the federal government to commit to. So far, only Singh and the NDP have pledged to provide money for Mississauga's needs, though his open letter to Mayor Bonnie Crombie included no details of what that funding would look like.
Trudeau has not provided any insight at all on how his government, if the Liberals form the next one, would provide Brampton and Mississauga with desperately needed funding for infrastructure and affordable housing. Jagmeet Singh agreed to all of Mississauga Council's demands, in principle, which are outlined in the city's Mississauga Matters advocacy platform for the election. But critics agree with Sahota, questioning how the NDP can achieve its many promises being made to the two cities.
While Sahota is right that healthcare is a provincial jurisdiction, informal mechanisms are available for project-specific funding to make its way down to provincial and municipal levels to pay for capital costs. The Canada Health Transfer is billions of dollars worth of federal cash that goes to the provinces each year. The federal government can advocate to the provinces to build a hospital where one is clearly needed. The transfer to Ontario for the 2018-2019 fiscal year was $14.9 billion and that will go up to $15.5 billion in the 2019-2020 year.
An August Angus Reid poll found that 71 percent of undecided voters overall, including 80 percent of those over 55, listed improved access to healthcare as their number one issue.
The federal government has a number of ways to dictate how its healthcare funding is used by the provinces, Saranjit Singh said.
"There are a variety of funding mechanisms available to the federal government. There are direct transfers, health transfers… We have to work with different levels of government. The Liberals haven't been willing to do that," he told The Pointer.
The federal government, under the Canada Health Act, can withhold some of the health transfer to a province if it is deemed that the Act is being violated by not properly adhering to legislation that ensures Canadians in all provinces have fair access to healthcare. Currently, the Ontario average for the number of hospital beds per capita is almost 2.5 times higher than the number of beds per capita in Brampton, which has only one full-service hospital.
The NDP has been highly critical of Liberal leaders in Brampton, repeatedly pointing out that a majority government under Trudeau, with a Liberal premier in Ontario, Kathleen Wynne, and a former mayor, Linda Jeffrey, who served as a provincial Liberal cabinet minister, all failed to get a new hospital for Brampton. They have asked the city's four Liberal incumbents why they could not get the job done, even as Ontario NDP Leader Andrea Horwath repeatedly took steps to get a new hospital for Brampton. It remains unclear why Liberal governments did not fund a badly needed new hospital.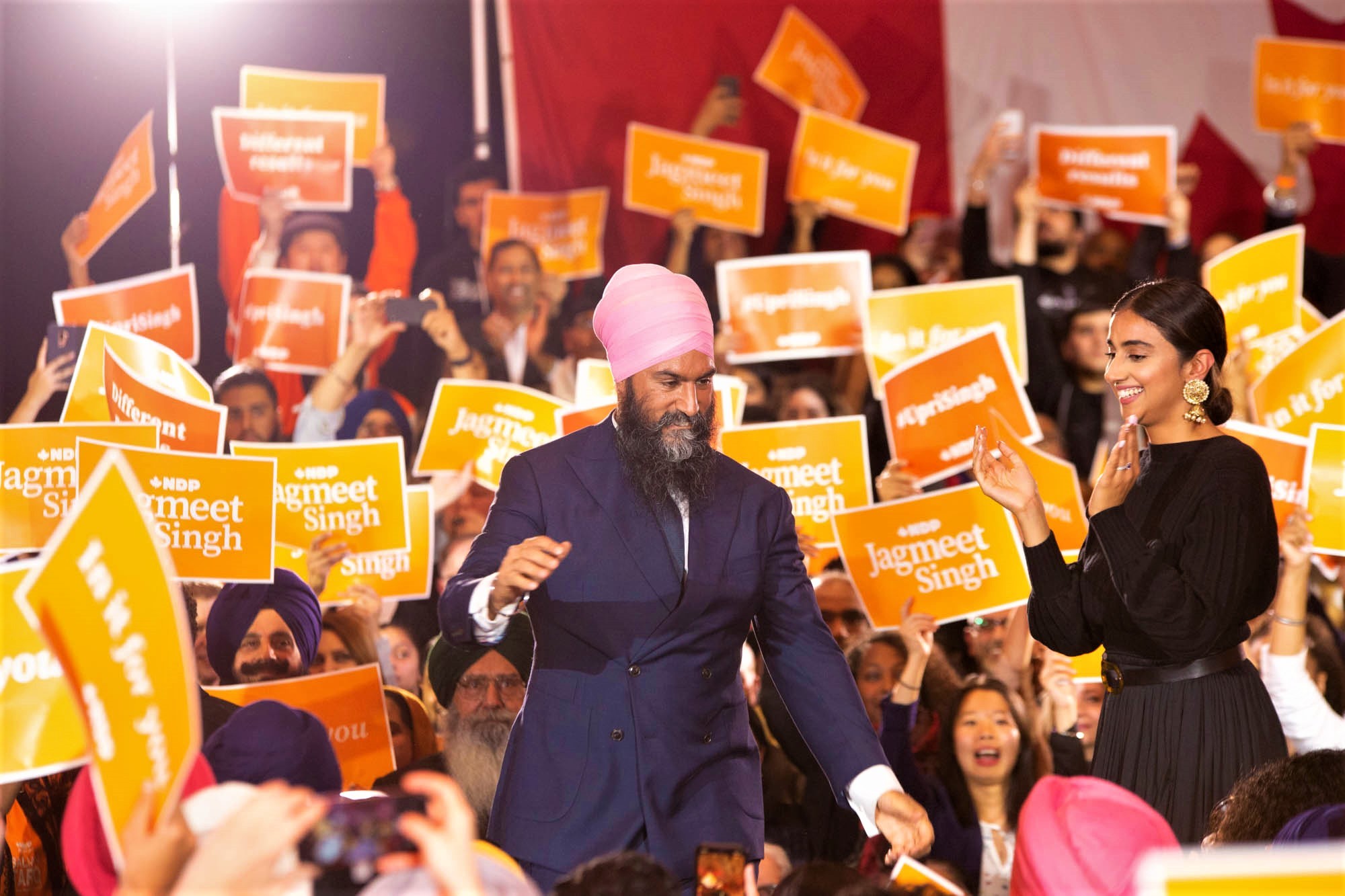 NDP Leader Jagmeet Singh at a Brampton rally Thursday with his wife, Gurkiran Kaur Sidhu
HealthCareCAN, a lobbying group advocating for the healthcare sector, has repeatedly called on the federal government to come to the rescue of the country's healthcare infrastructure.
"The state of disrepair in many of Canada's hospitals – [has] a price tag in the billions of dollars," reads a release by HealthCareCAN. "Experts suggest that hospitals have an estimated shelf life of no more than 40 years, meaning a federal injection into health infrastructure was due around 2004... A boost in strategic federal investments in healthcare infrastructure can help to even the playing field for communities."
Jagmeet Singh attended the rally on Thursday though he did not take any questions from the media. He reiterated his party's promise to create a national pharmacare and dental strategy where families earning less than "$70,000 a year who don't have dental care will get those services right away."
"We're going to make sure we're going to invest in healthcare and deliver a universal pharmacare plan. That means if you need medication in this country, you should use your health card not your credit card," the NDP Leader told the crowd.
Email: [email protected]
Twitter: @mansoortanweer
Submit a correction about this story