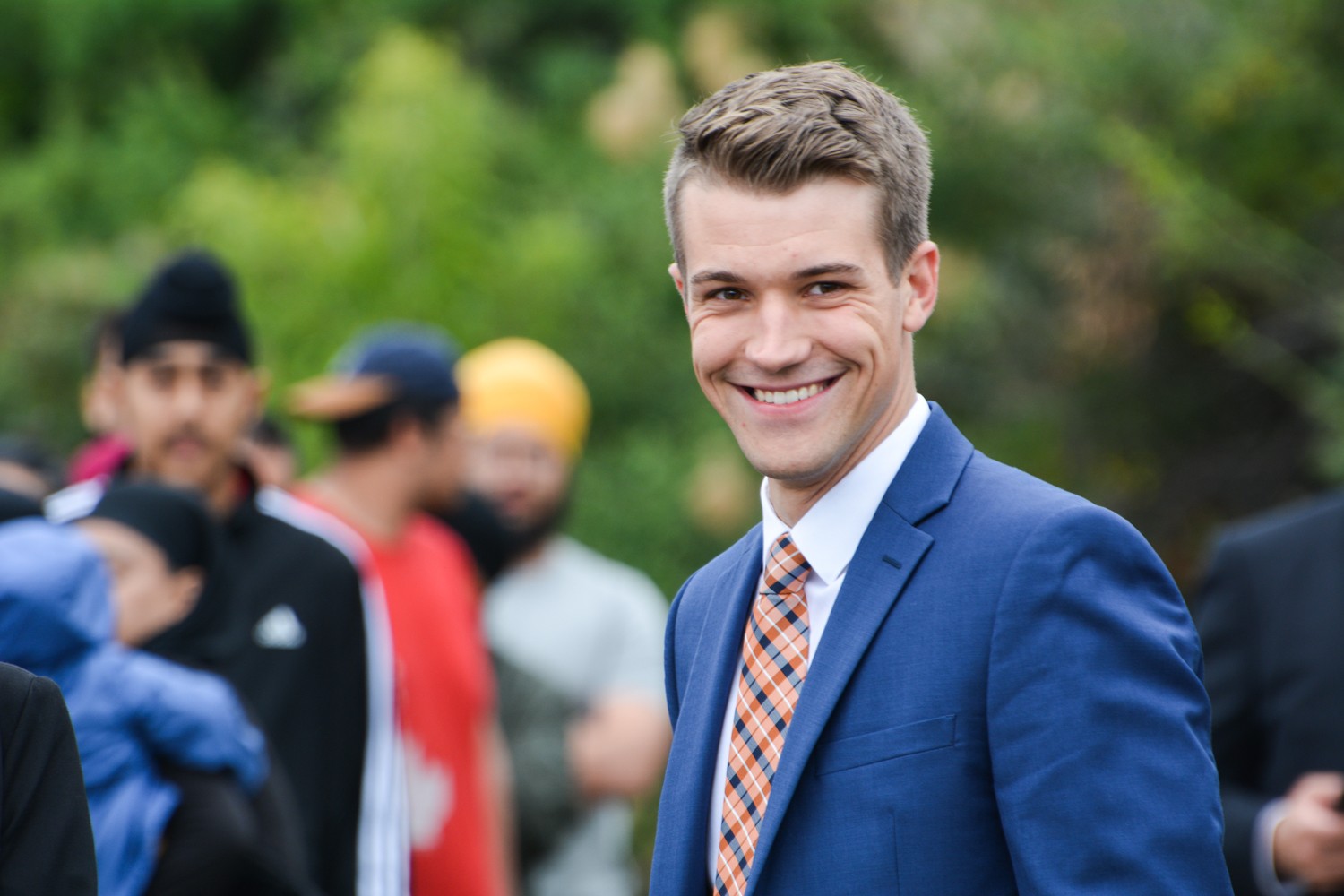 Photos by Joel Wittnebel/Mansoor Tanweer
Jordan Boswell apologizes for 2012 joke at the expense of vulnerable sex workers
Just days before Canadians head to the polls, a new controversy has reared its head in Brampton. As NDP Leader Jagmeet Singh came to town for his last rally in Ontario, historic comments by the party's candidate for Brampton Centre surfaced online.
The comments in question came from a tweet posted by Jordan Boswell during his first year at the University of Toronto in 2012. It featured a photograph of a Metro headline about vulnerable girls being targeted for sex trafficking, with an image of trafficking survivor and social worker Bridget Perrier. Boswell's caption read: "Geez they're letting everyone in that business these days #gottagetmesomeofthat #shejustmissedbeingpretty."
Boswell did not respond to requests for comment. A party spokesperson told The Pointer that the candidate would not speak on the issue, aside from a short Twitter apology. "I deeply regret the hurtful and wrong comment I made on social media," Boswell tweeted. "I understand this type of language is offensive and harmful. I apologize unequivocally."
In 2016, 65 percent of Canadian human trafficking cases took place in Ontario, with 62 percent reported in the GTA. The problem is especially severe in Boswell's native Brampton: Data from 2018 showed that Peel Regional Police were responsible for more than half the investigations into human trafficking in the entire country.
Jordan Boswell, NDP candidate for Brampton Centre, embraces party leader Jagmeet Singh during a campaign stop in Brampton.
Peel's high rate of human trafficking comes from several factors. The 401 Highway, which traffickers use to move girls and women, runs through the heart of the area. A high number of hotels in the area combined with proximity to Toronto Pearson Airport make the problem even more pronounced.
The Peel Regional Police force, which has a nine-person human-trafficking investigations unit, has spent recent years attempting to educate the public on human trafficking and remove the stigma that makes the crime so much harder to track and report. Comments such as Boswell's are a clear example of the attitudes police hope to eradicate.
NDP Leader Jagmeet Singh described the comments as "horribly wrong and harmful and hurtful" on Thursday. He added that "not only" was Boswell taking responsibility for his past but he had also "committed to behaviour and a future where that's not what he believes."
Speaking before the NDP's rally in Brampton, Singh said he had not yet spoken with Boswell but the candidate understood he did something wrong.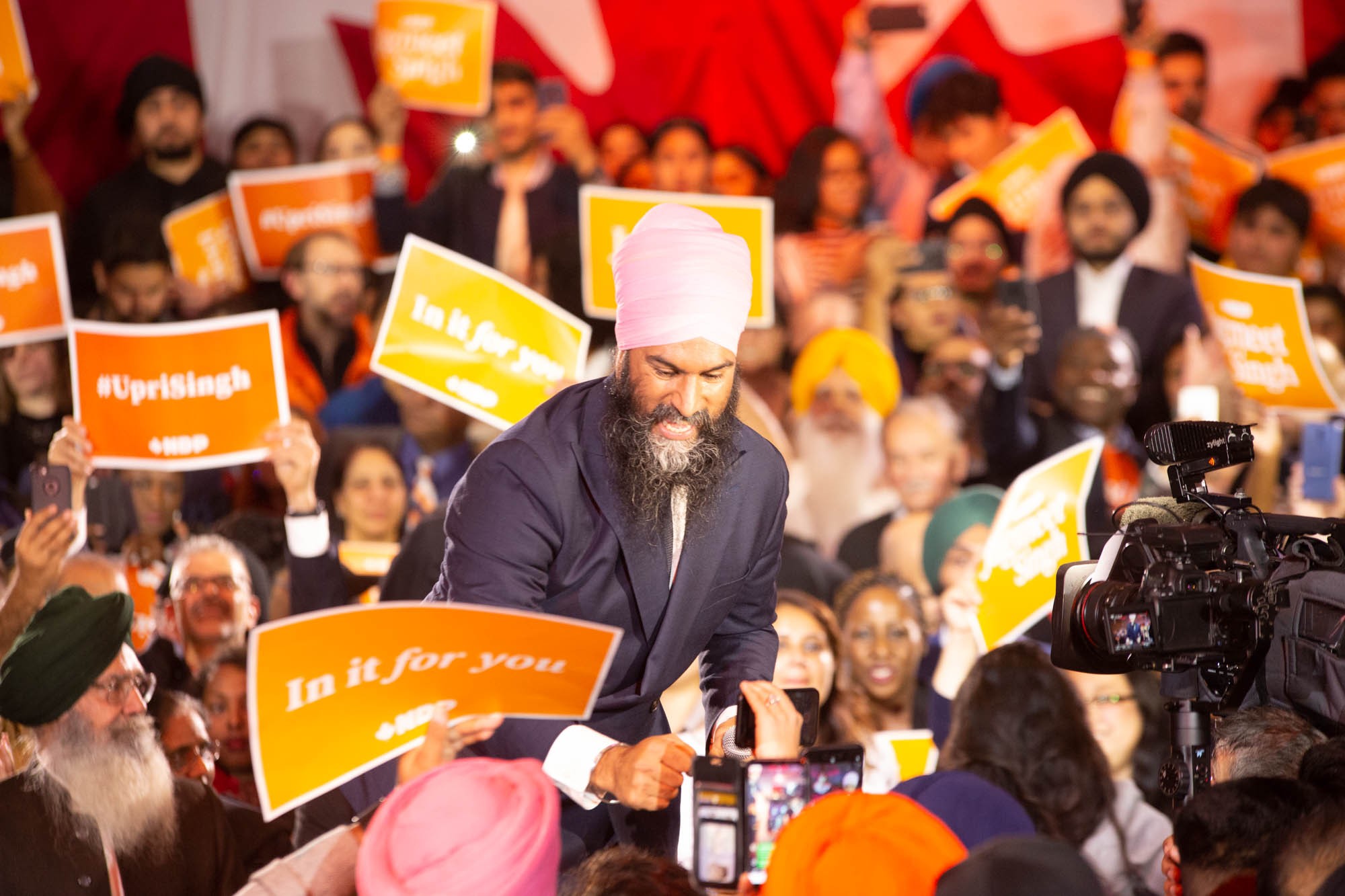 NDP Leader Jagmeet Singh during a campaign stop in Brampton Thursday evening.
Boswell is only the most recent candidate in Brampton and Mississauga to be the subject of controversy for past remarks. In an election where the character of leaders and candidates has been key, several Ottawa hopefuls have been forced to apologize. In the early days of the campaign, political war rooms were in full swing pulling up comments made by candidates on social media.
Only days after the writ dropped, all four major parties were forced to ask candidates to step aside for previous statements, though none were in Peel. After several controversies, Conservative Leader Andrew Scheer told reporters he would stand by anyone who apologized for their words. Singh appears to have taken the same stance with Boswell, who will keep his nomination.
Arpan Khanna, the Conservative candidate for Brampton North, apologized in early September after Liberal incumbent Ruby Sahota pointed to a Facebook re-post containing a homophobic slur.
Conservative candidate Ghada Melek, who is running in Mississauga-Streetsville, has also been the subject of much controversy. In September, a leaked Progressive Conservative memo revealed party vetting staff recommended strongly against her nomination as a provincial candidate. In particular, Melek's comments about LGBTQ+ people and Islam came under scrutiny.
Until Boswell's comments surfaced, the NDP in Peel seemed to have had a successful nomination process, while the Liberals have been relatively unscathed. Only Iqra Khalid (Mississauga-Erin Mills) has come under any real scrutiny; B'nai Brith Canada criticized the candidate for associating with a controversial pro-Palestine campaigner.
Boswell's political opponents in Brampton Centre issued no public condemnation. With the election just three days away, the Liberals' Ramesh Sangha and Conservatives' Pawanjit Gosal have shared only campaign messages on their social media and steered clear of the controversy altogether.
Email: [email protected]
Twitter: @isaaccallan
Submit a correction about this story