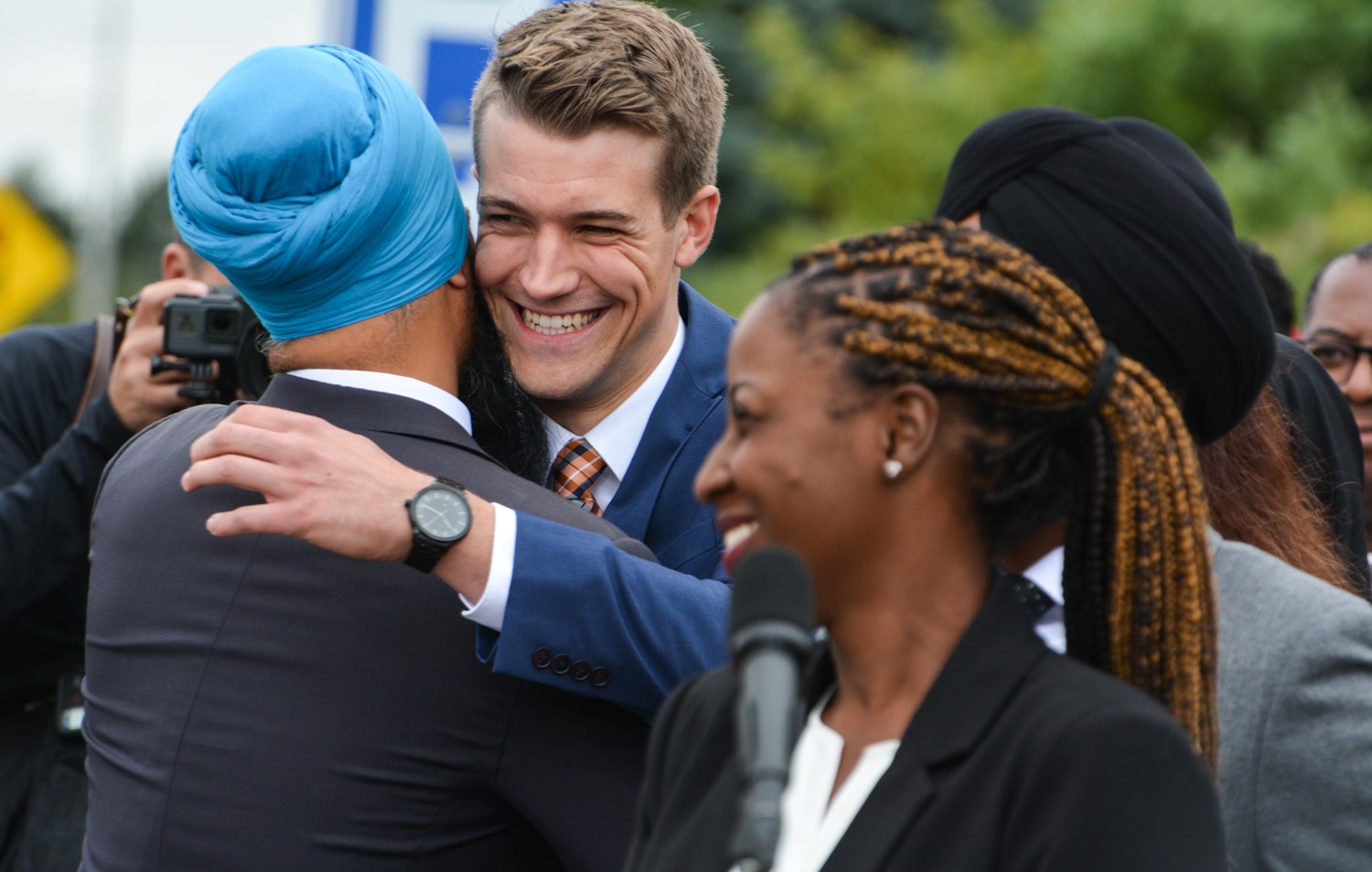 Photos by Joel Wittnebel
Jordan Boswell once worked for Jagmeet Singh; now it's his name on the ballot
Brampton Centre candidate Jordan Boswell had bled orange since he first volunteered with a political campaign.
Back in 2014, when future federal leader Jagmeet Singh was an MPP seeking re-election to Queen's Park, Boswell answered "phone calls, knocked on doors, did data entry" — whatever it took to earn his keep.
Then the Brampton-born Boswell went back to Ottawa's Carleton University, where he finished a master's degree in political management. The halls of power were tantalizingly close; Parliament Hill lies less than four kilometres from the Carleton campus.
Before long, Boswell was back in Peel Region, helping Singh with his federal leadership campaign.
"I moved back to Brampton and worked as the Peel coordinator. I oversaw, or worked on, the ground game for Peel, which was the densest concentration for our members and some of the new sign-ups we had," Boswell said.
When Singh clinched the party leadership in 2017, Boswell became his executive assistant, travelling with him across the country.
Now a candidate himself, Boswell hopes to flip any wisdom he gleaned working alongside his party's leader into a winning strategy in a riding where the odds are stacked against him.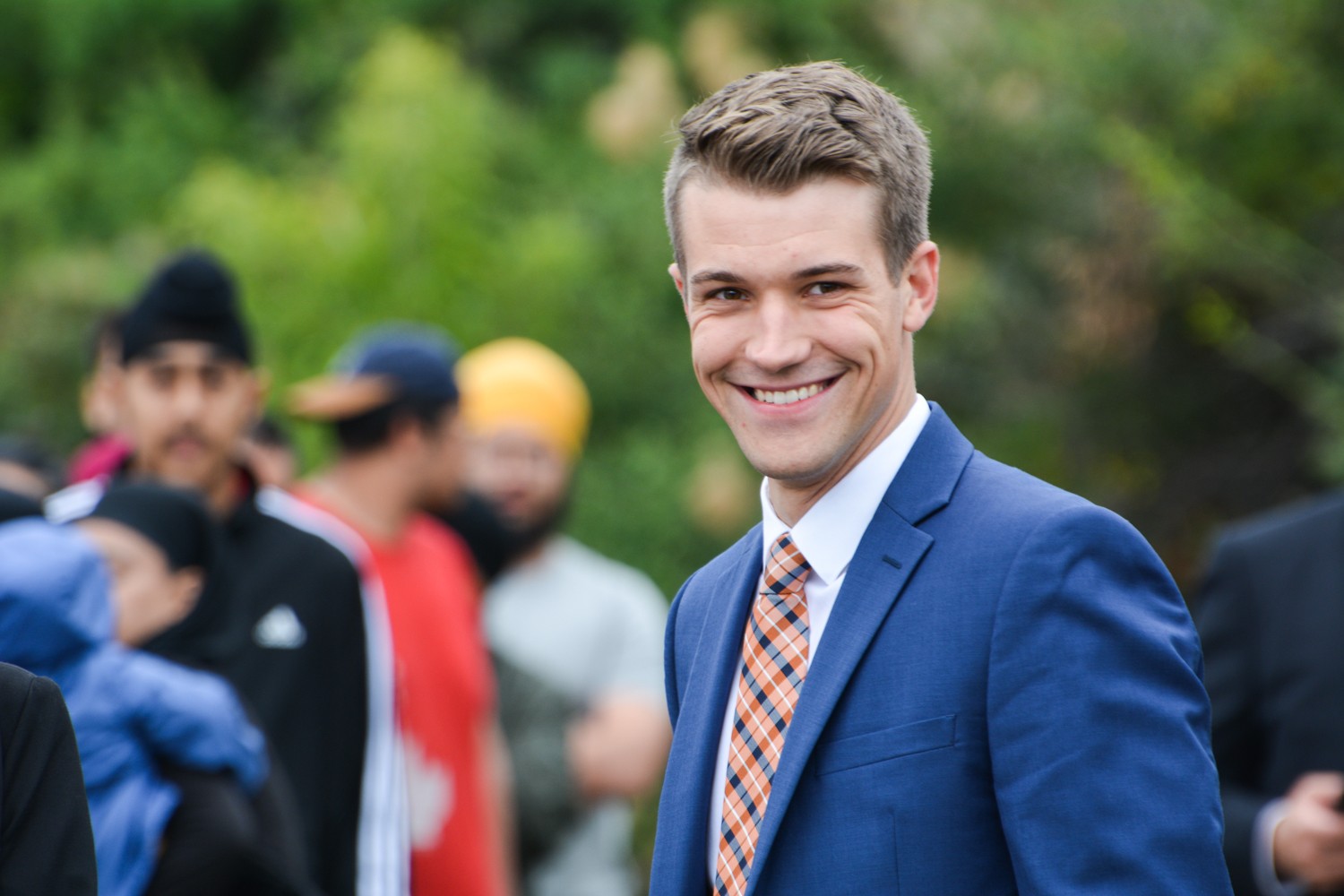 Boswell is running in Brampton Centre against Liberal incumbent Ramesh Sangha, Conservative Pawanjit Gosal, Pauline Thornham for the Greens and the People's Party of Canada candidate Baljit Singh Bawa.
Polls in his riding currently place him a distant third behind second-place Gosal amid a decline in the party's popularity overall. The NDP was slow to nominate candidates; it wasn't until late September that all 11 ridings in Brampton and Mississauga were assigned.
On top of Boswell's priority list: health care.
"It's the biggest issue that we're hearing at the doors. Brampton is facing a health-care crisis, and I think it's obvious. A city with 650,000 people and one hospital is ridiculous," he told The Pointer at Wednesday's Brampton City Council meeting. He and fellow NDP candidates in Brampton came out to support council's proclamation of Islamic HIstory and Heritage Month in October.
Having lived in the city most of his life, Boswell has seen his hometown grow by leaps and bounds. That level of growth demands investment, but he knows that any capital project would generally require the federal government to work cooperatively with the provincial PCs under Premier Doug Ford. It could be a rocky relationship, but Boswell said the stakes are too high to quibble.
"We have a health-care crisis in our community," Boswell said. "To disregard that because of partisan feuds I think is sad."
He plans to fund a new Brampton hospital, promised by NDP Leader Singh in mid-September, through the party's proposed tax on the top 1 percent of earners. The tax, Boswell said, would generate a "significant amount of revenue." He also proposes the government work to close some loopholes that allow money to leave the country for offshore tax havens.
Singh's ambitious promises also include universal pharmacare as well as a dental plan that would provide free treatment to families earning less than $70,000 a year. Boswell took the lead, outlining the plan to media, when the party promoted that campaign plank in Brampton.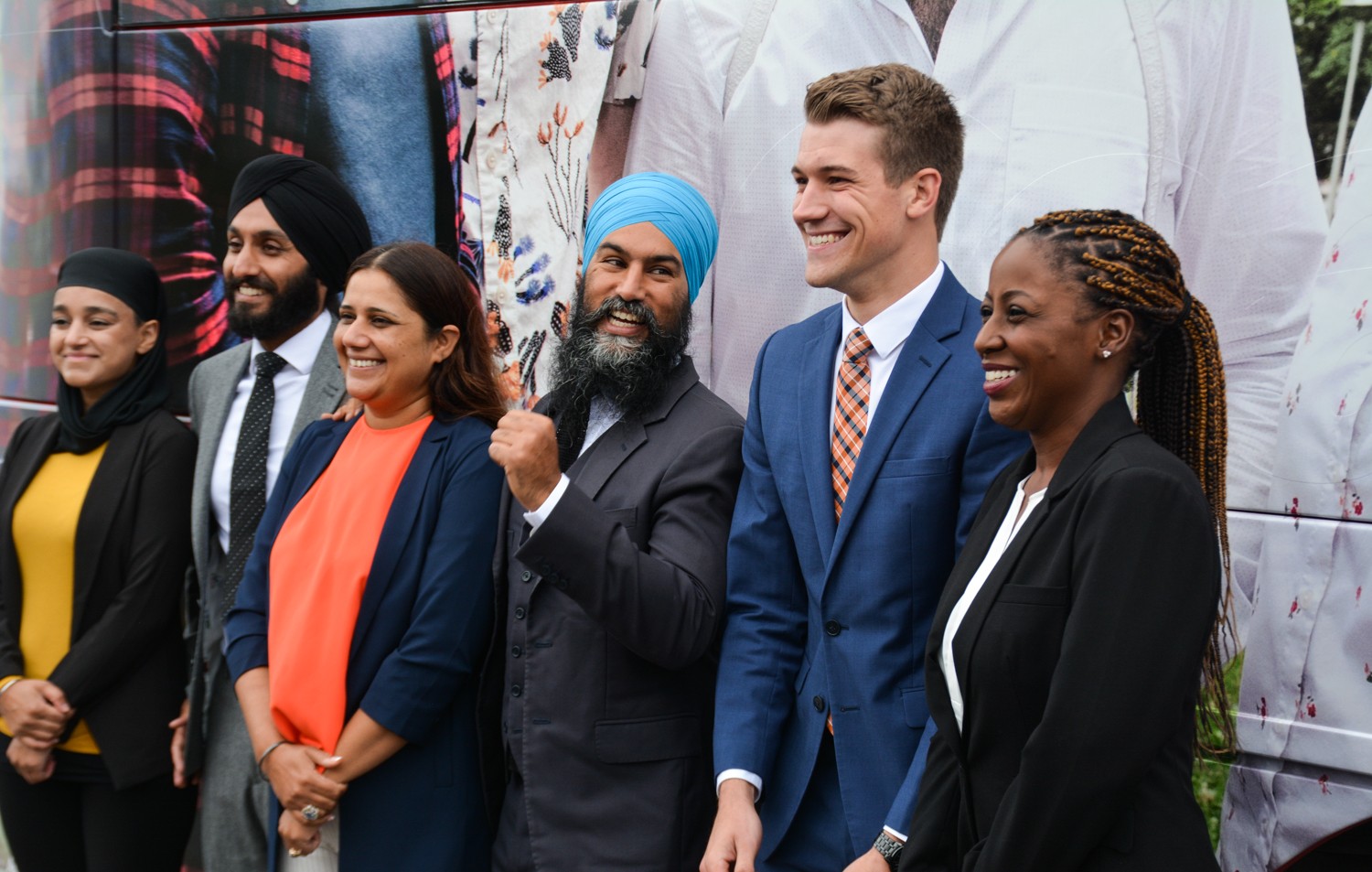 The NDP's candidates for Brampton with party leader Jagmeet Singh. From left: Navjit Kaur (Brampton West), Saranjit Singh (Brampton East), Mandeep Kaur (Brampton South), Singh, Jordan Boswell (Brampton Centre) and Melissa Edwards (Brampton North).
The city's growth also demands more robust transit, Boswell said. It's an issue he knows well, he added, as he took the 502 bus to the University of Toronto every day for four years while he earned his bachelor's degree in political science. He noted that electrifying transit grids is part of the NDP's climate plan.
As for funding those ambitions, Boswell called it a matter of priorities.
"We wouldn't give $12 billion to corporations so they can write off corporate jets and limousines. We wouldn't buy pipelines for $4.5 billion. Those are choices the Liberal government has made," he said.
Peel's growth has been heavily driven by immigration in recent years. Boswell didn't explain whether he'd want to change the Liberal government's projected quota of 350,000 immigrants per year by 2021; rather, he said he wants to ensure that "the immigration system is more compassionate while remaining fair."
To match the city's growth with stable services and infrastructure, Boswell said, he would "absolutely commit to being a strong local voice" ensuring the federal government provides Brampton with the support it needs.
He promised not to support any bill that would repeal the legalization of cannabis but did propose refining the legislation by expunging the criminal records of people found guilty of simple possession. Like the party, he's not interested in reopening debates on same-sex marriage or abortion.
Asked whether he would dissent from the party line if an NDP policy hurt the city, Boswell said no decision is ever truly unanimous.
"I don't think we're ever going to be in a situation where you have two people who are fully aligned on a particular issue," he said.
"I'm confident that any issue would follow with a robust debate. But at the end of the day, you need to be mindful of what's best for your community."
Email: [email protected]
Twitter: @mansoortanweer
Submit a correction about this story