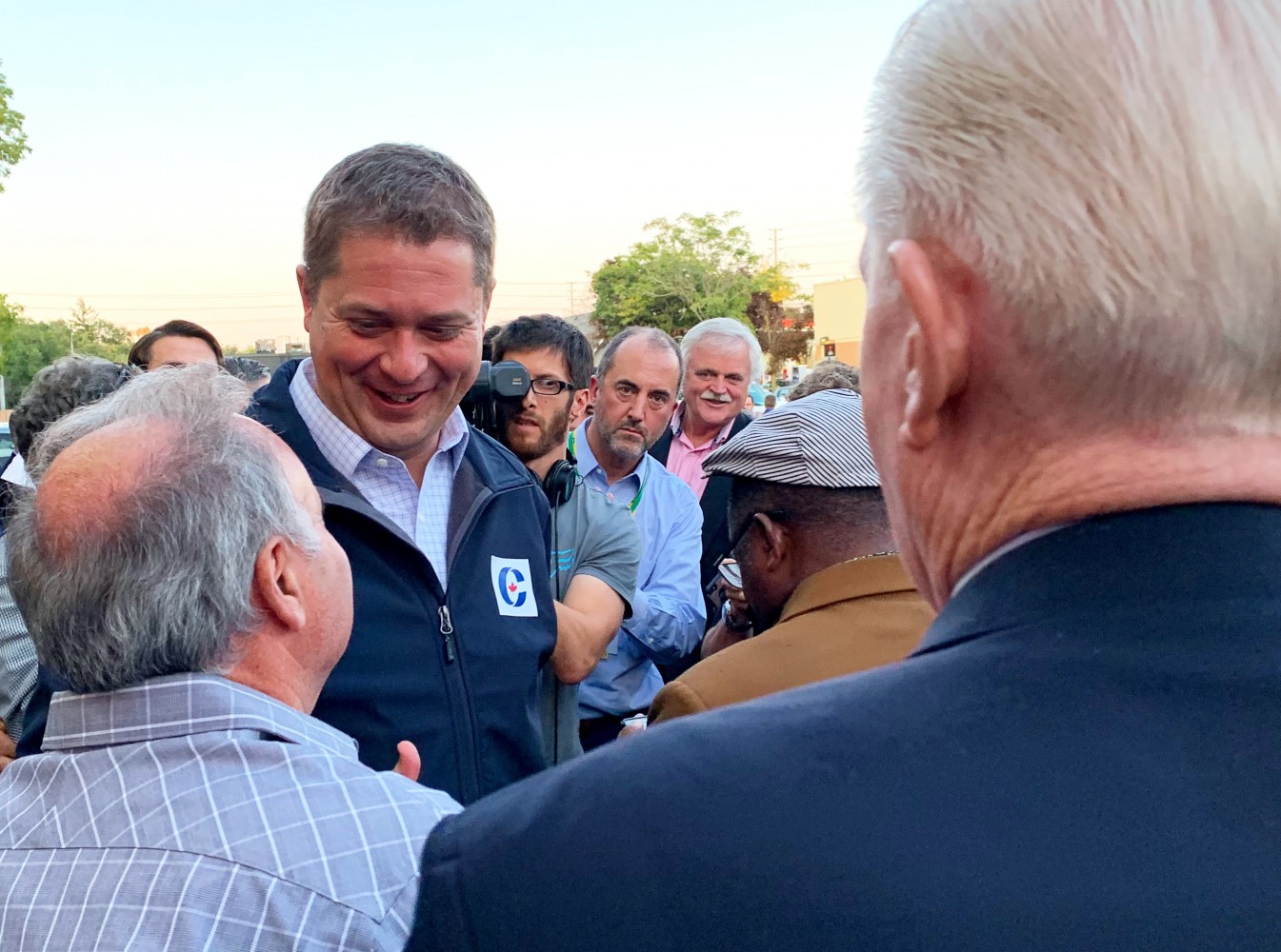 Photos by Isaac Callan/Conservative Party of Canada
Andrew Scheer says Mississauga will get the transit funding it 'deserves' but promises no key projects
Andrew Scheer shared more old memories than new policies Tuesday as he made a short campaign stop in Mississauga-Lakeshore, where his grandparents once lived.
"This is probably the riding I have visited most in my life after my own riding in Ottawa and the riding I live in now," said Scheer, speaking to a packed gathering of supporters inside the restaurant Solstice. "My grandparents lived on Cawthra Road, one GO Train station away from here on the Lakeshore West Line."
Though he didn't commit to any specific projects in Mississauga, Scheer told The Pointer after his speech that he wouldn't rule out specific transit announcements for the city later in the campaign.
"You'll have to stay tuned on that; there are still a couple of weeks left to go," he said. "I can tell you as someone who spent a lot of time in Mississauga visiting my grandmother, my aunt and uncles almost every summer until I moved to Saskatchewan, I am very familiar with the public transport system there."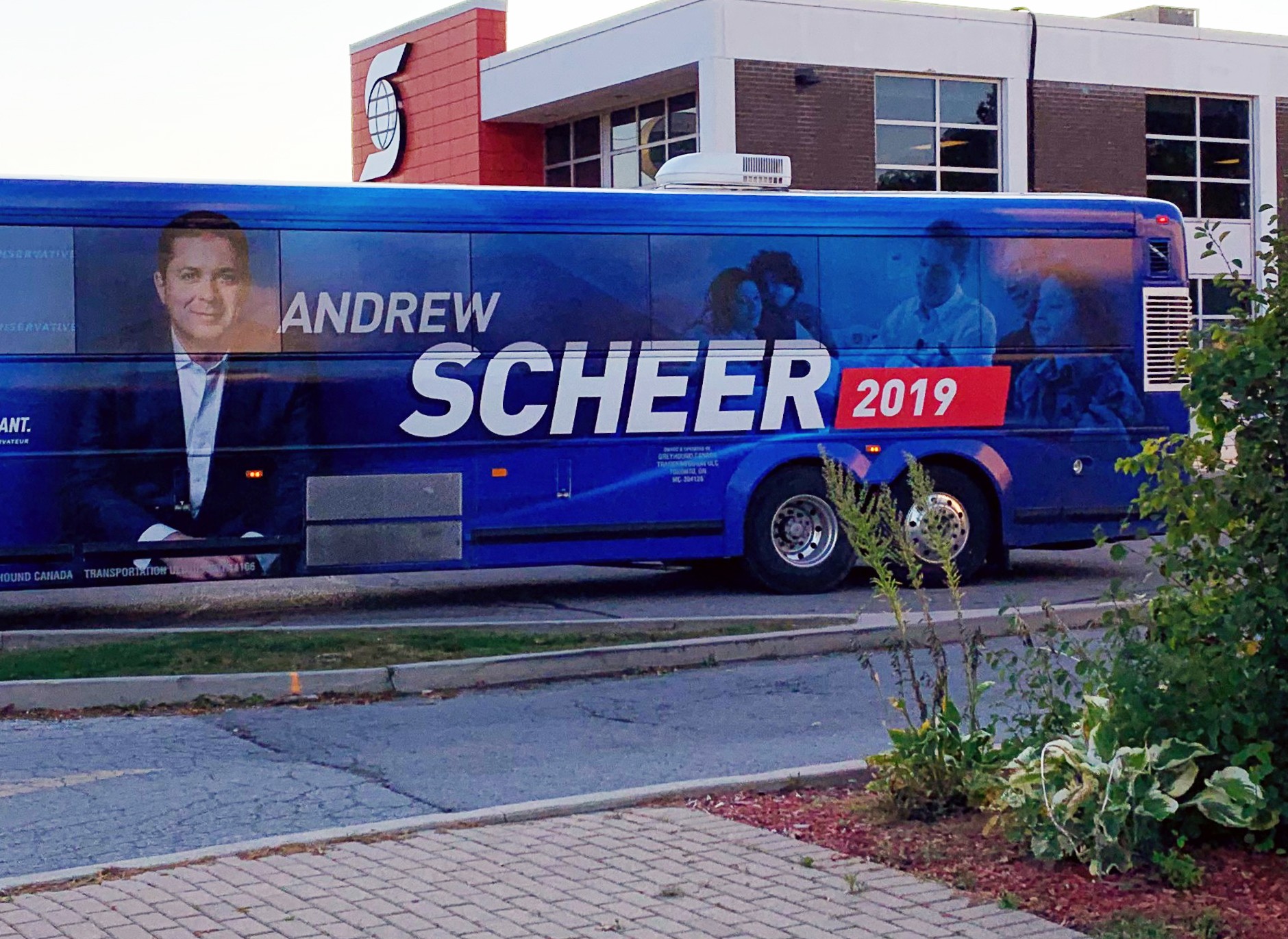 Scheer arrived in Mississauga from a funding announcement for Toronto's public transport. Hours earlier in Markham, the Conservative leader pledged to fund the $10.9-billion Ontario Line through downtown Toronto as well as the Line 1 Yonge subway extension at $5.6 billion. Like Markham, Mississauga is a city of commuters and will demand the next federal government work on extensive transit infrastructure.
Since 2015, Mississauga — Canada's sixth-largest city — has received just $77.3 million from the federal government's municipal infrastructure pot of $188 billion, with $32 million promised by 2022. Meanwhile, Edmonton — Canada's fifth-largest city — has received $1.9 billion for an LRT. Based on a per capita calculation, Mississauga should be due almost $1.2 billion of the country's $188-billion pot.
Scheer told The Pointer he would "absolutely ensure" the city gets the federal infrastructure investment it so desperately needs.
"I am committed to ensuring that municipalities and Peel county [region] get their fair share of funding as well," he said. "This is something that has come up, something which local candidates have raised with me, and I am committed to making sure that that is addressed."
Mississauga's transit woes were compounded in March when Metrolinx dropped a three-stop downtown loop from the Hurontario LRT, which is to be built between Port Credit GO and the Brampton Transit Terminal. The loop was intended to connect the rapid transit route to Square One in Mississauga and its transit terminal. Federal funding for the $200-million loop is a priority for Mayor Bonnie Crombie this election as she advocates for the city under the banner "Mississauga Matters."
While Justin Trudeau and Scheer have yet to respond to Mayor Crombie's campaign, NDP Leader Jagmeet Singh wrote a letter of reply, agreeing to all of its demands. Though he did not directly reference the downtown loop, he said his party would help Mississauga with "all of its self-identified local and rapid transit priority projects."
Pressed on the issue, Scheer was even less specific.
"I am committed to funding infrastructure projects that have different levels of government support behind them [and] that reduce commuter time and make it easier for people to get home after work," he told The Pointer. "The announcement today was specific for the Ontario [Line] and Yonge Street extensions, but going forward other types of projects that will increase capacity and shorten commute times ... will be a priority for our government."
Alongside Mississauga-Lakeshore candidate Stella Ambler, the Conservative leader delivered a rousing speech to the party's faithful. Light on local matters, the speech touched on various national issues, Justin Trudeau and the carbon tax.
"No Canadian has ever become richer by paying higher taxes. That's why the first piece of legislation which Stella will be voting on will be called the Act to Repeal the Carbon Tax," Scheer told a cheery crowd inside the restaurant. "We know that not only do these endless taxes lead to higher deficits, we know they also threaten services."
Conservative Leader Andrew Scheer speaks during a previous campaign stop.
Scheer also touched on the various tax credits his party has announced as part of its plan to help people "get ahead." At the start of the campaign, he had visited a GO bus depot in Mississauga to announce his party's Green Public Transit Tax Credit, a Stephen Harper policy the Liberals scrapped.
"As someone who took the GO Train quite a few times from Union Station to Port Credit Station and Clarkson Station and [who] took the No. 8 [bus] to Square One many times growing up, we are going to bring back the Green Public Transit Tax Credit," he said.
Whether Scheer's fond remembrance or vocal lobbying from a city with six crucial swing ridings will be enough to draw specific commitments from the Conservative leader remains to be seen. As a city that elected all Conservatives MPs in 2011 only to replace them entirely with Liberal representatives in 2015, Mississauga knows how to bargain for what it wants.
Until a local announcement — or polling day — comes, Scheer simply committed to giving Mississauga the investment it "needs."
"I used to take the No. 8 bus from Cawthra to Square One and the GO Train into Union Station for Jays games," he said. "I am a big believer in public transport and I will absolutely ensure that Mississauga has the investment it needs to have the transportation it deserves."
Email: [email protected]
Twitter: @isaaccallan
Submit a correction about this story