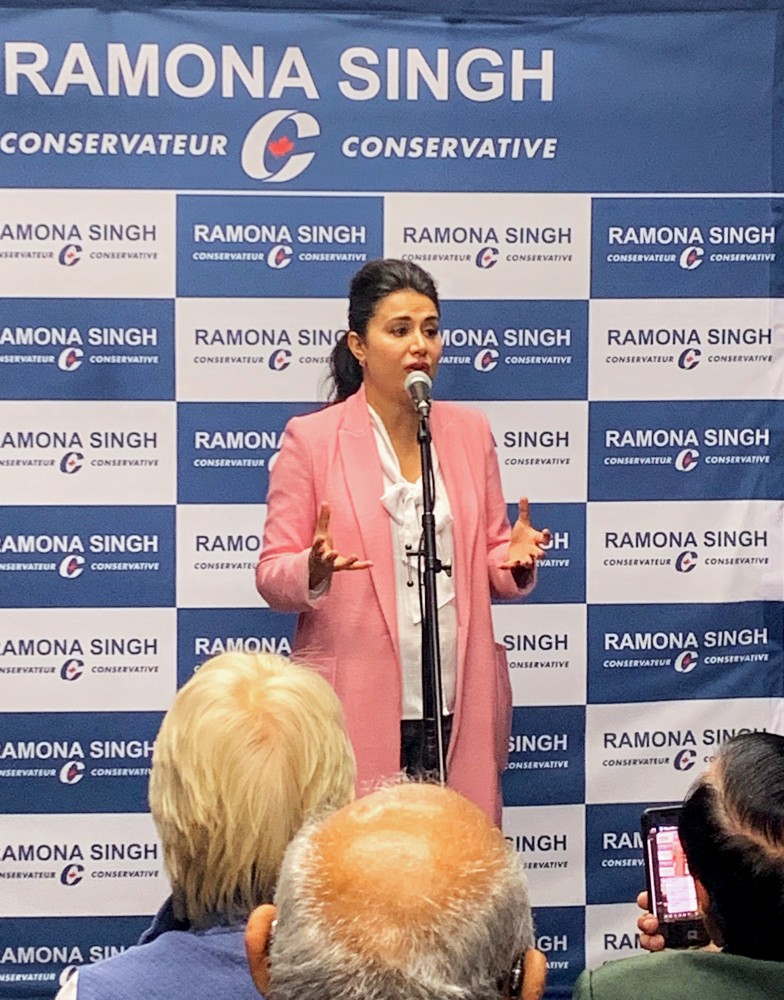 Photos by Isaac Callan/Mansoor Tanweer
Conservatives' Ramona Singh vows to curb 'devastating' violence after win in Brampton East
The Conservatives brought in a big name Friday night to reinforce their push for Brampton East.
At a well-attended event in her campaign office, candidate Ramona Singh was introduced by former attorney general and minister of defence Peter MacKay. When he addressed the room full of supporters, many of whom later lined up for photographs, MacKay spoke more to the national platform than local issues. However, when he got to Singh, MacKay did not blush away from his support.
"Ramona has an education in criminology. She's also worked as a journalist — and we know how we all feel about journalists, but that's a whole other story," MacKay said.
"In reality there is a real need to address violence in our communities. If we can't protect our most vulnerable, our seniors and our children, then we are failing as a nation."
The day's focus on preventing violence continued as Singh received more support from a local family who, hours earlier, shared a stage with party leader Andrew Scheer in Toronto for a major policy announcement on public safety.
"We've got to work very, very hard, and I know that Mr. Trudeau is incapable of this. He has watered down legislation, and we need a government that is going to do the right thing for our families and our communities," local father Joe Wamback told assembled supporters after his wife described the permanent injuries their son sustained at the hands of a gang in 1999.
"It's the families who get the life sentence, not the criminals," Lozanne Wamback added.
Brampton East is one of the most fiercely contested ridings in the city and the region. Incumbent Raj Grewal left the Liberal caucus last year amid an RCMP investigation into his gambling habit, making his the only seat in Brampton or Mississauga not contested by an incumbent.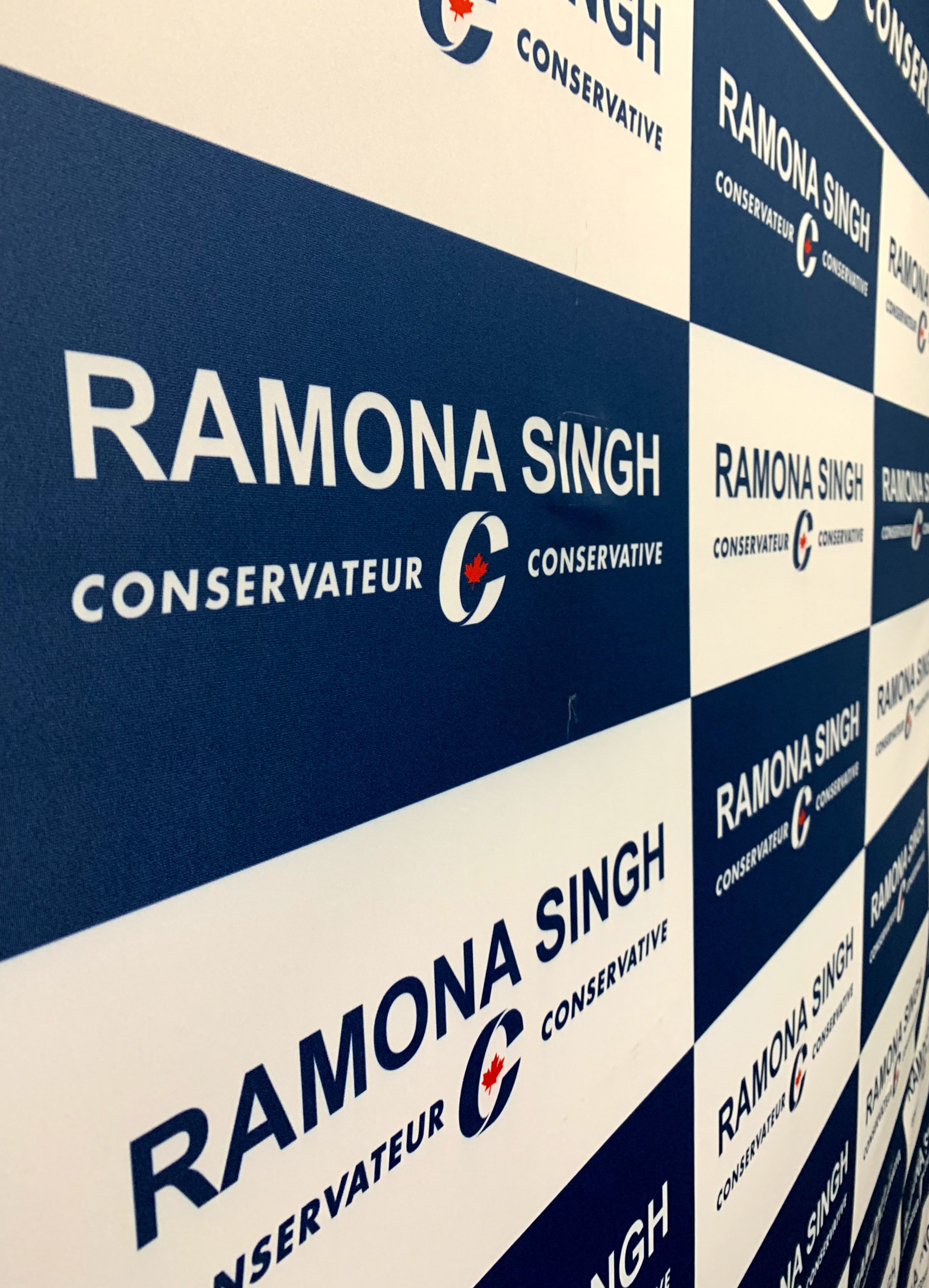 Political rookie Maninder Sidhu has been nominated to compete for the Liberal Party, while human-rights lawyer Saranjit Singh is the NDP's candidate. Guarav Walia is running with the People's Party of Canada, and Teresa Burgess-Ogilvie represents the Green Party.
"When we first started door knocking many months ago, people were talking about immigration and family reunification — wanting to make sure our system was in a better place," Singh said. "Then as we went through the summer, people started talking about community safety and how important it is for [tackling] guns, gangs and crime."
Singh, a local broadcast personality, said in an interview that Brampton needed more federal support to fight organized crime.
"Just recently the Prime Minister Justin Trudeau gave $25 million to Toronto for guns and gangs," she said.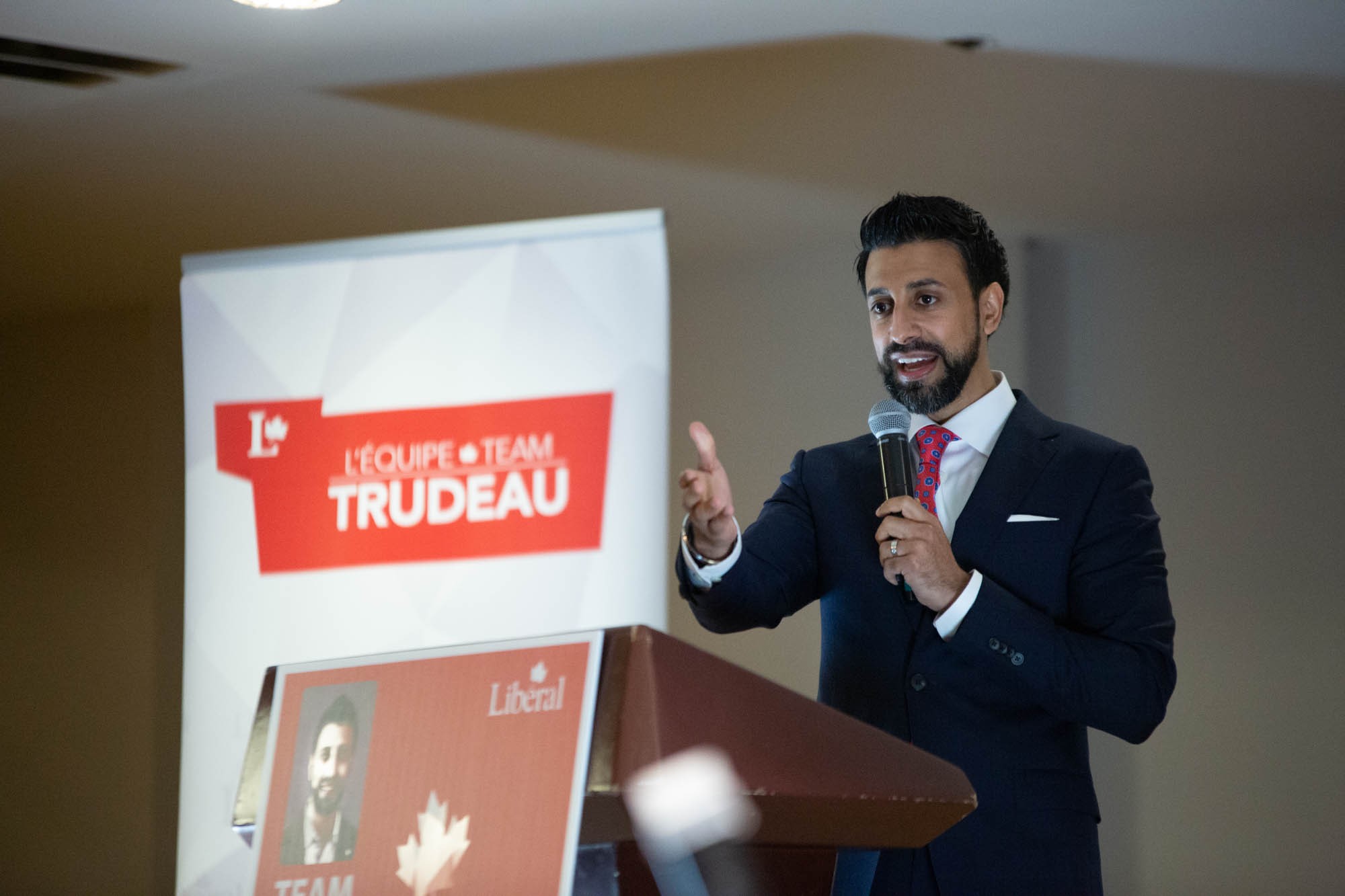 Liberal candidate for Brampton East Maninder Sidhu
"But here's the thing: The violence doesn't stop at Steeles. It comes north, and we're [seeing that]. What families are going through is absolutely devastating. What we need to see is that the police have the funding and the tools to do their job."
The source of the $25-million figure is unclear. In August, the federal government pledged $1.5 million to Toronto to tackle gun violence, while it gave $54 million to Ontario as a whole in June. Last August, it was Premier Doug Ford who promised a $25-million sum to Ontario's capital.
The Conservative Party's newly announced plan "for a safer Canada" focuses on tougher laws and enforcement around gangs. For example, it plans to end "automatic bail" for gang members, introduce mandatory minimum sentences for violent gang crime and strengthen background checks for people hoping to purchase a firearm.
Referring to various crimes in Brampton, particularly theft, Singh said it was "all gang related" and that their "systematic" nature showed that organized forces were at the heart of Brampton's public-safety issue.
Singh committed to further funding for the problem if elected, saying: "I would absolutely fight [for it]. We're the ninth largest city. We have a massive population. I will fight for it. We need to make sure that the police have the [resources they need] and, of course, we need more funding for youth."
The candidate ended the interview to say goodbye to MacKay, her guest of honour.
MacKay's visit was further evidence that the Conservatives believe they can make major inroads in the city. The party's leader, Scheer, has also visited Brampton Centre and Brampton North to endorse their candidates.
Singh's team offered responses to two follow-up questions by email on the issues of transit and climate change; queries about abortion, marijuana and health care were not immediately addressed.
Asked on Monday what she would do to offer Brampton its fair share of transit funding after years of neglect, Singh's team wrote that her "primary focus will be Brampton, not Ottawa." It said Singh would "reverse" four years of cuts and "spend her time advocating on behalf of Bramptonians in Ottawa for their fair share of federal dollars instead of taking her constituents for granted and ignoring the very real needs of Brampton-East families."
On climate change, Singh and her team stuck with the party line on the carbon tax, suggesting it hurt Bramptonians instead of big polluters.
"The carbon tax is a real and serious threat to local industries like Brampton's trucking and shipping companies as well as the people they employ. Unlike Justin Trudeau, the Conservative plan will hold major polluters responsible for their carbon emissions, not everyday Canadians."
Email: [email protected]
Twitter: @isaaccallan
Submit a correction about this story