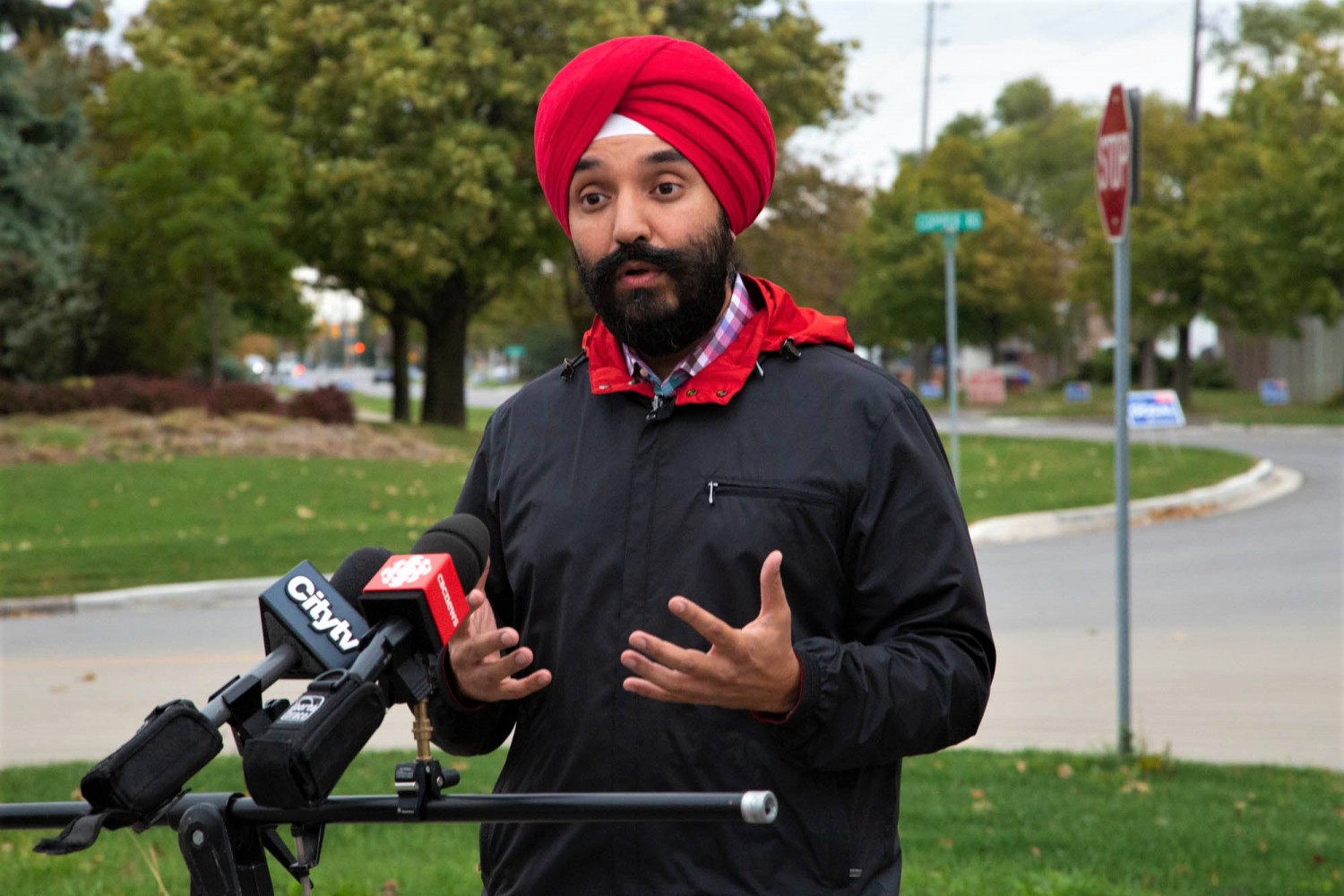 Photos by Mansoor Tanweer
Navdeep Bains crashes Jason Kenney appearance in Brampton, sparking confrontation 
Correction: This story has been updated from a previous version that attributed a quote to Pawanjit Gosal expressing confusion at the Liberals' tactics. Those words were spoken by her husband, Bal Gosal.
The temperature at Pawanjit Gosal's campaign headquarters was raised on Sunday. The Conservative candidate for Brampton Centre was expecting to receive Alberta Premier Jason Kenney, who she says is a close family friend of hers and husband Bal Gosal — who served as an MP with Kenney in former prime minister Stephen Harper's cabinet.
The Gosals had an unexpected guest alongside Kenney. Liberal incumbent for Mississauga—Malton, Navdeep Bains, was right across the street and held a hastily called media availability next to Gosal's campaign HQ.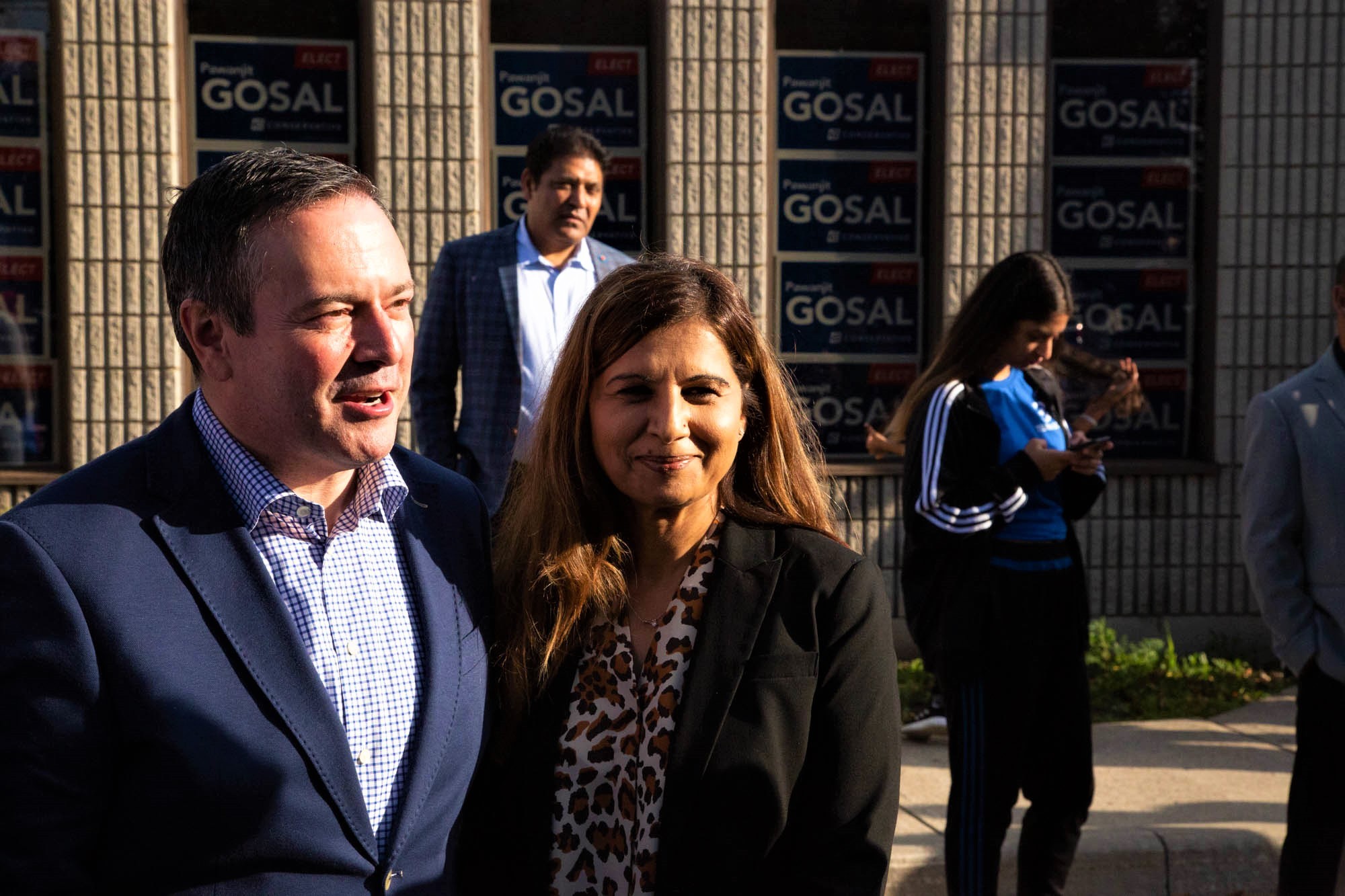 Alberta Premier Jason Kenney with Brampton Centre Conservative candidate Pawanjit Gosal Sunday
Bains began attacking Conservative Leader Andrew Scheer as well as Ontario Premier Doug Ford. "We put forth a fully costed platform," Bains told the handful of media gathered. "Why isn't Andrew Scheer sharing the cost of his platform? Why is he taking the same playbook that Doug Ford had and not tell people where he's going to make the cuts?"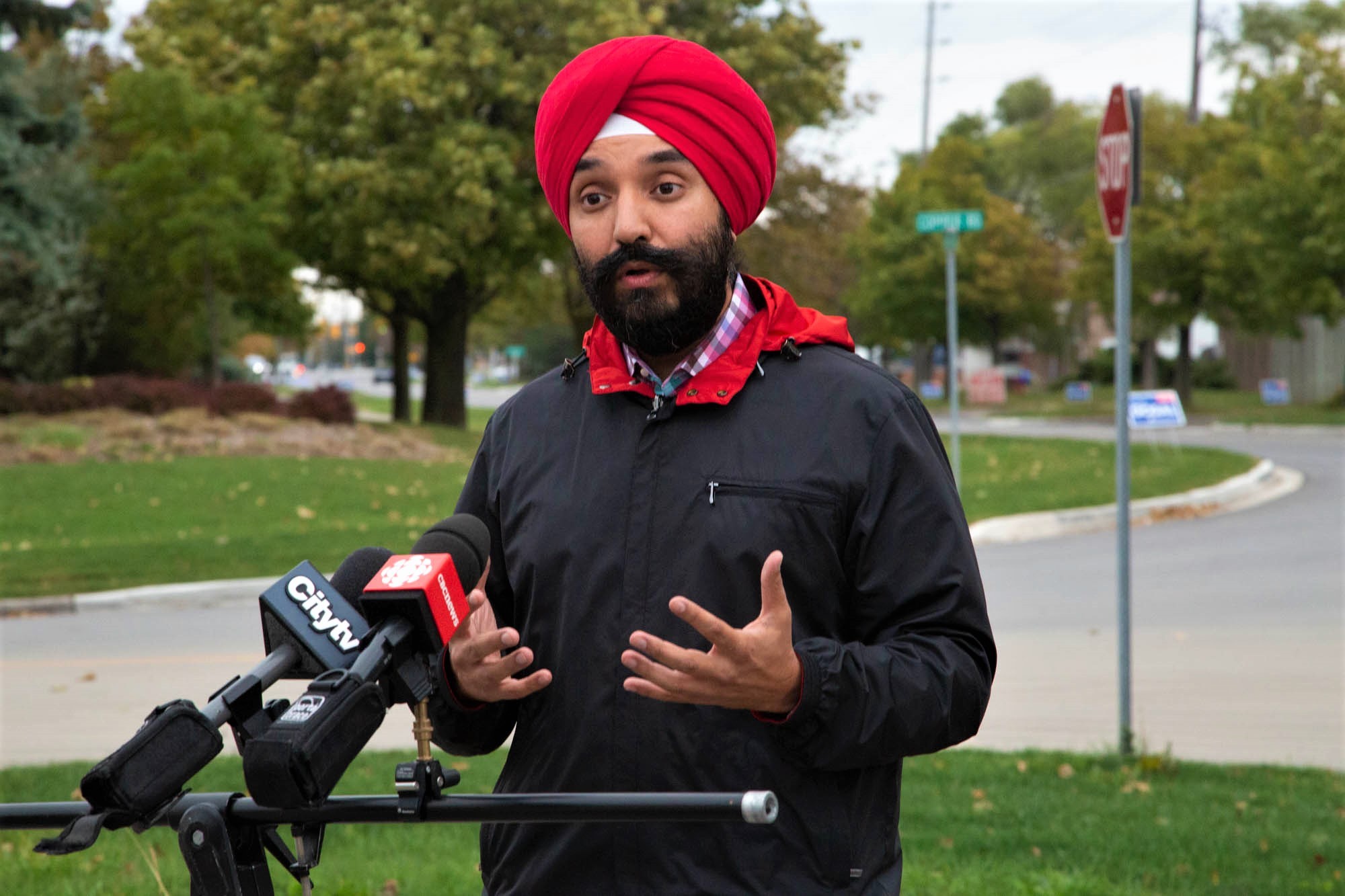 Mississauga—Malton Liberal incumbent Navdeep Bains in Brampton Sunday
Just after the media availability for Bains ended, a cadre of Tory supporters wearing the signature blue t-shirts of the Conservative party left Gosal's HQ and attempted to confront Bains. The Liberal incumbent jumped into a car and vacated the area by the time the group had assembled across the street from Gosal's event where Bains held his impromptu press conference. The Mississauga MP who most recently served as minister of innovation, science and economic development, a high-profile portfolio, has been dispatched recently by the party to help candidates in close races across Ontario.
According to website 338.com, an aggregator of national polls by established companies, which also uses its own demographic modeling to get its numbers, Gosal is trailing Liberal incumbent Ramesh Sangha, who has 41.6 percent support compared to the Conservative candidate's 33.7 percent, as of October 6. Meanwhile, Bains can afford to help elsewhere, as he enjoys a 21-point lead over his nearest challenger.
Tory supporter and board member of the Conservative riding association for Brampton Centre, Jaswinder Singh, visibly perturbed, told the gathered media, "they have to show their own platform, not to interrupt others. They have to send the message (about) the work they have done in four years. So (because of the) mess-ups they have made, that's not going to change anything by interrupting the campaign."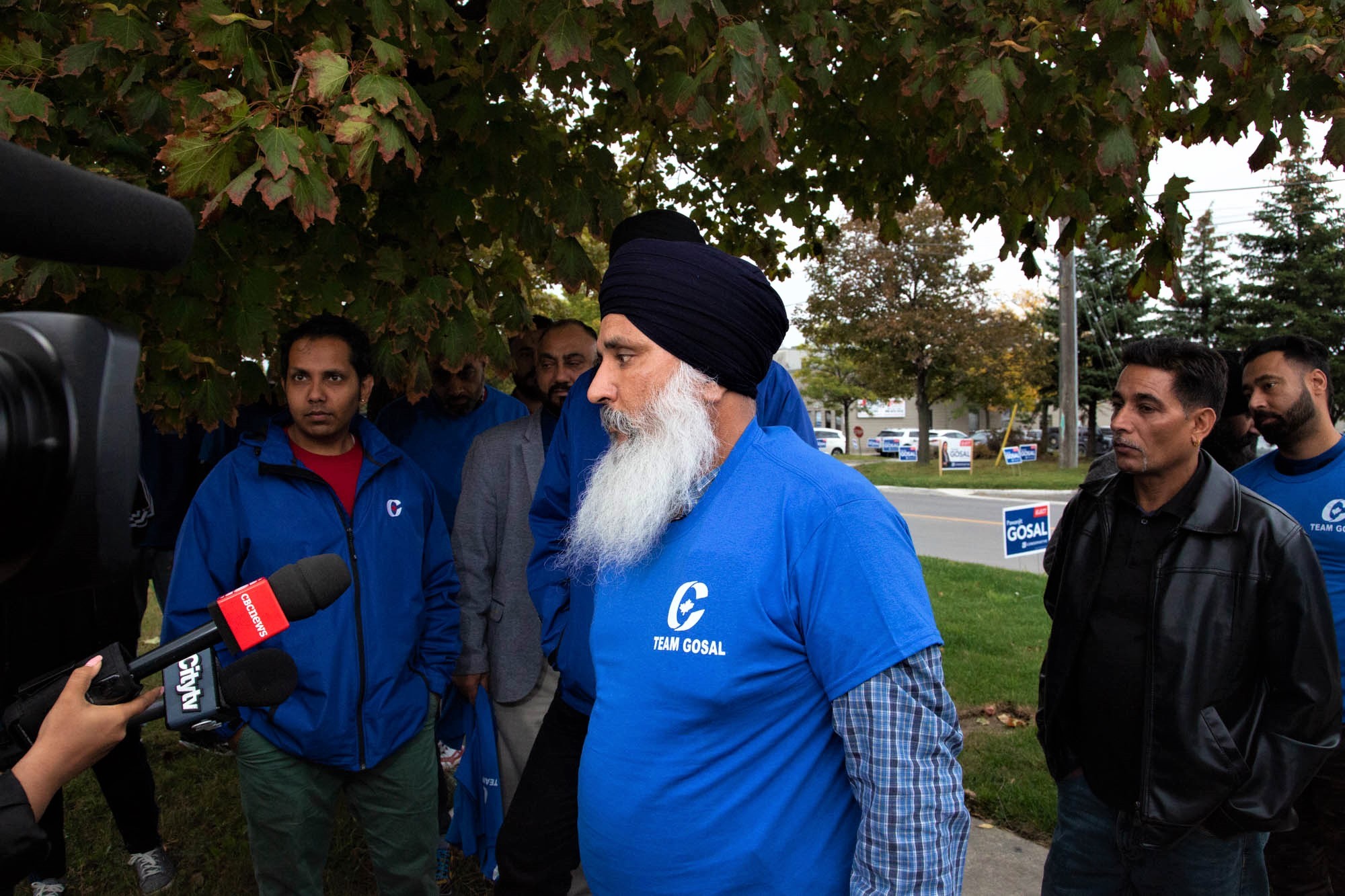 Board member of the Conservative riding association for Brampton Centre, Jaswinder Singh, and others tried to confront Bains
Former minister of state for sport Bal Gosal told The Pointer he had no idea Bains was going to be at the location and that he was surprised to learn about it. "It's strange that Liberals will send a media advisory for our campaign office.... Maybe they are scared… I don't know what they are trying to do," he said.
His wife, hoping to follow in her husband's footsteps, said Bains can do "whatever he wants."
Spokesperson for the Liberal Party of Canada, Joe Pickerill, told The Pointer in an emailed statement: "On a day where Andrew Scheer held no public events and Doug Ford is nowhere to be found, Jason Kenney, the Conservative Premier from Alberta, was brought in to pinch hit for them in Brampton."
Kenney coyly said he was "thrilled" by the somewhat unconventional appearance of Bains. "They are sending out senior cabinet ministers to campaign events like this because they know they are losing this election," Kenney told gathered media and supporters. "I think that's a great confirmation that the winds of change are blowing here in Peel Region and in Brampton."
The swing ridings in Mississauga and Brampton are crucial to winning elections. Kenney in the previous two federal elections aggressively campaigned in the 905. The 2011 election saw those ridings flip blue thanks in large part to the campaigning of Kenney, who at the time was minister of immigration and multiculturalism. The ridings were consistently Liberal red — with one blue enclave after the 2008 election — for years including during the minority government of Stephen Harper. Kenney's visits to cultural centres, houses of worship and other campaign events, alongside the weak leadership of the then Liberal leader Michael Ignatieff, helped win the Region of Peel and helped to form a majority government for the Conservatives in 2011. However, many immigrant and visible minority supporters who left the Liberals, questioned Kenney's subsequent immigration policies, which did not align with many of the pledges he had made to woo support.
He made family reunification more onerous and imposed much steeper costs for certain immigration fees. He imposed a language fluency requirement, which was popular with many Canadians, but not popular in Peel. He claimed a crackdown on widespread immigration fraud but found a very small number of actual cases that were outside the rules. He curtailed health benefits for some refugee claimants and some of his policies allowed corporations to take advantage of migrant workers without providing them with certain protections and social support that Canadians enjoy.
In 2015, Kenney's Conservatives lost every single seat in Brampton and Mississauga the party had gained in the previous election, as the Tories were removed from a governing role by the electorate. Justin Trudeau and his Liberals turned every blue seat in Brampton and Mississauga red.
But now, the Alberta premier is back in the region, trying to help the national party. It's unclear what he was actually promising for voters here. Immigration is still a huge issue and when asked if he would advise Andrew Scheer, if he wins, to reduce the current Liberal immigration targets which were increased dramatically, by 35 percent, from the numbers set by Kenney, from 260,000 to 350,000 by 2021, he was quiet.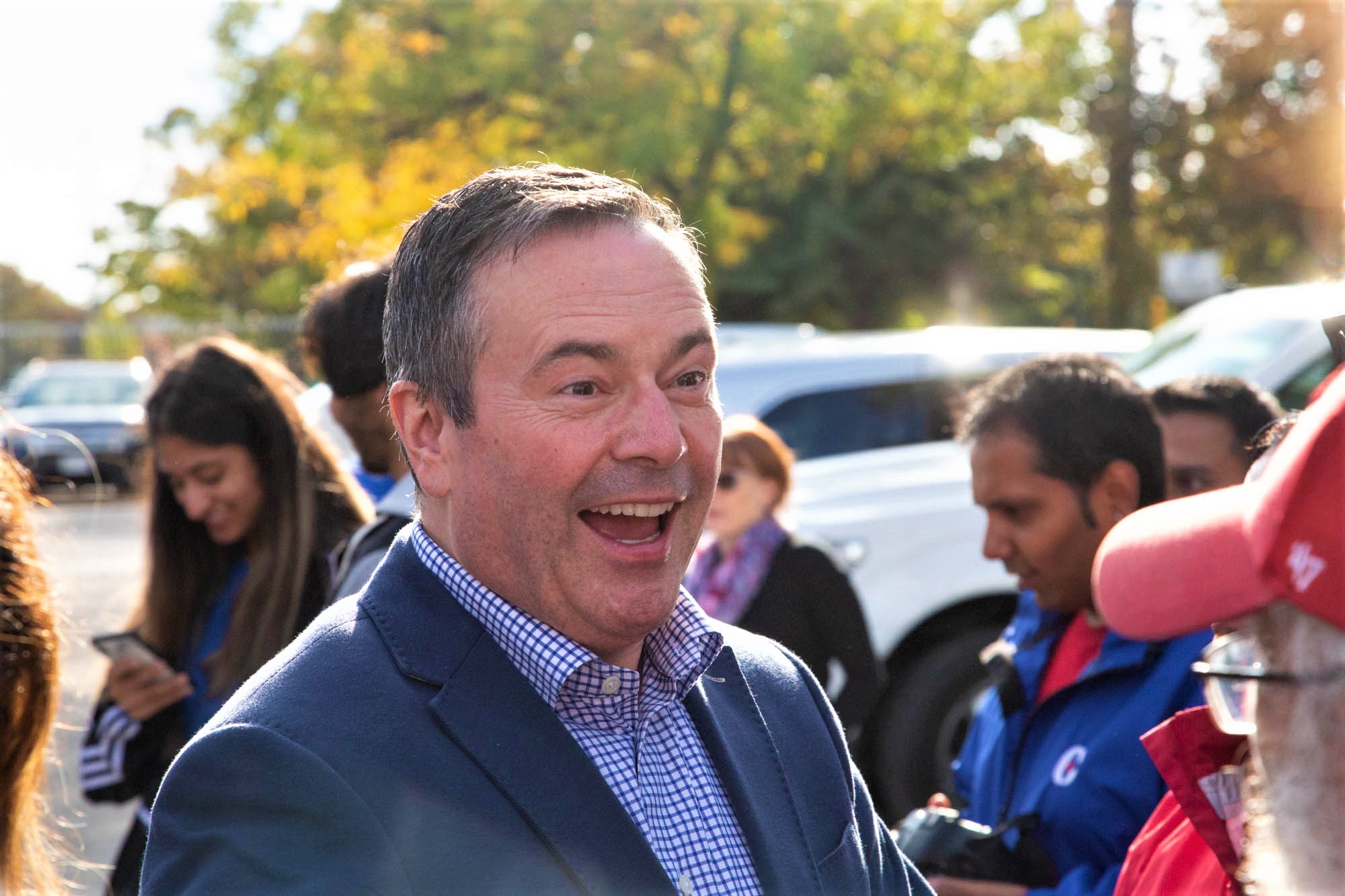 Alberta Premier Jason Kenney in Brampton Sunday
"I was proud of my record as immigration minister that welcomed a record number of newcomers but also strengthened the rules and cracked down on fake asylum claims," Kenney said. When The Pointer asked about possible advice for Andrew Scheer to lower the Liberal immigration quota to the numbers he had set, he said, "I will only offer advice when it's asked. I don't offer unsolicited advice."
His popularity across Peel in the past was widely believed to be a result of the close relationships he forged with communities here, and the socially conservative values many immigrant and visible minority voters in Peel hold.
Kenney has been blazing a trail for Scheer in Ontario while the Conservative premier here, Doug Ford, has been out of sight, as his popularity with voters has slumped badly following a series of dramatic social cuts he imposed, despite never campaigning on most of them during last year's provincial election. Scheer has not been seen with Ford during his Ontario campaign stops.
In June, Kenney endorsed Brampton North Conservative hopeful Arpan Khanna, spoke at an event in Ottawa held by Brian St. Louis who is a candidate for the Nepean riding, and now he is lending his name recognition to Gosal. He was also received by the Chinese and Filipino community of Richmond Hill, and was photographed with Mississauga Tory candidates Hani Tawfilis, Stella Ambler and Milad Mikael at Ghada Melek's campaign office.
When asked about his campaign stumping for the federal party, Kenney said, "I was a full-time federal guy, and now I am running the Alberta government. So I got to get back home tonight and focus on an upcoming session. So I won't be spending anymore time here."
At Gosal's event, he called for the federal government to develop Canada's oil industry in order to wean the country off foreign oil imports.
"A strong Canada needs a strong Alberta," Kenney told the media. "But we are hurting right now in large part because Justin Trudeau has been hammering the Alberta economy, killing pipelines and our ability to get Canada's resources to global markets. This is a big win for the OPEC dictatorships."
He spoke about immigration and the need to make sure that the framework for welcoming new Canadians must be fair. "We also need a government [to] bring fairness back to our immigration system."
Email: [email protected]
Twitter: @mansoortanweer
Submit a correction about this story