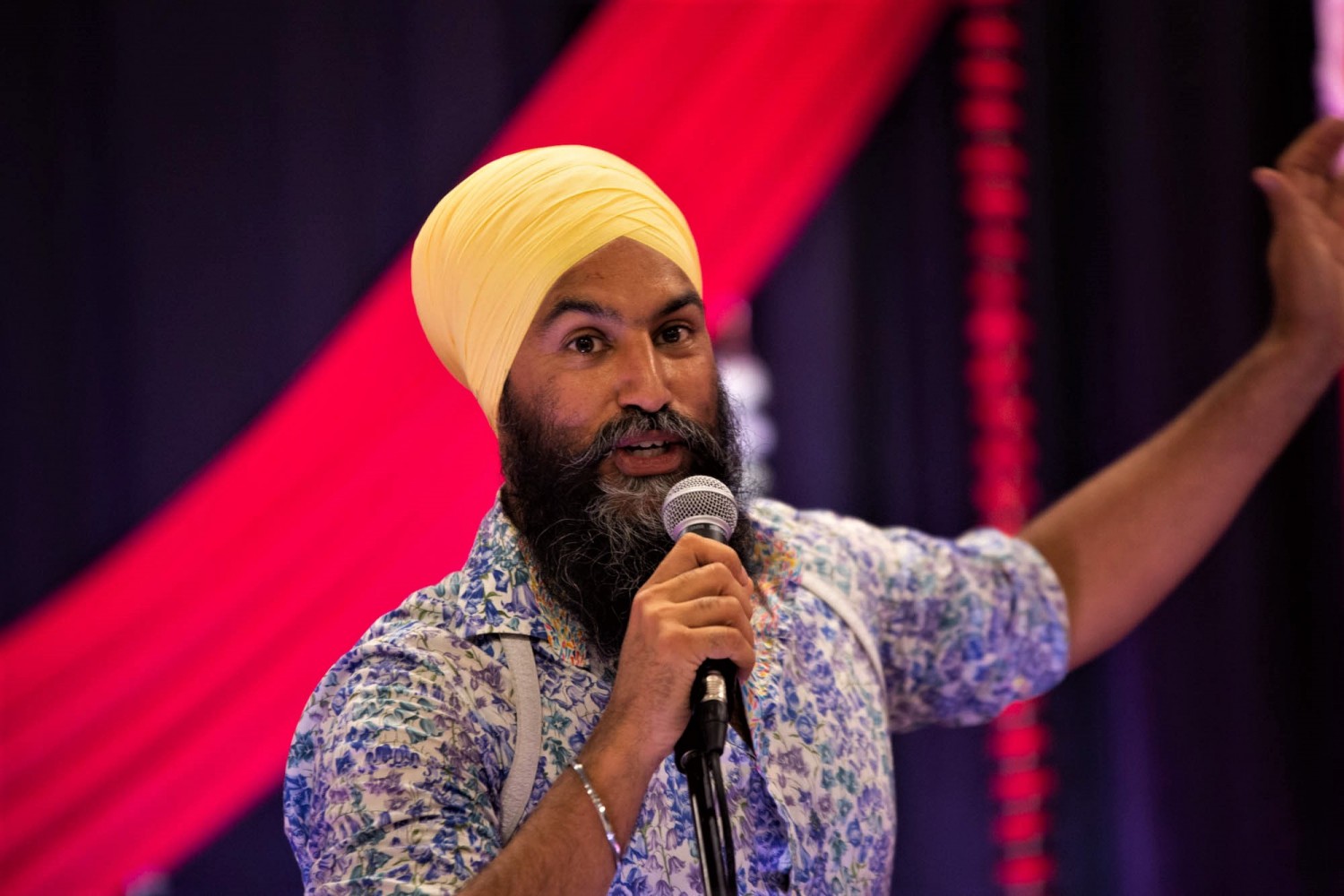 Photos by Mansoor Tanweer & Joel Wittnebel/Map and Rendering City of Mississauga
Jagmeet Singh pledges infrastructure funding to Mississauga, but Justin Trudeau and Andrew Scheer remain silent on the city's wish list
Election season is like Christmas, but no one knows who Santa is going to be just yet. Instead, different Father Christmas figures are touring the country, asking the public what they want this year. Mayor Bonnie Crombie is one of the many people who has written a list to federal hopefuls, with her wishes for the next four years.
So far, the mayor has received just one response: an answer from the leader of the NDP, Jagmeet Singh.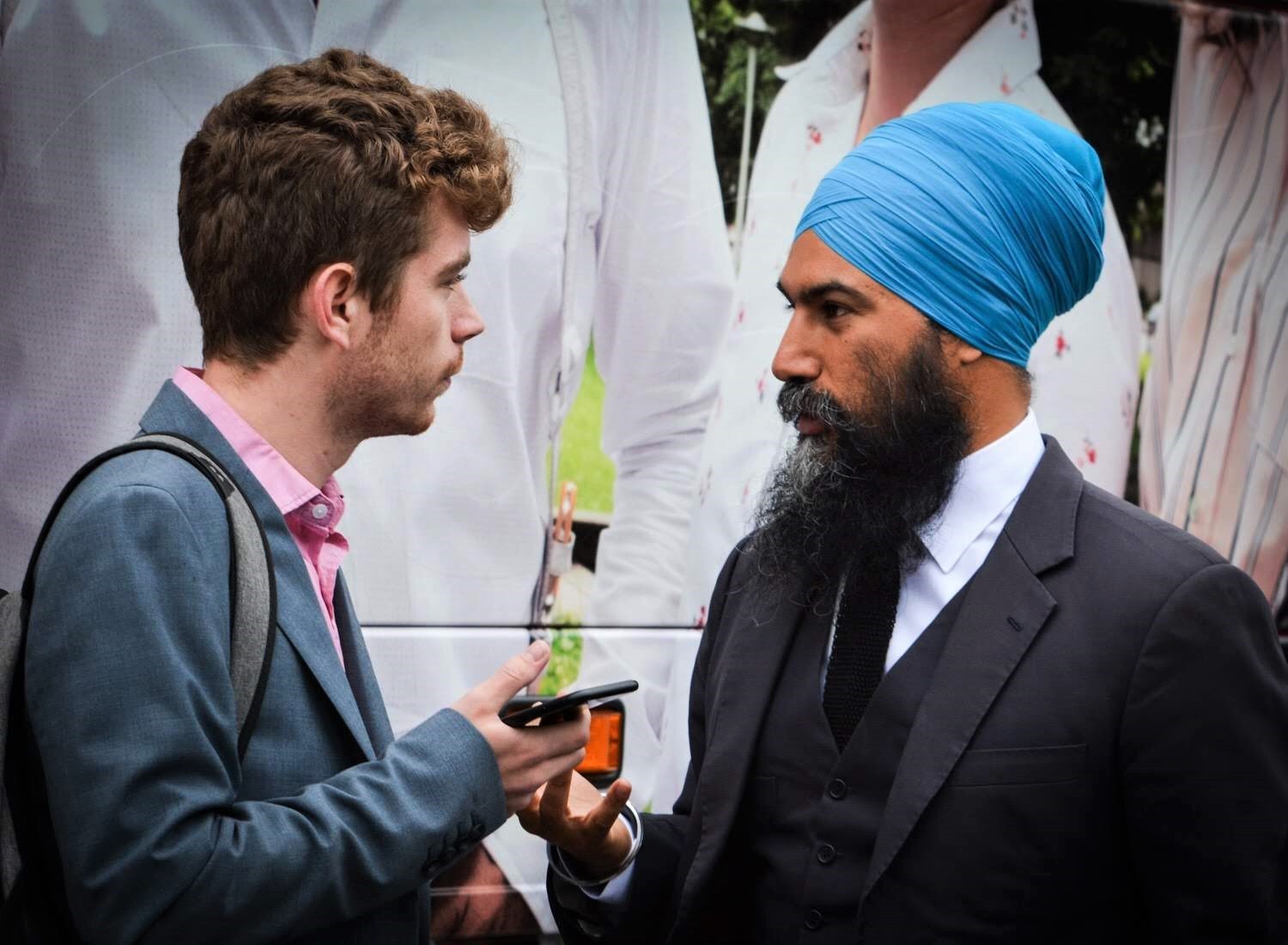 NDP Leader Jagmeet Singh talks to The Pointer's Isaac Callan during a Brampton stop early in the campaign
The NDP leader is yet to make a campaign stop in Mississauga, but his federal rivals have already visited several times, without offering any answers on local issues. Liberal leader Justin Trudeau has already visited twice, while Andrew Scheer has also stopped off multiple times as the campaign for the crucial 905 continues apace.
Trudeau's communications team acknowledged receipt of Crombie's letter and promised a response in "the coming week", while the Conservative Party offered no reply.
Liberal Leader Justin Trudeau in Mississauga last week at the UTM campus
Jagmeet Singh, on the other hand, agreed to all of Mississauga's demands, in principle, 10 days after the letter was sent. Although he was positive on all issues, Singh did not offer concrete funding commitments in response to Mississauga's specific requests, instead citing NDP plans which correspond to the city's stated priorities.
The requests, which are part of Crombie's Mississauga Matters campaign, are a series of demands for federal funding in Canada's sixth largest city. The questions relate to transit investment in particular, with requests for more stable, structured municipal income, and a strategy to tackle Mississauga's affordable housing crisis.
To summarize Singh's response to Mississauga is simple: he said, "Yes".
But the main line of criticism against Singh throughout the campaign is that his promises have only been backed by vague numbers and policy proposals that seem like a grab-bag of election-cycle promises. It's unclear if Crombie or Council will try to pin Singh down with a specific public pledge tied to actual figures and a clearly explained plan so voters know he can put his money where his mouth is.
But for now, his response represents much more than what Trudeau and Scheer have offered the city.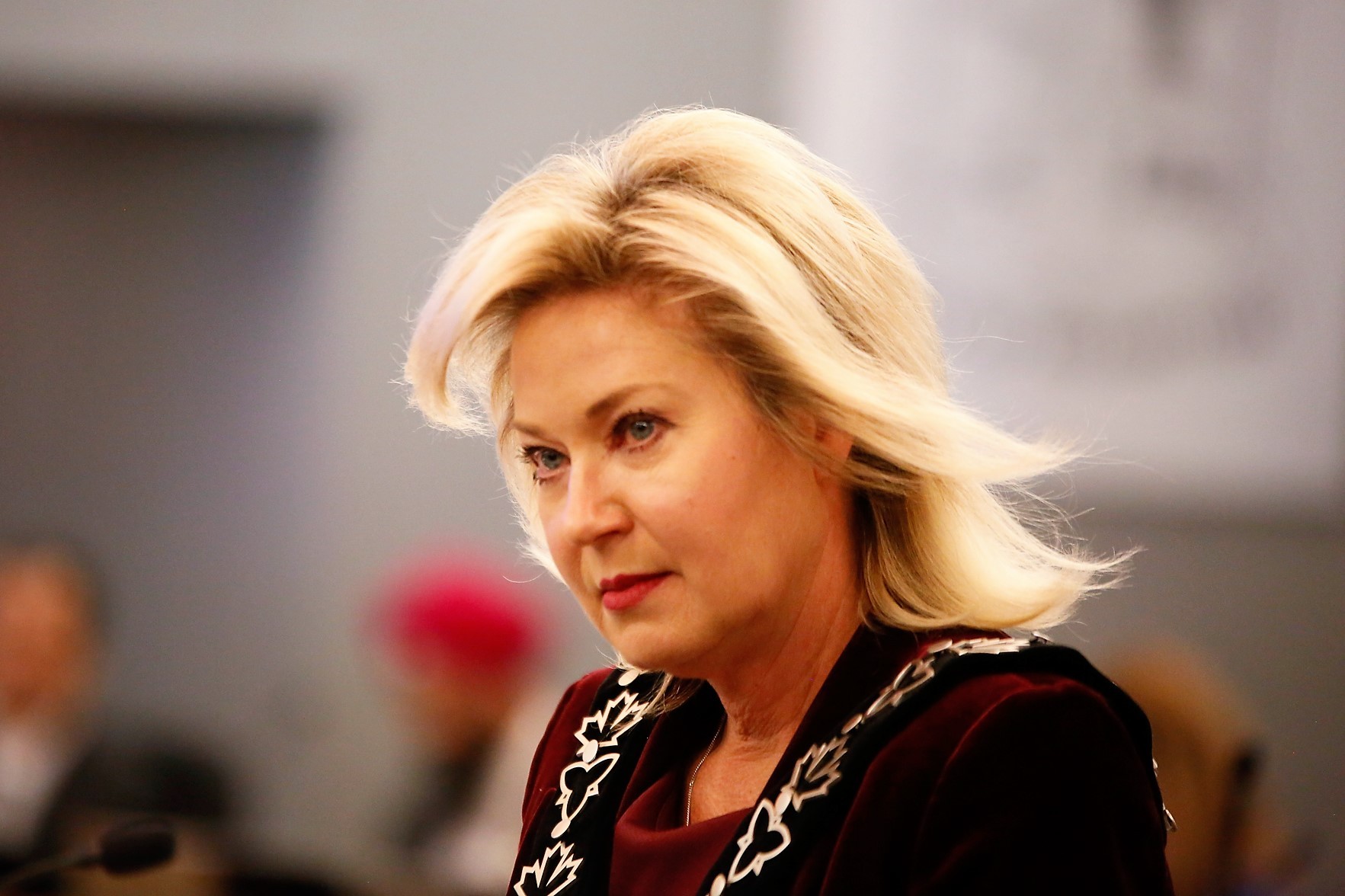 Mississauga Mayor Bonnie Crombie wants commitments from federal leaders ahead of the October 21 election
Crombie's request comes as part of a broader "Mississauga Matters" campaign, which is being distributed through social media and pamphlets. The campaign is prioritizing re-adding the $200 million three-stop downtown loop to the Hurontario LRT, which was cut by the province and its transit agency Metrolinx, citing budgetary restrictions. Additionally, the city is calling for federal funding of affordable housing in Mississauga.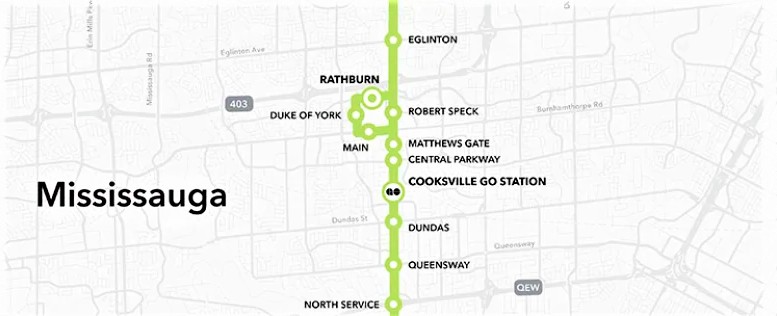 The three-stop Hurontario-LRT downtown loop was removed from the plan by the province earlier this year because of increasing project costs
In his three-page response, Jagmeet Singh agreed to all Mississauga's requests in principle, without announcing any specifics of how the funding would be given to the city. For example, asked if the NDP would "commit to maintain and enhance the investments in transit in Mississauga," Singh agreed, referencing previously announced policies on electrification of transit. He said that the NDP would "not only maintain, but increase federal investment in transit" across the country, with an emphasis on low-carbon projects including zero-emissions buses and electric trains. He said that the NDP would work towards electric fare-free transit in Mississauga and other municipalities across the country.
On the issue of "direct funding on an allocation basis" for local and rapid transit, Singh again agreed without offering Mississauga specifics. One of Crombie's key asks is for funding to put the downtown LRT loop back into the plan. While no specific mention appears in the NDP's response to the city, Singh did agree to help Mississauga "with all of its self-identified local and rapid transit priority projects," again suggesting support for the plan.
Without providing too much detail, the NDP leader also committed to providing long-term funding for infrastructure to allow communities to "thrive". Asked if the NDP would provide permanent, direct funding to municipalities, Singh committed to "be[ing] a long-term, stable partner for our municipalities when it comes to infrastructure funding."
The most in-depth response to Crombie's wishes came in the answer to the city's request for affordable housing funding. In a multi-paragraph answer, Singh laid out his philosophy on housing, while reiterating the NDP's commitment to building 500,000 units across Canada, 250,000 of which will be built within five years. Yet, no detail was offered about how many of those units would be built within Mississauga.
With Singh already pledging to fund a badly needed new hospital in Brampton if elected, this response shows the NDP's continued desire to stay local with their promises. Though Singh perhaps missed the opportunity to announce a Mississauga specific promise, his eagerness to agree to the city's requests has endeared him to the mayor.
The Mayor's office welcomed the positive response to their questions, telling The Pointer that Crombie had tweeted out a full copy of the letter to put pressure on other federal leaders to follow suit. Asked about the vagueness of some of Jagmeet Singh's responses, Crombie's team remained positive about the commitments he had made.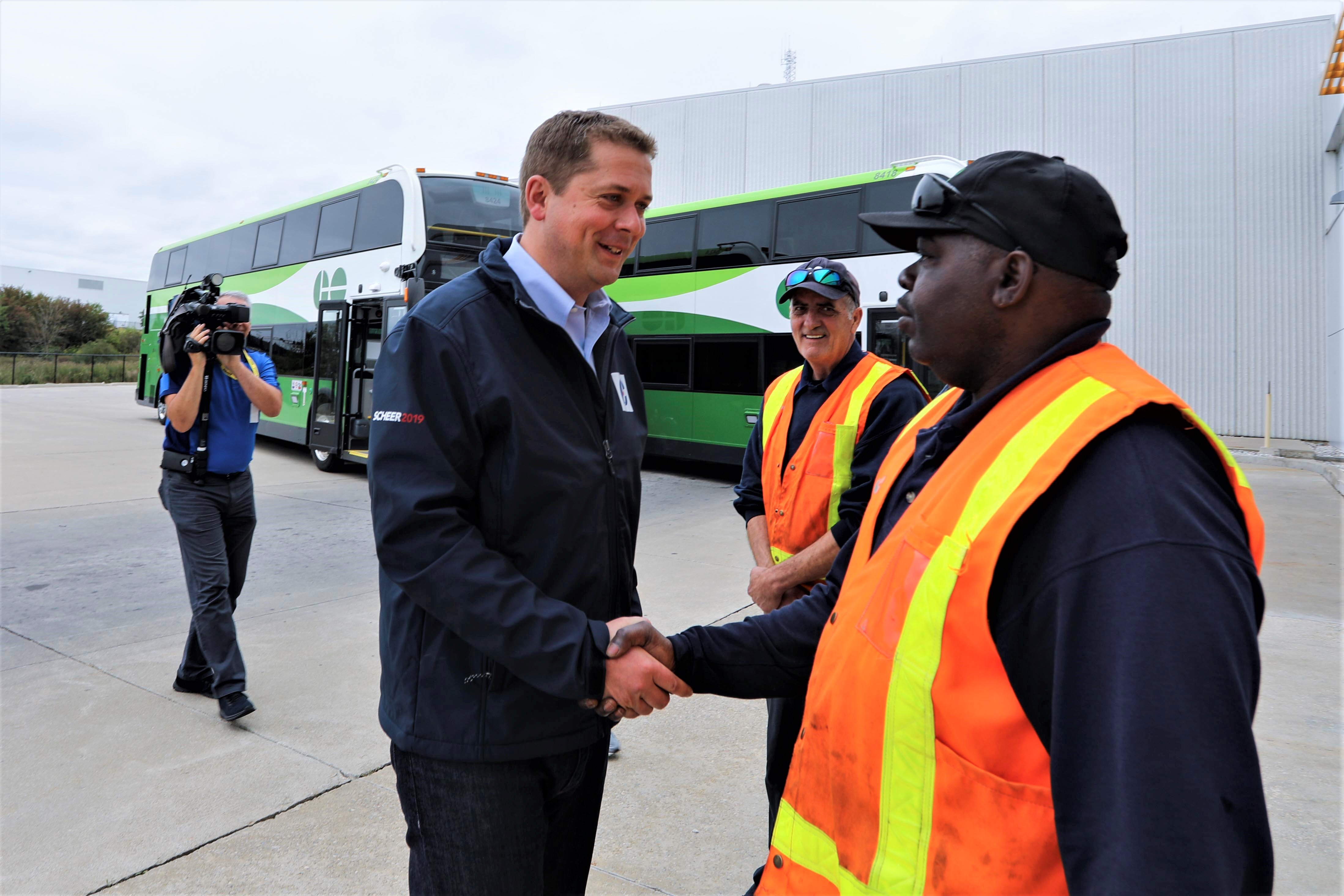 Conservative Leader Andrew Scheer visiting GO Transit workers in Mississauga early in the campaign
Though Singh is the only leader to reply so far, a Liberal Party spokesperson assured The Pointer a reply from Justin Trudeau would be coming within a week (the election is in just over two weeks). The spokesperson said: "I can confirm we received Mayor Crombie's letter and we thank her for her questions. We will be responding in the coming week. While the Conservatives want to bring in tax breaks to the wealthy and cuts for everyone else, Liberals will move forward to make life more affordable for people in Mississauga and across the country."
While Singh's reply has pleased the city, it is currently the only present sitting under its election Christmas tree. Next to it, as it stands, are the placeholders for Andrew Scheer's and Justin Trudeau's presents. As one of them will likely become the country's next Santa Claus, the city will wait anxiously to find out if its wishes will be granted. In the meantime, Crombie and the rest of Mississauga's voters can dangle six desperately needed ridings as the milk and cookies on offer in return.
@isaaccallan
Submit a correction about this story