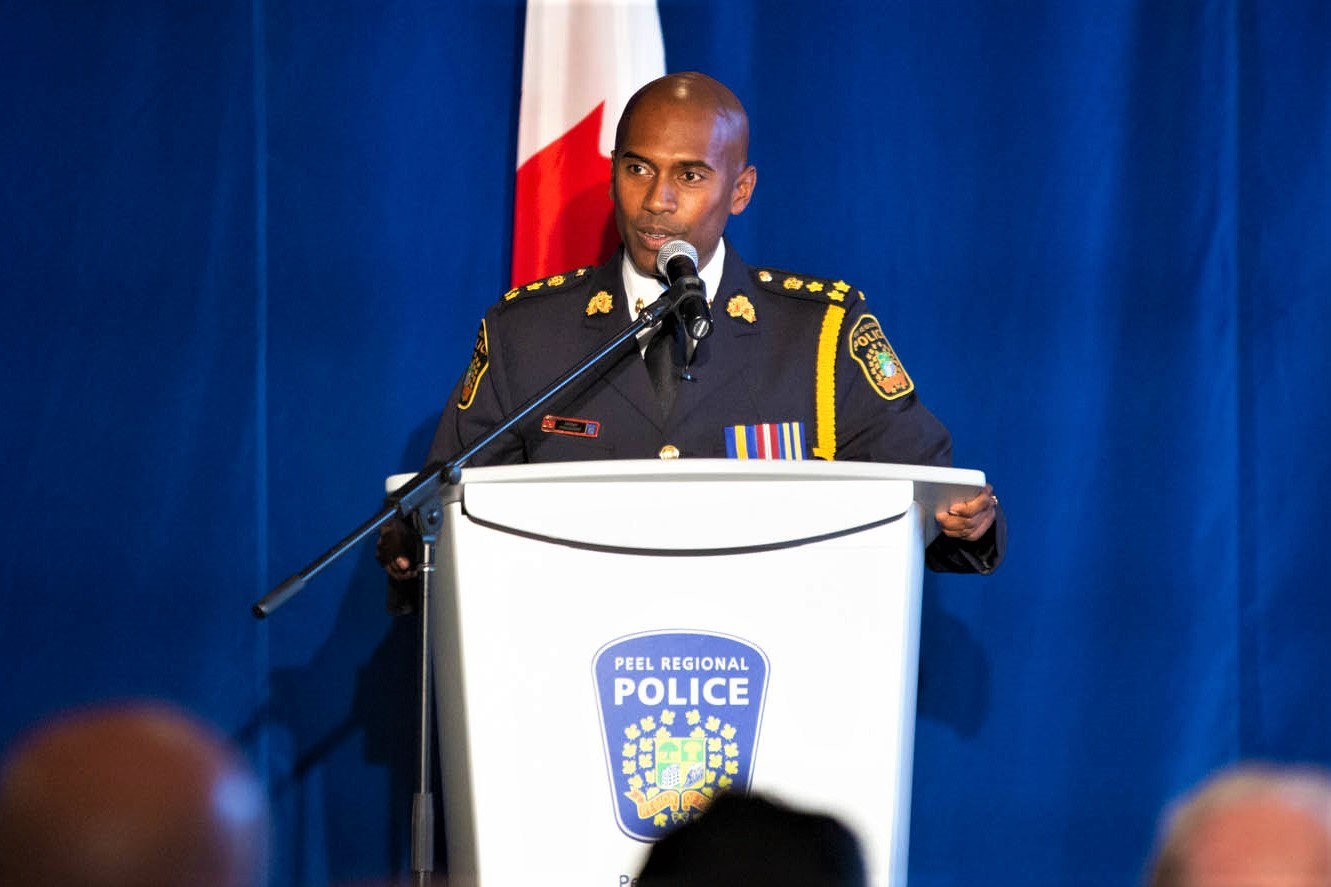 Photos by Mansoor Tanweer & Daniel Calabretta
A 'deep, integrated relationship with the community' is how Peel's new police chief hopes to rebuild trust and tackle rising violent crime
In the backdrop of a press conference about the 11th homicide in Peel Region – a place that has seen a particularly bloody year, with a mass shooting and gang-style attacks in recent weeks – new Peel Regional Police Chief Nishan Duraiappah provided some insight Friday about how he will cultivate crucial relationships and gain trust in the communities he serves.
"One of the hallmarks of what I've done is ensure that from my level, right down to the boots on the ground, has had a deep, integrated relationship with the community," Duraiappah told The Pointer. "My perspective is, it's not just showing up at a Gurdwara, or a rec centre on a particular occasion. The foundation of a relationship is always defined [by] mutual understanding."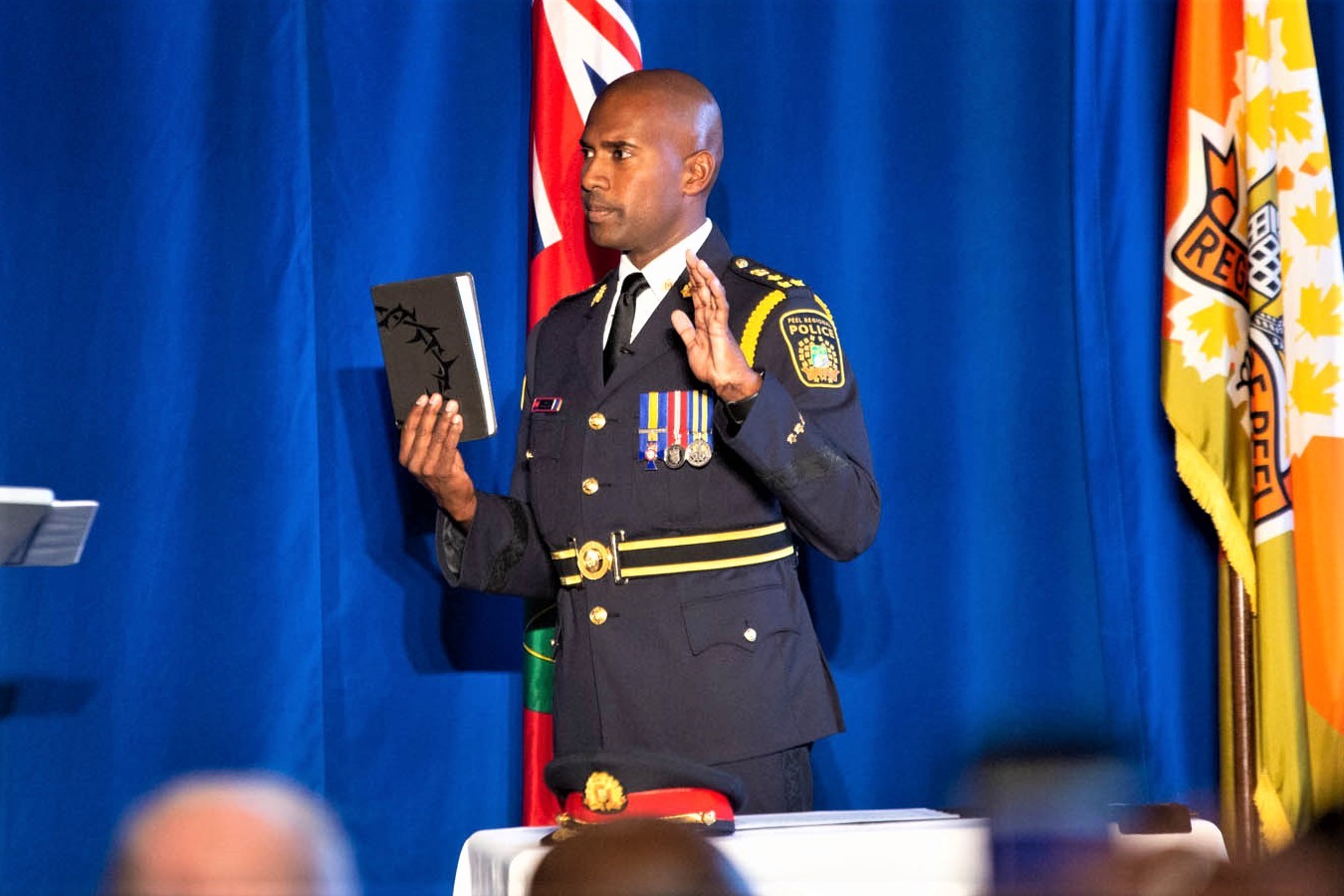 New Peel Regional Police Chief Nishan Duraiappah was sworn in on Tuesday
Developing relationships in the community was a perceived issue for former police chief, Jennifer Evans, as she was widely criticized for creating a disconnect with certain segments of the two cities she served (Caledon is policed by the OPP). Evans was known for condoning the controversial practice of police street checks, commonly known as carding, and her refusal to stop using the destructive and ineffective tool. Despite the disclosure of her own data, revealed by the media, which showed her force was targeting Black individuals at more than three times the rate, compared to whites, and a direction from the police board to stop the practice, Evans refused. While large forces across Ontario stopped carding, calling it useless and divisive, the former chief stubbornly held her ground, prompting community groups to call for her resignation following her obstinance in 2015.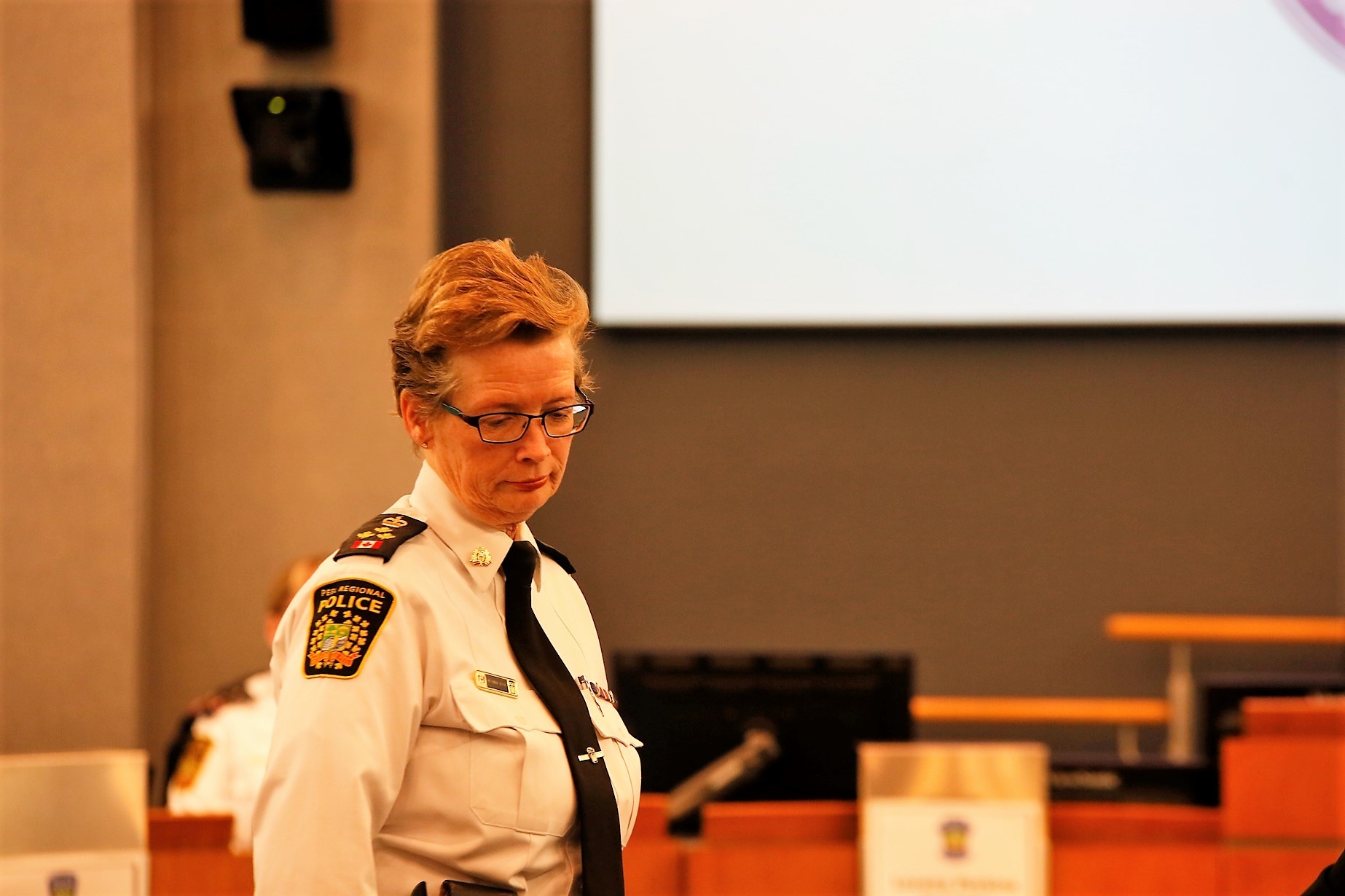 Controversial former chief Jennifer Evans stepped down in January
Many in the community criticized her leadership. Evans eventually announced her resignation last fall and stepped down in January. Chris McCord took over as interim police chief and held that post until this past Tuesday when Duraiappah took the helm.
The new chief said Friday that once officers and the communities they serve have a mutual understanding, then you can develop trust. From there, you can move forward, Duraiappah said. "That's the recipe: find mutual understanding, build some trust and then gain a road map to move forward."
Duraiappah noted that although showing up at community events is important – a common display of support and safety by police officers – it's not everything. "If I were to go to a particular community and just arrive at a barbeque, but not see them for another six months, [that] is not the real litmus test of depth of a relationship," he said. "It's the conversations; it's us having an understanding, the ability of them to engage."
Duraiappah, now police chief of the third largest municipal police service in Canada, will have a lot of communities to engage with. From Huttonville to Bramalea, Port Credit to Meadowvale, and, of course, Malton – a community that has been in the spotlight for the past month, after at least seven gunmen sprayed more than 130 bullets into a crowded parkette behind an apartment complex. They left five wounded and 17-year-old bystander Jonathan Davis dead.
He was shot and killed on September 14, when a group of individuals wearing dark clothes and balaclavas unloaded their semi-automatic handguns next to Darcel Avenue.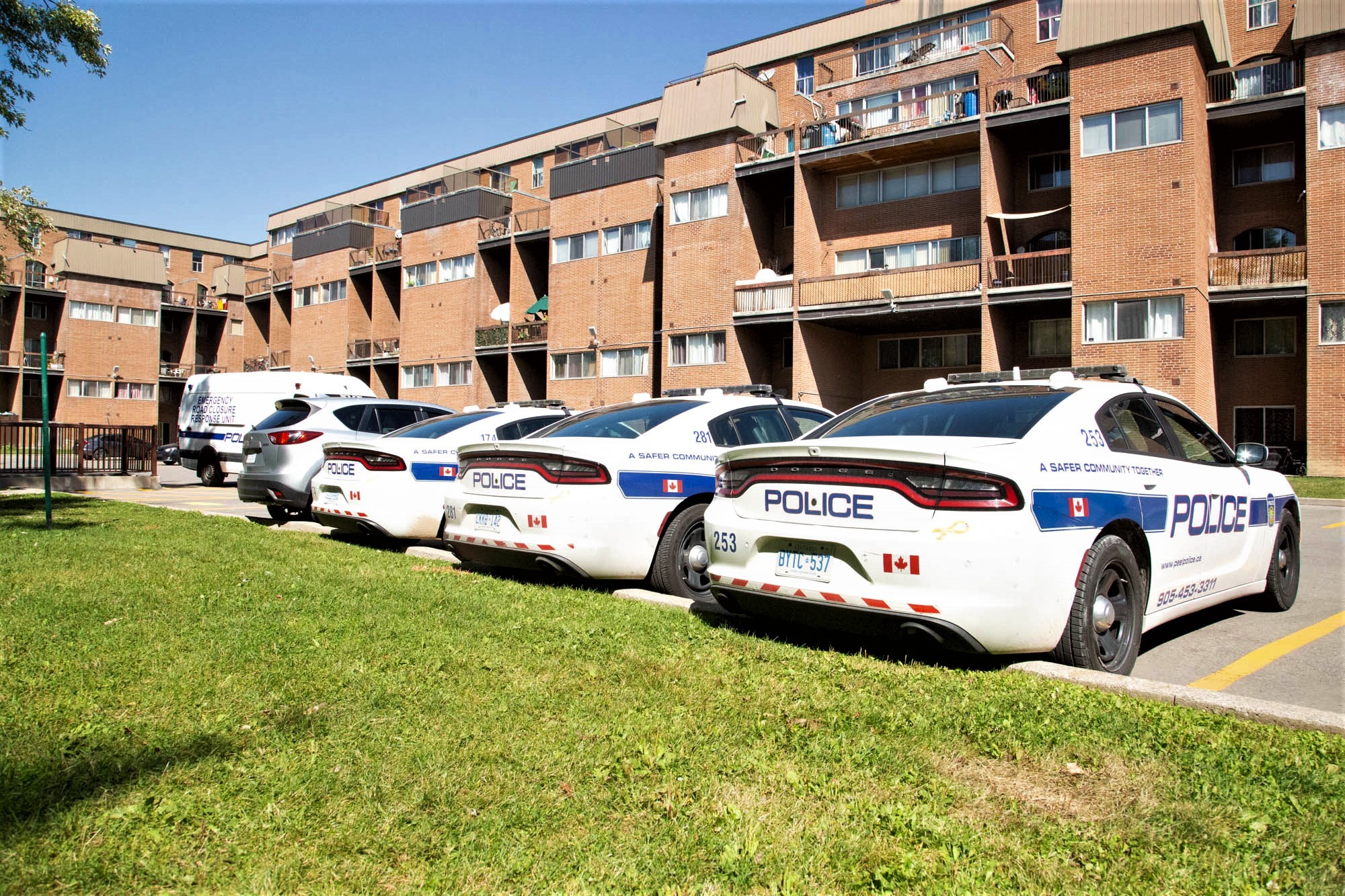 Police cruisers at the apartment on Darcel Avenue three days after the deadly shooting
At the announcement on Friday, investigators from the homicide and missing persons bureau of PRP said they've charged a youth in the 11th homicide of 2019 in the two cities, after a man was killed in early August in what appeared to be an attempt to confront a group of youth breaking into a vehicle. Police believed the youth had been involved in a string of minor property offences. It's unclear how the incident escalated, leaving the victim dead and his son wounded, but not critically, after they were stabbed in the altercation on a driveway of a residence in the Castlemore area of Brampton.
A 16-year-old male from Toronto was arrested and charged with second-degree murder, attempted murder and other property-related and breach of court order offences, a PRP media release stated. A 17-year-old male, also from Toronto, who was present during the incident, has been arrested and charged with possession of property obtained by crime and failure to comply with a court sentence. Lastly, two 18-year-old men from Toronto, who were both present during the incident, have been arrested and charged with possession of property obtained by crime. A fifth male, who was in the vehicle at the time of the murder, is still being investigated, Peel Regional Police noted on Friday.
Last Friday, Mississauga Mayor Bonnie Crombie's motion for a review of police operations and services, which could lead to a much needed new station in Malton after one a few blocks from where the September 14 mass shooting happened was closed last year, carried unanimously at a Peel Police Services Board meeting. The Davis killing was the tipping point for Crombie to call for a more substantial look at current police operations in the area, like data related to response times to criminal incidents.
Ward 5 Councillor Carolyn Parrish fought with Evans, who ordered the closure of the Malton community police station, which was shuttered in February of 2018. Despite the councillor's efforts to keep it open, the former chief wouldn't listen and now Parrish is saying the lack of policing resources in Malton, leaving residents feeling unsafe, is a major reason why violent crime has become an increasing problem.
A sign still hangs at the now-closed location of the former Malton community police station
Closing the station because of the high rent that was being paid, according to Evans, only creates more mistrust in the community, Parrish believes. She began a petition, with the help of local residents, to get a full station or stand-alone division in Malton and will be presenting the police board with more than 4,000 signatures of residents demanding better policing resources and a proper presence in their community.
Peel Region has seen quite a few alarming incidents of gang-style activity recently. Over a four-day-span, on and after the weekend of the Malton incident, there were three violent attacks that were executed using brazen gunplay. Those events alone resulted in two deaths and seven people injured with gunshot wounds.
The recent wave of violence has been rising recently, statistics show. The Violent Crime Severity Index reported by Statistics Canada annually, measuring the most serious crimes, shows that both Mississauga and Brampton have a combined rate of increase of 51 percent between 2014 and the end of 2018, in contrast to 27 percent in Ontario and 17 percent across Canada over the same period. The number of homicide victims in Peel Region rose 62.5 percent from 2016 to 2017, and by 63 percent from 2017 to 2018.
Even the previous federal government is taking issue with gun and gang violence, as Justin Trudeau formally announced on Tuesday that, if the Liberal Party of Canada is re-elected, they will deliver $250 million, over five years, directly to municipalities to combat gun and gang violence. Of the $50 million per year municipalities across the country would receive, it is unclear, at this time, how much Mississauga and Brampton would receive, if the Liberals are re-elected.
Duraiappah embraced the pledge, which was announced the same day he was sworn in as the new chief. "I absolutely welcome the funding stream," he told The Pointer on Friday. "I think, in this day and age, the complexities of these issues that we're dealing with are so great, they're not just localized.
"We know that sometimes the framework for how the funding is dispensed takes some time, but when it does arrive, it will be critically used for some initiatives that we have going and we intend on doing further on down the road," Duraiappah said.
When asked how much of the $50 million per year the Liberals are proposing nationally, should go to Peel for its strategy to combat gun and gang violence, Duraiappah said he couldn't put a number on it right now.
With Mississauga Mayor Bonnie Crombie standing behind him, Liberal Leader Justin Trudeau this week announced a pledge of $250 million directly to cities to fight gun and gang violence across Canada, if he's re-elected
"I think a significant amount would be welcomed, because it's not just the investigative time that is used. It's the social development time, it's the youth-based time, it's the community time, it's the messaging, it's for us to do violence prevention, gang prevention and also to bring other sectors alongside of us," he said. He added that gang-related violence, and gun violence in general, is related to many social factors, both in terms of causes and effects, from the healthcare and education systems, to youth social programs and mental health and addiction issues.
Duraiappah said, "I think the larger the pot (of money), the more we can do with it. And the more we get, the more we can insulate these municipalities."
Email: [email protected]
Twitter: @dancalabrett
Submit a correction about this story