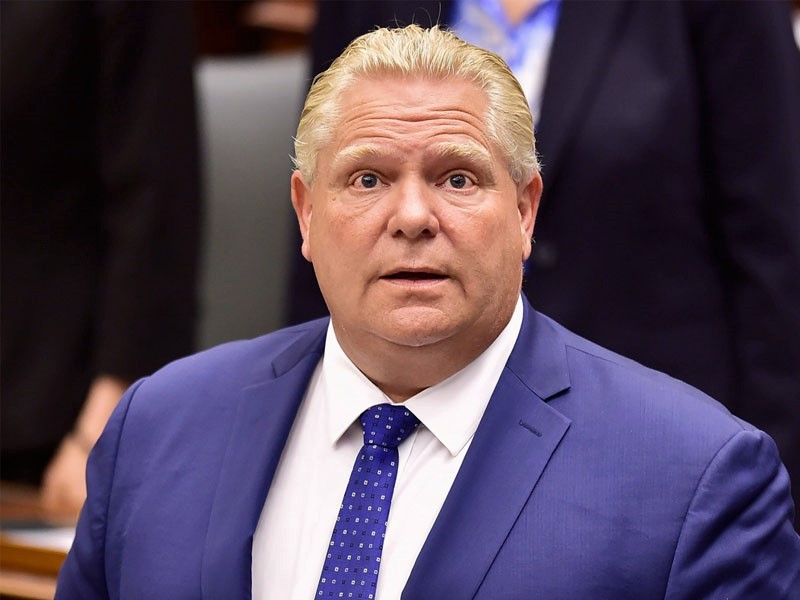 Photos by Mansoor Tanweer/Government of Ontario
With Doug Ford being blamed for looming strike action in Peel schools, questions mount about impact on federal election
Grade 12 St. Aloysius Gonzaga Secondary School student Bavly Sedek has already seen, felt and smelled the effects of the looming provincial-wide strike that could see as many as 55,000 non-teaching school staff, including custodians, officially walk off the job next Monday.
"The teachers have to clean up [now], and it's much dirtier," he said. "The classrooms and the cafeteria [both] smell bad. Without the custodians, the whole school is dirty," he said.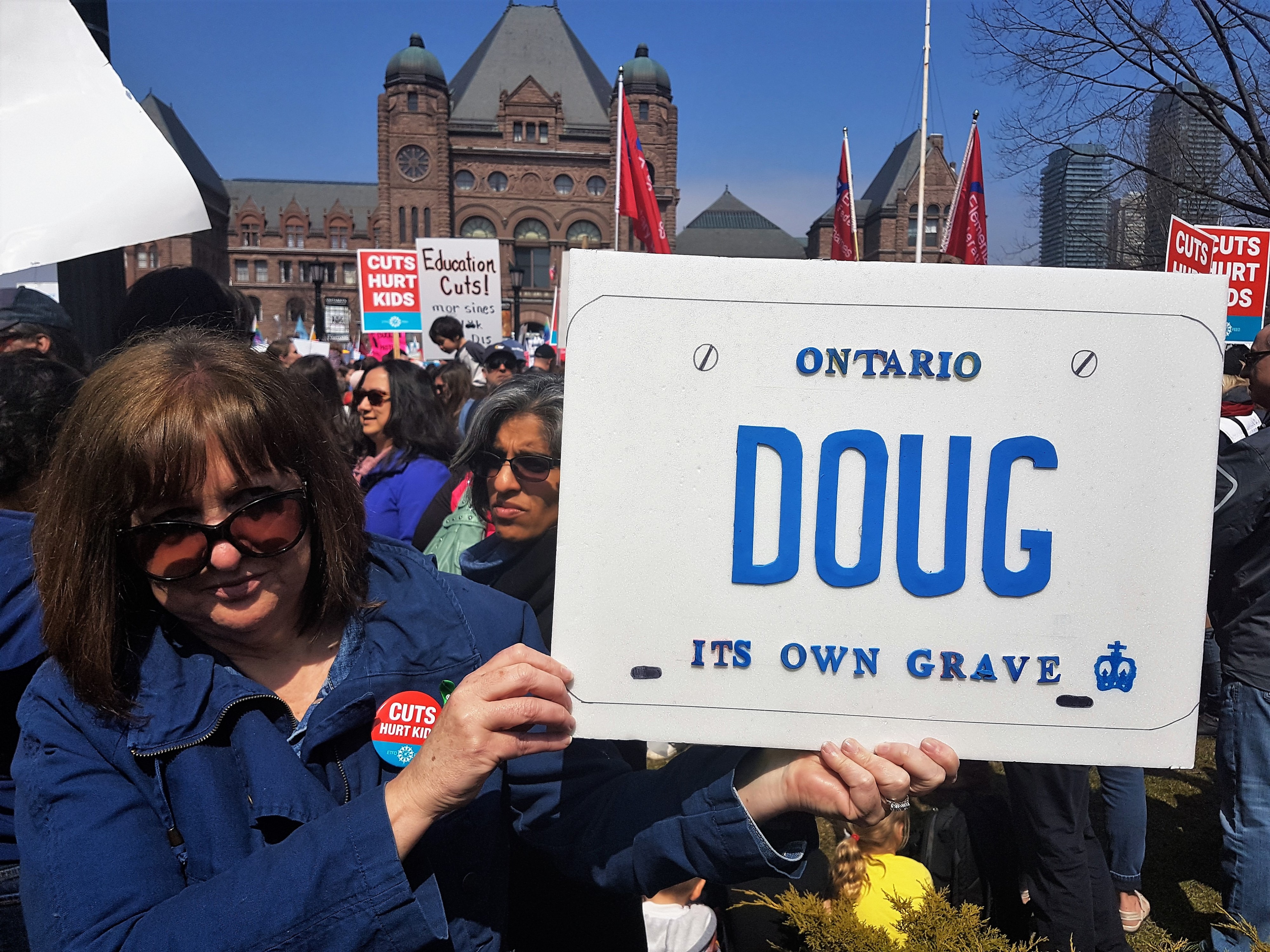 Thousands gathered in front of Queen's Park in the spring to protest the Ford government's cuts to education
Last Wednesday, the Canadian Union of Public Employees — representing, among others, custodians, administrative assistants, librarians and some early childhood educators — issued a formal notice of action that placed them in a legal position to strike five days later.
Monday was day one of a work-to-rule campaign, after failed negotiations among CUPE, the provincial government and the Council of Trustees' Associations this past weekend. All signs pointed toward a potential walkout, and CUPE made it official at a news conference at Queen's Park Wednesday morning.
"In the face of mounting evidence that school boards are using education workers' work-to-rule job action as an excuse to cut programs, services and staffing in Ontario schools, the union that represents these workers gave the required five days' notice for escalating their job action to a full-fledged walkout that is scheduled to begin on Monday, October 7," CUPE said in a press release Wednesday.
Laura Walton, president of CUPE's Ontario School Board Council of Unions, has cited various issues leading up to Wednesday's decision that are of concern to union members. Walton has noted aspects such as library closures over students' lunch breaks, "because there aren't enough library workers, and the number of times custodians can clean certain classrooms, cut, to name a few.
"I'll be frank: we had hoped work-to-rule would force the parties to get together and agree to a deal. But that hasn't happened, and now we're hearing stories that cause us great concern," Walton said in a CUPE press release. "Without any justification whatsoever, some school boards are closing programs and sending workers home. Some boards are paying parents to do the work of CUPE members. Some are asking older students to collect younger students from the school bus. Across the province, boards are cutting services and putting students at risk."
CUPE has also been vocal about "years of Liberal underfunding," compounded with recent education cuts by the current PC government. Ford's Progressive Conservatives have made significant cuts to the province's education system, such as removing a $100-million budget for school repairs (due to cancellation of the cap and trade system), slashing $25 million in funding (from the Education Programs-Other fund) for specialized programs in elementary and secondary schools in the province, and increasing class sizes, which could result in more than 3,400 teaching jobs lost in the next four years.
But the Liberals can't be absolved of making cuts to education, either. In 2014, Education Minister Liz Sandals said some low-enrolment schools in the province would be closed to assist at chipping away at a $12.5 billion deficit over the following three years.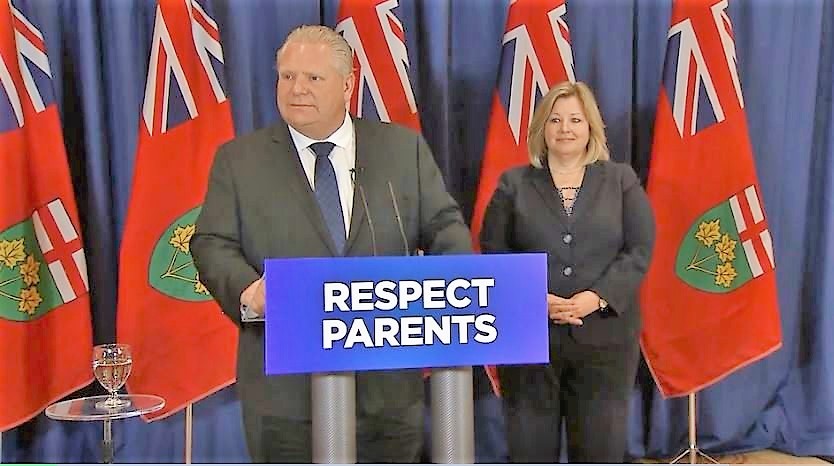 Premier Doug Ford with former education minister Lisa Thompson
What appears to be another major issue is job security, as well as wages. Hundreds of support staff positions were cut earlier this year across the province, alongside initial layoff notices to 330 teachers in the Peel District School Board alone.
CUPE has cited in previous statements that the education workers it represents in Ontario "are some of the lowest paid workers" in the public education system. CUPE Ontario president Fred Hahn has noted that these education workers make an average of $38,000 per year.
Education Minister Stephen Lecce responded to CUPE's announcement of a possible strike, just after noon. "I think the system overall, the ecosystem around our kids — from the administration to the boards of education to the ministry of education to the workers, the EAs, as well as of course the teachers — I think we're all going to have to put the kids first," he told reporters at a news conference.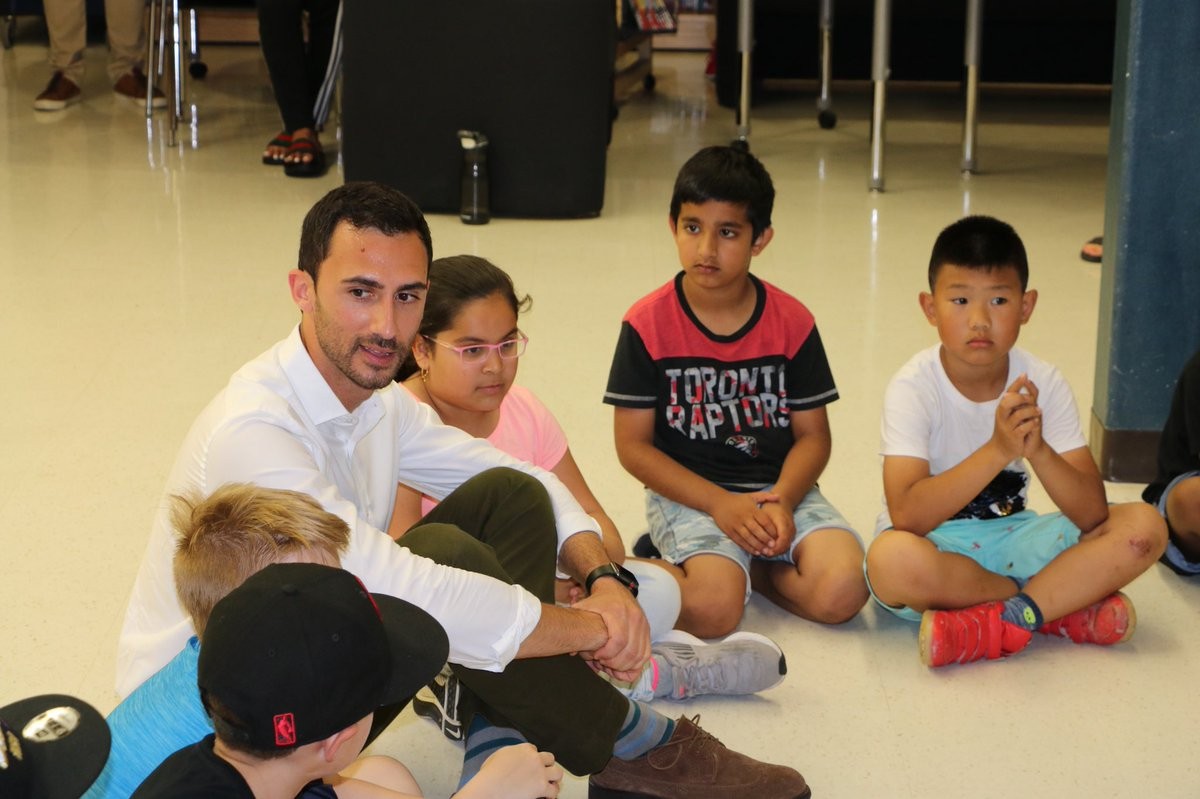 Education Minister Stephen Lecce
"I think CUPE will have to answer the consequences of that decision. I think, for me, my hope is that no child has service disruption. That they are in a safe environment and they are able to be to go to school on Monday."
When asked by Global News how much of this action is political leverage, Lecce did not answer definitively. "I'm not going to opine, fundamentally, on what is driving them [CUPE]. I mean 48 hours, they initiated labour action, and we're now at this stage. They're taking action on the day of the first debate," he said. "I can't opine on what is their calculus. I mean, at the end of the day, every party that is interested in our kids, and keeping them in a safe learning environment, I think we should focus more on our children and less on the politics."
John McAndrews, a postdoctoral fellow with the Munk School of Global Affairs & Public Policy who focuses on voter behaviour, said it's a toss-up as to whether a strike under Doug Ford's PC provincial government will hurt Andrew Scheer and the Conservatives in the federal election.
"On the one hand, I would say voters don't often make clear distinctions between parties at different levels of government. It could easily be the case that voters will attribute some of the inconvenience caused, or serious difficulty caused by a strike to the government in power in Ontario," he told The Pointer. "On the other hand, we also have to keep in mind that voters don't often pay a ton of attention to politics, so it's hard to say in advance what [effect] one event will have on vote choice. It's going to take weeks of careful data analysis after the fact to figure out what effect the strike would have if it does come to pass."
According to polling aggregator 338.com, which uses a range of national surveys conducted by recognized polling companies and its own demographic modeling, the Conservatives have 34.5 percent support and the Liberals would get 33.3 percent of the vote in the federal election as of October 2. But because of our first past the post electoral system, which is not a representative method of voting the government in, the website currently predicts a Liberal victory with a larger overall seat count than the Conservatives.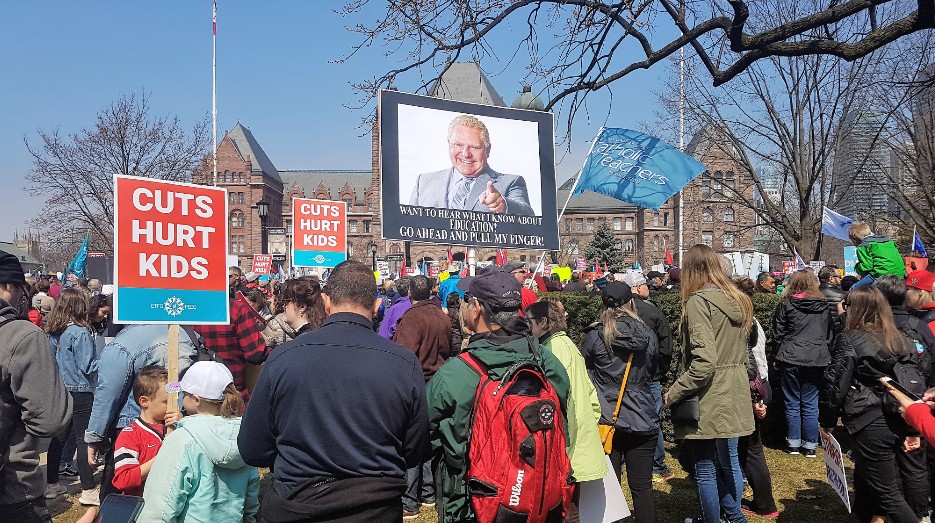 Mississauga MPPs are feeling, and hearing, the responses locally from their constituents as well. "I have spoken to many parents and students in Mississauga–Lakeshore who are rightly concerned with the strike action announced by CUPE today. I have assured them that our Government, and Minister Lecce, are mission-focused on reaching a deal, so that our students can remain in the classroom," Mississauga–Lakeshore PC MPP Rudy Cuzzetto wrote in an email to The Pointer. "On the Minister's direction, through the mediator, our Government has asked for additional bargaining dates to bring everyone back to the table, so that we can ensure our kids remain in class. We are now waiting to hear back from CUPE, to lock down the dates and times so that we can all get back to the bargaining table."
Deepak Anand, PC MPP for Mississauga–Malton, said, in an emal that was partly identical to Cuzzetto's, the focus for the provincial government remains to get back to the bargaining table and get a deal done. "The Government is engaged in ongoing good faith bargaining with a mission-focused goal on landing a deal, so students remain in the classroom," he wrote in an email to The Pointer. "[The] safety of children is our first priority. We understand kids and parents are concerned with CUPE announcing strike action. We stand with parents as we work to protect our students' futures, invest in their potential, and ensure they remain in the classroom."
In a CUPE press release Wednesday night, the union stated that talks are scheduled to commence on Friday at 4:30 p.m..
Email: [email protected]
Twitter: @dancalabrett
Submit a correction about this story