Photos by Mansoor Tanweer
New police chief sworn in, welcomes Liberal pledge to help fight gang violence
Nishan "Nish" Duraiappah officially took over the reins of the Peel Regional Police Service on Tuesday, in a ceremony at Brampton's Lionhead Golf Club filled with ritual, well wishes and optimism.
In a gathering with press before the swearing-in ceremony, the new police chief offered a glimpse of his vision for the future of the police service as well as his insights on certain election promises. He said he supports Liberal Leader Justin Trudeau's plan to ban military-style assault weapons and welcomed the Liberals' intention to send $250 million over the next five years directly to cities to fight gun and gang violence — circumventing provincial government supervision of that money, which has led to a slow rollout of funding in Ontario under Premier Doug Ford. The Liberals, if elected, would also allow municipalities the freedom to ban handguns within their jurisdictions, a plan previously announced by the NDP and Leader Jagmeet Singh, who has deep roots in Peel.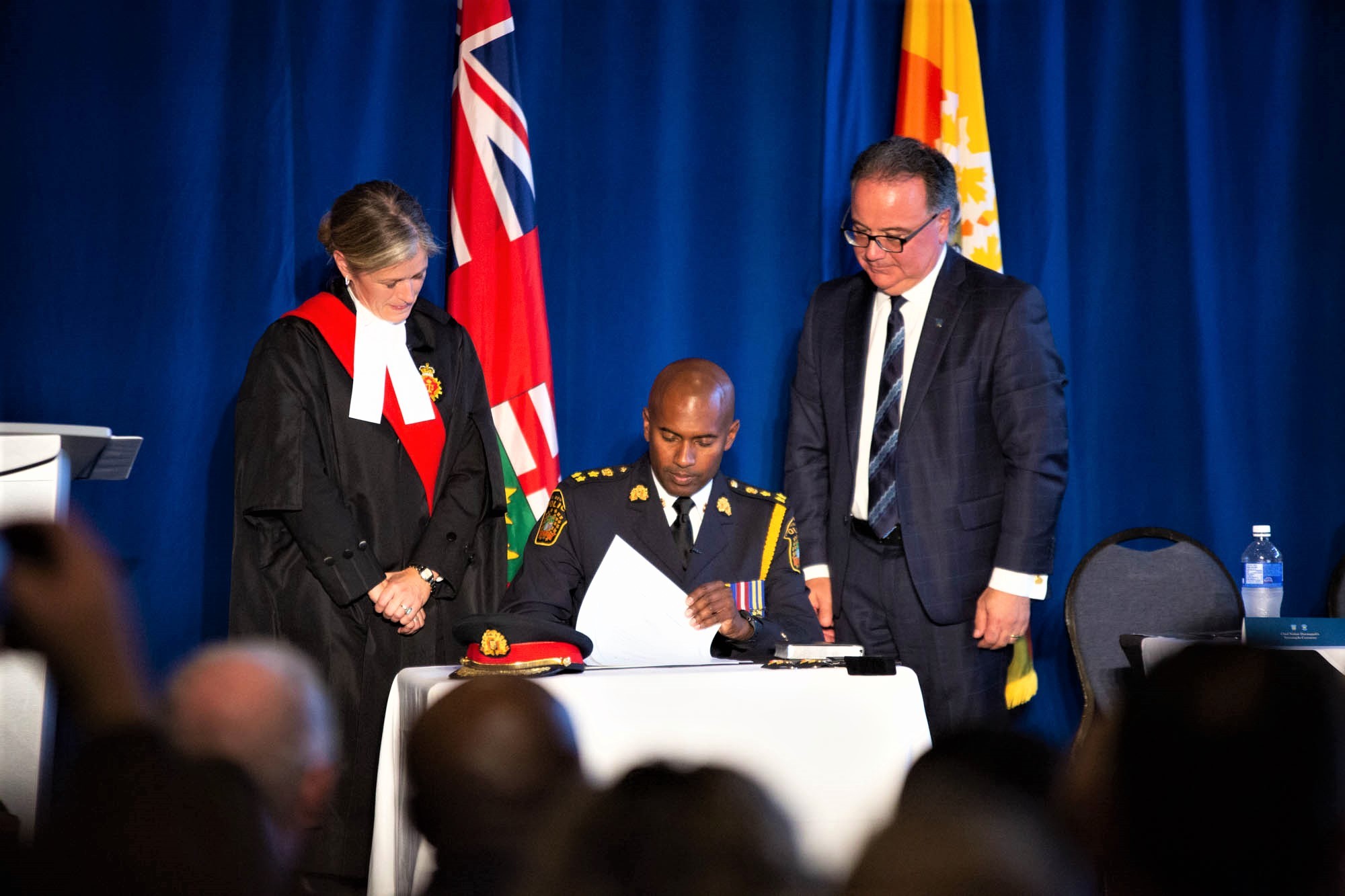 New Peel police chief Nishan "Nish" Duraiappah signs his papers with police board Chair Nando Iannicca looking on
"Not only I would say this, but the Ontario Association of Chiefs of Police have always welcomed the funding from different tiers of government," Duraiappah told The Pointer. "We can't respond to any particular community safety in a silo; we can't do it as a police organization on its own to deal with municipal health. That transcends to various levels of government too. So that's a welcomed announcement."
As to a ban on military-style semi-automatic assault rifles, Duraiappah said that, "From a police leadership standpoint, we support any opportunity to mitigate risk. Because there are so many sources for gang violence or gun violence or whatever it might be, any chance where we can turn back the dial is good for us."
But he warned that municipalities will need to do "due diligence to see how they would like to proceed with it," given the rights of lawful gun owners.
Mississauga Mayor Bonnie Crombie, who was present in Richmond Hill during Trudeau's announcement of the $250 million campaign pledge to fight gang violence on Tuesday, told The Pointer at that event that she was "very appreciative of the announcements that were made today. I think that community safety is one of the most pressing issues right across the GTA.
"Any initiative that could be brought forward to help municipalities combat the issue of illegal guns and gang activity across our region is extremely helpful," she said.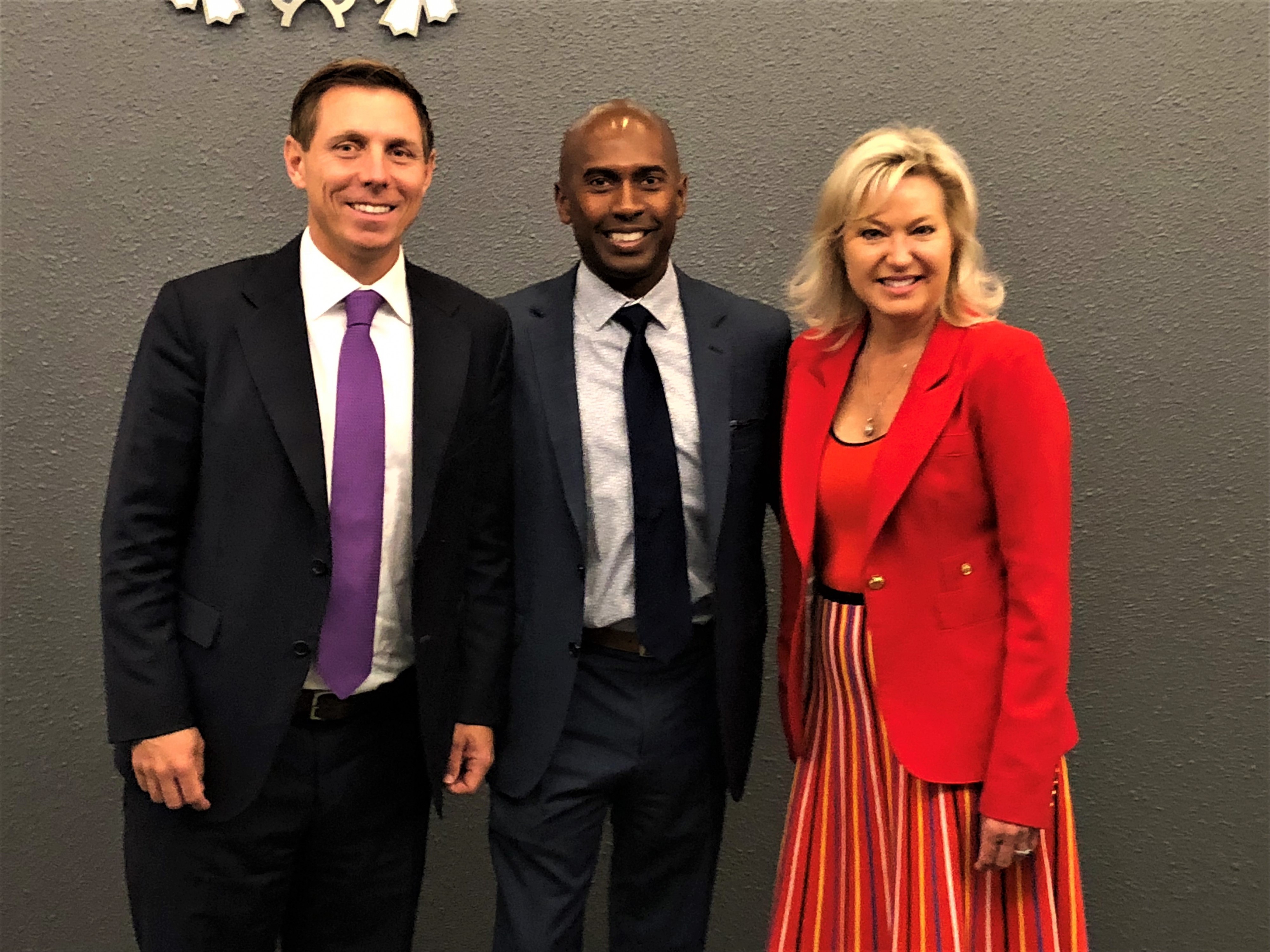 The new chief last week with mayors Bonnie Crombie and Patrick Brown
At the swearing-in ceremony, Crombie presented Duraiappah with the chief's badge alongside Police Services Board chair Nando Iannicca.
Duraiappah has long been a champion of new and innovative policing techniques, a major reason he was chosen to replace former chief Jennifer Evans, who retired in January after a tenure filled with accusations of a police leadership that was "change-averse," elitist, and not cognizant of systemic discrimination practised inside and outside the force in a community far more diverse than the cops on the beat. Putting it simply, he said, "there are opportunities to look at other ways of doing things, which we did well, and some things we didn't do well, but we will continue to improve."
He pointed to a host of non-traditional innovations that could transform the way policing is done in Mississauga and Brampton, the cities patrolled by the PRP. "To make an officer on the street or civilian able to respond and make decisions quicker is upon us," Duraiappah told the media.
Handheld devices might be one technological asset to be explored. But he also proposed changes in process, ways of working more closely with the people police serve, such as "multisector collaborative initiatives. We can't be the one-stop shop for solutions for all issues in the community."
He added that there is "the opportunity to bring in multi-agencies, whether it be health, schools, youth, the hospital system, addictions [services], alongside each other, where we're all doing independent activity [that is] more systematically coordinated."
Duraiappah's installation as chief signals a new era and, some hope, the beginning of a change in police culture. He is inheriting a force that is licking its wounds from a period in which police were inundated with accusations of abuse of power, institutional discrimination, and corruption by uniformed officers. Just last month, four PRP officers pleaded guilty to attempting to obstruct justice and lying to the court as part of a plea deal. The group of officers were caught stealing a wooden statue of film character Tony Montana from a suspect's storage locker.
Former chief Evans was noted in particular for her unrepentant support of street checks, or "carding," a much-despised practice of stopping people on the street to collect personal information without a valid investigatory reason. This despite a Toronto Star investigation that showed Black residents in Peel were three times more likely to be carded than white residents.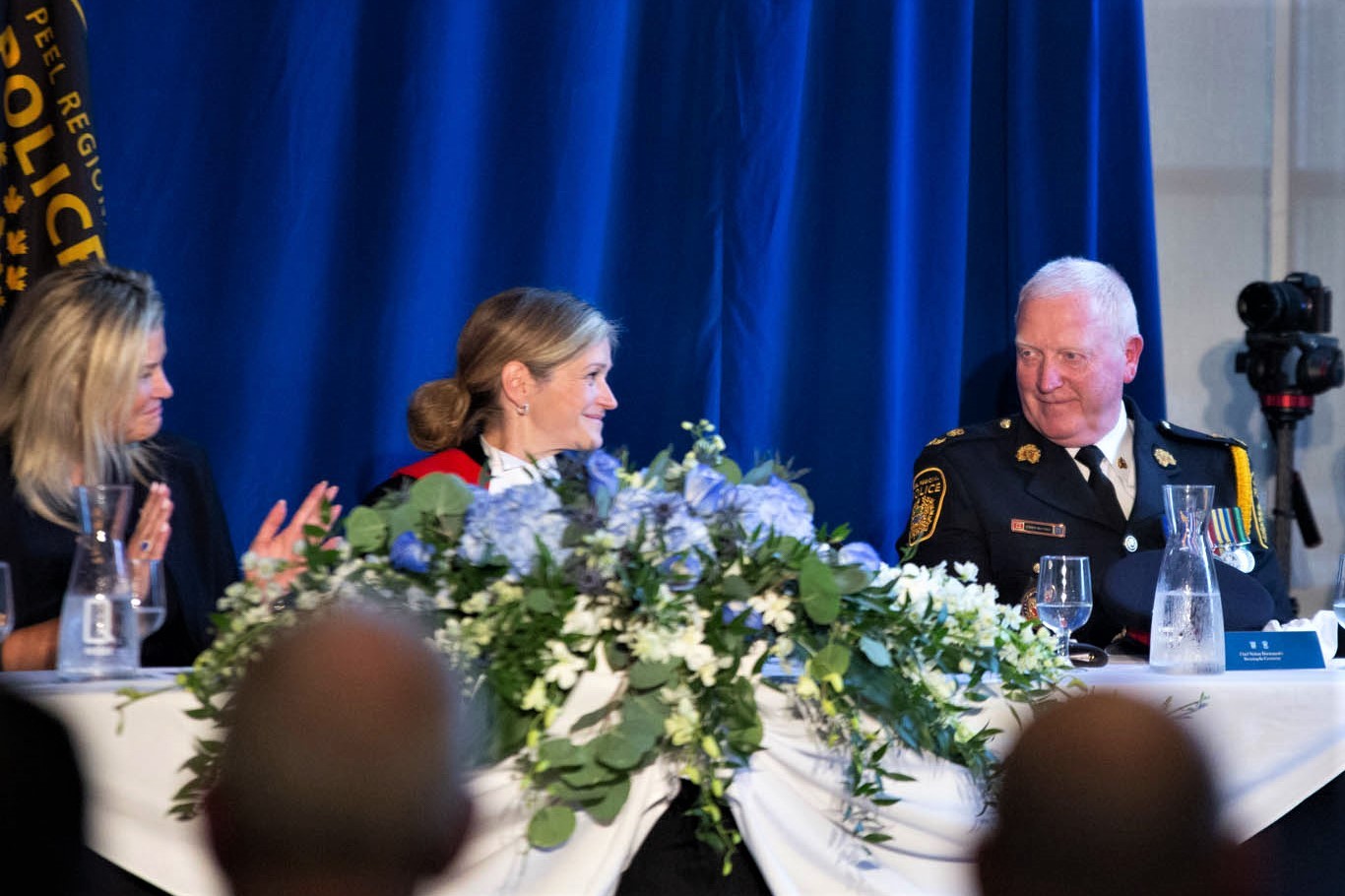 Former acting chief Chris McCord, who leaves the force today, was honoured for his service
In 2017, a Human Rights Tribunal decision found that the PRP had discriminated against decorated officer Baljiwan Sandhu based on race, preventing him from seeking a promotion, in a case that revealed a culture of systemic discrimination that permeated the police service.
A subsequent equity audit by the Canadian Centre for Diversity and Inclusion confirmed what everyone suspected, laying the blame for systemic issues at the feet of police leadership who failed to recognize the barriers that exist within the force to visible minorities.
The task ahead of Duraiappah to reform policing is monumental. He is being asked to get a handle on a rapidly spiraling public safety environment while bringing his own force to heel. The brazen mass shooting in Malton in September, which ended in the death of a 17-year-old bystander, is still fresh in the minds of Peel residents. It happened in the absence of a police station that existed in the community until early 2018. The police board voted unanimously last Friday to review police operations in the area, opening an opportunity for the station to return.
Interim chief Chris McCord, who kept the chair warm while a replacement for Evans was chosen, is retiring from PRP effective today, after serving for four decades.
Email: [email protected]
Twitter: @mansoortanweer
Submit a correction about this story