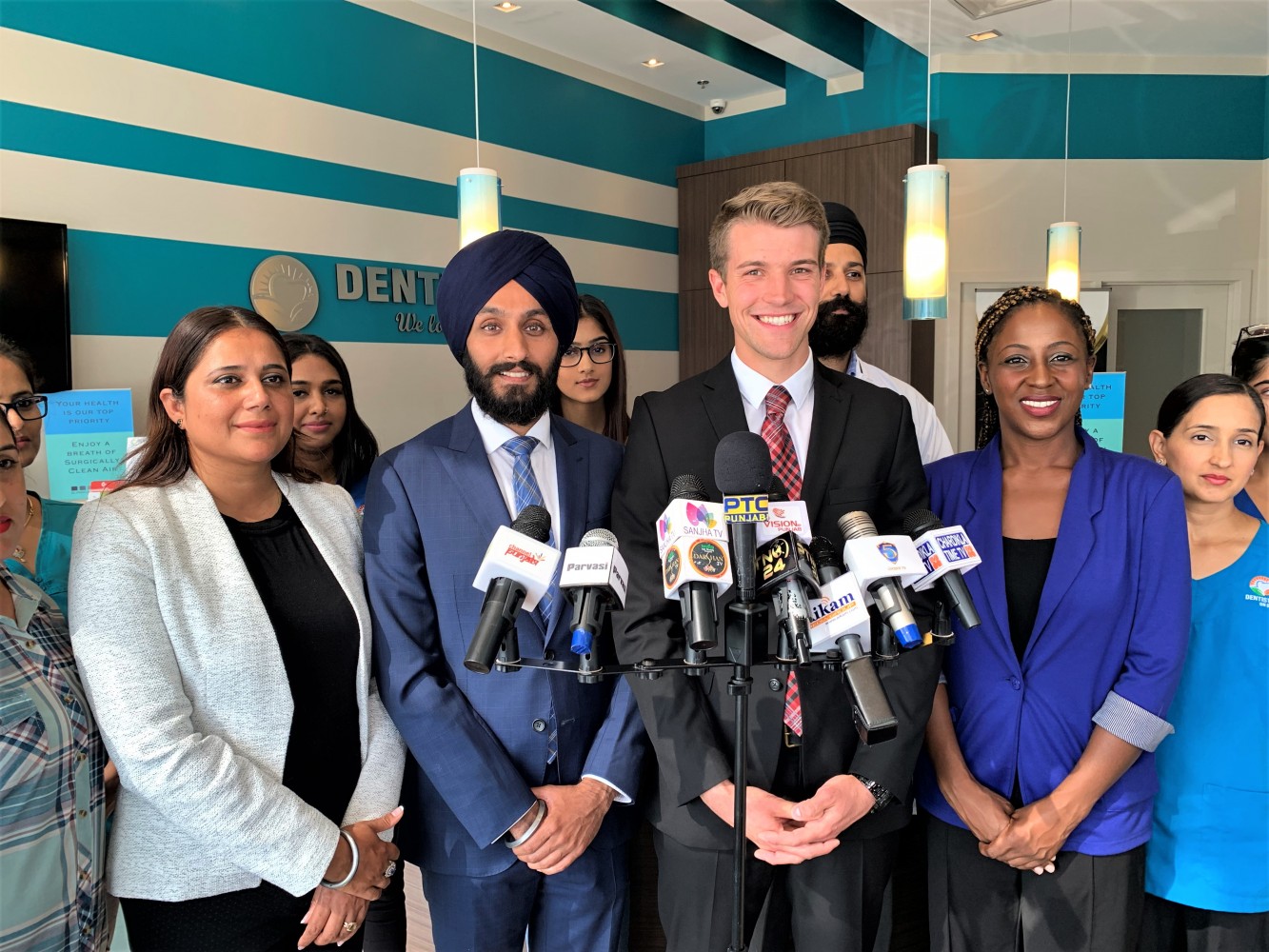 Photos by Mansoor Tanweer/Isaac Callan
'Healthcare Plan for Brampton' repackages NDP promises in party's ambitious drive for city's five ridings
The NDP's five Brampton federal election candidates were together again on Monday to promote what they're calling "Jagmeet Singh's Healthcare Plan for Brampton." The so-called plan brings together previously announced policies, including funding for a new hospital for the city, with a new policy to "create a national autism strategy."
Held at LMC Brampton, this was the second such event by the NDP in as many weeks. Where the New Democrats' strategy appears to focus on local candidates making appearances together, the Liberals and Conservatives in Brampton have largely restricted their media availability to visits from party leaders.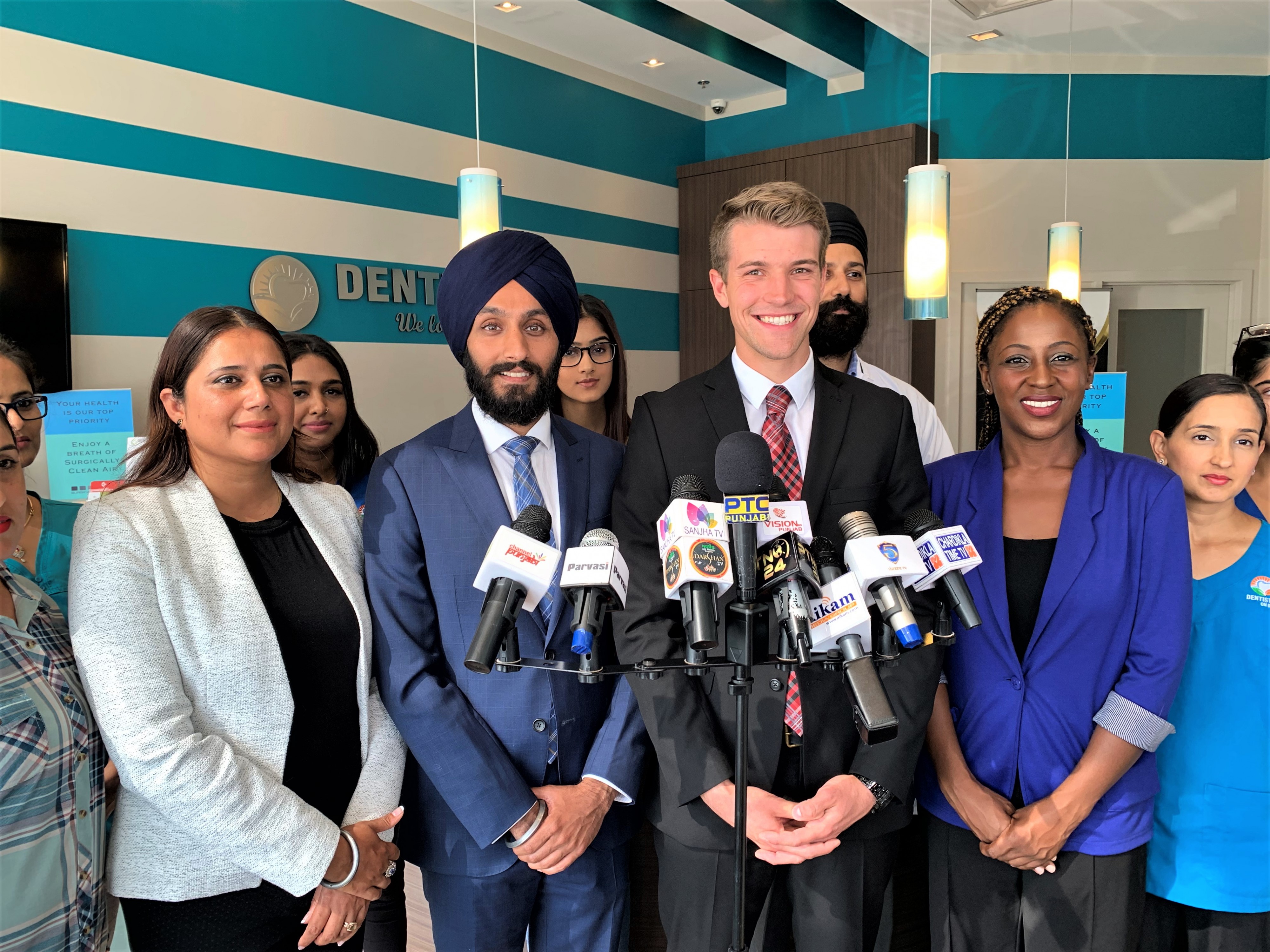 Brampton's five NDP candidates gathered recently at a dental practice to announce the party's bold plan to cover dentistry costs for low-income families
Despite the hyper-local purpose of the event, candidate speeches included national statistics and phrases such as "coast to coast," with just one of the pledges included in the plan aimed specifically at the Flower City. The plan is arguably about tailoring national NDP policies to the city by adding the words "for Brampton."
Jordan Boswell, the candidate for Brampton Centre, didn't quite disagree, arguing it was about promoting the priorities of his riding, but also sharing the NDP's plans with them. "I think it's a bit of both," Boswell told The Pointer. "It helps when you have a leader who is invested in the city, who represented us at the provincial level and who frankly fought on the front lines for better healthcare for our city. So I think it's encouraging, as candidates running in Brampton, to have the backing and the support of our leader and that he understands what kind of crisis we're in. I think it's also good to have five candidates here, talking about the issues.
"As local leaders and as candidates hoping to represent our city in the House of Commons, it is important for us to continue bringing attention to an issue that's so important for so many people."
Brampton South candidate Mandeep Kaur took the lead in explaining the NDP's positions. Gesturing to a homemade poster featuring a picture from the movie Titanic, among others, she said all the items on display had "one thing in common: they are all from 1997. That is the same year the Liberals first promised Canadians that they would bring in pharmacare. They failed to deliver that, and 22 years later, they continue to make these empty promises. We didn't end up in this situation by accident."
Between Singh and Kaur, the candidates reiterated their promises to Brampton: a new hospital, universal pharmacare, free dental care for families earning less than $70,000 per year, and a national autism strategy.
To those who have been following the campaign closely, only one of those policies is new, and only one specific to Brampton. The announcement of a national strategy for autism, perhaps in the face of cuts at the provincial level by Doug Ford's Progressive Conservatives, is new information, with the party saying more details will be available on this soon. Federal funding for a new hospital in Brampton was promised on the second day of the campaign.
Though there was certainly repetition at the NDP campaign event, its ambition highlights the party's desire to sweep through Brampton. The local candidates hope to do this, at least to some extent, on Jagmeet Singh's coattails, using his connection to the city.
The policies being promoted also represent significant cost. According to the Parliamentary Budget Officer, providing dental care would cost more than $1 billion in 2020-2021 and $824 million in 2021 and 2022. Pharmacare comes in at around $10 billion annually, though costings do suggest some savings would be realized down the line through prevention of more serious illness.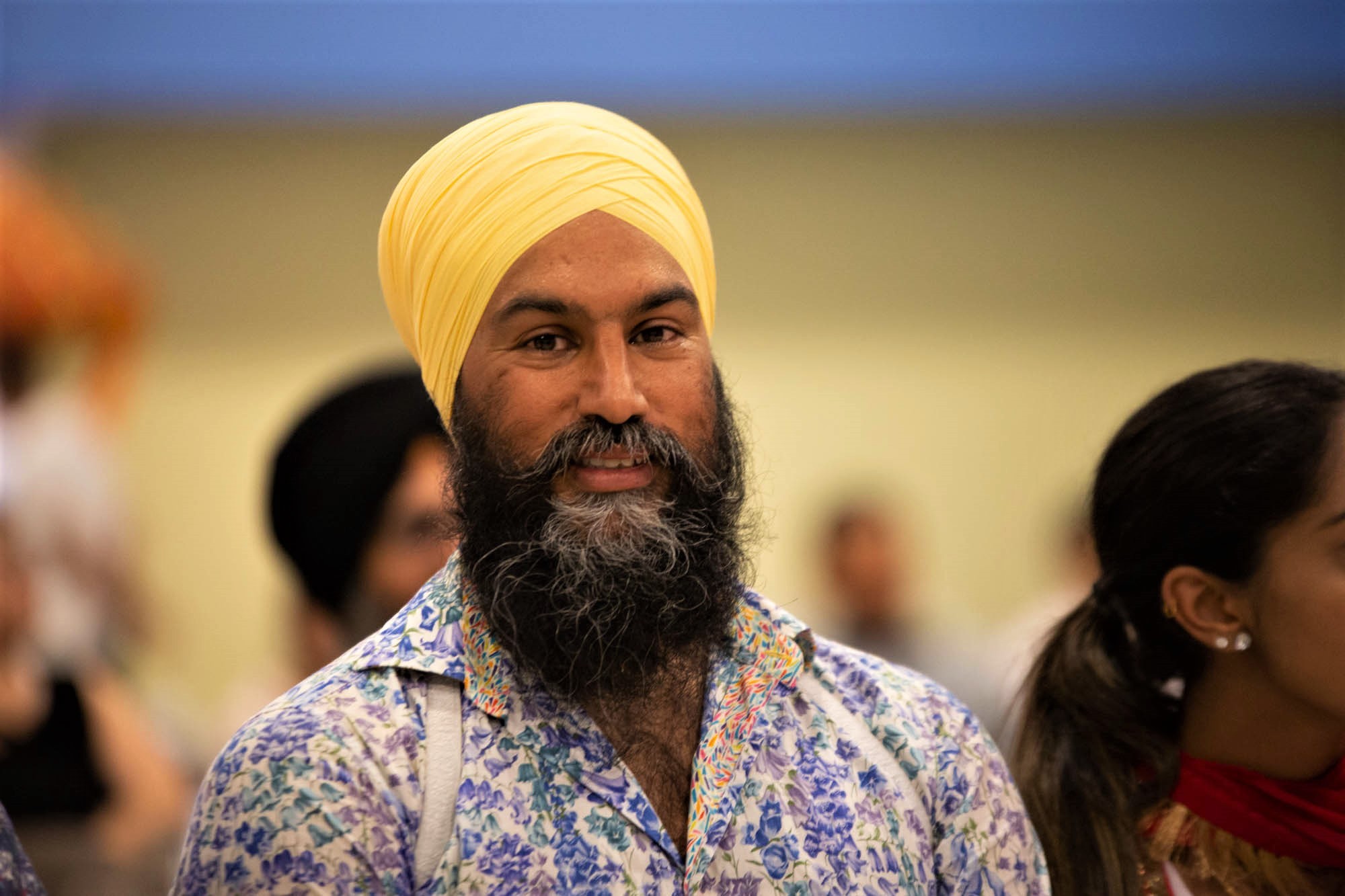 NDP Leader Jagmeet Singh
The NDP also plans to boost taxes for Canada's most wealthy citizens, those who have more than $20 million, which the PBO suggested will bring $10 billion into federal coffers over the next ten years. Policies like that, targeted at the richest individuals and corporations, will raise the required capital, according to Saranjit Singh.
The Brampton East candidate told The Pointer that budgets are all about "priorities" and making decisions about what is worth investing in. Criticizing Liberal tax-and-spend decisions, he argued that money could be saved by ending subsidies to the oil and gas industries. He added that the NDP is "focused on programs that bring in revenue from the richest."
One candidate described her personal stake in the healthcare programs the NDP are taking to Brampton. Mandeep Kaur held back tears as she told The Pointer about her experience of long-term care for her mother, who was diagnosed with dementia in the past few years.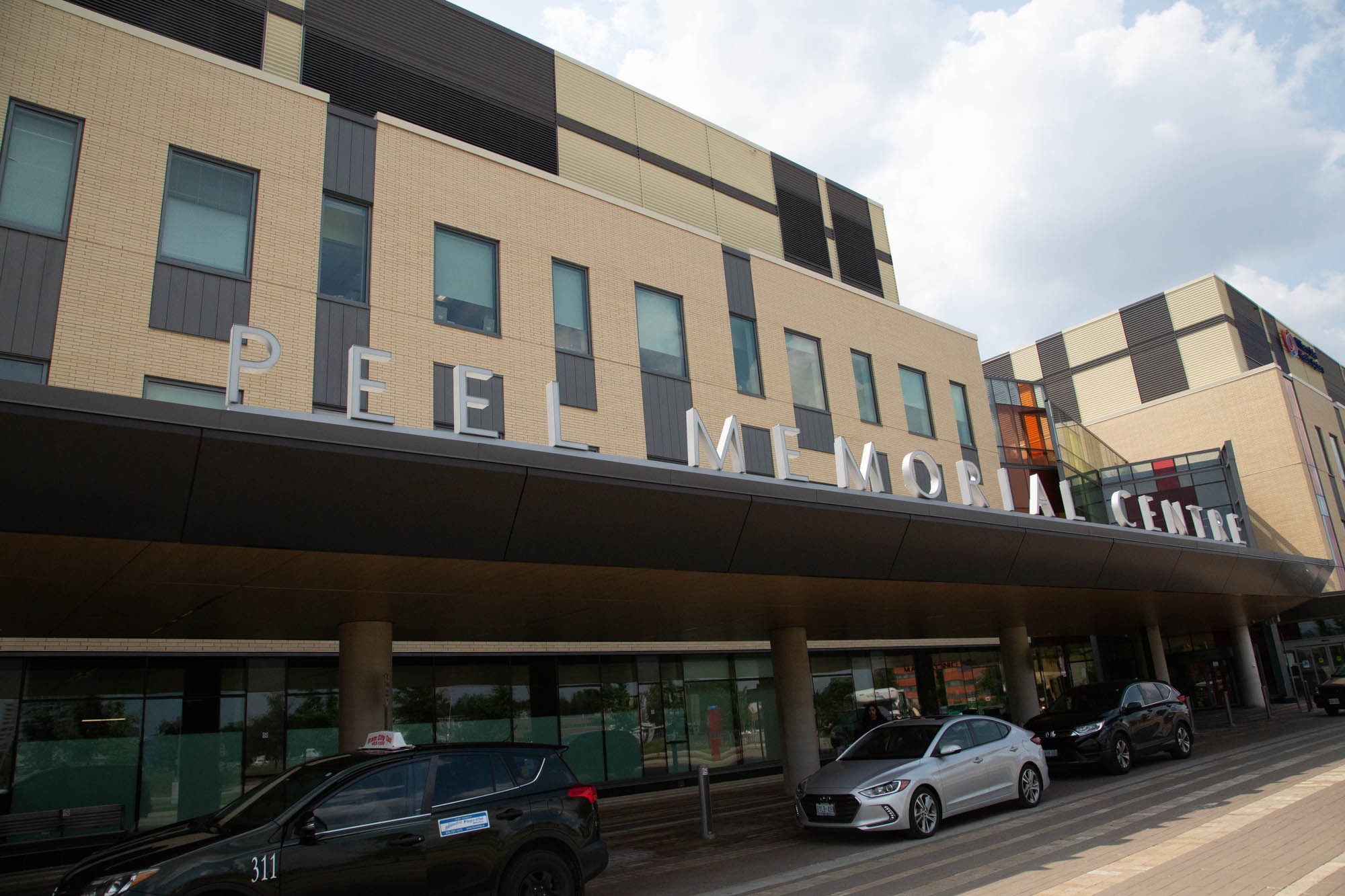 "We had to make the hard decision with my mom to put her in a long-term care facility because she was prone to falls at home and we wanted to avoid any accidents," she said. "I used to see her in the home twice on weekdays and once at the weekend." One day, Kaur discovered that her mother had a bruised arm and hand from a fall. "I asked the nurse what happened, and she told me she had had a fall three days previously," Kaur said. She was disturbed to learn that the nurse had deemed her mother fine without speaking to a doctor, despite the fact her mother was no longer able to speak.
"She lived with that pain for three days without it being cared for. And I don't want anybody to go through that. I'm not blaming the staff; I think there are just not enough of them," Kaur added with genuine passion. She went on to discuss NDP plans to increase funding for senior care as well as funding for Leader Jagmeet Singh's extensive wishlist.
Though the reveal of the New Healthcare Deal for Brampton on Monday was largely a case of pasting a new label on previously announced policies, it served to highlight the NDP firepower going into Brampton's five seats. Though these policies all carry large price tags, the Brampton candidates are standing by them and say they're all deliverable. So strong is their faith that Saranjit Singh even refused to consider the idea of forming a coalition to get them done, saying he wants to deliver all of the promises to Brampton.
The quiet confidence the NDP candidates express in Brampton suggests they may not be quite as far behind their Conservative and Liberal rivals as the few available polls suggest.
@isaaccallan
Submit a correction about this story