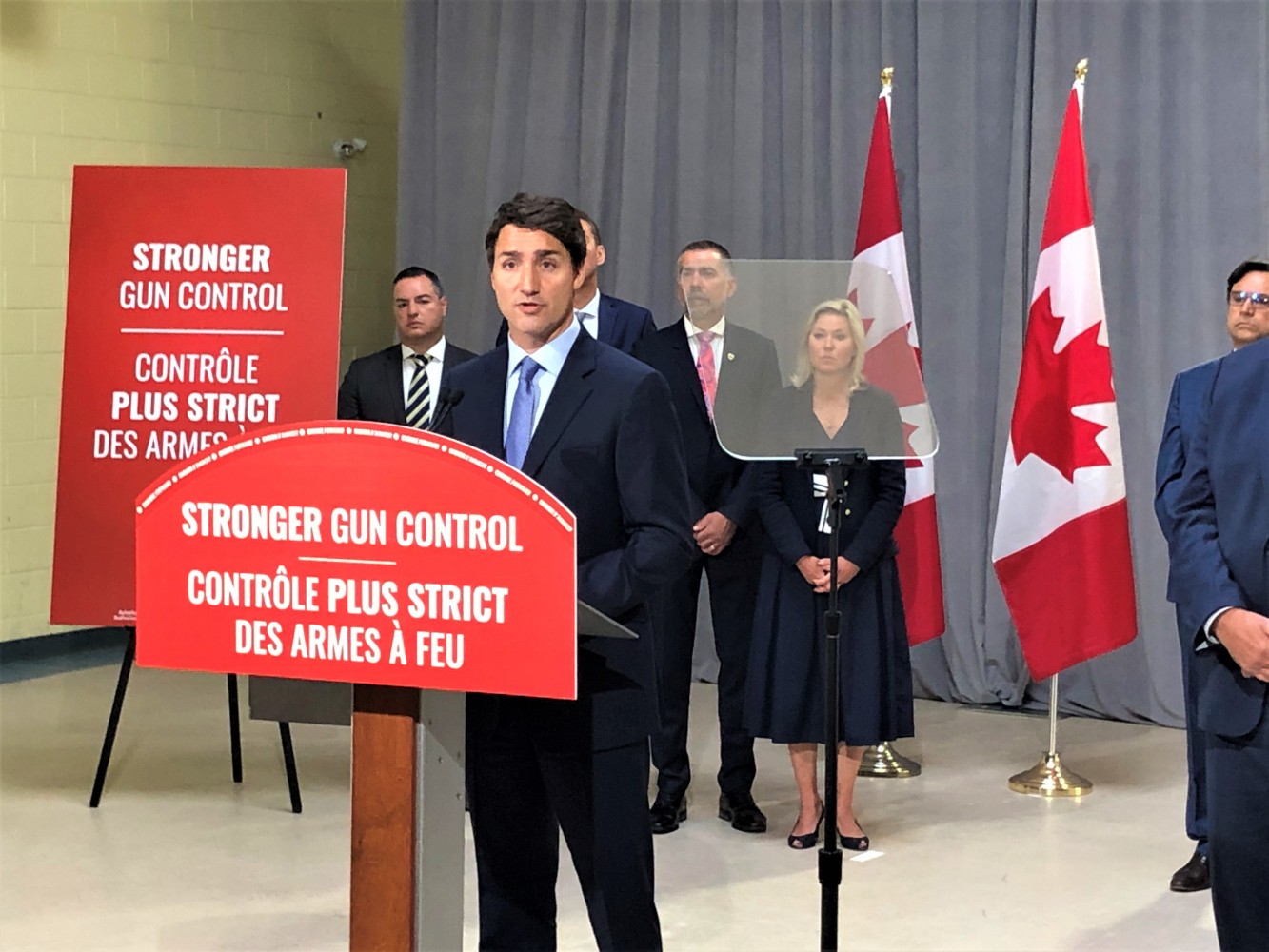 Photos by Daniel Calabretta/Mansoor Tanweer
With Crombie sitting behind him Trudeau pledges $250-million to directly help cities combat gang-related violence
After years of being short-changed for policing, Mississauga Mayor Bonnie Crombie is grateful to hear the Liberals' plan to devote $250 million over the next five years to combat gun and gang violence, though it's unclear what portion of that would go to Peel Regional Police in the event of a Liberal win three weeks from now.
"I am very appreciative of the announcements that were made today. I think that community safety is one of the most pressing issues right across the GTA," she told The Pointer after Liberal Leader Justin Trudeau's announcement Tuesday on "Stronger Gun Control", which was held in Richmond Hill. "Any initiative that could be brought forward to help municipalities combat the issue of illegal guns and gang activity across our region is extremely helpful."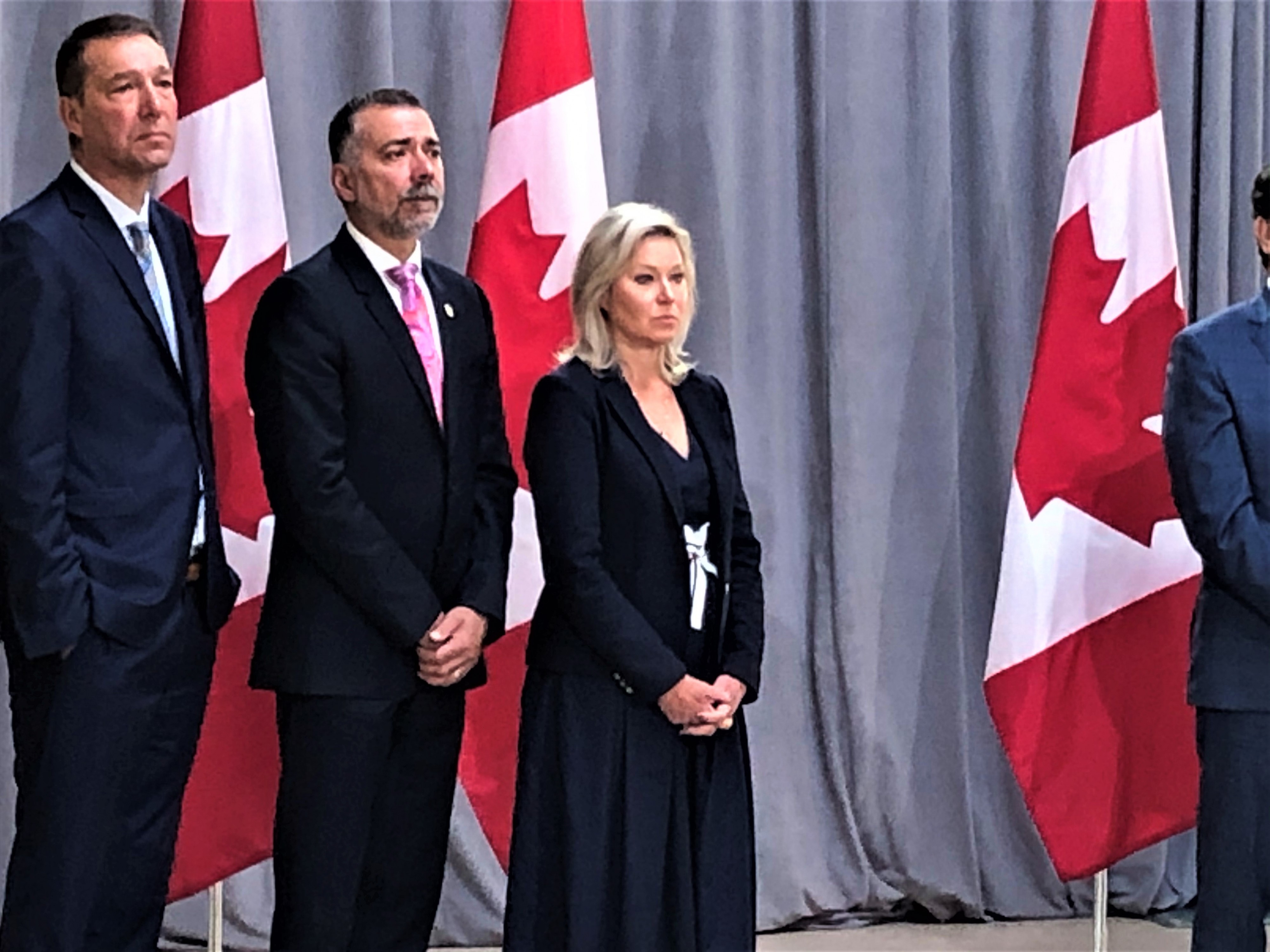 Mayor Bonnie Crombie at Tuesday's announcement
While Crombie's office said the specific amount of money Mississauga and Peel police can expect to receive is "not available at this time," the mayor told The Pointer the funds will "go a long way" in helping municipalities, service organizations and youth-related organizations as well.
The $50 million per year investment is a dedicated funding stream to assist municipalities in meeting the needs of at-risk communities. In short, presuming a Liberal win on Oct. 21, these funds would go directly to municipalities across the country to fight gang-related violence. Crombie's office said that since the announcement happened today, "it is not yet clear" when such money might flow to Peel Regional Police.
"Once a date is given, that is a decision that will have to be made by the Police Services Board and council at that time," Nicole McInerney, senior communications advisor for the Office of the Mayor, said in an email to The Pointer.
Funding to counter youth and gang violence hasn't exactly been gushing from the provincial tap, which has long been an issue for Mississauga and Brampton.
Bill Blair, the former chief of police in Toronto and the most recent federal minister of border security and organized crime, was also in attendance at Tuesday's announcement in Richmond Hill. Earlier this year, he said that Premier Doug Ford had tapped into only a small percentage of the $65 million in federal funding already earmarked for Ontario to deal with guns and gangs across the province.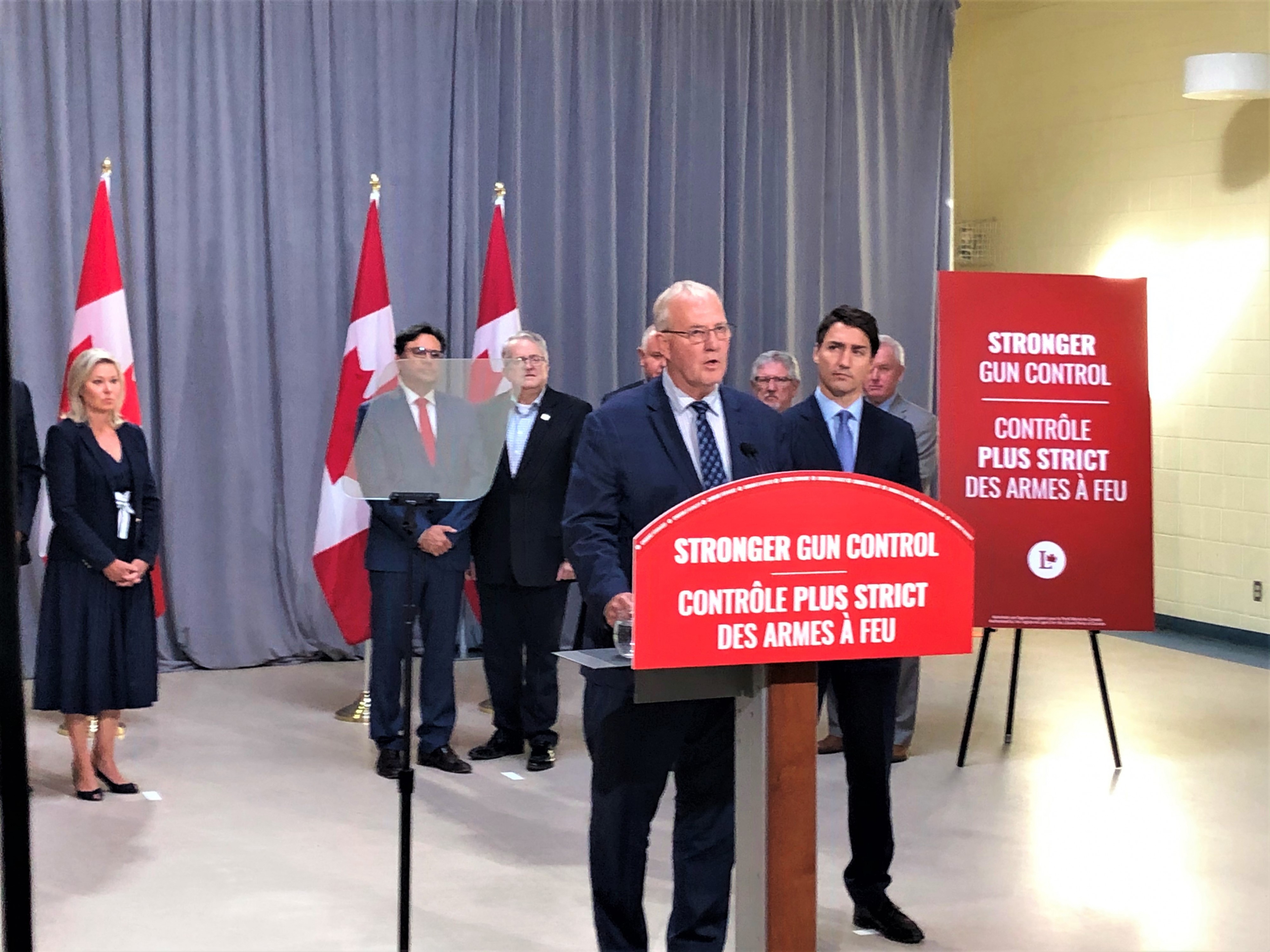 Bill Blair, the former chief of police in Toronto and the most recent federal minister of border security and organized crime
Given events in just the past month in Mississauga and Brampton — including at least three gang-style shootings that together claimed the lives of two people and injured seven — Brampton Mayor Patrick Brown and Mississauga Mayor Crombie said they need the process for releasing the funds to be expedited.
"When you get at least a commitment for $50 million per year — a total of $250 million directly to municipalities — that's exactly the type of investment that we're looking for," said Brampton Councillor Martin Medeiros, who attended Tuesday's gathering of GTA mayors alongside Trudeau on behalf of Patrick Brown, who was not able to make it. It is that type of mechanism that municipalities need, he said, "where we can have access to those resources so we can invest in our communities."
Mississauga and Brampton have been getting the short end of the stick when it comes to resources to combat gun and gang violence. The City of Toronto is getting two gang prevention justice centres as part of Ottawa's previous $65 million commitment, but Peel isn't getting one. Toronto police have also obtained $28 million for anti-gun and gang initiatives as part of federal funding to the province since the summer of 2018. Peel police didn't get any such funding.
Brown lamented recently that "60 percent of our shootings in 2019 have been gang-related." In Mississauga and Brampton, the last couple of years have been alarming, with homicides rising by 62.5 percent between 2016 to 2017, and by 63 percent from 2017 to 2018. According to Statistics Canada, based on reporting by municipal police forces across the country, the violent crime severity index for the two cities worsened at three times the rate of the national increase over five years between 2014 and the end of 2018, with a 51 percent jump here compared to 17 percent across Canada.
Trudeau tried to temper the concerns of local politicians about the plan to distribute the $250 million directly to municipalities based on need. Rather than offer specifics on the mechanics of the allocation, he pointed a finger at Queen's Park over its failure to disburse money received from Ottawa in a timely fashion.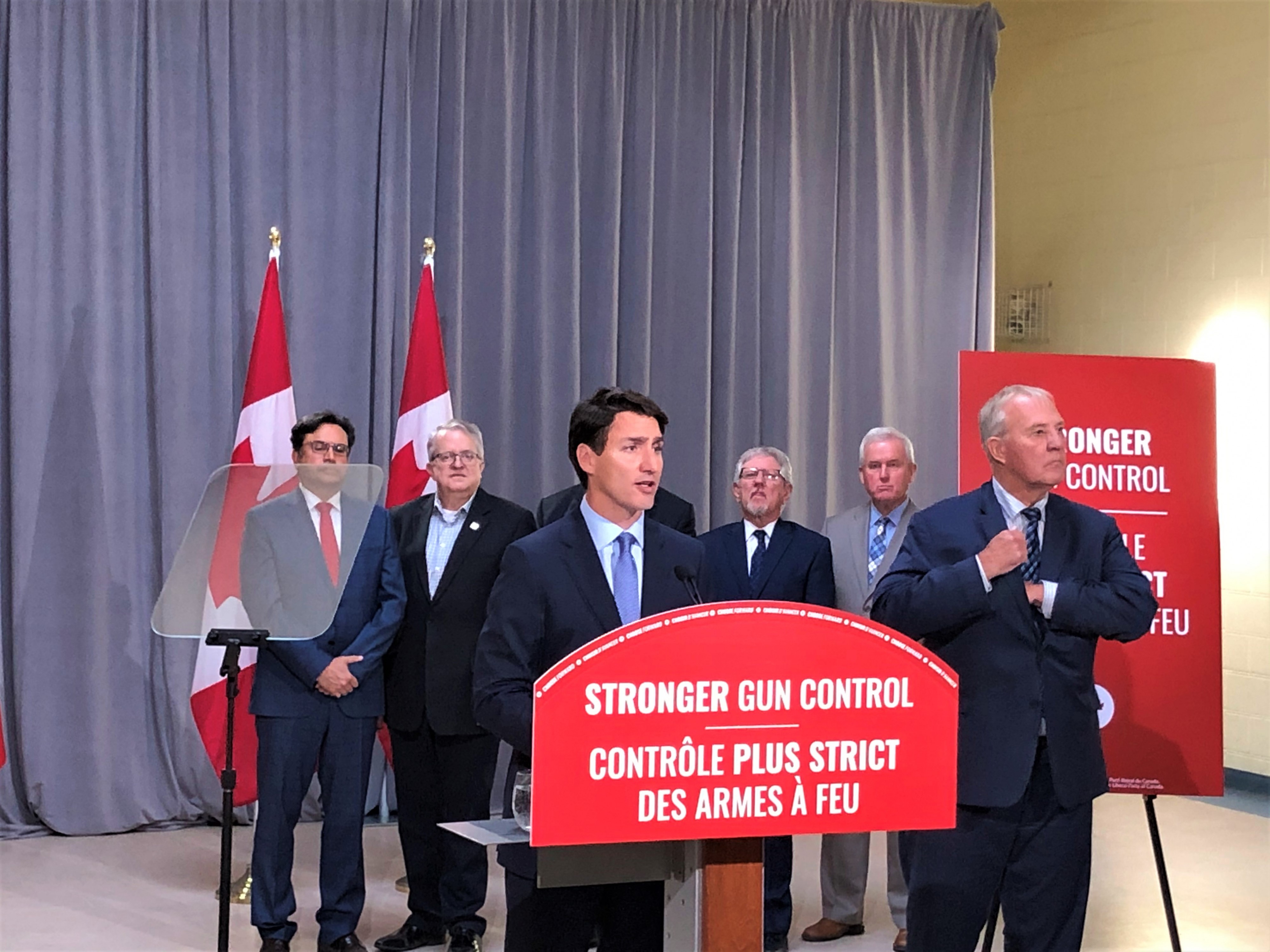 Liberal Leader Justin Trudeau in Richmond Hill Tuesday
"We recognize that a number of investments that we made, through the province, to get to municipalities in order to help deliver measures to fight gun violence, didn't make it. The province dragged their heels on moving forward on delivering to these mayors the money they need to create programs and fight gun crime in their municipalities," he said. "That's why we took the initiative in committing $250 million over the coming years — money that will go directly to municipalities that need it, because unfortunately, we have seen Doug Ford not take seriously the need to invest in fighting gun crime."
At one point during the announcement, a reporter asked the mayors (and Medeiros) from municipalities in the Greater Toronto Area, if they would support a national ban on handguns. It appeared that at least eight of the nine municipal representatives, including Councillor Medeiros, raised a hand in support of a national handgun ban.
Despite this, Trudeau and his government rejected the idea of a national ban. However, in the spirit of election promises, Trudeau repeated that a re-elected Liberal government would allow individual municipalities the authority to restrict or ban handguns on their own. Days after the Sept. 14 mass shooting in Malton, Trudeau pledged that he would ban AR-15-style semi-automatic assault rifles. But many municipal officials across Canada have called for handguns, which are often used in street crime and gang activity, to be banned nationally.
Blair told reporters at the event that, in his research leading up to the formulation of the Liberal's 2019 election platform, it became clear that a national handgun ban would be difficult for cost reasons and because the vast majority of legal handgun owners use them lawfully, for recreational purposes. Blair added that there are roughly one million legal handguns in the country that cost roughly $1,500 per gun, which he deemed too expensive to consider in a national buy-back program. Toronto Police stated, back in May, that they received more than 2,700 "unwanted guns" through their buyback program.
However, it's possible that the next government could contemplate a handgun ban pertaining to certain weapons, for example those semi-automatic handguns that can shoot as many as 30 bullets in three seconds. Peel police believe such handguns were used in the Malton shooting, when more than 130 bullets were fired into the parkette where residents had gathered. Some municipal officials have expressed a preference for a national-level ban, as a city-by-city approach, pledged by the Liberals and the NDP, could lead to complications around provincial cooperation and the difficulty of having neighbouring municipalities with different policies.
More than a 130 bullets, many from semi-automatic handguns, were fired in a mass shooting behind this Malton apartment two weeks ago
Some experts have explained that a handgun ban is not necessarily needed to address the type of violence that is plaguing communities, as virtually all the guns used in these incidents are illegal and already banned. Increased border-security funding to stop the flow of such weapons from the U.S. might be a more effective way to focus energy and resources, something Blair and the Liberals, along with the Conservatives have said they will focus on if elected.
Mississauga and Brampton are desperately in need of public safety funding. The summer of 2018 was one of the deadliest in history. But while Premier Ford announced $25 million to go toward fighting gang activity in Toronto, and another $3 million this year, former chief of Peel police, Jennifer Evans, told the province the cities she served were being ignored. Evans urged the Ministry of Community Safety and Correctional Services to expand its additional funding to municipalities outside of Toronto. Finances were a key issue cited as the reason Malton lost its community police station after its closure in February 2018, with Evans noting that the rent for the station was too high.
There were other aspects of gun control discussed at the Liberal campaign event on Tuesday. Anti-gang and gun-related measures the Liberals are promising, as part of their platform this election season, include expanding successful diversion programs to keep at-risk youth out of the criminal justice system, ensuring the Canada Border Services Agency and RCMP have the resources they need to detect and stop the flow of weapons at the border; and requiring everyone importing ammunition to show proof of a valid firearms licence, among other things.
Email: [email protected]
Twitter: @dancalabrett
Submit a correction about this story