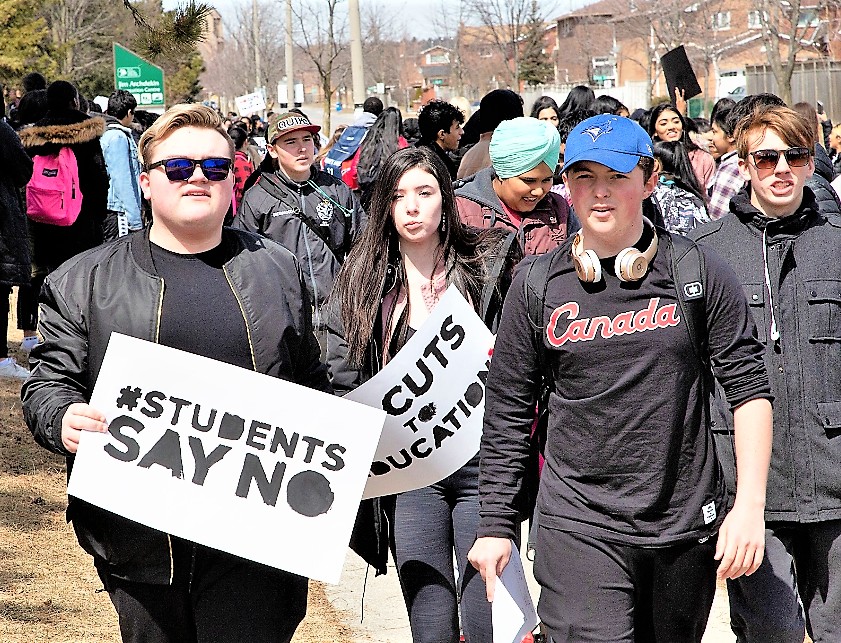 Photos by Mansoor Tanweer
On Day 1 of work-to-rule, PDSB custodian says funding cuts have affected non-teaching staff 'for a very long time'
In his 32 years of employment with the Peel District School Board, custodian Jason McFarlane has seen his fair share of funding cuts. Specifically, a series of departmental budget line cuts in recent years have affected the amount of time he and his colleagues have to clean a classroom and the number of classrooms they're required to clean.
"I've felt the cuts," he said. "It's been an ongoing thing for a very long time."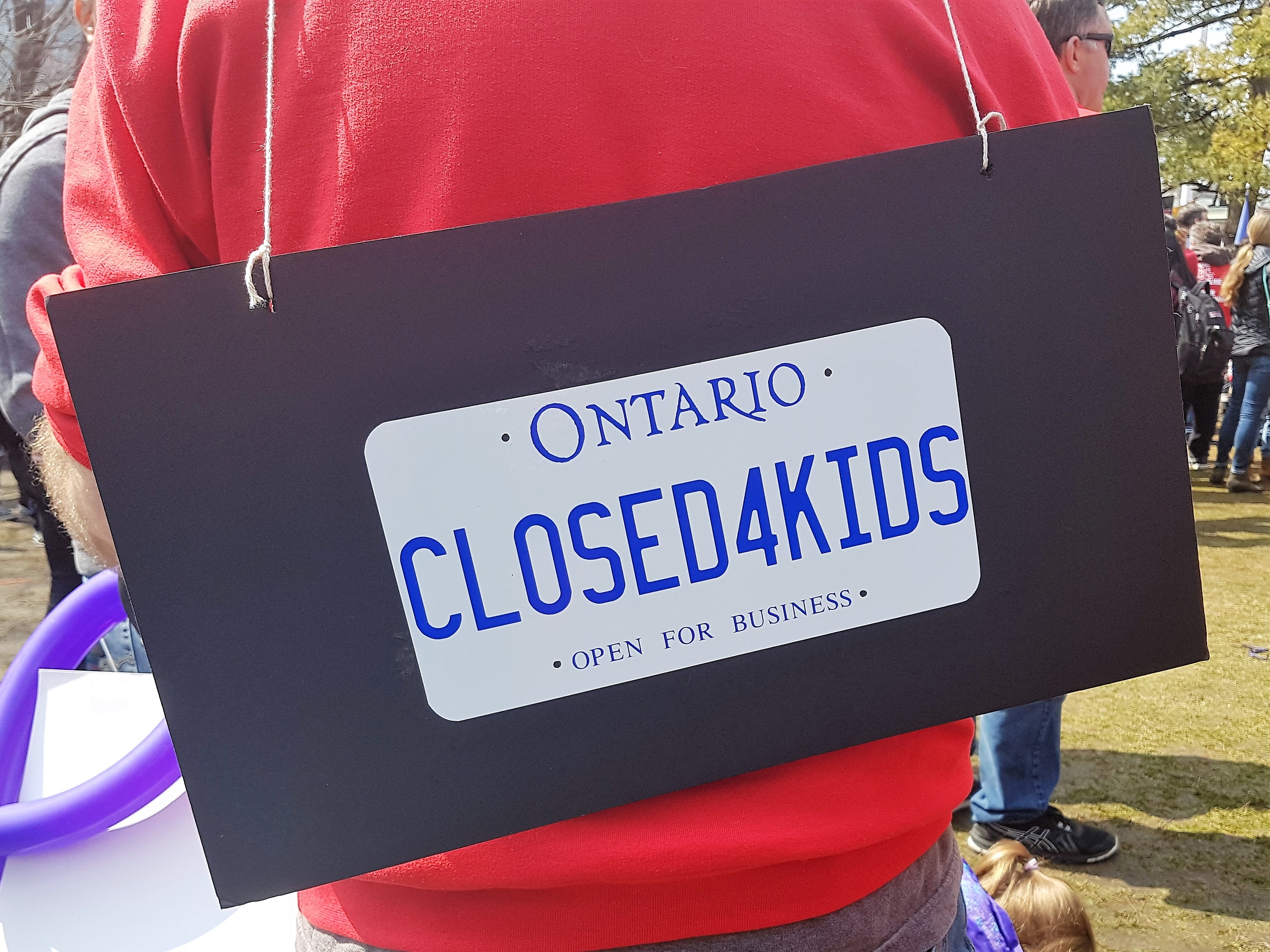 A protest in the spring against the Doug Ford government's cuts to education
McFarlane is also vice-president of the Ontario School Board Council of Unions, a member organization of CUPE representing custodians, administrative assistants, librarians and some early childhood educators. They remain in the midst of contentious negotiations with the province and the Council of Trustees' Associations, mainly over compensation, job security and funding for additional staff.
But some of the issues he and his colleagues are facing, including cuts that resulted in a heavier workload, predate the Ford government. In 2014, Education Minister Liz Sandals said some low-enrolment schools in Ontario would be closed to help eliminate a $12.5-billion deficit over the following three years.
McFarlane said that in these negotiations, it's all about the "envelope" funding school boards get, their basic operating funds for the year. "That's the basis of the whole thing," he said. "I've thought about it a lot, that the school board gets funding, but it's not adequately funded."
He adds that "there isn't enough money funnelled" into the Ontario education system. "That puts a strain on the group that is providing the service. Times were cut and it created more work, a larger workload, and the expectations didn't change. I would say, maybe, that has contributed to a lot of people's injuries," he said.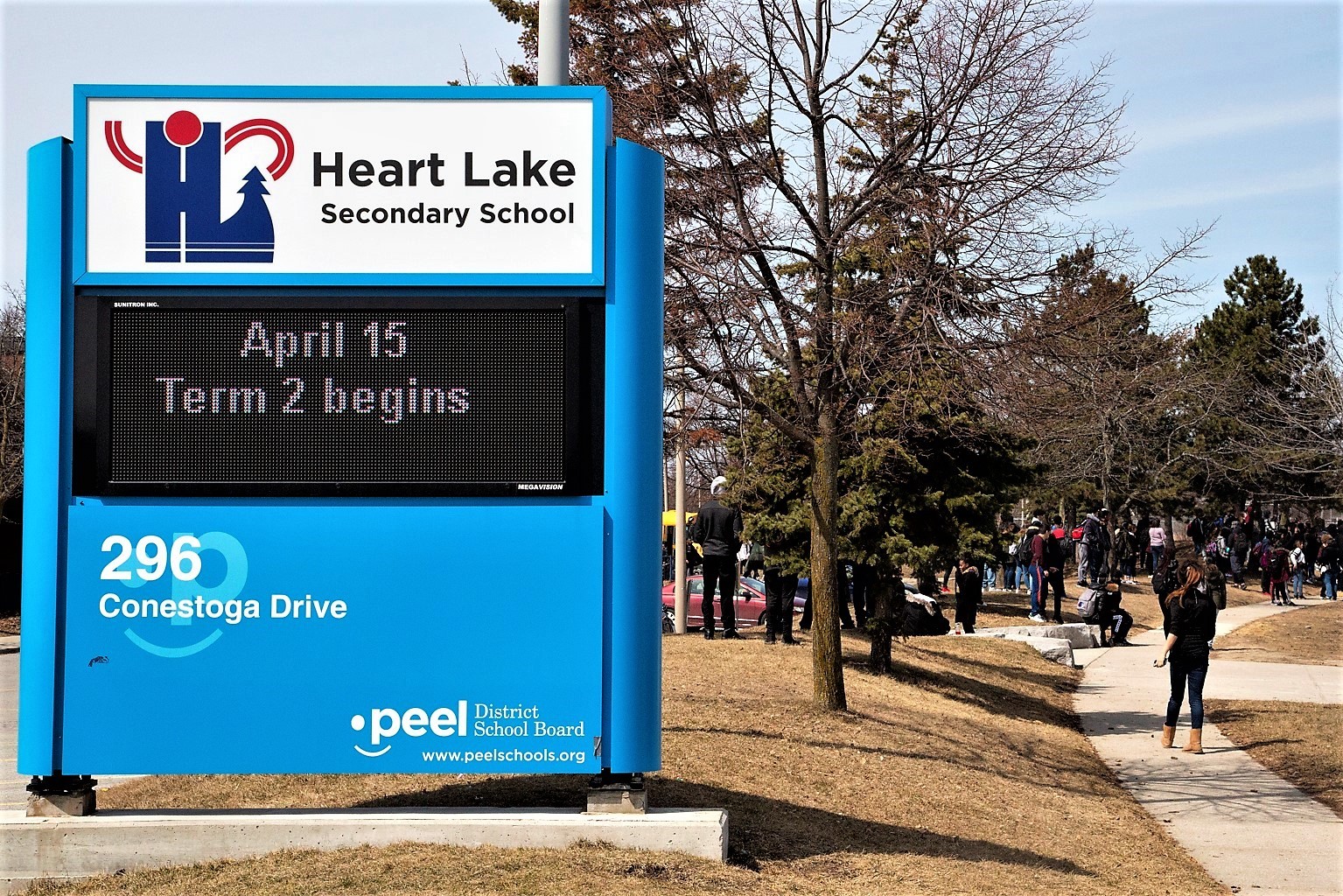 Although he hasn't experienced any serious, debilitating injuries because of the added stress, he said he does feel "aches, sprains and pains," because "you're moving a little too fast."
Monday was day one of a work-to-rule campaign, involving roughly 55,000 education workers across 63 school boards, after two days of last-minute contract talks between CUPE, the Ontario government and the Council of Trustees' Associations failed to reach an agreement.
"It is deeply disappointing that CUPE has decided to end talks this weekend and proceed with a partial withdrawal of services, despite a limited number of outstanding items at the table," Education Minister Stephen Lecce said Sunday. "The Crown and the employers tabled a reasonable offer and expanded our offer through the negotiations with one interest in mind: landing a deal that keeps our kids in class. We have offered proposals to address compensation, job security and funding for additional staffing. A key issue that remains is resolving rising absenteeism rates, and the impact that has on students and schools."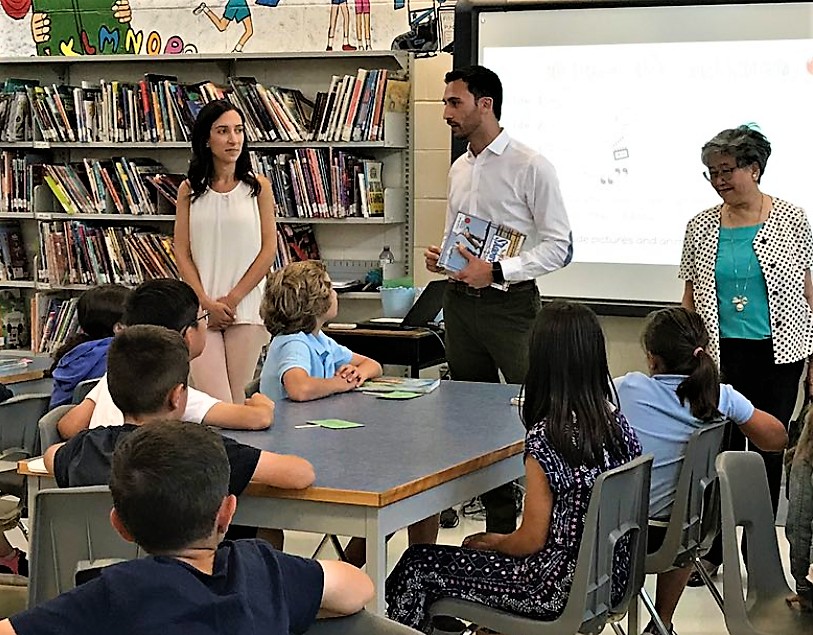 Education Minister Stephen Lecce
McFarlane said he wasn't at work on Monday, not because of the work-to-rule campaign, but "only because I had some things I had to take care of," he said, without going into specifics. "But I can assure you that the person who did open the building [a task for custodians], did everything that [he/she] would do on a normal, regular basis," he said. "I would be very surprised if the students were affected by any [matters] of what we are not going to be participating in, or what we will be participating in." McFarlane said he would be at work Tuesday.
Under "work-to-rule," employees perform their "core duties" and do no more than the minimum required by the rules of their contract, while following safety and other regulations. McFarlane said that ministry "unfunded areas," for example hallways and the main office area, will not be as clean as they were under regular work conditions.
He noted that every classroom, from a custodial perspective, will be taken care of and cleaned, as those are funded teaching spaces. "That's where the kids are learning. Their garbage will be emptied in their classroom. The floor will be swept," he said.
Although it wasn't an issue McFarlane focused on, a major factor reported in the CUPE negotiation has been job security. Hundreds of support roles have been cut across Ontario as part of the Ford government's cost-cutting measures, which also resulted in an uptick in the average Ontario high school class size, as well as initial layoff notices to 330 teachers in the Peel District School Board.
The work-to-rule campaign by non-teaching staff could significantly impact the Dufferin-Peel Catholic District School Board, where there are approximately 410 CUPE staff in a variety of positions, such as clerks, secretaries, buyers, library technicians, technical support specialists, personal assistants and more.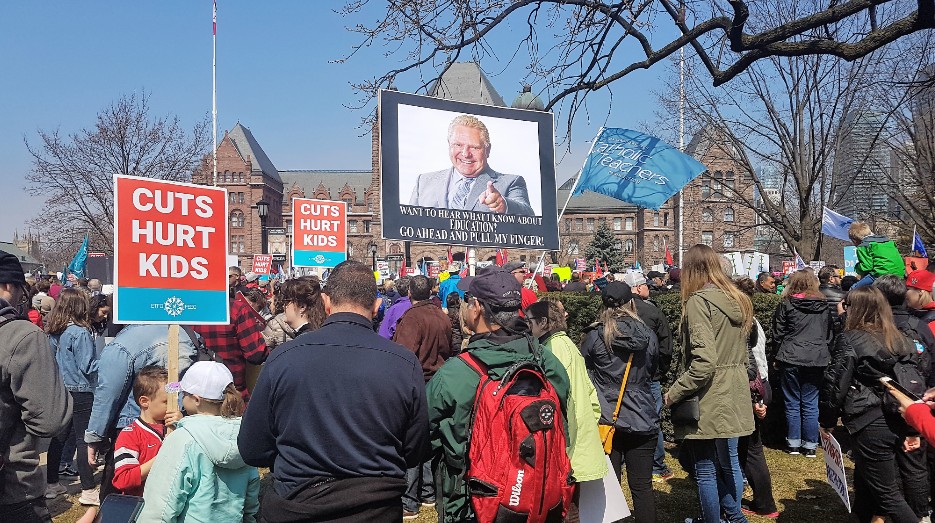 On Sunday, it was reported that the Peel District School Board will be reversing its decision to leave elementary school main entrance doors open. Last week, the board had said it would leave the main entrance doors open due to the CUPE job action.
The PDSB released a statement on Sunday changing that position, saying that, "Until further notice, doors into Peel Board elementary schools will continue to remain locked during school hours. However, we recognize that access may be significantly delayed," it stated. "As always, please continue to use the buzzer/intercom system located near the main entrance to request access. Our apologies for any delay you may experience. We encourage you to continue to call ahead if you plan to visit the school outside of high-traffic times during the school day."
Email: [email protected]
Twitter: @dancalabrett
Submit a correction about this story