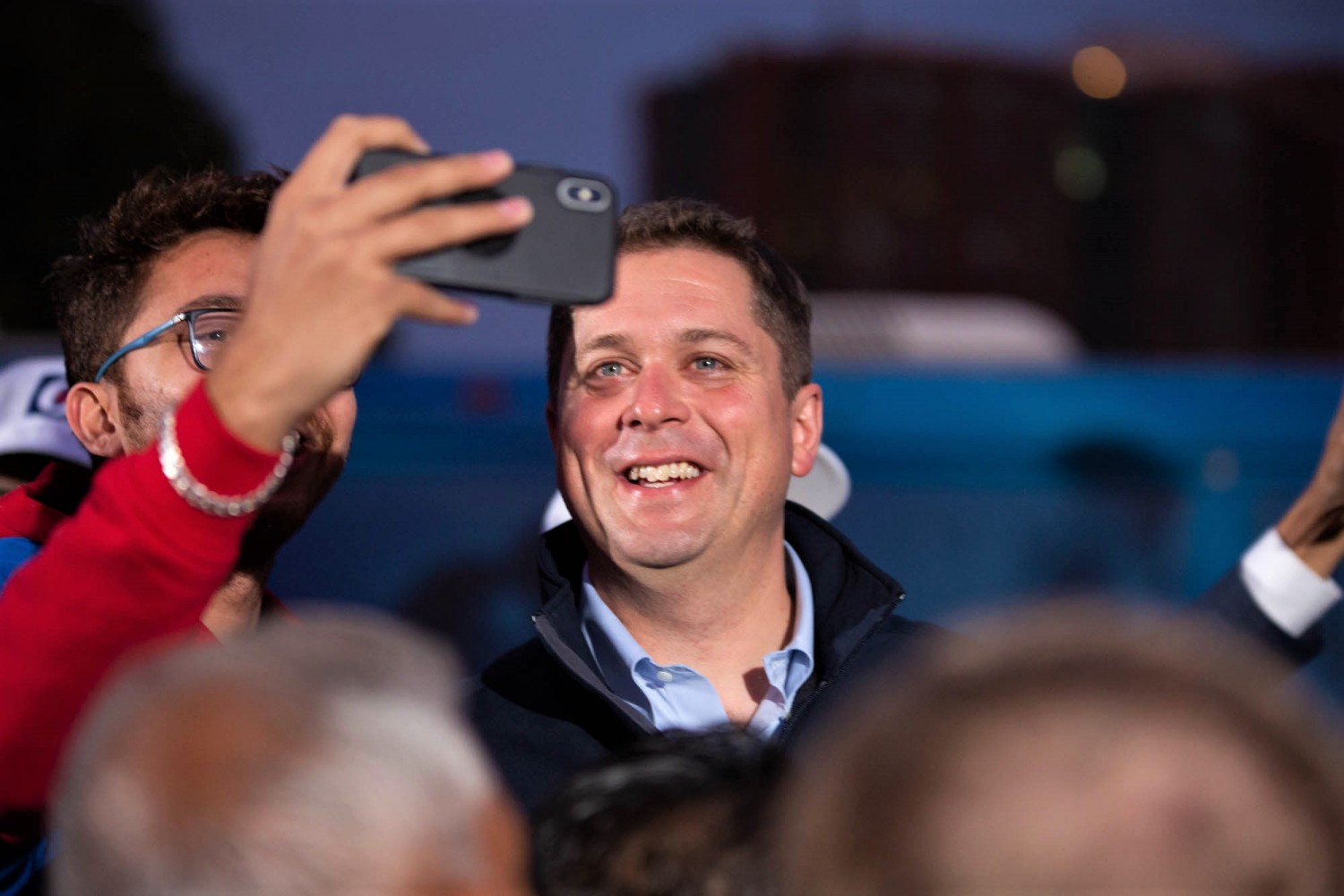 Photos by Mansoor Tanweer
Andrew Scheer promises Brampton a 'fair share' for infrastructure, anti-gang measures, without offering details
Conservative Leader Andrew Scheer made a stop at Lion's Banquet Hall in Brampton on Monday, the day after Justin Trudeau's visit to the University of Toronto Mississauga. He had a slightly more local message, promising the city improved funding towards infrastructure and public safety.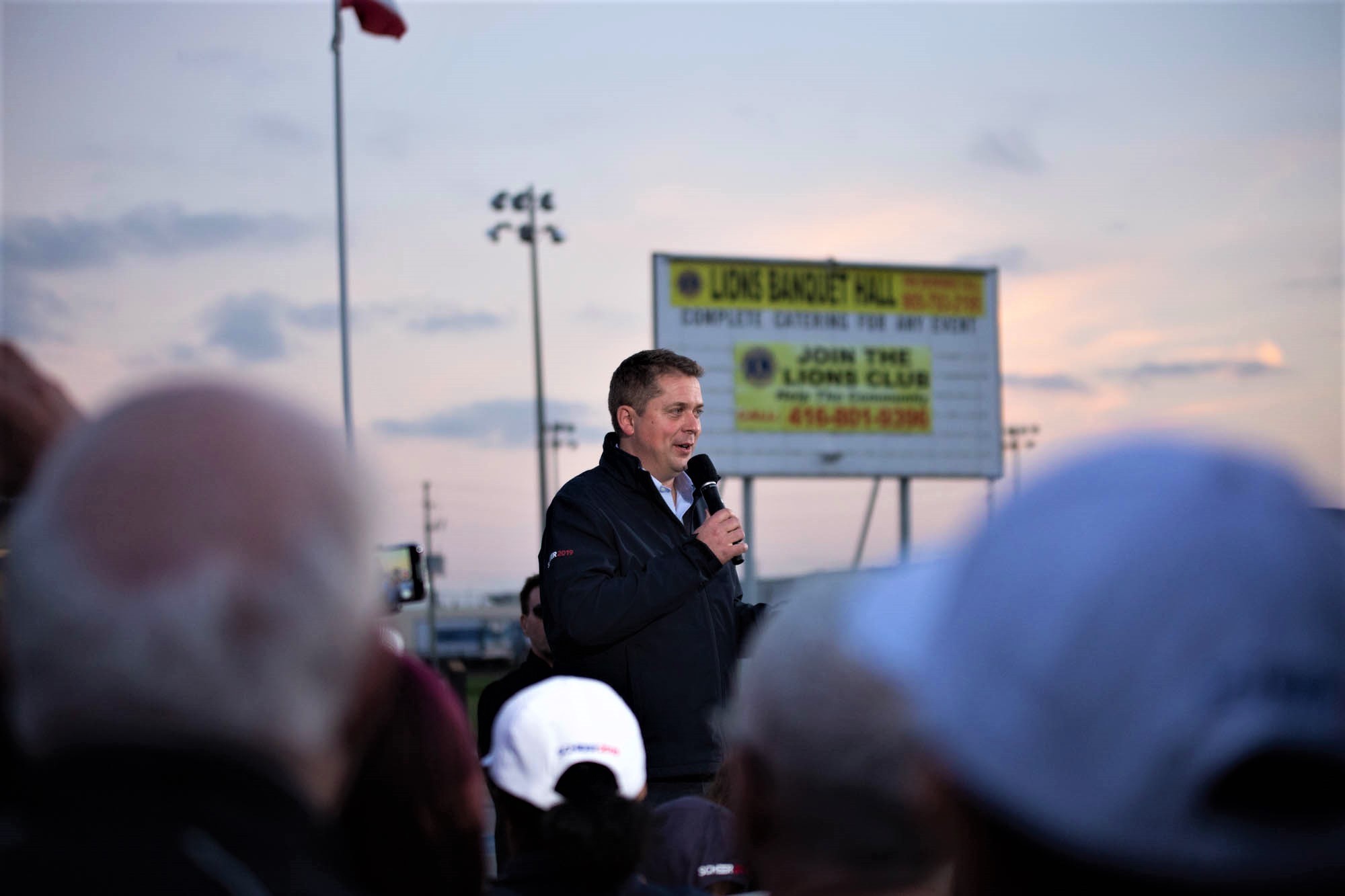 "I know in Brampton you have some specific issues as well," Scheer told the gathered residents at Brampton Centre candidate Pawanjit Gosal's event. "My commitment to the people of Brampton is that we will ensure that Brampton gets its fair share for infrastructure spending and for anti-gang member measures."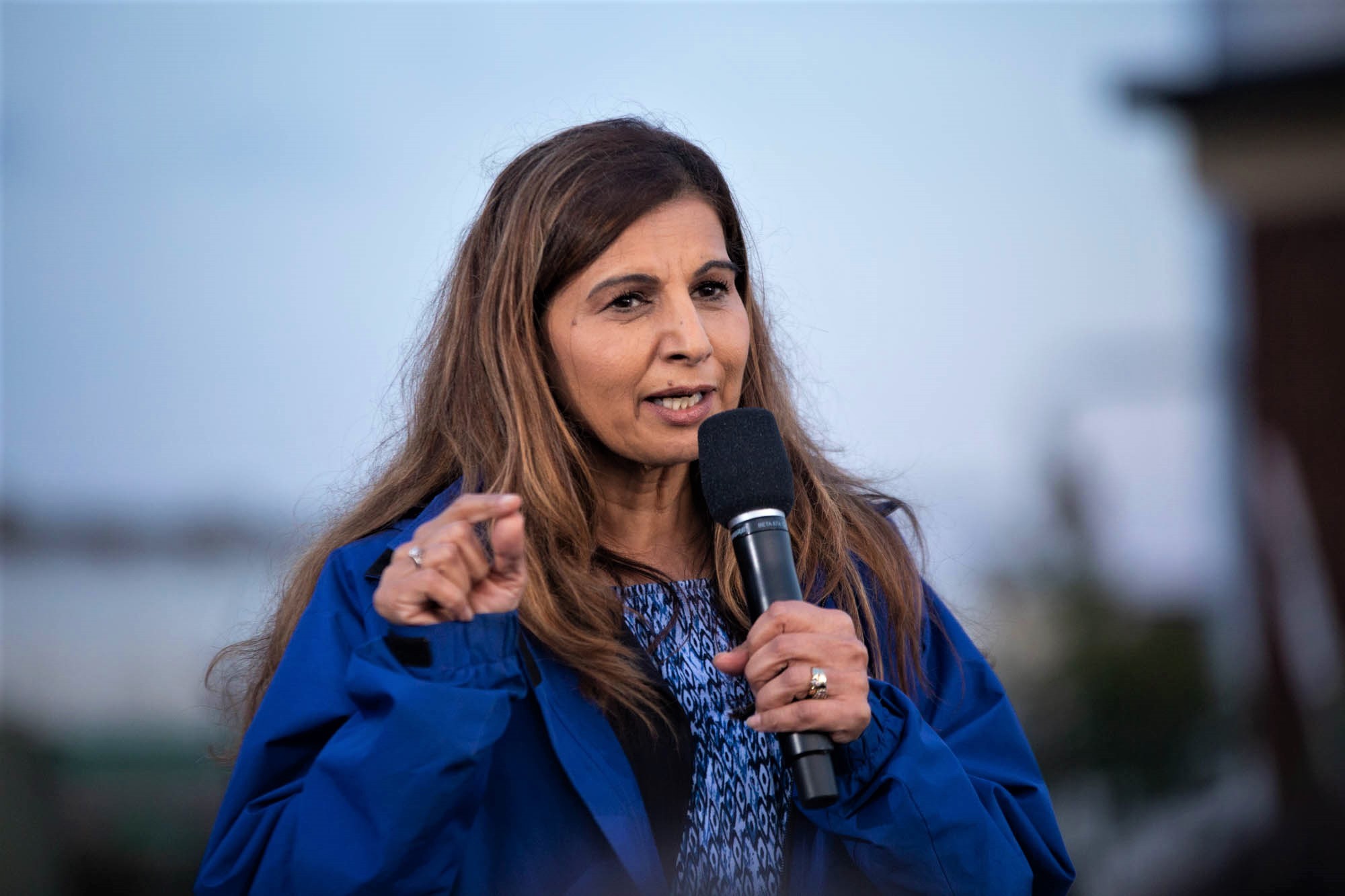 Brampton Centre Conservative candidate Pawanjit Gosal
The Pointer previously asked Trudeau at an appearance in a resident's backyard about whether he would commit to providing Brampton its fair share to cope with the pressures produced by a booming population of immigrants, for affordable housing and transit, adequate medical infrastructure and policing in a worsening public safety environment.
Asked about infrastructure funding, Trudeau said the Liberals "were happy to be able to double the municipal tax transfer this year that goes straight to municipalities from the federal government, known as the gas tax transfer." He attacked Conservatives "across the country" and promised to "impress upon municipalities and provinces the need to be investing in infrastructure, investing in transit, investing in housing."
A week later, he offered nothing specific to the city of Mississauga during a press event and public question and answer period at UTM. A Liberal party official stood in between the microphone and The Pointer just as the opportunity arose to question Trudeau on Mississauga-related issues.
Justin Trudeau in Mississauga Sunday
"We know that the Liberal members of parliament in this area have done nothing to make sure that Brampton gets what it needs as this population grows," Scheer said in attacking the Liberals. "I was so disappointed when Justin Trudeau weakened penalties for dangerous offenders. We know in the Conservative party that the rights of law-abiding citizens should come before the rights of repeat, violent and dangerous offenders. And that is why we are going to target gangs, repeat offenders and those who traffic illegal firearms in our communities."
Though Scheer's promise on infrastructure funding appears to be a breath of fresh air, it was short on details. His focus was on the usual Conservative talking points, attacking Trudeau over the carbon tax and scandals. He promised to scrap the carbon tax, cancel the GST on home heating bills and boost the RESP grant, to make it easier for students to pay for university.
But there was no mention, for example, of any possible funding for the city's LRT plans, which could cost as much as $1.7 billion, with no money currently secured from higher levels of government. Changing that has been a stated priority of Mayor Patrick Brown, who already met privately with Scheer early in the campaign. While that sit down between two leaders who have both served in Ottawa for the Conservatives was seen by many as a sign of possible horse-trading, Scheer's visit Monday did not mention the LRT, the city's need for downtown flood mitigation infrastructure, funding for a new university after the Doug Ford provincial government's $90-million-cut, desperately needed dollars for a new hospital or any other specific projects on Brampton's long list of needs.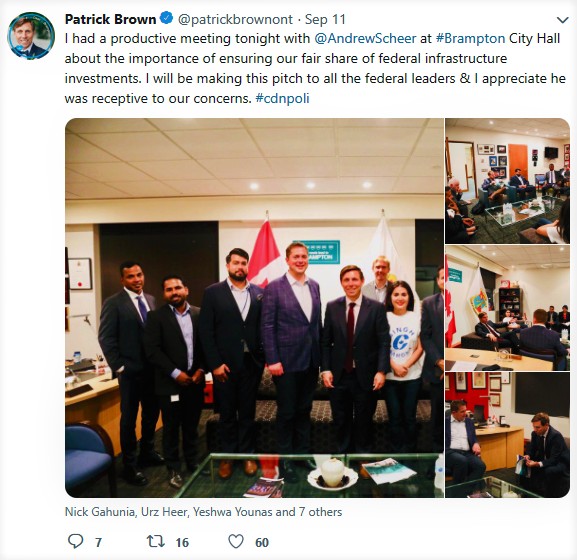 "Conservatives know that the dollar left in the hands of a hardworking Canadian taxpayer is always better spent than in the hands of the politician who taxes it," Scheer said.
Scheer has made much less vague commitments to other cities. While the Brampton appearance lacked specifics, and Scheer took no media questions, he has promised to prioritize particular infrastructure projects elsewhere, including the George Massey Tunnel replacement project in Vancouver, a third way across the St. Lawrence River between Quebec City and Levis — which provincial Transport Minister François Bonnardel said last June will be a tunnel — and the Ontario Line and Yonge Line subway extension in Toronto.
Unlike Trudeau's avoidance of any details on funding help for Brampton and Mississauga and Scheer's vague reference to infrastructure aid, NDP Leader Jagmeet Singh, during an early campaign stop in Brampton, pledged specific funding for a new hospital in Brampton if elected. It's the type of firm commitment undecided local voters are looking for.
Conservative candidate for Brampton West Murarilal Thapliyal
Murarilal Thapliyal, the Conservative candidate for Brampton West, couldn't offer any more specifics, saying, "it's the commitment of our Leader Andrew Scheer, which he is going to fulfil in Brampton. All Brampton candidates are excited to be elected on Oct. 21." Asked to provide more information, he told The Pointer, "the federal government has to do Scheer's funding."
"We're going to make sure that we get our fair share from provinces," Gosal said when asked for specifics. "To build a hospital, to bring a university — we don't have one here. So yeah, we're going to have the transit funding." When it was pointed out that the revocation of funding for a Ryerson University extension campus in Brampton was the fault of a Conservative premier, she said, "We will work hard with Premier Doug and I'm sure will make it happen."
Email: [email protected]
Twitter: @mansoortanweer
Submit a correction about this story