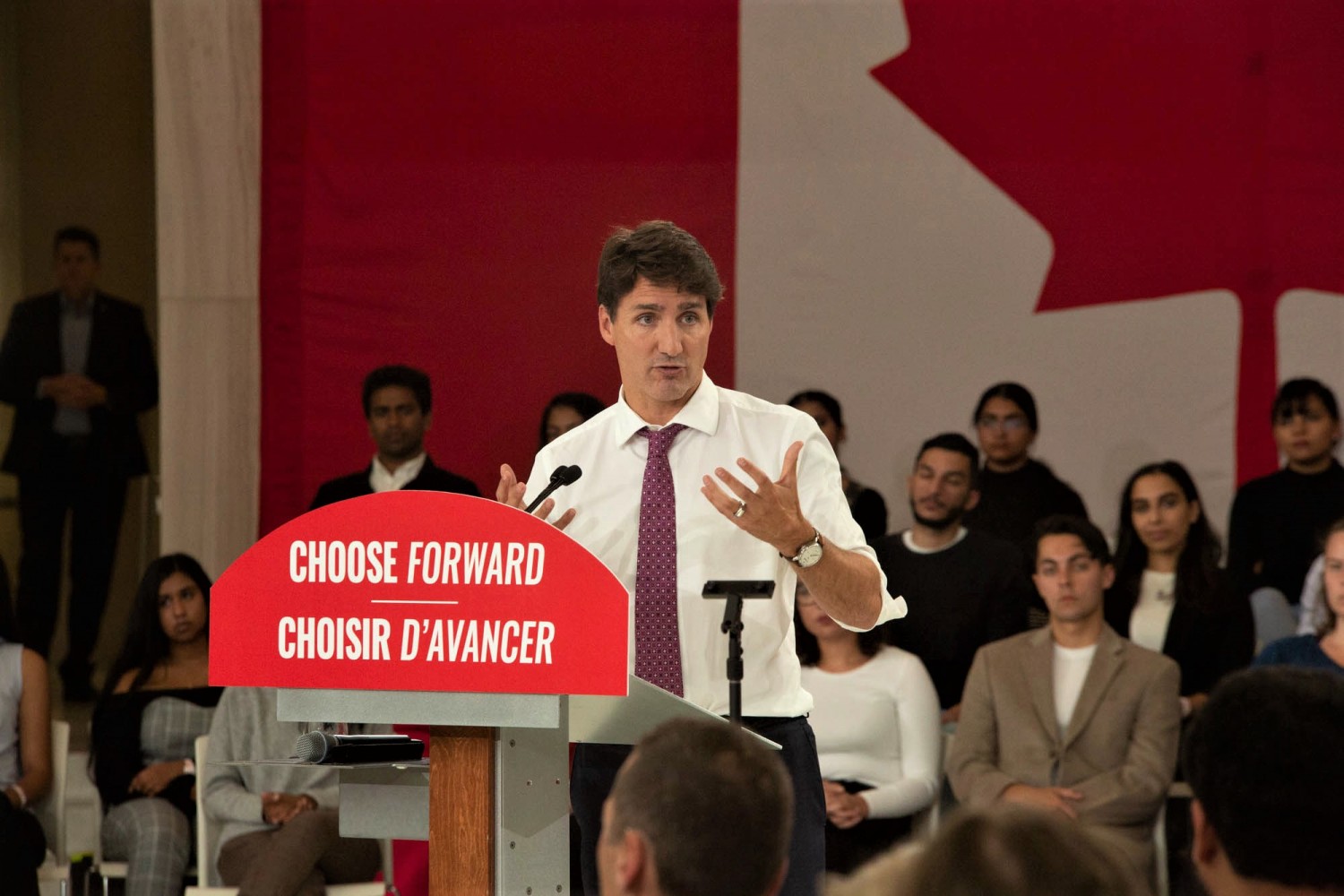 Photos by Mansoor Tanweer
Trudeau offers no insight on local issues in Mississauga at UTM campaign event
Liberal Leader Justin Trudeau's third visit this month to either Brampton or Mississauga on Sunday again avoided discussion of any specific local issues.
There was no mention in his appearance, at the University of Toronto Mississauga campus, of how Ottawa might help chip away at Mississauga's $260-million infrastructure gap this year. There was no allusion to the fact that Mississauga, the country's sixth largest city, has received only $77.3 million from the federal government's Investing In Canada Plan, less than 3 percent of what its per capita share should be. Edmonton, the fifth largest city, has received more than $1.9 billion from the plan since 2015. Trudeau did not address whether, if re-elected, he would commit to restoring a downtown loop into the plans for the Hurontario LRT, one of the key asks in the City's Mississauga Matters campaign ahead of the federal election.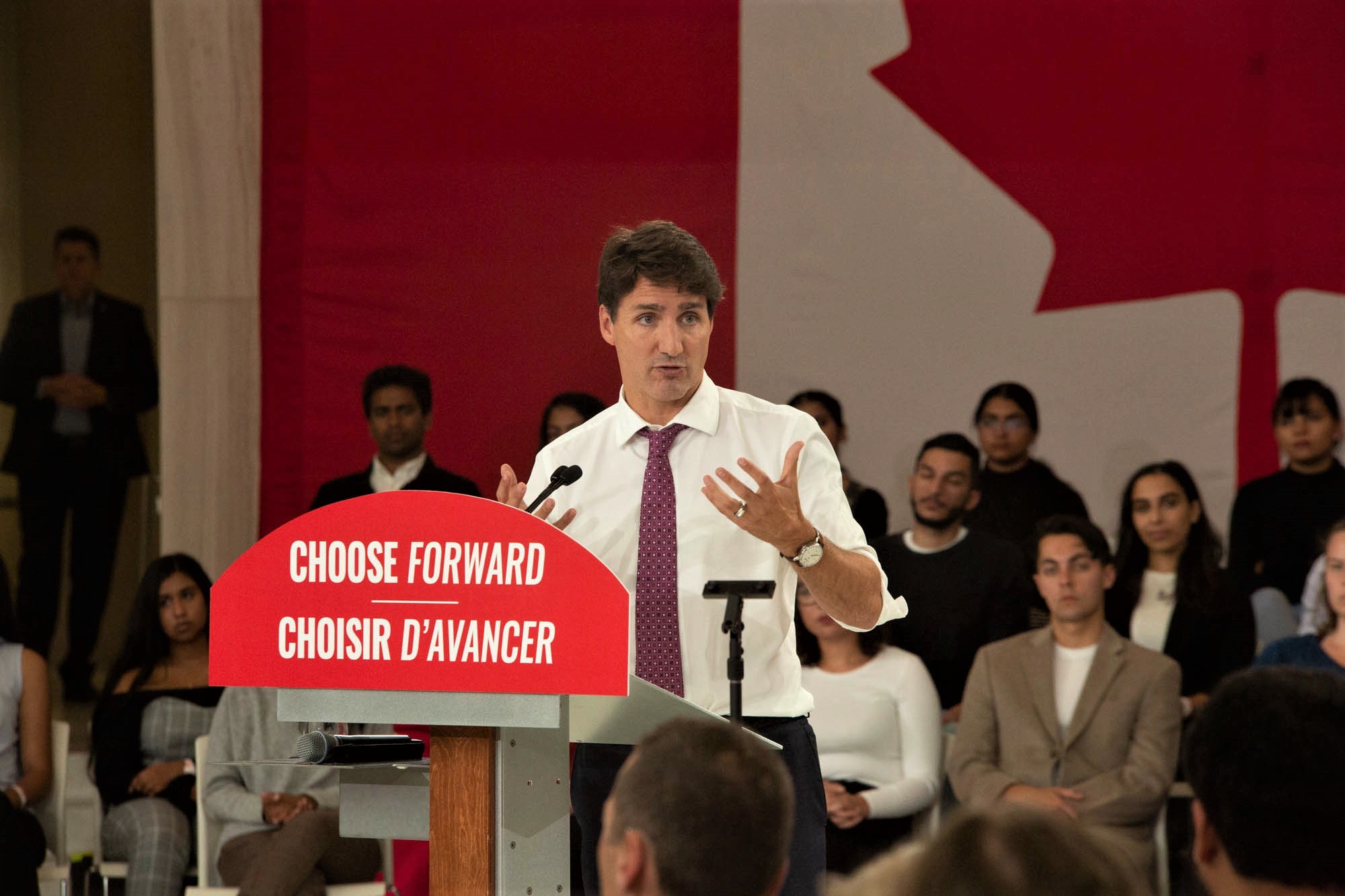 Nor did he offer specific plans to curb gang violence in Peel Region, where homicides rose by 63 per cent between 2017 and 2018 alone. Trudeau did refer, when fielding questions from the media, to his party's pledge to ban assault weapons and strengthen gun control throughout the country.
Despite media speculation about a major pledge to spend more money combating gun violence, there was no such announcement — though an event about "the need to end gun violence," a discussion with healthcare professionals, is slated for Monday in downtown Toronto. A spate of recent gun-related events in Peel — three shootings in a four-day period, which left two people dead and seven injured — should be making gang violence a major topic for federal candidates in Mississauga and Brampton.
Money to help cope with a rising gun problem in the two cities has been slow to flow. In August, Ontario Attorney General Doug Downey announced that Peel would be getting an intensive firearms bail team — a specialized legal team that will advise judges and prosecutors on deciding which individuals charged with firearms offences, including gang members, should be granted bail, and under what conditions. But advocacy from local MPs seems to be lacking when it comes to measures to address gang and youth violence.
While Toronto is getting two gang-prevention "justice centres" next year as part of the $65 million Ontario received from Ottawa to fight the growing problem, Peel didn't get such a centre. Toronto police has also received $28 million for anti-gun and gang initiatives as part of the federal funding since the summer of 2018, while Peel police didn't get any such funding.
Mayors Patrick Brown and Bonnie Crombie have been vociferous about the fact that their cities have been left out of the funding devoted to quelling gang violence. "We don't get the provincial funding for combatting gang activity that Toronto gets," Brown has said, while Crombie has compalined that money allotted to dealing with the issue hasn't "flowed down to the municipalities" from the province.
Trudeau did, though, compare Conservative Leader Andrew Scheer to Ontario Premier Doug Ford. "This October, will we let Conservatives like Doug Ford and Andrew Scheer take us backwards? Or will we keep going and build on the progress we've made?" Trudeau asked the crowd. "We've moved the dial a lot in just four short years."
Trudeau went on to compare his economic record to that of his predecessor, Stephen Harper, saying Canada had "flat growth, flat job creation, flat economic growth, and quite frankly, flat ambition." However, according to a recent Ipsos Public Affairs Canada poll, Canadians aren't as bullish on the state of the economy as the Liberals might hope. The poll found that about 67 per cent of respondents believe the economy is "rigged to advantage the rich and powerful."
Trudeau also brought up his party's record on the environment file, such as the national Oceans Protection Plan, as well as plans to ban single-use plastics as early as 2021 and putting a price on carbon pollution. "A re-elected Liberal government will go even further to protect our environment and fight climate change. Under our leadership, Canada will hit net zero emissions by the year 2050," he said. "It's an ambitious target, but I know we can get there, and in the process we'll become world leaders in clean technology. We have the talent, we have the vision, and most importantly, we have the backing from Canadians who want a government that will wake up every day and drive climate action."
Another significant measure Trudeau announced, in a nod to the setting at the UTM campus, is that a re-elected Liberal government will increase grants to students by as much as $1,200 more per year. That would be done by raising Canada Student Grants by 40 per cent to assist with the rising cost of tuition, books and rent. The Liberals would also allow students two years interest-free after graduation before they must start paying off student loans. Graduates also wouldn't have to start repaying those loans until they are earning at least $35,000 per year, and could put their loans on hold if their income dropped below that amount.
Asked by The Pointer about his thoughts on Trudeau's omission of Mississauga-specific issues, Omar Alghabra, the Liberal incumbent for Mississauga Centre, argued with that interpretation. "In fact, everything that either he discussed or is in the platform that he didn't talk about will have a significant positive impact on Mississauga," he said. "Tell these young students who are here who go to UTM or other colleges [in] Mississauga that this announcement will not have an impact on them."
Alghabra focused his response to the infrastructure issue on affordable housing, to the exclusion of transit and other related concerns. He highlighted Daniels Corporation's affordable housing development at 360 City Centre Drive in his riding. "That's just one," Alghabra said. "We've renovated and upgraded 3,000 units and we built another 4,000 units overall in Mississauga. Plus, we are going to continue with our affordable housing plan," he said, adding that it's a "multi-year plan." His figures have not been verified by The Pointer.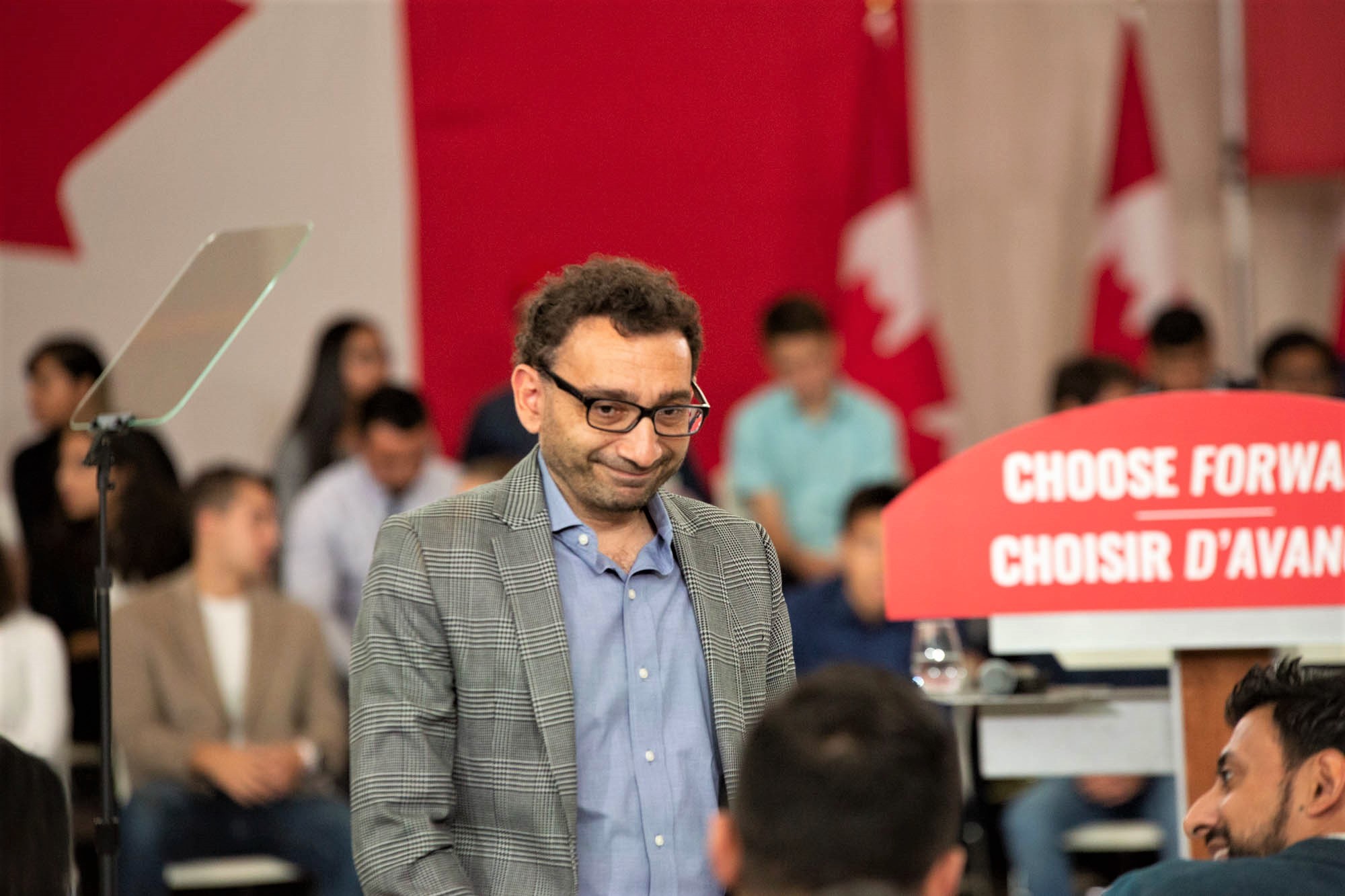 Omar Alghabra, Liberal incumbent for Mississauga Centre
Alghabra said he'd work with Liberal Leader Trudeau on addressing the needs of Mississauga residents on issues of public transit, sustainable infrastructure and affordable housing, all of which are city-building priorities for Mississauga during this federal election season. But the specifics remain ambiguous. With 21 days to go until the federal election, it remains unclear what federal party candidates such as Trudeau are prepared to do for the city.
When media were given a chance to pose questions to Trudeau, the national media asked multiple questions, and one local outlet, The Pointer, was cut off and not allowed to ask the prime minister anything.
Email: [email protected]
Twitter: @dancalabrett
Submit a correction about this story