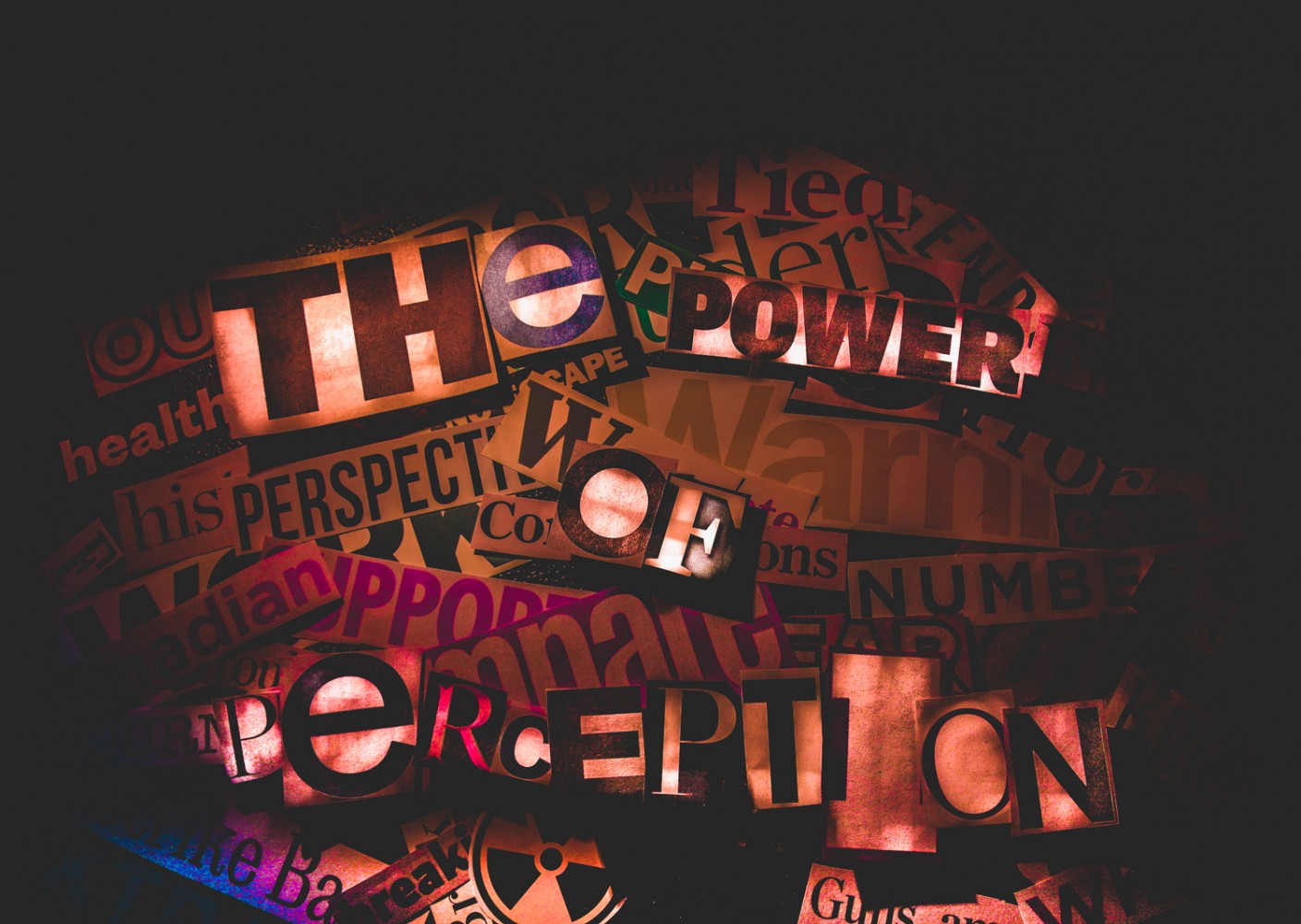 Photos by Joel Wittnebel and Mansoor Tanweer
Part 2 – Spring and Summer – in a raw and violent year
Spring 2018
As a frigid winter was beginning to loosen its hold in March of 2018, Peel Regional Police celebrated a couple of quick successes, settling two major cases that had occupied considerable investigative time as the public grew increasingly anxious over the violent crime gripping neighbourhoods.
Between March 19 and 26, they arrested three men in connection with a vicious assault on an autistic man at Square One in Mississauga, thanks to "overwhelming" assistance from the public. Three others were charged with the first-degree beating death of 21-year-old Paviter Singh Bassi.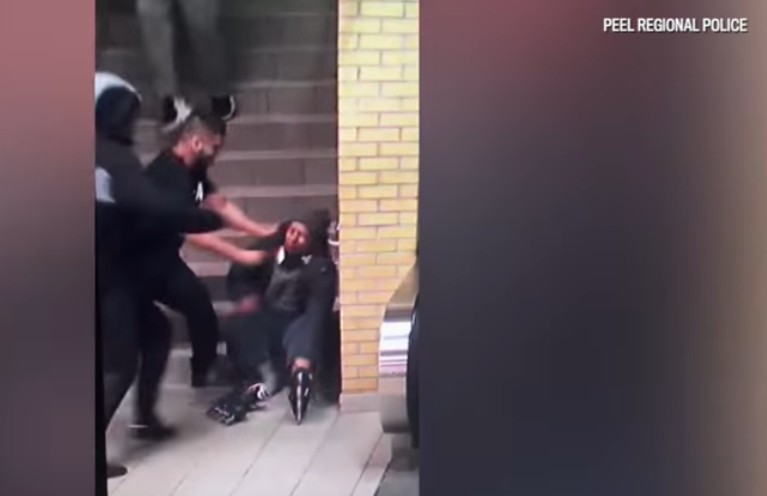 The violent Square One assault of an autistic man
Those incidents shone a spotlight on the ability of Peel police to solve these types of violent crimes at a rate above the national and provincial averages.
However, the spring of 2018 would also highlight gaps in the police service that would raise public concern over criminal trends in Brampton and Mississauga exponentially.
By the end of April, there had been nine homicides in the two cities — three times as many as the same time the year before. That would be the foreshock of an earthquake that came on May 24, when the night was pierced by the explosion of an IED in a Mississauga restaurant.
The event at Bombay Bhel destroyed the interior and abruptly ended what had been a successful day for Peel police, when they finally put behind bars the third and final suspect in the attack on the autistic man at Square One. The man had turned himself in to police after a Canada-wide manhunt.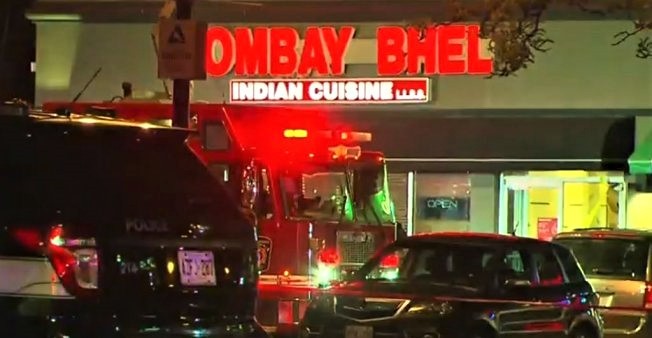 It was around 10:30 p.m., and the golden lights of Bombay Bhel were splashed across the hoods of cars lining the front of the popular restaurant. It was past the eatery's 10 p.m. closing time, but the front door remained unlocked and about 40 patrons remained inside. Most were attending birthday parties, two of which were happily progressing when two hooded figures stepped through the front doorway. CCTV footage shows little of the faces beneath the hoods and black clothing. What's evident is that one of the intruders is holding something.
The explosion rocked the commercial plaza as the improvised explosive device, said to be filled with nails, exploded inside the restaurant, injuring more than a dozen people, three of them critically. Thankfully, all would fully recover. However, as police attempted to sort out the who and the why of the case in the following days, the flawed investigation revealed the incapacity of Peel police to solve crimes within one of their biggest demographics, the South Asian community.
If all levels of government hadn't been paying attention to the criminal element in Peel before, they certainly were now. Prime Minister Justin Trudeau, then-premier Kathleen Wynne, and PC leader Doug Ford all released statements condemning the attack. Mississauga Mayor Bonnie Crombie labelled the crime "heinous."
While receiving the full support of these ranking politicians may have bolstered the confidence of Peel police, it didn't get them any closer to figuring out why Bombay Bhel was targeted. They did make it clear early on that it wasn't believed to be a terrorism or hate-motivated crime.
Some observers suggested gang involvement, while a lawsuit filed by six of the victims pointed to an ongoing "turf war" between local businesses.
But police appeared to be out of their element, and to this day, little has been learned about the attack.
The Bombay Bhel explosion was not the first indication that Peel police had difficulties when it came to investigating criminal activity originating in the South Asian community.
A case that made its way to the Ontario Human Rights Tribunal had shone a light on that issue previously, with the tribunal concluding that police culture put a startling lack of emphasis on dealing with such crimes.
The case was filed by PRP officer Baljiwan (BJ) Sandhu. Born in India, Sandhu joined the Peel force in 1989 and rose to the rank of detective-sergeant. In 2013, he applied to join an internal competition to become an inspector but was turned down. He was told he did not have enough frontline experience, despite the fact Sandhu spoke four languages, had worked homicide cases, in intelligence and as a community liaison, and had 872 hours as an acting inspector. He'd received numerous awards and commendations, including a Queen's Diamond Jubilee Medal in 2012, for dedication to public service.
Sandhu submitted a complaint to the tribunal, claiming he'd been denied an opportunity for promotion due to racial discrimination. His complaint detailed many instances of enduring racial slurs and stereotypes. One example: "Once, I walked into the gym at Headquarters full of officers, one of whom shouted: 'Hey, no one called a cab!'" The room, he said, erupted with laughter.
In 2017, the tribunal ruled that Sandhu's failure to receive an opportunity for promotion was, in part, due to his ethnicity. "And as such I find that the applicant has been subject to discrimination because of race, ancestry, place of origin, and ethnic origin in violation of … the [Human Rights] Code," wrote Bruce Best, a vice-chair of the tribunal.
The tribunal's findings also noted that policing portfolios focused on the large South Asian community are "generally devalued in the service" because they are "associated with the South Asian population" and are "not considered real police work."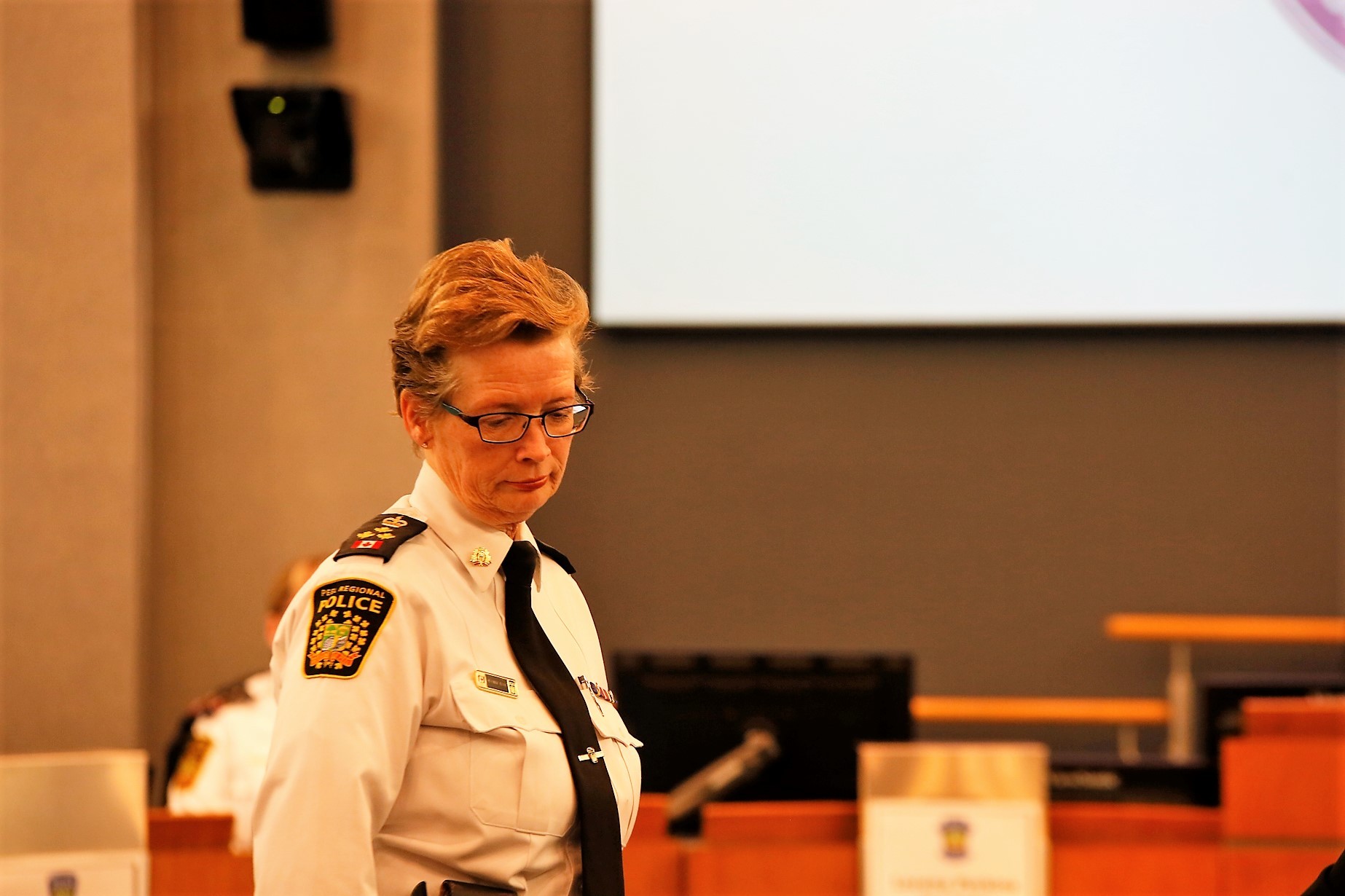 Former chief Jennifer Evans
After the ruling, former chief Jennifer Evans issued no apology to Sandhu, but did release a video statement assuring the public that promotional practices had changed since 2013 and the circumstances of Sandhu's case were "not reflective of the force's values."
However, a diversity audit of the force completed by the Canadian Centre for Diversity and Inclusion in 2018 and finally released this year found ongoing evidence of systemic discrimination, particularly at the top of the PRP hierarchy.
The 142-page document, released in March, described a police force that didn't represent the fast-changing, diverse community it served, raised barriers for racialized members of the force, punished those who spoke out, and turned a blind eye to systemic bias. According to 2017 data from the force, 20 percent of uniform staff were racialized (425, out of a total uniform complement of 2080), while PRP's jurisdiction, Brampton and Mississauga, is 65 percent visible minority and aboriginal. Non-uniformed staff are slightly more representative of the community.
The review by CCDI included one-on-one interviews with PRP senior leadership, two public town halls, a census and inclusion survey of employees (garnering 1,808 responses out of 3,048 workers, including civilian staff), and focus groups.
A disturbing 79 percent of Peel police employees who took part voluntarily in focus groups reported experiencing harassment or discrimination within PRP, while 90 percent of participants reported witnessing such behaviour.
The CCDI audit findings including comments by Peel police service members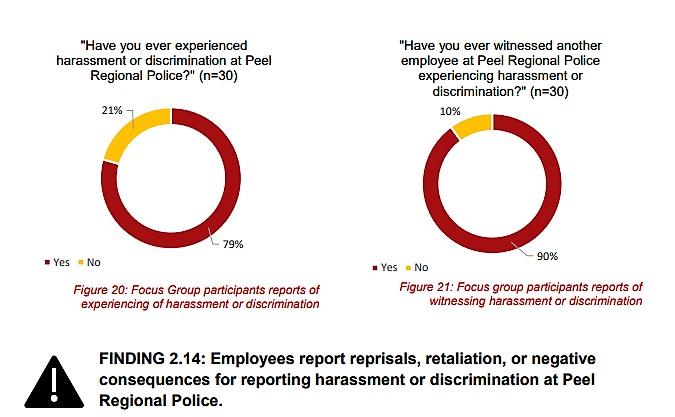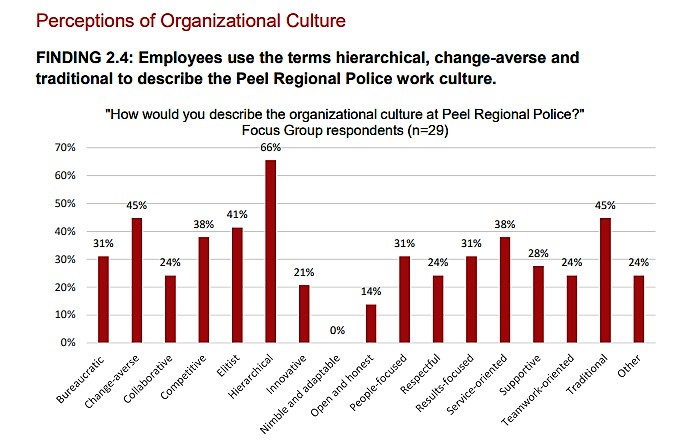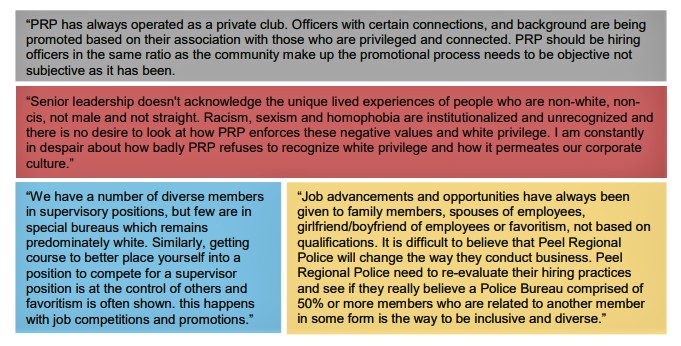 The findings of the audit shed light on a police service that has difficulty connecting with the community and sources needed to solve complex crimes, especially in particular cultural communities.
The Mississauga restaurant bombing revealed the police service's Achilles' heel.
The incident garnered attention across the political spectrum, even drawing condemnation from top officials in India. It also ignited, for the first time, strong public sentiment that something needed to change. That feeling intensified in the days that followed, when the region was shaken by two more homicides.
On May 26, Daniel Smith, 19, of Mississauga was stabbed to death at a house party where teens were celebrating their graduation. Three teens were charged.
The next day, Nasser Abdoulkader, 26, was gunned down in a drive-by shooting while standing in the driveway of a house on Linderwood Drive in Brampton. The man was linked to previous criminal activity, including the attempted robbery of an armoured car in Mississauga in 2013.
Online, attention to crime in Peel was reaching a boiling point. Commenters warred about who was responsible for the bombing. Some spewed racist invective, blaming the incident on terrorism and Justin Trudeau purportedly allowing ISIS members to infiltrate Canada through his refugee settlement program.
More and more residents were expressing concerns about what was happening on their city's streets. In early June, more than 300 took those concerns from the social media world to the physical, attending a town hall meeting to discuss the growing prevalence of violent crime.
Summer 2018
"We are not playing the blame game, because that doesn't get us anywhere, but we are willing to work toward a solution, together with all levels of government," Brampton East MP Raj Grewal told Brampton City Council during an appearance in late June 2018.
It was the first time a Brampton MP had visited the council chambers in that term of council. Grewal was joined by fellow MPs Ramesh Sangha (Brampton Centre) and Sonia Sidhu (Brampton South), all of whom spoke about the influx of calls and emails to their constituency offices about rising crime in the city.
Rather than mentioning the previous month's restaurant explosion, or the sharp increase in homicides compared to the previous year, the MPs focused on a more recent incident, video footage of which was circulating on social media. The blurry video shows a group of men in a Brampton parking lot brutally attacking one another with what appears to be sticks and lengths of wood, reminiscent of video that went viral in December 2017. The initial story placed blame for the brawl on several international students at Sheridan College.
"What we're here to say is that more needs to be done," Grewal told councillors.
The date was June 27. In the weeks previous, much had happened to increase pressure on police and local politicians to address what was now being described as a crisis.
On June 14, Amarjit Bhatnagar, 73, died in hospital after being beaten in a mugging two days before. A 15-year-old was charged with manslaughter in his death.
A week later, Brandon Hall, 21, became the region's 13th homicide victim, shot dead inside a Martree Crescent home.
Only three days after that, the body of a 71-year-old man was found in a burning car in a field near Dixie and Lakeshore roads. The man's 27-year-old son would be charged with second-degree murder.
Amid the most recent wave of violence, PRP had launched a new deployment model to focus more attention on gun and gang violence. More officers were being deployed during "peak" periods — 16 additional officers on Thursdays, and 41 on Fridays and Saturdays — targeting areas known for gun and gang activity.
Though participants in the council meeting said they wanted to avoid the "blame game," the atmosphere turned tense when councillors pressed the MPs on exactly what they were doing to assist Peel police and the community. Councillor Michael Palleschi asked: Had they met with the public safety minister to address the issue? Were they advocating for more funds for Peel police?
"As you know, funding between the cities and the province is a complicated scenario in terms of how different programs are funded," Grewal responded, speaking for the three. He tried to turn the situation around, saying that if councillors thought police needed more money, they should be sending official applications to the federal government; then the MPs could advocate in favour of those applications.
Former Brampton MP Raj Grewal
Palleschi pressed on, again asking the MPs whether they'd met with Public Safety Minister Ralph Goodale to discuss the criminal issues in Peel.
Grewal said that with the issue "boiling over in the public," they had "flagged" it with the minister's office. But again, he passed the buck back to the local level.
"The application still has to come from the region up," Grewal said. "All we can say is that once the application is in, it will be 100 percent considered by the federal government, and if approved the funds will flow as soon as possible. We're here to work as partners, but we have to respect the process. The process is the process."
To the bafflement of the councillors, Grewal said Peel Regional Police hadn't reported a lack of funding. "Peel Regional Police specifically said … that there wasn't a funding shortage," Grewal said.
The next day, that statement was met by laughter from then-chief Evans and others in attendance at the meeting. Palleschi joked that he'd had to "get up off the floor" after Grewal's statement.
"I'm not sure what the MP was saying, that we haven't applied for any grants," Evans said. "That's not the case at all."
The confusion highlights a disturbing disconnect between the local and federal levels of government in Mississauga and Brampton. Without strong, well-informed advocates in Ottawa to push for resources needed to fight rising violence, Peel police are more likely to miss out on grant funding that could help save lives.
Mississauga Mayor Bonnie Crombie pressed the chief for answers to the complex question: What can be done to stop the rising violence? It's a question often asked in times like these, but in 2018, it seemed politicians and police were more earnestly looking to find direct solutions.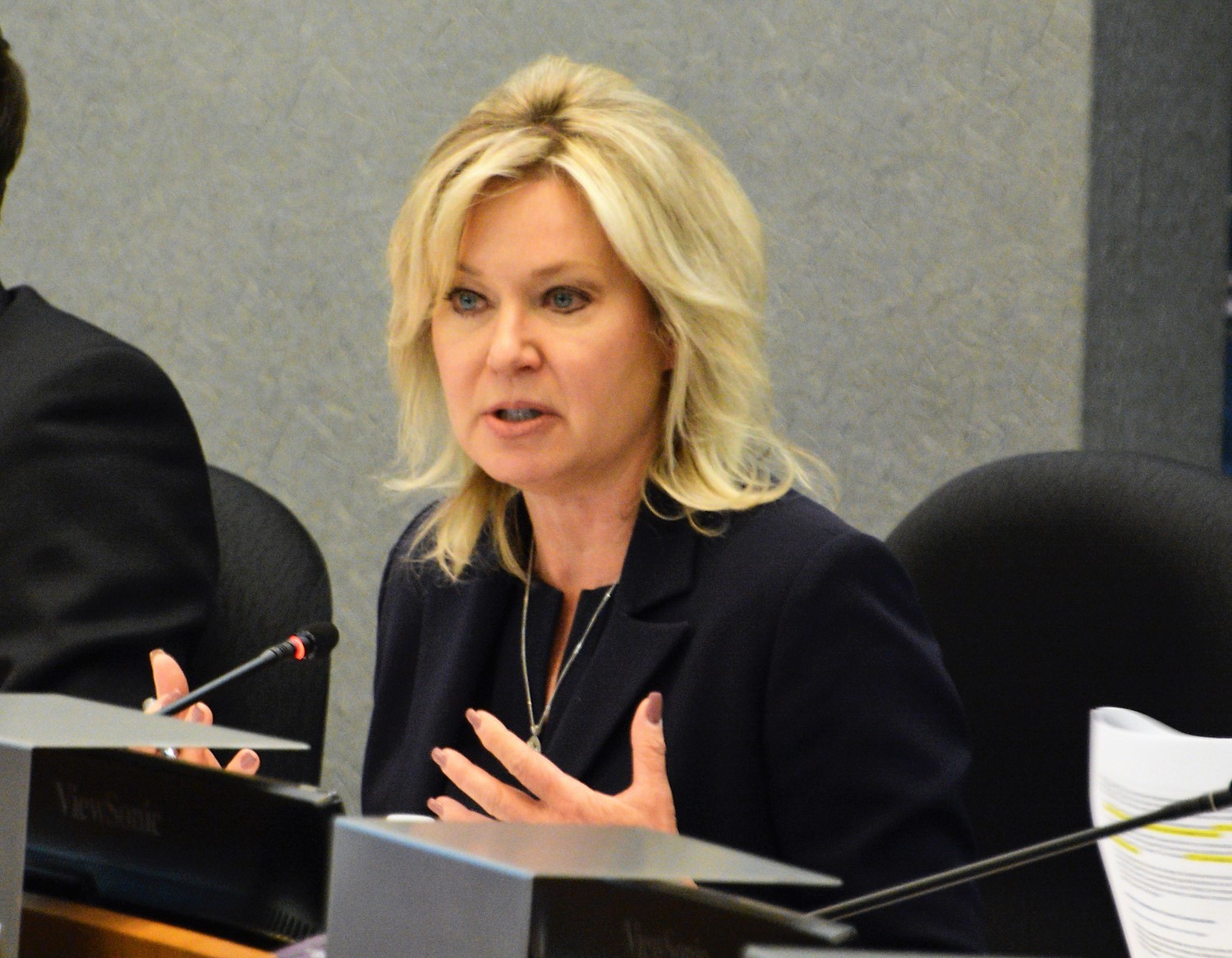 Mayor Bonnie Crombie at a police board meeting
"Certainly, there is a perception that violent crime is on the increase," Crombie said, focusing on gun violence. "People are starting to feel they're not safe in the communities."
What can be done? she pressed.
Evans responded by pointing to a few police successes, including involvement in Project Patton, a joint operation with multiple police forces across Ontario that netted 78 illegal guns.
But she commented that Peel police weren't seizing as many guns as they used to. She claimed the reason was that officers weren't interacting with the public the same way they once did — a pointed reference to Evans' steadfast support of "street checks," or carding. She objected to provincial regulations that had curbed the practice, reducing the freedom of police to randomly stop individuals on the street and collect their personal information without a proper investigatory purpose. Before the changes, a data probe by the Toronto Star found that Black individuals were targeted for carding up to three times as often as white people.
Evans said the police service was working to build trust in the community, to encourage residents to call when they noticed something suspicious. She noted that the PRP hoped to add officers in the next budget.
"We're looking at staffing that needs to be increased, both uniform and civilian staff," she said. "That will be the support I am seeking from council."
Crombie asked for more opportunities to assure the public that their leaders were on top of the issue: town halls, meetings, opportunities for officers to meet with the community and address concerns. Evans said she welcomed any chance to do so.
"Maybe [the rise in crime relates to] challenges that big cities face as they mature, but certainly I don't like to see it, I don't want to see it, and I want to know what more we can do to address it," Crombie said.
Evans' response, leaning on the idea of putting more boots on the ground, is a tried and trusted approach. It's also outdated and unsustainable.
Scott Blandford, an assistant professor at Wilfrid Laurier University and coordinator of its master of public safety program, has seen it all before. He says that during his 30-year policing career, mostly with the London, Ont., police, adding more officers was the typical response from the old guard leading police forces across Canada.
"It's usually the [response to] more high-profile cases or incidents, and a lot depends on how the media responds to it," he tells The Pointer.
That Evans would suggest hiring more cops as the answer is understandable with so many high-profile criminal cases in 2018, from the Square One assault to the stick beating video that went viral. In addition, in August it revealed that Peel police had utterly botched an investigation, which led to three Harrison family members being serially murdered in their home before Peel police connected the dots. (An internal review of the case continues.)
Blandford explains that the issue with high-profile crimes is that the public often gets only a partial view of the facts, as the nature of investigative work prevents police from sharing all the details.
"Cases like this, high incidents, or very prominent incidents — they generally get a very quick media overview, so people really don't have the facts. Then there's the hype, which creates a perception," he explains. "You know the old saying, people's perception is their reality. So, without getting into the deep facts, there's a perception that's automatically created. The problem is that the facts around the case quite often don't come out for months, sometimes even years," while the initial perceptions linger.
For most of 2018, it was the perception of a sudden rise in violent crime and an inadequate police response, encouraged by media focus, that held the public's attention. As statistics have shown, violent crime of all types was indeed increasing, making studying the issue a popular response.
"Quite often it becomes a way to placate the community," Blandford says — a way of saying, "'Look at what we're doing: we've created a task force to look at this issue.' And then it just sort of quietly disappears, after months or a period of time. So does it really solve the problem?"
Adding more police on the street may be a popular response but it's typically the most expensive and time-consuming, and not as effective as it sounds.
"You have the time lag. You don't walk out and hire experienced officers and put them in the cruiser tomorrow so there's a decrease in crime; there's a time factor here. You have to recruit, you have to train, you have to get them up to speed. So hiring more officers is not necessarily the best use of resources," Blandford says. It can also create two new issues for police: not only is it not the best solution, it may do little to get the public off their backs.
"This is an important part, because public perception of safety is critical to the success of police," Blandford says. "It really begs the question of, was this [bump in crime] isolated and an anomaly, or is this the start of, or part of, an ongoing trend?"
---
At the peak of summer, on July 22, the GTA was once again shocked when a lone gunman opened fire on the Danforth in Toronto, killing two and injuring eight before taking his own life.
In the days leading up to the mass shooting, Peel was gripped with its own spate of gun violence.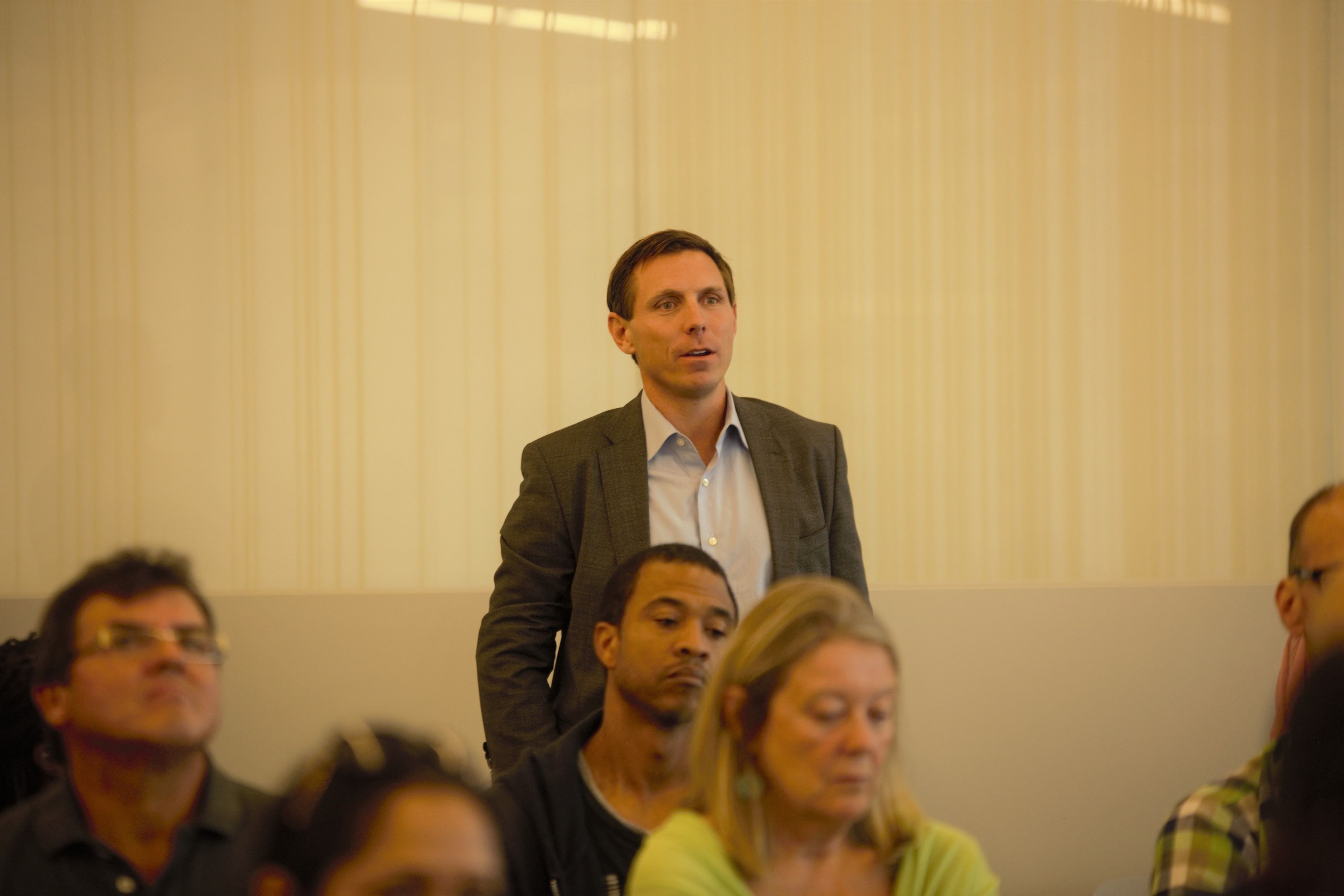 Before becoming mayor, Patrick Brown attended a community meeting where residents voiced dread over rising violent crime
On July 12, a man was gunned down outside a Brampton bar, and four days later, a 27-year-old man was shot outside a Brampton residence.
On July 18, a Muslim man was beaten by two men in what was thought to be a hate-motivated incident. Earlier that same day, a woman climbed through the drive-thru window of a Brampton Tim Hortons and assaulted two employees.
Typically in large cities, the criminals come out to play in summer. And despite Peel police efforts to put more officers on the street in targeted areas, the violence continued to rise.
Looking back, there were 43 shootings in 2015, 54 in 2016, and 76 in 2017. The summer of 2018 was the hottest and deadliest of them all. By the end of August, violent crime was up by 11 percent over 2017 in Mississauga and Brampton. Between Jan. 1 and July 31, there had been 50 shootings in the region, up from 45 during the same period the year prior.
By the end of summer, public outrage was roiling.
With little seemingly accomplished by local leaders and police, residents turned their attention to the October municipal election as a potential relief valve.
Email: [email protected]
Twitter: @JoeljWittnebel
Submit a correction about this story