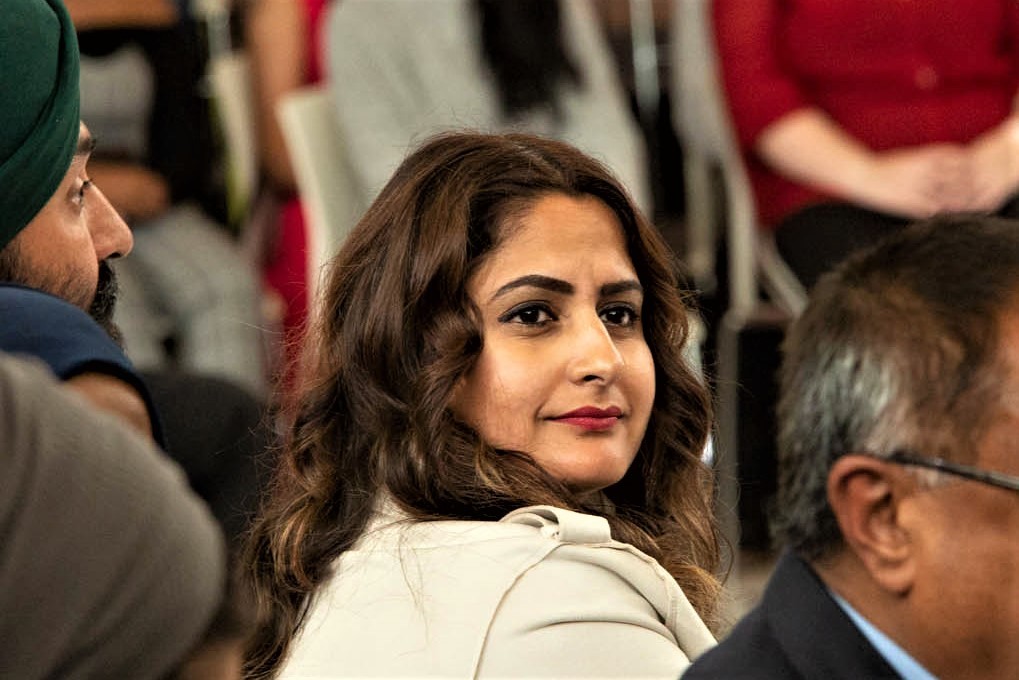 Photos by Mansoor Tanweer/Twitter/Screen Grab PAT
Local media outlet says Liberal incumbent Kamal Khera edited video of debate to make opponent look like he's against abortion rights
The manager of a local Punjabi-language media outlet says a Liberal incumbent not only misused a clip of a debate between Brampton West candidates by editing it unfairly before posting it on social media but also pressured the outlet into releasing it.
The edited clip, which cuts off before showing attempts to clarify a response, makes it appear that Liberal incumbent Kamal Khera's Conservative challenger, Murarilal Thapliyal, is confessing that he does not support women's and LGBTQ rights. However, the full clip provided by Prime Asia Television shows the moderator and challenger trying to clarify what he was responding to when Khera asked a question regarding a woman's right to choose.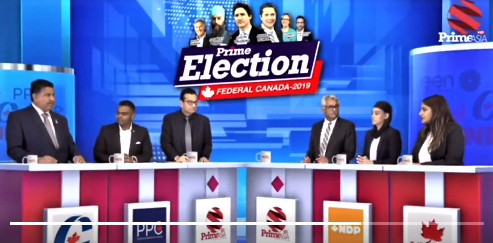 Thapliyal told The Pointer he "fully support[s] the rights of women and the LGBTQ+ community. As MP, I will be a champion for equal rights for all people." He made a similar remark during the debate, shortly after Khera's repeated line of questioning, but that part of his response was cut from the clip she is using in her campaign.
He accused the Khera campaign of editing the video "to be divisive and distract [from] their scandals. Ms. Khera violated the rules of the debate, prompting the moderator to interject."
Nitin Chopra, who manages the local studio of PAT, which broadcasts programming via satellite and Internet, told The Pointer, "We got a call from the candidate, Kamal's office," saying they were willing to "go to any higher level" if he didn't release the video of the debate to them uncut. He says he was told, "You have to release as it is. You cannot cut it, whatever [Thapliyal's] answer was."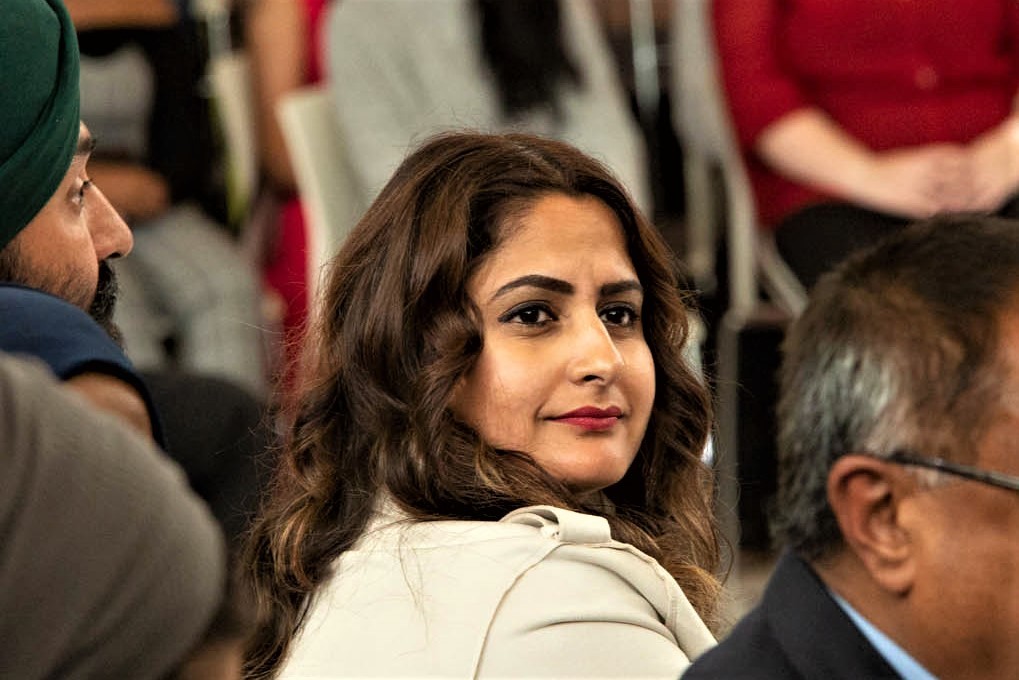 Brampton West Liberal incumbent Kamal Khera
Khera campaign spokesperson Tanveer Sandhu, who Chopra says delivered that message, seemingly contradicted his own campaign's actions when he told The Pointer, "We encourage all debate hosts to air unedited footage of campaign debates, to ensure a non-partisan approach to debates as required by the Elections Act. We were glad to see Prime Asia eventually aired the full video of the debate, to allow voters to make an informed decision on the choice in front of them."
Despite those words, the piece of video released on Khera's social media was heavily edited. The clip being used by her campaign cuts off right after the word no, without showing Thapliyal's full response to the question, in which he says, "I will defend equal rights for all Canadians ... so every person, respect their own choices." That response was edited out by Khera's campaign.
Chopra says PAT is looking into getting a legal opinion on the matter because "no one is authorized use by cutting it, editing it. You can share as a full debate." He says PAT emailed the campaign asking Khera's team not to "misuse" any part of the clip.
The video clip put out on Khera's social media begins with moderator Sanjiv Dhawan telling Thapliyal, "So you have to answer the question. You can ask that question to her later on, but you have to answer her question." Thapliyal stumbles briefly, finding words to answer a question not audible in the clip. "So where you question that all … we believe and we believe in multicultural people, we believe in the rule of law—"
"Do you believe in a woman's right to choose?" Khera interjects, to which co-moderator Dave Kapil quietly advises her not to interrupt. Thapliyal nods but forces out a "no." The edited version zooms in on Thapliyal's face for dramatic effect, and repeats his "no" statement.
Response on Khera's Twitter to the video is almost universally condemnatory of Thapliyal.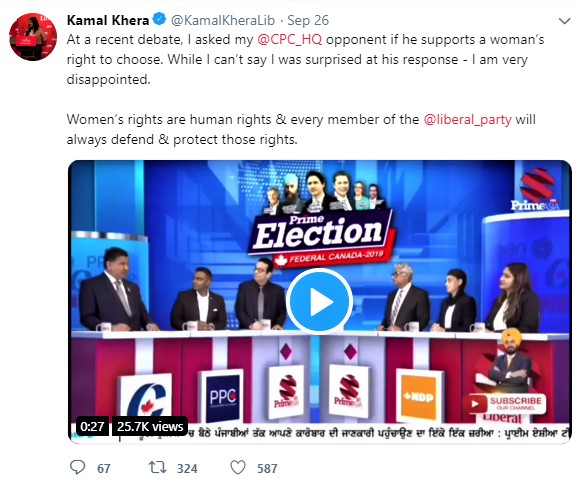 However, the full video released by PAT provides more context, leaving a different impression. Khera is given an opportunity to pose a question to Thapliyal. The preamble to her question contends that "Andrew Scheer has been defending homophobic, racist and sexist remarks and ideologies by his candidates." She adds that in her view, constituents deserve to know where their candidates stand on the issues of women's rights, LGBTQ rights and abortion rights. She also demands to know whether Thapliyal will ask "his leader to publicly confirm that no MP will reopen this debate."
Thapliyal thanks Khera and begins answering the question by pointing to Liberal Leader Justin Trudeau's record on the SNC-Lavalin scandal. Moderator Dhawan interrupts him, and this is where the Khera campaign's edited clip begins. It plays out until the word "no" is heard, then immediately cuts off.
Missing from the edited clip is Dhawan asking Thapliyal to clarify what he meant, and Khera saying he already answered the question and asking, "Why are we doing this?" But her attempt to stop the moderator from getting a clarification doesn't work, and Dhawan allows Thapliyal to provide a full response. Shortly after, he responds: "I will defend equal rights for all Canadians when it comes to LGBTQ, when it comes to ethical issues, so every person, respect their own choices. There is a personal choice of any leader, personal choice of any candidate," Thapliyal replies, partially reading from his notes.
Host Sanjiv Dhawan, a volunteer with PAT, said he went into the debate hoping to foster a healthy discussion, following a set of rules provided by the National Democratic Institute, a nonpartisan organization that works to support democratic practices worldwide. "It tells you everything you should do and you should not do," Dhawan told The Pointer. "I understand that he said that 'we strongly support the laws,' and the law of Canada is what? It is [that] women have the right to choose," Dhawan said. Based on that, Dhawan believed that simply accepting the "no" was not sufficient without further context. "Is this person answering that question, or is it because there were four or five questions and he's being interrupted, violating the debate rules?"
Email: [email protected]
Twitter: @mansoortanweer
Submit a correction about this story