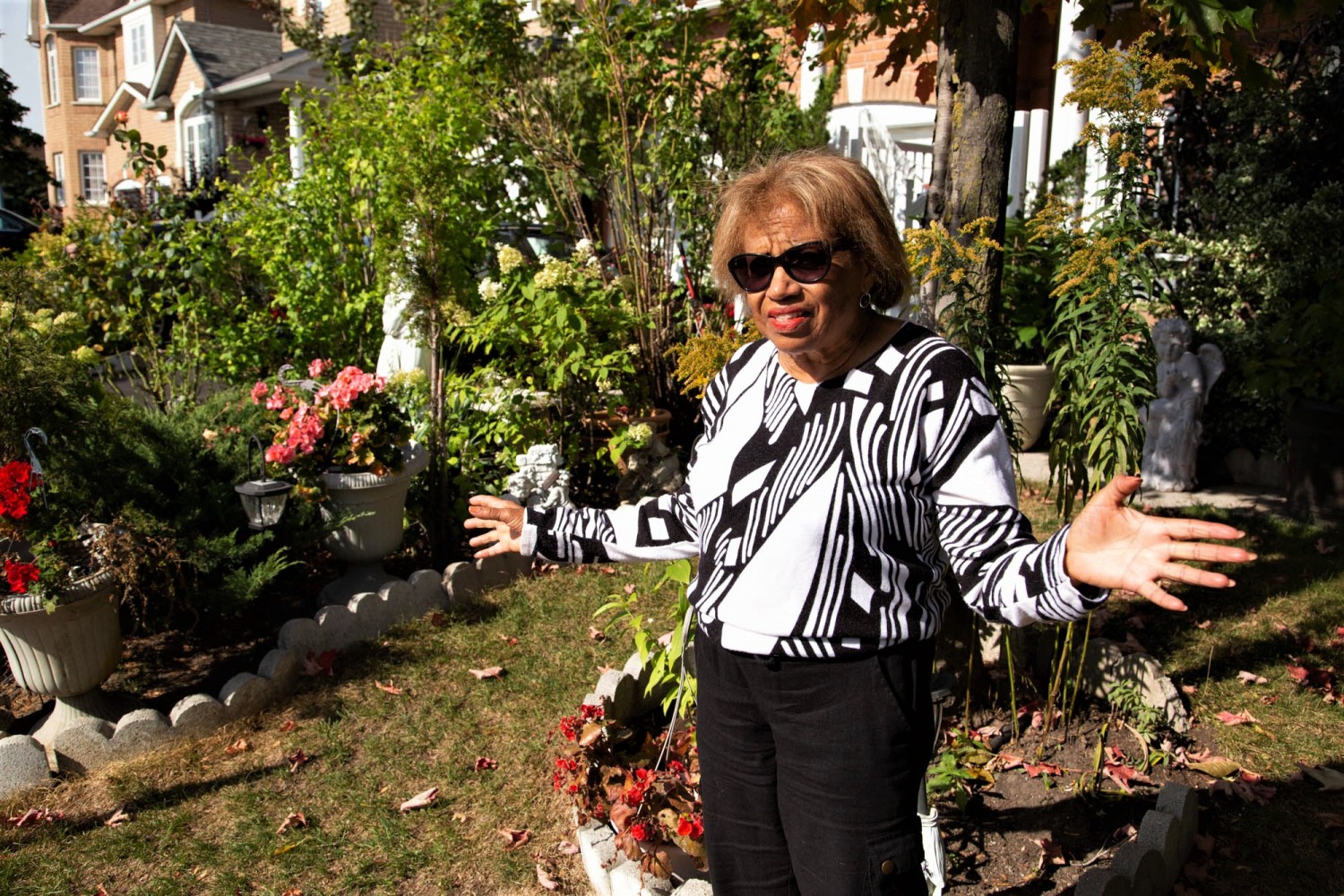 Photos by Mansoor Tanweer/City of Brampton
Fire from neighbour's secondary suite almost sets city activist's home ablaze 
Yvonne Squires is mayor, magistrate and police chief all rolled up into one. She jokes that the neighbourhood's kids are more willing to listen to her than their own parents. Everyone knows her in her Sandalwood Parkway and Edenbrook Drive neighbourhood where she calls everyone her kids.
Which is why when a fire broke out on Saturday Sept. 21 next to her neighbour's basement apartment, which may not be up to code, a large crowd of local residents gathered around to make sure she was safe. At first they thought it was her house that was on fire.
"I thought it was barbeque," Squires told The Pointer during an impromptu survey of the damage in between the houses. Char marks along the wall and concrete walkway of the neighbour's house were visible and the trees had half-burnt crispy leaves. Squires takes pride in her garden and was concerned about the spread of the fire. The fire originated in the garbage cans and damaged the basement window. It is not clear how the fire started. The blaze could have been the result of an item being put in there by the occupants of the suites.
"My bedroom is in the back here," she said pointing to a balcony in the rear of her house.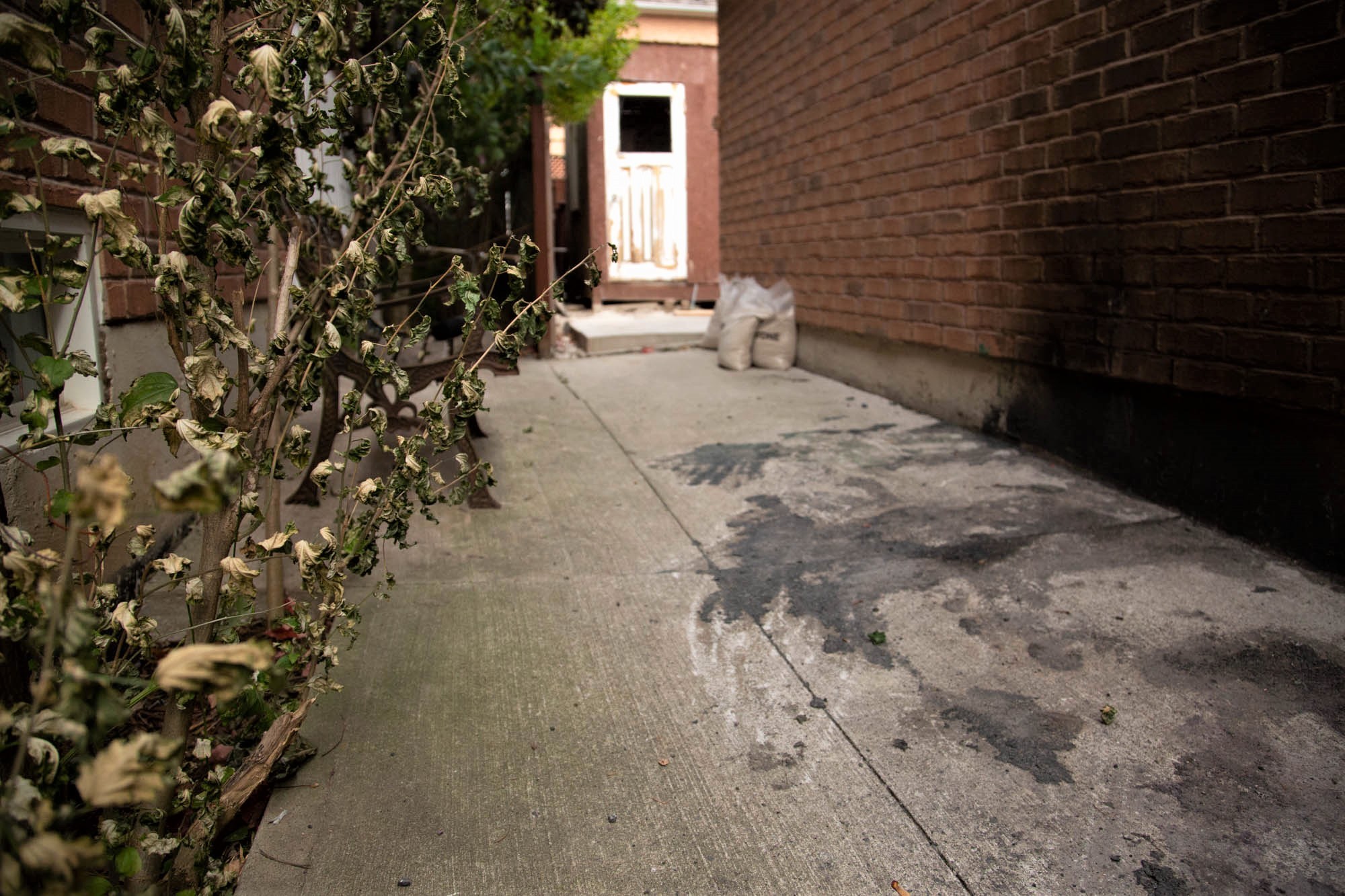 The burnt leaves and the charred driveway and wall are still visible
"By the time I rushed out, the fire brigade is here and everything… He (her neighbour) cleaned this up, I didn't know it's toxic because it's plastic. So you have to be careful," she said about the garbage bins that caught fire. She praised the Brampton Fire department for saving her house and her garden.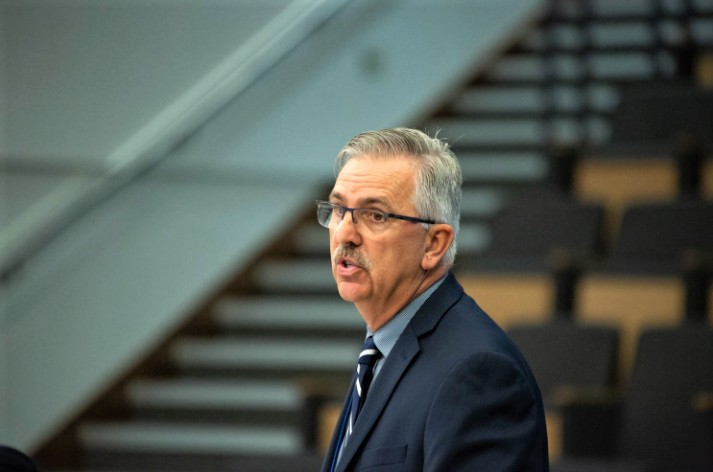 Brampton's Director of Bylaw Enforcement Paul Morrison
She was also generous with her praise toward the City at the committee of council meeting last week, on Sept. 18, when she saw a report by Bylaw Enforcement on secondary suites. It suggested that the City is gaining ground against the growing problem of illegal units. She had kind words for Director of Bylaw Enforcement Paul Morrison who she thanked for keeping her and other residents safe. "We need more people like you," she turned and told Morrison during her delegation to council. "The law enforcement and all these officers who are keeping us safe, they should be given the tools and the financial help that they need to continue this work," Squires told The Pointer on Friday.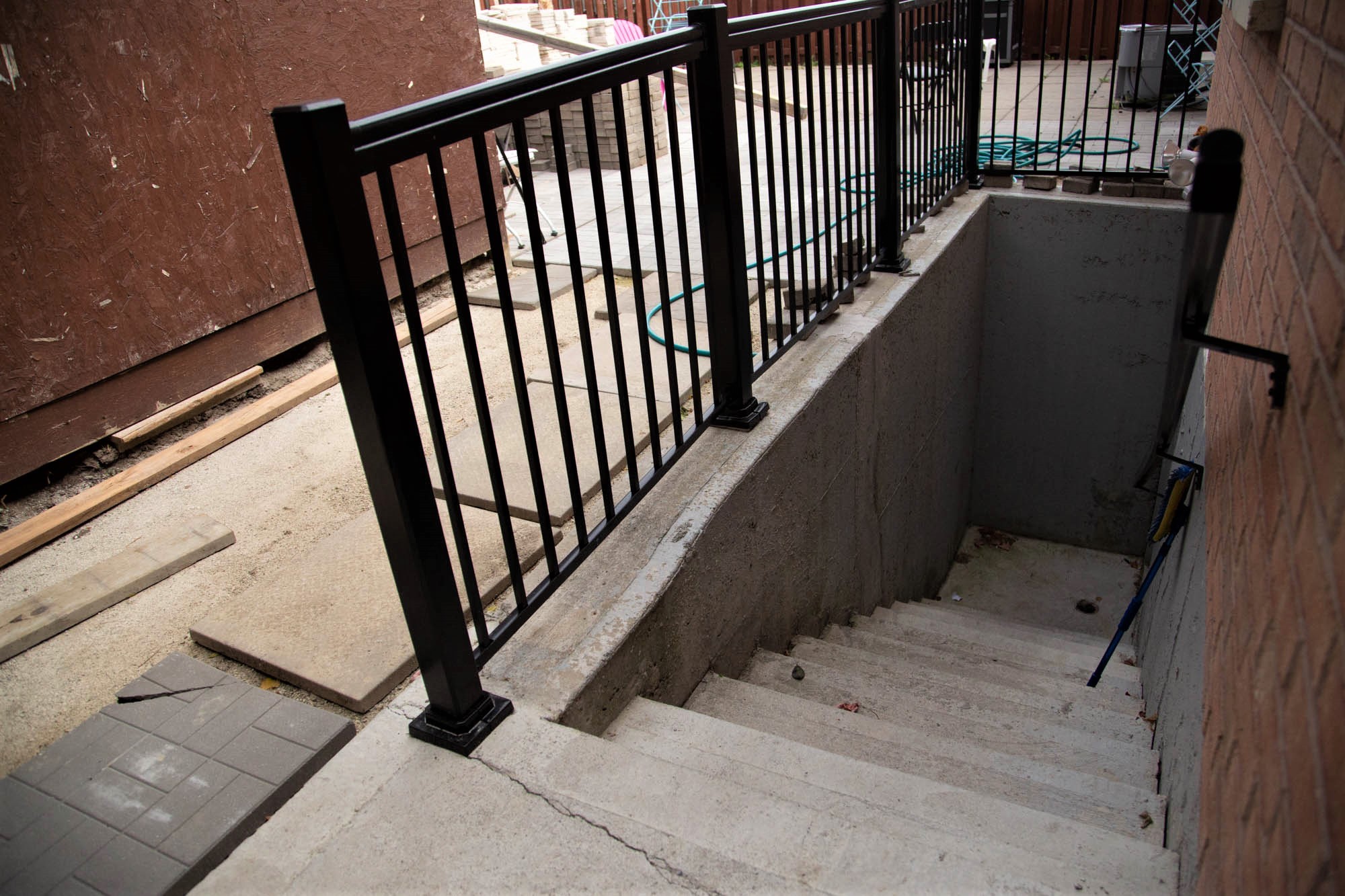 The entry to the neighbour's basement suite
She cannot stand the idea of an illegal secondary suite. She is not against ones that are safe, up to code and registered. Landlords, according to her, are victimizing their renters and they find an ally in Squires, who advocates for them. "They need a place to live. It's not the tenants that are the problem… They shouldn't be living like that… The landlord is taking advantage of especially the young students."
Angered readers have responded to The Pointer since this week's story about Brampton PC MPP Amarjot Sandhu, who pleaded guilty early this month to non-criminal charges of operating illegal secondary suites that were laid weeks before he was elected to the provincial legislature last year.
Community activist and co-founder of Citizens For a Better Brampton, Chris Bejnar, wrote, "How can this problem get solved when our elected officials are breaking the rules?"
Images from a recent city report on illegal secondary suites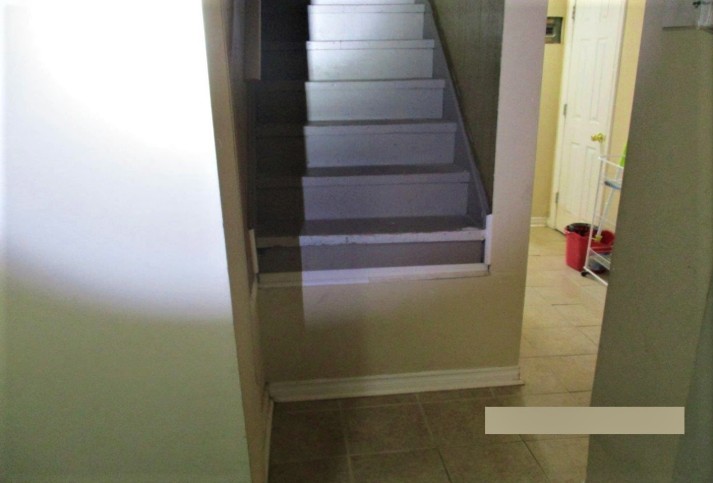 Secondary suites are not a cut and dried issue. Many people find them infuriating, as they cause traffic chaos in neighbourhoods, with cars often parked across sidewalks, piled on driveways or even lawns, while city services such as garbage collection end up being subsidized by property taxpayers who unwittingly cover costs created by the thousands of unaccounted tenants living in illegal basement suites. Local schools are often vastly over-populated partly because some children living in such units cannot be counted when boards and the ministry try to plan for local student enrolment.
Others see secondary suites as a necessary evil, in a housing market that has left many residents behind, with few options for affordable accommodation. But almost everyone seems to agree they need to be brought up to code and legalized for safety reasons and to get fair-share revenues from people who take advantage of this growing housing category.
The city loses out on tax revenue as only one bill is collected, even in a multi-family unit designed for separate living accommodation, while large households take advantage of services designed for one family. According to the 2016 census, Brampton had the highest number of residents per household in Ontario, with 3.5 people per unit, on average. The National average was 2.4 and the Ontario average was 2.6, meaning Brampton, on average, had 46 percent more people per-household than the national average.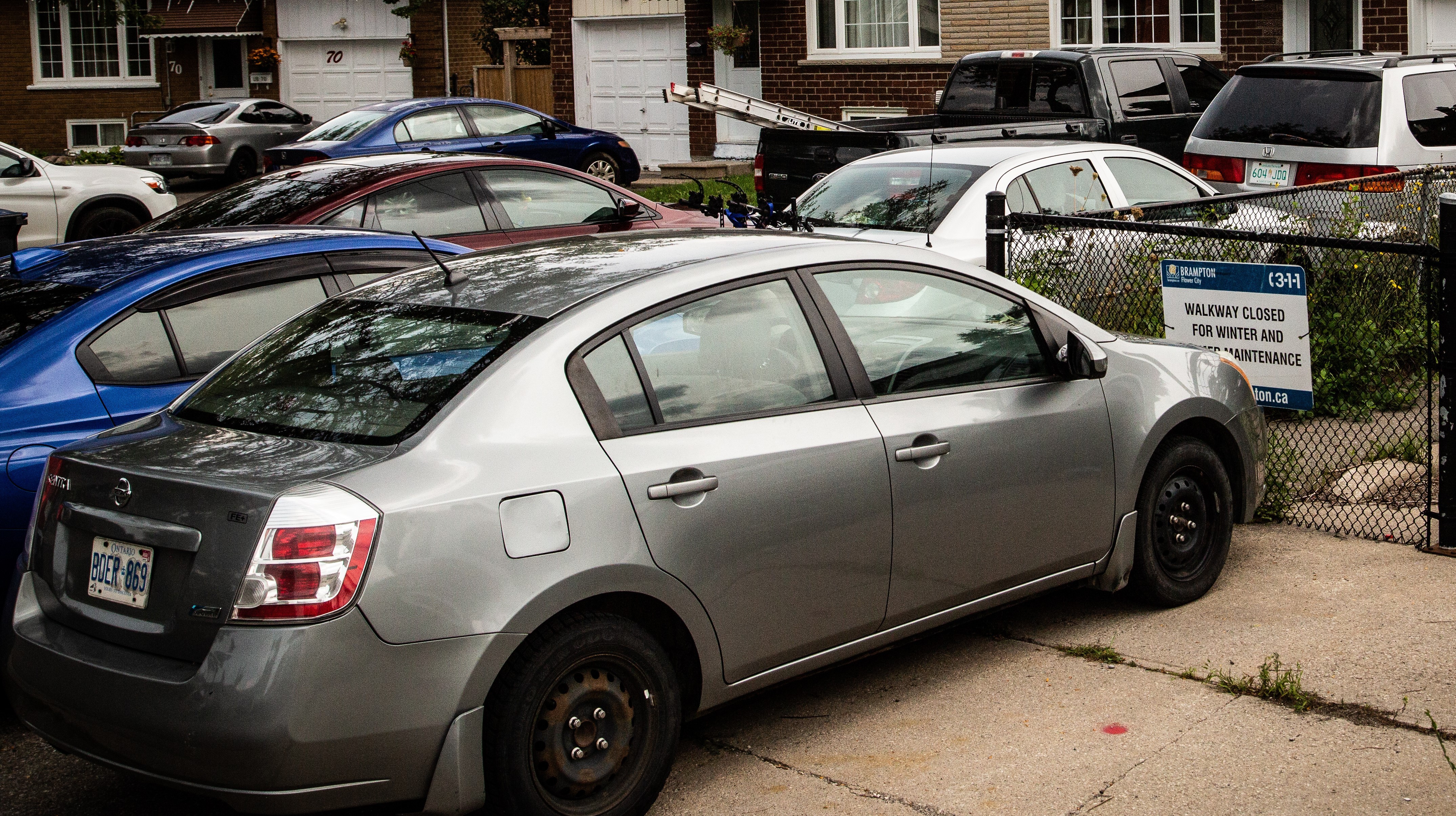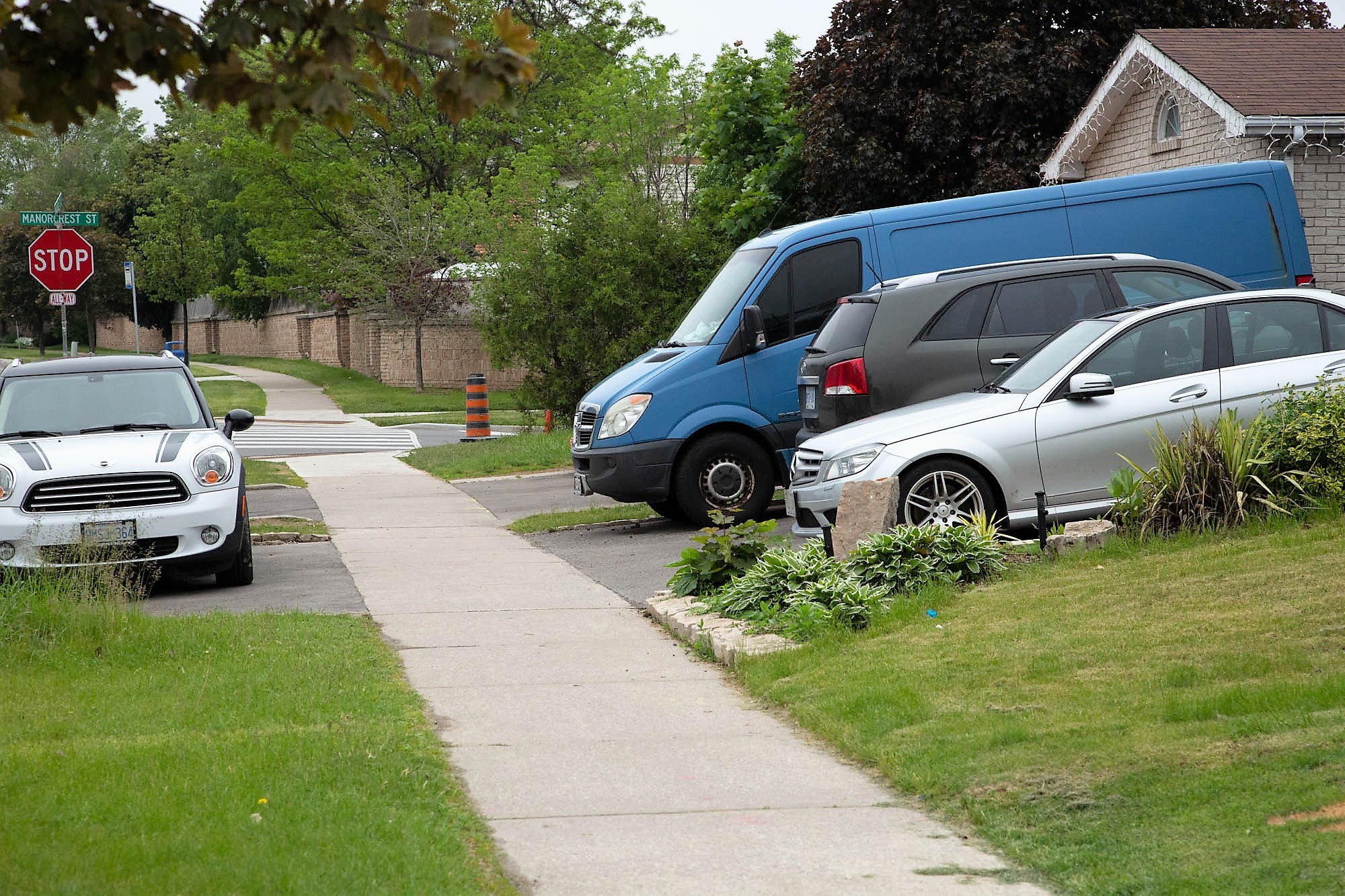 The Pointer has, so far, covered the perspective of the City and some owners of secondary suites, who appear to be at odds with one another. A delegation to council earlier in September highlighted what some landlords described as the prohibitively expensive process of bringing a suite upt to code, while many city officials were unsympathetic, especially Councillor Jeff Bowman, who has championed the need, for safety reasons, to get illegal secondary suites registered. It's estimated that there are 30,000 to 50,000 illegal secondary units in the city. Recently, Mississauga Councillor Ron Starr told The Pointer that estimates in his city suggest there as many as 30,000 unregistered units in Peel's largest municipality. That suggests it's a runaway problem in two of the countries biggest cities, where the population continues to swell, despite the dire lack of affordable housing.
Local officials have suggested they are aware of how taxing this is on municipal finances, but are frustrated by the lack of funding from higher levels of government to get more affordable housing stock on the market.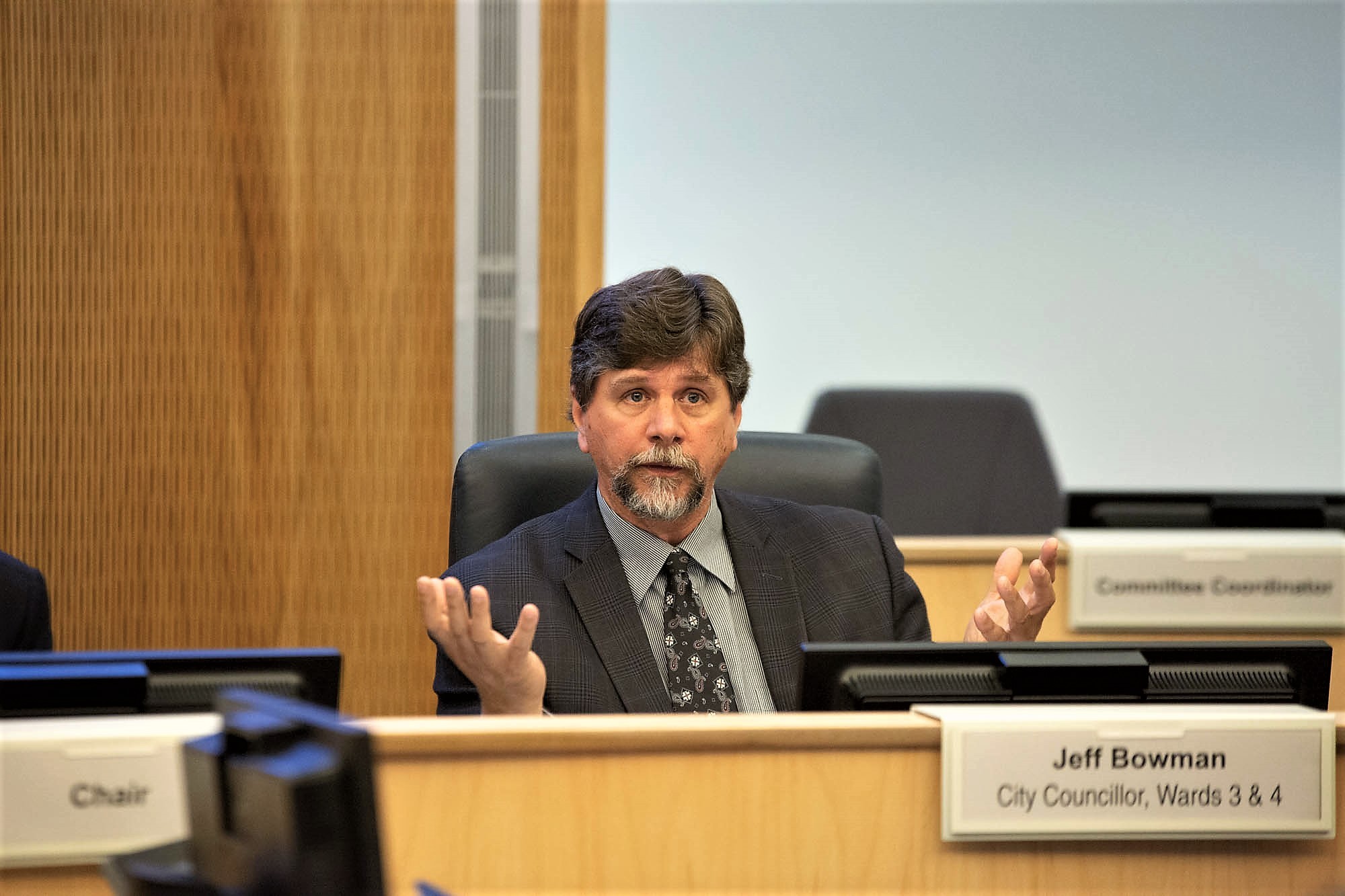 Brampton Councillor Jeff Bowman has championed the need to address safety concerns over illegal suites
Squire's situation demonstrates the issues neighbours have to deal with when living on the same street as a home with a secondary suite. Piles of garbage, lack of parking space causing cars to be parked on lawns and other inappropriate spaces and too much noise are just some of the complaints neighbours routinely make.
What happened to Squires' neighbour, where a fire broke out, is an unfortunate but not uncommon example of what can go wrong. Though the circumstances are unclear, many of the units that are not registered feature numerous fire hazards, from improper or no ventilation in cooking areas, kitchens that use illegal heat sources such as propane tanks and a lack of fire doors and smoke detectors.
On the same day as the interview with Squires, five people had to be evacuated from a two-dwelling unit in Riverview N.B.. Two people in Brampton have died in such fires since 2016, prompting Bowman to write a letter to the province requesting additional powers for bylaw enforcement to enter a home without a warrant.
Squires disagrees with Bowman's wish because she believes people who are suspected of having an illegal unit but actually don't, will be unfairly targeted. "They should have a warrant. You shouldn't be able to just walk into people's places because what happens to the owners you suspect but are not breaking the law?" She says she may be tough, but she is also fair.
She has lived in a secondary suite and understands the unique circumstances. She was born in Kingston Jamaica and moved to Canada on Sept. 18, 1966, a date she remembers well because it also happened to be on her mother's birthday.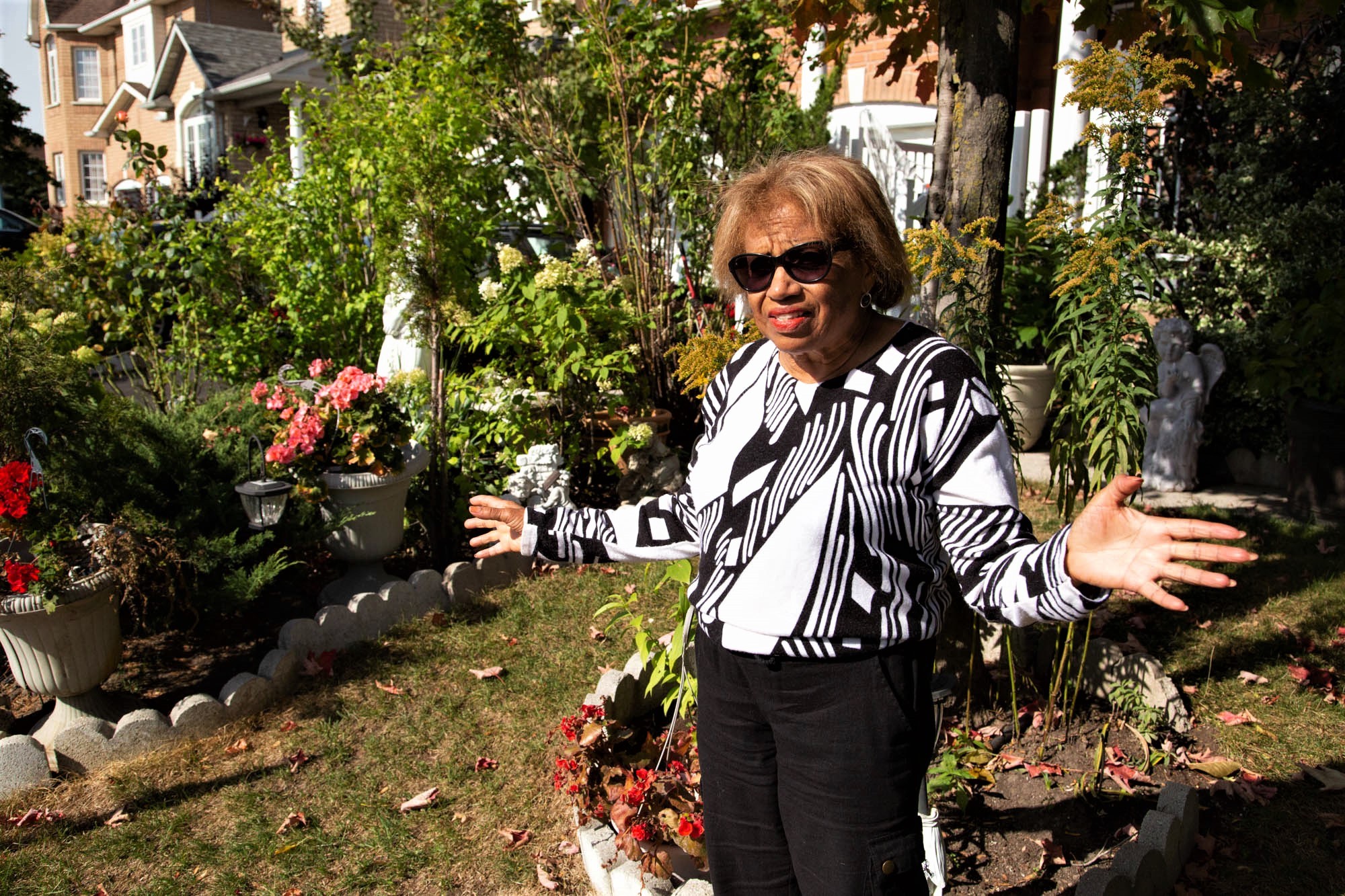 Yvonne Squires
She spent the first few years of her Canadian life living in the upstairs room of an Italian-Canadian family in Toronto near St. Clair Avenue West and Wychwood Avenue. During her working years – she is now retired – she became the president of the customs and excise worker's union. No doubt she got her people skills and social conscience from her experience with that.
A Brampton resident for 35 years, she understands how complicated a situation the city's basement suite conundrum is. But, above everything, she wants all her kids to be safe.
Email: [email protected]
Twitter: @mansoortanweer
Submit a correction about this story