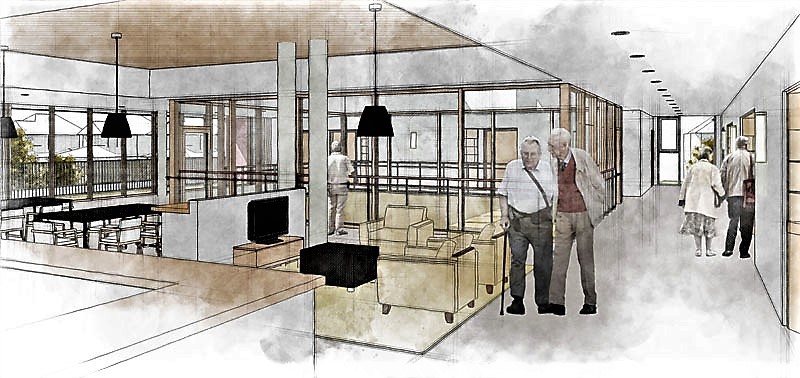 Photos by Mansoor Tanweer/Renderings City of Brampton
Charmaine Williams breaks ranks with ward colleague Pat Fortini over group homes review
Councillor Charmaine Williams broke from her fellow Wards 7 and 8 colleague Pat Fortini on Wednesday to speak against his motion calling for a review of the city's policies regarding group homes to align them with updated provincial laws. The motion, prompted by complaints about a group home application in Ward 7, passed on a 7-3 vote, with Williams, Michael Palleschi and Jeff Bowman voting against.
Fortini's motion was prompted by residents' concerns about the creation of a new group home called the Rebeccaville Assisted Living Retirement Home, in a renovated five-bedroom raised bungalow at 23 Hillside Drive in Bramalea Woods. His motion called for deferring development applications while the review of various policies is carried out.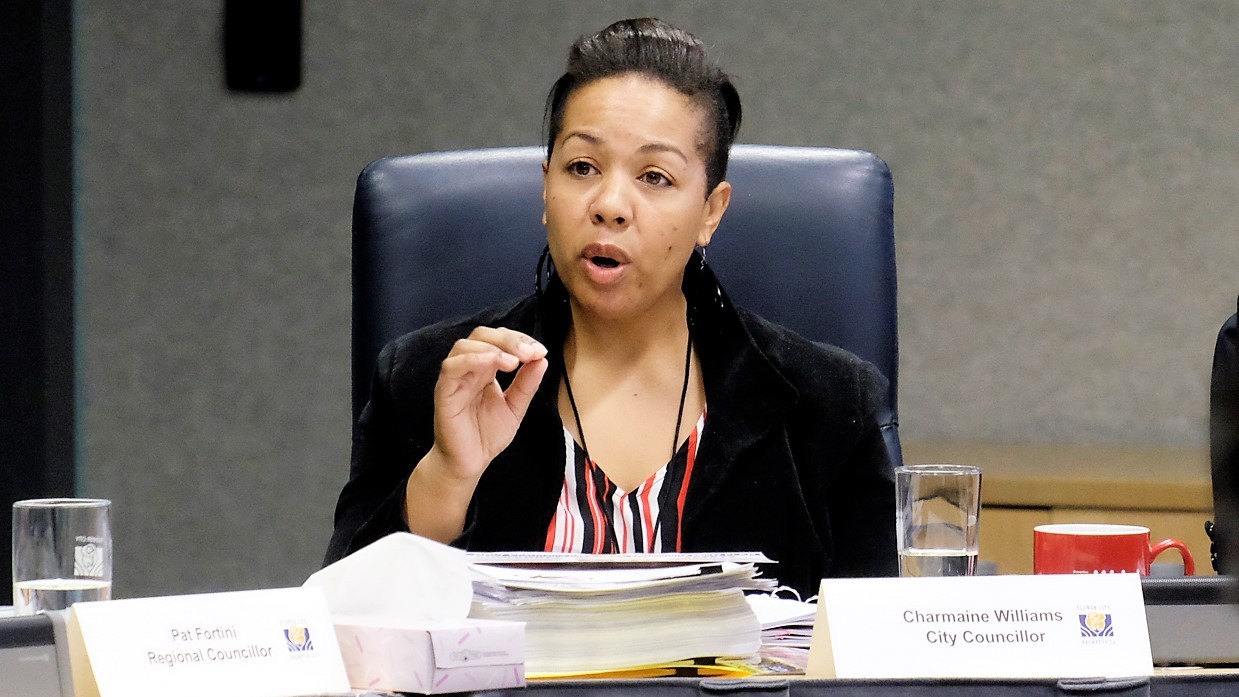 Brampton Councillor Charmaine Williams
"Our bylaws are from 1993," Fortini told The Pointer. "The provincial legislation under the group homes (provisions) say you need 10 seniors and a full-time staff; this home has four to six people coming in, and there is no full-time staff."
As with the ongoing issue of secondary suites, safety concerns and building codes need to be dealt with in creating a new group home. "This is where we are having problems, with group homes popping up everywhere," Fortini said.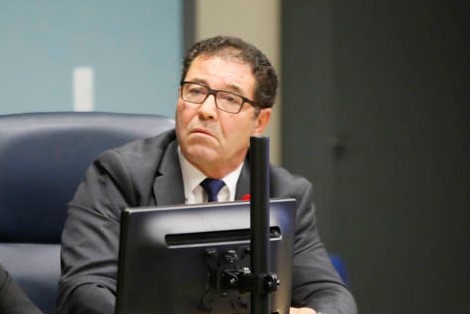 Councillor Pat Fortini

Williams is concerned about "unintended consequences" of the review, possibly preventing "all future retirement beds from being opened in Brampton."
"Aligning the minimum number of beds with the provincial regulations may have the effect of closing retirement seniors homes. That's why I can't support this motion," Williams said in council.
Group homes, generally speaking, are a model of care based in houses rather than institutional settings, which provide support in a more family-like environment for people with complex needs. That could be seniors, young children, or people with disabilities or cognitive impairments. The owners of the property want to turn the home on 23 Hillside Drive into what is called a Group Home Type 1, defined by a city bylaw as "a supportive housing facility located within a dwelling unit that is occupied by four (4) to six (6) persons, exclusive of staff and/or receiving family."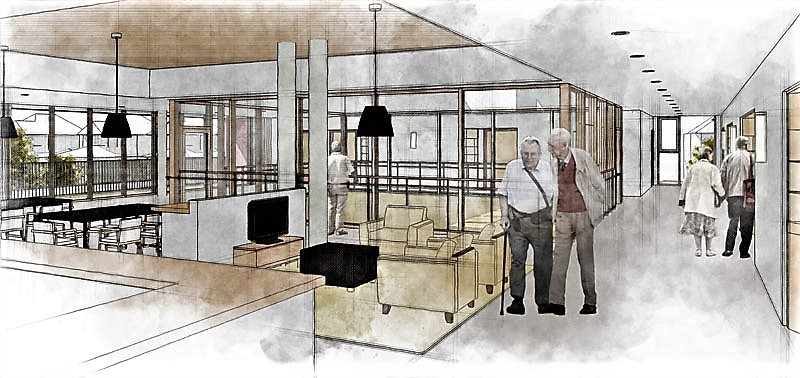 A rendering of what Peel Manor will look like after its massive reconstruction, part of the province's pledge to create 15,000 new long-term care beds
Williams framed the issue within the larger healthcare crisis in Brampton, which lacks enough long-term care beds to accept frail seniors — including those who could be discharged from hospital if there was somewhere for them to go, exacerbating the shortage of beds at Brampton Civic Hospital and the phenomenon of "hallway healthcare."
In light of "the lack of hospital beds that has been highlighted by our #FairDealForBrampton campaign, retirement homes, long-term care beds, seniors residences, and even mom and dad living with the family later on in years, are part of the continuum of care," Williams said.
Williams occasionally cited regulations for retirement homes, which differ from group homes, adding to some confusion about the applicable laws. A City of Toronto bylaw cites provincial regulation for group homes as allowing "for a maximum of 10 persons, exclusive of staff, living together in a single housekeeping unit."
Councillor Palleschi expressed concern that the motion as crafted by Fortini made no provision for preventing a pause in development. "Whenever we have a policy review, everything else that comes in gets put on hold. Because we're not sure what it looks like," Palleschi said in council. Palleschi suggested rewording the motion to ensure that no freeze on development would occur.
The city's director of building, Rick Conard, said applications for group homes are rarely submitted to city hall and are unlikely to be submitted before the next planning meeting on Oct. 7. "So during that time frame, I think the risk is relatively low," Conard told Palleschi.
Fortini assured The Pointer there will be no freeze on developing retirement communities. "We're not freezing the homes … you have to provide the right facilities to seniors. You're not going to take a 75-year-old person and throw them in a basement with a window they can't even get out [of]."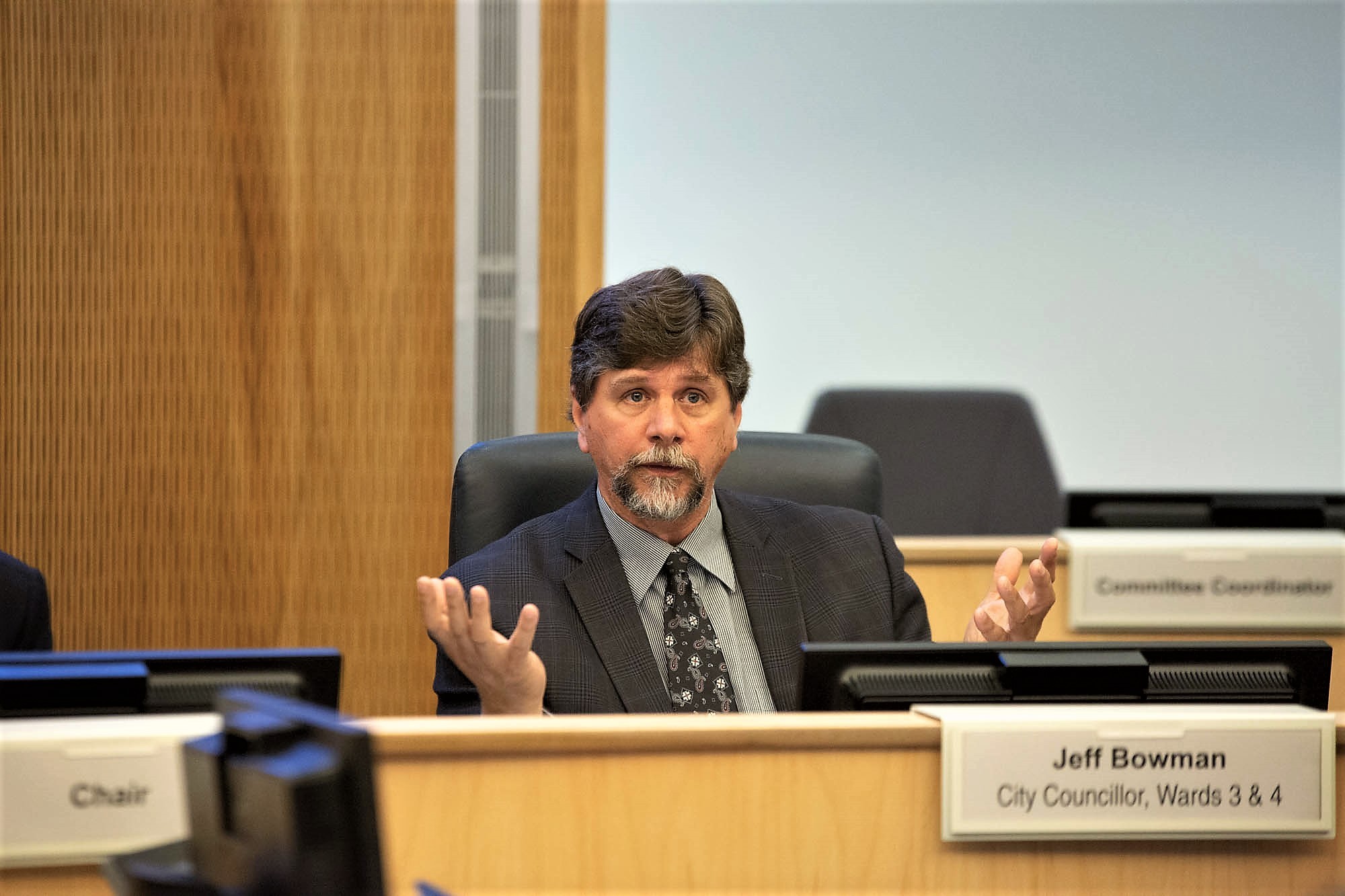 Councillor Jeff Bowman
Bowman had issues with the wording of the motion as well. Building on Williams' point about unintended consequences, he said, "I don't see anything in the wording [about] what [the review] could cause, what implications that may have on existing homes that we have, or future homes, … possible areas within our community that have houses big enough to house these types of units."
Bowman called for a "much deeper discussion" on the matter because of the housing crisis Brampton is experiencing. The presence of more group homes for seniors could be, along with well-regulated secondary suites, part of a bigger solution.
Email: [email protected]
Twitter: @mansoortanweer
Submit a correction about this story