Photos by Mansoor Tanweer
Trudeau avoids local issues, promises lower taxes and cellphone rates, but nothing to cope with healthcare challenges, region's crime and influx of newcomers
If re-elected, Liberal Leader Justin Trudeau is pledging to ensure that Canadians will pay no federal income tax on the first $15,000 they earn (up from just over $12,000 this year). He's also promising to open up competition to lower cellphone rates by 25 percent.
While it's unclear how he will get the private telecom sector to abide by his wishes, the promises were announced Sunday in the backyard of a Brampton family who graciously made it available for an announcement to reporters, after a quick chat with Trudeau inside their home. The event was light on details about how those goals would be achieved, though a press release explained that the Basic Personal Amount tax credit would be raised gradually to implement the $15,000 exemption for people earning under $147,000 by 2023.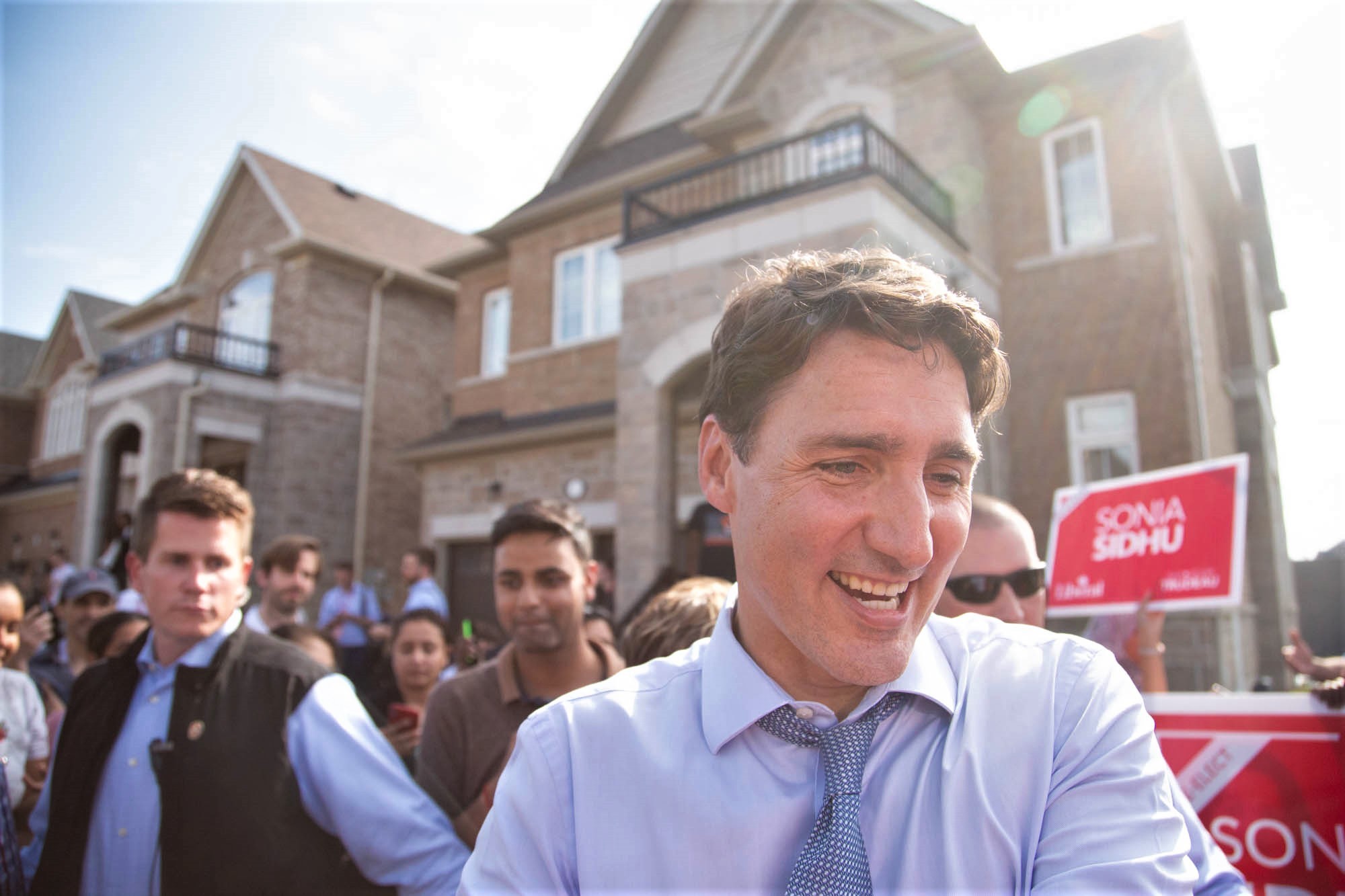 Liberal Leader Justin Trudeau Sunday
When asked by The Pointer if he would commit to providing the region, particularly Brampton, with its fair share of infrastructure funding, given its rapidly increasing population, Trudeau did not address challenges such as Brampton's ongoing healthcare crisis, unlike NDP Leader Jagmeet Singh who two weeks ago in Brampton promised federal funding for a new hospital in the city, which currently has less than half the number of hospital beds per capita compared to the Ontario average.
When asked about local fair share infrastructure funding, Trudeau took the opportunity to level attacks on the provincial government of Doug Ford, his main opponent Andrew Scheer and other Conservative leaders "across the country."
"We were very happy to be able to double the municipal tax transfer this year that goes straight to municipalities from the federal government, known as the gas tax transfer," Trudeau said.
"We had Conservative premiers in office who were dragging their heels on the kinds of investments in infrastructure that are needed by growing cities like Brampton," he added. He promised to "impress upon municipalities and provinces the need to be investing in infrastructure, investing in transit, investing in housing." He accused the Conservatives of wanting to implement "tax breaks for the wealthiest, tax breaks for big polluters."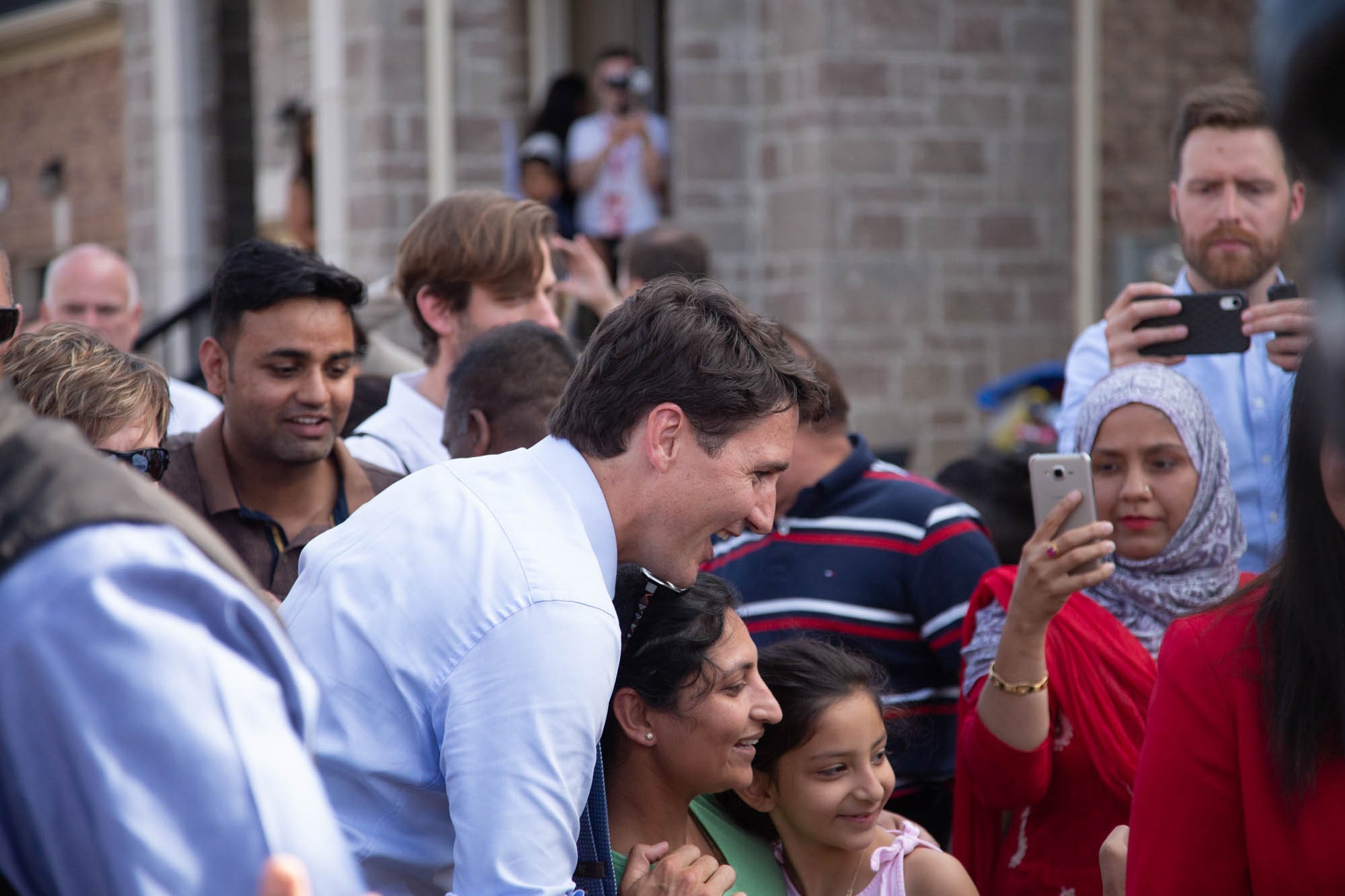 But there was no commitment to heeding Brampton's campaign for a "fair share" of the $188-billion Investing in Canada infrastructure program.
Trudeau said even less about any plans to reform Canada's immigration policies, a topic of particular concern in fast-growing Brampton.
During their four years in power, the Liberals have set sizeable immigration quotas. Under former prime minister Stephen Harper, Canada was admitting an average of 260,000 per year. The Trudeau government raised the goal to 350,000 by 2021.
Brampton, in large part thanks to an immigrant influx, has continued to experience a ballooning of the population between the last two censuses, 2011 to 2016, growing 13 percent during those years to 593,638. The United Nations' Statistics Division estimates that Brampton's population had risen to 656,977 by last month, a 10.6 percent increase since the last census.
While immigration brings the city many strengths — a younger than average workforce, for example — it has also put pressure on the housing market, with many people struggling to afford a home and often forced to choose unregistered basement apartments as the only viable option. Services, including public transit, schools and the healthcare system — with one full-service hospital serving more than 650,000 people — are also under considerable pressure.
Upper-tier governments have often been slow to recognize the unique stress population growth has put on local services, which makes this election a rare opportunity to put the city's needs in front of federal leaders.
Trudeau did not address the specific problem of rising violent crime in Mississauga and Brampton, where the violent crime index worsened at three times the rate of the national average from 2014 to 2018, and where an alarming number of gun crimes on the street took place this summer, including last week's mass shooting in Malton that took the life of a 17-year-old boy and left five others wounded.
The Liberal leader did mention his party's recent pledge to ban assault rifles, pointing out that the Conservatives under Scheer plan to weaken gun control laws.
The Federal Gas Tax Fund (FGTF) Trudeau referred to, regarding municipal infrastructure funding, is money set aside from gasoline taxes to help develop public transit, broadband connectivity, recreational infrastructure and a swath of other programs in municipalities across the country. Between 2019 and 2024, contributions to Ontario are expected to total about $2.4 billion. However, Brampton's share in 2019 was only about $13.3 million, a drop in the bucket when it comes to dealing with the city's projected infrastructure gap of $743 million by 2027.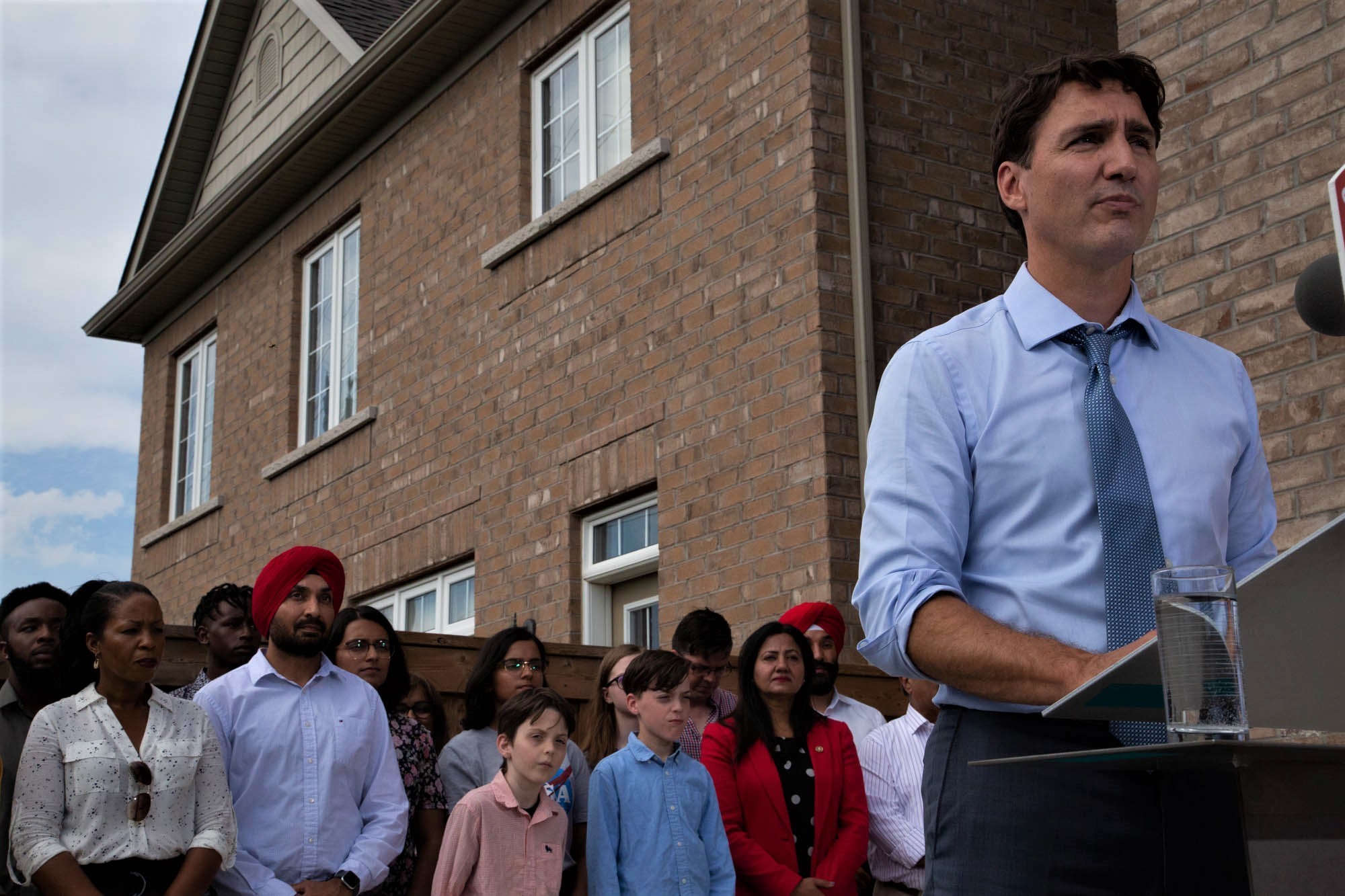 Trudeau's criticism of the Ford government harks back to a longstanding argument over who is to blame for a slow rollout of funding in Ontario from the Investing in Canada program, which is disbursed by provincial governments. The province, after a long pause following the June 2018 election, finally opened up the applications process only in July 2019.
However, there are also questions about how the funding is being allocated to municipalities. Brampton's population is roughly 2 percent of Canada's, suggesting that the city's share of the $188 billion fund should be about $3.7 billion. But so far, the city has received only $43 million for 27 projects since. Edmonton, a city also experiencing recent growth at a rate similar to Brampton, has received more than $1.9 billion from the $188 billion federal infrastructure fund since 2015, including hundreds of millions for its LRT system.
Mississauga has launched its Mississauga Matters campaign for the federal election, which highlights what the country's sixth largest city expects from the next federal government. It has only received $77.3 million so far from the $188 billion Investing in Canada federal infrastructure fund, with another $32 million expected in 2022 for the QEW-Dixie Road interchange. Mayor Bonnie Crombie has listed transit expansion, and specifically funding for the provincially cancelled downtown LRT loop, estimated to cost about $200 million, as key items the city expects the next government to fund.
While funding for infrastructure such as healthcare primarily comes under the jurisdiction of the province, the federal government has some mechanisms available to help with healthcare infrastructure. Singh and the local NDP candidates are highlighting the promise to fund another hospital in Brampton. But on that, and other specific local needs, Trudeau was largely silent on Sunday.
Email: [email protected]
Twitter: @mansoortanweer
Submit a correction about this story