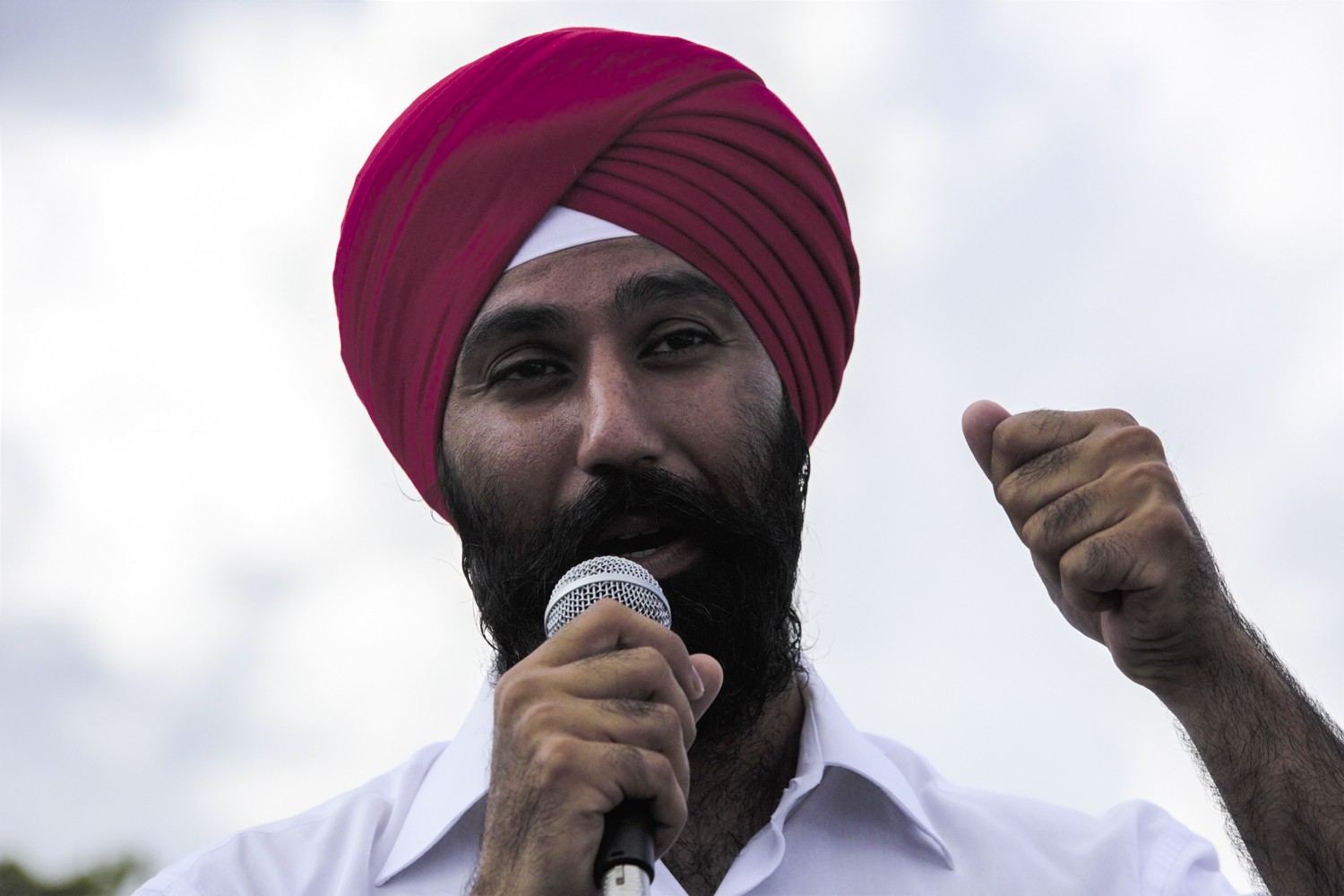 Photos by Mansoor Tanweer/Joel Wittnebel
Raj Grewal not seeking re-election in Brampton East
The former Liberal MP for Brampton East, Raj Grewal, who officially resigned from the Liberal caucus this year following a string of controversies, including a serious gambling problem, will not be seeking re-election, according to the CBC.
With less than two weeks until the official registration period closes, Grewal had yet to make his intentions known publicly. A look at his social media feeds reveals little in the way of campaign efforts. Repeated requests for comment sent to Grewal by The Pointer over the past month have gone unanswered, and a representative for Grewal, speaking at his Brampton constituency office in August, said even his staff were unsure what Grewal's final decision would be.
The 33-year-old rookie MP was part of a Liberal red wave that swept across the city when he was elected in the 2015 federal election, beating out Conservative incumbent Bal Gosal.
However, for many in his Brampton riding, the writing was already on the wall for Grewal's exit from the political sphere. His last year in Parliament was roiled by the revelation that he had developed a serious gambling problem, which raised questions about his other activities.
In January 2018, Grewal invited Yusuf Yenilmez, CEO of a GTA construction company, Zgemi Inc., with him on a trip to India with Prime Minister Justin Trudeau. Yenilmez, who was providing Grewal with employment income at the time, attended functions during the official visit, which featured meetings and events with influential politicians, business people and bureaucrats from Canada and India.
Two months later, NDP MP Charlie Angus alleged to the ethics commissioner that Grewal had violated the Conflict of Interest Code that applies to all MPs. In a disclosure to the commissioner, it was revealed that Grewal, who has a law degree, was also receiving employment income from Brampton law firm Gahir and Associates. After examining all the details of the complaint lodged by Angus, the commissioner later decided the case was worthy of an official investigation. The results of that investigation have yet to be released.
A receptionist at Gahir and Associates told The Pointer in November 2018 that Grewal worked directly with lawyer Harinder Gahir but would not divulge what that work entailed. Gahir was occupied in meetings all day and would be unavailable for comment, the firm said.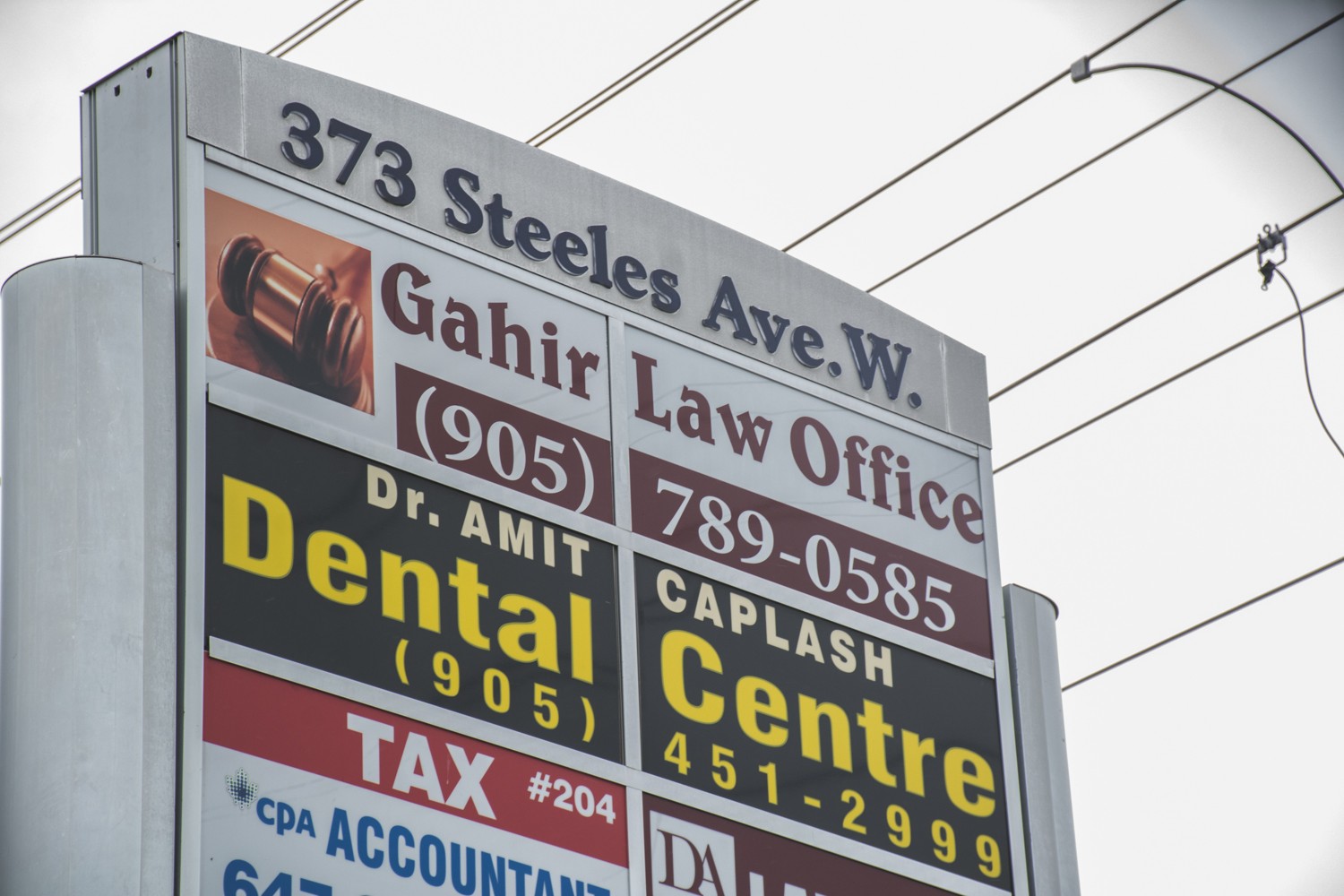 The same month, Grewal posted on Facebook that he would be resigning his seat as an MP "due to personal and medical reasons."
"This has been a decision I've struggled with for some time now and one I made with great difficulty and real sadness. But I feel I need this time to focus on my health and family," Grewal wrote in his resignation Facebook post.
Days later it was made clear that Grewal had racked up "significant personal debts" gambling at Quebec casinos across the river from Parliament Hill.
According to Grewal, he gambled recreationally since university, but the habit developed into a mental health issue when he started to play high-stakes blackjack at an Ottawa-area casino next to the hotel he stayed at as a parliamentarian.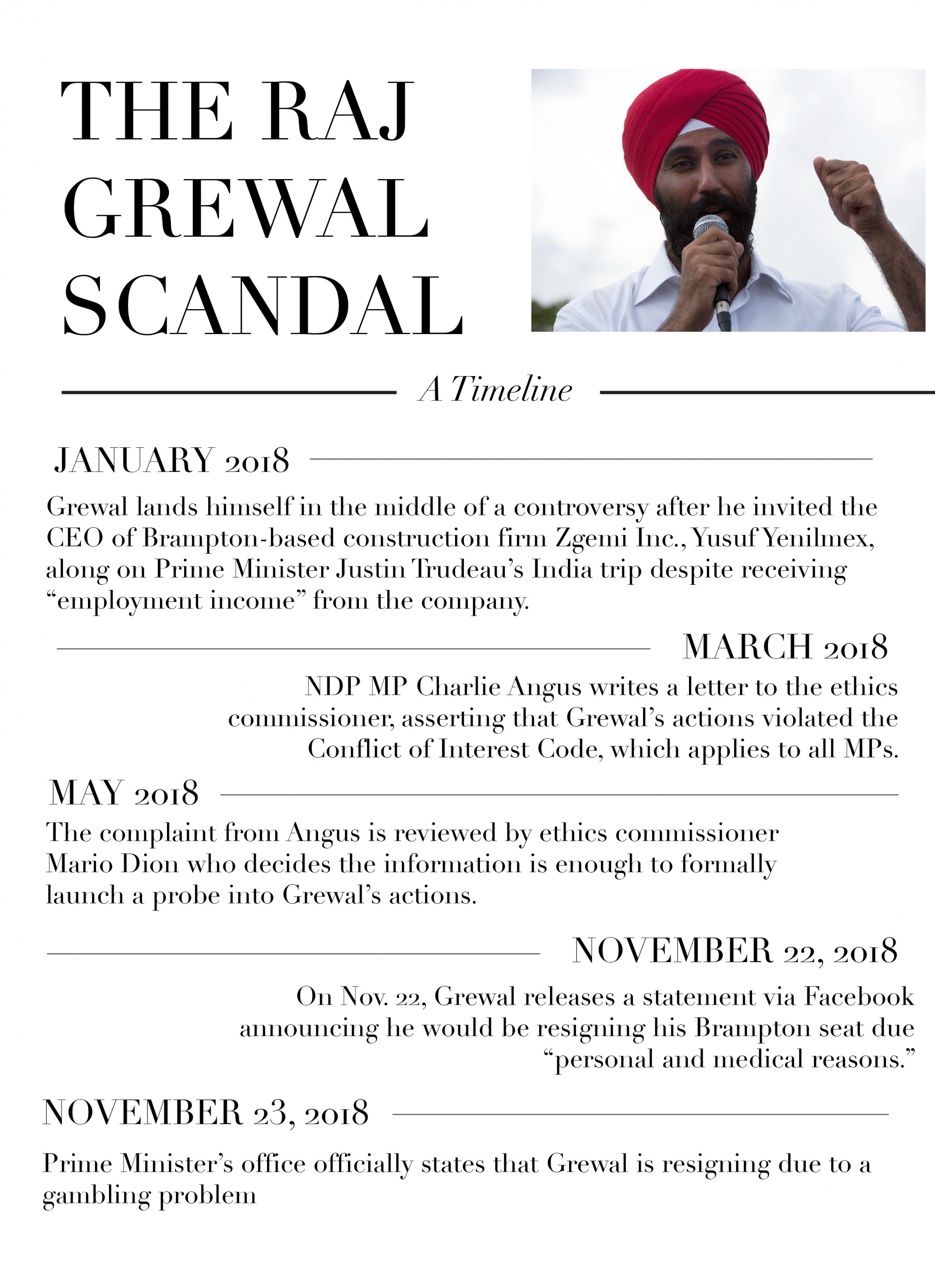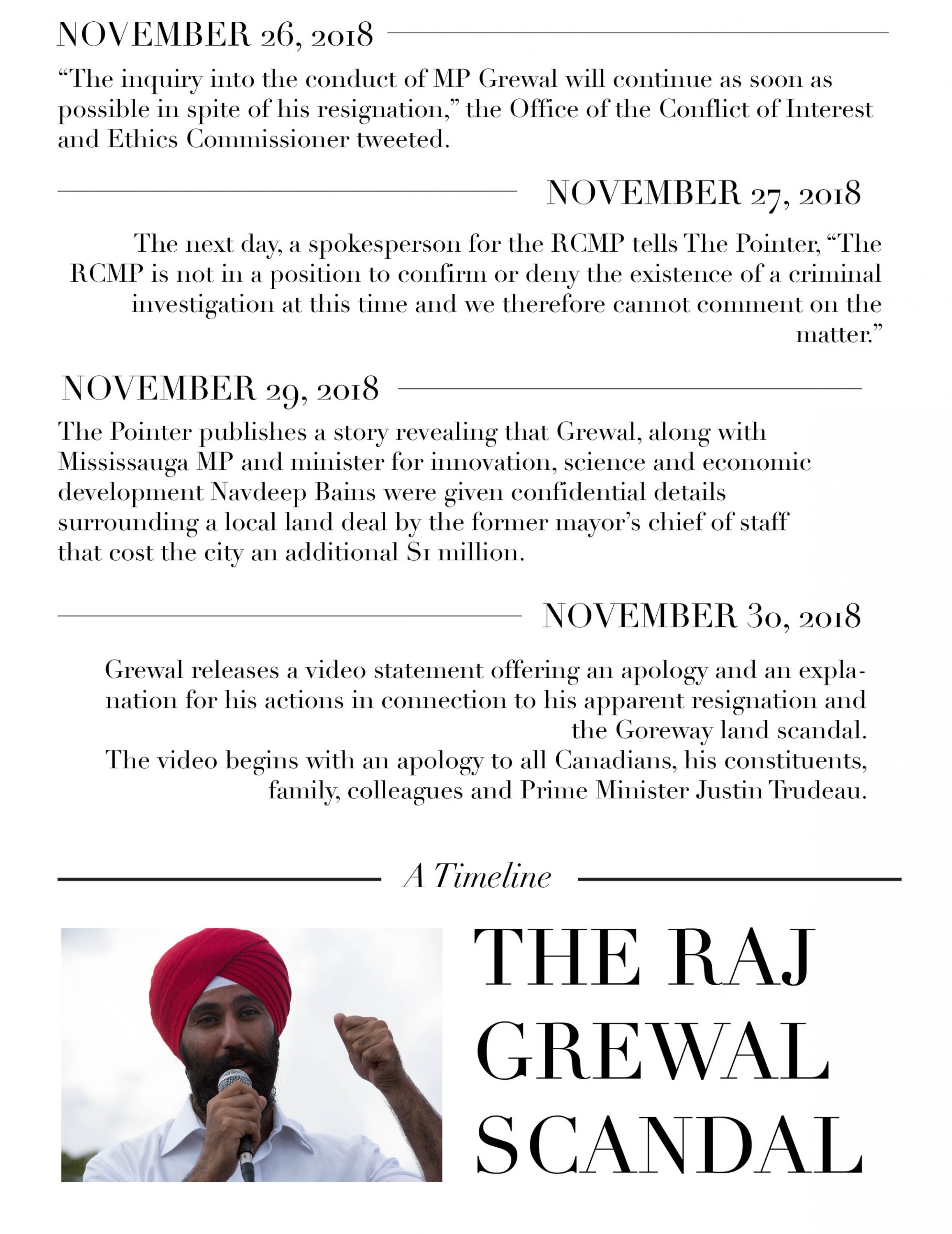 He says he started to borrow money, solely from friends and family, to continue gambling, and that all the money has been paid off, largely with the help of his family.
The following week, The Pointer revealed that Grewal was given confidential information, along with Mississauga-Malton incumbent Navdeep Bains, by former mayor Linda Jeffrey's chief of staff, Hasneet Singh Punia, regarding a land deal.
The City of Brampton needed a provincially owned 20-acre parcel of land to solve a traffic congestion issue on Goreway Drive, south of Steeles Avenue. Punia revealed confidential details, including the agreed price of about $3.3 million, to Grewal and Bains. The deal never went through, but the land was snatched up by a private consortium called Goreway Heaven Inc. shortly afterward for close to the same amount and then resold to the city less than a year later for $4.4 million.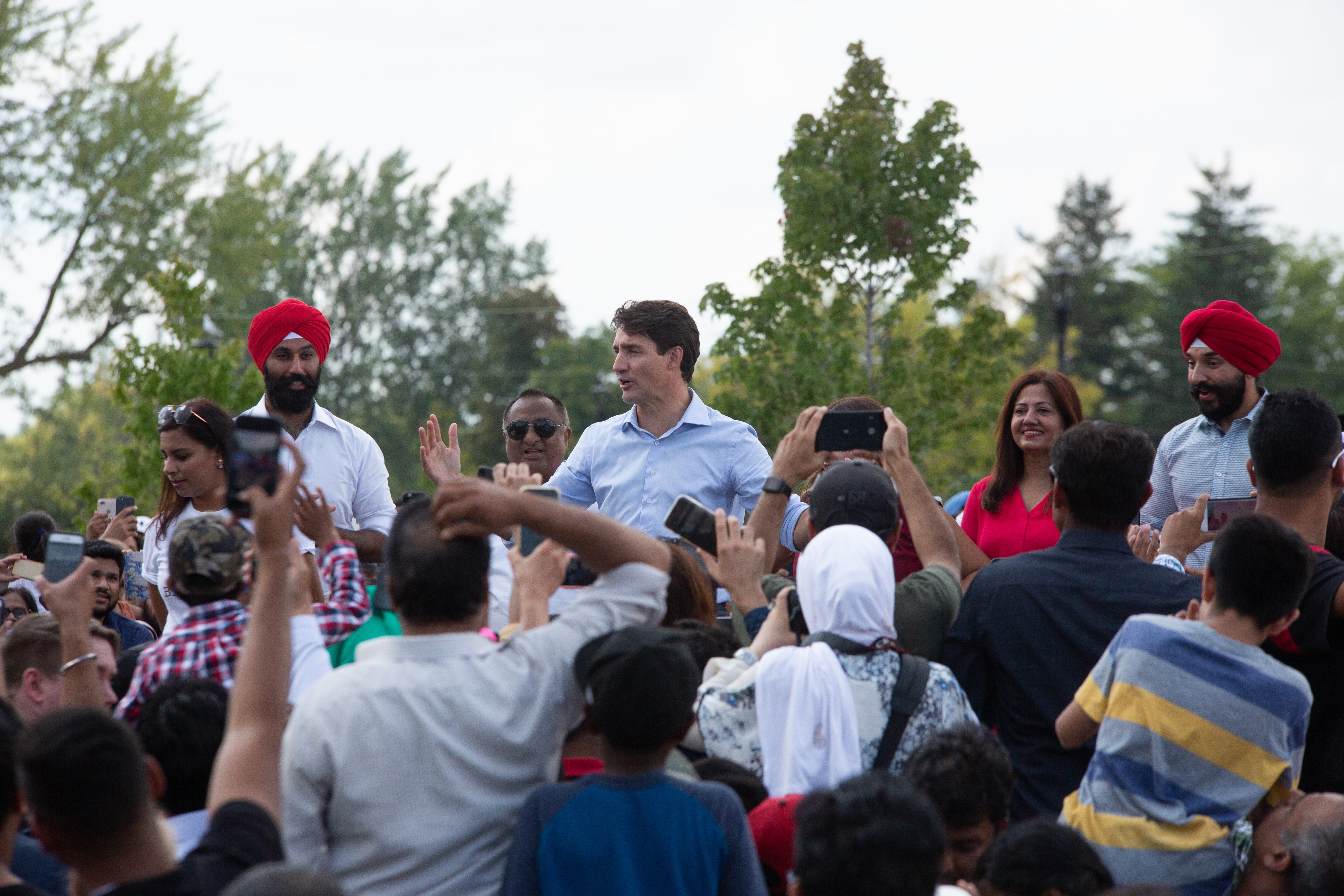 Raj Grewal (left) during a visit from Liberal Leader Justin Trudeau in Brampton last year.
Following the purchase, the city initiated a third-party probe into the land deal to see what had gone wrong with the purchase, during which it was revealed that Punia had shared the confidential details. The Pointer learned that council had decided to forward the results of that investigation to the RCMP, who were reportedly investigating Grewal after his name came up during investigations into money laundering. The RCMP never confirmed they were investigating Grewal, and both he and Bains denied sharing the confidential information with Goreway Heaven Inc.
In early December 2018, Grewal released a video stating that he would, in fact, not resign but instead wait until the new year to decide his future.
"In a highly emotional state, completely exhausted and facing extreme time constraint I made an ill-advised statement on Facebook that I would be resigning my seat," Grewal stated in the 11-minute video. "Some of you may think that it is right for me to resign. For me, this is a very difficult decision," he said, adding that his job to represent and help the constituents of Brampton East "remains unfinished."
For the Oct. 21 vote, the Liberal Party has replaced Grewal with candidate Maninder Sidhu, who currently is polling at nearly 48 percent in the riding, according to poll aggregator 338Canada.
Email: [email protected]
Twitter: @JoeljWittnebel
Submit a correction about this story