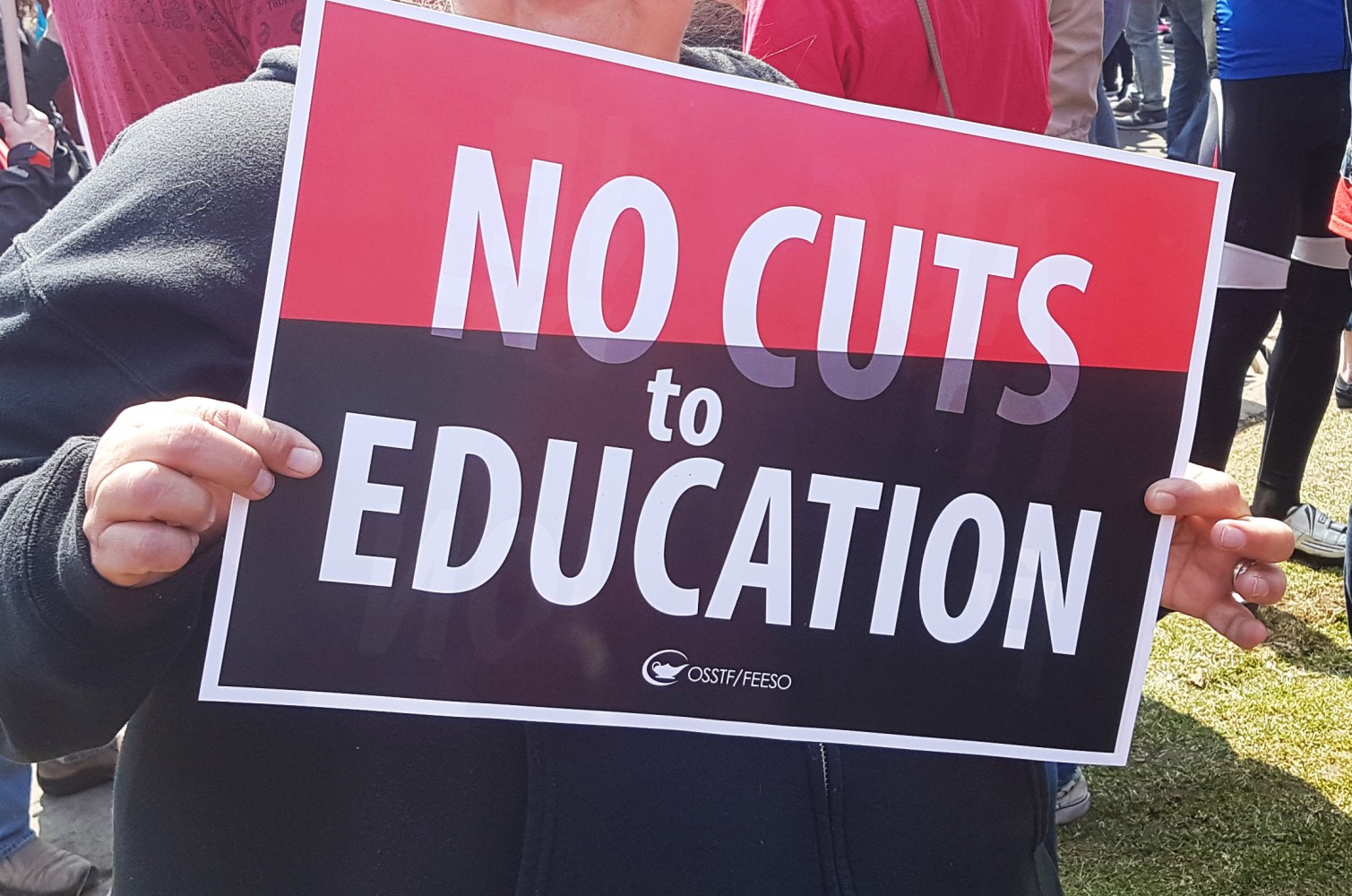 Photos by Mansoor Tanweer/Twitter
Update: It's week 2 of school for thousands of Peel students, with no teacher contracts in sight
Provincial contracts with five major teachers' unions expired over the Labour Day weekend, and students are now in their second week of classes under teachers who have no guarantee of their ongoing level of pay, benefits or working conditions.
It remains unclear when a deal will be struck, and the possibility of strikes or other job actions lurks in the background as elements of the contracts that will be negotiated with school boards locally must wait until a provincial agreement is settled.
Harvey Bischof, president of the Ontario Secondary School Teachers' Federation, in a statement to The Pointer accused the province and the school boards associations of working together "to drag their feet to get to any meaningful negotiations with us. At this point, we have not engaged in any real bargaining at either our Teacher/Occasional Teacher central table or at the Support Staff central table."
In mid-August, the Canadian Union of Public Employees, which represents thousands of non-teaching staff, voted in favour of job action. While the move does not mean a strike is guaranteed, it does serve as another warning sign that all is not well in the province's schools.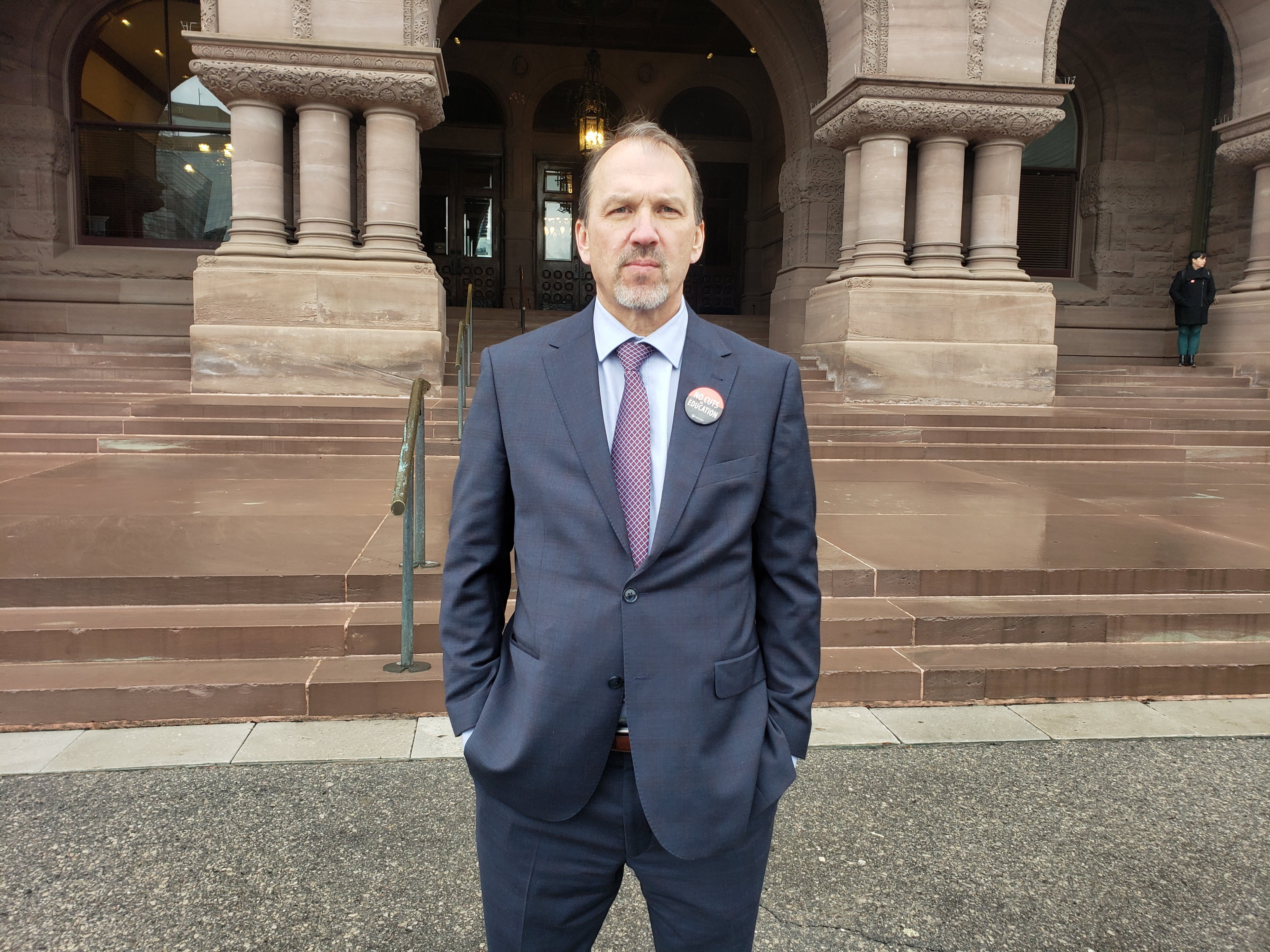 Harvey Bischof, president of the Ontario Secondary School Teachers' Federation
As to what's happening in Peel Region, OSSTF spokesperson Gary Fenn explained that "the first order of business … is to come to an agreement as to what will be negotiated locally and what will be negotiated centrally. In our case, the Government and School Boards Associations did not agree with us as to what would be negotiated at each level, slowing the process down further."
Over the latter half of the summer, the unions were loath to offer a clear picture of what was going on in the negotiations. They are answering questions posed by The Pointer now, but still holding their cards close to the chest.
"ETFO has met with the Council of Trustees' Associations and the Ontario Public School Boards' Association over the summer and the talks have been respectful. Bargaining will continue into the fall," says a statement by Elementary Teachers' Federation of Ontario president Sam Hammond.
Bischof said the high school teachers' union has not discussed the possibility of a strike yet, "as we have not exchanged, much less discussed, bargaining proposals with the government and school boards associations."
His union was dealt a blow over the weekend, when the Ontario Labour Board ruled that class size caps and sick day issues are bargaining issues for the province to deal with, making negotiations on the union's main talking points much more difficult. Class sizes have been a major sore point since the province announced last spring that it would increase the average size of high school class sizes from 22 to 28 — which in practice means that many classes this fall are at more than 30 and as high as 40 students. This caused a furor in education circles, with educators arguing that it means high-risk students will be more vulnerable to being neglected in classrooms taught by overworked teachers stretched too thin to meet their needs.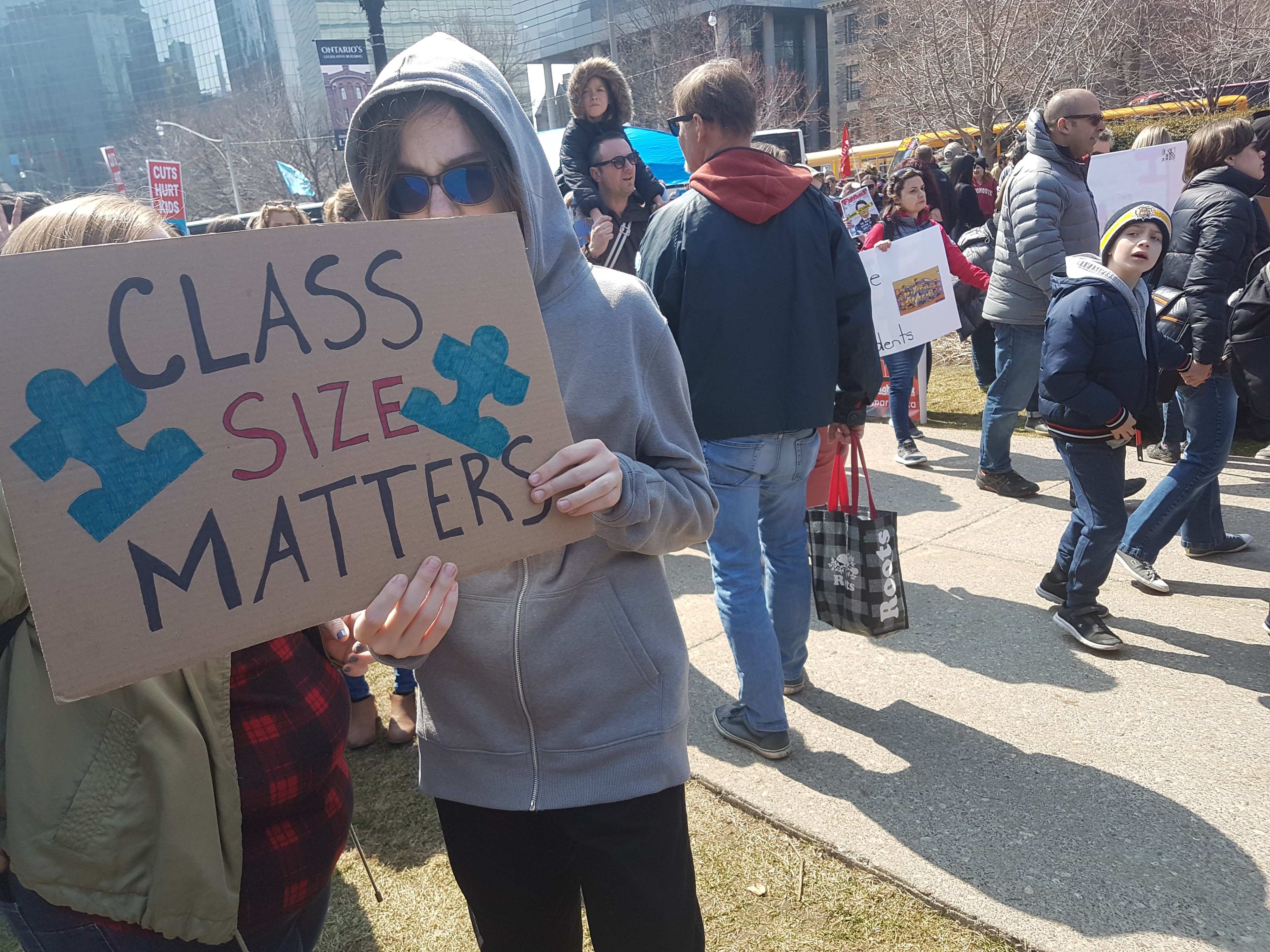 The OSSTF's 2014-2019 collective bargaining agreement put no number on class sizes, but simply agreed that "collective agreement provisions currently in effect in local boards shall remain status quo." Teachers, according to the agreement, are allocated 11 sick days at 100 percent salary each school year, plus a potential 120 short-term disability days.
"However, the government has already thrown up barriers to negotiations that tilt the table in their favour. They say they want to bargain in good faith, but they unilaterally increased average class sizes and tabled wage restraint legislation, which limits what can be negotiated. This is not what good-faith bargaining looks like," Bischof said.
One talking point worth exploring is the province's push for e-learning. Starting in the 2020-21 school year, Ontario students will be required to take four e-learning courses towards graduating. One issue with this is that students in rural areas where Internet connections are poor will be put at a disadvantage, and students with a more hands-on learning style would have trouble absorbing the information.
A survey of over 6,000 students by the Ontario Student Trustees' Association found that an overwhelming majority, some 95 percent, of students rejected the e-learning proposal. OSTA's Twitter account posted the testimonial of an anonymous low-income student who said: "We live in a one-income household and do not have wifi or computers at home." The student would be graduating soon, but was worried about siblings who might "never graduate because of this rule." The student asked the government to "stop thinking of the rich kids."
Email: [email protected]
Twitter: @mansoortanweer
Submit a correction about this story