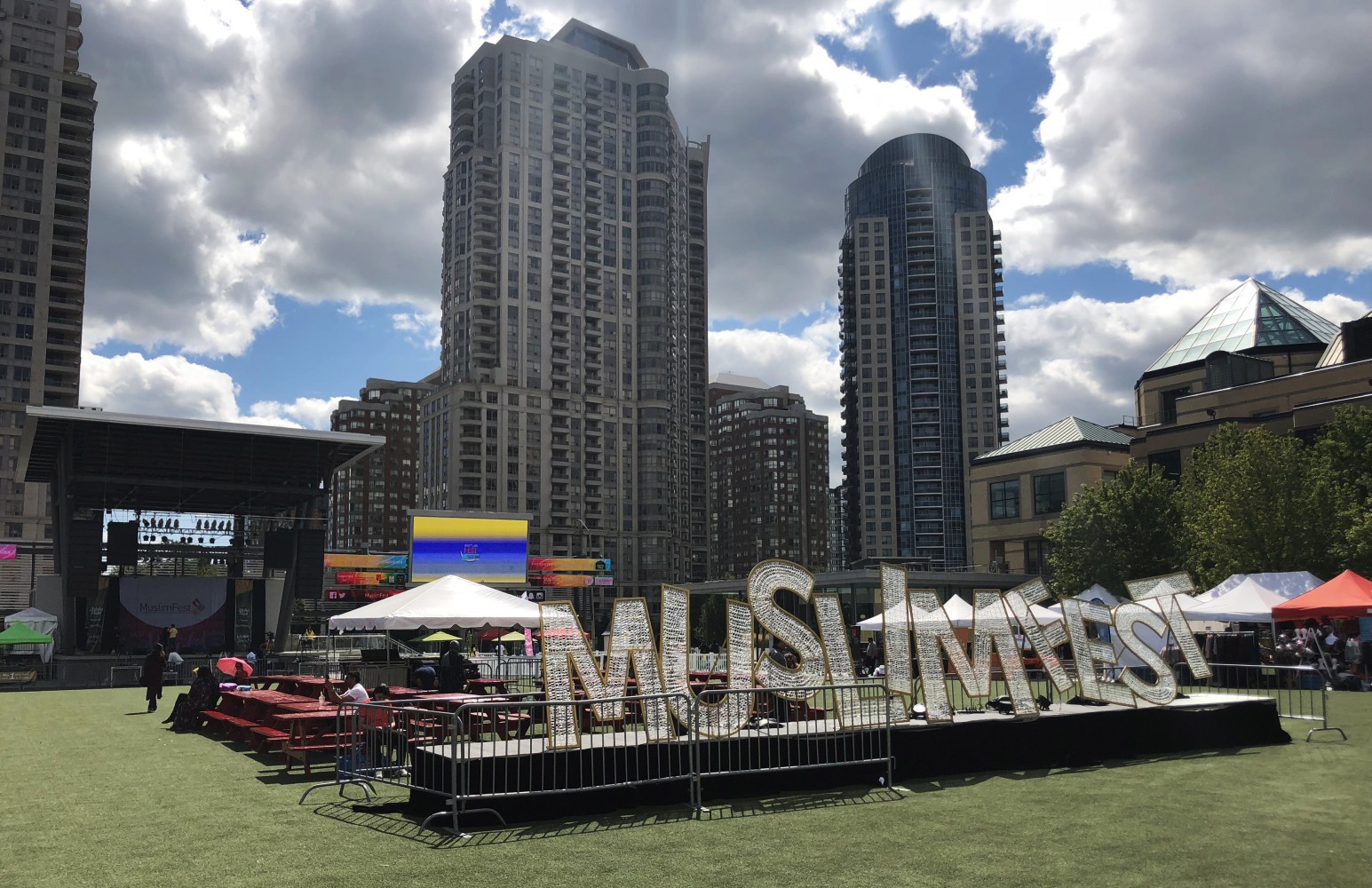 Photos by Daniel Calabretta
MuslimFest celebrates the 'lighter side' of Muslim culture
Rain and dreary midday skies couldn't keep Nadeem Zuberi from attending the third and final day of MuslimFest 2019. "Every year, I participate," he said. "My kids, my family come here."
The Mississauga festival was launched in 2004, according to event co-founder Taha Ghayyur. Zuberi, who moved here from Vancouver in 2011, said he's been part of it "almost every year" since then. It's part of what ultimately made him gravitate toward Mississauga, which was a feeling of fellowship with others within the city. "I think the main reason is the community," he said, particularly the welcoming Muslim community. "I feel that Mississauga is a good place to settle, to grow my family. I like Mississauga's environment."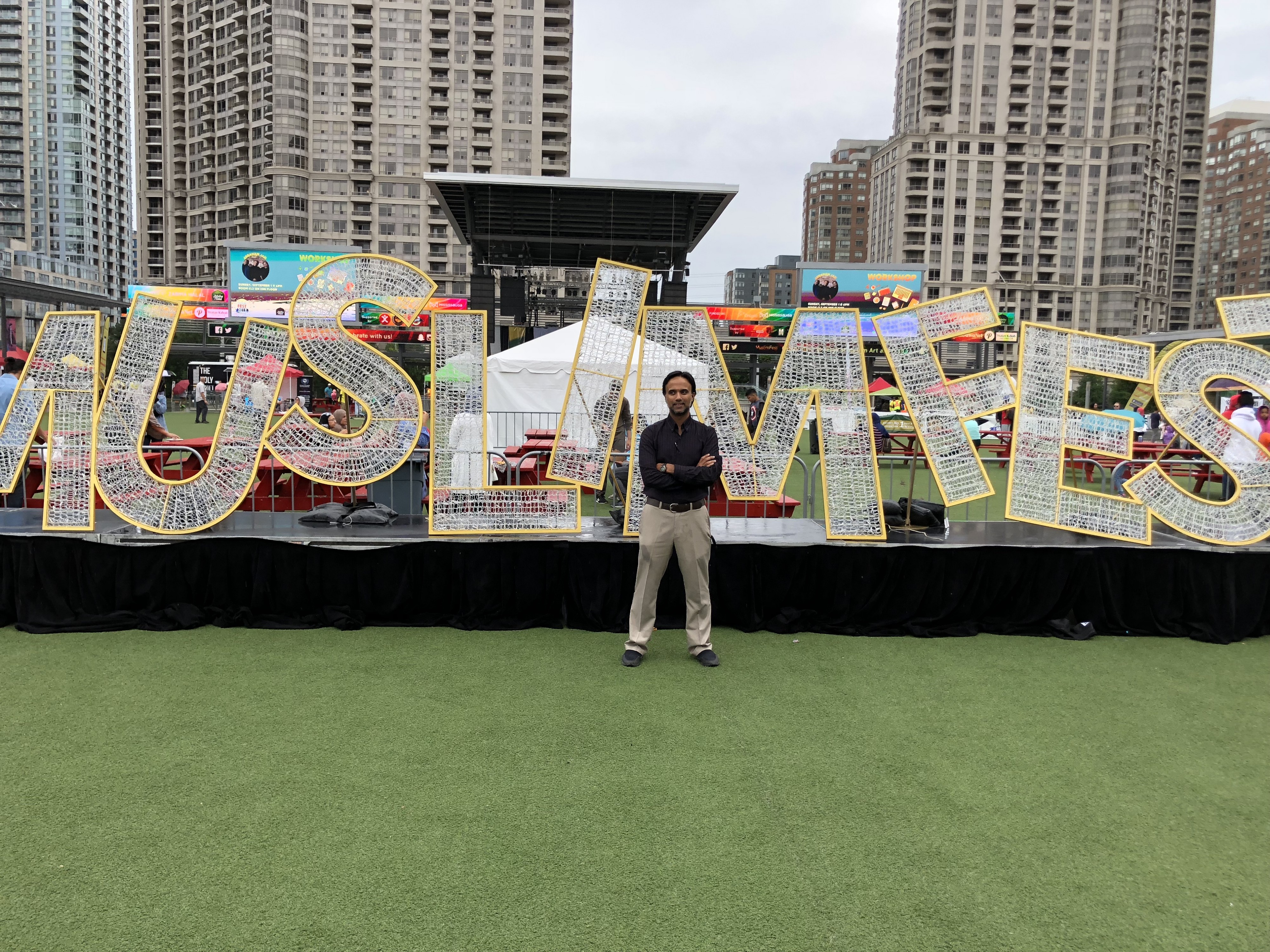 Taha Ghayyur, MuslimFest co-founder and board member
Zuberi says his entry to Canada as an immigrant from Pakistan was much different from the recent experience of two Canadian Muslim men and their families, among six who were recently denied entry into the U.S., according to an Aug. 30 CBC report.
One of them, Imran Ally, is a Toronto imam who also serves as a chaplain with the Peel Regional Police. He was travelling to Queens, New York, to emcee his best friend's daughter's wedding, expecting to cross at the Peace Bridge at Fort Erie. The other, Nejmettin Vali, is vice-president of the Iraqi Turkmen community group in Toronto. He and his family were heading to Detroit to do some shopping.
Both men were held at the border for hours and faced multiple rounds of questioning and inspections. Ally was questioned about his work as a religious leader. Border officials took his photograph and fingerprints and eventually denied him entry because, he was told, his name "matches that of a bad guy," as described to the CBC.
Vali said he wasn't given an explanation for why he was denied entry, but he told CBC that the border officials were concerned about his semi-regular trips to the country where he was born, Iraq.
Zuberi, now a professional accountant and IT consultant for a manufacturing distribution company in Vaughan, says the process for immigration and landing was lengthy, "about three or four years," before it was completed in 2005. But he noted no discriminatory or prejudicial behaviour from Immigration Canada nor the Canada Border Services Agency when he first arrived.
Zuberi said Mississauga has embraced him as well since he arrived eight years ago. "It's welcoming, in a sense, because as I said, I have a lot of my friends and family members here."
Border discrimination "is a fundamental problem," Zuberi said. "There are good and bad people everywhere in the world, but they [should] treat everybody on the same line. I belong to Pakistan. What's wrong with it? I don't know. I'm proud of that. This is discrimination, I would say."
Gatineau, Que., resident Saad Khan, born and raised in Pakistan, shared similar sentiments. "It's quite upsetting," he said. "I understand the need to keep their country safe, but I don't understand why it's law-abiding citizens of a particular sort of look, name, ethnicity or religion [who must] be faced with those kinds of obstacles, all the time. And especially with this current [Trump] administration, it seems a little bit more so."
Though Zuberi has never experienced anything like Ally and Vali did, he noted that when he had permanent resident status in Canada and was travelling to the U.S., it was never the seamless process it might be for others. "I always had a tough time," he said. "They'd ask me, 'Why are you coming here? What do you want to do here?' Whenever I'd go, they'd ask me tons of questions." Being a Pakistani national as well was always a complicating factor, "so I'd have to spend extra time with them to explain [it]."
Years ago, when he was living in Vancouver, he would go sightseeing in Seattle and had "no issues whatsoever" at the border crossing. Now, however, he said he would neither vacation in the U.S. nor drive over the border. "Maybe I would fly, if I had to … with work, we'll see," he said. "I would like to, but I just don't want to bother [with] being faced with those kinds of obstacles and hurdles," including racial profiling and the possibility of being turned back. "And it's also humiliating, so I wouldn't, under the present circumstances, drive over."
MuslimFest might be one antidote to discrimination. It not only celebrates Muslim arts and entertainment but also holds "bridge-building events that positively engage young Canadians." Ghayyur highlighted the fact that the event aims not just to celebrate Muslim arts, culture and entertainment, but also the wider implications and messages of the festival.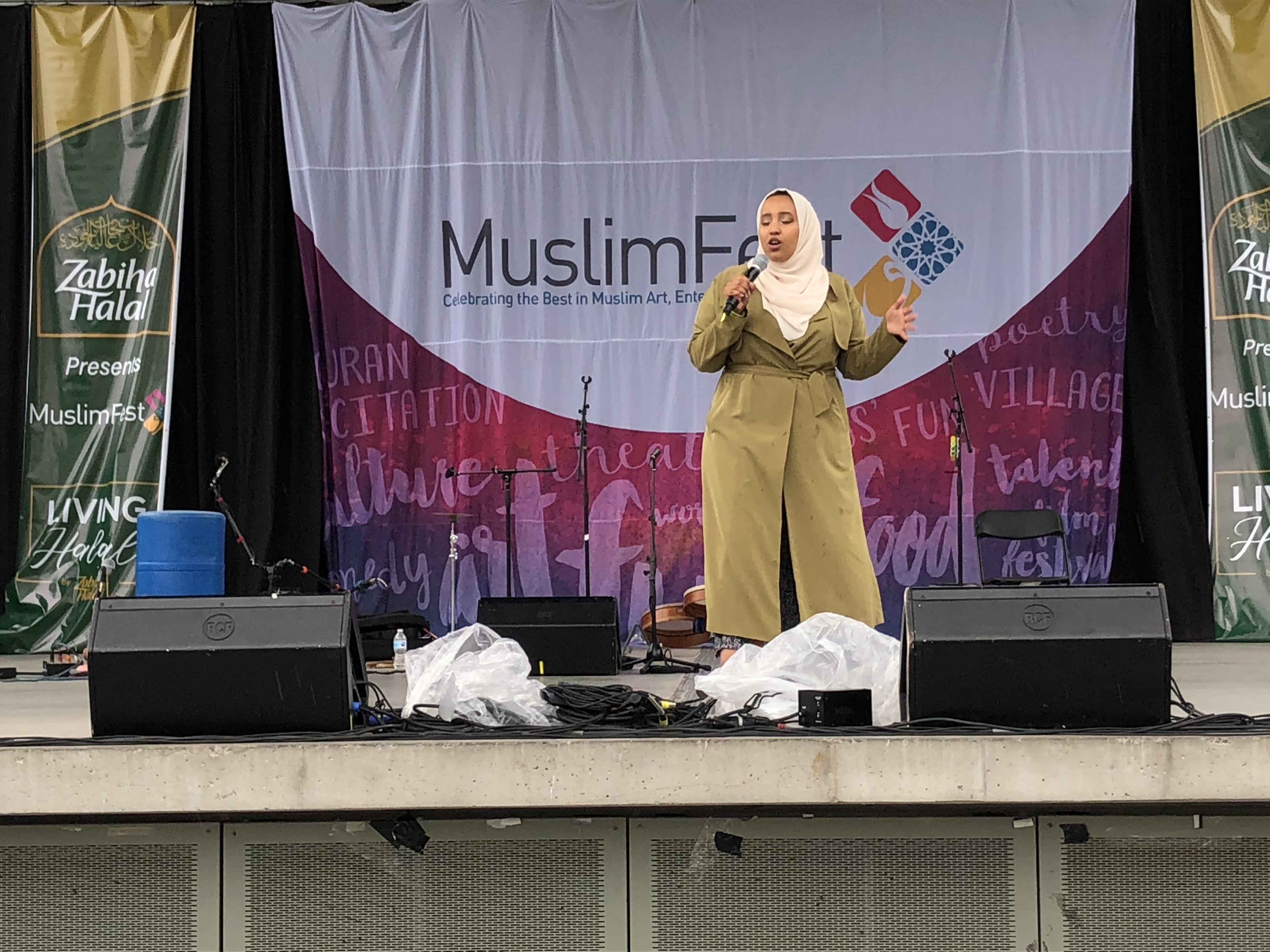 Timaj Garad, Toronto-based Ethiopian multi-disciplinary storyteller
"[It's] to create that platform and that space for the Muslim community, as well as non-Muslim communities (the wider Canadian community) to be able to come and see the lighter side of Islam, the kind of Islam and the kind of culture that you never actually get to see and experience when you, of course, see those horrific headlines, pretty much throughout the week," he said. "So [it's an opportunity] to create that safe space, for everybody to come and be able to really see what the real Islam and Muslim culture is about, and humanize the culture and Muslim community, and be able to understand each other."
Unfortunately, that outreach doesn't always find its target. On Sunday, a protester, later identified as anti-immigration National Citizens Alliance founder Stephen Garvey, confronted Brampton East MPP Gurratan Singh, who is not a Muslim, at the festival and asked if he supported Shariah law and "political Islam." Singh responded: "We don't need that kind of racism in Canada."
Email: [email protected]
Twitter: @dancalabrett
Submit a correction about this story