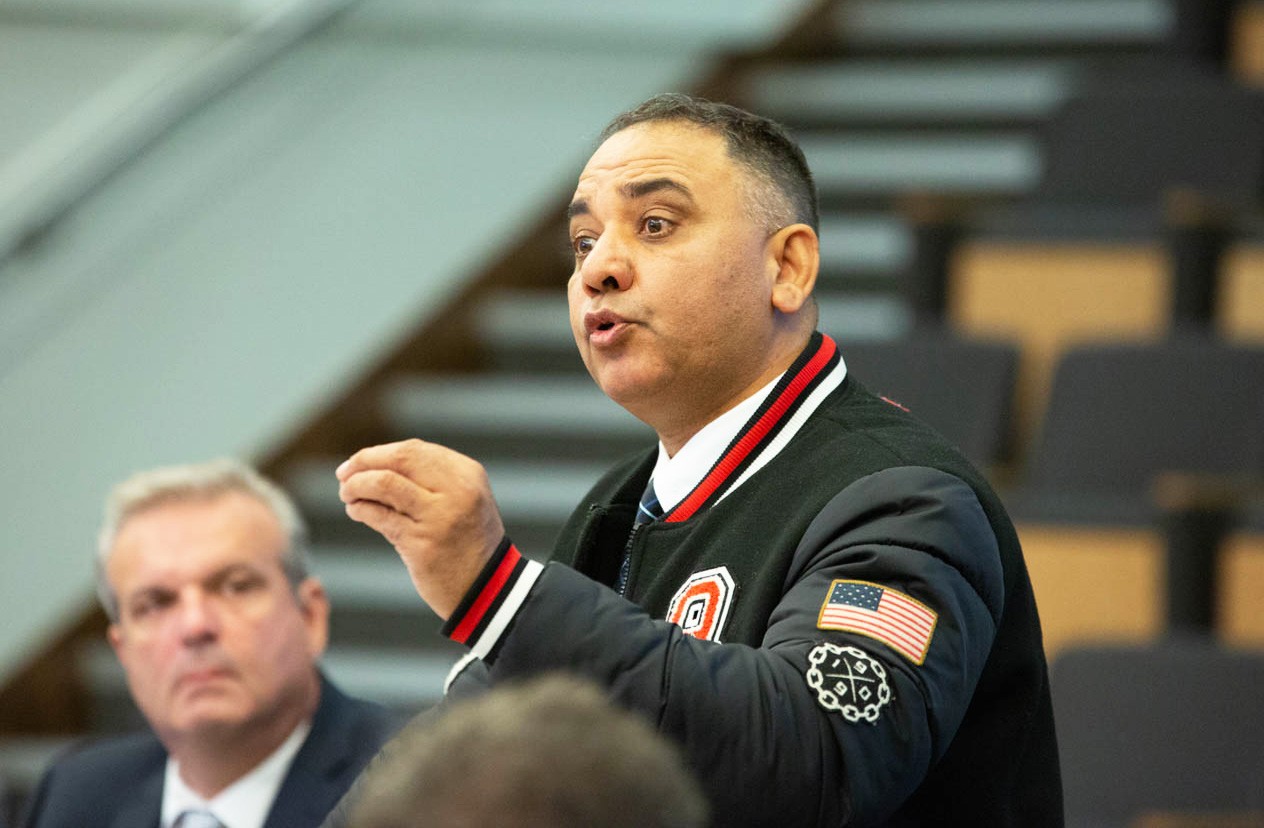 Photos by Mansoor Tanweer
Heated delegation to council illustrates the catch-22 of registering secondary suites
Khalid Nazim, Mohinder Partap and Gurmeet Pahwa, all owners of secondary suites, appeared at a Brampton committee of council meeting Wednesday seeking relief from what they say are the prohibitively expensive costs of legally registering those suites.
The city's exploding population, limited affordable housing stock, and motivation for homeowners with big mortgages to make some extra money off their properties has led to a proliferation of basement apartments popping up all over Brampton.
Neighbours complain about excessive noise and parked cars from the many generations dwelling in the house next door, the fire department worries about the flouting of building codes, and city officials lament overloaded households taking advantage of services paid for by property taxes calculated on the basis of single-family households. This form of housing has come to be regarded as something of a necessary evil, to be mitigated through regulation.
To bring the units into the legal fold and adequately provide for the growing population they represent, the city has created a registry process. Nazim, Partap and Pahwa don't disagree with that in principle. Their argument is about the cost to owners of complying with the regulations for owners.
"The city says that when my inspector comes in to check your basement, he's going to now check plumbing, electrical, air conditioning and insulation," Nazim said. To accommodate the inspection, Nazim said, he had to take down drywall and rip up flooring so inspectors could examine his home's wiring, insulation and plumbing, which added to his cost of legalizing the suite. "I have a 30-year-old house; insulation was done at the time. They will check if my air- conditioning vents are throwing enough air into the building. Which means that in order to do all this work, I will have to demolish nearly all my basement and have it reconstructed."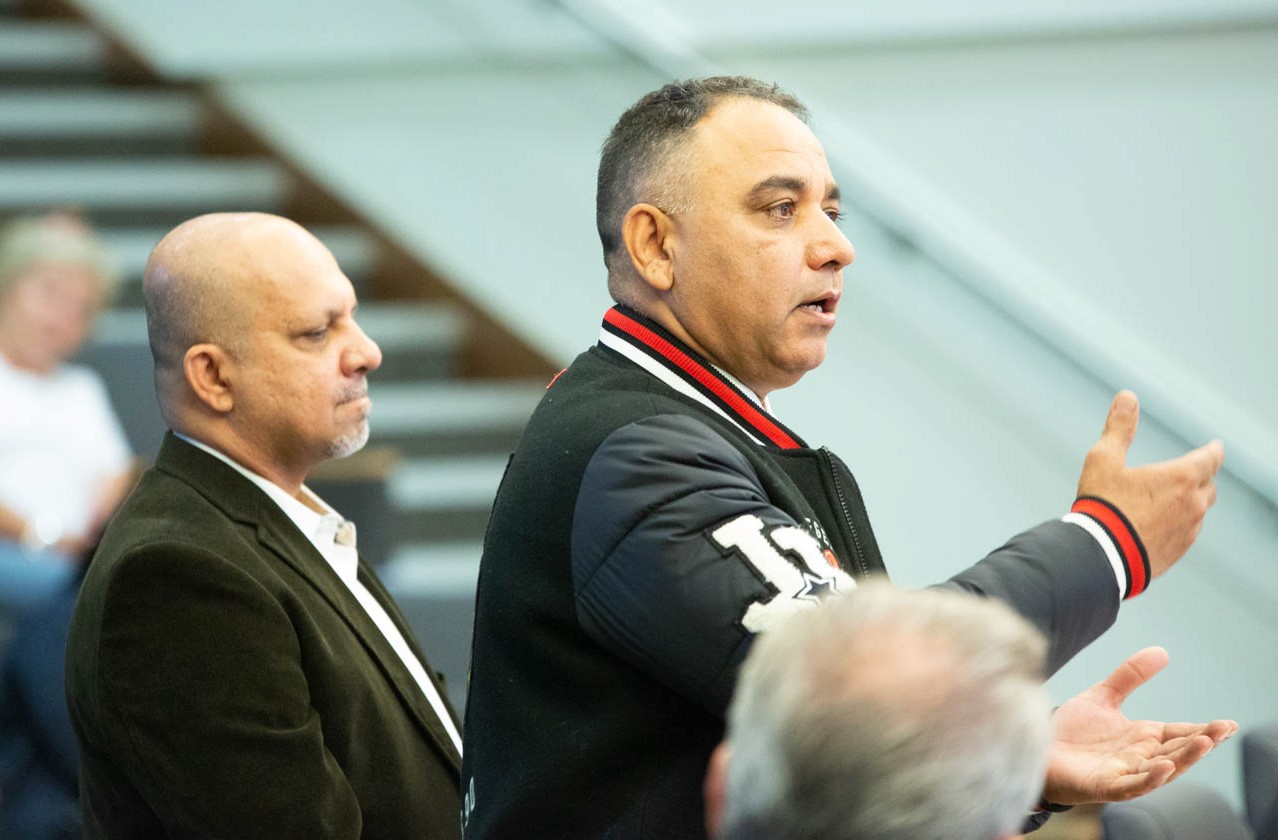 Khalid Nazim (left), Mohinder Partap address councillors with concerns over the costs and regulations surrounding secondary suites in Brampton.
He estimates the average cost of bringing an existing basement apartment up to code is between $25,000 and $35,000. Nazim called city staff "robots" who adhere too much to bylaws and are unable to see the homeowner's side of the equation.
Nazim and Partap complied with their individual requirements. But they said the nature of inspections and compliance are such that doing so puts a significant burden on homeowners, a big reason there's been such slow progress on getting suites registered.
Between 1996 and Sept. 3 of this year, 4,153 units have been registered, out of a guesstimated 50,000 basement apartments. How many illegal units there really are in the city is impossible to know, since they tend to escape oversight and attempts to document them. Since the city introduced new regulations for registration in 2015, the rate has sped up significantly. Since the change four years ago, a total of 1,950 have been registered, with the biggest jumps in 2018 and 2019. So far this year, 1,020 have been registered.
The city's planning committee voted in June to recommend reducing the registration fee to a flat $200 from as much as $1,200, in recognition of the additional costs property owners may face in legalizing their suites.
Homeowners are required to meet certain requirements to bring their units up to code. Those include, among others, allowing only one second unit per home, a total of three parking spaces, and side or rear entrances, to be accompanied by an egress route of at least 1.2 metres' width.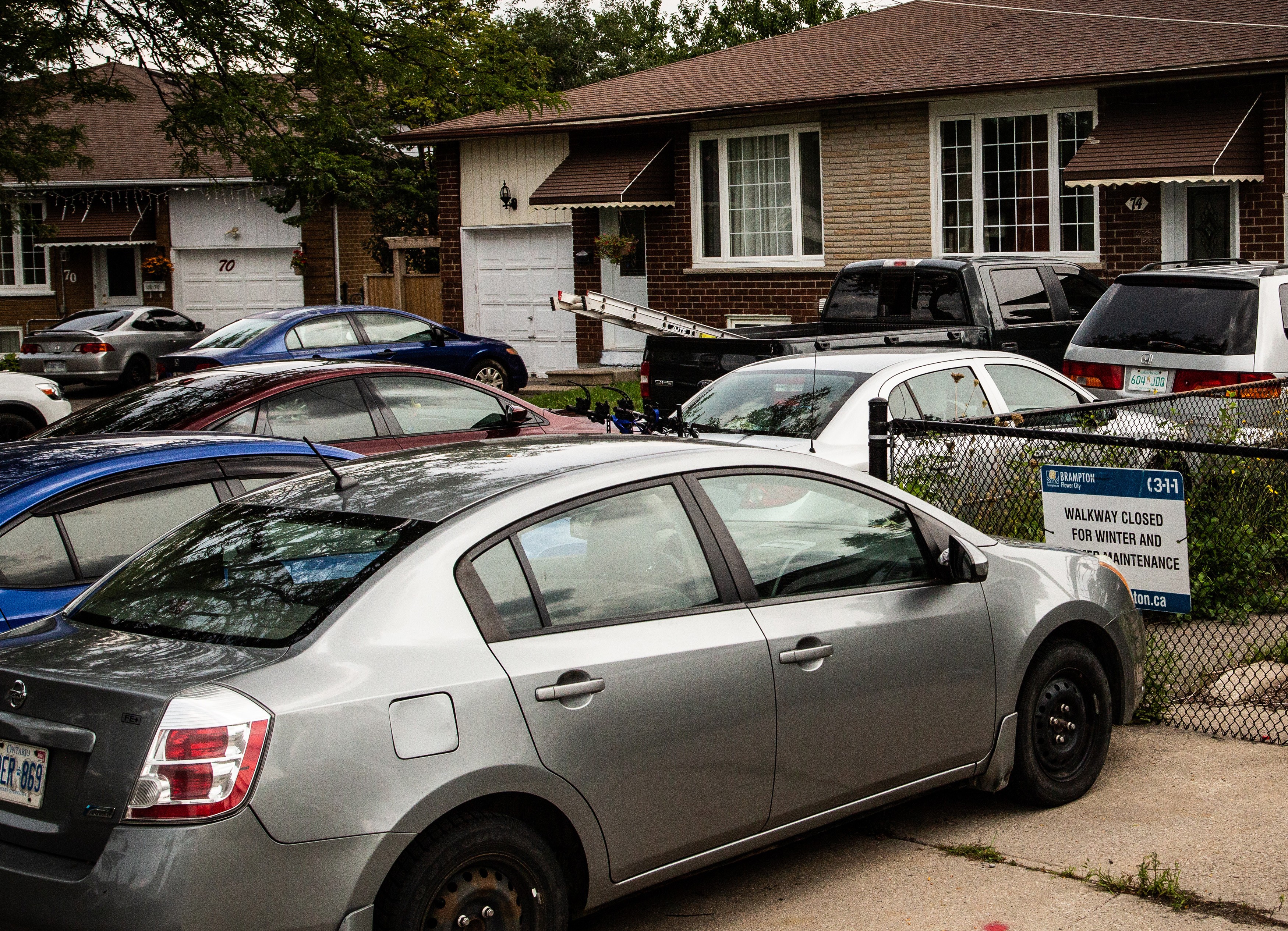 Driveways overloaded with vehicles is not an uncommon sight in the city as the number of secondary units continues to rise.
The byzantine nature and hefty cost of getting a unit registered, which can include paying incurred fines, sometimes involves a bit of an intimidation factor. The city's dealings with the public can often feel intimidating as well. Partap said he has been dealt with pretty heavy-handedly by the city.
Partap and Nazim, after their delegation, told The Pointer about an ongoing saga with a specific bylaw officer. Partap recounted how this officer often spoke to him rudely and put up notices and issued a court summons without notifying him in advance. It's hard to verify Partap's claims, but the incidents had clearly left him stressed. "I was surprised, shocked. I was in India, my mother was sick. I say [to him], 'I thought everything was okay. Inspection, everything was okay. He told me everything was okay," he said.
"I told (the inspectors) if it is needed, then I will register," Partap said. Nazim added, to Partap's point, "He (the city inspector) gave me a pamphlet and said, 'You need to follow this process to register your second unit because I think that you have an illegally rented out basement."
"There are so many problems with the city enforcement officers," Partap told councillors. "There are a lot of issues. They are misbehaving with us and misleading us … . This is very bad."
Pahwa raised the issue of parking requirements and said in his view the demand for parking "is not related to a safety issue and shouldn't be imposed on the residents." He insisted that Toronto does not have parking requirements, so why should Brampton? (That assertion doesn't appear to be correct. Toronto requires a parking spot for a basement unit if there is one for the upper unit.)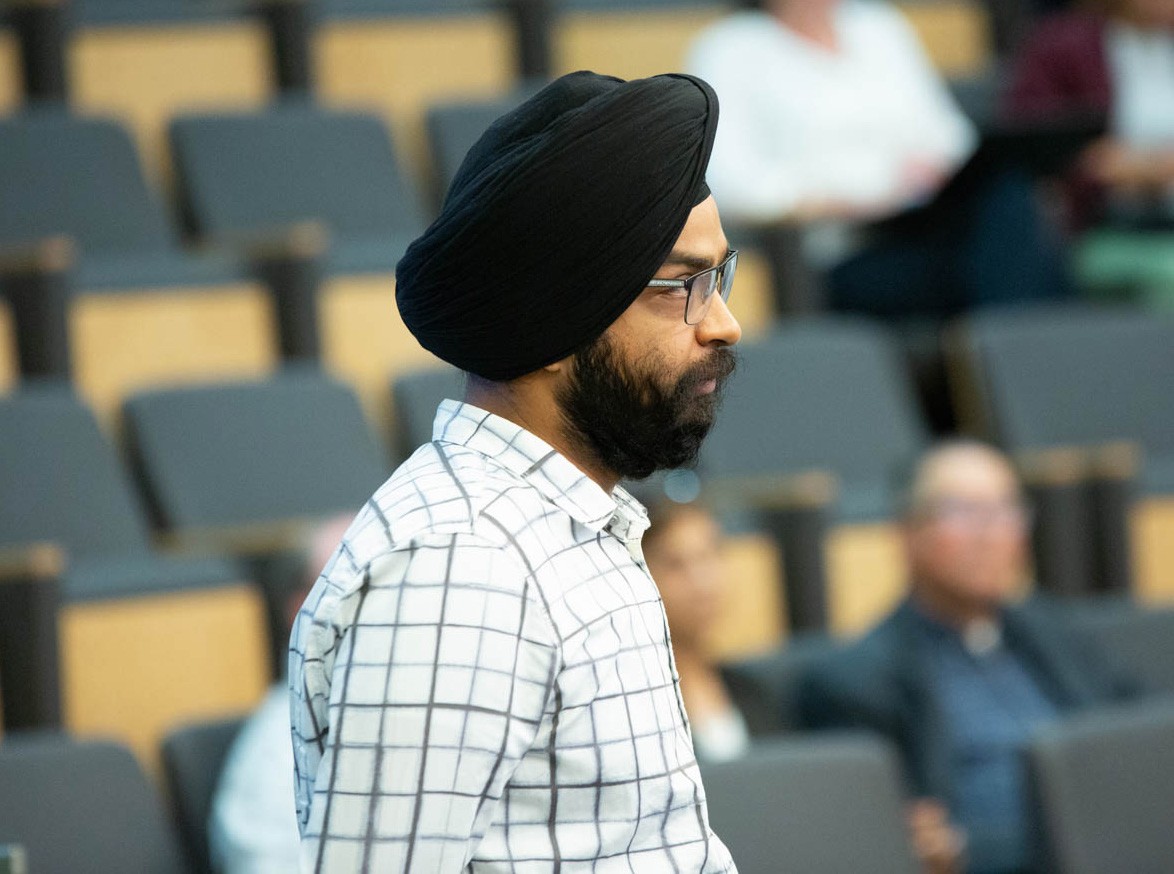 Secondary suite owner Gurmeet Pahwa
Things became heated toward the end of their presentation, when the delegation felt that councillors were being disrespectful to them. Councillor Harkirat Singh, who was chairing that part of the meeting, attempted to move the proceedings along, as there were many items remaining on the agenda, and the delegates felt their points weren't being properly addressed. A brief side exchange between Singh and city clerk Peter Fay brought tension into the room. "You have not actually considered …" Nazim was saying while Fay cut him off.
Councillor Paul Vicente offered some sympathy to the delegates, saying there may be a need for the city to communicate better as to the building code requirements that owners of secondary suites must follow.
Councillor Martin Medeiros, in an interview with The Pointer, said he can see where the homeowners are coming from. "I understand and appreciate the delegation, because it's very cumbersome to register your secondary unit. What I hear from residents is that there is a heavy hand from the city, because it is not an easy thing to do to get architectural designs. People don't even know where to go," Mederios said. He pointed out, however, that provincial legislation is involved in regulating secondary suites, which leaves the city's hands tied.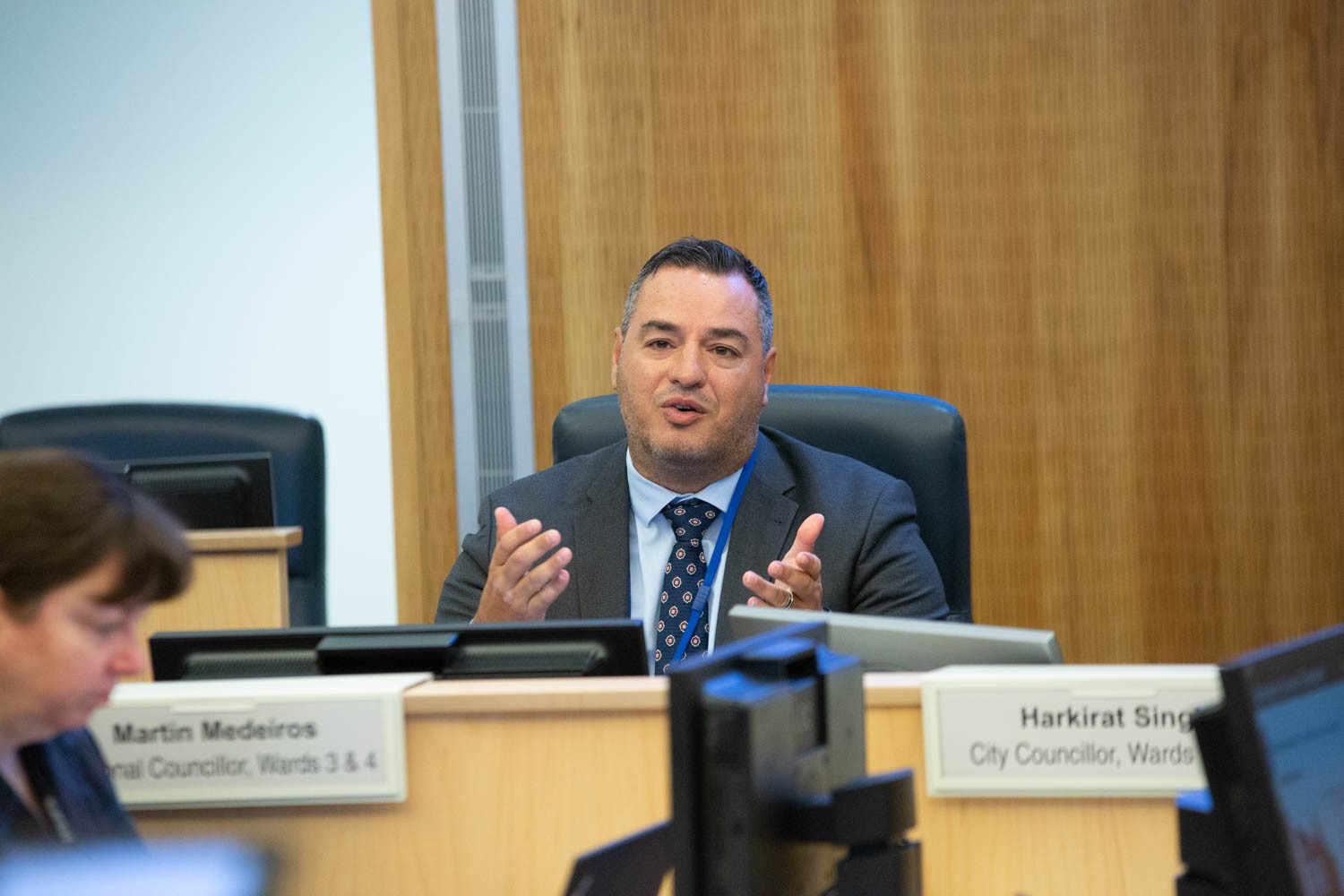 Councillor Martin Medeiros
Councillor Jeff Bowman, who has been the most vocal on the secondary suites issue, responded, "absolutely not," when asked if he sympathized. He's addressed the expense of bringing suites up to code before, pointing out that people often spend tens of thousands of dollars on simple home renovations and can easily afford a similar cost to renovate an income-generating suite. "If I want to renovate my kitchen, for example, I'll spend $30,000 on my kitchen. So they come here to us and they say, 'We're preparing a full rental unit that has to be brought to building standards and fire code." Bowman believes a landlord is capable of making back that investment within a year if they charge $2,000 a month, which is below the average rent for a one-bedroom condo in Brampton.
Last spring, Bowman wrote to Premier Doug Ford seeking additional powers for municipalities to inspect a home without a warrant when it is suspected of containing an unregistered secondary suite. The letter was prompted by a fire that originated in a secondary suite in his ward that claimed the life of one resident.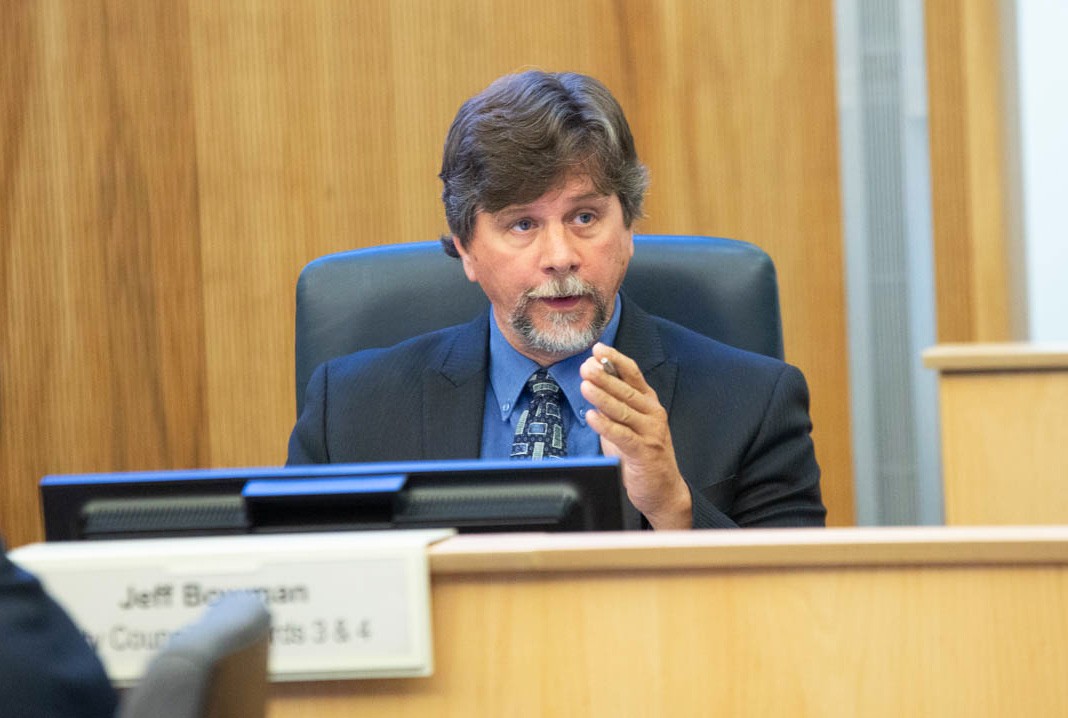 Councillor Jeff Bowman
Asked if this kind of power represented an additional intimidation factor, he said, "The question is: Where does their right to have these illegal units trump my rights as a homeowner who pays taxes and has a legal dwelling, when there are six cars parked on a driveway, or four on the front lawn — where does that trump my rights?"
He said a report will be coming to council in two weeks that will provide a better overview of secondary suites in Brampton, which will be useful in tackling the long-standing issue.
Email: [email protected]
Twitter: @mansoortanweer
Submit a correction about this story