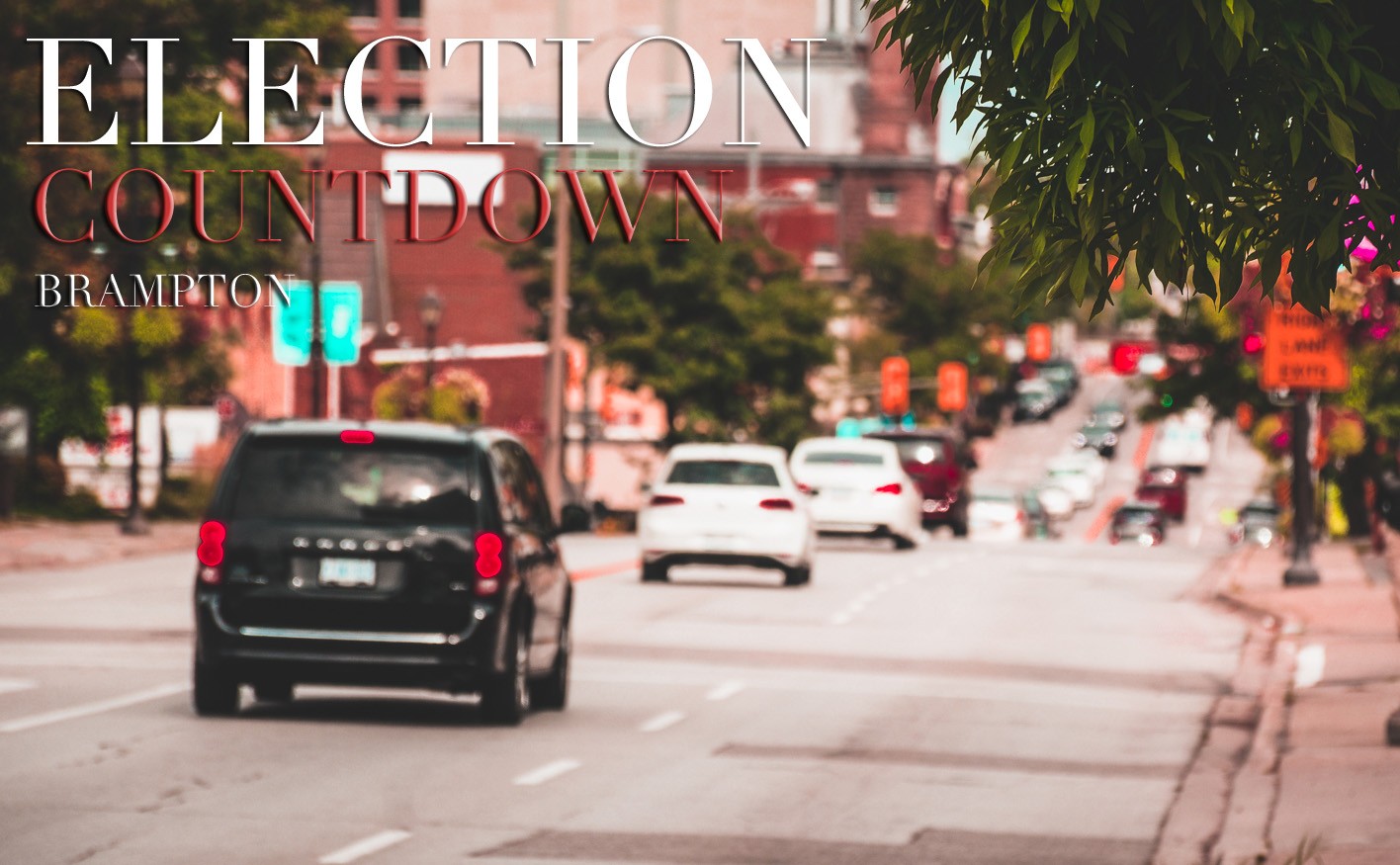 Photos by Mansoor Tanweer/Joel Wittnebel/Graphics from Elections Canada
Red wave to continue rolling in Brampton after October vote, polls suggest
Moving into the fall campaign season, recent polling shows the Liberals are holding the advantage across Brampton.
According to polling aggregator 338Canada, all five of Brampton's federal electoral districts are likely to remain in Liberal party hands following the October 21 vote.
Data from 338Canada is an aggregation of the findings of various opinion polls, combined with past election data and demographics to make predictions of the popular vote. In three provincial elections, the 338Canada model predicted the winner correctly in 91 percent of ridings.
In making its predictions, 338Canada lists a riding as "Safe," "Likely," or "Leaning" toward a particular party, or as a "Toss up." For ridings listed as safe, 338Canada states the result with greater than 99 percent certainty. For "Likely," the certainty drops to between 90 and 99 percent; "Leaning," 70 to 90 percent, and "Toss Up" less than 70 percent.
Save for one of Brampton's ridings, all are listed as either Likely or Leaning toward the Liberals, though the riding of Brampton East is listed as safe for the Reds.
It's an interesting result, as Brampton East has certainly seen the most controversy of any riding in the city over the past four years.
Sitting MP Raj Grewal, elected in 2015 as a Liberal, was ousted from the party late last year following a scandal in which he admitted to a serious gambling problem, then announced he'd resign his seat, before reversing that decision and staying in Parliament as an independent.
Questions had arisen about Grewal potentially being drawn into an RCMP investigation over money-laundering, something the Mounties never confirmed (they usually don't unless charges are being laid). Back in Brampton, The Pointer exposed details of a deal for a parcel of land needed to eliminate a traffic bottleneck on Goreway Drive. A private group, Goreway Heaven Inc., had swooped in and outbid Brampton for the provincially owned property before selling it back to the city months later for approximately $1 million more than the price the city had been negotiating for it. A city probe into the deal revealed that details of Brampton's offer had been shared with Grewal by then mayor Linda Jeffrey's chief of staff. Alarmed city councillors brought that fact to the RCMP's attention because of Grewal's gambling issues. Grewal and Mississauga–Malton MP Navdeep Bains, who also received the confidential details, denied sharing them with the land purchaser. Grewal has yet to confirm whether he will run again.
MP Raj Grewal
Continued support for the Liberal party in Brampton would mark a departure from the previous federal election, in which all of Brampton's ridings flipped from Conservative blue to Liberal red.
What's clear, though, is that it's a two-horse race in Brampton between the Liberals and Conservatives, hinting that voters are paying close attention to the leadership race — now a clear run-off between Prime Minister Justin Trudeau and Conservative Opposition leader Andrew Scheer. Jagmeet Singh, who began his career in public service provincially in a Brampton riding, appears to be fading, despite his huge following in the city.
While 338Canada's data provides an indication of how Brampton residents are feeling about the party leaders, it offers little insight into what they think of the local candidates whose names they will be putting their X beside come October.
The leadership race distracts many voters from the fact that the name on the ballot will actually be that of the local candidate, someone charged with representing them and their interests in Ottawa, not the party leader.
It's crucial that voters be aware of the experience and knowledge of local candidates to secure the best possible representative on Parliament Hill.
Electing a worthy candidate with the right experience raises the likelihood of that MP being entrusted with more responsibility by the party. Positions in the Cabinet, leading committees and other responsibilities raise the clout of individual MPs and offer opportunities to advocate for local needs.
In the past term, not one of Brampton's Liberal MPs was offered a Cabinet position.
Perhaps it's no wonder that there's a common chorus among municipal politicians that Brampton doesn't get its fair share of funding. On infrastructure in particular, Brampton has received only $42 million of the Liberals' $188-billion infrastructure pledge, when the city's size dictates that, on a per capita basis, its allotment should be closer to $972 million.
On the infrastructure file and other issues — such as fighting crime, building transit, or undertaking green initiatives — having a strong player in Ottawa can make the difference.
Below is a look at each of Brampton's ridings and where they stand as the election race begins its run to the finish on Oct. 21.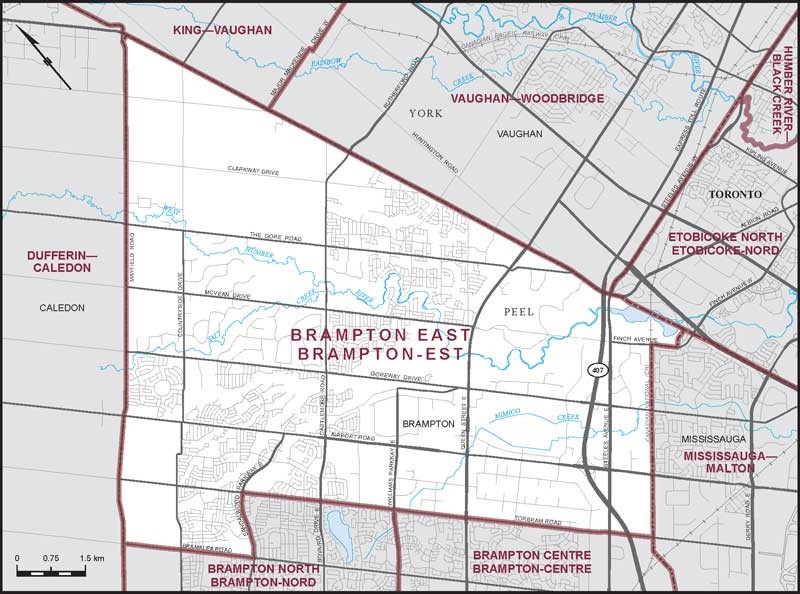 Brampton East - SAFE - Liberal
Candidates
Conservative - Ramona Benson Singh
Green - ?
Independent - Raj Grewal? (Incumbent)
NDP - Saranjit Singh
Liberal - Maninder Sidhu
People's Party - Gaurav Walia
The Brampton East seat has faced plenty of controversy over the past four years. However, according to 338Canada, the riding is Safe for the Liberals, with 45.9 percent of respondents saying they will vote Liberal.
Brampton East is also the only riding in Brampton and Mississauga where the NDP are ahead of the Conservatives, most likely due to the lingering popularity of NDP Leader Jagmeet Singh, who represented the area at Queen's Park between 2011 and 2017.
Currently, the NDP are polling at 24.3 percent in Brampton East, closely followed by the Conservatives with 23 percent.
The Green Party sits at 4.1 percent and Maxime Bernier's People's Party of Canada has 2.2 percent.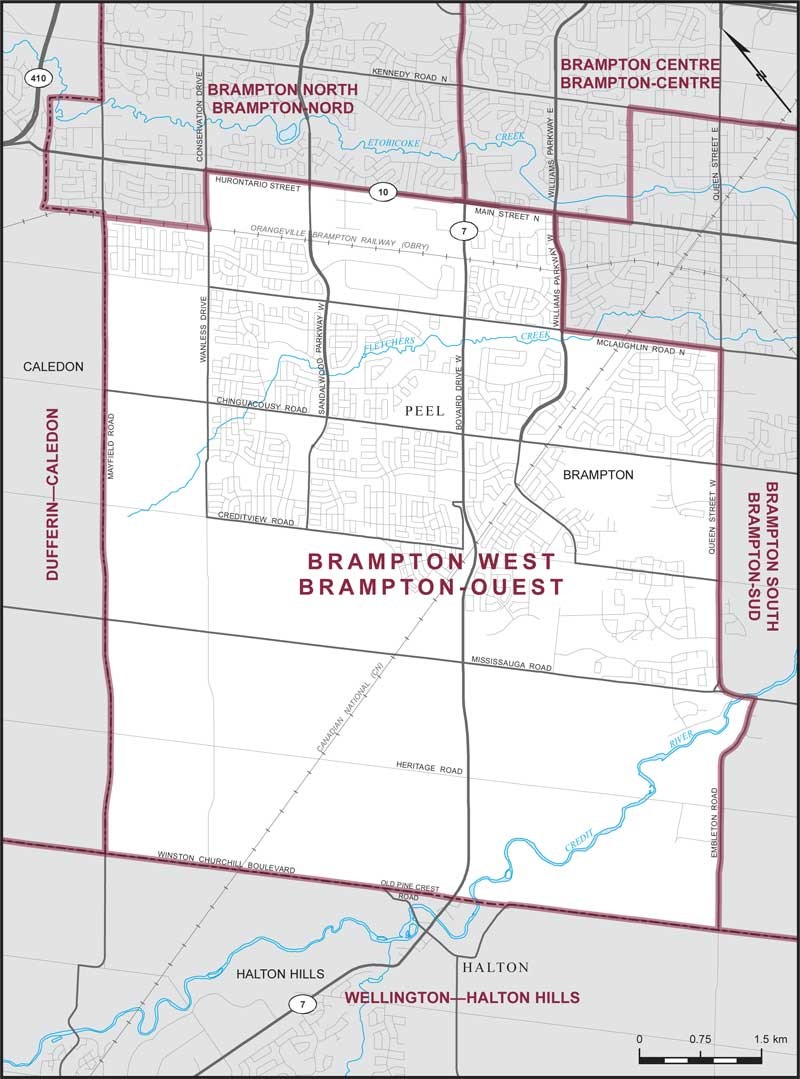 Brampton West - LIKELY - Liberal
Candidates
Conservative - Murarilal Thapliyal
Green - ?
Liberal - Kamal Khera (Incumbent)
NDP - Navjit Kaur
People's Party - Ephraim Roger Sampson
In Brampton West, 338Canada predicts that incumbent Kamal Khera will maintain her seat, polling at 43.6 percent of the vote. However, with about seven weeks to go until the election, the Conservatives could make up ground; they're currently polling at 33.6 percent.
The NDP are enjoying less support than in Brampton East, with only 14.1 percent of voters saying they'll vote New Democrat.
The Greens are polling at 6.5 percent and the PPC, 1.7 percent.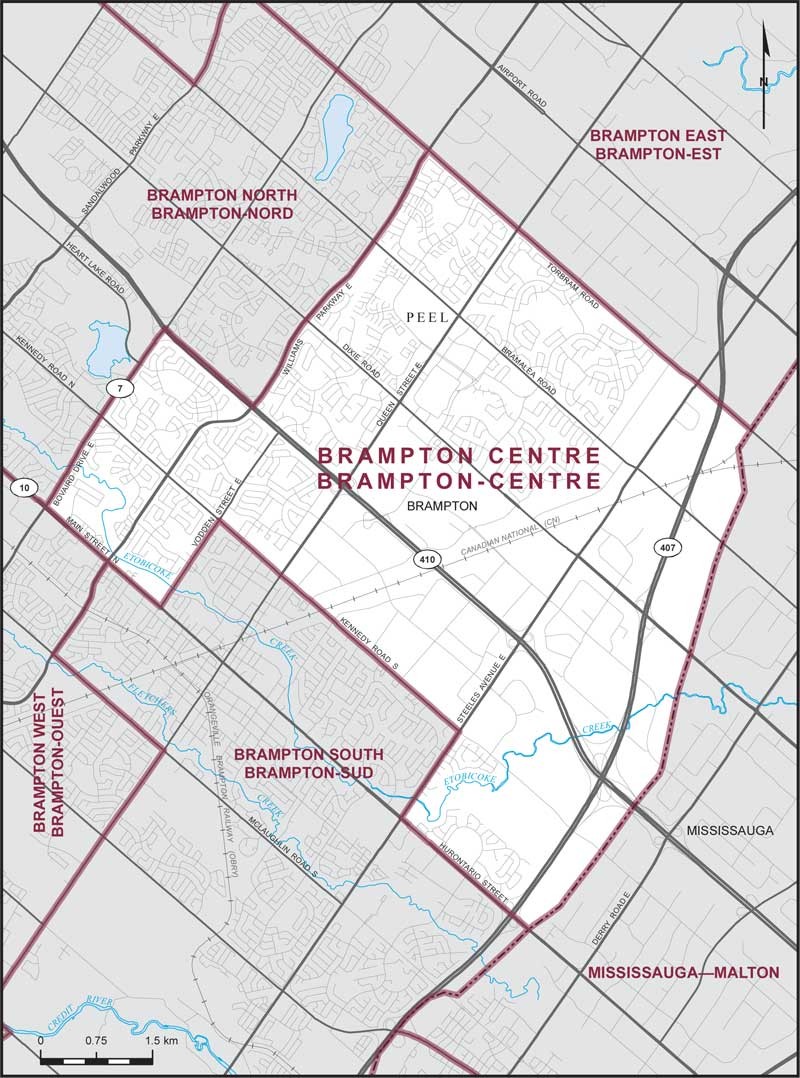 Brampton Centre - LIKELY - Liberal
Candidates
Conservative - Pawanjit Gosal
Green - ?
Liberal - Ramesh Sangha (Incumbent)
NDP - ?
People's Party - Baljit Singh Bawa
A close race is unfolding in Brampton Centre, with 338Canada predicting the riding will go to the Liberals. However, the 41.2 percent advantage currently enjoyed by incumbent Ramesh Sangha is only slightly above the 32.4 percent held by the Conservatives and candidate Pawanjit Gosal.
Though the NDP have yet to name a candidate in the riding, 15.5 percent of voters are leaning in that direction, while 7.6 percent plant to vote Green and 2.5 percent for the PPC.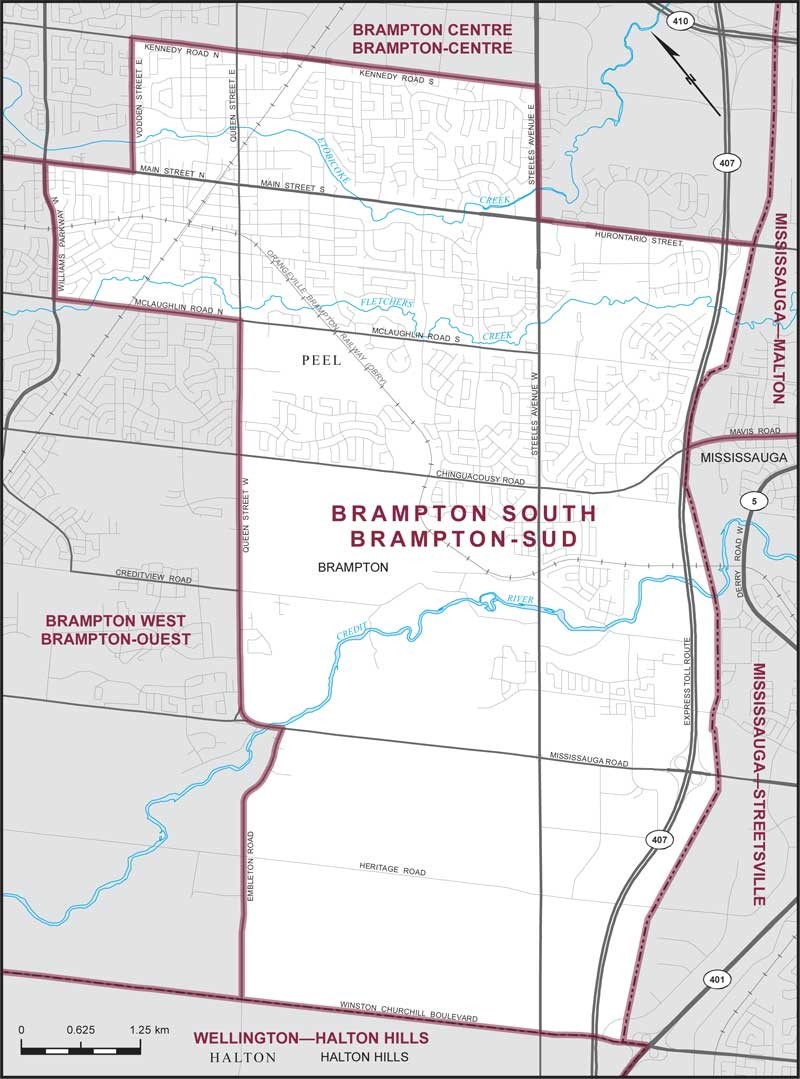 Brampton South - LEANING - Liberal
Candidates
Conservative - Ramandeep Singh Brar
Green - ?
Liberal - Sonia Sidhu (Incumbent)
NDP - Mandeep Kaur
People's Party - Rajwinder Ghuman
The most precarious riding for the Liberals in Brampton is Brampton South, with 338Canada labelling it "Leaning" Liberal.
Incumbent Sonia Sidhu is polling at 43.2 percent, ahead of the Conservatives' 34.6 percent.
Others say they will put their X beside the NDP (10.9 percent), the Greens (8.1 percent) or the PPC (2.4 percent).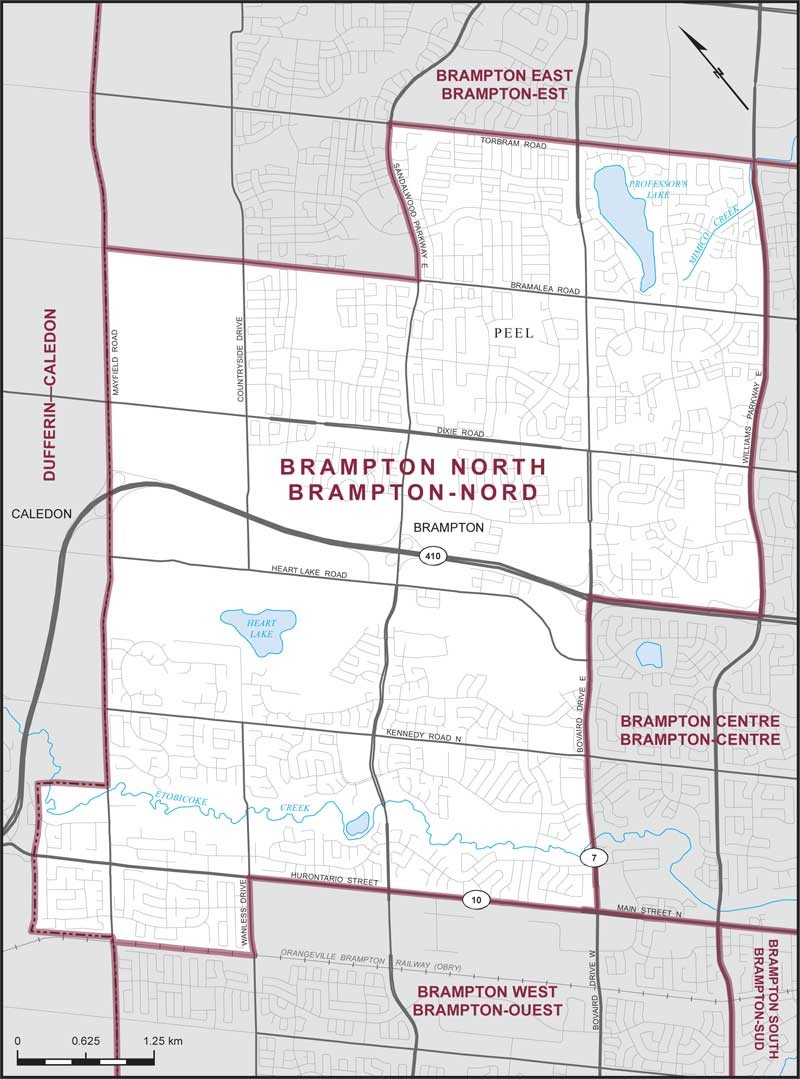 Brampton North - LIKELY - Liberal
Candidates
Conservative - Arpan Khanna
Green - ?
Liberal - Ruby Sahota (Incumbent)
NDP - ?
People's Party - Keith Frazer
To date, only two candidates have come forward to challenge Liberal incumbent Ruby Sahota for the riding of Brampton North, and 338Canada has the result likely going in Sahota's favour.
Currently, the Liberals are polling at 40.9 percent of the vote in Brampton North, followed by the Conservatives with 31.8 percent, and the NDP with 17.1 percent.
The Greens and the PPC split the remainder of the vote, with 7.1 percent and 2.7 percent respectively.
Email: [email protected]
Twitter: @JoeljWittnebel
Submit a correction about this story